If you're able to use a whole room as a workspace, it can be outfitted fully with custom built-ins and decorated in appropriate style.
1. FRESH & MINIMAL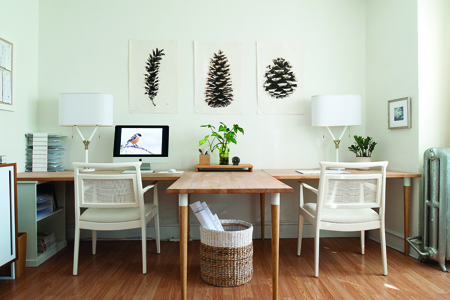 In a Philadelphia house, designer Mel McDaniel uses three beech desktops, purchased at a local big-box store, to turn an alcove into a simple but effective workspace for two people. Vintage chairs, painted white, and a pair of residential table lamps complete the homey yet professional look.
2. OFFICE IN A CLOSET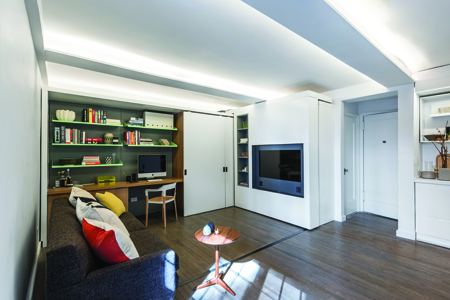 For many homeowners, finding sufficient space for a dedicated office is a problem. One solution, even in a small apartment, is to transform a closet with hardwood built-ins. Michael K Chen Architecture shows how it's done with this admirably compact yet surprisingly roomy example in a New York loft.
3. WORKING UNDER STAIRS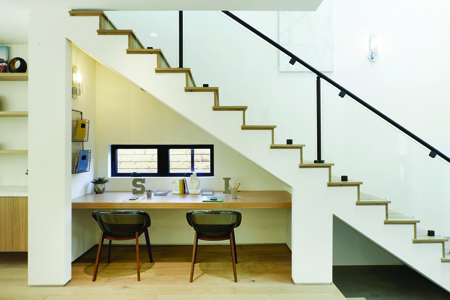 If you live in a multistory house, you may have a dark space under the stairs that could be made to look and function better. In Los Angeles, Hamilton Architects transform one such triangle into a bright home office with a built-in hardwood desk and a strategically placed window.
4. THE ATTIC OFFICE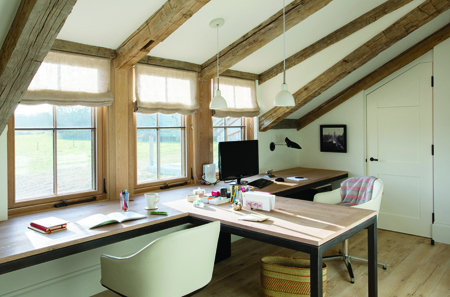 As Hutker Architects and designer Kathleen Walsh demonstrate in this farmhouse on Martha's Vineyard, the height-challenged space under the eaves in an attic can be the ideal spot for a substantial work surface. Dormer windows bathe the custom oak-and-steel desking with daylight while also providing a view.
5. THE FULLY FITTED OFFICE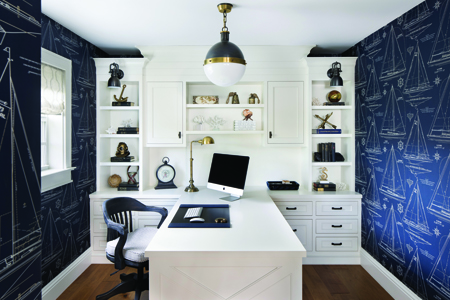 Photograph: Jessica Glynn Photography @jessglynnphoto
Lisa Michael Interiors juxtaposes crisp white-painted hardwood cabinetry with navy-blue nautically inspired wallpaper and accessories in this shipshape Boca Raton home office.
Visit www.hardwoodinfo.com for more about putting American hardwoods to work in your home.
(NewsUSA)