Simple, Flavorful Recipes to Reimagine Mealtime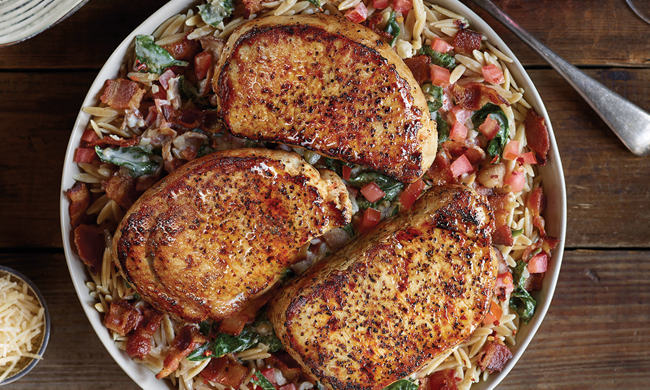 While it can be easy to fall into a routine of cooking the same recipes week in and week out, getting creative with mealtime can be as easy as making simple swaps and trying new flavor combinations with fresh, high-quality ingredients.
One of the easiest ways to shake things up in the kitchen any night of the week is to reimagine a classic dish by replacing one of the main ingredients. As an alternative to the typical chicken or beef, fresh pork is a versatile, convenient and flavorful protein that can easily transform a predictable meal into something new and delicious.
Instead of chicken Florentine, try this recipe for Pork Chops in Creamy Roasted Garlic Florentine Sauce, or rethink the typical weeknight stir-fry with this quick and easy Italian Stir-Fried Pork and Pasta.
For more creative yet easy ways to reimagine mealtime, visit Smithfield.com/ShakeItUp.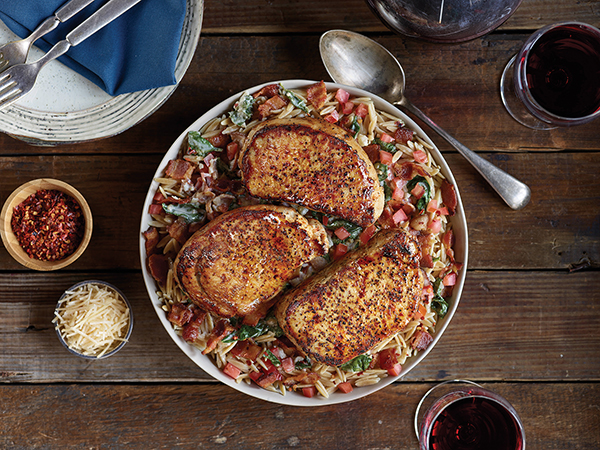 Pork Chops in Creamy Roasted Garlic Florentine Sauce
Cook time: 20 minutes
Servings: 4
4 Smithfield Boneless Pork Chops
salt, to taste
pepper, to taste
4 tablespoons olive oil, divided
8 cloves garlic, minced
1/4 cup bacon pieces, half-cooked
1/2 cup chicken stock
2 cups heavy cream
1 1/2 cups chopped fresh baby spinach
1/2 cup chopped fresh tomato
1/4 cup grated Parmesan cheese
1 teaspoon Italian seasoning
Season pork chops on both sides with salt and pepper, to taste.
In a large skillet, heat 2 tablespoons oil over medium heat. Cook pork chops 4-5 minutes per side until internal temperature reaches 145° F. Remove pork chops from pan and keep warm.
In the same skillet, heat remaining oil over medium heat. Add minced garlic and partially cooked bacon to skillet; cook until tender, about 3 minutes. Add chicken stock and bring to simmer.
Reduce heat to low and add heavy cream. Season with salt and pepper, to taste.
Add spinach and tomatoes to sauce; let spinach wilt. Stir in Parmesan cheese and Italian seasoning; simmer about 3 minutes.
Return pork chops to the pan along with juices. Spoon Florentine sauce over chops; simmer 3-5 minutes.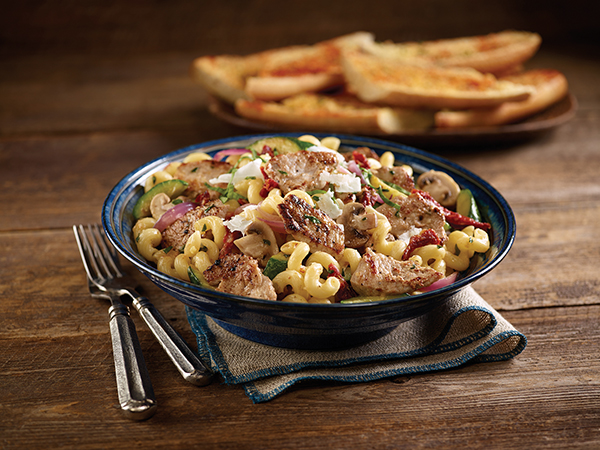 Italian Stir-Fried Pork and Pasta
Cook time: 30 minutes
Servings: 4
1 Smithfield Roasted Garlic & Herb Marinated Fresh Pork Loin Filet
1 package (8 ounces) spiral pasta
2 tablespoons olive oil
2 small zucchini squash, sliced lengthwise and cut into 1/2-inch slices
1 small red onion, thinly sliced
8 sliced mushrooms
1/2 cup julienne-sliced sun-dried tomatoes
1 teaspoon minced garlic
1/4 cup butter
1/2 cup grated Parmesan cheese
2 tablespoons chopped fresh basil
Heat skillet or wok to 400° F.
Slice pork loin filet into thin strips.
Cook pasta according to package directions.
Add pork strips and oil to heated skillet. Stir-fry until meat is browned, about 5 minutes.
Add zucchini, onion, mushrooms, tomatoes, garlic, and butter to skillet; stir-fry until vegetables are crisp-tender, about 5 minutes.
Drain pasta and add to pork and vegetable mixture with cheese and basil; toss to coat.
SOURCE:
Smithfield, family features