The latest news stories and stories of interest in the Rogue Valley from the digital home of Southern Oregon, from Wynne Broadcasting and RogueValleyMagazine.com
Tuesday, January 5, 2021 
Rogue Valley Weather
Today- Areas of fog before 10am. Otherwise, partly sunny, with a high near 48. Light and variable wind becoming southeast 6 to 11 mph in the afternoon.
Wednesday- Rain, mainly before 4pm. High near 48. South southwest wind 5 to 10 mph becoming east northeast in the morning. Chance of precipitation is 80%. New precipitation amounts between a quarter and half of an inch possible.
Thursday- A 20 percent chance of rain after 10am. Snow level 3500 feet. Partly sunny, with a high near 47. Calm wind becoming east southeast around 5 mph in the morning.
Friday- A 50 percent chance of rain, mainly before 10am. Snow level 3900 feet. Mostly cloudy, with a high near 46.
Saturday- Areas of fog before 10am. Otherwise, mostly cloudy, with a high near 46.
The new confirmed and presumptive COVID-19 cases reported today are in the following counties: Baker (10), Clackamas (67), Clatsop (2), Columbia (10), Coos (20), Curry (2), Deschutes (45), Douglas (14), Harney (2), Jackson (40), Jefferson (6), Josephine (16), Klamath (31), Lake (1), Lane (62), Lincoln (4), Linn (10), Marion (79), Morrow (4), Multnomah (92), Polk (16), Tillamook (2), Umatilla (24), Union (4), Wasco (2), Washington (141) and Yamhill (22).
COVID-19 has claimed six more lives in Oregon, raising the state's death toll to 1,506, the Oregon Health Authority reported on Monday. Oregon Health Authority reported 731 new confirmed and presumptive cases of COVID-19 as of 12:01 a.m. Monday, bringing the state total to 118,456. Oregon had two-thousand-431 new cases of COVID-19
reported over the weekend along with ten new deaths. There are 109 patients hospitalized in ICU's. There have been 15-hundred deaths and more than 117-thousand cases of COVID-19 in Oregon since the pandemic began. Nearly 49-thousand people have been vaccinated against the virus.

 Oregon is preparing to start using a mobile phone app that will tell you if you came in contact with someone who has a confirmed case of COVID-19. The Oregon Health Authority says Apple inadvertently turned on the app too soon. It's being tested by Oregon State University. OHA says the project is still under development, and they
haven't said when the app will go active. Washington, and several other states, are currently using the app.
What's the best way to build immunity against COVID-19?
Some people may be wondering if getting a COVID-19 vaccine is as effective at building immunity as getting infected by the virus. The answer is that the body will build immunity to COVID-19 in a different way with the vaccine than through infection.
However, infection has the potential to lead to serious symptoms, which may prove to be deadly. Natural immunity, which is gained from having an infection, may not even last very long. According to the Centers for Disease Control and Prevention (CDC), natural immunity also varies from person to person and there is real potential for re-infection.
Vaccination is the best tool we have to help us end the COVID-19 pandemic in Oregon and across the globe. The mRNA vaccines developed by Pfizer and Moderna give our cells instructions for how to make a harmless protein that is unique to the virus. Our bodies recognize that the protein should not be there and build T-lymphocytes and B-lymphocytes that will remember how to fight the virus that causes COVID-19 if we are infected in the future.
By getting vaccinated, wearing masks, washing our hands, staying physically distant and avoiding large indoor gatherings, we can help stop the spread of COVID-19. If enough of us get vaccinated, we can achieve community immunity and the virus will not spread so quickly.
Learn more at Oregon Health Authority's COVID-19 Vaccine page in English or Spanish.
Jackson County Distributes PPE to Local Businesses
The Jackson County Expo is distributing personal protective equipment for businesses in and outside Jackson County.
The distribution will be a drive-through pickup only through Gate 3 between 7:30 a.m. through 10:30 a.m. and there will be a sign in the parking lot to text for what business and how many bags are needed.
Each bag will include sanitizing wipes — both with and without alcohol — no-touch thermometers, gloves and surgical masks. The Expo is currently out of sanitizing spray. All businesses are welcome to pick up as many bags as they need.
"Jackson County has been provided another allotment of PPE thanks to Business Oregon, and we are distributing it free of charge to Oregon based businesses . . . We are excited to help our local businesses keep their doors open while helping to slow the spread of COVID-19," said Helen Funk with the Jackson County Expo.
Pick-up will last until January 8, 2021 or until supplies last at: 1 Peninger Road, Central Point, Oregon 97502. If you have questions or need to coordinate a pick-up, please contact the Jackson County Expo at (541) 774-8270 or email JC_EOC_Logistics@jacksoncounty.org
Longtime Rogue Valley Radio Broadcaster Larry Neal Passes Away
A familiar voice in the Rogue Valley community has gone with the advent of a New Year. Longtime radio personality and former KRWQ (Q100.3) program director Larry Neal passed away after a four-year battle with cancer, according to Bicoastal Media.
Neal was a native of Wisconsin, but left the Midwest in 1980 to help Duane and Sherry Hill establish a country radio station in Gold Hill to serve the Rogue Valley area. He was the original voice of KRWQ when it came on the air in August of that year.
Bicoastal Media says that Neal played the "unflappable straight man" on the Breakfast Flakes Morning Show alongside Brian Bishop from 1988 to 2008. Neal later shared the mic with Krista Lee for a year before pairing up with Judi Austin until her retirement in 2012. He moved to the afternoon drive for the last five years of his career.
"His institutional knowledge of country music coupled with his passion for our clients and listeners was truly incredible," said Neal's supervisor, operations manager Don Hurley. "Larry was a very passionate and emotional man which was evident when he was with his wife, Linda, or their daughters and grandkids. He was loyal, honest, and dependable and lived every second with pride and integrity."
In February of 2017, Neal was diagnosed with glioblastoma multiforme, a highly aggressive form of neurological cancer — prompting Neal to leave the station after 37 years. He turned 66 just before the New Year.
"Definitely one of the good guys," said Q100.3 programmer Bryce Burtner. "Everyone he came into contact with was treated as if they were family. I was a part of his and he was a part of mine for 27 years. An incredible loss for sure. I will miss him dearly."
AROUND the STATE of OREGON
A Winter Weather Advisory remains in effect for the Cascades, including Willamette Pass and Santiam Pass.
"Heaviest snow expected above 4500 feet, with total snow accumulations of 5 to 10 inches. Winds gusting as high as 40 mph," the National Weather Service said. "Travel could be very difficult."
Snow levels fell from 5,500 feet Monday morning down as low as 3,000 by midnight last night. That is below pass level on Highway 58 and US 20 over the Cascades.
Meanwhile, The National Weather Service says "dangerous high surf along southern Oregon beaches and shorelines will continue into Thursday morning." Surf heights will remain near peak values of 23-27 feet. Beach erosion is possible, as well as damage to exposed infrastructure Beachgoers should stay off of jetties, rocks, and logs. Beachcombing is strongly discouraged. An active weather pattern will continue into the weekend with another episode of dangerous surf conditions possibly beginning early Friday.
Over the weekend, Congressman Cliff Bentz was officially sworn in as a member of the
117th U.S. Congress, representing Oregon's Second Congressional District.
Bentz, a Republican, was elected in November after beating Democratic candidate Alex Spenser. He replaces longtime Congressman Greg Walden, who announced last year that he would retire from politics instead of seeking another term. The massive 2nd District encompasses most of south, central, and eastern Oregon. It has become the
state's only reliably Republican federal seat in recent years. "It is an honor to represent the citizens of Oregon's Second Congressional District, and I humbly thank them for entrusting me with this responsibility," said Bentz. "I will fight every day to protect rural communities and stand up for Oregon values in Congress." Bentz was accompanied at the swearing-in by his wife, Dr. Lindsay Norman. Bentz formerly served as a state Senator in the Oregon legislature.
The start of a new year brings with it new laws that take effect throughout the state.
The new year means increased taxes on cigarettes and cigars, in addition to a new tax on nicotine vaping products with the passage of Oregon Measure 108 in the November general election. Cigarettes taxes increased by $2 to $3.33 per pack. Taxes on cigars doubled to $1. Vaping products and e-cigarettes are taxed at 65% of the wholesale
price. The money from the new taxes will largely go toward funding the Oregon Health Plan, with 10% of the tax revenue funding smoking prevention programming.
The Oregon DMV will no longer require proof of U.S. citizenship or legal residency to obtain an Oregon divers license after a bill passed by the state legislature in the summer of 2019 removed the requirement. Those licenses will not include automatic voter registration like other Oregon licenses. To get a license, the person must still show proof of residency in Oregon, pay fees and pass a driving test.

Voters also passed Measure 110 in November which decriminalizes possession of small amounts of Schedule I drugs beginning Feb. 1. Those found in possession of amounts of drugs like heroin and LSD deemed for personal use will only face a $100 fine for a class E violation. The fine can be waived if the person seeks treatment.
More than two dozen Native American and Alaska Native tribes and cultural groups from the Northwest are suing the federal government to stop the sale of the National Archives building in Seattle, a plan that would force the relocation of millions of invaluable historical records to California and Missouri.
The government is planning to sell the vast warehouse under a law aimed at unloading excess federal property, but the lawsuit filed in U.S. District Court on Monday says the building is anything but "excess." It contains irreplaceable documents dating to the 1840s and is used all the time for research about everything from tribal history to Japanese
internment during World War II and fur seal hunts on remote Alaskan islands. The National Archives building is one of a dozen properties around the country, collectively valued at $500 million to $750 million, identified for sale by the Public Buildings Reform Board. The board initially intended to sell the properties individually, but has announced
that due to the COVID-19 pandemic's effect on the commercial real estate market, it will offer the buildings early this year for an expedited sale as a single portfolio.
Construction begins on FEMA housing sites for Linn and Marion counties wildfire victims
The Mill City site will hold up to 16 temporary housing units, according to the Federal Emergency Management Association. FEMA is setting up utilities and making sure they are accessible before the mobile homes arrive.
La-Tanga Hopes, a FEMA official, said the homes are expected to arrive in Mill City in three to four weeks, depending on the weather.
In Oregon, 250 families have been approved to receive FEMA Direct Temporary Housing. The agency says that number has decreased over time as many households have located alternate temporary or permanent housing on their own.
In order to qualify for the Direct Temporary Housing program, Hopes said wildfire victims must file a claim, which is then assessed. A person is eligible for temporary housing if FEMA confirms a person owned a home that suffered $17,000 or more in damages, or if FEMA confirms a renter's home suffered major damages or was destroyed. Wildfire victims must also prove they do not have rental assistance available to them.
Residents approved for temporary housing can remain in the units for up to 18 months, until March 2022.
The Fields Artist Fellowship Now Seeking Proposals For Applications From Oregon – Artists Will Be Considered From January 4 To February 15, 2021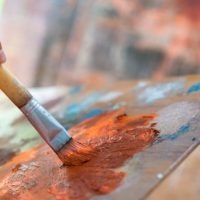 Oregon Humanities, in partnership with Oregon Community Foundation, is now accepting applications for the second round of the Fields Artist Fellowship program, offering two years of financial support to Oregon-based artists who are in a pivotal moment or inflection point in their careers.
Four artists will be awarded two-year fellowships to advance their artistic practice while developing creative and meaningful ways to address and respond to the opportunity gap in Oregon.
The first Fields Artist Fellowships were awarded in 2019 to Crystal Akins of Lincoln City, Mic Crenshaw of Portland, Ka'ila Farrell-Smith of Chiloquin, and Joe Whittle of Enterprise.
Applications will be accepted from January 4 to February 15, 2021. More information on how to apply is available on the Oregon Humanities website (www.oregonhumanities.org). A selection committee will review applications and award the fellowships by July 2021.
During their fellowship terms, Fields Artist Fellows will respond to and explore the opportunity gap in their region, participate in cohort gatherings, and document their experiences and projects. Each fellow will receive $100,000 over the course of the two-year term. In addition, eight finalists will each receive a one-time award of $10,000.
The phrase "opportunity gap" refers to widening socioeconomic disparities across Oregon largely determined by the circumstances into which a child is born, such as family circumstances, neighborhoods, educational experiences, and race and ethnicity.
Artists of all disciplines are encouraged to apply, including writers, filmmakers, visual artists, multimedia artists, culture bearers, and performance artists. Eligibility requirements include the following:
At least five years of professional practice in an artistic discipline or combination of disciplines
At least three years of residence in Oregon (non-continuous) and the intent to reside in Oregon for the majority of the fellowship term (September 1, 2021 to September 30, 2023)
Demonstrable evidence of artistic practice that can engage with community groups and organizations and/or address community concerns
Oregon Humanities will administer the program and convene gatherings for the fellows. All funding is provided by the Fred W. Fields Fund of Oregon Community Foundation.
Oregon Humanities connects people and communities through conversation, storytelling, and participatory programs to inspire understanding and collaborative change. More information about our programs and publications—which include the Connect In Place, Consider This, Humanity in Perspective, Public Program Grants, Responsive Program Grants, and Oregon Humanities magazine—can be found at oregonhumanities.org. Oregon Humanities is an independent, nonprofit affiliate of the National Endowment for the Humanities and a partner of the Oregon Cultural Trust.
Oregon Community Foundation (OCF) puts donated money to work for Oregonians. Thanks to the generosity of Oregonians, OCF distributes more than $100 million in grants and scholarships annually. For nearly fifty years, OCF grantmaking, research, advocacy and community-advised solutions have helped individuals, families, businesses and organizations create charitable funds to improve lives for all Oregonians. Impactful giving—time, talent and resources from many generous Oregonians—creates measurable change.