The latest news stories and stories of interest in the Rogue Valley from the digital home of Southern Oregon, from Wynne Broadcasting's RogueValleyMagazine.com
Wednesday, January 20, 2021
Rogue Valley Weather
Today- Patchy freezing fog before 11am. Mostly sunny, with a high near 53. Calm wind.
Thursday- A 30 percent chance of showers after 5pm. Snow level 2500 feet rising to 3900 feet in the afternoon. Partly sunny, with a high near 49. Calm wind.
Friday- Scattered showers, mainly before 11am. Snow level 2500 feet. Mostly cloudy, with a high near 44. Calm wind. Chance of precipitation is 30%.
Saturday- Mostly sunny, with a high near 44.
Sunday- Rain and snow showers likely, becoming all rain after 2pm. Snow level rising to 2200 feet in the afternoon. Mostly cloudy, with a high near 40.
The new confirmed and presumptive COVID-19 cases reported today are in the following counties: Baker (5), Benton (16), Clackamas (63), Clatsop (1), Columbia (5), Coos (3), Crook (2), Deschutes (37), Douglas (5), Hood River (1), Jackson (41), Jefferson (2), Josephine (27), Klamath (25), Lake (3), Lane (71), Lincoln (5), Linn (7), Marion (67), Morrow (2), Multnomah (125), Polk (14), Tillamook (1), Umatilla (13), Union (4), Wasco (4), Washington (76) and Yamhill (12).
Oregon Health Authority reported 637 new confirmed and presumptive cases of COVID-19 as of 12:01 a.m. today, bringing the state total to 134,468.
Vaccinations in Oregon
Today, OHA reported that 8,141 new doses of COVID-19 vaccinations were added to the state immunization registry. Of this total, 5,511 vaccine doses were administered on Jan. 18 and 2,630 were administered on previous days but entered into the vaccine registry on Jan. 18.
Cumulative daily totals can take several days to finalize because providers have 72 hours to report doses administered and technical challenges have caused many providers to lag in their reporting. OHA has been providing technical support to vaccination sites to improve the timeliness of their data entry into the state's ALERT Immunization Information System (IIS).
Based on currently entered data, the average daily number of vaccinations for the past seven days has been 12,289 doses administered per day.
| | |
| --- | --- |
| Date of Administration | Total Doses |
| Tuesday, Jan. 12 | 12,775 |
| Wednesday, Jan. 13 | 14,533 |
| Thursday, Jan. 14 | 13,836 |
| Friday, Jan. 15 | 14,759 |
| Saturday, Jan. 16 | 15,094 |
| Sunday, Jan. 17 | 9,513 |
| Monday, Jan. 18 | 5,511 |
Oregon has now administered a cumulative total of 225,066 first and second doses of COVID-19 vaccines. All vaccinations were administered by Oregon hospitals, long-term care facilities, emergency medical service (EMS) agencies, urgent care facilities and Local Public Health Authorities (LPHAs).
To date, 339,950 doses of vaccine have been delivered to sites across Oregon.
These data are preliminary and subject to change. OHA's dashboards provide regularly updated vaccination data and Oregon's dashboard has been updated today.
Of the 36 counties and county-equivalents in Oregon with current data, Malheur County has had the highest number of deaths attributed to COVID-19 per capita to date. Since the first COVID-19-related death was reported in the United States on Feb. 29, 2020, 52 people have died of the virus in Malheur County — or about 171 for every 100,000 people.
For reference, across all of Oregon, the population-adjusted coronavirus death toll stands at 43 for every 100,000 people.
Just as the population-adjusted death toll in Malheur County exceeds that of the state as a whole, it is also higher than the comparable national figure. To date, 387,551 Americans have died of COVID-19- related causes, equal to about 118 deaths per 100,000 people.
As is often the case in places with higher than average coronavirus fatalities per capita, confirmed cases of the virus per capita are also higher in Malheur County than they are across much of the rest of the state. The cumulative, population-adjusted number of infections in the county stands at 10,302 per 100,000 people, higher than the comparable rate across all of Oregon of 3,194 for every 100,000 people.
Counties and county equivalents where COVID-19 deaths per capita are relatively high are often home to larger populations of individuals at increased risk of severe illness if they are infected. One such group is retirement-age Americans. People 65 and older are at least 90 times more likely to die from the novel coronavirus, if infected, than those in the 18 to 29 age range. Though it has the highest COVID-19 mortality rate per capita in the state, Malheur County is not home to an especially large retirement-age population. An estimated 16.4% of county residents are 65 or older, compared to the 17.2% share of all Oregon residents.
Though the U.S. has one of the highest per capita COVID-19 death rates in the world, Americans infected with the virus today appear more likely to survive than those who were infected earlier in the pandemic. Medical care providers now have months of experience treating COVID-19, and over that period have established more effective practices in treating the disease. According to one study conducted by researchers at the NYU Grossman School of Medicine released in October, the chances of death among critically ill patients was 18 percentage points lower in August 2020 than it was in March.
And now that inoculations against the coronavirus are underway in the United States, the spread of the disease will eventually slow, which will inevitably contribute to a reduction in deaths per capita. Still, of the total COVID-19 related deaths to date in Malheur County, one occurred within the last week.
Phone Outage Affecting 911 in Illinois Valley and Wolf Creek and Parts of Douglas County
There was a phone outage in both the Illinois Valley and Wolf Creek areas impacting Ziply customers.  In both of these areas, customers are unable to reach 911 from their landline phones.  Wireless phones are not impacted.  We have not received an estimated time of restoration. 
UPDATE 01/20/2021 7:00 AM
DOUGLAS COUNTY, Ore. – The Douglas County Sheriff's Office has been notified that the damaged fiber line affecting 911 service in several communities has been repaired. Telephone and 9-1-1 service to the affected areas was restored at approximately 11:30 PM on Tuesday, January 19, 2021.
ORIGINAL RELEASE 01/19/2021 1:00 PM
DOUGLAS COUNTY, Ore. – The Douglas County Sheriff's Office has been notified by Lumen Technologies (formerly CenturyLink) of a service disruption which is impacting residents in Camas Valley, Tenmile, Winston, Green, Myrtle Creek, Days Creek, Tiller and Milo due to a fiber line cut. The service disruption may affect the ability for residents in the area to reach 9-1-1 on a Lumen Technologies (CenturyLink) landline.
Residents may be able to get through to emergency services on a cellular telephone, if they have service. Some fire stations have also been manned with personnel.
At this time, there is no estimated time of repair. Additional details will be released as they become available.
In the event of an emergency in these areas, please use a cell phone to call 911 until further notice.  As we receive updates on the phone system, we will update the public.
JOSEPHINE COUNTY 911 AGENCY Grants Pass Dept. of Public Safety
726 NE 7TH STREET, GRANTS PASS, OR 97526 Telephone  541-472-1911   Fax 541-474-0827
Search and Rescue Mission on Grayback Mountain
DETAILS:  On Monday, January 18, 2021 at approximately 5:50 pm, the Josephine County Sheriff's Office received a report of an injured hiker on Grayback Mountain.  The hiker was identified as a 42-year-old female who was accompanied by a male who was able to call for help.  Search and Rescue volunteers attempted hiking to the location of the two subjects, which was reportedly about one mile from the Grayback Cabin. 
Due to extreme conditions, Search and Rescue personnel were unable to reach the two subjects.  A Coast Guard helicopter responded to the location on the night of January 18th and dropped off a paramedic with supplies to get all parties through the night.  Due to darkness and weather conditions, retrieving personnel from the mountain was not an option.    
In the morning hours of Tuesday, January 19, 2021, an Oregon Army National Guard Helicopter attempted to retrieve the two hikers and paramedic however had difficultly due to poor weather conditions.  After several attempts, the two hikers and the paramedic were retrieved by an Oregon Army National Guard helicopter and transported to the Medford airport and the female patient is being evaluated for the level of injuries sustained.   
AROUND the STATE of OREGON and the USA  
Inauguration Day – The 20th amendment to the Constitution specifies that the term of each elected President of the United States begins at noon on January 20 of the year following the election. Each president must take the oath of office before assuming the duties of the position.
More information here about Inaugurations: https://www.aoc.gov/what-we-do/programs-ceremonies/inauguration
Oregon Capitol Ready for Potential Protests
At 9 a.m. PT, Joe Biden will be sworn in as the 46th President of the United States, exactly 2 weeks after a mob of insurrectionists stormed the US Capitol in an effort to stop Congress from certifying the Electoral College votes.
In the District of Columbia and states around the country, law enforcement officials are gearing up for protests who may seek to disrupt the day.
In Oregon, law enforcement authorities on Tuesday said there is "no known active threat of violence" in the region for Inauguration Day. But they are on alert.
A coordinated response between the FBI, OSP, Multnomah County Sheriff's Office, PPB, local Federal Protective Services and the Multnomah County DA is largely focused on the State Capitol in Salem and in Portland, the scene of so many protests during the Trump Administration.
"Because of the threats made against the Capitol, we'll be in Salem with the help of the Oregon National Guard, Salem Police Department and the Marion County Sheriff's Office," OSP Superintendent Terri Davie said at a Tuesday press conference.
Davie said people have the right to peacefully assemble, but "harassment, roadway blockage, vandalism blockage is not acceptable and will not be tolerated."
Salem Police Chief Trevor Womack said the recent protests have impacted the community.
"We need to prevent or intervene in acts of violence, stop property damage and vandalism and, given what we've seen at the Nation's Capitol, deny the unlawful occupation of buildings," Womack said. They plan to keep opposing groups separated as much as possible.
Oregon lawmakers decided to delay next week's start of the official legislative session to ensure no one is inside the Capitol building out of an abundance of caution.
New State Guidance Lowers the COVID-19 Bar for Oregon Schools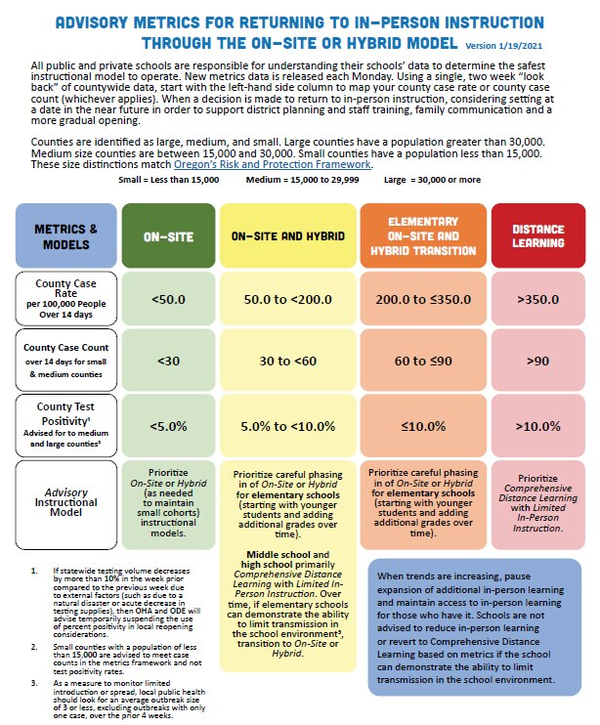 School districts around the state have been waiting on Tuesday's update to Oregon's "Ready Schools, Safe Learners" guidance.
The new guidance lowers the bar for districts to bring students back to the classroom for in-person instruction.
Health and safety protocols, like wearing face masks and learning in cohorts, remain required by the Oregon Department of Education. But metrics for reopening remain advisory. That continues Gov. Kate Brown's move last month to leave final decisions on reopening schools to local districts.
"We all know that in-person instruction provides our children and families with access to an equitable education," said ODE Director Colt Gill in a release announcing the updated guidance.
"Schools are a center of services to students and families, offering nutritious meals, access to social-emotional and mental health supports, as well as physical health services. This guidance provides new resources to mitigate the spread of COVID-19 and better meet students' needs in this time."
The state's new guidance says districts should still consider community case counts before reopening — but lowers the bar for COVID-19 case rates recommended for hybrid learning, especially for Oregon's youngest students.
Now, schools are advised to begin reopening for "elementary on-site and hybrid transition" when county case counts per 100,000 are 350 or below. The previous metrics set the metrics for a transition to "limited in-person instruction" at 200 or below. County test positivity requirements have changed too.
ODE said the changes align with recommendations from the Harvard Global Health Institute.
According to weekly metrics reported by the Oregon Health Authority, these metrics allow for reopening in several Oregon counties, including Multnomah County.
Portland Public Schools, the largest district in Multnomah County and Oregon, previously announced a plan to offer limited in-person instruction for some students.
The new guidelines received a "mixed" reception from ED 300, a parents' group that's been pushing the state to adopt less rigid guidelines and to allow more local control in school reopening decisions.
On one hand, the group said "Parents are encouraged by the revisions that permit the state's youngest learners to return to in-person learning in both hybrid and full-time models," in a statement provided by co-founder Rene Gonzalez.
But the approach to older students has the parent group arguing that the last ten months out of school has already harmed the academic development and mental health of thousands of students.
"We continue to be very concerned that the state of Oregon is writing off a generation of middle-schoolers and high-schoolers particularly in larger counties," Gonzalez said, referring to the higher case counts and greater difficulty of reopening in more populous counties. Gonzalez and others in the parents' group are advocating for not just a resumption of instruction for older students, but a return of sports, activities and academic counseling.
For schools that choose to reopen for hybrid learning despite high case counts, they must offer access to on-site COVID testing for symptomatic students and staff, plus those with known exposure to COVID-19.
ODE recommends a 14-day window before returning to in-person instruction.
"This will support district planning, family communication, and a more gradual—rather than rushed— opening," according to the guidance.
In a message to families Tuesday, Beaverton School District asked for time in allowing staff to consider ODE's guidance. They also addressed frustrations from parents seeing other school districts – both around the state and nationally – reopen. In addition, district officials cited a lack of liability protection around reopening.
"If and when anyone were to become sick (or worse) from COVID-19, a district could face expensive lawsuits," according to BSD's message. "Most districts, including ours, cannot afford to take on that level of risk. Any legal settlements would directly impact future funding for students."
The state also requires that a school employee be included in reopening plans and the guidance mandates training for all staff before reopening in person.
For schools considering providing instruction outdoors, the updated guidance includes resources for that possibility.
Former Eugene Elementary School Teacher Pleads Guilty for Sexually Abusing 15-Year-Old
A former Eugene elementary school teacher pleaded guilty today for sexually abusing a minor female, announced U.S. Attorney Billy J. Williams.
William Hamann, 38, pleaded guilty to one count of sex trafficking of a child. According to court documents, on several occasions beginning in 2018 and continuing until July 2019, Hamann paid a minor female for oral sex and recorded the minor performing the sex acts. The minor female was 15 years old during the first encounter with Hamman.
Eugene Police Department detectives and FBI agents arrested Hamann on July 26, 2019, when he came to meet the minor a fourth time. Agents searched his mobile phone and found a recording of one of the sex acts. Hamman used social media to arrange the meetings with the minor.
On August 21, 2019, a federal grand jury in Eugene returned a four-count indictment charging Hamann with sexual exploitation and trafficking of a child, possession of child pornography, and attempted sex trafficking of a child.
Hamann was also charged with multiple counts in Lane County Circuit Court, including sodomy and sex abuse.
Hamann will be sentenced on March 1, 2021 before U.S. District Court Judge Ann Aiken. The U.S. Attorney's Office will recommend a sentence of 160 months in federal prison to be served consecutively to a 20-month prison sentence in Lane County.As part of the plea agreement, Hamann has agreed to pay restitution in full to his victim.
This case was investigated by the FBI and the Eugene Police Department. It is being prosecuted by Jeff Sweet, Assistant U.S. Attorney for the District of Oregon, and Katherine Green, Lane County Deputy District Attorney.
Anyone who has information about the physical or online exploitation of children are encouraged to call the FBI at (503) 224-4181 or submit a tip online at tips.fbi.gov.
Federal law defines child pornography as any visual depiction of sexually explicit conduct involving a minor.
It is important to remember child sexual abuse material depicts actual crimes being committed against children.
Not only do these images and videos document victims' exploitation and abuse, but when shared across the internet, child victims suffer re-victimization each time the image of their abuse is viewed.
To learn more, please visit the National Center for Missing & Exploited Children's website at www.missingkids.org.
Oregon Department of Justice Settles Harassment Claims Against Two of Its Attorneys
The Oregon Department of Justice reached a settlement Jan. 14 with former senior assistant attorney general Heather Van Meter, who filed a tort claim notice in June 2020 alleging she was harassed in the workplace by Steve Lippold, the department's chief trial counsel, and Marc Abrams, the assistant attorney in charge of employment litigation for the state.
According to the settlement agreement, obtained by WW, the state will pay Van Meter $190,000 for "damages on account of personal injuries."
Van Meter is represented by Portland attorney Sean Riddell, who said, "Ms. Van Meter appreciates the ODOJ's willingness to resolve her claim."
The DOJ issued the following statement: "We are pleased that this matter has come to a satisfactory resolution, and we wish Ms. Van Meter all the best in her future endeavors."
Three Oregon Volcanoes Make National Geographic's Top 10 Most Dangerous In America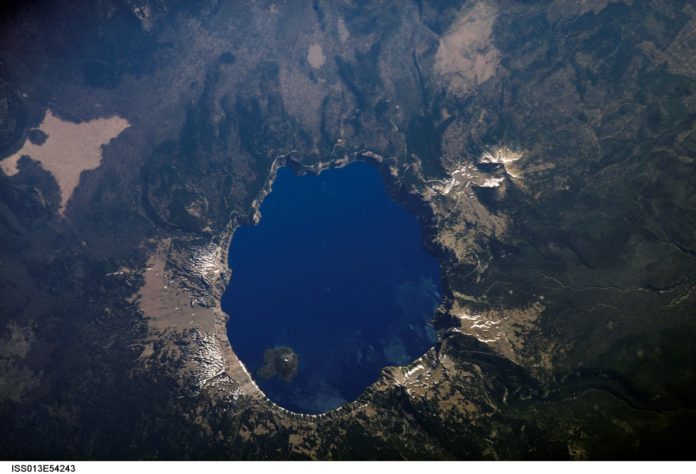 Oregon has some of the prettiest wilderness for people to explore in the United States. From deep gorges and rushing rivers to gorgeous lakes and rugged peaks, you don't have to travel far to find beauty and solitude in our gorgeous state. Much of this beauty was created by Oregon's violent volcanic past. Oregon has a lot of volcanoes as it sits on the northeast edge of the Ring of Fire. While most of Oregon's volcanoes are dormant, some are still considered a risk and have a high threat potential today. Three of Oregon's Volcanoes are on National Geographic's list of America's Ten Most Dangerous Volcanoes.
America's 4th Most Dangerous Volcano Is Mount Hood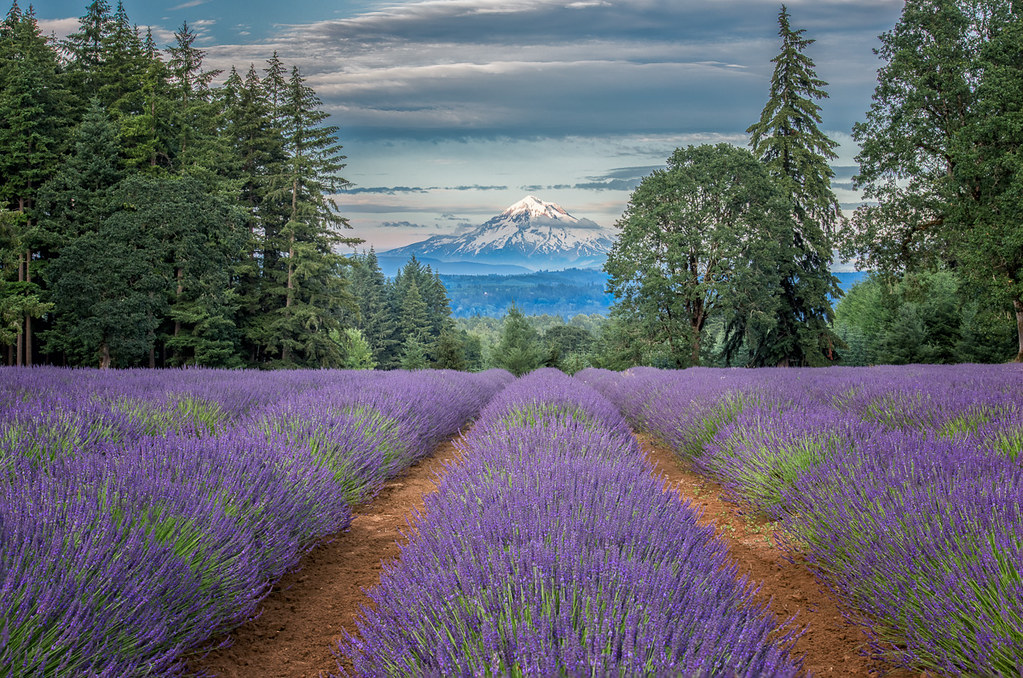 Mount Hood made number 4 on National Geographic's list of most dangerous volcanoes in America. Mount Hood is a stratovolcano with a very high threat potential.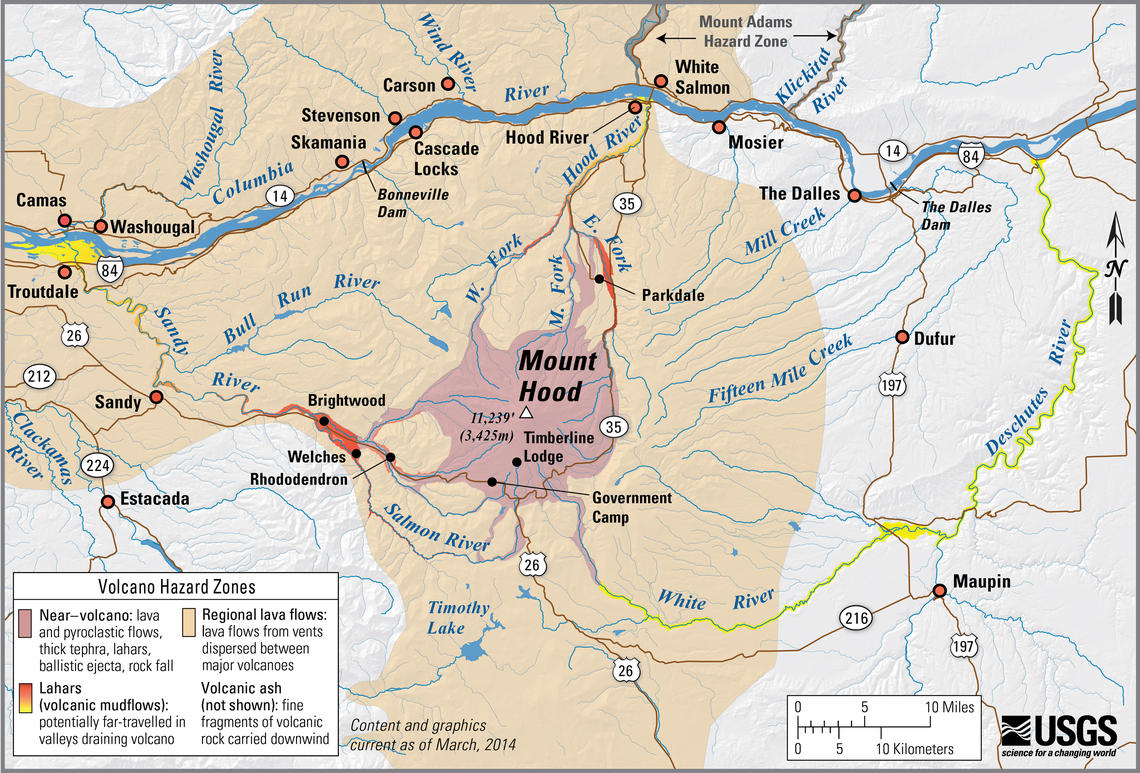 Its most recent eruption was in 1865 AD, which was about a decade before Lewis and Clark came through to explore the area. Ash and mud from that eruption was still clogging up the Sandy river when Lewis and Clark wrote about it.
Recently Mt Hood experienced a cluster of earthquakes. You can check out the most up to date monitoring of Mount Hood and it's earthquakes at the monitoring map here. You can also get information on Mount Hood's volcanic past here.
America's 6th Most Dangerous Volcano Is South Sister
The Three Sisters are just west of Bend Oregon, and this hotbed of volcanic activity is about 115 square miles. The most recent eruption from these complex stratovolcanoes happened 2,000 years ago, though the threat potential remains very high.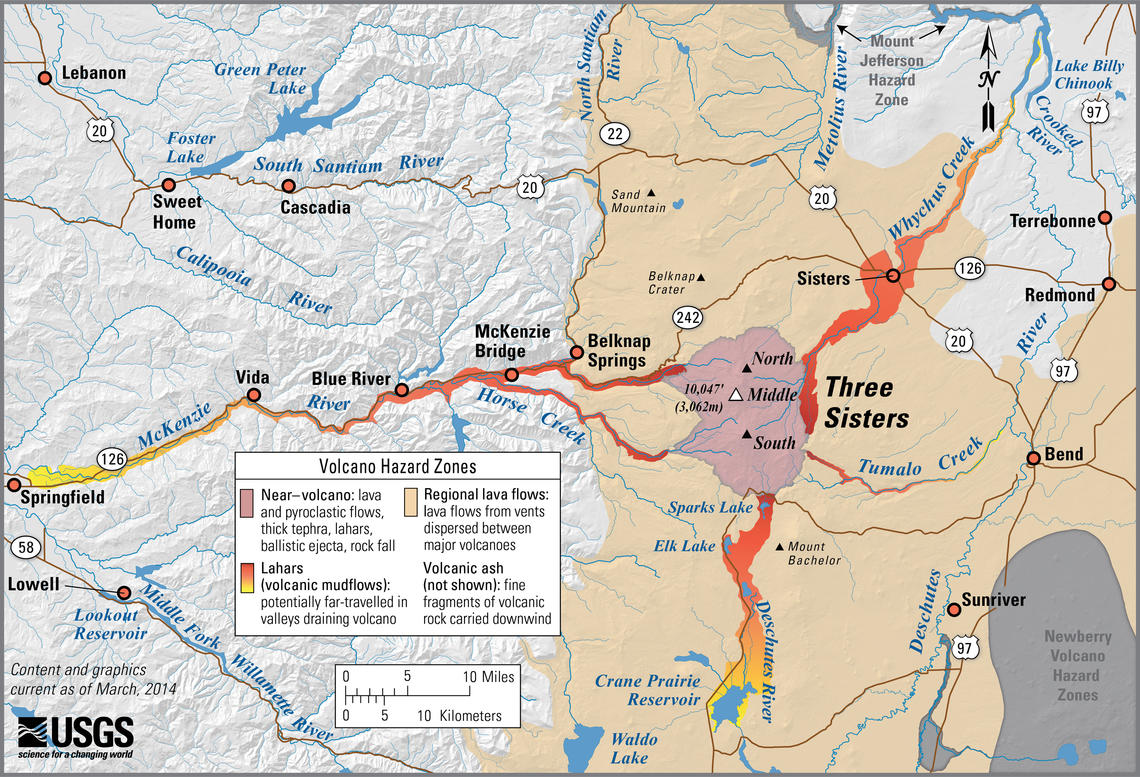 There is still volcanic activity going on underground in the area. At the end of the 1990's and start of the 2000's, volcanologists noticed an area of ground deforming just west of Middle and South Sister.
The nine mile wide area was called the Bulge, and indicated magma accumulating and moving underground. You can check out the Sisters monitoring map here, and get more information about the Three Sisters volcanic past here.
America's 10th Most Dangerous Volcano Is Mount Mazama / Crater Lake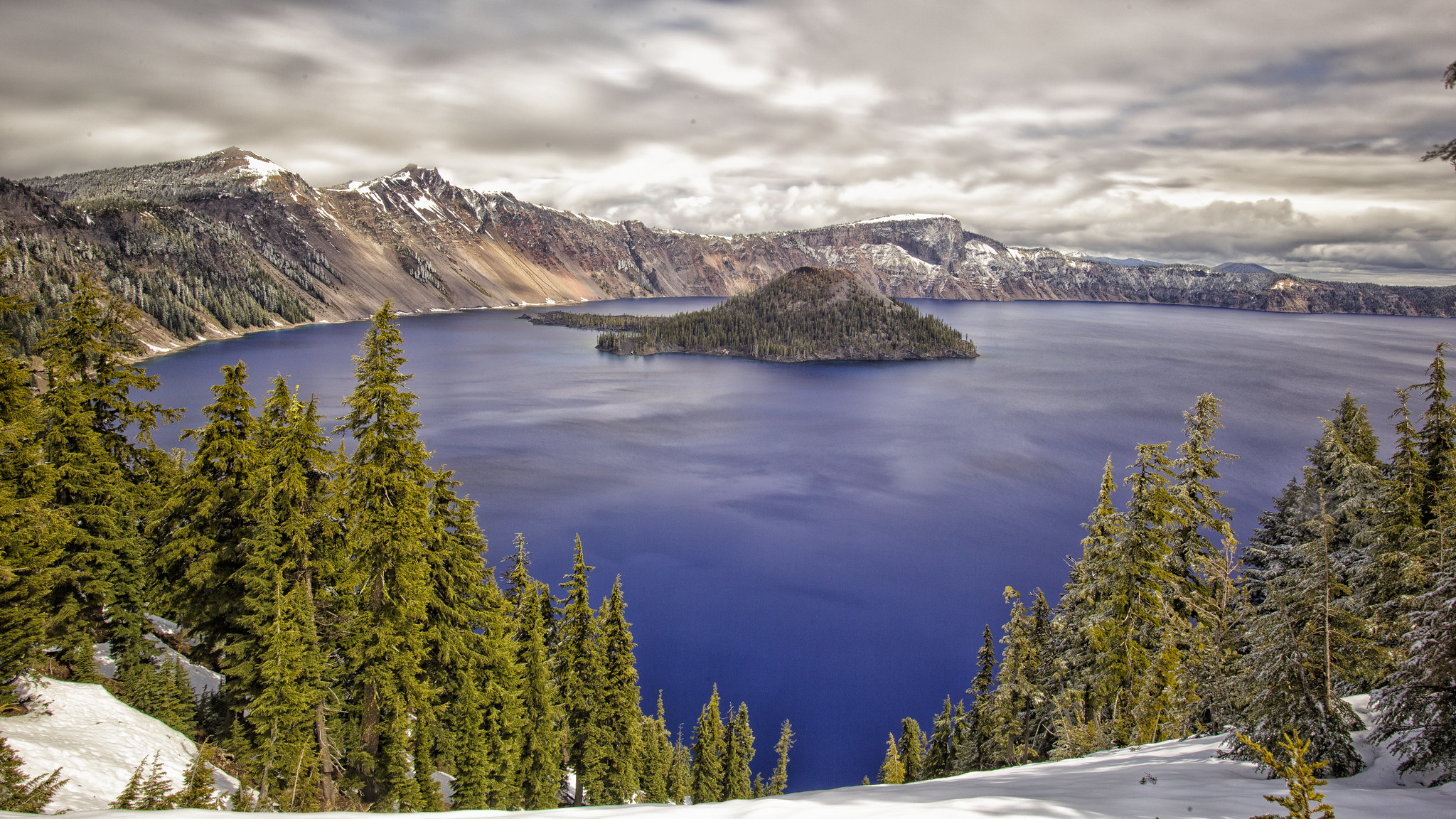 Mount Mazama exploded 7,700 years ago and was the largest eruption in the Cascade Range in the last hundred thousand years.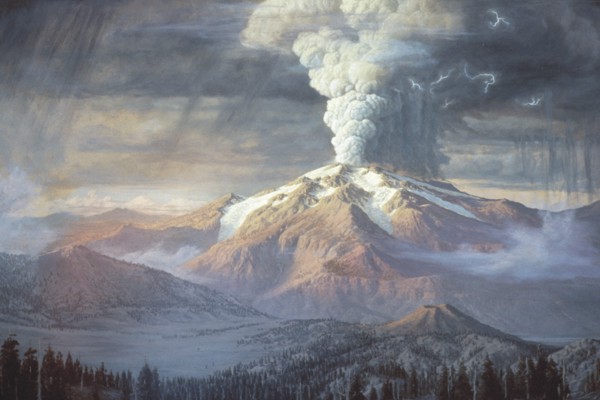 What was left after the explosion was a caldera which slowly filled with water and formed Crater Lake, the deepest lake in the United States at 1,949 feet deep. The threat potential from this volcano is still very high.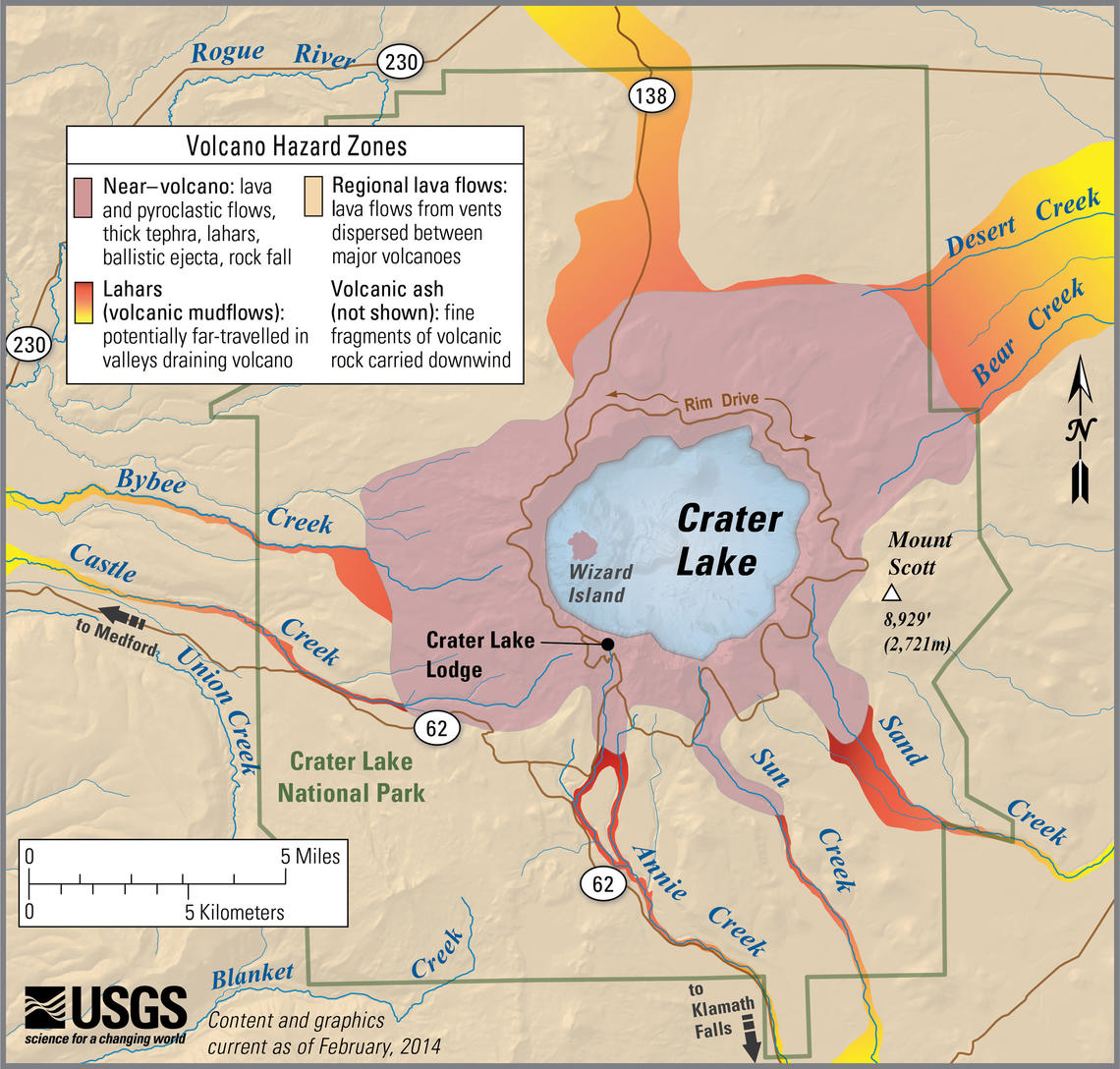 You can look at the Crater Lake monitoring map here, and get information about Crater Lake and Mount Mazama's volcanic past here.
You can get a list of Oregon's volcanoes here and see them on a map.