The latest news stories and stories of interest in the Rogue Valley from the digital home of Southern Oregon, from Wynne Broadcasting's RogueValleyMagazine.com
Thursday, January 21, 2021
Rogue Valley Weather
Today- Mostly sunny, with a high near 50. Calm wind.
Friday- A 30 percent chance of showers, mainly before 5pm. Snow level 2700 feet. Cloudy, with a high near 44. Light west southwest wind.
Saturday- Partly sunny, with a high near 44. Calm wind.
Sunday- Rain and snow, becoming all rain after 2pm. Snow level 1400 feet rising to 2300 feet in the afternoon. High near 40. Chance of precipitation is 80%. New snow accumulation of less than a half inch possible.
Monday- A slight chance of snow. Mostly cloudy, with a high near 39.
The new confirmed and presumptive COVID-19 cases reported today are in the following counties: Baker (3), Benton (21), Clackamas (36), Clatsop (6), Coos (12), Crook (7), Deschutes (38), Douglas (17), Harney (3), Hood River (6), Jackson (38), Jefferson (7), Josephine (15), Klamath (16), Lake (4), Lane (53), Lincoln (4), Linn (26), Malheur (29), Marion (83), Morrow (4), Multnomah (99), Polk (22), Tillamook (2), Umatilla (53), Union (7), Wallowa (1), Wasco (6), Washington (60) and Yamhill (26).
Oregon Health Authority reported 704 new confirmed and presumptive cases of COVID-19 as of 12:01 a.m. today, bringing the state total to 135,142.
Vaccinations in Oregon
Today, OHA reported that 13,694 new doses of COVID-19 vaccinations were added to the state immunization registry. Of this total, 8,570 vaccine doses were administered on Jan. 19 and 5,124 were administered on previous days but were entered into the vaccine registry on Jan. 19.
Cumulative daily totals can take several days to finalize because providers have 72 hours to report doses administered and technical challenges have caused many providers to lag in their reporting. OHA has been providing technical support to vaccination sites to improve the timeliness of their data entry into the state's ALERT Immunization Information System (IIS).
Oregon has now administered a cumulative total of 238,760 first and second doses of COVID-19 vaccines. All vaccinations were administered by Oregon hospitals, long-term care facilities, emergency medical service (EMS) agencies, urgent care facilities and Local Public Health Authorities (LPHAs).
To date, 436,250 doses of vaccine have been delivered to sites across Oregon.
These data are preliminary and subject to change. OHA's dashboards provide regularly updated vaccination data and Oregon's dashboard has been updated today.
The Oregon Department of Education on Tuesday issued updated guidance for the return of in-person learning, which includes a requirement that schools provide on-site COVID-19 testing.
The guidance is the most recent push for students to return to school. Earlier this month, Gov. Kate Brown set a Feb. 15 goal for returning more students to the classroom, with a focus on elementary students.
Before winter break, less than 10% of Oregon's estimated 580,000 students were receiving some form of in-person instruction, according to data from the Oregon Department of Education.
At the start of the year, Brown gave local school districts the power to decide when to return students to in-person learning.
Updated advisory metrics now allow for in-person classes for elementary students at higher levels of community case rates than previously recommended. A new requirement is that schools provide on-site COVID-19 testing for symptomatic students and staff members and for those who have had a known exposure to a positive case.
Inn At The Commons to Become Apartment Complex Housing
The distinctive Inn at the Commons in Medford is being sold, with the new owners planning to convert the hotel into an apartment complex.
Local couple Doug and Becky Neuman own the Neuman Hotel Group, which consists of Ashland Springs Hotel, Larks Restaurant, Waterstone Spa, Lithia Springs Resort, and Ashland Hills Hotel & Suites. The Neumans announced last Thursday that they are selling their Medford property, Inn at the Commons.
The Neuman Group said in a statement that they were contacted by a residential real estate company in late 2020. Fortify Holdings proposed to purchase and re-purpose the Inn at the Commons from a hotel into an 123-room apartment complex.
Citing the dire need for housing in the greater Medford area and the sharp increase in hotels, the Neumans said that they feel this conversion is in the best interest of the community.
"This repurposing is a much-needed change that can potentially create vibrant downtown community," the Neuman Group said. "Over the last eight years, since 2013 when Inn at the Commons was purchased from the Red Lion Hotel, there have been numerous chain hotels open up at both freeway exits. There are over 600 new hotel rooms in the Medford area, and more to come in the near future. City center will benefit with rental units much more, than with overnight lodging offered by a hotel."
The Meeting and Convention space at Inn at the Commons "is being looked at," the Neuman Group said, and there are opportunities for it to continue. The company also indicated that Larks Restaurant will continue on as-is, in addition to their other hotels.
Last fall, Fortify approached Doug and Becky Neuman and presented its idea to convert the 118 hotel rooms into 123 studio and one-bedroom apartments.
Once the Neuman's heard the proposal, they embraced the concept, Anway said "They thought about it in terms of what is the long-term needs of the community," he said. "There is a big need to get more people in the downtown."
Because of significant upgrades to the hotel since the Neuman group bought it in 2013, Fortify will retain the same buildings on the property. Previously it was the Red Lion Inn.
"Structurally the exterior of the guest rooms will not be changed," Anway said. The units recently had new floors installed. Inside, Fortify plans to install kitchens in each room, he said. A communal laundry facility will also be available. The restaurant, Larks, has been closed since the COVID-19 outbreak, and Anway said the new owners hope to get another restaurant in the space.
In the main building facing Riverside, the Inn has various conference rooms that are often used for community gatherings such as Rotary meetings. Anway said the pandemic's affect on the hotel business didn't have anything to do with the sale.
"The hotel has done well last year," he said. "We were fortunate to gain some of the fire victims. We had an OK summer last year." U.S. Cellular Community Park continues to host sports events, which brought in people from outside the area, helping fill up rooms.
The Neuman Hotel Group also owns the Ashland Springs Hotel, Lithia Springs Resort, Ashland Hills Hotel and Suites and the Nunan Estate in Jacksonville.
Fortify has $462.5 million in assets with 17 multi-family properties totaling more than 2,000 apartments. Ziad Elsahili, president of Fortify Holdings LLC, said the rental rates are still being worked out. "We haven't landed on all that yet," he said. On some of the larger units, Elsahili said a wall will likely be built to offer a separate bedroom space. The smaller units will have an open floor plan with the living room, bedroom and kitchen occupying the same space, he said.
Elsahili wouldn't say whether the apartments would be affordable housing, saying they would be high quality and offer the best value for this community. Elsahili said his company hasn't settled on plans for the restaurant and conference rooms.
"Our hope is to partner with other local business and create an exciting, multi-use venue that serves our community in various ways," he said. "We will shift our focus to this project once we have completed all of our efforts on the apartment renovations."
In general, thanks to the efforts of the Neuman group, the buildings are in pretty good shape and Fortify doesn't plan on any new structures, he said. "All the current staff at Inn at the Commons will have employment opportunities at other NHG properties," Neuman Group said. "The property will close sometime in the spring of this year."
The Neumans said that they are excited about the future for downtown Medford, and the potential benefit that housing there can provide. "Fortify sees this as a unique opportunity to serve the Rogue Valley Community with high-quality rental homes," NHG's statement said.
Jackson County CoC Conducts Annual Homeless Count
Every year in January, the Jackson County Continuum of Care conducts the Point in Time Count (PIT). This count attempts to collect information on people who are residing in emergency shelters or transitional housing programs as well as those who are living in vehicles, tents or other places not meant for human habitation. The purpose of the count is to provide a snapshot of homelessness in Jackson County, connect those experiencing homelessness to area resources and support services, and to identify and rectify barriers to housing and services. 
The official night of this year's count for Jackson County is Monday, January 25. Teams of volunteers will survey individuals on the street, in camps and in their vehicles. Surveys will also be completed at various sites, such as social service agencies and food pantries from January 25 through January 31.
Staff from homeless assistance agencies and other community volunteers conduct a street count of the unsheltered population and collect data on the homeless population living in emergency shelters and transitional housing. Along with the total number of sheltered and unsheltered homeless persons, information is gathered on a wide range of characteristics such as age, gender, race, ethnicity, veteran status, and disability status of those experiencing homelessness.
"The main purpose of the survey is to gather data on those who are experiencing homelessness in Jackson County so that we can better serve them by helping them to navigate to stable housing and connecting them to support services" says Continuum of Care Manager Constance Wilkerson. "We add questions to the survey beyond those required by the US Department of Housing and Urban Development to more accurately depict the need for safe, affordable and accessible housing in our community and address ways to support the specific needs of those experiencing homelessness."
ABOUT THE JACKSON COUNTY CONTINUUM OF CARE  https://jacksoncountycoc.org/
The Jackson County Continuum of Care is a community-wide effort to end homelessness in Jackson County through the coordination of collaborative efforts and the resources of all sectors in the community.
CONTACT:
Luis Sanchez
Communications Supervisor
Phone (541) 774-4319
Cell (541) 326-1779 www.accesshelps.org
Arrest Made in Trail Murder
On 082420 at 1646 hours,  Jackson County Sheriff's Office deputies responded to a shooting in the 3300 block of Highway 227 north of Trail, Oregon. One victim was deceased at the scene from a gunshot wound. He was 25-year-old Steven Garrett Sutton.
JCSO activated the Major Assault and Death Investigation Unit (MADIU) to begin an investigation into the shooting. JCSO was the lead agency, and was assisted by detectives from Ashland Police, Medford Police, Central Point Police, The Oregon State Crime Lab and the Jackson County District Attorney's Office.
On January 15, 2021, the investigation resulted in the arrest of Tommy Ray Ormsby, dob 07-24-72 of the 3300 block of Highway 227, Trail, Oregon. The victim was the nephew of the suspect.
Ormsby has been lodged at Jackson County Jail on charges of Murder Second Degree, Manslaughter Second Degree and Criminally Negligent Homicide. His total bail is $1,000,000.
Two Retail Stores are Being Added to The Village Medford Center
 Despite a pandemic-induced economic downturn, two retail stores are being added to The Village Medford Center, the management announced on Wednesday. Both T.J. Maxx and Burlington locations are opening in the former Sears building during 2021, The Village management said. The latter store, of Coat Factory fame, will be the first such location in southern Oregon.
"We are extremely excited to add both T.J. Maxx and the first Burlington store in southern Oregon to the Village at Medford Center," said David S. Goldman, managing partner for LBG Real Estate Companies. "These exceptionally promotional retailers combined with our existing best-in-class entertainment, daily needs and lifestyle tenants will appeal to both the local market and the more than 4 million tourists that visit the Medford area annually and will further reinforce The Village at Medford Center as the dominant retail property in Southern Oregon."
The Sears building was vacated in late 2019 after the company went bankrupt. Burlington will now occupy more than 35,000 square feet of the building, with T.J. Maxx taking up another 25,000 square feet. LBG Real Estate said that it is finalizing negotiations with a third "national off-price retailer" that is expected to open in early 2022.
The Village is currently home to the Tinseltown Cinemark Theater, Tap & Vine Restaurant, Collaborative Theater, Ella Lane, Timber & Tonic, Safeway, Red Robin, Village Fitness and Rite Aid.
"This exceptional level of leasing activity despite the negative effects of the Covid-19 pandemic on retail are a sign of what tenants see as prime retail in the post-Covid world. Medford Center is poised as a model for future successful retail destinations," LBG said.
AROUND the STATE of OREGON
Oregon Drops 25,500 Jobs in December
Oregon's unemployment rose to 6.4% in December from 6.0% in November. This was the state's first monthly increase in its unemployment rate following seven months of declines. Meanwhile, the U.S. unemployment rate remained at 6.7% in both November and December.
Oregon's over-the-month percent job loss was much greater than nationally. In December, Oregon lost 1.4% of nonfarm payroll employment while the U.S. shed 0.1%. Oregon's total nonfarm payroll employment dropped by 25,500 jobs in December, following a revised gain of 2,100 jobs in November. The drop followed seven consecutive months of gains. Total nonfarm payroll employment stood at 1,783,300 in December, which was an over-the-year decline from December 2019 of 174,000 jobs, or 8.9%.
"December's job losses reflect the devastation COVID-19 continues to inflict on the lives and livelihoods of Oregonians. Ten months into the pandemic, Oregon has regained just 37% of the jobs lost in this recession," said Gail Krumenauer, State Employment Economist with the Oregon Employment Department.
December job losses in Oregon were greatest in leisure and hospitality, which cut 28,600 jobs. Several other industries also cut at least 800 jobs in December, including private educational services (-1,700 jobs), government (-1,300), wholesale trade (-1,100), manufacturing (-900), and construction (-800). In contrast, four major industries each added thousands of jobs: retail trade (+2,200 jobs); transportation, warehousing, and utilities (+2,200); health care and social assistance (+2,200); and professional and business services (+2,100).
Within leisure and hospitality, full-service restaurants cut 17,600 jobs in December, which was the largest drop of its component industries. Full-service restaurants, where in-person dining has been severely reduced due to the pandemic, have cut far more jobs than limited-service eating places which shed 2,000 jobs in December.
On the plus side, reflecting the rapid increase in online shopping, the industries that employ the fulfillment center warehouse workers and package delivery drivers boosted December employment in industries within transportation, warehousing, and utilities. In particular, couriers and messengers added 3,600 jobs in December.
The Oregon Employment Department plans to release the December county and metropolitan area unemployment rates on Tuesday, Jan. 26, and the next statewide unemployment rate and employment survey data for January on Tuesday, March 2.
The PDF version of the news release can be found at QualityInfo.org/press-release. To obtain the data in other formats such as in Excel, visit QualityInfo.org, then within the top banner, select Economic Data, then choose LAUS or CES. To request the press release as a Word document, contact the person shown at the top of this press release. Oregon Employment Department 
To file a claim for unemployment benefits or get more information about unemployment programs, visit unemployment.oregon.gov.
Equal Opportunity program — auxiliary aids and services available upon request to individuals with disabilities. Contact: (503) 947-1794. For people who are deaf or hard of hearing, call 711 Telecommunications Relay Services.
Oregon's Democratic Party Offices Vandalized in Post-Inauguration Protests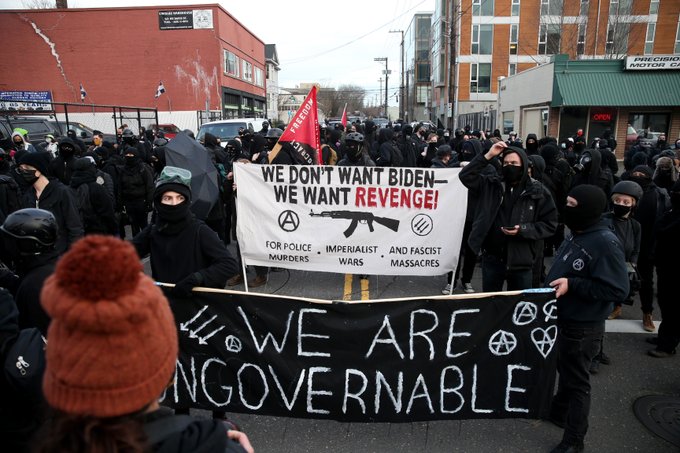 Police arrested eight people on Wednesday after the Democratic Party headquarters in Portland, Oregon, was vandalized hours after President Joe Biden's inauguration.
Portland police said some of the group of about 150 people carried weapons "including Molotov cocktails, knives, batons, chemical spray and a crowbar."
Some members of the crowd met in southeast Portland before heading to the Democratic Party offices dressed in black and carrying banners reading, "We don't want Biden, we want revenge! For police murders, imperialist wars and fascist massacres," and "We are ungovernable," according to a photo published by The Oregonian.
Charges against the eight arrested included felony criminal mischief, possession of a destructive device, and riot, police Sgt. Kevin Allen said in a video statement on Twitter.
At least 150 people later marched on Portland's Immigration and Customs Enforcement building, calling for the agency to be abolished.
A crowd clashed with federal officers outside the building, throwing rocks and eggs and vandalizing the building, Portland police added.
Coos-Curry County Farm Bureau offers scholarships
Coos-Curry Farm Bureau announces that it will offer three $1,000 scholarships for the 2021-22 school year.
The scholarships will be given to high school seniors who plan to major in an agriculture-related field at an Oregon college, university, or community college. Current Oregon college students who are majoring in an agricultural-related field are also eligible. And this year, Coos-Curry County Farm Bureau opened up the scholarship criteria to include students from families who are Coos-Curry County Farm Bureau Voting or Supporting members that will be attending an Oregon college, university, or community college in the field of their choice during the 2021-22 school year.
Financial need is not the primary basis for selection but is a factor in the selection process. Academic performance, agriculture achievement in FFA or 4-H, and/or participation in school and community activities are basic criteria evaluated by the Coos-Curry County Farm Bureau Scholarship Committee.
Application forms are available on the Oregon Farm Bureau website at www.OregonFB.org/scholarships or may be requested by calling 541.347.3453.
Completed applications, along with a high school or college transcript, are due April 1, 2021. Winners will be notified in writing by April 15.
New Public Affairs Officer for Klamath National Forest
Klamath National Forest Acting Forest Supervisor Rachel Smith announced that Kimberly DeVall will be the new Public Affairs Officer. DeVall replaces Joshua Veal who transferred to the Huron-Manistee National Forests in May, 2020.
"We are pleased to welcome Kimberly DeVall to the Klamath National Forest," said Acting Forest Supervisor Rachel Smith. "Her experience in public information—her experience working with a wide variety of partnerships, associations, and the public—and her natural resource management education and work experience will be an invaluable addition to the Klamath National Forest."
DeVall has a broad background as a public information officer for Valles Caldera National Preserve (a unit of the National Park Service) headquartered in Jemez Springs, New Mexico. Her work included development of news releases and brochures, management of the preserve's website and social media sites, leading media tours, development of internal and external newsletters, and serving as a Fire Information Officer. She was responsible for the interpretation program, which included visitor center operations, and coordinated the Volunteers-In-Parks program.
Her work experience includes extensive work with an association, called Los Amigos de las Valles Caldera, which was formed to help support the mission of the national preserve. She served as a member of the Greater Santa Fe Recreations Partnership, collaborated with the Pajarito Environmental Education Center to provide education programs, and partnered with New Mexico Trout to provide volunteers to facilitate fly fishing clinics. Early in her career she worked for four years on the Santa Fe National Forest as Education Coordinator for the Respect the River/Rio program.
DeVall brings to the job a strong background in natural resource management. She graduated from Oklahoma State University with a Bachelor of Science degree in Wildlife and Fisheries Ecology with course emphasis in communications/journalism. She then completed a Master of Science degree from Oklahoma State University in Wildlife and Fisheries Ecology with course emphasis in sociology.
"I am very pleased to be joining the team on the Klamath National Forest," said DeVall. "I look forward to meeting and working with partners, stakeholders and members of the public on all the important work we have to do together.
Oregon Department of Fish and Wildlife is Requesting Art Submissions for its 2022 Stamps. 
Oregon Department of Fish and Wildlife is requesting art submissions for its 2022 stamps.
Between Aug. 27 and Sept. 24, artists can submit entries for the department's Habitat Conservation Stamp, Waterfowl Stamp and Upland Game Bird Stamp. Artists do not have to live in Oregon to participate.
The winning artist in each contest receives a $2,000 award. Winning artwork is used to produce collector stamps and other promotional items with sale proceeds benefitting Oregon fish, wildlife and habitats.
Habitat Conservation Stamp entries must feature an animal in its natural habitat; Waterfowl Stamp entries must feature the Northern Shoveler in its natural habitat setting; and Upland Game Bird Stamp entries must feature the Chukar partridge in its natural habitat setting.
A list of comprehensive contest rules is online at dfw.state.or.us/stamp_contest/.
A panel will judge artwork based on artistic composition, anatomical accuracy of the species and general appeal. All submitted artwork will be showcased at a free art show, open to the public.