The latest news stories and stories of interest in the Rogue Valley from the digital home of Southern Oregon, from Wynne Broadcasting's RogueValleyMagazine.com
Wednesday, January 27, 2021
Rogue Valley Weather
Today– A chance of rain and snow before 10am, then a chance of rain. Snow level rising to 2600 feet. Partly sunny, with a high near 45. South wind 10 to 15 mph, with gusts as high as 23 mph. Chance of precipitation is 40%. Total daytime snow accumulation of less than a half inch possible.
Thursday– A chance of rain before 10am, then a chance of showers after 10am. Snow level 2600 feet rising to 3200 feet in the afternoon. Mostly cloudy, with a high near 43. Calm wind. Chance of precipitation is 30%.
Friday– Patchy freezing fog before 10am. Mostly cloudy, with a high near 44. Light and variable wind.
Saturday– A 30 percent chance of rain. Snow level 3000 feet rising to 3800 feet in the afternoon. Mostly cloudy, with a high near 47.
Sunday– Rain likely, mainly after 10am. Snow level 3600 feet rising to 4900 feet in the afternoon. Mostly cloudy, with a high near 49.
Oregon Department of Transportation (ODOT) is warning drivers to brace for severe weather on southwest Oregon mountain passes.
Meteorologists have been tracking the winter storm, which is coming into the region from the southwest. Significant snowfall is expected, particularly in areas of Siskiyou County. In Shasta Valley and Mt. Shasta City, those blizzard conditions could bring several feet of snow. At least a few inches are expected on the I-5 Siskiyou Summit, Sexton Summit, and Hayes Hill on Highway 199. Drivers on I-5, Highway 97 and Hwy 199 should be aware and prepare for those conditions. 
You can keep track of current road conditions online for Oregon (Tripcheck) and California (QuickMap). ODOT said it and Caltrans will likely need to halt traffic between Ashland and Redding if the storm quickly overwhelms their resources. Snow levels and storm tracks can vary, so be aware of the changing conditions.
Oregon reports 796 new confirmed and presumptive COVID-19 cases, 22 new deaths.
The new confirmed and presumptive COVID-19 cases reported today are in the following counties: Baker (1), Benton (21), Clackamas (100), Clatsop (11), Columbia (8), Coos (2), Crook (8), Curry (2), Deschutes (70), Douglas (20), Harney (9), Hood River (8), Jackson (49), Jefferson (1), Josephine (14), Klamath (19), Lake (3), Lane (50), Lincoln (6), Linn (12), Malheur (16), Marion (61), Morrow (1), Multnomah (195), Polk (11), Sherman (1), Tillamook (2), Umatilla (18), Union (6), Wallowa (1), Wasco (2), Washington (37) and Yamhill (31).
Vaccinations in Oregon
Today, OHA reported that 17,422 new doses of COVID-19 vaccinations were added to the state immunization registry. Of this total, 10,178 doses were administered on Jan. 25 and 7,244 were administered on previous days but were entered into the vaccine registry on Jan. 25.
Cumulative daily totals can take several days to finalize because providers have 72 hours to report doses administered and technical challenges have caused many providers to lag in their reporting. OHA has been providing technical support to vaccination sites to improve the timeliness of their data entry into the state's ALERT Immunization Information System (IIS).
Oregon has now administered a cumulative total of 325,473 first and second doses of COVID-19 vaccines. All vaccinations were administered by Oregon hospitals, long-term care facilities, emergency medical service (EMS) agencies, urgent care facilities and Local Public Health Authorities (LPHAs).
To date, 589,200 doses of vaccine have been delivered to sites across Oregon.
These data are preliminary and subject to change. OHA's dashboards provide regularly updated vaccination data and Oregon's dashboard has been updated today.
Despite gradually declining coronavirus cases statewide, Oregon's county risk levels
remain largely unmoved under the latest list published by state officials. But for counties
under the highest restrictions, the new list brings with it some relief for gyms and similar
businesses.
Effective January 29 through February 11, there will be 25 counties in the Extreme Risk level, two at High Risk, two at Moderate Risk, and seven at Lower Risk. In southern Oregon, the only county to see a change was Curry County, which dropped from Moderate to Lower Risk — the lowest possible level of restrictions under the state plan.
Jackson, Josephine, and Klamath counties remain at Extreme Risk, with Lake County remaining at Moderate. Brown's office said that some of the Extreme Risk guidance has been modified, also effective January 29. The change allows for a maximum of six people to be indoors at facilities over 500 square feet — for "all indoor
activities except dining" — as long as social distancing, cleaning, and face covering guidance is followed. For smaller buildings, the modified guidance allows for "1:1 customer experiences, such as personal training."
The Oregon Restaurant & Lodging Association welcomed the news that the state would allow more activities under the "Extreme Risk" category, beginning this Friday.
But the lobbying group questioned ongoing restrictions on restaurants, citing statistics about COVID-19 deaths and the status of restaurants in various states across the U.S.
Oregon adjusts categories every 2 weeks. Updates released Tuesday ahead of Friday's changeover date show most counties will remain in Extreme Risk. But the category itself will change on Friday to allow limited indoor use of gyms and movie theaters – and give restaurants more options in terms of outdoor dining and customer access to video lottery machines.
The group noted that leisure and hospitality businesses in Oregon lost 25,500 jobs in December. ORLA shared an analysis "across states with mask mandates shows no correlation between the number of cases and deaths and the decisions to close indoor dining."
Kingsley Volunteer Airmen Deploy for COVID-19 Vaccination Clinics in Southern Oregon
Volunteer Airmen from the 173rd Fighter Wing are currently operating on State Active Duty as part of Task Force Guardian, supporting COVID-19 vaccine clinics in Southern Oregon. Team Kingsley personnel are performing three separate missions: administering COVID-19 vaccine to high-risk populations and essential workers, working traffic control in order to maintain safety at the clinics, and performing administrative management of all the records that go along with a large-scale medical operation.
These volunteers include the chief nurse and three enlisted medics from the 173rd Medical Group, who are part of the team administering vaccines. They began their State Active Duty deployment in Medford, where they inoculated 8,000 Oregonians in a drive-thru setting over a three-day period. The team has since moved to Grants Pass, where they expect to inoculate a similar number in that community.
"It's an emotional time," said Lt. Col. Beth Boschee, an emergency room nurse in her civilian job and the officer in charge of medical operations for the task force. "The people coming in to get the shots are happy, cheering, and they're also sharing stories of deaths in their families from COVID-19." She explained that those coming in to receive the vaccine have ranged from age 16 to 90, and from teachers and first responders to the elderly with underlying conditions. She shared one of the happiest moments was when her team sang "happy birthday" to an 82-year-old man on Sunday as he received his first COVID-19 shot.
Boschee and the 173rd medics help make up the larger, 33-member Task Force Guardian, which has 12 Team Kingsley members in all. The rest of the task force is staffed from the 142nd Wing out of Portland.
In addition to the medical operations team, four Team Kingsley personnel are performing administrative management duties under the leadership of Maj. Robin Bautista, 173rd Medical Group, and another four are working on a traffic control team led by Senior Master Sgt. John Wyman, 270th Air Traffic Control Squadron.
Bautista's team is focused on tracking vaccine data, including lot numbers and who received it. He admits it was a steep learning curve on the first day, but now says the operation is running so smoothly that the civilian counterparts who requested Task Force Guardian's support hope the team will be able to come back in three weeks to help administer second doses.
"I didn't know what this was going to entail but my training really helped," said Buatista. "It's been organization of people and resources, and knowing who to talk to – I'm an optometrist in my civilian job, so knowing how to deal with medical professionals comes to bear in a situation like this. Everyone is here for the right reasons. This is a real step towards making a better world."
Wyman's team has been advising and consulting on traffic plans at clinic locations, directing traffic, and monitoring choke points. The goal, he explained, was to make sure people could receive the vaccine as quickly and safely as possible. "This has been a super positive experience; morale is high," said Wyman. "It's snowed, it's rained, but everyone from a brand new airman to a lieutenant colonel raised their hand to continue volunteering if they need us."
While ensuring lines stay socially distanced and moving, Wyman described a situation where one of his team members assisted an elderly gentleman with a walker inside the clinic; the gentleman cried, overwhelmed by the help he was given. "People look to us to be experts. We wear the uniform and that really means something. We've received a lot of love from county leaders, and they told us they hope we can come back to help again."
Some of the Team Kingsley members in Grants Pass will be forward deploying to Deschutes and Multnomah Counties later this week, continuing their current missions, and another 173rd member will be joining them. Their activation lengths are varying between seven and 60 days.
As the 173rd's Crisis Action Team Manager, Lt. Col. Mike Balzotti, has been coordinating the requests for support that come from Oregon's Joint Operations Center.
"It's great to see our Airmen put their training to use to help our state," said Balzotti "We can really make a difference – this is why we're in the guard. And it's an interesting dynamic to mix with other Oregon Guardsmen and get to see the big picture."
Josephine County Health Officials Give Out Vaccines While Stuck in Snow at Hayes Hill
Josephine County Health officials confirmed that its COVID-19 vaccine administrators were able to get rid of six remaining vaccines on the side of the road after getting stuck on Hayes Hill during today's snowstorm. Josephine County Health Officials Give Out Vaccines While Stuck in Snow at Hayes Hill
The department said it was on the way back from the Illinois Valley Vaccine Clinic and was headed to Grants pass to give out a few remaining vaccines but became stuck in a traffic jam due to weather conditions. To avoid wasting the vaccine doses that were getting close to expiration (the vaccines can only be open for six hours) the team offered the doses to other motorists stuck on the side of the road.
After getting stuck in a snow-related road closure staff members from the Josephine County Health Department administer COVID-19 vaccines roadside to avoid wasting 6 doses left over from a vaccination clinic. Doses can only be open for six hours.
Josephine County Health Department officials had six doses that were close to expiration with them when they got caught in traffic due to inclement weather. To avoid wasting the doses, the vaccine was administered to other drivers who were also caught in the snowstorm.
Ray's Market Becomes Employee-Owned
C&K Market, an independent chain of grocery stores in Oregon and California, completed a transaction to become 100% employee-owned through an employee stock ownership plan (ESOP) trust. This enables employees to receive retirement benefits linked to the company's future equity value. The plan was established on December 29, 2020.
"At our core, we're a community grocery store that proudly serves its neighbors," said Karl Wissmann, president and CEO of C&K Market. "We tailor what we offer to meet the needs of each community we serve. That commitment continues through our Employee Stock Ownership Plan (ESOP), which allows us to maintain our independence and lets employees benefit from our success."
Wissmann noted that the ESOP builds on C&K Market's strengths: employees who go the extra mile for their customers, strong community connections and a passion to continually improving and updating its stores and their offerings. He pointed to remodeling of 100% of its stores over the past six years, as well the launch of new departments including Healthy Living, Pet Centers and Foods of the World. Additionally, each store added about 2,500 new items.
"These accomplishments were often motivated by what employees heard from customers," Wissmann said. "We strive to listen and deliver what our customers want. I'm proud of what we've achieved and know that greater things are coming, because our employees built such a strong foundation."
Wissmann called C&K Markets "a chain of independent stores rather than an independent chain of stores. We serve a variety of communities; each has unique needs. Our passion is meeting those needs and continuing to give back to those communities, while evolving to be their grocery store of choice," he said.
"We started an initiative some five years ago to give customers a reason to shop in our stores rather than a big box store," Wissmann continued. "We listen to customers and respond to their preferences. Shoppers are buying more from us because we are adding real value to each of the communities that we serve.
"Our future is definitely bright as we enter our next chapter," he said. "This is the best possible succession plan for a company with strong local roots and dedicated employees." No changes are planned in management structure, operating policies or practices.
Store meetings will be held to introduce the plan during the first quarter with additional information provided throughout the year.
There are 6,600 ESOPs in the United States, holding $1.4 trillion dollars and employing some 14 million people, according to the National Center for Employee Ownership. They also typically provide 2.2 times the total retirement assets as non-ESOP companies. A Rutgers study found that ESOP companies grow 2.3 to 2.4% faster after setting up an ESOP.
C&K Market: The chain started in 1956 with one market in Brookings, OR. Today it has 38 stores in Oregon and northern California, operating under the banners of Ray's Food Place, Shop Smart and C&K Market. In 2014, Karl Wissmann joined the grocery chain as its CEO and led its recent revitalization. Currently, more than 1,200 people are employed by the company, which is now employee owned.
AROUND the STATE of OREGON
Oregon Dept. of Forestry – Snowfall is a good reminder to inspect your trees!
Snowfalls may be less common in Oregon urban areas than in the past, but heavy amounts can still cause havoc with trees with poor branch structure. Taking a quick look at your trees this winter may reveal simple pruning cuts you can make to limit damage in future snowstorms.
The Oregon Department of Forestry (ODF) has posted bulletins on its website to help homeowners with details of what to look for and where a cut might prevent damage to the tree. Visit https://www.oregon.gov/odf/forestbenefits/pages/urbanforests.aspx
"Being prepared for winter includes knowing what to do about your trees when it snows heavily," says ODF's Urban and Community Forestry Assistance Program Manager Kristin Ramstad. "Keep a broom handy to sweep snow off branches if it looks like they might be getting weighed down."
Ramstad says to be especially diligent about removing snow on broadleaved trees and tall shrubs that come from climates that receive less snow than Oregon. Evergreen magnolias, azaras and eucryphias from Chile, evergreen oaks from Mexico and Asia, evergreen laurels, and tree-form manzanitas may all benefit from having snow removed.
Ramstad recommends shaking or sweeping snow off branches and foliage. Look first to make sure no large branches are hung up in the tree and could fall on you. And avoid hitting the tree with a hard object, as it can damage the bark.
If major branches do break under heavy snow or in a storm, consult with a certified arborist belonging to the Pacific Northwest chapter of the International Society of Arboriculture (PNW-ISA).
"Of course, never top a tree thinking it will make it safer in snow," Ramstad warns. "The new growth that results after topping is always more weakly attached than the original branches. It's actually more likely to break off during storms or snow events."
Driver in Deadly SE Portland hit-run Rampage Identified
Portland police have identified the driver accused of hitting nine people, killing one of them, during a violent hit-and-run rampage in Southeast Portland on Monday.
Police said 64-year-old Paul Rivas of Oregon City was booked into the Multnomah County Detention Center for several charges, including second-degree murder. He also faces multiple counts of assault and failure to perform the duties of a driver. He's slated to appear before a Multnomah County judge Wednesday afternoon.
Driver hits 'multiple pedestrians' in SE Portland; 1 dead, 5 hurt in multiple crime scenes
Investigators said there were multiple crime scenes and that the deadly rampage began near Laurelhurst Park around 1 p.m on Monday when the driver slammed into several people on the sidewalk along a stretch of Southeast Stark Street.
The crime scenes span from Southeast Cesar E. Chavez Blvd and Southeast 15th Avenue, from East Burnside Street to Southeast Belmont Street. Police say as they were responding to the first report, they quickly received calls that the same driver was involved in other crashes of cars and pedestrians.
Authorities said they received multiple calls about an incident with the Honda Element at 32nd and Belmont, 33rd and Belmont, 37th and Pine and other points before it ended between SE 18th and 17th near Stark.
The suspect then attempted to run away on foot, but people in the neighborhood helped "corral" him until police could take him into custody, PPB Sgt. Derek Carmon said. PFR Lt. Rich Chatman said once they responded to the scene at SE 18th and Stark, they quickly realized it was a "multiple patient scene."
Investigators have found no evidence that terrorism, politics or any bias motivated a driver who repeatedly drove into people along streets and sidewalks in Portland, Oregon, killing a 77-year-old woman and injuring nine other people, police said Tuesday.
Two of the injured were cyclists and six were pedestrians – they all suffered minor injuries and are recovering. But 77-year-old Jean Gerich died of her injuries. A Grandmother and cancer survivor who had just gotten her Covid Vaccine wall killed in this hit-run rampage.
Human Remains Found In Yamhill County Identified As California Woman
On January 18th, shortly before 9:00 a.m., a Yamhill County citizen located a suspicious object near the entrance to Stuart Grenfell Park, which is located at the intersection of Highway 18 and Harmony Road in rural Sheridan. The property owner promptly called law enforcement.
Yamhill County Deputies arrived on scene and began an investigation, eventually requesting response from the Yamhill County Sheriff's Office Special Investigations Unit (SIU). SIU members identified the contents as human remains. The remains were removed from the scene and transported to the Oregon State Medical Examiner's Office.
On January 19th the remains were confirmed to be that of an adult female. The female was later identified as 31-yr old Mariah Diane Lindgren. The last known address for Lindgren is Humbolt County, California. Lindgren was known to have been in the Grand Ronde and Willamina areas for the past few weeks.
Anyone who may have had contact with Lindgren or noted any suspicious activity in the area of Stuart Grenfell Park on or around Jan. 18 should call the YCSO at 503-434-7506 and reference case number 21-171.
The YCSO conducted their investigation at the scene along with the YCSO Special Investigations Unit with help from the Oregon State Police Department and the West Valley Fire District, according to officials.
Another Famed Oregon Coast Landmark Has Been Closed Off to Access After Crumbling and Becoming Dangerous
Another famed Oregon coast landmark has been closed off to access after crumbling and becoming quite dangerous, the second in two months after the tunnel at Oceanside was shut down because of a landslide. This time, Jump-Off Joe at Newport's Nye Beach abruptly reached a critical state, with chunks of the rock formation falling away and leaving the concrete remnants of an old condo project broken and unsafe to walk on.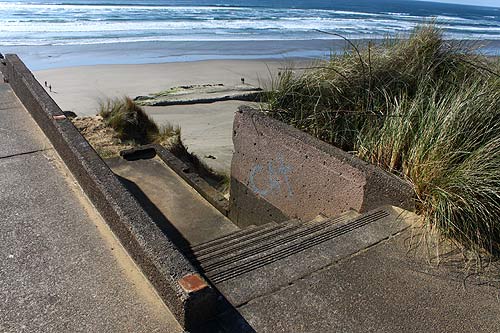 According the City of Newport's Casey Miller, it's been two days of rather heavy landslide activity at Jump-Off Joe, the worst of which was today. Signs are now up on the beach as well as the area leading to the parking lot of the attraction.
"The public will be prohibited from accessing the area. This is a very dangerous situation with potential for additional landslides," Miller said. "Public safety is the paramount concern at this time. Additional review by professional geotechnical consultants will be undertaken to both ensure all safety measures are in place and to examine possible next steps."
Jump-Off Joe has for decades been a geologically unstable headland, with more and more of it getting whittled away by the tides every year. The condo remnants on top, which have served as a quirky lookout and oddball attraction on the Oregon coast, is one of many major examples. It's part of a condominium project that was begun in the '80s after incorrect data and pressure on local officials resulted in its go-ahead. Before it was finished the condo project cracked. It was quickly abandoned and left behind were the funky remains used by those ogling the ocean.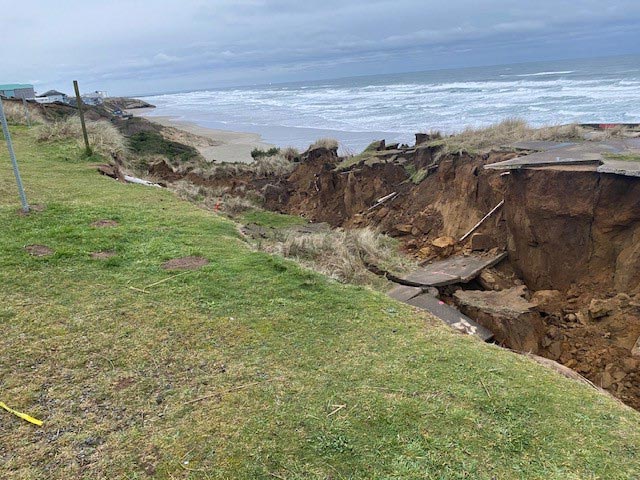 This particular episode in Jump-Off Joe's long, drawn-out demise began a little over a week ago, as new, larger cracks began to show rather suddenly in the concrete, and some square-like sections began to buckle and tilt at odd angles.
Then on Monday, it worsened quickly with much it of crumbling catastrophically. Miller initially sent out a warning about the new issues in progress that day.
"The landslide activity in the area known as Jump Off Joe (Old Condominium Site) in Newport has recently increased," Miller said in a press release on Monday. "The County has installed warning signs and the City of Newport has cordoned off the area with signage prohibiting public entry. In addition, Oregon State Parks has placed signage on the beach on the north end of the site."
Now, as of Tuesday, the structure is no longer traversable.
The history of Jump-Off Joe is a long and complex one, and this is the second structure in that spot to have that name. The original Jump-Off Joe was a large blob at the tideline over 100 year ago that had an arch that came and went, but it was a favorite with locals and visitors until it too seemed to melt into the tides by the '30s.
Meanwhile, this current Jump-Off Joe (it was named so in the '70s), was a sizable sandstone headland, which for a time had a large arch in it as well. Some famous photos occasionally surface of 1930s-era cars driving through it.
That arch crumbled with a major crash in 1994, and since then the headland has continued shrinking.
This entire cliff-line of Nye Beach is known for major landslides. Geology reports show it had lost as much as 500 feet since 1880, and one major event in the mid century took out 200 feet.
House Bill 2698 
If your watch battery dies there are scores of shops that will quickly swap it out for a new one – or you can do it yourself with a simple toolkit. If your smartphone's charging port stops working, though, options are far fewer.
That's because electronics manufacturers like Apple and Samsung control the tools and parts needed to make the fix. And critics say that makes it harder, more expensive – and sometimes impossible – to perform even straightforward repairs. Oregon lawmakers will consider legislation this year designed to make that process easier by requiring manufacturers to make repair tools, parts and instructions readily available. on "fair and reasonable terms." House Bill 2698 is among two-dozen similar bills before state legislatures across the country this year.