The latest news stories and stories of interest in the Rogue Valley from the digital home of Southern Oregon, from Wynne Broadcasting's RogueValleyMagazine.com
Monday, February 1, 2021
Rogue Valley Weather
Today- Rain, mainly after 10am. Snow level 5200 feet lowering to 4000 feet. High near 52. Breezy, with a south wind 16 to 22 mph, with gusts as high as 33 mph. Chance of precipitation is 80%. New precipitation amounts between a tenth and quarter of an inch possible.
Tuesday- A 50 percent chance of showers. Snow level 3100 feet. Mostly cloudy, with a high near 47. North northwest wind around 5 mph becoming calm in the morning.
Wednesday- Rain and snow showers likely before 1pm, then a chance of rain showers. Snow level 1700 feet rising to 2600 feet in the afternoon. Mostly cloudy, with a high near 44. South southwest wind around 6 mph. Chance of precipitation is 70%. Little or no snow accumulation expected.
Thursday- Mostly sunny, with a high near 48.
Friday- Mostly sunny, with a high near 49.
On Sunday, The Oregon Health Authority announced that it will not be reporting any new cases or new information on vaccine administration today, because its data management system was down yesterday.
The Oregon Pandemic Emergency Response Application or (OPERA) was schedule yesterday from ten in the morning to ten at night to have a schedule maintenance for its server and file migration.
The work done means that OHA's Health Information Center will not be reporting information on COVID-19 cases and deaths today.
Because of this, people may see an increase in the total number of cases reported on Monday February 1, 2021, as laboratory results that were reported on Saturday will not be processed until today.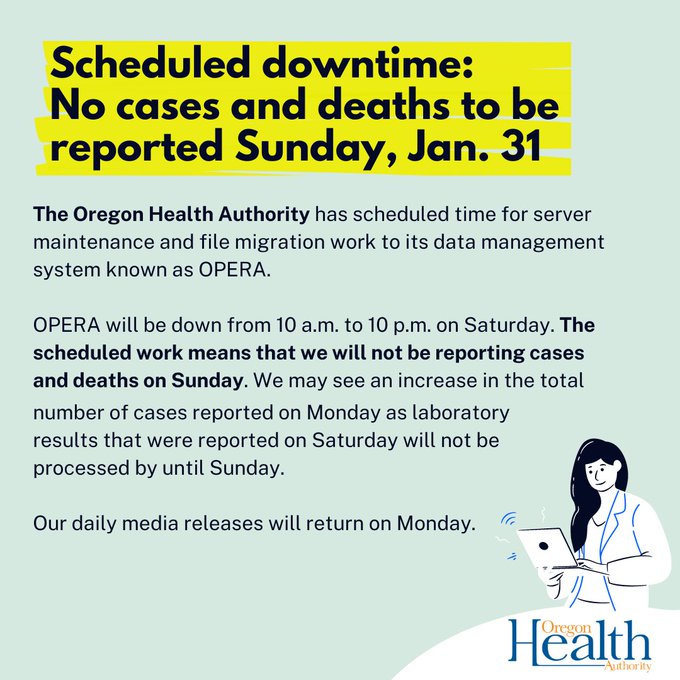 Health officials on Saturday reported 19 more COVID-19 deaths in Oregon and 707 new cases of the virus. Nearly 70% of the 19 Oregonians who died were over the age of 80. It's also the 14th consecutive day Oregon has reported fewer than 1,000 new cases, a benchmark the state consistently surpassed from mid-November through mid-January.
The new confirmed and presumptive COVID-19 cases reported Saturday are in the following counties: Benton (7), Clackamas (64), Columbia (14), Coos (15), Crook (7), Curry (1), Deschutes (26), Douglas (8), Hood River (6), Jackson (42), Jefferson (8), Josephine (30), Klamath (22), Lake (1), Lane (62), Lincoln (5), Linn (18), Malheur (9), Marion (63), Morrow (7), Multnomah (122), Polk (25), Tillamook (1), Umatilla (36), Union (5), Wasco (9), Washington (82), and Yamhill (12).
Vaccinations in Oregon
Saturday, OHA reported that 25,500 new doses of COVID-19 vaccinations were added to the state immunization registry. Of this total, 19,867 doses were administered on Jan. 29 and 5,633 were administered on previous days but were entered into the vaccine registry on Jan. 29.
Cumulative daily totals can take several days to finalize because providers have 72 hours to report doses administered and technical challenges have caused many providers to lag in their reporting. OHA has been providing technical support to vaccination sites to improve the timeliness of their data entry into the state's ALERT Immunization Information System (IIS).
Oregon has now administered a cumulative total of 407,869 first and second doses of COVID-19 vaccines. To date, 665,325 doses of vaccine have been delivered to sites across Oregon.
These data are preliminary and subject to change. OHA's dashboards provide regularly updated vaccination data, and Oregon's dashboard has been updated today.
Jackson County Health Officials Report 100th Death
On Saturday, Jackson County Public Health Officials announced that the county has now experienced 100 total deaths. It's taken Jackson County a little more than six months to reach 100 total deaths after the county reported its first death related to Covid-19 back on July 29th, 2020.
Health officials in Jackson County reported 42 new cases of coronavirus and 2 more deaths today. The 42 new cases increases the county's total up to 7,459.
Jackson County's 99th COVID-19 death was an 86-year-old woman who tested positive on December 24 and died on January 1 at her residence. While Jackson County's 100th COVID-19 death was a 93-year-old woman who tested positive on January 28 and died on January 29 at Rogue Regional Medical Center. Both patients had underlying health conditions.
Although Jackson County has reached this new and grim milestone, health officials around the county are working to increase vaccinations to reduce the spread and effects of Covid-19.
According to the latest numbers from the Oregon Health Authority Jackson County has now vaccinated 17,373 people. Of those 17,000 plus vaccinations, 14,259 people have received their first shot while 3,114 people have been completely vaccinated.
Fatal Crash on Interstate 5 in Josephine County
On Sunday, January 31, Oregon State Police Troopers and emergency personnel responded to a three-vehicle crash on Interstate 5 near milepost 67.
A 37-year-old Medford woman died in a three-car crash Sunday morning on Interstate 5 in Josephine County, Oregon. The crash took place about 11:15 a.m. near milepost 67. Police suspect poor visibility from rain and fog was a factor in the accident, but state police are investigating further. All three vehicles were headed southbound.
Preliminary investigation revealed that three vehicles were southbound on I-5 when a collision occurred.
Southbound vehicles were a Toyota Sienna, operated by Denise Watts (37) of Medford, a Buick LCR, operated by Rolland Wytcherley (85) of Wolf Creek, and a Dodge Avenger operated by Wendy Lynn (58) of Grants Pass.
Investigators are still attempting to determine the exact sequence of events but believe poor visibility from rain and fog was a factor.
Watts sustained fatal injuries and was pronounced deceased. Wytcherley and his passenger, Maria Wytcherley (72) of Wolf Creek, were transported to the hospital with injuries. Lynn and her passenger were not injured.
OSP was assisted by Rural Metro Fire, Josephine County Sheriff's Office, AMR, and ODOT.
Southern Oregon Hemp Co-Op's Golden Grow Awards
The hemp industry has quickly grown into a big moneymaker nationwide in the years following its legalization in 2018. The Rogue Valley is no exception, and on Saturday the Southern Oregon Hemp Co-Op's continued its attempts to expand the industry further with their second annual Golden Grow awards, going to top producers of the crop.
"Let the competition begin! It's through competition that makes us all better," said Mark Taylor, founding board member of the Southern Oregon Hemp Co-Op.
Categories include Top CBD, Top Scent, Judge's Choice and plenty more. But the awards are not just about rewarding farmers – they are part of larger strategy of economic growth.
"We believe that hemp can be a driver of economic recovery for our state, and certainly the state of Oregon has everything it needs to be a top producer," said Sophia Blanton, executive producer of the event.
Unlike its close cousin marijuana, hemp has no psychoactive properties. It can be used to make a variety of commercial products including rope, textiles, clothing, insulation and even some medicine.
"Hemp is not just a crop. It's not just a commodity. It is a revolution. It's an opportunity for us to put into practice a lot of things about sustainability that we often talk about," Blanton said.
Southern Oregon has quickly proven to be the king of hemp production in the state, as over a third of Oregon's hemp acreage is found in Jackson and Josephine Counties.
"We have a number of small businesses that are making essential oils for your skin, and soaps," Taylor said. "By creating the end product, you really do feed the commerce scale of hemp, and you don't have to so much go outside of our valley."
Like so many other industries, hemp production actually declined in 2020 in Oregon, after it seemingly reached cash crop status in 2019.
"We're there through the good times and the bad times for the grow. That's not to say we haven't had some tough times with some microclimates and overproduction.," Taylor said. "We're small but we're mighty."
For those interested in learning more, Oregon State University's Global Hemp Innovation Center is holding an online national hemp symposium on Feb. 9 and 10. More information can be found here.
AROUND the STATE of OREGON
Oregon's Extended Benefits End Due to Dropping Unemployment Rates
The U.S. Department of Labor informed the Oregon Employment Department that it is turning off Oregon's Extended Benefits (EB) program because of Oregon's declining unemployment rate. With this federal decision, up to 13 weeks of EB no longer will be available after Feb. 20, 2021.
"Extended Benefits has been an important safety net that has helped many Oregonians make ends meet. Fortunately, the Continued Assistance Act is providing another safety net, and EB claimants will be able to move to the Pandemic Emergency Unemployment Compensation program for an additional 11 weeks," said David Gerstenfeld, acting director of the Oregon Employment Department.
Extended Benefits (EB) is a program that extends regular Unemployment Insurance (UI) benefits when a state is at high unemployment. The average unemployment rate is reviewed at the federal level over a three-month period to determine if the state goes into this extension. If the average unemployment rate is below 8% but at or above 6.5%, then up to 13 weeks of additional benefits are available under EB.
The ending of EB will not happen immediately. Claimants can continue receiving EB benefits for three weeks, and should continue filing EB claims through Feb. 20, 2021. After this date, the Employment Department will move claimants to PEUC so claimants will not need to restart their claims. This switch from EB to PEUC may require manual changes, delaying some PEUC payments. All payments will be made retroactively and claimants will not lose out on any weeks of benefits they are eligible for.
In the event that this improvement to the unemployment rate is temporary and Oregon's unemployment rate increases to 6.5% or higher, OED will not need to meet the statutory 13-week delay period to turn EB on, per a recent authorization from Governor Brown.
For more information about Extended Benefits, visit the Employment Department's EB FAQ.
Oregon Health Authority awarded 988 State Planning Grant
Grant helps Oregon plan for National Suicide Prevention Dialing Code
The Oregon Health Authority has received a planning grant to prepare Oregon for the launch of 988, a National Suicide Prevention emergency number that will go live on July 16, 2022, nationwide. The $135,000 grant will help Oregon with resources, training, technical assistance, and infrastructure needs to allow access to the new number by that date. The grant requires Oregon to begin its planning on Feb. 1, 2021.
Oregon received the grant on Jan. 25, 2021, through Vibrant Emotional Health, the nonprofit that administers the National Suicide Prevention hotline. Vibrant has awarded grants to 49 states and territories.
"We look forward to having another tool to help us save lives," said OHA Director Patrick Allen. "We're grateful to Vibrant for awarding these funds to help us move forward with our strategic planning and infrastructure to make 988 accessible to all Oregonians."
The new 988 number will become the national three-digit dialing code for the National Suicide Prevention Lifeline, replacing the current phone number of 1-800-273-TALK (8255). Anyone needing support should continue to call 1-800-273-TALK (8255) until the number is active in July 2022.
"The recognition that mental health and addiction crises are as important and pervasive as physical health crises is a long time coming," said OHA Behavioral Health Director Steve Allen. "The new 988 number is easy to learn and quick to use, allowing for a simple way to access crisis services for anyone struggling with a mental health or addiction emergency."
To ensure that the implementation plan will allow Oregon to be ready for the nationwide July 16, 2022 launch, the grant requires OHA to:
Start planning for the 988 line on Feb. 1, 2021, and end on Sep.1, 2021.
By Dec. 30, 2021, submit a final plan to both Vibrant and the federal Substance Abuse and Mental Health Services Administration (SAMHSA), the branch of the U.S. Department of Health and Human Services that oversees and funds the National Suicide Hotline.
OHA will collaborate with the Governor's Office, hospitals, Coordinated Care Organizations, counties, emergency services, state leadership, suicide prevention experts, people with lived experience, and others to create the plan. The collaboration will ensure Oregon meets the operational, clinical, and performance standards in a way that mirrors the response capability currently in place for people calling 911.
988 call centers must be members of the National Suicide Prevention Lifeline. More information about Lifeline members are here: https://suicidepreventionlifeline.org/our-crisis-centers/
Oregonians Can Sign up for Health Insurance During the three-month special enrollment period – The Biden Administration announced today that it will open a special enrollment period from Feb. 15 through May 15, 2021. This special enrollment period will allow Oregonians who are looking for health coverage to shop at HealthCare.gov.
In recent years, Oregon made great strides in reducing the state's uninsured rate. Before the COVID-19 pandemic, 94 percent of all Oregonians had health coverage. Since the pandemic, hundreds of thousands of Oregonians either lost their job or experienced a loss in income. These Oregonians may be eligible for financial help to purchase health insurance.
Insurance agents and community partner organizations throughout the state are available to help people apply for financial assistance and choose private plans. Oregonians seeking insurance can also browse plans to review savings eligiblilty at OregonHealthCare.gov/WindowShop.
Oregonians who do not get health insurance through their job or a program such as the Oregon Health Plan or Medicare may qualify for help paying for 2021 coverage at OregonHealthCare.gov. Even if people are temporarily uninsured, they can sign up for help between Feb. 15 and May 15 to get health insurance for 2021.
"This new opportunity to enroll in health coverage for 2021 is critical during the current pandemic," said Chiqui Flowers, administrator of the Oregon Health Insurance Marketplace. "You can get help paying for health insurance based on your income. Don't assume you make too much to be eligible."
Individuals making $51,040 or less per year, and families of four making $104,800 or less, may receive help paying for coverage. In 2020, more than seven in 10 Oregonians who chose plans through HealthCare.gov received financial help for monthly premiums and out-of-pocket costs. These savings lowered the average premium to just $145 per month.
To apply, go to OregonHealthCare.gov between Feb. 15 and May 15 and answer a few Oregon-specific questions to get to the right application. You can also search the "get help" directory on OregonHealthCare.gov to find an insurance agent or community partner organization to help you complete the application and enroll. Insurance agents and community partners provide local, one-on-one assistance at no charge to the client. This help is available virtually over the phone, and in person following safety protocols.
The Oregon Health Insurance Marketplace, a part of state government, helps people get health insurance when they do not have job-based coverage, and do not qualify for the Oregon Health Plan or another program. The Marketplace is the state-level partner to HealthCare.gov, and a division of the Department of Consumer and Business Services (DCBS). For more information, go to http://OregonHealthCare.gov
Many of the Oregon Businesses Cited For Covid-19 Health Violations Took Millions In Federal Relief
Oregon businesses cited by the state for violating coronavirus safety standards received more than $12.5 million in federal pandemic relief loans last year through the Paycheck Protection Program.
The relief program doesn't specifically require that businesses comply with safety rules to be eligible for coronavirus relief loans, or to have those loans forgiven. That means businesses that resist those rules are still able to access the free government help without experiencing the same level of economic hardship of those that fall in line.
Most Oregon businesses appear to be complying with state safety rules, despite the severe economic consequences for restaurants, gyms, theaters and others that have been forced to stop or sharply limit indoor activities.
Among the businesses that aren't complying, though, a few have made a show of defying the state's safety protocols. That hasn't stopped some of those same businesses from accepting the government handouts.
"These employers received a significant amount of taxpayer dollars from the federal government to make sure they could keep people employed," said Jess Giannettino Villatoro, political director for Oregon AFL-CIO, one of the state's largest labor groups.
"Nobody wanted this money to flow into the state more than Oregon's workers because that meant they continued drawing a paycheck," she said, "but what no one expected at the onset of that money landing is that those employers would go on to put their workers' lives at risk."
HANDOUTS AND FINES
At least 31 businesses that have been cited by the Oregon Occupational Safety and Health division (Oregon OSHA) for violating state regulations aimed at stopping the spread of COVID-19 also accepted loans from the federal Paycheck Protection Program, which Congress created last March to help businesses keep workers on payroll and cover other expenses during the pandemic.
Many businesses will ultimately have their loans forgiven, turning them into outright government grants.
Seven businesses that accepted loans were cited and fined by Oregon OSHA for willfully and sometimes repeatedly violating state rules.
Kevista Coffee in Bend was fined $8,900 by Oregon OSHA in July after the state alleged that it willfully failed to require face coverings. The state was continuing to receive complaints about the cafe earlier this month. Between Dec. 30 and Jan. 5 alone, five people complained to Oregon OSHA that the cafe wasn't requiring masks or physical distancing. One complaint noted that the coffee shop was asking for donations to help in its fight against Oregon OSHA, according to state records.
"A blatant disregard for stated government orders and the health and safety of patrons is insulting," another complainant wrote. "Not a single employee had a mask, nor did any of the dine-in patrons. … The interior space was packed with people freely conversing and dining without masks or regard for distancing."
While it allegedly flouted coronavirus safety requirements, the cafe benefited from a $32,185 relief loan from the federal government. Kevista Coffee didn't respond to a request for comment from The Oregonian/OregonLive.
The Paycheck Protection Program application requires businesses to certify that they are "not engaged in any activity that is illegal under federal, state or local law." But a spokesman for the U.S. Small Business Administration said that loan requirements didn't state that businesses must follow emergency coronavirus orders to be eligible for loans or loan forgiveness.
Salem-based gym chain Courthouse Club Fitness accepted a federal coronavirus relief loan of over $1 million last April to help keep a reported 368 staff members employed during the heart of the pandemic.
But when Oregon Gov. Kate Brown mandated that gyms close in November in an effort to slow the spread of COVID-19, the Salem gym refused. Oregon OSHA fined the gym $90,000 for operating four facilities in defiance of state regulations. The gym appealed the fine and continued operating.
In January, the agency issued the gym a second fine of $126,749 for continuing to defy Brown's mandates, by far the largest fine it has issued for a coronavirus violation.
Owner John Miller defended his gym in a since-deleted Facebook post, questioning Brown's logic for closing gyms and vowing to stay open, despite the second fine.
Miller said the gym had been taking safety precautions while remaining open and contended that the one COVID-19 case linked to the business occurred when an employee contracted the virus elsewhere.
It's unclear if that's true – contact tracing in Oregon, like other states, is scattershot and traces only a fraction of infections back to their origins. County health officials also don't disclose details of specific cases.
"I repeat my pledge to support any reasonable request to help in the fight against covid," Miller wrote on Facebook. "Voluntarily bankrupting a business my members depend on for their health, and 300 employees depend on for a living, is not reasonable.
Courthouse Club Fitness did not respond to a request for comment about its federal loan.
Liz Merah, a spokesman for the governor, said earlier this month that businesses that defied public health orders risked creating new spikes in COVID-19 cases and setting their communities back.
She said Brown's executive orders are enforceable by law and that a violator could be charged with a Class C misdemeanor, punishable by up to 30 days in jail. However, the state hasn't taken that approach to force businesses into compliance, even in cases when they have repeatedly defied state orders.
"Our focus is on voluntary compliance," Merah said. "If Oregonians and businesses don't take these measures seriously, and we don't see reduced case numbers, communities will end up staying in more restrictive risk levels for longer periods of time."
LIMITED VETTING
But that compliance hasn't been a prerequisite for businesses that have applied for coronavirus relief money.
In an effort to get money into the hands of struggling businesses as quickly as possible, the federal government approved Paycheck Protection Program loans last year with only limited vetting.
That led to the program handing out multimillion loans to large and established companies and failing to prevent fraudsters from accessing tens of millions of dollars. When the program reopened earlier this month to first- and second-time applicants, it did so with new fraud safeguards in place.
However, there remains no explicit requirement that businesses abide by local and state coronavirus mandates to access the money, beyond standard language requiring them to abide by the law.
Juley Fulcher, worker health and safety advocate for Washington D.C.-based watchdog group Public Citizen, said the federal government didn't adopt a workplace coronavirus safety standard last year, making it more difficult for them to tell businesses what guidance to follow. President Joe Biden last week directed the federal Occupational Safety and Health Administration to explore adopting an emergency temporary standard.
Still, Fulcher said the federal government could have required businesses to adhere to guidance from the Centers for Disease Control and Prevention to receive federal loans. Individual states also have issued specific mandates to employers to protect workers and consumers. Oregon OSHA adopted its own temporary coronavirus workplace rule last fall and Gov. Kate Brown has issued numerous executive orders regulating businesses in an attempt to slow the spread of the virus.
Fulcher said she believes the Small Business Administration would be arguably within its rights to claw back money from businesses that certified they were in compliance with state laws and then flouted state coronavirus mandates, if those regulations were in place when the business accepted the loans. However, there is no indication that the agency has plans to take that action.
"There was no attempt to look at how workplaces were handling COVID protections and connecting that at all to the ways that federal funding was given out," Fulcher said. "It's a real problem that these companies are benefiting from federal funding to address COVID-related issues and aren't bothering to protect their workers."
BUSINESSES PUSH BACK AGAINST RULES
Glamour Salon owner Lindsey Graham reopened her Salem salon in defiance of Brown's public health orders last May, saying that she had to resume operations to pay her bills and provide for her family.
Her business was fined $14,000 by the state for willfully defying Brown's order requiring salons to close. Graham appealed the fine. The same month, Graham's corporation, Glamour LLC, accepted a federal loan of more than $35,000 to keep 14 employees on payroll. Graham said she used the money to pay employees and cover some expenses at multiple tanning salons and a gym that she also owns, but didn't use the money for the salon because the hair stylists who work there are independent contractors, not employees.
While the loan program allowed employees to get paid, Graham said it did little to alleviate the stress of business owners. Businesses were required to use 60% of the money for payroll before covering other expenses in order to be eligible for loan forgiveness.
Graham said she stands by her decision to open against state rules and to apply for the federal loan. She contends that she didn't break the law, saying that law enforcement would have charged her with a misdemeanor if Brown's orders were really being enforced as law. Graham filed a lawsuit in December challenging Brown's authority to shut down private businesses.
"If saving lives was the agenda then Walmart should have closed," Graham said. "Everyone should have locked down with no exceptions, including liquor stores and weed stores."
Oregon, like other states, has tried to strike an uneasy balance of public safety and economic health. But the science around how the coronavirus spreads is in its infancy and the governor and other public health officials have struggled at times to explain why some businesses must close while others remain open, and why the ground rules frequently shift.
The regulations in place now are significantly more relaxed than what Oregon adopted last spring. But many businesses continue to chafe at restrictions that continue to prohibit indoor dining in most of the state, for example, and limit the number of clients inside a gym to just six.
Oregon OSHA had received nearly 19,000 complaints related to COVID-19 workplace violations but had issued just 73 citations to businesses for violating coronavirus safety requirements as of Jan. 14. The state generally reserves formal citations and fines for situations where employers commit willful or egregious violations of coronavirus public health rules.
The agency issued a $8,900 fine to Casey's Restaurant in Klamath Falls in December for potentially exposing employees to COVID-19 by continuing to allow on-premise dining.
The family-owned restaurant, which accepted nearly $80,000 in federal money, defended its actions in a video posted earlier this month by the Freedom Foundation, a conservative think tank. The foundation announced Thursday that it will run commercials defending the restaurant's decision to fight against the "death sentence" it has been issued by state regulations.
"I've had a feeling that we need to fight for our freedom," said co-owner Annie Patzke in the video. She did not respond to an email seeking comment on the federal loans.
CONTINUED COMPLAINTS
But employees and customers have continued to express concerns about businesses that have flouted coronavirus safety rules.
Casey's Restaurant in Roseburg, which is not related to the restaurant in Klamath Falls, accepted a $123,600 federal loan to keep 23 employees on payroll, but then allegedly remained open for on-premise dining last spring in violation of state regulations. The restaurant continued to remain open after Oregon OSHA issued a Red Warning Notice, which requires that businesses cease all actions that violate public safety rules.
Oregon OSHA levied a $13,900 fine against the restaurant last May. It then issued another $280 fine to the restaurant in November for allegedly failing to require employees to wear face coverings and not mandating physical distancing.
But the agency continued to receive complaints about the restaurant in December. One complaint contended that the restaurant had replaced workers with volunteers so it would fall outside of Oregon OSHA jurisdiction and was boasting that it remained open.
The restaurant declined to comment. Brown allowed restaurants in Douglas County, where the restaurant is located, to open for limited indoor dining on Jan. 1.
Charlie Fisher is Oregon state director of OSPIRG, which promotes consumer protections, environmental standards and public health measures. He said he understood why the federal government prioritized getting loans into the hands of businesses quickly during the heart of the pandemic last year instead of requiring stringent vetting.
But with the Paycheck Protection Program open for another round of loans, Fisher said the federal government should be putting a greater emphasis on ensuring that the money isn't going to businesses that are undermining public safety.
"The government is providing these loans to businesses so they can either stay closed or operate in a manner that is safe," Fisher said. "By ignoring the rules, they are in a lot of ways prolonging the pandemic for everyone."
Measure 110 which Decriminalizes Drugs begins 2/1/2021
Starting Monday, user amounts of illegal drugs will be decriminalized in the state of Oregon. Voters passed Measure 110 in November. It reclassifies personal drug possession to a Class E violation with a maximum $100 fine.
People caught with user-amounts of drugs could get the fine waived by completing a health assessment, during which they could be connected with treatment, recovery and housing services — though there is no criminal penalty for failing to pay the fine. Those services would also be expanded under Measure 110 and funded with a large chunk of marijuana tax revenue.
It is still not clear if the health screenings will actually be available — because Governor Kate Brown has proposed delaying the financial portions of the measure until July 1, 2022 due to the challenging economic times brought on largely by the coronavirus pandemic.
If the delay is adopted, Woodburn Police Chief Jim Ferraris said, "We may be citing people for this violation and they go to court but there's no mechanism for this health screening to take place because there's no funding for it."
The measure takes effect Monday, but the Multnomah County District Attorney adopted the measure in December. A spokesperson for the Portland Police Bureau said officers have already switched to issuing citations instead of making arrests. Other agencies, though, are still working through the logistics.
Guidance from the Oregon Department of Justice (DOJ) outlines the amount of drugs that exceeds personal use limits. For example, 1 gram or more of heroin, 2 grams or more of meth or cocaine, and 40 or more oxycodone pills. The DOJ also sent a bulletin to law enforcement agencies with information about how searches and seizures will be impacted by the measure.
User amounts under Measure 110
Less than 1 gram of heroin.
Less than 1 gram, or less than 5 pills, of MDMA.
Less than 2 grams of methamphetamine.
Less than 40 units of LSD.
Less than 12 grams of psilocybin.
Less than 40 units of methadone.
Less than 40 pills of oxycodone.
Less than 2 grams of cocaine.
Overdose deaths spiked 40% last year, according to the Oregon Health Authority. Experts say addiction thrives when people are isolated. However, According to the Oregon Criminal Justice Commission, yearly convictions related to drug possession are expected to drop by more than 90%.