The latest news stories and stories of interest in the Rogue Valley from the digital home of Southern Oregon, from Wynne Broadcasting's RogueValleyMagazine.com
Tuesday, February 2, 2021
Rogue Valley Weather
Hazardous Weather Conditions
Today- Rain likely before 11am, then a slight chance of showers after 11am. Snow level 3200 feet. Cloudy, then gradually becoming mostly sunny, with a high near 48. Calm wind becoming west around 6 mph in the afternoon. Chance of precipitation is 60%.
**Potential Lower Elevation Snow Tuesday Night into Wednesday Snow levels that were around 4000 feet Monday afternoon will drop to 3000 feet on Tuesday, then fall to around 2000 feet Tuesday night into Wednesday morning west of the Cascades.
Wednesday- Rain before 11am, then a chance of showers after 11am. Snow level 2100 feet. High near 44. West southwest wind around 6 mph. Chance of precipitation is 90%. New precipitation amounts between a tenth and quarter of an inch possible.
Thursday- Patchy freezing fog before 11am. Mostly sunny, with a high near 48. Calm wind.
Friday- Mostly sunny, with a high near 48.
Saturday- Sunny, with a high near 52.
Oregon Health Authority reported 964 new confirmed and presumptive cases of COVID-19 as of 12:01 a.m. today, bringing the state total to 143,373.
The new confirmed and presumptive COVID-19 cases reported today are in the following counties: Benton (18), Clackamas (92), Columbia (4), Coos (19), Crook (3), Curry (3), Deschutes (31), Douglas (14), Grant (1), Harney (1), Hood River (7), Jackson (44), Jefferson (3), Josephine (36), Klamath (4), Lake (2), Lane (105), Lincoln (3), Linn (30), Malheur (2), Marion (137), Morrow (4), Multnomah (178), Polk (32), Tillamook (1), Umatilla (17), Union (8), Wallowa (2), Wasco (9), Washington (126) and Yamhill (28).
NOTE: Today's case counts include new cases from Jan. 30 and Jan. 31. Details from today's reported death, along withthose that were not included in the daily media releases between Jan. 27 and Jan. 30, are being reviewed and will be posted in an updated version of this press release.
Vaccinations in Oregon
Today, OHA reported that 14,693 new doses of COVID-19 vaccinations were added to the state immunization registry. Of this total, 10,208 doses were administered on Jan. 31 and 4,485 were administered on previous days but were entered into the vaccine registry on Jan. 31.
Cumulative daily totals can take several days to finalize because providers have 72 hours to report doses administered and technical challenges have caused many providers to lag in their reporting. OHA has been providing technical support to vaccination sites to improve the timeliness of their data entry into the state's ALERT Immunization Information System (IIS).
Oregon has now administered a cumulative total of 438,299 first and second doses of COVID-19 vaccines. To date, 665,325 doses of vaccine have been delivered to sites across Oregon.
These data are preliminary and subject to change. OHA's dashboards provide regularly updated vaccination data, and Oregon's dashboard has been updated today. To learn more about the COVID-19 vaccine situation in Oregon, visit our webpage, which has a breakdown of distribution and other useful information.
Oregon OSHA Proposes Permanent Rule for COVID-19 in All Workplaces
Seeking to extend protections for workers against the coronavirus disease, Oregon OSHA is proposing a permanent rule that largely maintains – with some improvements – the risk-reducing measures required by the current temporary emergency rule. It would replace the temporary rule, which expires on May 4.
The proposed permanent rule will receive virtual public hearings later this month and in early March. Although the rule must be adopted as a permanent rule because the law does not allow a temporary rule to be extended, Oregon OSHA expects to repeal the permanent rule once it is no longer needed to address the coronavirus pandemic.
"The public health emergency triggered by COVID-19 remains a significant concern in Oregon – as we know, we have not yet defeated this disease and we clearly will not have done so by the time the temporary rule expires. As a result, it is critically important that we carry forward measures that we know are effective at combating the spread of this disease and reducing risks in the workplace," said Michael Wood, administrator for Oregon OSHA. "Failure to do so will undoubtedly leave workers far less protected and leave employers with far less clarity and certainty in terms of what is expected of them."
As with the temporary rule, which took effect Nov. 16, 2020, the proposed permanent rule maintains such requirements as physical distancing; use of face coverings; regular sanitation; employee notification and training; maximization and maintenance of existing ventilation systems; and formal exposure risk assessment and infection control planning. The proposed permanent rule would allow employers to rely upon the risk assessments, infection control plans, and infection control training already completed.
However, the permanent rule would add measures and strengthen provisions in certain areas. Those proposed changes include:
Requiring employers to consider alternatives to transporting multiple people in a single vehicle, although such transportation would not be prohibited.
Slightly modifying the ventilation measures so that employers with more than 10 employees – and that have existing ventilation systems – must certify in writing that they are running their systems in line with current requirements. The proposed rule does not require the purchase or installation of new ventilation systems.
Requiring employers to provide written notification to employees of their rights to return to work when employees must quarantine.
Requiring employers to cooperate with public health authorities that ask to arrange for vaccination in the workplace. This proposed requirement is similar to the temporary rule's provision mandating cooperation with public health officials if COVID-19 testing in the workplace is necessary.
Requiring health care employers to provide respirators to employees working with known or suspected COVID-19-positive patients unless they demonstrate there is a genuine shortage that they are working to resolve.
The proposed permanent rule also strengthens the language discouraging the use of face shields, which have been shown to be less effective than masks or facial coverings although such devices would remain an option for source control.
The proposed permanent rule was developed in consultation with two rulemaking advisory committees assembled for the purpose. It largely reflects the provisions of the current temporary rule, which itself was based to a large extent on the guidance produced by the Oregon Health Authority and enforced in the workplace by Oregon OSHA. The temporary rule was developed following an extensive stakeholder and public comment process last summer, which is not normally the case when temporary rules are developed.
Oregon OSHA encourages a careful reading of the proposed permanent rule. Virtual public hearings will be held at 10 a.m. on Feb. 23 and Feb. 26, and at 5 p.m. on March 3 and March 4. Details on how to sign up for the hearings – as well as other options for commenting on the proposed rule – are now available. The comment period will close on April 2.
Learn more about the division's workplace guidance and resources related to COVID-19: https://osha.oregon.gov/Pages/re/covid-19.aspx
Oregon OSHA, a division of the Department of Consumer and Business Services, enforces the state's workplace safety and health rules and works to improve workplace safety and health for all Oregon workers. For more information, go to osha.oregon.gov.
The Department of Consumer and Business Services is Oregon's largest business regulatory and consumer protection agency. For more information, go to www.oregon.gov/dcbs/.
Mt. Ashland Ski Area Getting More Business Than Ever Despite Pandemic
Mt. Ashland Ski Area has had a very active first half of the season and is on track to get more business than ever. Most people hitting the slopes aren't tourists, but skiers living in the region, many of them new to the sport.
Comparatively low prices and small crowds at Mt. Ashland have historically attracted out of town visitors. This season, Rogue Valley locals are visiting the mountain in unusually large numbers.
"Mostly, we're a local ski area," says Hiram Towle, the general manager at Mt. Ashland. "We're a drive market, we serve the Rogue Valley primarily. That's our bread and butter. We have a lot of season pass holders who are locals who have been skiing here for a long time."
Towle says that this year, they aren't doing any advertising out-of-state in an effort to preserve the space for locals. Still, he says they are anticipating a record-breaking 100,000 skier visits this year.
Towle thinks that the pandemic has kept people cooped up indoors this winter, and outdoor recreation, like skiing, is a relatively safe way to get out of the house and get exercise.
"We are definitely seeing new people entering the sport," says Towle. "It is, I think, partly due to COVID and there's not a lot of other sports. You know, folks who would generally be indoors working out are still looking to stay healthy in body and mind. And skiing and riding and being in this environment does that for them."
The ski area has put in place a variety of safety measures, such as enforcing social distancing and mask wearing. They even closed down the lodge, but sales are still skyrocketing.
Search Teams Rescue Skier Missing Near Mt. Ashland
Search and rescue teams successfully tracked down a cross-country skier who became lost in the Mt. Ashland area on Saturday evening, according to the Jackson County Sheriff's Office.
The Sheriff's Office received a report of the missing skier just before 5:45 p.m. on Saturday. The cross-country skier was reportedly dressed for the weather, and was last seen on the Pacific Crest Trail near Grouse Shelter about two hours prior.
JCSO Search & Rescue teamed up with Mt. Ashland Ski Patrol on the search, which included two Sno-Cat teams and two snowmobile teams.
Rescuers found the skier, a 21-year-old woman from the Eugene area, just before 10:45 p.m. She said that she had lost the trail amid blizzard conditions, and her phone died in the process. She took shelter at the base of a tree while waiting for help to arrive.
"JCSO reminds you that if you do get lost, and your phone works, call or text 911," the agency said. "This will enable dispatch to get your coordinates from your phone."
AROUND the STATE of OREGON

Additional Food Assistance Benefits Available through February
The Oregon Department of Human Services will continue to offer increased food benefits in February 2021, to help Oregonians struggling as a result of the COVID-19 pandemic.
This benefit increase applies to current Supplemental Nutrition Assistance Program (SNAP) recipients who are receiving less than the maximum allotment. Additionally, in response to the ongoing COVID-19 crisis, there is also a temporary increase in SNAP benefits of approximately 15% for all recipients.
SNAP recipients do not have to take any action to receive additional benefits as they will be placed directly on their Oregon EBT cards. Households receiving SNAP benefits will see the additional supplement to their benefits based on a maximum allotment scale. For example, if there are four individuals in a household and that household is currently receiving $500 in benefits, the emergency allotment supplement will raise their benefits to the maximum allowed for households of four, which is $680 per month – or an increase of $180. With the additional increase in benefits, the total food benefits for that household would be $782 for the month. Total supplemental benefits will differ based on each household's regular monthly allotment.
| | | |
| --- | --- | --- |
| Household Size | Maximum Monthly Benefit Amount | Benefit amount with 15% increase |
| 1 | $204 | $234 |
| 2 | $374 | $430 |
| 3 | $535 | $615 |
| 4 | $680 | $782 |
| 5 | $807 | $929 |
| 6 | $969 | $1,114 |
| 7 | $1,071 | $1,232 |
| 8 | $1,224 | $1,408 |
| Each additional person | $153 | $176 |
Additional benefits will be issued on February 10 and February 25. The February 25 benefits are for anyone who began receiving SNAP February 10 or after. Households only receive one allotment.
For more information about emergency supplemental allotments or to review frequently asked questions, visit https://www.oregon.gov/dhs/ASSISTANCE/FOOD-BENEFITS/Pages/About-SNAP.aspx.
Oregon Department of Human Services  Oregonians who receive SNAP can contact their local Self-Sufficiency Programs, Aging and People with Disabilities or Area Agency on Aging office for more information. Find a local office at https://www.oregon.gov/DHS/Offices/Pages/index.aspx or call 2-1-1.
This is the eleventh month Oregon has issued emergency supplemental allotments. Administered by ODHS, SNAP is a federal program that provides food assistance to approximately 1 million eligible, low-income families and individuals in Oregon, including many older adults and people with disabilities. Oregonians in need can apply for benefits, including SNAP, childcare, cash assistance and Medicaid. Learn more at https://govstatus.egov.com/or-dhs-benefits. For local resources in your area, such as food or shelter, please call 2-1-1 or reach out to the state's Aging and Disability Resource Connection (ADRC) at 1-855-ORE-ADRC or 1-855-673-2372.
Measure 109 and 110 Now in Effect
Measures 109 and 110 now in place in Oregon. Many were shocked to know you wouldn't get thrown in jail if police found weed, cocaine, heroin or acid on your person in the state. The law that was made to usher in this new drug policy officially kicked into gear on February 1.
The hope is that this new approach will decrease the risk of people getting trapped in a vicious cycle of incarceration, while increasing the possibility of recovery from addiction.
Instead of getting arrested for drug possession, people found with personal amounts of substances would get a civil citation 'like a traffic ticket', instead of a criminal citation.
Addiction recovery centres will have more responsibility in 'triaging the acute needs of people who use drugs and assessing and addressing any on-going needs thorough intensive case management and linkage to care and services'.
As part of Measure 110, tax generated from the state's cannabis sales will be reallocated to fund addiction treatment. Savings made in the criminal justice system as a result of the measure may also be used to create a new fund for drug treatment.
The law faced opposition from two dozen district attorneys who thought it was reckless and would lead to more people taking dangerous drugs.
Kassandra Frederique, executive director of the Drug Policy Alliance, said: "Measure 110 is arguably the biggest blow to the war on drugs to date
"Oregonians understand that we should be treating drug use as a health issue. It is a huge sledgehammer to the cornerstone of the war on drugs.
"We saw this with marijuana, the domino effect. We are hoping that as the country is having conversations about how to use our resources, how to deal with our loved ones, that Oregon will potentially lead the way."
Haven Wheelock, a harm reduction specialist at non-profit health centre Outside In, echoed Kassandra's sentiment.
According to Oregon Public Broadcasting, she said: "It takes a lot of courage to try something new, and I'm really proud of our state.
"I'm excited to be a model for other places to show that we don't have to harm people for being sick."
Selling and manufacturing drugs in the state will remain illegal, and possession of larger amounts could result in misdemeanour charges.
In a separate measure, Oregon also voted to legalise psilocybin – aka magic mushrooms – for people aged 21 or older. Measure 109 will allow licensed professionals to administer magic mushrooms at regulated treatment centres to help with depression, anxiety, and addiction.
Fatal Crash on Hwy 26 Clatsop County
On Monday, February 1, 2021 at approximately 12:37 P.M., Oregon State Police Troopers and emergency personnel responded to a single vehicle crash on Hwy 26 near milepost 17.
Preliminary investigation revealed that a Kia, operated by Kenneth Rislow (77) of Astoria, was eastbound when it traveled off the road.
Several citizens performed CPR on Rislow, but he was eventually pronounced deceased.  It is believed Rislow had a medical emergency before the Kia traveled off the road. OSP was assisted by the Elsie Fire Department and ODOT. Oregon State Police 
Police Identify Teen Found Dead at Oregon I-5 Rest Area and Have Suspect in Custody
Authorities have identified the 16-year-old from Clark County who was found dead from a gunshot wound at a rest stop along Interstate 5 in Oregon.
Juan Tomas Santos Bautista, 16, was found deceased on January 26, 2021 at the French Prairie Rest Area of I-5 northbound. Oregon State Police deemed the death suspicious, and detectives identified a suspect in his death.
A 16-year-old Vancouver boy has been arrested, accused of murder after another Washington teen was found dead in his car at an Interstate-5 rest stop earlier this week, Oregon State Police said Sunday. The suspect was an acquaintance of Santos Bautista. He was booked into the Clark County Juvenile Detention Center on murder, assault, and unlawful use of a weapon.
State authorities started investigating after a 16-year-old boy was found dead in a parked car in Clackamas County on Tuesday–at the time, OSP described his death as suspicious. The victim's identity has not been released, though authorities did confirm he was a teen from Washington state.
OSP detectives and members of the Clackamas County Major Crime Team are investigating this case.
Cannon Beach Sandcastle Contest Sets June Date and Will be Virtual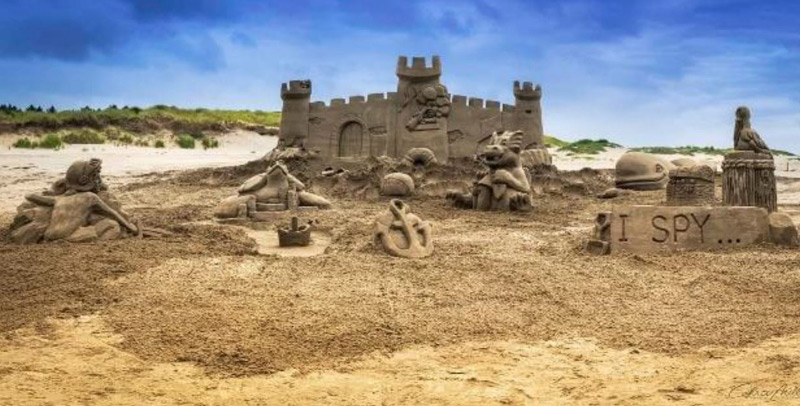 With vaccinations still in early stages and herd immunity to COVID-19 an indistinct future date, many bigger festivals on the Oregon coast are not quite ready to commit to returning to normal. Thus, the Cannon Beach Chamber recently announced the 57th annual Cannon Beach Sandcastle Contest will once again be a virtual summer of sandcastles as it was last year. 
The chamber did release the kickoff date, however: June 5. Once more, the virtual competition is intended to be a COVID-safe alternative during a time that will still require physical distancing for public safety. However, the chamber said you should start sketching out your dream sand creation for the 2021 season now.
The committee is working on COVID-safe small celebratory events to accompany the virtual contest, such as music. More details will appear in the coming months on the Sandcastle Contest web page and Facebook page for updates.
Cannon Beach has hosted this Oregon Heritage Tradition event since 1964. Until the COVID pandemic it had been held every year. Like 2020, this year still demands caution, explained Chamber Executive Director, James Paino explained.
"The health of our community, volunteers, competitors, and attendees must come first," he said. "Rather than a one-day, large-crowd event, the virtual contest goes the entire summer so more builders can safely participate."
Volunteer and Committee Chair Debbie Nelson said the fun will continue all summer until September 6.
"It's fun to come across a sandcastle while walking on the beach," she said. "We have encouraged past teams to come create and build on their own through September 6th. I can't wait to find the sandcastles and sculptures they build."
Supporters and collectors can buy 2021 limited edition posters and other merchandise when they become available online and in-person at our Information Center.
Event URL: For more information and to view all the 2020 entries visit the event web page www.cannonbeach.org/sandcastle.