The latest news stories and stories of interest in the Rogue Valley from the digital home of Southern Oregon, from Wynne Broadcasting's RogueValleyMagazine.com
Thursday, March 11, 2021
Rogue Valley Weather
Today– Mostly cloudy, then gradually becoming sunny, with a high near 57. Calm wind.
Friday– Patchy fog between 7am and 10am. Patchy freezing fog before 7am. Otherwise, mostly cloudy through mid morning, then gradual clearing, with a high near 62. Light and variable wind.
Saturday– Mostly sunny, with a high near 67. Calm wind.
Sunday– Rain likely, mainly after 10am. Snow level 3900 feet. Mostly cloudy, with a high near 54. Chance of precipitation is 60%. New precipitation amounts of less than a tenth of an inch possible.
Monday– A chance of rain and snow showers before 10am, then a chance of rain showers. Snow level 1400 feet rising to 2300 feet in the afternoon. Mostly cloudy, with a high near 49.
Oregon reports 306 new confirmed and presumptive COVID-19 cases, 2 new deaths.
There are two new COVID-19 related deaths in Oregon, raising the state's death toll to 2,305. The Oregon Health Authority reported 306 new confirmed and presumptive cases of COVID-19 bringing the state total to 158,291.
The new confirmed and presumptive COVID-19 cases reported today are in the following counties: Baker (1), Benton (7), Clackamas (23), Clatsop (3), Columbia (4), Coos (19), Crook (2), Curry (2), Deschutes (17), Douglas (12), Grant (6), Jackson (21), Jefferson (3), Josephine (17), Klamath (2), Lane (15), Lincoln (1), Linn (4), Malheur (2), Marion (29), Morrow (1), Multnomah (61), Umatilla (6), Union (2), Wasco (2), Washington (36) and Yamhill (8).
Vaccinations in Oregon
Today, OHA reported that 24,924 new doses of COVID-19 vaccinations were added to the state immunization registry. Of this total, 14,081 doses were administered on March 9 and 10,843 were administered on previous days but were entered into the vaccine registry on March 9.
Cumulative daily totals can take several days to finalize because providers have 72 hours to report doses administered and technical challenges have caused many providers to lag in their reporting. OHA has been providing technical support to vaccination sites to improve the timeliness of their data entry into the state's ALERT Immunization Information System (IIS).
Oregon has now administered a cumulative total of 1,204,418 first and second doses of COVID-19 vaccines. To date, 1,542,635 doses of vaccine have been delivered to sites across Oregon.
These data are preliminary and subject to change. OHA's dashboards provide regularly updated vaccination data, and Oregon's dashboard has been updated today.
OHA Says Seniors Can Again Get COVID-19 Vaccinations at Pharmacies
Elderly Oregonians who were shut out of COVID-19 vaccine appointments at some Oregon pharmacies can sign up for those appointments again.
A handful of pharmacy chains participating in the Federal Retail Pharmacy Program started reserving their COVID-19 vaccination appointments for teachers and childcare workers this week after President Joe Biden announced he would prioritize vaccinating teachers before the end of March, part of a national effort to safely reopen schools.
Older Oregonians found that they were no longer eligible to schedule vaccine appointments at some pharmacies on Monday and Tuesday due to the new policy, a frustrating turn of events for a population that remains among the most vulnerable to the virus and has already had to wait longer than seniors in most states to receive vaccinations.
Oregon previously prioritized teachers, authorizing vaccinations Jan. 25 while telling seniors to wait weeks before they were eligible. Oregon is now significantly behind states like California and Washington in its rate of vaccinations among seniors.
As pharmacies began shutting out elderly Oregonians from appointments this week, Gov. Kate Brown and the Oregon Health Authority sought clarification from the White House and urged local pharmacies to disregard the federal guidance and continue vaccinating seniors.
On Wednesday night, the state announced it had been granted an exemption by the White House and that pharmacies participating in the federal program would no longer have to prioritize vaccinating teachers over other eligible Oregonians.
"As of right now, that has been completely resolved across all pharmacy groups," said Oregon Health Authority director Patrick Allen during a legislative hearing Wednesday. "Fortunately, that was only a couple day glitch for us."
The pharmacies that were asked to follow the federal guidance earlier this week were those participating in the Federal Retail Pharmacy Program. In Oregon, those include 107 Safeway/Albertsons, 44 Walgreens, 13 Costco pharmacies, eight Health Marts and three Rite Aids. Those pharmacies are receiving about 24,000 vaccine doses across Oregon this week, according to the Oregon Health Authority.
Other sites, including clinics and mass vaccination sites like the Oregon Convention Center, never stopped making appointments for Oregonians over 65 or others eligible under the state's guidelines. Those sites are set to receive about 90,000 doses this week.
Safeway and Albertsons, which are part of the same company, are receiving more COVID-19 vaccine doses through the federal program than any other Oregon chain. Each of their participating pharmacies receive about 200 doses per week.
Jill McGinnis, a spokesperson for Safeway and Albertsons, said those pharmacies had resumed scheduling appointments for all eligible Oregonians on Wednesday.
"As members of the Federal Retail Pharmacy Program in Oregon, our pharmacies were directed to prioritize teachers beginning Monday," McGinnis said in an email. "To ensure the widest distribution of the vaccine as possible, however, we will resume scheduling appointments for all locally eligible groups beginning today. Because teachers have been eligible for the vaccine in Oregon since January 25th, we are seeing less demand from that group."
Health Mart also was offering appointments to all eligible Oregonians on Wednesday after limiting appointment slots to teachers earlier this week.
Despite the federal guidance, Costco and Walgreens didn't appear to be limiting appointments to teachers.
Some other pharmacies throughout Oregon that are not currently participating in the federal program are still receiving vaccine doses through state and local partnerships.
Walmart began to schedule COVID-19 vaccine appointments in Oregon on Wednesday through a partnership with the state. Those appointments are open to all Oregonians currently eligible to receive the vaccine under state rules. Individuals can check for appointment availability online by visiting www.walmart.com/COVIDvaccine.
Oregon is currently limiting vaccines to health care workers, people living in nursing homes and other congregate care settings, teachers and people over age 65. — https://covidvaccine.oregon.gov/
ROGUE VALLEY HEADLINES:
City of Medford and Rogue Retreat Partnership to Help Almeda Fire Victims
On Wednesday, March 10 the Oregon Community Foundation (OCF) announced funding for a Medford Project Turnkey facility which will transform an existing Medford Motel, the Redwood Inn, into emergency housing for Almeda fire victims and houseless individuals.
Upon completion, the transformation will provide 47 apartments with kitchenettes to individuals and families in need. Rogue Retreat will operate the new facility.
"I'm thrilled that Rogue Retreat and the City of Medford are receiving funding for a Project Turnkey facility. This is a giant step in the community's efforts to help individuals in crisis move toward stability and permanent housing," said State Representative Pam Marsh.
The City was a co-applicant on the OCF grant and provided critical technical support in developing the project proposal including safety inspections of the property, property acquisition assistance, grant writing, creation of a financial plan for sustained operations and identification and advocacy for potential funding opportunities for the project.
"A number of our staff have spent countless hours dedicated to getting this project to the finish line," said Medford City Manager, Brian Sjothun. "Our City Council has prioritized housing and assistance for houseless individuals and this project is the perfect example of how we, as a City, can help facilitate collaborative partnerships and create solutions for our community."
While the OCF grant is for the acquisition of the site and purchase of the kitchenettes, there is a significant amount of funding needed to complete remodeling of the units and sustain ongoing operations.
The City's Medford Urban Renewal Board is scheduled to meet on March 11 to consider funding commitments for the renovation expenses of this project. In addition, City Council will consider the Community Services and Development Commission's recommendation to allocate $420,427 in Community Development Block Grant CARES Act funds to support operations on April 15.
In support of this project, ACCESS will provide financial support to work with the project's advisory committee to develop a long-term sustainable operations plan.
"Rogue Retreat is excited to partner with OCF, the City of Medford and our community partners through Project Turnkey. Our community was already in a housing crisis before the Almeda Fire destroyed over 2,500 homes. These new units will go a long way in helping Southern Oregon recover from the fires and the housing crisis," said Chad McComas, Rogue Retreat Executive Director.
The City has also submitted an application for $120,000 to Providence Health & Services to implement a recuperative care component in this facility. — http://www.ci.medford.or.us/news.asp?newsid=7942
Grants Pass Police Arrest Man Who Stabbed Someone at Least 15 Times During Argument
Police have taken a 25-year-old man into custody after he allegedly stabbed an acquaintance 15 times during a drunken argument in Grants Pass on Tuesday night.
Shortly after 11:30 p.m. that night, the Grants Pass Department of Public Safety heard from a neighbor about a fight at 1295 Willow Lane. Just five minutes later, while the dispatcher was still talking to the caller, a second call came in reporting a man with multiple stab wounds outside of a home one block away.
Officers responded to both locations and determined that the stabbing victim had come from the Willow Lane house. The 26-year-old man was taken to Asante Rogue Regional Medical Center by AMR ambulance for treatment. His injuries are not believed to be life-threatening, GPDPS said.
Just before midnight, officers detained two men at the Willow Lane house. One man was later released.
During the course of the investigation, detectives identified the suspect in the stabbing as 25-year-old Julian Sommer Smith. According to GPDPS, Smith and the victim were acquaintances and had been drinking that night. When the two got into a fight, Smith allegedly stabbed the victim "more than 15 times with a fixed-blade knife." The victim was able to walk to friend's house nearby for help.
"Based on the investigation, there is no indication of any risk or threats to the public," GPDPS said in a statement.
Smith was lodged at the Josephine County Jail on charges of Assault in the Second Degree and Unlawful Use of a Weapon. Anyone with information about the incident is encouraged to call GPDPS at 541-450-6260, reference case 21-10726.
AROUND the STATE of OREGON
ShakeAlert(R) Earthquake Early Warning System Goes Live in Oregon Today!
ShakeAlert® Earthquake Early Warning System, an earthquake detection tool operated by the U.S. Geological Survey (USGS), goes live in Oregon on Thursday March 11, 2021.
No sign up is required to receive ShakeAlert notifications, and the only action needed is to enable emergency alerts through a cell phone's settings. For instructions on where to find these settings, visit ORShakeAlert.us.
ShakeAlert uses science and technology to detect significant earthquakes quickly and sends a real time alert to people via their cell phone before shaking arrives at their location. These important alerts come automatically on most cell phones, making a distinctive sound and displaying a text message that reads, "Earthquake detected! Drop, cover, hold on. Protect yourself." This message is also available in Spanish for phones set to receive alerts in that language.
"Recent disasters that have impacted our state have taught us the importance of being prepared," said Oregon Office of Emergency Management Director Andrew Phelps. "ShakeAlert notifications can offer critical seconds of warning before we feel the impacts of an earthquake, giving people a chance to take action ­to protect themselves."
ShakeAlert does not predict when or where an earthquake will occur or how long it will last. It detects earthquakes that have already begun, offering seconds of advance warning that allow people and systems to take actions to protect life and property from destructive shaking. The system can also be used to trigger automated actions such as closing a gas valve or slowing a train, actions that can prevent infrastructure failures in the aftermath of an earthquake.
Learn more at ORShakeAlert.us. — Oregon Office of Emergency Management
Project Turnkey Gains More Steam, Creating Diverse Geographic Footprint of Safe Shelter for Displaced Oregonians — $5.6 Million in Latest Grant Awards in Klamath, Medford and Pendleton Brings Total Motel Property Count to Seven
Project Turnkey Gains More Steam, Creating Diverse Geographic Footprint of Safe Shelter for Displaced Oregonians
$5.6 Million in Latest Grant Awards in Klamath, Medford and Pendleton Brings Total Motel Property Count to Seven and Provides Safe Lodging for Hundreds of People
Klamath, Medford and Pendleton, Ore. – March 10, 2021 – Oregon Community Foundation (OCF) today announced that Project Turnkey is gaining even more momentum with three additional grants awarded again this week to properties in Klamath, Medford and Pendleton, Oregon.
Klamath County was selected to receive one of the next Project Turnkey grants, in the amount of $1.779 million in state funds to purchase and transform a 29-unit motel and 35-stall RV park along Highway 97 in Klamath Falls, Oregon. "Project Homefront" will initially offer shelter to people vulnerable to or in need of quarantine due to COVID and survivors of the 242 Fire. Longer term, the property will be used to support people releasing from incarceration under the guidance and operation of Klamath County Community Corrections in partnership with Klamath County Public Health. The RV Park is envisioned to offer veteran's housing in the future.
"Housing continues to be one of the largest barriers Klamath County faces in our effort to stimulate significant growth. This project brings us one step closer in accomplishing strategic investments that bring us closer to realizing those goals. I want to thank the Oregon Community Foundation for seeing the need and potential in Klamath County and the many individuals that worked tirelessly to make this come together," says Klamath County Commissioner Derrick DeGroot.
Located at 5225 N Highway 97, Klamath Falls, OR 97601, Klamath County anticipates the facility to be in use beginning in March 2021.
Co-applicants Rogue Retreat and the City of Medford were also selected to receive a Project Turnkey grant, in the amount of $2.55 million in state funds to purchase and transform a 47-room motel in Medford, Oregon. Priority will be given to individuals and families displaced by the Almeda Fire, as well as people vulnerable to COVID who need to isolate.
"We're grateful to the Oregon Community Foundation for helping make this effort a reality. The need for housing in our community is at a dire level and the Almeda Fire only exacerbated the problem," says Medford Mayor, Randy Sparacino. "Myself and the Council have made housing a top priority and our support of this project is a step in the right direction to help provide affordable housing options to individuals and families in need."
Located at 722 N Riverside, Medford, OR, Rogue Retreat and the City of Medford anticipate the facility to be in use beginning in March 2021.
Community Action Partnership of Eastern Central Oregon (CAPECO) in Pendleton is another Project Turnkey grant awardee, slated to receive $1.269 million in state funds to purchase and transform a 35-room motel in downtown Pendleton, Oregon. The property will offer non-congregate shelter for a wide range of individuals and families experiencing homelessness.
"Oregon faces an unprecedented housing shortage. Project Turnkey is brilliant in its design of providing a roof over the heads of those without one for a fraction of the cost of building new – in some cases probably ten times less," says Umatilla County Board of Commissioners Chair, George Murdock. "The CAPECO plan offers hope and a transition into something more stable for people facing a wide array of challenges including mental health issues, addictions, employment problems and other misfortune. Project Turnkey offers a cost-effective, humane and practical solution that will serve our community well."
Located at 205 SE Dorion Ave, Pendleton, OR 97801, CAPECO anticipates use beginning in March 2021.
In recent weeks OCF announced four other properties that came online in Ashland, Corvallis, Eugene and Lincoln City.
"The Advisory Committee of diverse stakeholders continues to center equity and local community needs in the decision-making process, said Megan Loeb, Program Officer, Oregon Community Foundation. "We have a strong pipeline of nearly 30 applicants and are excited to see more projects awarded in the weeks ahead."
OCF has been studying root causes of Oregon's dual crisis of homelessness and affordable housing, beginning with research commissioned from ECONorthwest, "Homelessness in Oregon" which provided statewide analysis of the disproportionately large homeless population in Oregon. Motel conversion is one strategic tool to address this crisis. OCF continues to be engaged in solutions across the continuum¾from emergency shelter to transitional housing to affordable housing to affordable home ownership.
About Project Turnkey
The Oregon Legislature allocated a total of $65 million for Project Turnkey for the purpose of acquiring motels/hotels for use as non-congregate shelter for people experiencing homelessness or at-risk of homelessness. Two discrete funds were provided by the state: one totaling $30 million to be awarded in counties and tribal communities impacted by the 2020 wildfires; and one totaling $35 million for the remaining 28 counties in the state. Oregon Community Foundation is administering both funds through an application and selection process, with guidance from an Advisory Committee of state, local, and community stakeholders. For more information, please visit Project Turnkey online.
About Klamath County To learn more about Klamath County, please visit: klamathcounty.org.
About the City of Medford To learn more about the City of Medford, please visit: ci.medford.or.us.
About the Rogue Retreat
Rogue Retreat provides affordable housing/shelter and case management to homeless individuals and families in Jackson and Josephine Counties, Oregon, to teach them the skills they need to live independently. To learn more about Rogue Retreat, please visit: rogueretreat.org.
About Community Action Partnership of Eastern Central Oregon
Community Action Partnership of Eastern Central Oregon (CAPECO) is a nonprofit organization "envisioning the success of every person to eliminate poverty and promote independence in ways that move individuals from surviving to thriving." CAPECO serves Umatilla, Morrow, Gilliam, Wheeler, Sherman, Wasco and Hood River counties. To learn more about CAPECO, please visit: capeco-works.org.
About Oregon Community Foundation
Oregon Community Foundation (OCF) puts donated money to work in Oregon – more than $100 million in grants and scholarships annually. Since 1973, OCF grantmaking, research, advocacy and community-advised solutions have helped individuals, families, businesses and organizations create charitable funds to improve lives for all Oregonians. Impactful giving–time, talent and resources from many generous Oregonians–creates measurable change. For more information about OCF, please visit: oregoncf.org. — Oregon Community Foundation
UPDATE: There is a major update in the murder of a Springfield youth farm caretaker. It is connected to: Traffic Stop in Reedsport Leaves One Dead in Officer-Involved Shooting
The suspect in the garden caretaker's death was killed by law enforcement in a standoff in Reedsport, Springfield police said. Investigation into the murder of Richard Marshall, 70, led authorities to several coastal towns in recent days and a traffic stop in Reedsport that ended in a fatal standoff.
Negotiators with the Douglas County Sheriff's Office Crisis Negotiations Team had been negotiating with the armed suspect in the vehicle attempting to de-escalate the situation for several hours. At 10:44 p.m., shots were fired at the scene. The suspect, whose name is being withheld at this time, was pronounced deceased by EMS personnel.
This all started at 5:43 p.m. when Douglas County deputies conducted a traffic stop in the area of Highway 101 and Winchester Avenue. One individual was detained and the other remained in the vehicle and became hostile. Officials say the individual was armed.
The Crisis Negotiation Team negotiated with the suspect in the vehicle for several hours to try to de-escalate the situation before officials say shots were fired at 10:44 p.m. The suspect was pronounced dead at the scene.
The name of the individual is being withheld at this time and the Douglas County Major Crimes Unit is taking over the investigation. Douglas Co. Sheriff's Office —–
Lt. George Crolly with Springfield police confirmed that the man killed in the standoff was the suspect in Marshall's murder. The man's name is not being released at this time, pending notification of his family.
During the traffic stop, an individual unconnected to the murder was detained. Authorities say the suspect was an occupant of the vehicle and was armed at the time. He reportedly grew hostile and was killed by law enforcement following hours of attempts at negotiation.
Marshall's son, Evin Marshall, shared his reaction to the suspect's death: "I don't know if that's justice for me. Part of me wanted him to go through the process, deal with the justice system and rot in prison for the rest of his life," Marshall said.
The murder happened last week at the Food For Lane County Youth Farm at 705 Flamingo Avenue.
Springfield police thanked the Douglas County Sheriff's Office, Oregon State Police, Reedsport Police and Coos Bay Police for their assistance. More information is expected at a later time.
Some Employers Struggle to Find Workers as Oregon Businesses Begin to Reopen
As Oregon eases coronavirus restrictions and more people become vaccinated against the virus, businesses are looking to open back up. This means companies are doing major hiring sprees, but some are facing a problem. The Oregon Employment Department says about 136,000 Oregonians are actively looking for work.
The Oregon Restaurant and Lodging Association reached out to companies across the state recently, and discovered employers are having a hard time finding workers. https://www.oregonrla.org/blog
Workforce Shortages Abound But Why? 3/10/2021 Oregon hospitality positions are coming back online but where are the workers?

FOR IMMEDIATE RELEASE: March 9, 2021

Contact:
Jason Brandt, President & CEO, ORLA
503.302.5060 | JBrandt@OregonRLA.org

Wilsonville, OR– According to the Oregon Employment Department, approximately 136,000 Oregonians are actively looking for work. Even so, hospitality operators are having great difficulty finding applicants who follow through and take open positions within restaurant and lodging establishments in regions across the state.

As vaccination rates continue to improve with more supply on its way, hospitality businesses are looking ahead to the busy Spring and Summer seasons with plans to bring some of the lost jobs in the industry back online. In a March article available on qualityinfo.org, regional economist Guy Tauer of the Oregon Employment Department describes the drop off experienced in the hospitality industry. "From December 2019 to December 2020 the leisure and hospitality sector shed 38.7% of payroll employment, compared with a loss of 9.1% across all Oregon industries."

With such a steep dive in employment numbers and substantially high levels of Oregonians searching for work, operators are expressing unexpected challenges in identifying their next teammates for crucial roles in their businesses.

"Oregon's restaurant and lodging industries get a bad rap due to the size and scope of entry level positions available within our industry," said Jason Brandt, President & CEO of the Oregon Restaurant & Lodging Association."But make no mistake – advancement opportunities in many companies across our industry are considerable for those pursuing careers beyond desired part-time work and those career opportunities can come with six figure salaries for managers in both restaurant and lodging settings."

Outside of career opportunities, the hospitality industry has long been acknowledged as America's training ground where our youth and those returning to the world of work can hone their interpersonal skills. "Many Oregonians, including myself, started their career working in restaurants," said Tauer. "Those skills, such as getting along with coworkers, showing up ready and able to put in a full shift, providing quality customer service and countless more, are essential and transfer to many other industries and jobs."

You can view Guy Tauer's full article on the Oregon Employment Department website.

Recently the Oregon Restaurant & Lodging Association reached out broadly to industry operators across the state to learn more about their challenges recruiting staff. The response was considerable. A small collection of responses from operators across Oregon regarding their workforce shortage challenges are noted below:

"Hood River is a seasonal town. Our spring staff-up for restaurants is always a challenge. This year, however, is unlike any other. On top of the difficulties from COVID closures we face scarce options for capable hires. Our ability to recover, ultimately to survive this past year is at grave risk."
– Ben Stenn, Celilo Restaurant & Bar, Hood River

"It has always been more difficult to recruit kitchen staff but now it's harder than ever. Even with a 50/50 tip split between front and back-of-the-house providing $25-$30/hr., applicants are few and far between. We have had a number of applicants tell us they are only applying so they can stay on unemployment. I feel like there needs to be more checks and balances to get people back to work and off unemployment as jobs are becoming available again."
– Colin Rath, Migration Brewing Co., Portland

"Pig & Turnip as well as the business owners I have talked to recently are all struggling to find employees ready and willing to work. We currently have several job postings, and instead of the 75+ applications we normally get for a job, we have received two legitimate applications over the span of 12 days."
– Natalie Sheild, Sheild Catering and Pig & Turnip, Springfield

"For the first time, in 27 years, I have positions in housekeeping and the front desk unfilled for almost a year. Never have I spent so much on 'Help Wanted' ads."
– Peggy Backholm, Bandon Inn, Bandon

"Unemployment benefits and government stipends have made it excruciatingly difficult to rehire and hire people to work for our restaurants. Small, independently owned businesses like ours strive to pay competitively and continue to do so despite constraints mandates have put on how we can operate our restaurants. These difficulties make me fear for the likelihood of survival for in-state restaurants moving forward."
– Andy Rhine, Cascade Lakes Brewing Co., Bend

"Like many of our colleagues in hospitality, we are currently experiencing some new challenges with recruiting. There were a number of individuals that switched industries during the early part of the pandemic when it became clear that it was a crisis that was not going to resolve quickly."
– Cari Shafer, Oxford Suites, Pendleton and Hermiston

"We have been advertising available jobs since we opened again June 2020. It makes no sense that the Lincoln County unemployment rate is still high as most employers in the area are currently advertising for available work opportunities. This is the worst we have seen in 23+ years and we will have to shutter room inventory this summer if we are not able to fill available positions."
– Drew Roslund, Be Our Guest, Inc. and Overleaf Lodge & Spa, Yachats

For a full list of responses from industry operators around the state (sorted by region), see below.

"It is clear employers are anxious to welcome back new and former employees as the industry works to fill everything from low barrier to specialized positions," said Wendy Popkin, Executive Director of the Oregon Hospitality Foundation charged with the advancement of careers in hospitality. "The challenge seems to be in getting the word out about available jobs and matching those opportunities to job seekers. Hopefully the latest job availability intelligence will help our industry continue to strengthen its relationship with the Oregon Employment Department as we seek to facilitate more connections between job seekers and growing opportunity in our state's hospitality industry."

For more information on the efforts of the Oregon Restaurant & Lodging Association please visit OregonRLA.org.

###

The Oregon Restaurant & Lodging Association is the leading business association for the foodservice and lodging industry in Oregon, which before COVID-19 provided over 180,000 paychecks to working Oregonians.

SAIF declares $210 million dividend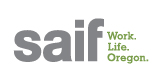 Summary: This is the 12th year in a row SAIF has returned a dividend to policyholders.
Acknowledging the financial toll the pandemic has taken on Oregon businesses, SAIF today declared a $210 million dividend for its policyholders.
"Oregon businesses continue to face tremendous uncertainty," said President and CEO Kerry Barnett. "When our financial position indicates we can issue a dividend, we do — it's the best way we can support our policyholders right now."
The dividend will be based on premium for policies whose term ended in 2020 and will be distributed in July. This is the 12th year in a row SAIF has been able to offer a dividend, and the 24th dividend since 1990. More information will be available on saif.com in June.
During the pandemic, SAIF has remained open for business, serving Oregon's employers and workers. This has included taking steps to help injured workers who faced challenges accessing care and working to reduce the financial burden on businesses.
Last year, SAIF helped more than 3,400 businesses through the $25 million coronavirus worker safety fund. The fund helped employers quickly implement safety practices to protect workers against the virus. SAIF also returned a $100 million dividend in 2020.
About SAIF
SAIF is Oregon's not-for-profit workers' compensation insurance company. For more than 100 years, we've been taking care of injured workers, helping people get back to work, and striving to make Oregon the safest and healthiest place to work. For more information, visit the About SAIF page on saif.com. — SAIF
UPDATE – Oregon State Police is Requesting Public's Assistance with Fatal Crash on Interstate 5 in Marion County
On Wednesday, March 10, 2021 at approximately 6:50 A.M., Oregon State Police Troopers and emergency personnel responded to a vehicle crash on Interstate 5 near MP 270.
Preliminary investigation revealed that a black SUV and a motorcycle were northbound on Interstate 5. The SUV made contact with the motorcycle and the motorcycle went off the road and into the center cable divider. The SUV did not stop and continued northbound on Interstate 5.
The operator of the motorcycle sustained fatal injuries and was pronounced deceased. Motorcycle operator – Meagan Brumley 30 of Keizer.
Oregon State Police is looking for any additional information on the black SUV. There should be damage on the front driver's side on the SUV.
If you were a witness to this crash or have any information please contact the Oregon State Police Northern Command Center at 1-800-442-0776 or OSP and leave information for Trooper Michael Iacob. – Oregon State Police
Pacificorp Sued Over Damage from The Beachie Creek Wildfire That Burned 470 Homes and Left 8 People Dead
Two lawsuits have been filed against the local power company, blaming the utility for the extent of the damage caused last year by Oregon's Beachie Creek fire.The fire, which ignited in August and burned through the end of October 2020, destroyed nearly 200,000 acres. More than 1,300 structures, including 470 homes, and at least 8 lives were lost to the fire, according to the lawsuits.
More than 100 plaintiffs are named in the suits, which claim that PacifiCorp did not take wind advisories in the area seriously enough and arguing that downed electrified power lines caused the fire to grow quickly. Investigators have not released an official cause of the fire.
"The Beachie Creek fire could have been prevented had PacifiCorp properly maintained its equipment or instituted a public safety power outage (i.e., de-energizing)," the lawsuits say. "Instead, PacifiCorp kept its improperly maintained power lines energized even after receiving a multitude of warnings days before high winds toppled its improperly maintained electric infrastructure."
In a statement to CNN, PacifiCorp spokesman Drew Hanson said, "As a company policy, we do not comment on pending litigation." Ahead of the Labor Day weekend in which the fire exploded, the US Drought Monitor indicated that parts of the country were in moderate to severe drought, the lawsuits say.
The US National Weather Service had also issued several red flag, excessive heat and heat advisory warnings."PacifiCorp understood the severity of these weather conditions and chose to warn its customers but failed to take preemptive measures (or any measures at all) designed to prevent fire risks," the suits say.
The lawsuits seek more than a billion dollars in damage for the property damage, economic losses and disruption to people's lives. "They are left not knowing where they will sleep, whether they will be able to afford temporary shelter, or whether they will even be able to rebuild their lives, all amid a dangerous pandemic," the lawsuits say.
In September, Oregon Gov. Kate Brown said the fire "could be the greatest loss of human lives and property due to wildfire in our state's history. "Environmentalist George Atiyeh was one of the victims of the fire after flames erupted overnight in the area where his home was located. The fire began in the Opal Creek Wilderness, a 20,000-acre refuge of steep and rugged forested hillsides, according to the Forest Service. The wilderness refuge was protected by federal legislation in 1996 after activists, including Atiyeh, pushed back against plans to open the area for logging.
Telephone Outage Affecting 911 Service in Douglas County
The Douglas County Sheriff's Office has been notified by Lumen Technologies, formerly known as CenturyLink, of a telephone service outage that is impacting the communities of Scottsburg and Elkton. The outage is affecting the ability of residents with Lumen landline telephone service to dial 9-1-1 from those communities and outlying areas.
Residents with cellular telephone service may be able to dial 9-1-1 from a cellular device. The fire stations in Elkton and Scottsburg are also staffed with personnel. At this time, the estimated time of repair is unknown. — Douglas Co. Sheriff's Office