Saint Patrick's Day, is the feast day of St. Patrick, the Patron Saint of Ireland. (March 17)
St. Patrick's Day is celebrated annually on March 17, the anniversary of his death in the fifth century. The Irish have observed this day as a religious holiday for over 1,000 years. On St. Patrick's Day, which falls during the Christian season of Lent, Irish families would traditionally attend church in the morning and celebrate in the afternoon. Lenten prohibitions against the consumption of meat were waived and people would dance, drink and feast–on the traditional meal of Irish bacon and cabbage.
Born in Roman Britain in the late 4th century, he was kidnapped at the age of 16 and taken to Ireland as a slave. He escaped but returned about 432 to convert the Irish to Christianity. By the time of his death on March 17, 461, he had established monasteries, churches, and schools. Many legends grew up around him—for example, that he drove the snakes out of Ireland and used the shamrock to explain the Trinity. Ireland came to celebrate his day with religious services and feasts.
St. Patrick, who lived during the fifth century, is the patron saint of Ireland and its national apostle. Born in Roman Britain, he was kidnapped and brought to Ireland as a slave at the age of 16. He later escaped, but returned to Ireland and was credited with bringing Christianity to its people.
In the centuries following Patrick's death (believed to have been on March 17, 461), the mythology surrounding his life became ever more ingrained in the Irish culture: Perhaps the most well-known legend of St. Patrick is that he explained the Holy Trinity (Father, Son and Holy Spirit) using the three leaves of a native Irish clover, the shamrock.
Since around the ninth or 10th century, people in Ireland have been observing the Roman Catholic feast day of St. Patrick on March 17. The first St. Patrick's Day parade took place not in Ireland but in America. Records show that a St. Patrick's Day parade was held on March 17, 1601 in a Spanish colony in what is now St. Augustine, Florida. The parade, and a St. Patrick's Day celebration a year earlier were organized by the Spanish Colony's Irish vicar Ricardo Artur.
More than a century later, homesick Irish soldiers serving in the English military marched in New York City on March 17, 1772 to honor the Irish patron saint. Enthusiasm for the St. Patrick's Day parades in New York City, Boston and other early American cities only grew from there.
In 1848, several New York Irish Aid societies decided to unite their parades to form one official New York City St. Patrick's Day Parade. Today, that parade is the world 's oldest civilian parade and the largest in the United States, with over 150,000 participants. Each year, nearly 3 million people line the 1.5-mile parade route to watch the procession, which takes more than five hours. Boston, Chicago, Philadelphia and Savannah also celebrate the day with parades involving between 10,000 and 20,000 participants each. In 2020, the New York City parade was one of the first major city events to be cancelled as a result of the COVID-19 pandemic; it was again cancelled in 2021.
One Icon of the Irish holiday is the Leprechaun.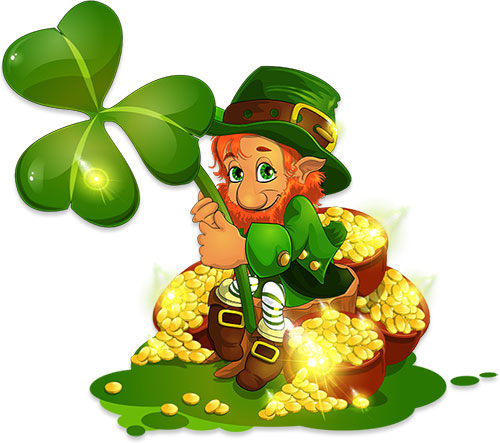 The original Irish name for these figures of folklore is "lobaircin," meaning "small-bodied fellow." Belief in leprechauns probably stems from Celtic belief in fairies, tiny men and women who could use their magical powers to serve good or evil. In Celtic folktales, leprechauns were cranky souls, responsible for mending the shoes of the other fairies.
Though only minor figures in Celtic folklore, leprechauns were known for their trickery, which they often used to protect their much-fabled treasure. Leprechauns have their own holiday on May 13, but are also celebrated on St. Patrick's, with many dressing up as the wily fairies.
The three-leaf clover, a type of trefoil plant, has been considered the unofficial national flower of Ireland for centuries. Irish legend says that Saint Patrick used the shamrock as an educational symbol to explain the Holy Trinity to nonbelievers as he converted the Irish to Christianity in the fourth century.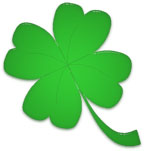 Today, looking for four-leaf clovers is a St. Patrick's Day tradition, but have you ever wondered why they're considered lucky—or how they came to be associated with the holiday? It turns out, the story behind the clovers dates back to hundreds of years before we began drinking green beer and pinching friends who didn't wear green on the holiday.
Four-leaf clovers commonly appear in centuries-old legends as symbols of good luck. The Druids (Celtic priests), in the early days of Ireland, believed that when they carried a three-leaf clover or shamrock, they could see evil spirits coming and have a chance to escape in time. Four-leaf clovers were Celtic charms, presumed to offer magical protection and ward off bad luck. Children in the Middle Ages believed if they carried a four-leaf clover, they would be able to see fairies, and the first literary reference to suggest their good fortune was made in 1620 by Sir John Melton.
There are approximately 10,000 three-leaf clovers for every "lucky" four-leaf clover.
There are no clover plants that naturally produce four leaves, which is why four-leaf clovers are so rare.
The leaves of four-leaf clovers are said to stand for faith, hope, love, and luck.
It's often said that Ireland is home to more four-leaf clovers than any other place, giving meaning to the phrase "the luck of the Irish."
If you're lucky enough to find a four-leaf clover, look for more! If a clover plant produces a four-leaf clover, it's more likely to produce another four-leaf lucky charm than plants that only produce three-leaf clovers.
The fourth leaf can be smaller or a different shade of green than the other three leaves