The latest news stories and stories of interest in the Rogue Valley from the digital home of Southern Oregon, from Wynne Broadcasting's RogueValleyMagazine.com
Tuesday, March 23, 2021
Rogue Valley Weather
Today- Sunny, with a high near 59. North northwest wind 3 to 6 mph.
Wednesday- Partly sunny, with a high near 58. Calm wind becoming north northwest around 5 mph in the afternoon.
Thursday- A 30 percent chance of showers, mainly before 11am. Snow level 3300 feet. Mostly cloudy, with a high near 53. Northwest wind 3 to 5 mph.
Friday- Sunny, with a high near 67.
Saturday- Sunny, with a high near 75.
Oregon reports 178 new confirmed and presumptive COVID-19 cases, 2 new deaths
There are two new COVID-19 related deaths in Oregon, raising the state's death toll to 2,365. The Oregon Health Authority reported 178 new confirmed and presumptive cases of COVID-19, bringing the state total to 161,706.
The new confirmed and presumptive COVID-19 cases reported today are in the following counties: Benton (8), Clackamas (29), Columbia (3), Coos (8), Curry (8), Deschutes (6), Douglas (10), Jackson (6), Jefferson (2), Josephine (10), Klamath (9), Lake (1), Lane (16), Lincoln (1), Linn (4), Marion (23), Multnomah (24), Polk (1), Tillamook (4), Washington (2) and Yamhill (3).
Vaccinations in Oregon
Today, OHA reported that 21,629 new doses of COVID-19 vaccinations were added to the state immunization registry. Of this total, 14,422 doses were administered on March 21 and 7,207 were administered on previous days but were entered into the vaccine registry on March 21.
Oregon has now administered a total of 757,970 first and second doses of Pfizer, 740,155 first and second doses of Moderna and 32,022 single doses of Johnson & Johnson COVID-19 vaccines.
Cumulative daily totals can take several days to finalize because providers have 72 hours to report doses administered and technical challenges have caused many providers to lag in their reporting. OHA has been providing technical support to vaccination sites to improve the timeliness of their data entry into the state's ALERT Immunization Information System (IIS).
To date, 901,485 doses of Pfizer, 902,200 doses of Moderna and 54,700 doses of Johnson & Johnson COVID-19 vaccines have been delivered to sites across Oregon.
These data are preliminary and subject to change. OHA's dashboards provide regularly updated vaccination data, and Oregon's dashboard has been updated today.
Counties approved for expanding vaccinations
Today, the Oregon Health Authority announced that 13 Oregon counties had submitted attestation letters signaling their intention to immediately offer COVID-19 vaccinations to expanded eligibility groups.
The counties are Baker, Benton, Deschutes, Grant, Jefferson, Lake, Lincoln, Malheur, Marion, Morrow, Polk, Umatilla and Union.
By attesting, these counties can now begin vaccinating all individuals listed in Phase 1B, Group 6, ahead of the previously designated statewide start date of March 29.
Group 6 is comprised of:
Adults ages 45 to 64 with one or more underlying condition with increased risk.
Migrant and seasonal farm workers
Seafood and agricultural workers
Food processing workers
People living in low-income, senior congregate and independent living facilities
Sheltered and unsheltered individuals experiencing houselessness
People displaced by wildfires
Wildland firefighters
Pregnant women 16 and older
The Get Vaccinated Oregon tool is being updated to accommodate this newly added population of people eligible for vaccination.
Updated Guidance for Classroom Spacing
The Oregon Department of Education released its updated guidance for classroom spacing on Monday to reflect new recommendations from the CDC issued at the end of last week. Oregon school districts have been eagerly awaiting the updated plan from education officials, which is necessary for any public school to proceed with the CDC's change from six feet to three feet of required space for each student. The spacing change is expected to allow many schools to abandon hybrid learning in favor of full-time instruction on campus. However, ODE's new plan is not without caveats.
Elementary schools will be able to make the shift to three feet of spacing "to the maximum extent possible" without equivocation, but classrooms in middle and high school will be beholden to county case rates. This requirement largely aligns with the CDC's update, which called for more spacing in upper grades when counties are seeing
higher rates of spread. For both middle and high schools, the reduction to three feet of physical distance is allowed when the county case rate is below 200 per 100,000 people. If the county case rate is 200 or more per 100,000 people, six feet of distancing will be required.
LOCAL HEADLINES:
Arbor Day Foundation Bestows Growth Award on Grants Pass and Medford and 12 Other Oregon Urban Forestry Programs
Grants Pass and 13 other Oregon Tree City USAs have received Growth Awards from a national organization – the Arbor Day Foundation – for showing higher levels of tree care and community engagement with their urban forestry programs and activities during 2020. Grants Pass has received the honor 10 times.
To be eligible for the award, a city must have been enrolled as a Tree City USA for at least one year. Some 69 Oregon towns and cities qualified as a Tree City USA in 2020 and 67 met the one-year requirement.
The Growth Award program lists several activities designed to help build urban forestry programs, such as:
revamping a tree ordinance
conducting a tree inventory
holding a tree fair for the public
improving social equity outreach
Each activity is worth from 1 to 10 points. Communities must describe their activities and add up their points. Communities must score at least 10 points in each category to earn a Growth Award.
La Grande has received the Tree City USA Growth Award more times than any other Oregon city – 29. Others receiving the award for activities in 2020 and the number of times they've been honored were:
Portland – 24
Medford – 19
Beaverton – 17
Eugene – 16
Salem – 15
Corvallis – 12
Wilsonville – 11
Grants Pass – 10
Albany – 4
Cottage Grove – 4
Milwaukie – 2
West Linn – 2
Redmond – 1
Several of the cities are also marking milestone anniversaries in the program. Oregon's first Tree City USA – Salem – is celebrating 45 years of holding that status. Medford is marking 25 years and Tigard 20 years, Banks and Brownsville are at 15 years each, and Roseburg and Milwaukie have each reached the 5-year milestone.
The Oregon Department of Forestry administers the Tree City USA program in Oregon on behalf of the Arbor Day Foundation. ODF Urban and Community Forestry Assistance Program Manager Kristin Ramstad is thrilled to see the engagement in Oregon communities around urban trees.
"Even though in 2020 the pandemic was very disruptive, forcing the cancellation of many in-person events, many Oregon cities and towns were still able to get a lot done in terms of improving tree care. And cities became very creative in engaging with the public while keeping social distance," said Ramstad.
More information about the awards program is here. — Oregon Dept. of Forestry
Medford Man Arrested For Throwing Homemade Bombs From Car In Rogue Valley
A 23-year-old Medford man is facing more than 30 charges related to throwing homemade explosive devices from a car across southern Oregon's Rogue Valley in recent weeks, Oregon State Police said Monday.
The OSP Explosives Unit and Medford police raided a Medford home in the 1100 block of Char Way last Thursday, OSP Captain Tim Fox said. Investigators identified a suspect and during the search of the home found several items related to manufacturing destructive devices.
Brian Lighthill was arrested and lodged in the Jackson County Jail on 23 counts of manufacturing a destructive device and nine counts of possession of a destructive device. He remained jailed Monday on $500,000 after an initial court appearance last week.
The incidents first were reported last month in Medford, Central Point and White City. Fox said he was not aware of any reported injuries or damage.
Anyone with information about the explosions were asked to contact Medford Police Detective Carson at 541-774-2250 or OSP Detective Keller at 1-800-442-2068 or text *OSP.
Court records show Lighthill has past convictions for poaching and meth and heroin possession.
AROUND the STATE of OREGON
The Oregon Century Farm & Ranch Program is Seeking Applications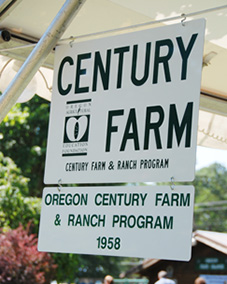 The Oregon Century Farm & Ranch Program is seeking applications for its 2021 awards cycle. Families throughout Oregon who have continuously farmed portions of their family acreage for the past 100 or 150 years are invited to apply.
The program began in 1958 to honor farm and ranch families with century-long connections to the land. To qualify for a century or sesquicentennial award, interested families must follow a formal application process.
Farmers and ranchers can find the application and program guidelines at http://www.centuryfarm.oregonfb.org, or by contacting Andréa Kuenzi at 503-400-7884 or cfr@oregonfb.org. The application deadline is May 1, 2021 — https://centuryfarm.oregonfb.org/
DOJ Warns of 'Grandparent Scams' in Oregon
The Oregon Department of Justice (DOJ) has reason to believe that a group of scammers are setting their sights on Oregon to perpetrate "grandparent scams." In grandparent scams, older adults are duped into handing over cash at their front door, thinking they're helping a loved one who is in danger.
Scammers pose as panicked grandchildren in trouble, calling or sending messages urging you to wire money immediately. They'll say they need cash to help with an emergency – like paying a hospital bill or needing to leave a foreign country. They pull at your heartstrings so they can trick you into sending money before you realize it's a scam.
The Oregon DOJ offers the following recommendations to avoid becoming a victim of a grandparent or family emergency scam. If someone calls or sends a message claiming to be a grandchild, other family member or friend desperate for money: Resist the urge to act immediately – no matter how dramatic the story is. Verify the caller's identity. Ask questions that a stranger couldn't possibly answer. Call a phone number for your family member or friend that you know to be genuine. Check the story out with someone else in your family or circle of friends, even if you've been told to keep it a secret.
Don't send cash, gift cards, or money transfers – once the scammer gets the money, it's gone. Never open your door for anyone you don't know. Call the police immediately if you have reason to believe you've fallen victim to this scam or any other scam.
Floor Sessions in the Oregon Capitol Cancelled
Floor sessions in the Oregon Capitol were canceled for the rest of the day Monday and all day Tuesday after lawmakers learned that "someone who was interacting on the House floor last week" has tested positive for COVID-19.
House Speaker Tina Kotek, D-Portland, who said she was notified about the situation while on the floor Monday, did not say if the person who tested positive was a lawmaker or staff.
The House of Representatives was scheduled be on the floor for a total of about 10 hours Monday and Tuesday. Kotek said the Legislature is following public health protocols and it is still being determined if they will return to the Capitol Wednesday morning.
The Capitol building has been closed to the public since March as part of a COVID-19 safety measure. Only authorized personnel, which includes lawmakers, staff, police and reporters have access to the building.
The Supreme Court Appeared to side with Two Dorris Agriculture Businesses to Bar Labor Organizers
The Supreme Court appeared ready Monday to side with two Dorris agriculture businesses that want to bar labor organizers from their property, a case that could be another blow to unions. The case before the justices involves Cedar Point Nursery in Dorris, which grows strawberry plants for commercial growers, as well as a farm in Fresno.
The justices were hearing arguments in a case involving a California labor regulation put in place in 1975, following the efforts of labor leader Cesar Chavez. The regulation grants unions access to farms and other agriculture businesses in order to organize workers for up to three hours per day, 120 days per year.
Businesses are supposed to be notified before organizers arrive, and organizers are supposed to come during non-work times like lunch and before and after work. But the court's six conservative justices, in particular, suggested California's regulation likely goes too far. If the court does side with the businesses, it would be another hit to unions by the court under Chief Justice John Roberts.
In 2018, the court's conservative majority overturned a 41-year-old pro-union decision that had allowed states to require that public employees pay some fees to unions that represent them, even if the workers choose not to join.
Oregon Institute Of Technology (Oregon Tech) is Noted as the Highest Value for Your Dollar Of Any College or University In The State Of Oregon.
Financial news and opinion company, 24/7 Wall St., has released its 2021 report of the Most Affordable Colleges With Best Outcomes in Every State, and Oregon Institute of Technology (Oregon Tech) is noted as the highest value for your dollar of any college or university in the state of Oregon.
Oregon Tech's No. 1 ranking is a result of 24/7 Wall St. using data from the U.S. Department of Education.
To determine the best outcomes in every state, 24/7 Wall St. reviewed a range of data at over 6,800 colleges and universities, including tuition costs, graduate employment rates, student debt repayment and median salary after enrollment, to identify the most affordable colleges with the best outcomes in every state. Universities were only considered for the list if they primarily grant bachelor's degrees and have at least 1,500 undergraduates enrolled as of fall.
Recently, Oregon Tech also ranked No. 45 of the 50 Best Value Public Colleges in America by news magazine, Newsweek's ranking of public schools prospective students can apply to that will allow them to maximize their educational potential.
Two Separate Fatal Vehicle Incidents in Coos County
A 24-year-old woman died Saturday in a single-vehicle traffic crash in the Oregon Dunes National Recreation Area of Lakeside.
Hailey Marie Vincent died when the vehicle she was in went off of a sand road and landed upside down in the water. Two other occupants were able to get out of the vehicle with help from several ATV riders who stopped to assist.
When the Coos County Sheriff's Office deputy arrived, Vincent was still trapped in the vehicle under water. The deputy and the ATV riders attached a winch line from the deputy's patrol truck to quickly winch the 2001 Jeep Cherokee out of the water so that Vincent could be removed. CPR was administered until medical staff from the Hauser Fire Department and Bay Cities Ambulance arrived and took over medical aid. Vincent died at the scene. She had been a passenger in the vehicle.
The crash happened shortly after 6 p.m. Saturday on Ten Mile Sand Road about 1.5 miles east of Horsfall Beach in Coos County's Oregon Dunes National Recreation Area of Lakeside.
The Coos County Sheriff's Office said in a news release that the ATV riders who responded to the crash likely saved the life of at least one of the other occupants of the vehicle.
The cause of this crash is still under investigation.
Then on Monday, March 22, 2021 at approximately 7:40 P.M., Oregon State Police Troopers and emergency personnel responded to an incident involving a vehicle on Whiskey Run Beach near Bandon, OR.
Preliminary investigation revealed a Mercury Mountaineer, operated by Jerry Garrett (46) of Coos Bay, was being operated on Whiskey Run Beach with the passenger, April Garrett (43) of Coos Bay, on the roof of the vehicle.
April Garrett fell off the vehicle, sustained fatal injuries and was pronounced deceased.
OSP was assisted by the Coos County Sheriff's Office, Bandon Police Department, Bandon Fire Department, and Bay Cities Ambulance.
Investigation is continuing. – Oregon State Police