The latest news stories and stories of interest in the Rogue Valley from the digital home of Southern Oregon, from Wynne Broadcasting's RogueValleyMagazine.com
Wednesday, April 7, 2021
Rogue Valley Weather
Today- Sunny, with a high near 68. Light and variable wind becoming northwest 5 to 10 mph in the afternoon.
Thursday- Mostly cloudy through mid morning, then gradual clearing, with a high near 60. Calm wind becoming north 5 to 8 mph in the afternoon.
Friday- Sunny, with a high near 69. Light and variable wind.
Saturday- Mostly sunny, with a high near 62.
Sunday- Sunny, with a high near 71.
Oregon reports 544 new confirmed and presumptive COVID-19 cases, 33 new deaths
There are 33 new COVID-19 related deaths in Oregon, raising the state's death toll to 2,427. The Oregon Health Authority reported 544 new confirmed and presumptive cases of COVID-19 bringing the state total to 167,658.
The new confirmed and presumptive COVID-19 cases reported today are in the following counties: Baker (4), Benton (11), Clackamas (86), Clatsop (1), Columbia (5), Coos (10), Crook (2), Curry (2), Deschutes (35), Douglas (7), Grant (9), Harney (3), Hood River (2), Jackson (33), Jefferson (2), Josephine (12), Klamath (21), Lane (41), Lincoln (3), Linn (17), Malheur (4), Marion (36), Multnomah (68), Polk (10), Sherman (1), Tillamook (7), Umatilla (8), Union (4), Wasco (1), Washington (97) and Yamhill (2).
Oregon pausing exposure notification app
This week OHA decided to pause the ongoing planning of the Exposure Notification (EN) application project rollout for Oregon to focus on vaccinations and other priority efforts to end the COVID-19 pandemic. Over the past six months, OHA has benefitted from discussions with local public health departments and other partners, which highlighted the benefits and costs of any early notification app, including the intensive efforts state and local health officials would need to undertake to promote the app and address likely gaps in its adoption across Oregon's diverse communities, as well as the added contact tracing demands full adoption would place on county public health staff.
OHA appreciates the feedback agency staff heard from our partners working in local communities. State health officials reached the decision after consultation with Gov. Kate Brown's office. OHA Public Health Director Rachael Banks said: "Approximately two dozen states have chosen not to deploy smartphone-based apps at this time and instead to rely on other tools to stop the spread of COVID-19. Oregon is focused on building trust with people in communities across the state to get all Oregonians vaccinated and sustain the other COVID-19 prevention practices, such as wearing a mask, staying physically distant and limiting the size and frequency of indoor social get-togethers. These strategies have prevented more than 4,000 COVID-19 deaths in our state. We'll continue to prioritize these approaches because they remain our best bet to end the pandemic."
Vaccinations in Oregon
Today, OHA reported that 32,955 new doses of COVID-19 vaccinations were added to the state immunization registry. Of this total, 21,170 doses were administered on April 5 and 11,785 were administered on previous days but were entered into the vaccine registry on April 5
Oregon has now administered a total of 1,040,314 doses of Pfizer, 938,182 doses of Moderna and 51,618 doses of Johnson & Johnson COVID-19 vaccines. As of today, 784,476 people have completed a COVID-19 vaccine series. There are 1,290,755 people who have had at least one dose.
Cumulative daily totals can take several days to finalize because providers have 72 hours to report doses administered and technical challenges have caused many providers to lag in their reporting. OHA has been providing technical support to vaccination sites to improve the timeliness of their data entry into the state's ALERT Immunization Information System (IIS).
To date, 1,306,305 doses of Pfizer, 1,187,500 doses of Moderna and 168,100 doses of Johnson & Johnson COVID-19 vaccines have been delivered to sites across Oregon.
These data are preliminary and subject to change. OHA's dashboards provide regularly updated vaccination data, and Oregon's dashboard has been updated today.
Josephine County to remain at High Risk level
JOSEPHINE COUNTY, Ore. — Due to updates at the state level, Josephine County will remain at the High Risk level of Oregon's public health framework to reduce transmission and protect Oregonians from COVID-19 this week, despite meeting the state's previous metrics to return to the Extreme Risk level.
Josephine County will remain at the High Risk level at least through April 22.
This week, Oregon is adding a statewide hospitalization metric for moving to Extreme Risk. "COVID-19 hospitalizations are a key indicator of severe illness in Oregon communities," according to a statement from Gov. Kate Brown's office today. "As vaccine distribution increases, case counts and percent positivity will not be adequate indicators on their own for measuring the threat COVID-19 poses to public health."
Beginning this week, for counties to move to (or remain in) Extreme Risk, they must meet the county metrics for case rates and percent positivity, plus a new statewide metric: COVID-19 positive patients occupying 300 hospital beds or more, and a 15% increase in the seven-day average over the past week. Counties that meet the criteria for Extreme Risk will be assigned to High Risk unless the new statewide metric is met.
Josephine County, as well as Klamath and Tillamook counties, qualify for Extreme Risk based on their county metrics, but are assigned High Risk because the statewide trigger has not been met.
The Oregon Health Authority will examine and publish county data weekly. County risk levels will be reassigned every two weeks. The first week's data will provide a "warning week" to prepare counties for potential risk level changes. The next assignment of risk levels will be announced April 20 and take effect April 23.
Anyone interested in scheduling an appointment to receive a first or second dose of a COVID-19 vaccine is invited to fill out the Josephine County COVID-19 Vaccination Appointment Request Form at http://www.co.josephine.or.us/Page.asp?NavID=2299 or call the COVID-19 vaccination call center at (541) 916-7030. See co.josephine.or.us/COVID19 for more information.
All Oregon residents age 16 and older will be eligible for the COVID-19 vaccine on April 19, Gov. Kate Brown announced yesterday.
Last week Oregon and country officials warned of a fourth COVID-19 wave expressing concerns about virus variants and the increase in cases. Brown described the coming weeks as a "critical moment for all to double down so we can outrun this next wave."
Officials say Oregon will pass the threshold of 2 million vaccines administered on Tuesday and is focused on vaccinating as many frontline workers and people with underlying conditions as possible in the next two weeks. "And yet, in communities across Oregon, COVID-19 is spreading at concerning rates. We must move as quickly as possible to get more shots in arms," Brown said in a statement yesterday. Hundreds of thousands of Oregonians became newly eligible for shots Monday, including frontline workers, their family members and those age 16 and up with underlying conditions.
'We are at a critical moment in this pandemic': Here are the current Oregon COVID risk levels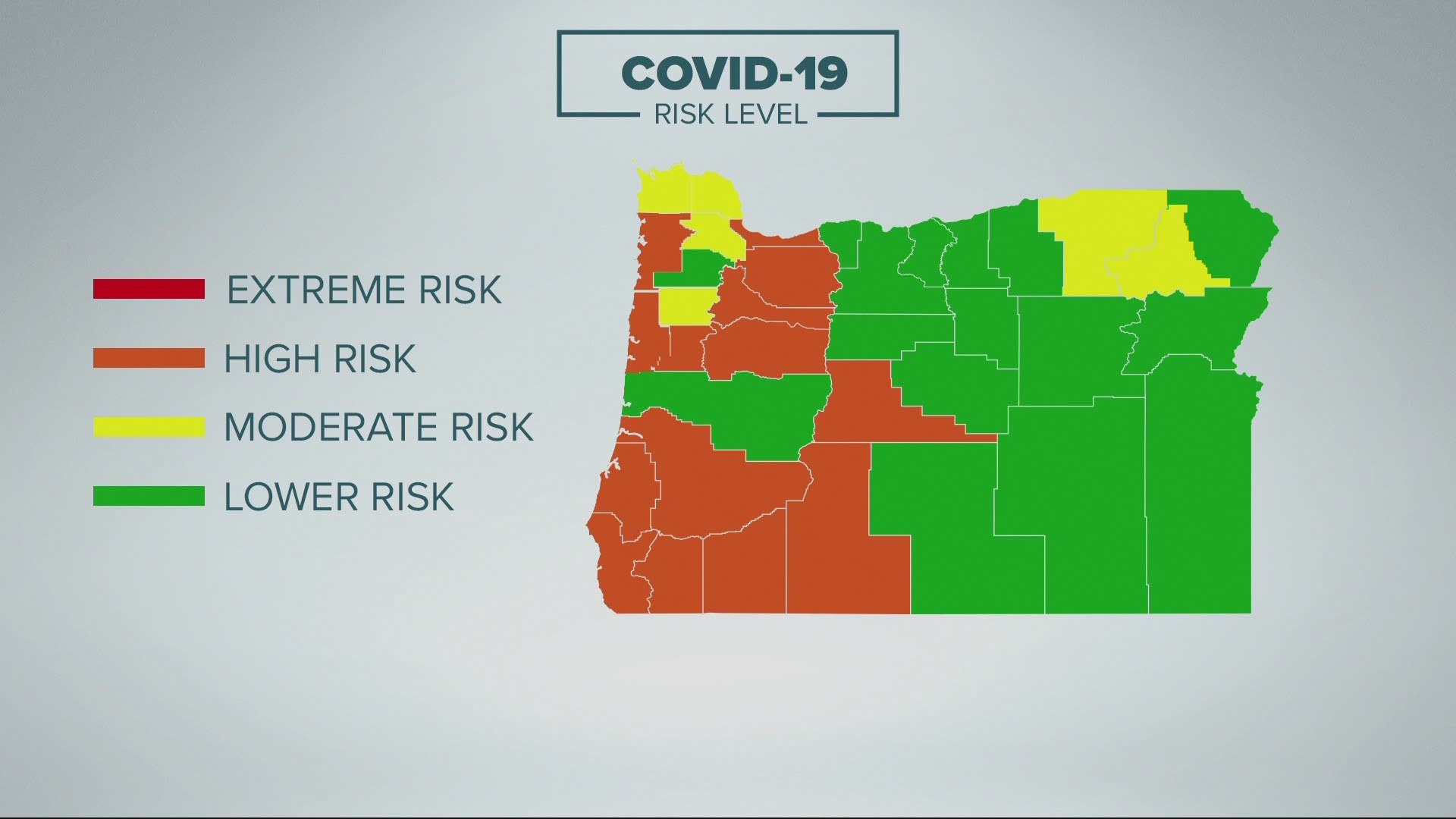 PORTLAND, Ore — Six Oregon counties, including Multnomah and Clackamas, will move from moderate risk to high risk when the state's new COVID-19 risk levels begin on Friday, April 9, Oregon Gov. Kate Brown announced Tuesday.
The move means fewer people will be allowed at indoor businesses such as restaurants and gyms.
There will be 14 counties in the high risk level, six at moderate risk and 16 at lower risk when the new levels take effect. Zero counties currently qualify for extreme risk.
"We are at a critical moment in this pandemic as we face more contagious variants of COVID-19 taking hold in our communities," said Brown. "Now more than ever it's imperative that we all continue wearing masks, maintain physical distance, stay home when sick and get the vaccine when it's available to you."
Gov. Brown earlier on Tuesday had announced another change to Oregon's vaccine timeline: All Oregonians 16 and older will be eligible for vaccination on April 19.
Under Oregon's latest framework for coronavirus-related restrictions, counties are placed into four risk level categories: extreme risk, high risk, moderate risk and lower risk. The extreme risk designation comes with the strictest regulations while the lower risk category comes with the least-restrictive rules. The Oregon Health Authority reassigns risk level designations to counties every two weeks, based on the latest data on COVID-19 spread.
Here's the full list of county risk levels. Counties will remain at these risk levels from April 9 to April 22.
Extreme Risk (zero counties)
High Risk (14 counties)
Benton
Clackamas (Moved from Moderate)
Coos (Moved from Extreme)
Curry (Moved from Extreme)
Deschutes (Moved from Moderate)
Douglas
Jackson
Josephine
Klamath (Moved from Moderate)
Lincoln
Linn (Moved from Moderate)
Marion
Multnomah (Moved from Moderate)
Tillamook (Moved from Moderate)
Moderate Risk (6 counties)
Clatsop
Columbia
Polk
Umatilla (Moved from High)
Union
Washington
Study Finds 40,000 Parental Deaths in USA and 190 in Oregon due to COVID-19 so Far.
A new study by the Journal of the American Medical Association claims that around 40,000 U.S. children under the age of 17 lost a parent this past year due to COVID-19. That's about a 20% increase in parental deaths from before COVID-19.
According to this study, that means that about 190 Oregon children in the age range lost a parent due to the virus.
Dr. Rachael Kidman, a professor at Stony Brook University, co-authored this study.
"I would call it a crisis," said Kidman. "It's the kids who are left behind after the pandemic sweeps through. The pandemic will end; hopefully, these really severe mortality numbers will end in a relatively short period of months or years. But this crisis with kids will not only affect this year or next year but ten years or twenty years down the road."
One way kids can get a sense of normalcy is by going back to school, according to Kidman.
"Right now, I think the kids really need schools open. I'm glad the federal government is spending a lot to make sure kids can go back safely," said Kidman.
Mental health specialist Torie Heater agreed and said having a routine is important for students to deal with grief.
"We feel safe when we know what to expect. Even though kids may push back against boundaries, kids actually feel safe and secure knowing what's next," Heater said.
Heater also said that there needs to be more availability of support services for children, especially with so many children losing a parent.
"This is happening to a lot of kids at once. This impacts the services available to them, when it's already flooded," Heater said. "It needs to be prioritized."
LOCAL HEADLINES:
Grants Pass Restaurant Fined $17,900 For COVID-19 Violations, Including Willfully Exposing Workers
Oregon OSHA has fined Gold Miner Restaurant in Grants Pass $17,900 for violating two standards designed to protect employees from the coronavirus disease. In one of the infractions, the employer willfully continued to potentially expose workers to the virus, despite a public health order limiting the capacity of indoor dining to zero in an "extreme risk" county.
The citation resulted from an inspection launched in response to multiple complaints and a referral from Josephine County Public Health. The inspection documented the fact that Gold Miner Restaurant was willfully allowing indoor dining on or about Feb. 14 and continuing to do so afterward until March 12.
During that time, Josephine County was designated an "extreme risk" for transmission of the coronavirus disease. On March 12, the county's risk level was lowered from "extreme" to "high." During the inspection, the restaurant's owner, Nancie Bowers, said she was aware that allowing indoor dining during the extreme risk period went against workplace health requirements.
Using his discretionary authority under state law, Oregon OSHA Administrator Michael Wood imposed a $17,800 penalty for the willful violation. That is twice the minimum penalty for such a violation. The decision reflects the need to ensure a more appropriate deterrent effect where employers insist on disregarding health and safety standards.
Such willful behavior puts employees at risk and enables the employer to achieve a competitive advantage over businesses that comply with the requirements.
"Most employers continue to comply with workplace health and safety standards that are specifically designed to reduce the risk of COVID-19. Yet, some have insisted on a different path, one that potentially puts workers at risk," said Michael Wood, administrator for Oregon OSHA. "In those cases, we will continue to seek accountability through our enforcement work."
Altogether, Oregon OSHA cited two violations of the division's temporary rule to address COVID-19 risks in the workplace:
In allowing indoor dining, Gold Miner Restaurant knowingly chose to disregard capacity limitations imposed by the Oregon Health Authority (OHA) for such establishments in a county designated as extreme risk. The willful violation carried a discretionary penalty of $17,800.
The employer failed to follow OHA requirements to ensure that all workers inside the establishment wore a source control device, such as a mask, face covering, or face shield. It was a serious violation, carrying a $100 penalty.
Ongoing refusals to correct violations and come into compliance with workplace health and safety standards can lead to additional higher penalties. Meanwhile, if an Oregon OSHA inspection documents violations while a county is at extreme risk, but the county's risk level drops before the citation is issued, the citation will still be issued. The change in risk levels may affect how the violation needs to be corrected, but not whether it is cited.
Employers have 30 days to appeal citations.
In addition to its enforcement activities, Oregon OSHA offers employers and workers a variety of consultation, information, and education resources addressing COVID-19.
Oregon OSHA, a division of the Department of Consumer and Business Services, enforces the state's workplace safety and health rules and works to improve workplace safety and health for all Oregon workers. For more information, visit osha.oregon.gov.
The Department of Consumer and Business Services is Oregon's largest business regulatory and consumer protection agency. For more information, go to www.dcbs.oregon.gov. — Oregon Dept. of Consumer & Business Services
Missing Person UPDATE
Nanci Dean has been located and is safe. Thank you for your assistance.
The Grants Pass Police Department is requesting assistance from the public in locating Nanci M. Dean. Nanci has dementia and was last seen in the area of Verizon on Union Ave. in Grants Pass. Nanci left in a brown 2015 Mercedes Benz, Oregon plates of 852HZS. Grants Pass Dept. of Public Safety
AROUND the STATE of OREGON
Oregon Attorney General Warns Against Posting Vaccine Card Photos Online
Oregon Attorney General Ellen Rosenblum is warning Oregonians to avoid posting a photo of their COVID-19 vaccine cards on social media.
"Many Oregonians are celebrating their COVID-19 vaccination by posting a photo of their vaccination card on social media. Please — don't do that! You could be inviting identity theft," she warned in an email Tuesday.
Your vaccination card can have valuable information on it, including your full name, date of birth, where you got your vaccine, and the dates you got it. When you post it to Facebook, Instagram, or to some other social media platform, you may be handing valuable information over to someone who could use it for identity theft, the attorney general said.
"Think of it this way — identity theft works like a puzzle, made up of pieces of personal information," she said. "You don't want to give identity thieves the pieces they need to finish the picture."
One of those pieces is your date of birth. For example, just by knowing your date and place of birth, scammers sometimes can guess most of the digits of your Social Security number. Once identity thieves have the pieces they need, they can use the information to open new accounts in your name, claim your tax refund for themselves, and engage in other identity theft.
If you are one of the nearly 1.2 million Oregonians who have already received a COVID-19 vaccine, be sure to safeguard your card by storing it in a safe place. Treat your COVID-19 vaccine card like you would your passport. Do not carry it around with you.
Experts also recommend you take a picture of it with your phone, so you'll have the information in your photo library, and email the photo to yourself as backup. Remember, don't share the photo online!
Some experts have also recommended laminating the card, though there has been some concern about lamination because it would prevent information from future booster shots from being added.
For more information on how to avoid becoming a victim of a COVID-19 scam, visit www.oregonconsumer.gov/COVID19. There you'll find tips on how to spot a COVID-19 scam, links to Scam Alerts, press releases and letters to social media companies like Twitter about the sale of fake vaccine cards.
For more information on how to stay safe online, visit www.oregonconsumer.gov.
Be safe during April's National Safe Digging Month and call 8-1-1 first to find any underground utilities that could endanger you
Every six seconds in America someone risks their life by striking an underground utility line. Pacific Power urges customers to protect themselves and their families and change this alarming statistic with one simple act: dialing 8-1-1 two days before doing any digging.
Installing a mailbox or post for a deck or planting a tree are among the many commonplace projects that should trigger a call to 8-1-1 according to Joe Cissna, Pacific Power's director of safety and training, referring to the national toll-free Call Before You Dig phone number. He says it may seem like simple, harmless maintenance project, but the hazards are very real. Hitting a buried electric line could even be fatal.
It's that simple. A national survey recently found that 45%of residents planning a digging project fail to call 8-1-1. That means thousands will put themselves and their communities at risk by not calling 8-1-1 a few days beforehand to learn the approximate location of underground utilities.
According to a national survey of homeowners conducted in March by Common Ground Alliance, an association dedicated to promoting public safety related to excavation issues, the most popular planned projects by homeowners who plan to dig include planting a tree or shrub, building a patio or deck, building a fence and installing a mailbox.
April Snow Surveys Completed.
The Klamath National Forest has completed the April snow surveys. These measurements are a part of the statewide California Cooperative Snow Survey program, which helps the State forecast the amount of water available for agriculture, power generation, recreation, and stream flow releases later in the year.
Although the snowpack is still lower than average, a series of small to moderate snow events this month have brought the monthly measurements for April closer to normal than in March.
According to measurements taken for the April survey, the snowpack is at 80% of the historic average. April 1 st is an important date for surveying snow because early April is historically when the snowpack is at its maximum; this date has the greatest weight when the State forecasts annual water availability.
Rogue-Umpqua Snow Water Equivalent – 87% of NRCS 1981-2010 Median April 6, 2021
Most of the annual streamflow in the western United States originates as snowfall that has accumulated in the mountains during the winter and early spring. As snowpack accumulates each year, NRCS hydrologists measure the snow and estimate the runoff that will occur when it melts.To predict this annual runoff, the Snow Survey & Water Supply Forecasting Program manages and maintains a comprehensive network of manually-measured snow courses and automated Snow Telemetry (SNOTEL) monitoring sites throughout the West. Administered by the National Water & Climate Center, the Program collects and distributes timely, quality-controlled snowpack, water supply, and soil climate data to users worldwide.
To View Daily statewide overview Interactive map >>> https://www.nrcs.usda.gov/wps/portal/nrcs/main/or/snow/
Small Campfire At Eugene Homeless Camp Sets Off 15 Propane Tanks
A fire at a homeless camp on Club Road under the Ferry Street Bridge set off propane tanks early Wednesday morning, closing the bridge for a short time. Officials responded to the fire around 3:40 a.m.
According to Eugene Police, a small campfire set off 15 propane tanks located at the camp. Witnesses reported seeing heavy black smoke billowing out from under the bridge and hearing loud popping sounds.
Ferry Street Bridge was closed for just under a half-hour as fire crews worked on the scene. First responders on-scene weren't able to tell news crews if the fire resulted in any injuries.
U.S. Sens. Ron Wyden and Jeff Merkley obtain More Than $10 Million Heading to Oregon Airports for Improvements
FAA Grants for Airports in Florence, Baker City, Medford, Portland, Lexington, Chiloquin, Ontario, Creswell, Cottage Grove, Siletz Bay, Burns, Coos County, Aurora, Gold Beach, Mulino, and Independence
Washington, D.C. – U.S. Sens. Ron Wyden and Jeff Merkley said today that more than a dozen airports throughout Oregon will receive about $10.3 million in federal grants for improvements that include better preparation for winter weather, runway repairs, improved guidance systems, perimeter fencing and more.
"Oregonians living and working in communities large and small need safe and modern airport services for commerce that supports local jobs as well as for quality-of-life," Wyden said. "The importance of federal investments in infrastructure like these local airports is especially crucial when Oregon small businesses and families are working hard to weather the economic fallout from this public health crisis."
"Airports play a critical role in keeping our communities connected, and make the shipping and receiving of all kinds of essential goods and products—including vaccines—possible, creating jobs and helping Oregonians stay healthy," said Merkley. "I'm grateful for this funding, which will help us make our airports more efficient and better prepared when the weather throws us a curveball. I will continue to do all that I can to secure similar investments for infrastructure projects throughout Oregon to support the health, economies, and overall well-being of our communities."
The Federal Aviation Administration (FAA) funds will be distributed as follows:
$450,000 to Florence for Florence Municipal Airport to install weather reporting equipment
$330,000 to Baker City for Baker City Municipal to acquire snow removal equipment, seal runway pavement surface/pavement joints
$5 million to Jackson County for Rogue Valley International Airport in Medford to improve airport drainage/erosion control, remove taxiway
$950,000 to the Port of Portland for Portland International Airport to reconstruct de-icing containment facility
$452,000 to Morrow County for Lexington Airport to install runway vertical/visual guidance system, seal apron pavement surface/pavement joints
$125,000 to the Oregon Department of Aviation for Chiloquin State Airport to remove obstructions
$150,000 to the City of Ontario for Ontario Municipal Airport to update the airport master plan/study
$160,000 to the City of Creswell for Hobby Field to install runway vertical/visual guidance system
$494,000 to the Oregon Department of Aviation for Cottage Grove State Airport to install perimeter fencing
$350,000 to the Oregon Department of Aviation for Siletz Bay State Airport to reconstruct runway lighting, rehabilitate runway
$300,000 to the City of Burns for Burns Municipal Airport to update the airport master plan/study
$100,000 to the City of Burns for Burns Municipal Airport to reconstruct/rehabilitate apron
$90,000 to the Coos County Airport District for Southwest Oregon Regional Airport to conduct airport-related environmental assessment/plan/study
$120,000 to the Oregon Department of Aviation for Aurora State Airport to conduct airport-related environmental assessment/plan/study
$578,000 to the Port of Gold Beach for Gold Beach Municipal Airport to reconstruct the apron
$110,000 to the Oregon Department of Aviation for Mulino State Airport for obstructions marking/lighting/removal
$588,000 to the Oregon Department of Aviation for Independence State Airport to install perimeter fencing