The latest news stories and stories of interest in the Rogue Valley from the digital home of Southern Oregon, from Wynne Broadcasting's RogueValleyMagazine.com
Wednesday, May 19, 2021
Rogue Valley Weather
Today– A 30 percent chance of showers after 11am. Snow level 3300 feet rising to 4000 feet in the afternoon. Mostly sunny, with a high near 63. Northwest wind 7 to 11 mph.
Thursday– A 30 percent chance of showers, mainly after 11am. Snow level 2700 feet rising to 3900 feet in the afternoon. Partly sunny, with a high near 59. Northwest wind 6 to 9 mph
Friday– A 30 percent chance of showers, mainly after 11am. Snow level 3800 feet rising to 5100 feet in the afternoon. Partly sunny, with a high near 61. North northwest wind around 6 mph.
Saturday– A 20 percent chance of showers after 11am. Partly sunny, with a high near 71.
Sunday– Mostly sunny, with a high near 74.
Oregon reports 484 new confirmed and presumptive COVID-19 cases, 4 new deaths
There are four new COVID-19 related deaths in Oregon, raising the state's death toll to 2,594. The Oregon Health Authority reported 484 new confirmed and presumptive cases of COVID-19 bringing the state total to 196,390.
The new confirmed and presumptive COVID-19 cases reported today are in the following counties: Baker (1), Benton (1), Clackamas (29), Columbia (1), Coos (6), Crook (4), Curry (4), Deschutes (35), Douglas (20), Grant (4), Harney (3), Jackson (39), Jefferson (5), Josephine (4), Klamath (21), Lake (3), Lane (29), Lincoln (1), Linn (25), Malheur (2), Marion (39), Multnomah (76), Polk (5), Tillamook (2), Umatilla (26), Union (2), Wallowa (1), Washington (79) and Yamhill (17).
Dr. Sidelinger answers questions on new guidance from OHA
Oregon State Public Health Officer and Epidemiologist Dr. Dean Sidelinger answered questions today on OHA's updated guidance about mask and physical distancing requirements for individuals fully vaccinated against COVID-19.
Vaccinations in Oregon
Today, OHA reported that 26,637 new doses of COVID-19 vaccinations were added to the state immunization registry. Of this total, 19,088 doses were administered on May 17 and 7,549 were administered on previous days but were entered into the vaccine registry on May 17.
The seven-day running average is now 26,901 doses per day.
Oregon has now administered a total of 1,979,854 first and second doses of Pfizer, 1,484,295 first and second doses of Moderna and 123,651 single doses of Johnson & Johnson COVID-19 vaccines. As of today,1,604,796 people have completed a COVID-19 vaccine series. There are 2,073,727 people who have had at least one dose.
Cumulative daily totals can take several days to finalize because providers have 72 hours to report doses administered and technical challenges have caused many providers to lag in their reporting. OHA has been providing technical support to vaccination sites to improve the timeliness of their data entry into the state's ALERT Immunization Information System (IIS).
To date, 2,387,385 doses of Pfizer, 1,917,920 doses of Moderna and 266,200 doses of Johnson & Johnson COVID-19 vaccines have been delivered to sites across Oregon.
These data are preliminary and subject to change.
OHA's dashboards provide regularly updated vaccination data, and Oregon's dashboard has been updated today.
COVID-19 hospitalizations
The number of hospitalized patients with COVID-19 across Oregon is 331, which is 11 fewer than yesterday. There are 79 COVID-19 patients in intensive care unit (ICU) beds, which is two fewer than yesterday.
The total number of COVID-19 positive patient bed-days in the most recent seven days is 2,378, which is a 3.4% increase from the previous seven days. The peak daily number of beds occupied by COVID-19 positive patients in the most recent seven days is 351.
The total number of patients in hospital beds may fluctuate between report times. The numbers do not reflect admissions per day, nor the length of hospital stay. Staffing limitations are not captured in this data and may further limit bed capacity. More information about hospital capacity can be found here.
Oregon updates vaccine waste disclosure1,2,3
| | | | |
| --- | --- | --- | --- |
| Vaccine Type | Doses Recalled | Wasted Spoiled Expired | Grand Total |
| Janssen COVID-19 Vaccine | | 547 | 547 |
| Moderna COVID-19 Vaccine | | 2,945 | 2,945 |
| Pfizer COVID-19 Vaccine | | 926 | 926 |
| Grand Total | 0 | 4,418 | 4,418 |
Oregon adjusts guidelines for wearing masks and physical distancing indoors and outdoors
Oregon Health Authority (OHA) today released updated guidance about mask and physical distancing requirements for individuals fully vaccinated against COVID-19. Under the updated guidance, people who are fully vaccinated will no longer be required to wear a mask indoors, in most public settings where vaccination status is checked. In public settings where vaccination status is not checked, masks will still be required. Finally, businesses and venue operators remain free to establish their own, more restrictive policies regarding mask usage. Learn more here.
In addition to exempting people who are fully vaccinated from mask requirements in most indoor settings, OHA health experts announced that mask requirements no longer apply to anyone who is outdoors. However, OHA recommends that individuals continue to wear a mask or face covering in crowded areas and large gatherings (such as sporting events), and to maintain physical distance as much as possible. OHA urges unvaccinated individuals and those at risk for complications to wear masks in these settings.
The new guidance comes after the U.S. Centers for Disease Control and Prevention (CDC) last week announced that individuals who are fully vaccinated against COVID-19 could stop wearing masks and stop physical distancing in most public spaces.
Oregon's Governor Kate Brown pointed to the CDC announcement as "another sign that as more people become fully vaccinated, the closer we are to ending this pandemic."
OHA Director Patrick Allen said, "Masks continue to save lives and protect people who are not vaccinated. However, last week's announcement from the CDC emphasizes the point that safe and effective vaccines are the very best way to protect people from getting and spreading COVID." He added, "That's why it's safer for life to look more like normal for people who are fully vaccinated. And why people who haven't had a chance to get vaccinated should do so as soon as they can."
The new Oregon guidance says:
Individuals in Oregon are no longer required to wear a face mask or physically distance, whether indoors or outdoors, two weeks after their final COVID-19 vaccination dose. A "fully vaccinated individual" is a person who has received both doses of a two-dose COVID-19 vaccine or one dose of a single-dose vaccine and at least 14 days have passed since the individual's final dose of COVID-19 vaccine.
However, fully vaccinated individuals are required to continue wearing a mask and observe physical distancing on public transportation and in schools, hospitals and clinics, homeless shelters, youth and adult correctional facilities and long-term care facilities.
Businesses, employers and faith institutions can choose to no longer require masks and physical distancing for fully vaccinated individuals or continue to require masks and physical distancing in their locations for all individuals, regardless of vaccination status.
If a business, employer or faith institution chooses to no longer require masks and physical distancing, the business, employer or faith institution must require visitors to show proof of vaccination and review the proof of vaccination. In that case, a business would need to have a policy for checking the vaccination status of customers and employees if they are not wearing masks. Fully vaccinated individuals would need to provide proof they'd been vaccinated if they want to remove face coverings and not observe physical distancing guidelines.
In addition, state health experts announced that face coverings are no longer required outdoors (regardless of vaccination status). OHA strongly recommends that people who are not vaccinated and people who are at high risk of severe COVID-19 disease continue to wear face coverings and physically distance in outdoor crowded areas and large gatherings.
LOCAL HEADLINES:
Grants Pass Boatnik Festival Back on For Memorial Day Weekend
Despite an announcement earlier this month that the Boatnik Festival would be canceled for 2021, organizers revealed this week that the event will still happen with some modifications.
Organizers at the Grants Pass Active Club said in a post on social media that the Memorial Day weekend celebration will "look different" and parts of the plan are still being put together, but that the Davis Shows carnival will be returning.
In addition to the iconic boat races, Boatnik usually features the carnival, a parade, concerts, and other events. More information about the schedule, ticket prices, and other details are expected over the next several days. — https://www.boatnik.com/ Facebook: https://www.facebook.com/Boatnik-165144223535889/
Bear Creek Greenway Fire between Biddle and Riverside
The fire broke out around 10:50 p.m. between Biddle Road and Riverside Avenue in Medford.
The fire is running along the Greenway in the area of the Sign Dude and The O K Market on Riverside.
More information as it becomes available.
Jackson Co. Sheriff's Office Reports Deputy Involved Shooting
Case 21-2521 Deputy Involved Shooting
On 051821 at 1102 hours, Jackson County Sheriff's Office deputies were dispatched to a domestic assault in progress in the 1500 block of Queens Branch Rd. near Rogue River, Oregon.
Prior to arrival of law enforcement, the suspect left in a vehicle. Several minutes later, the suspect returned to the scene and subsequently the deputy reported shots fired. The deputy was not injured. The suspect died at the scene.
The Jackson County Major Assault Death Investigation Unit (MADIU) responded to the scene and Medford PD will be the lead agency. Assisting agencies include Medford PD, Oregon State Police, Rogue River PD, Jackson County District Attorney's Office, and the Jackson County Sheriff's Office.
Names of the involved parties are pending release until next of kin is notified. Additional details of the incident will be released after the initial investigation is concluded. – Jackson Co. Sheriff's Office
Fatal Traffic Accident in East Medford Neighborhood
On May 17th, at 1945 hours, emergency personnel were dispatched to the intersection of Sterling Point Drive and McQuire Way, an East Medford neighborhood, for a report of an auto vs. bicyclist traffic accident. Medical personnel tended to the 14 year old bicyclist and ultimately transported him to Rogue Regional Medical Center where he was later pronounced deceased.
The driver of the 2012 Jeep Wrangler, who collided with the bicyclist, is a 16 year old male, and the only occupant of the vehicle. The investigation revealed the bicyclist was wearing a helmet, as he traveled westbound on McQuire Way, gaining speed on the downhill section of road. The Jeep was traveling southbound on Sterling Point Drive. The bicyclist attempted to make the right turn to proceed northbound on Sterling Point Drive, when he struck the Jeep. There is no evidence of criminal liability involving the driver of the Jeep.
The victim has been identified Mason Ridgeway, 14 years old, who lived near the scene. Next of kin have been notified.
Our deepest sympathies to everyone involved. MPD Case 21-7615. — Medford Police Dept.
Jackson County Businesses Have Until 5/20 To Apply For SOREDI Grants Funds

The state of Oregon has released funds to the 15 counties that were in the extreme risk category just a few weeks ago. These funds will be going to local businesses that were financially impacted by the Coronavirus pandemic.
Jackson County has received $1.4 million for the SOCARES grant.
Southern Oregon Regional Economy Development Inc. (SOREDI) says if not all of the funds are used, then the money will be returned to the state.
"It is our highest imperative to get all the funds out to businesses. and that's why we want to make sure that we have sufficient applications received by May 20th," Collen Padilla, executive director of SOREDI said.
Applications need to be fully completed to be considered and businesses need to be able to show proof. The applications will go through the Jackson County Commissioners for approval.
"Jackson county commissioners have elected to award up to $2,500 per full-time equivalent. That's going to be based on those quarterly payroll reports," Padilla said.
The original date for Jackson County business to apply for this grant was today– but, with the time frame to do so being so short and with Tax Day, officials have decided to extend it to help as many local businesses as possible.
For More INFO: https://soredi.org/
AROUND the STATE of OREGON
High Desert Museum Recognized as a 2021 Recipient of Nation's Highest Museum and Library Honor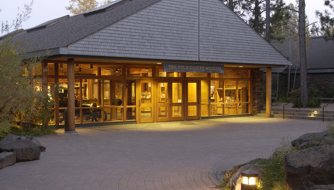 BEND, OR. — The Institute of Museum and Library Services named the High Desert Museum in Bend, Oregon today as one of six recipients of the 2021 National Medal for Museum and Library Service, the nation's highest honor given to museums and libraries that make significant and exceptional contributions to their communities.
Three museums and three libraries nationwide were selected from 30 finalists for the honor.
"It is an honor and pleasure to honor these six recipients of the 2021 National Medal of Museum and Library Service," said Crosby Kemper, director of the Institute of Museum and Library Services. "Through their programs, services and community relationships, these institutions exemplify the ongoing excellence of our nations' museums and libraries across the country, as well as their extraordinary efforts this past year to serve, heal and bring us together. We look forward to celebrating them, as well as paying tribute to the hardworking staff at all American museums and libraries this summer."
The 2021 National Medal for Museum and Library Service winners represent institutions that provide dynamic programming and services that exceed expected levels of service. Through their community outreach, these institutions bring about change that touches the lives of individuals and families and helps communities thrive.
Now nearly in its 40th year, the High Desert Museum is the only museum in the nation devoted to the exploration of the High Desert, a region that spans across eight states. It was a 2018 National Medal for Museum and Library Service Finalist and is the fourth Oregon institution to receive the award over the past 27 years.
The Museum has worked to create programs that offer rich educational programming and expand museum access. This has particularly been true since the start of the pandemic, during which the Museum started a daylong elementary program for La Pine students so caregivers could go to work during online school; provided free memberships to St. Charles Health Care System front-line workers; and is launching an initiative to provide tablets and WiFi hotspots to households for children who might not be otherwise able to participate in online educational programs.
"We consider it a core part of our mission to be responsive to our community by providing quality, inspirational experiences, both on our grounds and beyond," said Museum Executive Director Dana Whitelaw, Ph.D. "We're honored and thrilled by this national recognition."
"The High Desert Museum is a regional treasure. We've long been proud of the work it does to respond to community needs," said Museum Board Chair Ryan J. Hagemann. "This incredible honor is a testament to the hard work and commitment of the Museum team."
The award will be presented at a virtual ceremony in July. For a complete list of 2021 recipients and to learn more about the National Medal winners, visit the IMLS website.
About the Institute of Museum and Library Services
The Institute of Museum and Library Services is the primary source of federal support for the nation's libraries and museums. We advance, support, and empower America's museums, libraries, and related organizations through grantmaking, research, and policy development. Our vision is a nation where museums and libraries work together to transform the lives of individuals and communities. To learn more, visit www.imls.gov and follow us on Facebook and Twitter.
About the High Desert Museum
The High Desert Museum opened in Bend, Oregon in 1982. It's the only museum in the nation dedicated to the exploration of the High Desert, bringing together wildlife, cultures, art, history and the natural world in exhibitions and unique programming to foster discovery and appreciation of the region. The Museum is a 501(c)3 nonprofit organization accredited by the American Alliance of Museums, is a Smithsonian Affiliate and was the 2019 recipient of the Western Museums Association's Charles Redd Award for Exhibition Excellence. To learn more, visit highdesertmuseum.org and follow us on Facebook, Instagram and Twitter. — High Desert Museum
Feds seize $3.6M from Eugene Company Over Sale of Fake N95 Masks
The federal government has seized $3.6 million from the bank account of a Eugene company involved in a deal to sell $4.5 million in overpriced, counterfeit N95 masks to the state of Maine.
The U.S. attorney is seeking to force the company, Med-Tech Resource LLC of Eugene, Oregon, to forfeit the money and reimburse the state for 1.8 million fake respirators purchased by the state. The company's CEO already agreed to refund the state.
"We'll do everything in our power to make everyone whole," said Michael Modrich, founder and CEO of the 30-year-old medical supply company.
Donald Clark, acting U.S. attorney for Maine, declined to comment on the case Monday, including whether criminal charges will be brought.
Homeland Securities Investigations began looking into the matter in February, around the time a National Recall Alert Center notified Maine that the state had purchased masks that might be counterfeit, according to a forfeiture claim filed on Friday.
3M, which manufactures the real N95 masks, later confirmed the masks were counterfeit. The money was seized in March, according to court documents.
Oregon Hiring Slows to 2,200 Jobs in April
Oregon's unemployment rate remained at 6.0% in April, the same as in March. The rate declined slightly in January, February, and March before holding steady in April. Throughout the middle and end of 2020, Oregon's unemployment rate dropped sharply, and is now down considerably from its recent high point of 13.2% in April 2020. The U.S. unemployment rate rose to 6.1% in April, from 6.0% in March.
"Although Oregon's unemployment rate hit a stand-still in April, underlying labor force dynamics continue shifting. April marked the first month since the pandemic recession started that those experiencing permanent job losses were the largest group of laid off Oregonians. Long-term unemployment has also reached its highest point in nine years," said Gail Krumenauer, State Employment Economist with the Oregon Employment Department.
In Oregon, hiring slowed as nonfarm payroll employment grew by 2,200 in April, following monthly gains averaging 14,000 in the prior three months. Monthly gains were concentrated in government (+2,300 jobs) and leisure and hospitality (+2,000). Monthly declines were largest in manufacturing (-900 jobs), transportation, warehousing, and utilities (-800), and retail trade (-800).
In April, Oregon's nonfarm payroll employment totaled 1,855,600, a drop of 117,400 jobs, or 6% from the pre-recession peak in February 2020. Oregon's employment dropped to a low of 1,687,500 by April 2020. Since then, Oregon has recovered 168,100 jobs, or 59% of the jobs lost between February and April 2020.
Employment totals for recent months were revised upward, indicating somewhat higher jobs totals in Oregon in late 2020 and early this year. Total nonfarm employment was revised upward by approximately 13,000 jobs per month for December 2020 through March 2021. Upward revisions were most pronounced in leisure and hospitality (+6,000 jobs), health care and social assistance (+3,000), and retail trade (+1,900). These gains were partially offset by downward revisions that were most pronounced in professional and business services (-2,000 jobs).
Next Press Releases
The Oregon Employment Department plans to release the April county and metropolitan area unemployment rates on Tuesday, May 25, and the next statewide unemployment rate and employment survey data for May on Tuesday, June 15.
The PDF version of the news release can be found at QualityInfo.org/press-release. To obtain the data in other formats such as in Excel, visit QualityInfo.org, then within the top banner, select Economic Data, then choose LAUS or CES. To request the press release as a Word document, contact the person shown at the top of this press release.
To file a claim for unemployment benefits or get more information about unemployment programs, visit unemployment.oregon.gov.
Equal Opportunity program — auxiliary aids and services available upon request to individuals with disabilities. Contact: (503) 947-1794. For people who are deaf or hard of hearing, call 711 Telecommunications Relay Services Oregon Employment Department
Click It or Ticket Enforcement Campaign Begins Monday
Beginning Monday, May 24, 2021 and extending through Sunday, June 6, 2021 the Douglas County Sheriff's Office and law enforcement agencies throughout Oregon will use federally funded overtime to educate the public about safety belt and child seat laws including a law passed in 2017 increasing safety for children under age two.
"These grant dollars allow us to educate the public in hopes of reducing injury or fatal car crashes," said Sgt. Mark Norris. "Our goal isn't to write citations, but to gain compliance with the law and to ensure the safety of the motoring public in Douglas County."
Oregon Department of Transportation crash data for 2018 shows lack of safety belt or child restraint use was a factor in 28% or 86 of a total 311 motor vehicle occupant fatalities.
Motor vehicle crashes are the leading nationwide cause of death for children ages one through twelve years old. In 2018, 1,845 children under twelve were injured in Oregon traffic crashes, 11 percent were reported not using a child restraint system. It is estimated that car seats may increase crash survival by 71% for infants under one year old and by up to 59% for toddlers aged one to four. Booster seats may reduce the chance of nonfatal injury among four to eight year olds by 45% compared to safety belts used alone.
In 2017, an Oregon law was passed requiring children to ride in a rear-facing safety seat until they are at least two years old. A child over age two must continue to ride in a car seat with harness or in a booster until they reach age eight or 4' 9" in height and the adult belt fits them correctly.
Norris said the overtime patrols are funded with federal grant dollars administered by the Oregon Department of Transportation and enhance the number of deputies on patrol.
Missing child alert — Payton Brazell Smith is missing and believed to be in danger
The Oregon Department of Human Services (ODHS), Child Welfare Division, asks the public to help find Payton Brazell Smith, age 15, a child in foster care who went missing from Portland on March 22, 2021. She is believed to be in danger.
ODHS asks the public for help in the effort to find her and to contact 911 or local law enforcement if they believe they see her.
Payton is suspected to be in the company of three adults named David Jacobsen, age 38, Tausha Hague, age 32, and Tyler Chase, age 22.
She may be at hotel or motel in the area near NE 97th Ave. and NE 102nd Ave. in Portland near the city's border with Gresham. She is also known to frequent Goodwill stores in Portland and The Dalles.
Name: Payton Brazell Smith
Pronouns: She/her
Date of birth: Dec. 27, 2005
Height: 5-foot-6
Weight: 140 pounds
Eye color: Hazel/green
Hair: Brown, but frequently dyed purple, red or other colors
Other identifying information: Payton may be wearing nose rings, and has a tattoo on her right inner arm that says "Hati"
Portland Police Bureau Case #21-77486
National Center for Missing and Exploited Children #1416104
Anyone who suspects they have information about Payton's location should call 911 or local law enforcement.
A small number of children in foster care may be in significant danger when they run away or have gone missing. As ODHS works to do everything it can to find these missing children and ensure their safety, media alerts will be issued in some circumstances when it is determined necessary. Sometimes, in these situations, a child may go missing repeatedly, resulting in more than one media alert for the same child.
Report child abuse to the Oregon Child Abuse Hotline by calling 1-855-503-SAFE (7233). This toll-free number allows you to report abuse of any child or adult to the Oregon Department of Human Services, 24 hours a day, seven days a week and 365 days a year. — Oregon Department of Human Services
Oregon Senate Votes to Reinstate Foreclosure Moratorium
The Oregon Senate is approving a bill to extend the moratorium on residential foreclosures through July 1st of this year. The bill also allows the governor to extend the moratorium for 90-day increments through the end of the year. The bill passed the Senate yesterday on a party line vote and now moves to the House for concurrence before going to the governor.
Beaverton Man Sentenced to Federal Prison for Fraud Scheme Targeting Local Credit Union Members
A Beaverton, Oregon man was sentenced to federal prison today for stealing $60,000 from more than 80 local credit union members.
Winston E. Gray, 31, was sentenced to four years in federal prison and three years' supervised release.
According to court documents, between March and April of 2020, Gray used fake customer support telephone messages and calls to trick credit union customers into giving Gray their personal financial account information. Gray then used the fraudulently obtained account information to create counterfeit debit and credit cards he used to purchase various consumer goods and withdraw cash.
At the time of his arrest, Gray had in his possession, numerous fake credit cards, personal financial information stolen from dozens of real individuals, access device making equipment, blank credit card stock, clothing he used as disguises, and more than $11,000 in cash stolen from local ATM machines. Gray perpetrated this scheme while on supervised release after being convicted, in 2018, for assault and making false statements.
On April 17, 2020, Gray was charged by criminal complaint with bank fraud. Later, on May 5, 2020, a federal grand jury in Portland returned an indictment charging Gray with bank fraud, counterfeit access device fraud, illegal possession of device-making equipment, aggravated identity theft, and felon in possession of a firearm.
On September 14, 2020, Gray pleaded guilty to bank fraud and aggravated identity theft.
During sentencing, U.S. District Court Judge Karin J. Immergut ordered Gray to pay $60,000 in restitution
Acting U.S. Attorney Scott Erik Asphaug of the District of Oregon made the announcement.
This case was investigated by the Portland Police Bureau, Beaverton Police Department, and Homeland Security Investigations (HSI) and was prosecuted by Claire Fay and Quinn Harrington, Assistant U.S. Attorneys for the District of Oregon. — U.S. Attorney's Office – District of Oregon
Klamath Tribal Members Call for Solutions to the Klamath Basin's Water Crisis.
A group of about 10 protesters gathered at Sugarman's Corner in downtown Klamath Falls on Saturday, preparing to welcome a 25-car caravan of mostly Klamath Tribal members calling for solutions to the Klamath Basin's water crisis.
A man walked by the demonstrators, eyeing their signs with statements like "Peace and Healing in the
Klamath Basin," "Water Justice is Social Justice" and "Undam the Klamath." Especially in recent years, as extended droughts have heated up local conflicts over water — both figuratively and literally — Klamath Tribal members have tried to stay out of the debate as much as they could.
Beyond tribal council issuing an occasional press release and entering into litigation to protect endangered C'waam and Koptu (Lost River and shortnose suckers) in Upper Klamath Lake, they felt the environment in the Basin was
unwelcoming to Native people and their voices.
Based on the lowest inflows to Upper Klamath Lake in recent memory, the Bureau of Reclamation announced last
Wednesday that no water would be available to the Klamath Project from the lake this summer.
Normally, that water satisfies more than 150,000 acres of farm and ranchland, along with wetland habitat at Lower Klamath National Wildlife Refuge for millions of migrating birds on the Pacific Flyway. This is the first year in the Project's 100-plus-year history that a majority of its farmers will receive no irrigated water.
MORE INFO:
http://klamathtribes.org/news/silent-no-more-klamath-tribes-gather-to-protect-their-homelands/