The latest news stories and stories of interest in the Rogue Valley from the digital home of Southern Oregon, from Wynne Broadcasting's RogueValleyMagazine.com
Tuesday, May 25, 2021
Rogue Valley Weather
Today– A 50% chance of showers, mainly before 11am, then partly sunny, with a high near 71.
Wednesday– Sunny, with a high near 83. Calm wind becoming northwest around 6 mph in the afternoon.
Thursday– A 30 percent chance of showers, mainly after 11am. Partly sunny, with a high near 74. Light north wind becoming north northwest 5 to 9 mph in the afternoon.
Friday– Mostly sunny, with a high near 79.
Saturday– Sunny, with a high near 84.
Oregon reports 284 new confirmed and presumptive COVID-19 cases, 2 new deaths
There are two new COVID-19 related deaths in Oregon, raising the state's death toll to 2,624. The Oregon Health Authority reported 284 new confirmed and presumptive cases of COVID-19 bringing the state total to 198,972.
The new confirmed and presumptive COVID-19 cases reported today are in the following counties: Benton (6), Clackamas (46), Clatsop (1), Columbia (2), Coos (3), Crook (3), Curry (1), Deschutes (11), Douglas (8), Harney (2), Jackson (19), Jefferson (4), Josephine (3), Lane (30), Lincoln (1), Linn (17), Marion (32), Multnomah (48), Polk (9), Sherman (1), Wasco (1), Washington (27) and Yamhill (9).
Oregon's 2,623rd COVID-19 death is a 70-year-old woman from Jackson County who tested positive on May 3 and died on May 21 at Providence Medford Medical Center. She had underlying conditions.
Oregon's 2,624th COVID-19 death is a 78-year-old man from Jackson County who tested positive on May 21 and died on May 22 at Providence Medford Medical Center. He had underlying conditions.
Vaccinations in Oregon
Today, OHA reported that 21,156 new doses of COVID-19 vaccinations were added to the state immunization registry. Of this total, 11,414 doses were administered on May 23 and 9,742 were administered on previous days but were entered into the vaccine registry on May 23.
The seven-day running average is now 30,339 doses per day.
Oregon has now administered 2,108,628 first and second doses of Pfizer, 1,541,986 first and second doses of Moderna and 133,763 single doses of Johnson & Johnson COVID-19 vaccines. As of today,1,740,904 people have completed a COVID-19 vaccine series. There are 2,172,150 people who have had at least one dose.
Cumulative daily totals can take several days to finalize because providers have 72 hours to report doses administered and technical challenges have caused many providers to lag in their reporting. OHA has been providing technical support to vaccination sites to improve the timeliness of their data entry into the state's ALERT Immunization Information System (IIS).
To date, 2,499,705 doses of Pfizer, 1,992,640 doses of Moderna and 282,600 doses of Johnson & Johnson COVID-19 vaccines have been delivered to sites across Oregon.
These data are preliminary and subject to change. OHA's dashboards provide regularly updated vaccination data, and Oregon's dashboard has been updated today.
COVID-19 hospitalizations
The number of hospitalized patients with COVID-19 across Oregon is 266, which is 18 more than yesterday. There are 75 COVID-19 patients in intensive care unit (ICU) beds, which is four more than yesterday.
The total number of COVID-19 positive patient bed-days in the most recent seven days is 1,995, which is a 16.6% decrease from the previous seven days. The peak daily number of beds occupied by COVID-19 positive patients in the most recent seven days is 331.
The total number of patients in hospital beds may fluctuate between report times. The numbers do not reflect admissions per day, nor the length of hospital stay. Staffing limitations are not captured in this data and may further limit bed capacity. More information about hospital capacity can be found here.
Governor Kate Brown Announces Updates to Lower Risk Health and Safety Protocols
Portland Trail Blazers to debut Moda Center vaccinated sections for playoffs
Governor Brown: "If you haven't gotten around to getting vaccinated yet, go do so today. Don't miss your shot to cheer on the Blazers as they make a run at a championship."
Governor Kate Brown today announced that the Oregon Health Authority (OHA) will be revising health and safety protocols for businesses in Lower Risk counties to allow for the option of creating vaccinated sections.
The new health and safety protocols were developed in partnership between the Governor's Office, the Oregon Health Authority, and the Portland Trail Blazers to ensure real-world implementation feasibility for large venues. Pending the final approval of Multnomah County's vaccination equity plan, which will move the county into the Lower Risk level, the Trail Blazers will be the first indoor sports venue in Oregon to welcome fans back to vaccinated sections this week. Physically distanced sections will also be available.
"When fans left the Moda Center last March, it was one of the first signs this pandemic was about to change our lives in ways we hadn't previously imagined," said Governor Kate Brown. "Vaccines are the key to our return to normal life. It is a testament to the way Oregonians have united to battle this virus and get vaccinated in large numbers that, this week, the Rip City faithful can return to give our Trail Blazers the legendary home court advantage they deserve. If you haven't gotten around to getting vaccinated yet, go do so today. Don't miss your shot to cheer on the Blazers as they make a run at a championship.
"I'd like to thank the Trail Blazers front office for their partnership with my office and the Oregon Health Authority in this endeavor to develop protocols for vaccinated fan sections––and we will be expanding the health and safety protocols debuting in the Moda Center to other businesses, venues, and faith institutions that choose to implement them in Lower Risk counties."
In addition to the new protocols for vaccinated sections, the Trail Blazers had previously implemented additional health and safety measures, including mask and distancing requirements, ventilation upgrades, concession plans, seating arrangements, and entrance and exit plans.
OHA will update health and safety guidance for Lower Risk counties this week to reflect the following changes, allowing the option for vaccinated sections for businesses, venues, and faith institutions:
• Vaccinated sections with no physical distancing or capacity limits will be allowed for fully vaccinated individuals ages 16 and older who provide verification of their vaccination status.
• Businesses, venues, and faith institutions may require additional health and safety protocols in vaccinated sections, such as mask wearing for vaccinated individuals.
• Because children ages 12-15 have only recently become eligible for vaccination, and children under 12 are not yet eligible, all children up to age 15 wearing a face covering will be permitted in vaccinated sections if accompanied by their fully vaccinated parent or guardian.
• Unvaccinated sections must adhere to all health and safety protocols, including the use of masks, physical distance, and capacity limits.
https://www.oregon.gov/newsroom/Pages/NewsDetail.aspx?newsid=54755
Odds Of Winning Oregon's Vaccine Lottery Prizes In Some Counties is Pretty Good
Wasco, Sherman and Gilliam counties, where the population is sparse and the number of folks who have received COVID-19 shots are among the lowest in Oregon, the odds look pretty good for the one vaccinated person who will be picked at random in the counties for a $10,000 prize under the state's new lottery promotion.

In Gilliam County, 616 people are vaccinated as of Monday. That is not a typo. In Sherman county, 716 people have received a coronavirus vaccine shot.

Lake County and Harney County are the other two lowest with just over 2,300 each who were vaccinated for coronavirus.

While we're talking about it, the worst odds for that $10,000 county prize are in Multnomah County where your chance of winning the county prize is one in 472,000 and growing.
Is the county prize, the million-dollar statewide jackpot, and the five college scholarships of $100,000 motivating people to get their shot now?
Those on the front lines say its too early to tell. "People didn't seem to know about the state lottery quite yet Friday night," said Kathy Schwartz.

She's an emergency room nurse and a Wasco County commissioner, who is also board chair of the North Central Public Health District, which covers Wasco, Gilliam and Sherman counties.

While it's too early to see whether the governor's new incentives work, it's not too early to get creative.
Schwartz said Friday night the health district held a coronavirus clinic at a restaurant where a vaccination also knocked $10 off the meal. She knows the numbers are low in the three counties.

"It's very frustrating, yes. And so again, whatever it takes. We are in favor of whatever it takes. If it's lotteries, a college education, $10,000 or a $10 coupon to get $10 off your meal, we're up for it," she said.

In southeast Oregon, Harney County now has plenty of vaccines, but not many people are looking for a shot. As of Monday, 2,339 people were vaccinated.

"We have not had a rush at the public health department of people wanting to get vaccinated since the governor came out and said there's gonna be a lottery available," said Nic Calvin, Public Health Director for Harney County.

He said most people who want the shot have it and others are trying to convince the rest not to get it.

"The people that do not want it, they're the ones that are on Facebook in our comment section doing everything they can to dissuade people from getting it – calling us every name in the book and telling us we're doing a terrible job here at the health department," he said. He does think the county prize and the $1 million statewide jackpot will motivate some folks who have not yet made it a priority to get the shot.
Nearly everyone in Oregon who has received the coronavirus vaccination will be automatically entered into the random drawings. The last day to get a COVID-19 shot and qualify for the prizes is June 27.
LOCAL HEADLINES:
The Medford National Weather Service office is having its first Wildfire Awareness Week this week from May 24th to May 28th.
The Medford National Weather Service office is having its first Wildfire Awareness Week this week from May 24th to May 28th. The campaign is an effort to help people of Southern Oregon and Northern California prepare for fire season. Each day will be dedicated to a different fire safety or fire weather topic on their website and social media.
Day 1: Preparing your property for fire season
Day 2: Preparing yourself and your family for fire season
Day 3: Explaining the difference between a Fire Weather Watch and Red Flag Warning
Day 4: How to stay informed during fire season
Day 5: Putting it all together to be wildfire ready
Connie Clarstorm, a meteorologist with the National Weather Service says "like many people in the community, we felt the impact of the September wildfires and this is our way of reaching out and trying to help people with that preparedness piece as we go into fire season."
For More INFO: https://www.weather.gov/mfr/ and on Facebook: https://www.facebook.com/NWSMedford/
Shooting Incident in Grants Pass
Arrestee:
Lyon, Zenobius R. (19)
Grants Pass resident
Charges: Assault in the First Degree & Unlawful use of a Weapon-Firearm
Details:
On 05-24-2021, Grants Pass 911 received a disturbance call in the 500 block of NW Butler Ave. As officers were responding, it was reported the disturbance involved a 19-year-old male, later identified as Zenobius Lyon, and his 17-year-old brother. During the altercation, Zenobius allegedly used a firearm and shot his juvenile brother. The father of the two siblings attempted to intervene and was injured during an altercation.
As officers arrived on scene, they located the juvenile male outside of the residence and immediately rendered emergency medical care for a gunshot wound. Grants Pass Fire-Rescue personnel and medics from AMR arrived shortly thereafter, continued aid and transported the juvenile to the Rogue Regional Medical Center in Medford. Josephine County Sheriff's Deputies also assisted police officers establishing a perimeter around the home. Officers also contacted the father, and safely removed him from the area where he was treated for a non-life-threatening injury.
Zenobius remained inside the home and refused to exit. Officers established a perimeter around the residence and after several PA announcements, Zenobius refused to exit the residence.
Due to the above facts and circumstances, Grants Pass SWAT and CNT Teams responded. Nearby residents were contacted and warned to evacuate and/or shelter in place. A short time later, a police officer was able to make cell phone contact with Zenobius. This provided an opportunity to de-escalate a tense standoff while the Grants Pass Crisis Negotiations Team setup. After communications were transferred to negotiators specifically trained for these situations, SWAT Team members establishing a tactical plan for a safe resolution.
After several hours of negotiations, Zenobius agreed to exit the residence and was taken into custody without incident. Zenobius was later interviewed by GPDPS detectives and lodged at the Josephine County Jail on the above listed charges.
The Grants Pass Department of Public Safety would like the thank the nearby residents for their cooperation and patience as we worked to resolve this incident without any further injuries. We would also like to thank our partner first responder agencies for their assistance with this case.
Further questions regarding the incident should be referred to the Josephine County District Attorney's Office. Grants Pass Dept. of Public Safety
National Click It or Ticket Campaign
The Medford Police Department is reminding drivers about the lifesaving benefits of wearing a seat belt this spring, during the U.S. Department of Transportation's National Highway Traffic Safety Administration's (NHTSA) national Click It or Ticket high-visibility enforcement effort. The national seat belt campaign, which coincides with the Memorial Day holiday, runs from May 24 to June 6, 2021.
According to NHTSA, in 2019, there were 9,466 unbuckled passenger vehicle occupants killed in crashes in the United States. In that same year, 55% of passenger vehicle occupants killed at night (6 p.m.–5:59 a.m.) were not wearing their seat belts. The Medford Police Department is committed to increasing traffic safety through education and enforcement and during the "Click It or Ticket" campaign we will be increasing patrols enforcing seatbelt violations in an effort to increase awareness and safety. The maximum fine for a seatbelt violation is $165, but your life is priceless.
For more information on the Click It or Ticket mobilization, please visit www.nhtsa.gov/ciot. — Medford Police Dept
AROUND the STATE of OREGON
Oregon Legislature Passes Bill Requiring High School Civics Courses
The Oregon Senate passed a bill that would require high school students take a semester of civics education prior to graduation. Senate Bill 513 was carried by Republican lawmakers, but it passed the chamber with widespread bipartisan support in a 25-3 vote.
The Oregon Department of Education already has standards in place for civics and government studies, but the bill ensures that students receive dedicated class time over a semester-long course. Students will need to complete at least a one-half credit in civics to receive a high school diploma, though that requirement does not apply until 2026.
"This is an important and timely piece of legislation," said Senate Republican Leader Fred Girod. "The past year has shown how government decision-making can deeply impact lives and livelihoods – for better or for worse. As kids return to school, it's important they understand the ins and outs of how decisions get made and how they can be involved. This is a good, bipartisan bill that I urge our colleagues in the House to pass."
Republicans said that the bill has broad support from educators, Oregon business leaders, government officials, and other citizens.
"Oregon teachers support this bill because we know that civics instruction prepares students for their imminent participation as voters, as working adults, and as citizens in their communities," said Kevin Lepley, President of the Oregon Council for the Social Studies. "There is inequity in civics education where some students receive dedicated focus on the subject while others receive limited instruction scattered across multiple social science classes. This inequity has real implications for our students and our society and it must be addressed."
The bill now goes onto the Oregon House of Representatives for consideration. The House version of the bill is introduced by Democratic Rep. Paul Evans.
"We are either serious about civics education and pass this legislation or we are going to continue to kick the can down the road and we are going to continue to see a public that does not know how to vote for their own self-interest because they don't understand how government works," said Rep. Evans. "Now is the time to pass this bill and I look forward to working with my fellow representatives to advance SB 513."
OED Phases Work Search Requirements Back In – Claimants must meet multi-step requirements by certain deadlines
The Oregon Employment Department is putting back in place some unemployment insurance (UI) requirements that were suspended or changed because of the COVID-19 pandemic. The first return to work requirement being restored is to register in the Department's iMatchSkills® online system and create a Job Seeker profile before a certain deadline. Since it is estimated that approximately 220,000 claimants will need to register, deadlines will be staggered over the next five weeks to make it easier for claimants to call their local WorkSource Oregon office with questions.
These return to work requirements are only for people receiving Regular UI or Pandemic Emergency Unemployment Compensation (PEUC). PUA requirements are being finalized and will be announced soon, however, PUA claimants are welcome to register now if they would like help finding employment.
"Over the last 14 months, the Employment Department has played a critical role in supporting Oregonians. Putting work requirements on hold for more than a half million people during the crisis was the right thing to do, because these benefits provided a critical stabilizing force for families—and our economy. As the pandemic begins to fade and the economy changes, we are still focusing on how we can help fuel economic recovery, and help Oregonians overcome challenges related to employment," said David Gerstenfeld, acting director of the Oregon Employment Department.
Work search requirement notices will be mailed on a rolling basis, with distinct deadlines for each group of claimants. The first of these notices will go to approximately 35,000 people. Claimants receiving letters will need to complete a two-step process by the deadline listed in their notices to continue receiving benefits:
Complete registration in iMatchSkills®, where they will provide basic information about themselves, AND
Create their Job Seeker profile in iMatchSkills®, which includes their work history and occupations they are seeking. This information will help match them to job opportunities.
If claimants do not complete both steps by their deadline, their benefits will be denied.
Claimants will be required to begin reporting their work-seeking activities on their weekly claim to continue receiving benefits. The deadline for this requirement is July 31 for all regular UI claimants. Going forward, they must report work-seeking activities for any week they want to receive benefits.
Some people will also be mailed a letter informing them they must complete a Welcome Conversation with WorkSource Oregon staff, virtually or in-person. If they are selected for a Welcome Conversation and do NOT complete the tasks by the assigned deadline, their benefits will be denied.
Anyone who restarts their unemployment claim will have to complete the iMatchSkills® registration process, as will anyone filing a new claim for benefits. If a person is not currently filing weekly unemployment claims, this requirement does not apply to them.
To help people successfully complete this process, a step-by-step guide is available online at unemployment.oregon.gov/ReturnToWork. Claimants who need assistance with iMatchSkills® can call their local WorkSource Oregon office for additional help or the WorkSource Oregon Language Access Line at 833-685-0845 if they need help in a language other than English.
WorkSource Oregon has been connecting Oregonians to jobs for more than 17 years and is offering virtual appointments and services, as the offices remain closed to walk-ins. Offices will reopen July 6. Whether filing claims or not, if people are looking for work or training opportunities, they can reach out to WorkSource Oregon and register in iMatchSkills®.
Equal Opportunity program — auxiliary aids and services available upon request to individuals with disabilities. Contact: (503) 947-1794. For people who are deaf or hard of hearing, call 711 Telecommunications Relay Services. Oregon Employment Department
OSU Study Shows Oregon Is Lacking Child Care Resources
A new study from Oregon State University found a lack of regulated child care in Oregon.
All of Oregon's 36 counties were "child care deserts" — where there is only one child care slot for every three children who need care — for infants and toddlers ages 2 and under, according to the study. Only nine counties, including Multnomah County, are not deserts for preschoolers.
"Child care supply continues to be an issue and has been an issue for a very long time," said Megan Pratt, an OSU assistant professor and the study's lead author. "A lot of that has to do with not being able to keep up with the growth of the population."
The Oregon Child Care Research Partnership, the agency OSU created the study for, has been studying child care supply since the 1990s.
Along with being an issue in Oregon, child care deserts are also a nationwide phenomenon, Pratt said. She said the lacking quantity of child care is only part of the problem.
"The availability of child care is one piece of the puzzle," Pratt said, pointing to accessibility factors, such as cost and schedule. "If it's inaccessible; if it's offered at a time that parents need care because of employment or school schedules, it's not addressing issues of quality to make sure it's meeting the needs of the child and meeting the needs of the family," Pratt said.
The study found in 2018 the median annual price of care for a toddler in a child care center was more than $14,000. "Those are additional considerations that are beyond this [report], but are really important to think about when you think about supply of care," Pratt said.
Fatal Crash on Hwy 20 in Lincoln County
On Monday, May 24, 2021 at approximately 9:44 A.M., Oregon State Police Troopers and emergency personnel responded to a multiple vehicle collision on Hwy 20 near milepost 3.
Preliminary investigation revealed a Ford F250 truck towing a 16 foot fully enclosed trailer, operated by Devin Shrum (32) of Lebanon, was eastbound when it lost control crossed into the westbound lane and collided with a Ford Fiesta operated by Kayla Rhoades (29) of Toledo.
The trailer came loose and struck a westbound Dodge Magnum operated by Jeremy Lacewell (43) of Toledo.
Rhoades sustained fatal injuries and was pronounced deceased.
Shrum and his passenger, Lonnie Shrum (64) of Lebanon, were transported to Samaritan Pacific Hospital.
Lacewell and his passenger, Jimmy Short (36) of Toledo, were not injured.
OSP was assisted by Lincoln County Sheriff's Office, Toledo Police Department, Newport Fire Department, Toledo Fire Department and ODOT. Oregon State Police
Off-Duty Bend Firefighter Rescues Woman From Burning House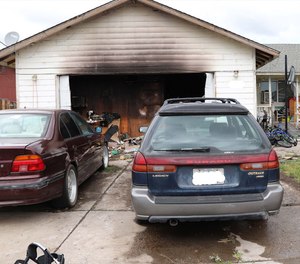 An off-duty Oregon firefighter-paramedic rescued a woman from a house fire on Friday.
Bend Firefighter-Paramedic Jared Hopper was driving to a job site for his construction business when he saw smoke coming from a house and stopped. When he approached the scene a neighbor told him there was a disabled woman inside the house who couldn't get out.
Hopper ran into the house, which was filling with smoke, and located the woman, who had a broken foot and needed a wheelchair. He lifted the woman out of her bed and put her into the wheelchair, taking her out of the house and across the street to safety.
Crook County Fire & Rescue personnel later responded to extinguish the blaze, which was isolated to the garage. Hopper said the neighbor who had flagged him down deserved credit for being the first to call 911 and for closing all the doors to the garage, which prevented the blaze from spreading further.