The latest news stories of interest in the Rogue Valley and around the state of Oregon from the digital home of Southern Oregon, Wynne Broadcasting's RogueValleyMagazine.com
Friday, June 4, 2021
Rogue Valley Weather
Today– Sunny, with a high near 91. Calm wind becoming northwest 5 to 8 mph in the afternoon.
Saturday– Sunny, with a high near 82. Light north northwest wind becoming northwest 5 to 10 mph in the afternoon.
Sunday– Sunny, with a high near 80. Calm wind becoming northwest around 5 mph in the afternoon.
Monday– Sunny, with a high near 77.
Tuesday– Mostly sunny, with a high near 74.
Oregon reports 267 new confirmed and presumptive COVID-19 cases, 7 new deaths
There are seven new COVID-19 related deaths in Oregon, raising the state's death toll to 2,683. The Oregon Health Authority reported 267 new confirmed and presumptive cases of COVID-19 bringing the state total to 202,247.
The new confirmed and presumptive COVID-19 cases reported today are in the following counties: Baker (2), Benton (1), Clackamas (18), Columbia (3), Coos (1), Crook (3), Curry (1), Deschutes (19), Douglas (36), Gilliam (7), Hood River (2), Jackson (19), Josephine (3), Klamath (2), Lane (21), Linn (15), Malheur (6), Marion (25), Multnomah (48), Polk (1), Sherman (1), Tillamook (2), Umatilla (15), Union (4), Wasco (1), Washington (9) and Yamhill (2).
OHA releases latest monthly update on breakthrough cases
Through May 31, Oregon Health Authority has identified 1,009 COVID-19 vaccine breakthrough cases. In May, there were 16,097 cases of COVID-19 and 98 percent of these cases were among people who were unvaccinated. More than 9 in 10 of the 126 COVID-19 associated deaths in May were among people who were not vaccinated. The majority of vaccine-breakthrough associated deaths have occurred in the elderly.
The number of vaccine breakthrough cases identified in Oregon remains very small when compared to the more than 1.85 million people who have completed their COVID-19 vaccination series.
Vaccine breakthrough cases are defined as instances in which an individual received a positive COVID-19 test result at least 14 days following the completion of any COVID-19 vaccine series.
Of the 1,009 reported vaccine breakthrough cases, approximately 10% (n=101) were observed in individuals who reside in long-term care facilities or other congregate care settings.
OHA provides updates on breakthrough cases the first Thursday of each month. The current report for June 2021 can be found here.
Vaccinations in Oregon
Today, OHA reported that 20,401 new doses of COVID-19 vaccinations were added to the state immunization registry.
Of this total, 8,812 doses were administered on June 2 and 11,589 were administered prior to June 2.
The seven-day running average is now 20,109 doses per day.
Oregon has now administered 2,232,799 first and second doses of Pfizer, 1,615,840 first and second doses of Moderna and 145,844 single doses of Johnson & Johnson COVID-19 vaccines. As of today, 1,877,344 people have completed a COVID-19 vaccine series. There are 2,255,274 people who have had at least one dose.
Cumulative daily totals can take several days to finalize because providers have 72 hours to report doses administered and technical challenges have caused many providers to lag in their reporting. OHA has been providing technical support to vaccination sites to improve the timeliness of their data entry into the state's ALERT Immunization Information System (IIS).
To date, 2,830,725 doses of Pfizer, 2,156,360 doses of Moderna and 294,600 doses of Johnson & Johnson COVID-19 vaccines have been delivered to sites across Oregon.
These data are preliminary and subject to change – OHA's dashboards provide regularly updated vaccination data, and Oregon's dashboard has been updated today.
COVID-19 hospitalizations
The number of hospitalized patients with COVID-19 across Oregon is 228, which is one more than yesterday. There are 63 COVID-19 patients in intensive care unit (ICU) beds, which is two fewer than yesterday.
The total number of COVID-19 positive patient bed-days in the most recent seven days is 1,709, which is an 8.1% decrease from the previous seven days. The peak daily number of beds occupied by COVID-19 positive patients in the most recent seven days is 260.
The total number of patients in hospital beds may fluctuate between report times. The numbers do not reflect admissions per day, nor the length of hospital stay. Staffing limitations are not captured in this data and may further limit bed capacity. More information about hospital capacity can be found here.
Weekly COVID-19 cases, hospitalizations decline
The Oregon Health Authority's COVID-19 Weekly Report, released today, shows decreases in daily cases and hospitalizations but an increase in deaths from the previous week.
OHA reported 2,677 new daily cases of COVID-19 during the week of Monday, May 24, through Sunday, May 30. That represents a 13% decrease from the previous week.
New COVID-19 related hospitalizations fell to 190, down from 224 last week and the lowest figure in six weeks.
Reported COVID-19 related deaths were 50, up from 34 last week.
There were 94,084 tests for COVID-19 for the week of May 23 through May 29 — a 12% decrease from last week. The percentage of positive tests fell from 5.4% to 4.5%.
People 70 years of age and older have accounted for 38% of COVID-19 related hospitalizations and 75% of COVID-19 related deaths.
Today's COVID-19 Weekly Outbreak Report shows 31 active COVID-19 outbreaks in senior living communities and congregate living settings, with three or more confirmed cases and one or more COVID-19 related deaths.
The Legality of Proving Vaccination Status In Oregon
The Oregon Health Authority is asking businesses that want to loosen mask mandates ask for proof of vaccination for customers and employers wanting to go without a mask.
Businesses are allowed to ask, but not all businesses will or are able to.
While Oregon official's request to show proof of vaccination has sparked tension, businesses are allowed to ask.
"This is not an invasive question at all, it's not asking someone's medical condition, it's not asking about a diagnosis or a disability," said Senior Health Care Attorney J. Kevin West, a shareholder at Parsons, Behle & Latimer. "It's a very simple question. Have you been vaccinated? That's really not an invasive question at all."
What about employers, can they do the same? "Employers are entitled to do that to manage their workforce their entitled to ensure safety of co-workers, entitled to ensure safety of customers and clients so it's a perfectly legitimate question," West said.
Asking anyone for proof of vaccination does not, however, violate HIPAA laws .
"No, HIPAA actually does not apply to this situation at all," West said. "HIPAA applies primarily to health care providers. If the employer is not a health care provider, that's one factor that HIPPA will not apply."
The Equal Opportunity Employment Commission said the only time HIPAA may be implicated is if your doctor or health care provider shared your vaccination status without your consent.
Customers don't have to answer the question, but a business could then deny service. The EOEC also said employers can even require vaccinations, and the only way there could be possible violations if it led to discrimination against legitimate exemptions against the vaccine.
In April, Idaho's governor signed an executive order, banning vaccine passports in Idaho or asking for proof of vaccinations. According to his executive order, that applies to state services or facilities, as well as state departments, agencies, boards or commissions. It did not cover individual private businesses.
LOCAL HEADLINES:
Caveman Bridge Blocked by Overturned Vehicle
Oregon 99-6th Street, Grants Pass (MP -.17): Caveman Bridge was blocked by a single-vehicle rollover crash Thursday. Emergency crews responded to scene. Expected delays/congestion until wreckage removed. Travelers were advised to seek alternate routes. ODOT: SW Oregon
Series of Earthquakes Reported Off Southern Oregon Coast Friday Morning
Two 5.9 magnitude earthquakes struck the Pacific Ocean off Oregon's coast early Friday morning, the United States Geological Survey (USGS) reported.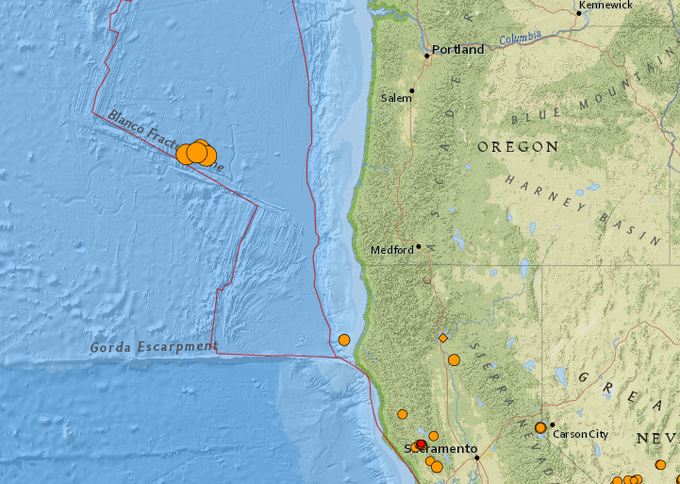 The tremors occurred about 89 miles and 98 miles west of the coastal town of Gold Beach, Oregon, after 1 a.m. (PT) Friday morning, according to USGS.
A few people reported light shaking on the coast, the USGS report showed.
At least five earthquakes ranging in magnitudes from 3.2 to 5.9 have occurred in the area in the last few hours, according to USGS.
No tsunami warnings, advisories, watches, or threats were issued following the earthquakes, according to the US National Oceanic and Atmospheric Administration's Tsunami Warning System. The USGS reported a cluster of earthquakes in that area at the end of April.
The Earthquake Early Warning is now available publicly in California and Oregon? Learn how to sign up in the FAQ: How do I sign up for the ShakeAlert® Earthquake Early Warning System? http://ow.ly/HYgI50EAGN3
Britt Festival Concerts Are Expected To Return This Summer
Britt Festival concerts are expected to return this summer starting in late July, according to Britt president and CEO Donna Briggs.
In a message to supporters, Briggs said that they have "every reason to believe" that 70 percent of Oregonians 16 and older will be vaccinated in time for Britt to start holding concerts.
Governor Kate Brown has designated that vaccination percentage as the benchmark for lifting most COVID-19 restrictions, though aspects of that promise remain nebulous.
The Jacksonville organization plans to hold "a once-in-a-lifetime celebration" of Britt Presents concerts and Britt Festival Orchestra performances beginning by the end of July and running through mid-October.
Announcements of the particulars are expected early this month. Briggs indicated that announcements will be staggered, with Orchestra reveals set for June 7 and 25, and Britt Presents announcements on June 14 and July 14. FOR MORE INFO: https://www.brittfest.org/
Public Use Restrictions On BLM-Managed Lands In Southern Oregon
As the weather warms and fire danger increases, Bureau of Land Management Medford District officials are implementing public use restrictions on BLM-managed lands in Southern Oregon.
Starting June 4, 2021 at 12:01 a.m., certain activities on BLM-managed lands in Jackson and Josephine Counties will be restricted to prevent human-caused fire and reduce wildfire potential.
The Western U.S. is in the most expansive and intense drought this century, according to the U.S. Drought Monitor, and the drought continues to intensify in parts of the Pacific Northwest, including Southern Oregon.
Jackson and Josephine counties experienced the driest April and May on record, which dates back 111 years.
Significant fire potential is expected to increase to above normal for Southern Oregon in June. Starting June 4, campfires will only be allowed at the Hyatt Lake Campground and the lower section of the Rogue River below
the high-water mark. In all other areas, visitors can use portable cooking stoves that use liquefied or bottled fuels. Otherwise, campfires or any other typ of open fire, including the use of charcoal briquettes, is prohibited.
The safety of the public and all wildland fire responders is always the number one priority for all wildland fire agencies. This year, it is especially important everyone does their part to reduce human-caused wildfires. BLM
officials are taking the necessary steps to ensure their ability to deploy firefighters for wildfire response. Officials stress their commitment to the most efficient wildland fire suppression operations during these challenging times.
AROUND the STATE of OREGON
Oregonians Urged to Practice Preparedness and Wilderness Safety When Recreating
Oregon's search and rescue community has seen a steady increase in search and rescue missions since the COVID-19 pandemic began. As summer approaches and restrictions lift, more Oregonians and visitors are heading out to enjoy and explore the state's beautiful landscape. The Oregon Office of Emergency Management (OEM) is urging the public to stay safe with advance planning and preparation before their next outdoor adventure.
"I can't stress enough how important it is for people to make a plan before heading out to explore the outdoors," said State Search and Rescue Coordinator Scott Lucas. "Know your limits and make sure to carry the proper equipment and supplies – even if you're only planning to be out for a few hours."
Lucas said the search and rescue community, particularly in rural counties, has seen a significant increase in rescue missions, including those requiring advanced search and rescue equipment. In Wallowa County alone, there were two search and rescue missions in 2017, while 2020 saw 40 missions in the same area during the pandemic.
According to Lucas, they are also seeing an upsurge in inexperienced people visiting more remote areas. With more and more people seeking solace or adventure in the outdoors, popular parks and outdoor recreation areas are becoming overcrowded, leading some to venture into less populated but unfamiliar terrain.
"We are seeing rescues in remote areas where folks are heading out based on recommendations they find online or from a friend, but they aren't prepared for the reality of the landscape. Oregon is beautiful but can be dangerous, especially for those who are new to outdoor recreation," explained Lucas.
Lucas added that more missions are requiring mountain rescues and air assets rather than volunteer teams, because people are more often putting themselves in life-threating situations. Many of these rescues could have been avoided with proper planning and realistic expectations. Knowing the best route, weather conditions, fire restrictions, and bringing extra supplies like water and snacks can make all the difference.
Due to impacts from last year's historic wildfire season and ongoing recovery operations, there are additional hazards to consider; people should be careful and steer clear of closed areas. There are many resources to help people know before they go. Oregon's Natural and Cultural Resources Recovery Task Force has a recreation site status map to help the public plan by checking the status of popular recreation areas. Additionally, up-to-date road conditions can be found at TripCheck.com or by calling 5-1-1. To help reduce the risk of wildfires, the public should know and follow local fire restrictions.
OEM's Search and Rescue Program supports the broad spectrum of search and rescue operations throughout the state. That mission includes coordinating activities of state and federal agencies involved in search and rescue, including the Oregon State Sheriffs' Association and other partners, and providing on-scene search and rescue efforts when requested.
There is no charge for search and rescue calls. In case of emergencies, dial 9-1-1; most Oregon counties also accept texts to 9-1-1. — Oregon Office of Emergency Management
Raptors of the Desert Sky Flight Program Returns Saturday June 5
BEND, OR — The High Desert Museum's signature outdoor avian flight program, Raptors of the Desert Sky, will begin on Saturday, June 5 with shows daily at 11:30 am.
Hawks, owls, falcons and turkey vultures soar from perch to perch directly over the crowd seated in a natural amphitheater nestled in the Museum's pine forest. A Museum expert narrates the action, sharing the hunting strategies and natural behaviors of these spectacular birds of prey.
"The outdoor flight program is a highlight of the High Desert Museum summer season," said Museum Executive Director Dana Whitelaw, Ph.D. "It's a special experience to see these birds so close, and it's a thrill to witness how fast and graceful they are in flight."
To accommodate for physical distancing, the number of program attendees will be limited. Visitors will sit only with their group on amply spaced benches in the amphitheater.
"During the program, visitors hear from naturalists about the incredible adaptations that allow the birds to thrive in their habitats," said Museum Curator of Wildlife Jon Nelson. "We hope this inspires people to take what they have learned beyond the Museum to ensure these raptors have a vibrant future."
The program takes place at 11:30 am, weather permitting. The Museum website will be updated to reflect any time changes, such as an earlier start time to accommodate for high temperatures that may stress the birds. Tickets are separate from Museum entry ($3 for members, $5 for non-members, free for children 2 or younger) and must be purchased at Admissions by 11:00 am. They are not available online.
Learn more at highdesertmuseum.org/raptors-of-the-desert-sky.
Raptors of the Desert Sky is made possible by Fly Redmond with support from Bigfoot Beverages.
ABOUT THE MUSEUM:
THE HIGH DESERT MUSEUM opened in Bend, Oregon in 1982. It brings together wildlife, cultures, art, history and the natural world to convey the wonder of North America's High Desert. The Museum is a 501(c)3 nonprofit organization accredited by the American Alliance of Museums, is a Smithsonian Affiliate, was the 2019 recipient of the Western Museums Association's Charles Redd Award for Exhibition Excellence and is a 2021 recipient of the National Medal for Museum and Library Service. To learn more, visit highdesertmuseum.org and follow us on Facebook, Instagram and Twitter. —- High Desert Museum
Gov. Brown Signs Omnibus Gun Control Bill into Oregon Law
Oregon gun owners will have to pay out of pocket to lock their weapons away and come unarmed to protests under a bill signed into law this week.
The omnibus gun control bill combined two bills which set statewide standards for gun storage and allowing local governments to set up "gun-free zones" guns in public places. Gov. Kate Brown signed it into law on Tuesday. It takes effect 90 days after the state legislature is set to adjourn on June 28.
SB 2510 was intended to reduce suicides and domestic violence involving guns. It has gun owners to store their weapons in a locked container at all times with a padlock or trigger cable and gives them 72 hours to report thefts.
Supporters hailed SB 2510 as a common sense safety measure akin to wearing a seatbelt. Opponents have railed against it as a ' backdoor tax ' on gun owners that will hamper their right to self-defense.
SB 554 gives municipalities the power to ban guns in such places as public parks and buildings. It raises the cost of concealed handgun licenses and give shooting victims the right to sue for damages. Violating gun-free zone laws would count as a felony.
On Wednesday afternoon, three Oregon lawmakers—state Reps. Mike Nearman, R-Polk County; David Brock Smith, R-Port Orford and Werner Reschke, R-Klamath Falls—filed a petition with the Secretary of State to repeal SB 554. The petition needs 74,680 signatures 90 days after the state legislature adjourns on for it to qualify for the November 2022 ballot.
Voter referendums in Oregon have seen success in recent years. In 2014, voters approved Measure 88, overturning a bill that would have made driver licenses available to undocumented U.S. residents.
Gun control continues to be a hot button issue in Oregon and across the country as states endure a host of mass shootings. Guns have become a constant sight at far-right rallies around the state, especially in Salem where political protests have sparked street violence and pushback from law enforcement.
In Oregon, a religious coalition has announced plans to gather signatures to put two initiatives on the 2022 ballot. IP 18 would ban the sale of assault weapons. IP 17 would ban high-capacity magazines, requiring gun buyers to complete a background check and live-fire training in a classroom. Neither are mandatory in Oregon for open-carry.
The two initiatives need 140,000 signatures by July 8, 2022 to make the next step to being ballot-ready.
Drought Affecting Fish Release from Hatcheries
The drought is forcing Oregon to consider major changes this summer to everything from how it stocks trout in lakes and reservoirs across the state to when it will release some species of fish from hatcheries.
The Oregon Department of Fish and Wildlife also is considering relocating some fish species to save them and doing away with bag limits for recreational anglers because of the extended drought. Officials say stream flows are at 25% of normal and migratory fish like salmon and steelhead will be most affected, particularly in areas along the coast and in smaller tributaries.
The state typically stocks lakes and reservoirs around the state with trout for recreational anglers, but some of those have unusually low water levels or are already dry, said Shaun Clements, the agency's deputy administrator for inland fisheries.
Free Fishing Weekend
Saturday and Sunday mark Oregon's next "Free Fishing Weekend," allowing anglers of all ages to fish, clam, or crab for free. During a Free Fishing Weekend, no fishing licenses or tags (including a Combined Angling Tag, Columbia River Basin Endorsement or Two-Rod Validation) are required by Oregon residents or non-residents. Other fishing regulations do apply, including area closures, bag limits, and size restrictions.
People are asked to check for any in-season regulation changes — particularly for salmon, steelhead, sturgeon, and marine fishing — at their destination. Several ponds in the Willamette Valley will be stocked for the last time this season, and stocked trout are a good option for beginners. People near Portland, Bend, Medford, Roseburg, or in Lane County, have a number of nearby options. — https://myodfw.com/articles/2021-free-fishing-days-and-events
Oregon Senate Votes Down Bill That Would Have Required HOA's To Allow Gardens, Chickens And Bees
The Oregon Senate voted down a bill that would have required homeowners associations to allow residents to grow gardens, raise hens, and keep bees. The bill would have required homeowners associations to allow residents to have gardens, raise chickens or keep bees.
Supporters of House Bill 3322 said it would give people in planned communities the opportunity to raise their own food.
But opponents, including Sen. Lee Beyer, D-Springfield, said the bill would subvert the will of people who joined those communities to avoid things like chickens and bees.
"People make choices about where they live," he said. "Some people want to live in a planned community that's very dense, and that doesn't have animals of any kind. And I think that's a reasonable choice."
The measure fell two votes short of winning approval and is now dead for session. It passed the House 53-2 in April.