The latest news stories of interest in the Rogue Valley and around the state of Oregon from the digital home of Southern Oregon, Wynne Broadcasting's RogueValleyMagazine.com
Wednesday, June 9, 2021
Rogue Valley Weather
Today– A 40 percent chance of showers and thunderstorms after 11am. Mostly sunny, with a high near 71. Calm wind becoming west northwest around 6 mph in the afternoon.
Thursday– Mostly sunny, with a high near 72. Calm wind becoming northwest around 5 mph in the afternoon.
Friday– Rain likely. Mostly cloudy, with a high near 71. South wind 3 to 6 mph. Chance of precipitation is 60%. New precipitation amounts of less than a tenth of an inch possible.
Saturday– A 20 percent chance of showers. Mostly sunny, with a high near 84.
Sunday– A chance of showers, mainly after 11am. Mostly sunny, with a high near 87.
Oregon reports 307 new confirmed and presumptive COVID-19 cases, 6 new deaths
There are six new COVID-19 related deaths in Oregon, raising the state's death toll to 2,670. The Oregon Health Authority reported 307 new confirmed and presumptive cases of COVID-19 bringing the state total to 203,671.
The new confirmed and presumptive COVID-19 cases reported today are in the following counties: Baker (3), Benton (5), Clackamas (35), Clatsop (6), Columbia (6), Coos (4), Crook (4), Curry (1), Deschutes (8), Douglas (21), Harney (3), Hood River (1), Jackson (18), Jefferson (3), Josephine (7), Klamath (3), Lane (27), Linn (12), Malheur (3), Marion (35), Multnomah (31), Polk (4), Umatilla (14), Union (3), Wasco (1), Washington (45), Yamhill (4).
Updates to County Risk Levels
Governor Kate Brown today announced updates to county risk levels under the state's public health framework to reduce transmission and protect Oregonians from COVID-19. Lane, Coos, and Wasco counties will move down to Lower Risk, and Josephine and Yamhill counties will move down to Moderate Risk, effective Wednesday, June 9.
Harney County will move up from Lower Risk to Moderate Risk due to rising case counts, effective Friday, June 11. A complete list of counties and their associated risk levels is available here.
Vaccinations in Oregon
Today, OHA reported that 17,285 new doses of COVID-19 vaccinations were added to the state immunization registry. Of this total, 6,688 doses were administered on June 7 and 10,597 were administered on previous days but were entered into the vaccine registry on June 7.
The 7-day running average is now 14,560 doses per day.
Oregon has now administered a total of 2,305,442 first and second doses of Pfizer, 1,645,747 first and second doses of Moderna and 151,144 single doses of Johnson & Johnson COVID-19 vaccines. As of today, 1,951,646 people have completed a COVID-19 vaccine series. There are 2,292,591 people who have had at least one dose. The number of adult Oregonians needing vaccinations to reach the 70% threshold is 106,455.
A daily countdown can be found on the OHA website.
Cumulative daily totals can take several days to finalize because providers have 72 hours to report doses administered and technical challenges have caused many providers to lag in their reporting. OHA has been providing technical support to vaccination sites to improve the timeliness of their data entry into the state's ALERT Immunization Information System (IIS).
To date, 2,856,645 doses of Pfizer, 2,170,640 doses of Moderna and 299,000 doses of Johnson & Johnson COVID-19 vaccines have been delivered to sites across Oregon.
These data are preliminary and subject to change. OHA's dashboards provide regularly updated vaccination data, and Oregon's dashboard has been updated today.
COVID-19 hospitalizations and visitations
Hospitals across the state have received questions from the public about the need to continue to manage and limit visitation policies for patients. Unlike other public settings, hospitals are subject to special visitation requirements. The COVID-19 policies for hospitals and medical centers are based on federal rule and state law. Visitation guidance can be found here.
The number of hospitalized patients with COVID-19 across Oregon is 172, which is 34 fewer than yesterday. There are 36 COVID-19 patients in intensive care unit (ICU) beds, which is 14 fewer than yesterday.
The total number of COVID-19 positive patient bed-days in the most recent seven days is 1,446, which is an 18.9% decrease from the previous seven days. The peak daily number of beds occupied by COVID-19 positive patients in the most recent seven days is 228.
The total number of patients in hospital beds may fluctuate between report times. The numbers do not reflect admissions per day, nor the length of hospital stay. Staffing limitations are not captured in this data and may further limit bed capacity. More information about hospital capacity can be found here.
Oregon Vaccination Lottery to Adjust Its $1 Million Jackpot After Dismal Results So Far
The number of Oregonians getting vaccinated against COVID-19 has nose-dived since Gov. Kate Brown announced a $1 million lottery for vaccinated residents a few weeks ago. The state says it's now looking at ways to spark more enthusiasm – and inoculations among those still unvaccinated – in the three weeks left before the drawing is held.
Charles Boyle, a governor's spokesman, said in an email that the governor's office is "exploring options for drawings earlier in the month to continue to generate excitement throughout the next several weeks."
Brown also hinted at a news conference Friday that more prizes may be added to the offerings in coming days, though she hasn't yet shared any details.
"We have more surprises in the works that you'll hear about soon," Brown said. "So if you haven't yet been vaccinated, now is the time. You never know, you may just walk into a vaccine clinic or a pharmacy to get your vaccine and find out you're a winner."
Oregon is among one of at least nine states – including Washington last week – drumming up lotteries in hopes of elevating immunization numbers that have plummeted in the late spring nationwide. Most are offering to make at least one person in each of their borders a millionaire – but only if they're vaccinated against COVID-19.
New Mexico has taken it a step further by putting up the largest-in-the-nation prize: $5 million.
Brown announced May 21 that Oregon is offering a $1 million jackpot, three dozen awards of $10,000 doled out to one person in each of the state's counties, and five scholarships of $100,000 for youth for college or vocational school.
But unlike other states that started their drawings within a week or two of their announcements and that are holding drawings weekly or even daily, Oregon will draw all its winners on one day, June 28, which is more than five weeks after Brown announced the lottery's creation.
Officials estimate it could be another week beyond that date before they announce the winners.
State officials seem to have acknowledged that delayed timeline might have put a damper on the initial zeal and urgency to go out and get vaccinated as soon as possible.
"The 'Take Your Shot Oregon' campaign was designed for simplicity, so that there would be a significant period of time to incentivize vaccinations prior to June 28," said Boyle, before adding that the state might tweak that strategy to award some new prizes soon.
The lottery, he cautioned, is one of many strategies the state is using to increase inoculations.
"No individual strategy is expected to have a singularly massive impact or to wholly reverse vaccination rate trends," Boyle said. "Each strategy adds a little energy to the overall effort."
So far, the day-to-day number of newly vaccinated people in Oregon has been disappointing.
While Oregon was administering about 17,000 shots as of mid-week last week – about half of the number it was administering when Brown announced the lottery – that includes shots for people who already opted to get vaccinated and are receiving a second dose.
The key metric to watch to gauge the lottery's performance is the number of unvaccinated people receiving their first shots.
The seven-day average of adults receiving their first shots has gone from about 9,000 the day before Brown announced the lottery to 6,700 nearly two weeks later. (Because state officials say it can take up to five days for vaccinations to be entered into the system, The Oregonian/OregonLive isn't using the last five days of data.)
The decline in newly vaccinated people stands at about 25%. And that drop-off means it's taking longer for Oregon to hit a separate benchmark established by Brown to lift nearly all coronavirus restrictions, including wearing masks in most settings.
States across the county launched similar lotteries in the face of declines, and none has yet seen stellar results.
David Baden, chief financial officer at the Oregon Health Authority, said even though vaccination rates have decelerated, there is some data to suggest that the state's "Take Your Shot" campaign might be having some positive effect: Oregon's vaccination rates aren't decelerating as swiftly as other states, boosting the state's rankings.
A few weeks ago, Oregon was 23rd nationally for the percentage of its population at least partially vaccinated, Baden said. On Monday, it stood at 17th.
The end result? Baden said because there's still a few weeks left before the June 28 drawing, he's holding off on reaching conclusions about the lottery's success. "The simple answer is, 'I don't know because we don't ask everyone who comes in,'" Baden said, "'Why did you get vaccinated?'"
Odds of Winning Oregon's Vaccine Lottery Prizes Better in Smaller Counties
In Wasco, Sherman and Gilliam counties, the population is sparse and the number of folks who have received COVID-19 shots are among the lowest in Oregon.

The odds look pretty good for the one vaccinated person who will be picked at random in the counties for a $10,000 prize under the state's new lottery promotion.

In Gilliam County, 616 people are vaccinated as of Monday. That is not a typo. In Sherman County, 716 people have received a coronavirus vaccine shot.

Lake County and Harney County are the other two lowest with just over 2,300 each who were vaccinated for coronavirus.

While we're talking about it, the worst odds for that $10,000 county prize are in Multnomah County where your chance of winning the county prize is one in 472,000 and growing.
Is the county prize, the million dollar statewide jackpot and the five college scholarships of $100,000 motivating people to get their shot now?
Those on the front lines say its too early to tell. "People didn't seem to know about the state lottery quite yet Friday night," said Kathy Schwartz.

She's an emergency room nurse and a Wasco County commissioner, who is also board chair of the North Central Public Health District, which covers Wasco, Gilliam and Sherman counties.

While it's too early to see whether the governor's new incentives work, it's not too early to get creative.
Schwartz said Friday night the health district held a coronavirus clinic at a restaurant where a vaccination also knocked $10 off the meal. She knows the numbers are low in the three counties.

"It's very frustrating, yes. And so again, whatever it takes. We are in favor of whatever it takes. If it's lotteries, a college education, $10,000 or a $10 coupon to get $10 off your meal, we're up for it," she said.

In southeast Oregon, Harney County now has plenty of vaccines, but not many people are looking for a shot. As of Monday, 2,339 people were vaccinated.

"We have not had a rush at the public health department of people wanting to get vaccinated since the governor came out and said there's gonna be a lottery available," said Nic Calvin, Public Health Director for Harney County.

He said most people who want the shot have it and others are trying to convince the rest not to get it.

"The people that do not want it, they're the ones that are on Facebook in our comment section doing everything they can to dissuade people from getting it – calling us every name in the book and telling us we're doing a terrible job here at the health department," he said. He does think the county prize and the $1 million statewide jackpot will motivate some folks who have not yet made it a priority to get the shot.
Nearly everyone in Oregon who has received the coronavirus vaccination will be automatically entered into the random drawings. The last day to get a COVID-19 shot and qualify for the prizes is June 27. Oregon will draw names at random on June 28.
LOCAL HEADLINES:
Galice Resort Destroyed by Fire
On Tuesday, June 8th at approximately 10:45 a.m., Oregon Department of Forestry Southwest Oregon District resources responded to a structure fire at the Galice Resort alongside Rural Metro Fire – Josephine County. The fire originated in the building, but quickly spread to the wildland, igniting five small fires around the property.
Five ODF engines, a Type 2 helicopter, and an air attack plane were all dispatched immediately. Engines and firefighters on the ground worked quickly to line and mop up the fires; accumulatively, 1/10 of an acre burned. Windy conditions contributed to the fire spreading beyond the structure, causing concern for nearby houses directly across the street; however, all fires were extinguished well before reaching those areas.
As a precaution, residents self-evacuated. ODF resources will remain on the scene to ensure any additional hotspots are found and extinguished. Meanwhile, the type 2 helicopter performed more than 20 bucket drops on the building itself, helping structural engines to extinguish the flames.
The resort's restaurant, store and boat shed burned, while the lodge may have been less impacted, authorities said.
The resort that has been serving the community for over four decades is now burnt to the ground. Community members say they don't know what will come next. "I would say the building is a total loss," said Jes Webb with Rural Metro Fire.
Rural Metro firefighters will be investigating the cause of the fire. ODF is thankful to our partner agencies, including Rural Metro Fire, County Fire Department – Josephine County, Grants Pass Fire Rescue, Rogue River Fire District, Josephine County Sheriff's Office, Oregon State Police and Josephine County Public Works. Our strong partnerships allow us to tackle these complex incidents quickly, safely and effectively.
Fire updates are always available online at www.swofire.com. #swofire2021 #SWOFire #fireseason2021
Shooting Incident in Selma
On June 7, 2021 at 4:26PM the Josephine County Sheriff's Office received a 911 call reporting shots fired in the 3000 block of Lakeshore Drive, Selma, Oregon. Josephine County Deputies and Troopers from the Oregon State Police responded and located a male adult with a gunshot wound to the chest. The male was transported to Rogue Regional Hospital in Medford, Oregon by Mercy Flights where he underwent surgery to address his injuries.
The Josephine County Major Crimes Team consisting of members from the Josephine County Sheriff's Office, Oregon State Police, Grants Pass Department of Public Safety and the Josephine County District Attorney's Office was activated. The investigation culminated with the arrest of a 37-year-old female, Ricki Warren on charges of Assault I, Unlawful Use of a Firearm, Felon in Possession of a Firearm.
Ms. Warren is currently lodged in the Josephine County Jail. As the investigation is ongoing, no further details will be released at this time and all future inquiries should be directed to the Josephine County District Attorney's Office. CASE NUMBER: 21001122 — Josephine Co. Sheriff's Office
Authorities Seek To Identify Remains Of Man Found On The Greenway After Almeda Fire
Jackson County Sheriff's Office (JCSO) announced today that it is working alongside the Oregon State Police (OSP) Medical Examiner Division and Ashland Police Department (APD) to identify the remains of the final unidentified victim of the Almeda fire (aka Glendower fire).
Sketches have been released for remains on man found on the Greenway after Almeda fire (Courtesy: Jackson County Sheriff's Office
According to a press release from the department, on September 8, 2020, the remains of an unidentified black male were found at the 8.9-mile marker of the Bear Creek Greenway in Jackson County between Ashland and Talent, Ore.

The victim was an adult male, approximately 5'8" – 5'11" with black hair and brown eyes. Eyeglass frames and a multi-tool were found near the remains.
The OSP Medical Examiner Division is attempting to obtain a positive scientific identification of the victim while working with the DNA technology company, Parabon Nanolabs to process potential DNA matches and create the attached victim composite. APD is heading the criminal homicide investigation.

JCSO is actively running down missing person leads and assisting state ME's as needed. The University of North Texas Center for Human Identification (UNTCHI) will process DNA comparisons of missing persons.
For further information contact the OSP Medical Examiner's office at (971) 673-8200. For information on the criminal homicide investigation call APD at (541) 488-2211. If you have information regarding missing persons fitting the composite description please call JCSO at (541) 774-6800.
AROUND the STATE of OREGON
Joseph Canyon Fire Ignited by Lightning has Burned 7,575 Acres Since Friday
Firefighters have established 20% containment on the Joseph Canyon Fire burning in rugged terrain in northeastern Oregon where the state borders Idaho and Washington.
But the fire had grown to 7,575 acres as of noon Tuesday, June 8. The fire was ignited by a lightning storm and discovered June 4.
"Located 23 miles southwest of Lewiston, ID, the blaze began on Vale Bureau of Land Management lands, but soon crossed over into Washington state lands protected by Oregon Department of Forestry," according to the latest report from fire managers. "Three large airtankers dropped retardant along the perimeter of the Joseph Canyon Fire Friday to slow the fire growth. In addition to firefighter delivery, three Type 2 helicopters were used to drop water on hot spots."
The fire had spread over 2,500 acres by that afternoon.
"Cooler temperatures, reduced wind and moister air slowed the fire on Sunday and Monday, while crews made significant progress in containment," according to fire managers.
Oregon State Fire Marshal announces 2021 Sparky Award Recipients
The Office of the Oregon State Fire Marshal (OSFM) is excited to announce the 2021 Gold and Silver Sparky Award recipients. Every year the OSFM awards the Golden Sparky award to a fire service member and the Silver Sparky award to a public member for the contributions to fire prevention and fire safety.
This year's Golden Sparky was awarded to Firefighter John Rossi, a Public Information Officer with Mt. Angel Fire. Rossi's public information and education work has elevated the community and the region's fire prevention and preparedness efforts.
"He spends countless hours installing smoke alarms for those that need it the most," Oregon Fire Marshal Mariana Ruiz-Temple said. "John's commitment to his community and service to others shines through in his work through his tireless dedication to community prevention efforts.
Rossi has created a social media following that has allowed for great reach in the community to educate on various topics, including smoke alarms, defensible space, and burn bans.
This year, Kris Babbs, the president of Keep Oregon Green, was awarded the Silver Sparky. Keep Oregon Green is a non-profit that focuses on fire prevention across the state of Oregon. Babbs puts in countless hours and possesses a remarkable dedication to prevent fires across the state. In addition, Babbs leadership has elevated relationships among state and federal agencies. Her projects have brought OSFM and the fire service into the conversation and leveraged our programs and footprint in Oregon to further prevention and life safety.
"Oregon has never needed such an important leader in this space now and into our future," Ruiz-Temple said. "I want to thank Kris for being a friend to OSFM, the fire service, and for being a strong partner."
ABOUT THE SPARKY AWARDS
The Sparky Award is the highest award presented by the Office of the Oregon State Fire Marshal and been awarded to a member of the fire service and a member of the public every year since 1977. The award honors the efforts in fire prevention and fire safety education in the state of Oregon. – Oregon State Fire Marshal
Oregon Lawmakers Approve Bill To Expand Affordable Housing Development
The Oregon Legislature has approved a bill aimed at increasing Oregon's supply of affordable housing.
Senate Bill 8, introduced by Senate President Peter Courtney, D-Salem, makes it easier for affordable housing to be built in cities across Oregon by removing barriers faced by developers, cities and nonprofits.
The bill expands where affordable housing can be built by allowing such developments to be sited on land zoned for commercial uses or that is owned by public or religious entities. It also increases the impact of housing investments by allowing affordable housing to be developed at greater densities on land already zoned for residential uses.ADVERTISING
"The housing crisis isn't just about the affordability of housing," Courtney said. "If the only apartment you can afford is two towns over and a 70-minute car ride to your work, I don't think we've solved the problem. SB 8 is about building affordable housing where people want to live."
The bill passed the Senate on a 25-5 vote and now heads to the governor's desk for her signature.
Oregon State Song Gets New Lyrics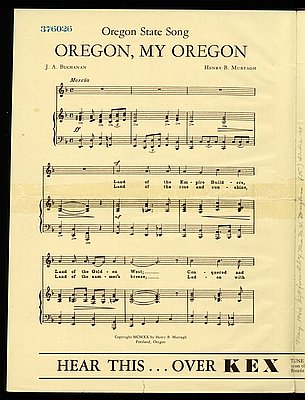 The Oregon Legislature on Monday approved changes to the lyrics of Oregon's state song to make them more inclusive and to remove racist language.
House Concurrent Resolution 11 modifies the lyrics, while keeping the same music of "Oregon, My Oregon," to reflect the "significant cultural, historical, economic and societal evolution in Oregon" since the state song was adopted in 1927.
The change replaces the first verse of the song, which referred to Oregon as "conquered and held by free men; fairest and the best," with new lyrics emphasizing Oregon's natural beauty and "rolling rivers."
Along with other small changes throughout, a line in the second verse that described Oregon as "blest by the blood of martyrs" will now be sung, "blessed by the love of freedom."
The state song was written more than 100 years ago. In 1919, the Society of Oregon Composers held a contest for poets to submit their compositions "in which the beauties and the merits of the state are extolled," according to an Oregonian article at the time. The winning song "would be used at all public, patriotic and social gatherings."
The winning entry was No. 163, written by judge and former state representative J.A. Buchanan of Astoria. Henry Bernard Murtagh composed the music, and "Oregon, My Oregon" became the official state song by a legislative vote in 1927.
Many Oregonians may not realize the state even has a state song. It's not often sung, though it is performed during opening ceremonies for each legislative session.
The new lyrics were proposed by Beaverton resident Amy Shapiro. For years, Shapiro has been trying to get legislators to change the song, which she first hesitated to sing with her students when she worked as a music teacher and choir director at Portland Jewish Academy 30 years ago.
"The changes we have proposed are small but they are profound," Shapiro wrote in testimony submitted for the measure. "Outdated, misleading and offensive words glorifying oppression and murder are replaced with inspiring words glorifying Oregon's natural beauty – majestic mountains, forests and rivers – as well as our love of freedom."
Among those who submitted testimony in favor of changing the lyrics was Kim Stafford, Oregon's Poet Laureate from 2018 to 2020.