The latest news stories of interest in the Rogue Valley and around the state of Oregon from the digital home of Southern Oregon, Wynne Broadcasting's RogueValleyMagazine.com
Friday, June 11, 2021
Rogue Valley Weather
Today– Rain likely, mainly after noon. Cloudy, with a high near 66. Calm wind becoming north northwest around 5 mph in the afternoon. Chance of precipitation is 60%. New precipitation amounts between a tenth and quarter of an inch possible.
Saturday– A 40 percent chance of showers. Partly sunny, with a high near 80. Calm wind becoming northwest 5 to 8 mph in the afternoon.
Sunday– A 50 percent chance of showers. Partly sunny, with a high near 81. Light and variable wind becoming west 5 to 7 mph in the afternoon.
Monday– A 30 percent chance of showers, mainly before noon. Partly sunny, with a high near 78.
Tuesday– Mostly sunny, with a high near 80.
Oregon reports 370 new confirmed and presumptive COVID-19 cases, 10 new deaths
There are 10 new COVID-19 related deaths in Oregon, raising the state's death toll to 2,726. The Oregon Health Authority reported 370 new confirmed and presumptive cases of COVID-19 bringing the state total to 204,291.
The new confirmed and presumptive COVID-19 cases reported today are in the following counties: Baker (1), Benton (8), Clackamas (30), Clatsop (1), Columbia (4), Coos (2), Crook (11), Deschutes (85), Douglas (17), Harney (1), Hood River (4), Jackson (15), Jefferson (1), Josephine (8), Klamath (10), Lane (23), Linn (11), Malheur (2), Marion (35), Multnomah (59), Polk (7), Umatilla (8), Union (1), Washington (22) and Yamhill (4).
Vaccinations in Oregon
Today, OHA reported that 27,113 new doses of COVID-19 vaccinations were added to the state immunization registry. Of this total, 11,182 doses were administered on June 9 and 15,931 were administered on previous days but were entered into the vaccine registry on June 9.
The 7-day running average is now 15,761 doses per day.
Oregon has now administered a total of 2,337,634 first and second doses of Pfizer, 1,659,139 first and second doses of Moderna and 153,424 single doses of Johnson & Johnson COVID-19 vaccines. As of today, 1,991,717 people have completed a COVID-19 vaccine series. There are 2,303,485 people who have had at least one dose. The number of adult Oregonians needing vaccinations to reach the 70% threshold is 93,234.
Note: OHA is working to determine why CDC's COVID-19 vaccination update today indicates minimal change. We will have a more complete update tomorrow.
A daily countdown can be found on the OHA website.
Cumulative daily totals can take several days to finalize because providers have 72 hours to report doses administered and technical challenges have caused many providers to lag in their reporting. OHA has been providing technical support to vaccination sites to improve the timeliness of their data entry into the state's ALERT Immunization Information System (IIS).
To date, 2,861,055 doses of Pfizer, 2,173,680 doses of Moderna and 299,000 doses of Johnson & Johnson COVID-19 vaccines have been delivered to sites across Oregon.
These data are preliminary and subject to change.
OHA's dashboards provide regularly updated vaccination data, and Oregon's dashboard has been updated today.
COVID-19 hospitalizations
The number of hospitalized patients with COVID-19 across Oregon is 173, which is nine more than yesterday. There are 41 COVID-19 patients in intensive care unit (ICU) beds, which is five more than yesterday.
The total number of COVID-19 positive patient bed-days in the most recent seven days is 1,328, which is a 22.3% decrease from the previous seven days. The peak daily number of beds occupied by COVID-19 positive patients in the most recent seven days is 219.
The total number of patients in hospital beds may fluctuate between report times. The numbers do not reflect admissions per day, nor the length of hospital stay. Staffing limitations are not captured in this data and may further limit bed capacity.
More information about hospital capacity can be found here.
One Community Health: collaboration is key
Tomorrow, One Community Health will be administering Pfizer vaccines in The Dalles while offering free food and live music to all who attend the event. Preventative health manager Gladys Rivera readily admits that Friday's event is more of a celebration than a formal clinic because Wasco County has almost reached a 65% percent vaccination rate.
Rivera attributes the clinic's vaccination success to the organization's great partnership with Oregon Health Authority (OHA), as well as with other community partners, including growers, employers and local businesses.
The Federal Emergency Management Agency (FEMA) deployed three mobile vaccination units throughout Oregon's rural communities, which have successfully vaccinated more than 2,500 people across the state.
"Collaboration is really the key to make all of this happen," emphasized Rivera. "It's relying on all those partners and really sharing the workload."
You can read more of this story on OHA's Oregon Vaccine News blog. For more information about tomorrow's vaccine clinic in The Dalles, contact One Community Health at 541.386.6380.
Oregon Now Just Over 93,000 First Doses Away From 70 Percent Threshold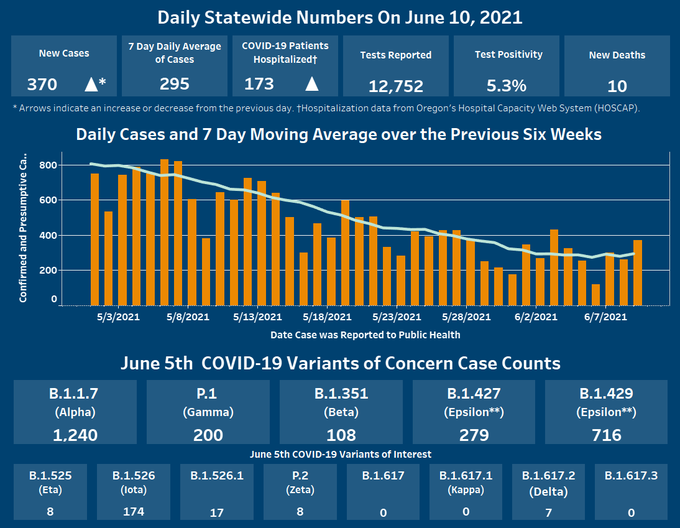 LOCAL HEADLINES:
Grange Co-Op Breaks Ground On New White City Location
Grange Co-op broke ground on a new White City store this week. It promises to be larger and include more features than the current store. The new location will be located at 7700 Crater Lake Highway, not far from the current store.
The co-op said that this is "one of the largest moments" in the company's 87-year history. The new store will include more retail space, a drive-through warehouse, and a company business office.
"We recognize the importance of continuing to serve our customers in the Upper Rogue. This larger location will provide exciting new opportunities for our customers," said Jason Wall, marketing manager.
Grange Co-op said that the new White City location will include the company's first do-it-yourself dog washing station, in addition to the pay-on-the-go warehouse where customers can stay in their vehicle while picking up supplies, mirroring options that began at the Grants Pass store in 2019.
"Our Grants Pass customers quickly began utilizing the drive-through model, which continues to grow in popularity. We recognize our customers' time is valuable and we want to help make their everyday lives a little easier," said Wall.
The White City business office will replace the current one in Medford. This one will include a 2,200 square-foot training facility.
"Our larger, upgraded training and development space will help continue our legacy of service, knowledge, and quality products," states CEO Neil Itzen. "Our customers come to us for personalized customer service and knowledge, separating us from our competitors. The new location will continue to live out our purpose of helping our customers, communities and employees achieve more together."
Itzen thanked the company's Agricultural Members, loyal customers, employees, and Board Members for their continued support and dedication over the co-op's 87-year history. "Because of them, we can continue to grow and support our communities," said Itzen. The new White City store and office are set to open in 2022. — https://www.grangecoop.com/
Summer School Zone Traffic Enforcement Reminder from Medford Police Department
The Medford Police Department is notifying the public that some Medford schools will have summer learning programs, which means adjacent school zones will be enforced this summer. Classes will be held Monday thru Thursday starting June 14th and ending on August 12th.
Drivers need to be aware that school zones adjacent to the listed schools will be enforced. The schools holding summer classes are Abraham Lincoln Elementary, Hoover Elementary, Howard Elementary, Jackson Elementary, Jefferson Elementary, Roosevelt Elementary, McLoughlin Middle School, Central High School, North Medford High School and South Medford High School. The Kids Unlimited Academy starts holding classes June 14th and continues into the fall school year.  
The Medford Police Department continues to remind drivers about the importance of School Zone Safety. We ask that drivers be aware of school zones and use caution when driving through them. It is important to know that fines for speed violations increase significantly when they are within a designated school zone.
To help with public awareness we have included descriptions of the two categories of reduced school speeds in school zones. We have also included a link to the ODOT website with information on School Zones.
Zones Adjacent to School Grounds:
Will have signage displaying the speed limit at 20 MPH When Flashing or School Days 7AM – 5PM.
Zones at School Crosswalks away from Schools Grounds:
Will have signage displaying the speed limit at 20 MPH When Flashing or When Children are Present.
ODOT School Zone Information Link: https://www.oregon.gov/odot/Engineering/Pages/School-Zones.aspx — Medford Police Dept.
Two dead in Fatal Motor Vehicle Crash on Takilma Road in Josephine County
On June 10, 2021 at 12:50 am, the Josephine County Sheriff's Office was notified of a single vehicle motor vehicle crash in the 5900 block of Takilma Road. Personnel from Illinois Valley Fire District and American Medical Response responded as well.
Upon arrival, Deputies located a heavily damaged vehicle crashed into a tree. The vehicle had two occupants trapped inside. The two occupants of the vehicle were determined to be deceased upon arrival.
The occupants of the vehicle were identified as 23-year-old female Aubrey Nolan of Cave Junction, Oregon and 32-year-old male Jaime Navarrete of Spring, Texas. The next of kin of both occupants have been notified.
The cause of the crash is under investigation.  — INCIDENT NUMBER:    21001142 Josephine Co. Sheriff's Office 
Major Construction on Redwood Hwy Starts Monday 6/14
The Oregon Department of Transportation (ODOT) has announced construction will begin Monday, June 14, on a $5 million project to upgrade Redwood Highway between Oregon 99 and the Applegate River. Drivers should anticipate a detour, minor delays and reduced work zone speed limits during the project work.
State contractor, Knife River Materials, will begin improving the first of 34 curb ramps in the area of the 'South Y' intersection. Curb ramps will be upgraded to meet current Americans with Disabilities Act requirements. Temporary pedestrian access routes will be signed at each intersection.
The Sixth Street ramp onto southbound Redwood Highway will be closed Monday morning, June 14, for seven days to allow for its reconstruction. Traffic coming out of downtown Grants Pass will be directed to use Oregon 99 to make the turn onto U.S. 199 toward California.
After July 4, nighttime paving will begin in three sections of Redwood Highway, skipping two areas of the highway paved in previous improvements. During the paving, drivers should expect a 45-mph construction zone speed limit 7 p.m. to 7 a.m. Sunday through Thursday through the duration of the project.
Night paving of the southern portion of the project from near Hubbard Lane to the Applegate River will be under the guidance of pilot cars. This will ensure a safe work zone speed for drivers and workers.
Drivers should anticipate day and night single lane traffic through the work zone, depending on the direction being paved. During the night work, flaggers will direct residents at driveways and those accessing the highway from side roads.  —- https://www.grantspassoregon.gov/CivicAlerts.aspx?AID=2253
AROUND the STATE of OREGON
Oregon Auditors Find Billions In Accounting Mistakes
An audit of Oregon's financial statements and programs found $6.4 billion in accounting errors, all of which were labeled as "unintentional," the Secretary of State's Office said.
On Wednesday, the office's Audits Division released its annual Keeping Oregon Accountable report – a summary of the division's two largest annual audits. One looks at the state's financial statements, while the other is a compliance audit of how the state uses federal programs.
"These financial audits are critically important to ensuring our state is properly accounting for the resources entrusted to us by the taxpayers of Oregon and the federal government," said Secretary of State Shemia Fagan.
In the report, auditors say they identified $6.4 billion in accounting errors. They say the mistakes were unintentional and offered options to correct the errors.
"While there were some steps identified for improvement, I am pleased that Oregon is managing these funds well because they are critical to services Oregonians count on most," Fagan said
The division also audited dozens of federal programs and agencies, issuing recommendations on their findings.
They questioned whether $5,115,844 in expenditures were appropriately paid with federal funds and issued a clean opinion on 13 of the audited programs, while issuing a qualified opinion for one program, suggesting improvements to the state's Temporary Assistance for Needy Families program.
You can read the full Keeping Oregon Accountable report on the Secretary of State's office.
More from the Oregon Secretary of State's office:
The Secretary of State Audits Division annually audits the State of Oregon's financial statements and compliance with federal program requirements. The federal government requires these audits for the financial assistance Oregon receives annually. These audits determine whether amounts reported in Oregon's financial statements are materially correct and adequately supported; evaluate the state's administration of major federal programs for compliance with applicable laws, rules, and regulations; conclude on whether the Schedule of Expenditures of Federal Awards is fairly presented in relation to the state's financial statements; and review accounting and compliance control procedures.
Oregon Lawmakers Expel Rep. Mike Nearman Over Capitol Breach
Oregon lawmakers expelled a Republican legislator on Thursday night who let violent, far-right protesters into the Statehouse. Rep. Mike Nearman was the first member of the House to be expelled in its 160-year history. The House voted 59-1 to remove him from the Legislature for disorderly behavior.
At an earlier hearing, Rep. Paul Holvey said Nearman let in protesters who had planned to occupy the Capitol. Some were armed.
Nearman was seen on security video opening a door to protesters on Dec. 21 as lawmakers met in emergency session to deal with economic fallout from the coronavirus pandemic.
Protesters barged into the building, which was closed to the public because of coronavirus safety protocols, got into shoving matches with police and sprayed officers with bear spray.
"It's impossible to overstate the seriousness of the reason we are here today," Holvey said. "Rep. Nearman enabled armed, violent protesters to enter the Capitol, breaching the security of the Capitol, which was officially closed to the public, and also endangered the authorized staff and legislators inside the building."
Nearman was unapologetic as he read a statement to the committee.
"The fact is that I exited the building and members of the public entered into the Capitol building, a place they had a right to be — a place the Legislative Assembly had no right to exclude them from," Nearman said. He said that on the advice of his attorney he would not answer questions.
Hundreds of people provided written testimony to the House Special Committee On December 21, 2020, which is composed of three Democrats and three Republicans.
Some people who testified excoriated Nearman as a seditionist. Others praised him for letting people into the Capitol, saying residents should be allowed to attend even though hearings are livestreamed on video.
"Mike Nearman's behavior … was abhorrent and anti-democratic," David Alba said. "Furthermore, by aiding and supporting extremists, he has placed people's lives in danger. He should be removed from office and he is not fit to represent my district."
After video emerged in local news reports Friday showing Nearman choreographing how he would let protesters into the Capitol, pinpointing the door he would open for them and disclosing his cellphone number so protesters could text him, all of his House GOP colleagues on Monday strongly recommended he step down.
But Nearman's supporters said they elected him and the House should not expel him. One supporter suggested those 22 GOP lawmakers be voted out of office.
"We see you compromising Republicans that whittle away at concepts of morality, liberty, and justice to take a knee to the woke mob," Casey Ocupe said in written testimony. "May your Republican constituents take no mercy on you."
On Monday, House Speaker Tina Kotek introduced a resolution that would have the House expel Nearman if two-thirds of its members vote in favor. She appointed the committee to consider the matter.
Kotek credited riot police, who finally pushed out the protesters, with preventing a full-scale assault like the one by Trump supporters at the U.S. Capitol on Jan. 6. She said some were visibly injured and shaken.
Nearman has not responded to numerous requests from The Associated Press for comment. He told a conservative radio talk show that a video presentation he held on Dec. 16 "was me setting up the 21st." He indicated that his actions were civil disobedience because he objected to the Capitol being closed to the public.
Nearman also faces two misdemeanor criminal charges and has said he will seek a trial by jury.
Gresham Cold Case from 1980 Finally Closed
For four decades, the unsolved murder of Barbara 'Barbie' Mae Tucker has baffled police, but now the town of Gresham is relieved knowing her killer is finally behind bars.
19-year-old college student Barbie studied business at Mt Hood Community College in 1980 when she was walking to an evening class.
At the time, witnesses saw a man appear from the bushed and grab Barbie, who was running from a wooded area. No one responded to her cries for help.
The following day, her body was found by her friends in nearby bushes, sexually assaulted and beaten.
The murder shocked the community of 30,000 residents, and the case stood unsolved for 41 years. Recently, the DNA sample left on Barbie's body was added to a genealogy database by Parabon NanoLabs, and it spit out a name; Robert Plympton.
"Just really happy that there's some closure. I wish it could've happened when my folks were alive, and that would've been wonderful, but we have it now, so that's really good," said Susan, Barbie's sister.
57-year-old Plympton was arrested in Troutdale on Tuesday. Records show that Plympton has been convicted for kidnapping twice, three times for fourth-degree assault and has numerous convictions for DUIs and other traffic offences. These convictions would have happened after the murder of Barbie, as Plympton was just 16 years old at the time.
Plympton and his wife, Lisa, were together at the time of the murder in 1980, and she says she's shocked.
"He's been clean and sober for the last 25 years," she said. "This is completely out of character."
Gresham Police Chief Claudio Grandjean reminds us, "These 'cold cases' are not lost or forgotten for our department. Each one represents a person to our officers, and their tragic stories are passed down through the generations in hopes of one day bringing honor to their names and a sense of justice and closure to their cases."
Anyone who has additional information about this case or other unsolved cases is asked to call Detective Aaron Turnage at 503-618-3136.
Major Disabilities Company Closing Operations In Oregon
An Oregon company is closing its group homes and services for people with intellectual and developmental disabilities after years of state and federal scrutiny for abuse and neglect, state officials said this week.
Advocates and a top state official said Mentor Oregon's departure will be the largest of its kind in memory, and will likely challenge Oregon's already-strained disability services system.
The closure means 1,300 people will need of new service providers by Aug. 31. It's unclear if other case management companies in Oregon have the capacity to take on Mentor's workload.
"We're not too focused on 'why,' at this point," Lilia Teninty, director of Oregon Developmental Disability Services, said of Mentor's abrupt decision to leave. Instead, she said, the state is "focused on continuity" for people receiving services through Mentor.
Mentor Oregon, which is a branch of The Mentor Network, said it's leaving because of outside factors, including insufficient staff to provide the best possible care.
Spokeswoman Teresa Prego said Mentor Oregon will work tirelessly to help people in their care transition and have access to support to meet their individual needs.
It's unclear what, if anything, Mentor Oregon's departure has to do with recent official and public scrutiny.
OSU Selected to Lead NOAA Institute for Marine Research
Oregon State University has been selected to host a National Oceanic and Atmospheric Administration institute focused on collaborative study of the rapidly changing ocean and expanded demands on its use.
The Cooperative Institute for Marine Ecosystem and Resources Studies, or CIMERS, will focus on four research themes: conservation, protection and restoration of marine resources; marine ecosystems; ocean acoustics; and ocean, coastal and seafloor processes.
The institute will be eligible for up to $37 million in funding over the next five years, with potential for renewal for five more years.
"NOAA's significant support of this collaborative marine institute underscores Oregon State University's longstanding contributions in leadership, research and teaching to protect and enhance our oceans," said OSU Interim President Becky Johnson. "We must accelerate that work due to the extraordinary pressures and changes taking place in our oceans and climate. OSU's collaborative model of engaging many colleges, academic disciplines and external partners is well-suited to address these issues."
NOAA supports 20 cooperative institutes in 28 states and the District of Columbia, providing funding to extend basic and applied research beyond the federal agency's capacity. The institutes also serve as a training ground for future NOAA employees through undergraduate, graduate and post-doctoral education programs that align with NOAA's mission. FOR MORE INFO: https://today.oregonstate.edu/news/oregon-state-selected-lead-noaa-institute-marine-research