The latest news stories of interest in the Rogue Valley and around the state of Oregon from the digital home of Southern Oregon, Wynne Broadcasting's RogueValleyMagazine.com
Wednesday, June 30, 2021
Rogue Valley Weather
Excessive Heat Warning until July 1, 11:00 PM PDT
Today– Sunny and hot, with a high near 103. Light north northwest wind becoming northwest 5 to 10 mph in the afternoon.
Thursday– Widespread haze before 3pm. Patchy smoke after 3pm. Sunny and hot, with a high near 100. Calm wind becoming northwest 5 to 8 mph in the afternoon.
Friday-Sunny and hot, with a high near 103. Calm wind becoming northwest around 6 mph in the afternoon.
Saturday– Sunny and hot, with a high near 104.
Sunday: Independence Day– Sunny and hot, with a high near 101.
Oregon reports 230 new confirmed and presumptive COVID-19 cases, 7 new deaths
There are seven new COVID-19 related deaths in Oregon, raising the state's death toll to 2,770. The Oregon Health Authority reported 230 new confirmed and presumptive cases of COVID-19 bringing the state total to 208,446.
The new confirmed and presumptive COVID-19 cases reported today are in the following counties: Baker (2), Clackamas (12), Columbia (3), Coos (1), Crook (2), Curry (2), Deschutes (7), Douglas (14), Harney (1), Hood River (3), Jackson (12), Jefferson (7), Josephine (7), Klamath (7), Lane (25), Lincoln (4), Linn (9), Marion (23), Multnomah (31), Polk (5), Tillamook (1), Umatilla (21), Union (2), Washington (25) and Yamhill (4).
Vaccinations in Oregon
Today, OHA reported that 5,545 new doses of COVID-19 vaccinations were added to the state immunization registry. Of this total, 2,773 doses were administered on June 28 and 2,772 were administered on previous days but were entered into the vaccine registry on June 28.
The seven-day running average is now 7,008 doses per day.
Oregon has now administered 2,476,519 first and second doses of Pfizer, 1,732,809 first and second doses of Moderna and 167,263 single doses of Johnson & Johnson COVID-19 vaccines.
As of today, 2,383,255 people have had at least one dose of a COVID-19 vaccine and 2,147,617 people have completed a COVID-19 vaccine series. The number of adult Oregonians needing vaccinations to reach the 70% threshold is 19,083.
A daily countdown can be found on the OHA vaccinations page.
Cumulative daily totals can take several days to finalize because providers have 72 hours to report doses administered and technical challenges have caused many providers to lag in their reporting. OHA has been providing technical support to vaccination sites to improve the timeliness of their data entry into the state's ALERT Immunization Information System (IIS).
To date, 2,961,045 doses of Pfizer, 2,231,260 doses of Moderna and 299,100 doses of Johnson & Johnson COVID-19 vaccines have been delivered to sites across Oregon.
These data are preliminary and subject to change. OHA's dashboards provide regularly updated vaccination data, and Oregon's dashboard has been updated today.
COVID-19 hospitalizations
The number of hospitalized patients with COVID-19 across Oregon is 149, which is 11 fewer than yesterday. There are 35 COVID-19 patients in intensive care unit (ICU) beds, which is four fewer than yesterday.
The total number of COVID-19 positive patient bed-days in the most recent seven days is 1,065, which is a 1.8% increase from the previous seven days. The peak daily number of beds occupied by COVID-19 positive patients in the most recent seven days is 162.
The total number of patients in hospital beds may fluctuate between report times. The numbers do not reflect admissions per day, nor the length of hospital stay. Staffing limitations are not captured in this data and may further limit bed capacity. More information about hospital capacity can be found here.
Oregon updates non-viable vaccine disclosure1,2,3
OHA's non-viable vaccine table has been moved to the tableau dashboard. You can find that link to the weekly tab here. OHA reports updates on vaccines not being used each Tuesday in our daily media release.
| | | | |
| --- | --- | --- | --- |
| Vaccine Type | Doses Recalled | Non-viableSpoiledExpired | Grand Total |
| Janssen COVID-19 Vaccine | | 5,829 | 5,829 |
| Moderna COVID-19 Vaccine | | 31,276 | 31,276 |
| Pfizer COVID-19 Vaccine | | 9,303 | 9,303 |
| Grand Total | 0 | 46,408 | 46,408 |
Oregon Mask Mandate Set To End With Some Exceptions
Gov. Kate Brown lifted all remaining COVID-19 restrictions, including Oregon's mask mandate, on June 30 as the state neared a target of 70 percent of adult residents having received at least one vaccine dose.
Per federal guidance, face-covering remains required in "specialized settings" where enhanced precautions "will be necessary for an additional period of time," including medical and correctional facilities and public transit. https://www.oregon.gov/gov/Documents/executive_orders/eo_21-15.pdf
LOCAL HEADLINES:
Some Southern Oregon Cities Are Canceling Fireworks Displays Or Banning Sales Due To Heat And Drought
Some Southern Oregon cities are canceling fireworks displays or banning the sale and display of fireworks in city limits in the midst of extreme heat and drought conditions. Other cities around the state are canceling and banning sales too.
The Ashland Chamber of Commerce announced Tuesday that it would cancel the Independence Day fireworks show, citing both the current conditions and concerns from the community after the trauma of the September 8 fires.
"The safety of the Ashland community is of the utmost importance and current conditions require us to reconsider the decision. We feel it is best to be abundantly cautious and cancel the show this year," said Sandra Slattery, Executive Director of the Ashland Chamber of Commerce.
The Chamber's board voted in May of this year to go forward with fireworks while forgoing the parade and normal park festivities due to the COVID-19 pandemic, but "drier conditions than anticipated" at the fireworks launch site contributed to the decision to cancel the display as well.
"The City is appreciative of the energy and effort that the Chamber puts into all of our community events. The City and its Fire Department have long standing collaboration and partnership with the Chamber and fully support their very tough decision to err on the side of caution and cancel this event," said Adam Hanks, City Manager Pro Tem for City of Ashland.
As of Tuesday afternoon, the Boomfest fireworks display at the Jackson County Expo was still set to go forward on July 4.
Shortly after Ashland's announcement, the City of Jacksonville released a statement declaring critical fire danger, and prohibiting the lighting of fireworks within the city limits "immediately."
Along with the bans already announced in some areas throughout Oregon and California, local governments have made decisions on where fireworks will be prohibited and where they will be allowed:
Fireworks prohibited
Ashland: City officials say that they always have a ban on public use of fireworks, and the Chamber's display was canceled on Tuesday.
Jacksonville: Temporary ban.
Mt. Shasta: Temporary ban.
Yreka: Temporary ban.
Weed: Temporary ban.
Portland: Temporary ban.
Bend: Temporary ban through July 9.
Fireworks allowed
Medford: Legal fireworks allowed in city limits (excluding the Greenway, public schools, and city parks) from July 1 through July 6.
Grants Pass: Within the city limits, fireworks are allowed only on July 4 between 6 p.m. and 11 p.m., excluding wildfire hazard zones.
Eagle Point: The city has no plan to ban fireworks, except those already prohibited under state law.
Jackson County: Commissioner Rick Dyer said that there is not enough time to enact an ordinance prohibiting fireworks throughout Jackson County, and enforcement would be too difficult even with a new ordinance in place. County officials urged people to stick with legal fireworks and use them responsibly.
TBD
Central Point: The city has not banned fireworks, though there is the potential that this could change.
Klamath Falls: City officials will be meeting Tuesday to discuss a potential ban, but there is nothing currently in place.
Talent: City officials plan to meet on Wednesday to discuss the issue, possibly adopting a permanent ban.
'Help Find Fauna Frey' Rally in Grants Pass Brings Awareness to Disturbing Number of Missing Women in Oregon
It has been a year since the disappearance of a Lane County woman who was last seen in Grants Pass.
On Tuesday, despite the heat, a group held a rally in front of the Josephine Co. Courthouse to help keep the investigation going and to get the attention of the public and in hopes to get law enforcement to make these cases a higher priority.
Police keep saying there's no reason to believe foul play is involved, but Frey's family and friends are getting more anxious as there is definitely something wrong and they need help to find out where and what has happened to Fauna.
"We are still seeking leads from the community down there to try and determine what happened to Fauna, what her fate is," Scott McKee, private investigator.
Here's the Facebook Page: https://www.facebook.com/groups/341658526970132
Not only has Fauna gone missing there are numerous women in Oregon that have gone missing in the last couple of years.
It is time we bring awareness to our state. We want to continue to keep Fauna's story alive!
Oregon Has Third-Highest Rate Of Open Missing Person Cases In USA
Disturbing Number of Missing Women in Oregon in Past 2 Years — There are 256 Women who are still reported missing in Oregon just in the last two years!
Of course, not only women are missing, as there are so many children and men missing too. And really missing people is a crisis that gets shoved aside as not enough resources and is a horrible thing to even think about.
However, there is a disturbing number of women and in particular, a pattern emerging: There are 48 women over the age of 30 on the missing person list just in the last 2 years. There is a pattern and this needs to be looked into by our state and local law enforcement as well as the FBI > https://www.oregon.gov/osp/missing/pages/missingpersons.aspx
The Missing Murdered Indigenous Women Movement is also joining forces with the family. They want to shed light on missing women within Oregon and the need to make this more of a priority.
This is an ongoing story and help from the public needed. If you'd like to help or stay informed please feel free to send us an email at: info@roguevalleymagazine.com
UPDATE: This missing Myrtle Creek woman was found quickly once she was reported yesterday.
Search Warrant Served on Another Large Illegal Marijuana Operation in Josephine County
During the week of June 21, 2021, members of the Josephine Marijuana Enforcement Team (JMET) in partnership with Oregon State Police, Rogue Area Drug Enforcement (Grants Pass DPS, OSP, Josephine County Parole and Probation), and Josephine County Code Enforcement, served a search warrant relating to an illegal marijuana grow operation in the 1500 block of Thompson Creek Rd, Selma, OR 97538.
During the execution of the search warrant, 86,528 illegal marijuana plants were seized and destroyed. Additionally, one firearm, multiple water pumps and generators were seized as evidence.
Twelve subjects were detained due to safety concerns. At the time of this press release, no arrests have been made and the investigation is ongoing. No further details are being released at this time. Josephine Co. Sheriff's Office
AROUND the STATE of OREGON
OSP Joins Tri-State Effort Keeping Motorists On I-5 Safe over the 4th of July Holiday Weekend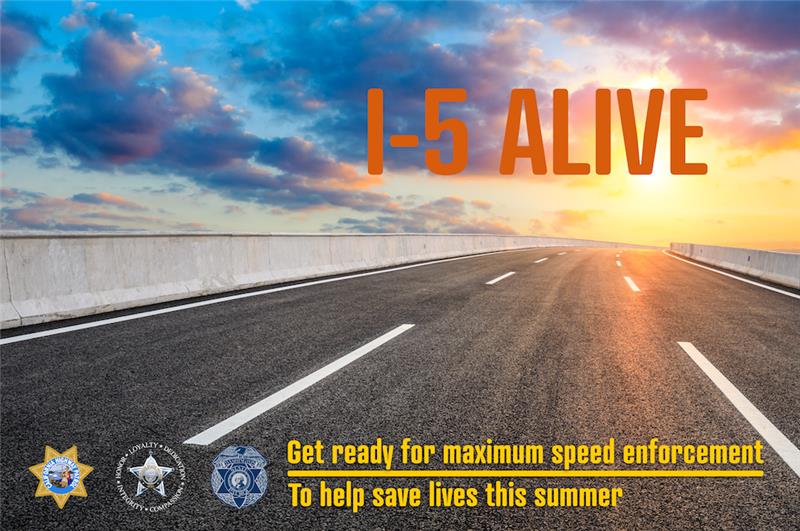 State patrol agencies in Oregon, California, and Washington are partnering for a traffic safety campaign focused on speeding drivers aptly named, "I-5 Alive" starting July 2. This coordinated education and enforcement effort is aimed at making the 1,381 miles of I-5 safer for all summer travelers.
In addition to a social media campaign, Troopers of the Oregon State Police (OSP), Washington State Patrol (WSP), and the California Highway Patrol (CHP) will be especially watchful for traffic violations that often lead to tragedy on our highways. Speed & distracted driving top the list, along with driving while impaired by drugs or alcohol and failing to use safety belts and child safety seats.
"Speeding continues to be one of the highest contributing factors to serious injury crashes and fatalities," stated OSP Superintendent Terri Davie. "Speeding tickets are easily the most common ticket issued; however, it isn't the goal of law enforcement. The goal of speed enforcement is to potentially save your life and the lives of the others."
"Driving responsibly and at a reasonable speed is the best way to help ensure you and your passengers will arrive at your destination safely," CHP Commissioner Amanda Ray said. "We know people are eager to get out and travel, but reckless driving will not get you there sooner – it will just create dangerous conditions for you and everyone else on the road."
"Summer holidays should be a time of fun and family, not sorrow and tragedy," Chief John R. Batiste of the WSP said. "We ask everyone driving the I-5 corridor to slow down, pay attention, drive sober, and buckle up. When it comes to safe highways, we are truly all in this together."
Five simple strategies for drivers to help make I-5 safer for everyone:
• Slow down
• Drive sober
• Be patient
• Put your phone down
• Buckle up
Each state agency will use its best strategies to provide additional enforcement presence during this busy 4th of July weekend, including the use of existing grant funding and shifting resources already on the road over to the I-5 corridor.
The Oregon State Police wants all drivers to get to their final destination safely. We think that working together, we can. Oregon State Police
Oregon SNAP recipients who lost food due to power outages may be eligible for replacement benefits
Need to know:
If you had to throw away food purchased with SNAP due to power outages you can apply for replacement benefits to purchase new food.
You must request replacement benefits within 10 calendar days of the food loss.
Replacement benefits may also be available if you lost food due to home damage or other natural disasters.
(Salem) – Oregonians who lost food purchased with Supplemental Nutrition Assistance Program (SNAP) benefits due to power outages are encouraged to apply for replacement benefits with the Oregon Department of Human Services (ODHS).
SNAP households who lost or disposed of food that was unsafe to eat due to power outages can request SNAP replacement benefits. Replacement benefits also may be available to SNAP households who lost food due to home damage.
Replacement benefits must be requested within 10 calendar days of the food loss by:
Once approved, replacement benefits are added to the households existing Electronic Benefits Transfer (EBT) card.
Resources to help meet basic needs
Administered by ODHS, SNAP is a federal program that provides food assistance to approximately 1 million eligible, low-income families and individuals in Oregon, including many older adults and people with disabilities. Oregonians in need can apply for benefits, including SNAP, child care, cash assistance and Medicaid. Learn more at benefits.oregon.gov. For local resources in your area, such as food or shelter, please call 2-1-1 or reach out to the state's Aging and Disability Resource Connection (ADRC) at 1-855-ORE-ADRC or 1-855-673-2372. — Oregon Department of Human Services
Oregon Farm Worker Dies From the Heat
Oregon OSHA has opened an investigation after a man was found dead Saturday in a field at a nursery in St. Paul in Marion County.
"I can confirm that we have open investigations with Ernst Nursery and Farms and Brother Farm Labor Contractor regarding this fatality," said Oregon OSHA spokesperson, Aaron Corvin.
Corvin said details reported to the state indicated the employee who died was working on a crew moving irrigation lines. At the end of the shift, he was found unresponsive in the field.
"This is a tragedy," said Corvin. "We don't want to see this."
The temperature in St. Paul reached a high of 104 degrees on Saturday as the Pacific Northwest saw a heat wave that brought record-high temperatures to the region. Officials said more than a half-dozen deaths in Oregon and Washington may be tied to the intense heat that began late last week.
"We are not aware of any other fatalities that appear to be heat-related," said Corvin.
Calls made to Ernst Nursery and Farms were not immediately returned.
The owner of Brother Farm Labor Contractor, which provided workers to the nursery stated that the man who died had just come to the U.S. from Guatemala a few months ago.
Corvin said Oregon OSHA's investigation should take three to four months, and will determine whether workplace health and safety standards were violated. Right now, the state has general workplace rules regarding heat. They cite the need for water, rest, shade and training.
Oregon OSHA is working with the Oregon Health Authority to draft more specific workplace rules aimed at preventing heat illness. It's in response to Oregon Gov. Kate Brown's call for all state offices to help mitigate climate change. The pandemic delayed the effort, but Corvin expects a formal rule proposal later this summer. In the meantime, he hopes all employers take what happened on Saturday, seriously.
"If you're looking at temperatures of 95 degrees and up, we would strongly recommend that you would postpone heavy labor," said Corvin. "That's a strong recommendation."
Fire Danger High
The Lava Fire has exploded in size, fueled by strong and erratic winds amid record heat. Fire officials confirmed that the fire made a significant run to the north, crossing Highway 97 and frustrating attempts by fire crews to keep the fire hemmed in south of that line.
The fire is now estimated at 13,330 acres with containment remaining at 20 percent. Based on the latest map provided by fire officials, the fire's northward expansion narrowly missed the Lake Shastina community, but brought it to the outskirts of other properties branching from Bonanza Road.
The Siskiyou County Sheriff's Office said that they did not know "what structures have burned down" or the current status of many areas. The Sheriff's Office issued evacuation orders for a number of areas. Highway 97 is now closed from I-5 in Weed all the way to the Oregon border near Dorris, according to Caltrans.
Smoke from the Lava Fire has drifted all the way up into the Willamette Valley
Fires burning near Redmond and a fire near the town of Dufur on Tuesday afternoon have prompted Level 3 "GO" evacuation orders, Oregon State Police said.
State troopers announced the fire at about 2:30 p.m. along Highway 197 just east of Dufur. No initial word on what caused the fire or an estimate of its footprint. The American Red Cross and the Salvation Army set up an evacuation shelter at The Dalles Middle School Gym.
The Oregon Department of Transportation is reporting some small delays in the area. This is the second fire in a week and the third this month that has prompted Level 3 evacuations in Wasco County.
Crews are also battling a 200-acre fire that also broke out in Deschutes County on Tuesday, prompting Level 3 "GO" evacuations near the Redmond Air Center.
You can track the fires in Oregon here: https://www.oregon.gov/odf/fire/Documents/odf-fire-situation-map.pdf
Local Adoption Agency Bookkeeper Pleads Guilty in Scheme to Defraud Employer and Family
A Hillsboro, Oregon woman pleaded guilty today for engaging in a multi-year scheme to defraud her employer, a non-profit adoption and surrogacy agency operating in Oregon and Washington, and her extended family.
Melodie Ann Eckland, 55, pleaded guilty to wire fraud, aggravated identity theft, filing a false tax return, and willfully failing to collect or pay payroll taxes.
According to court documents, from at least 2011 and continuing until April 2018, Eckland was employed as a bookkeeper for a local adoption and surrogacy agency. Her duties included maintaining agency books and records, managing payroll, filing employment tax returns, and paying quarterly employment taxes to the IRS. Eckland also provided financial statements to the agency's board of directors, but did not have signature authority over the organization's business bank account.
Eckland used her position to steal funds from the agency by making unauthorized wire transfers and writing unauthorized checks to herself. Eckland also transferred agency funds in the form of bonuses to her personal bank account. To conceal her scheme, Eckland maintained two sets of financial records. One version, which she provided to the board of directors, showed the business books as they should have been maintained. The other version showed the true payments she made to herself over the course of her employment.
To cover the money she had stolen, Eckland applied for loans from at least five lending agencies on behalf of the adoption agency, using the names of the agency's owners without their permission. Eckland altered agency financial records to make it appear as though she owned the agency and was authorized to enter into the loan agreements. Beginning in 2016, Eckland stopped making the agency's quarterly employment tax payments to the IRS and stopped filing employment tax returns. As a result, the agency owed more than $94,000 in past due employment taxes.
To further conceal her scheme, Eckland stole funds from a bank account opened on behalf of her deceased brother-in-law's estate. As executor of the estate, Eckland's husband was tasked with selling his brother's assets, paying estate bills, and preserving the remaining funds for the benefit of his brother's children. Eckland forged her husband's signature on unauthorized estate checks and made unauthorized wire transfers of estate funds to herself. She sent a portion of the more than $123,000 stolen from the estate to the adoption agency's bank account to conceal her theft of agency funds.
IRS records indicated that Eckland did not report any of the embezzled funds on her federal income tax returns for 2013, 2014, and 2017. In 2015 and 2016, she reported more than $550,000 as "other income," but failed to pay the taxes due. Between 2013 and 2017, Eckland failed to report more than $675,000 in income, resulting in a tax loss of more than $345,000. As a result of her scheme, Eckland's victims—including the adoption agency and its owners, her brother-in-law's estate, and the IRS—suffered a total loss of more than $1.5 million.
On June 2, 2021, Eckland was charged by criminal information with wire fraud, aggravated identity theft, filing a false tax return, and willfully failing to collect or pay payroll taxes.
Eckland faces a maximum sentence of 30 years in prison, a $750,000 fine, and three years' supervised release. She will be sentenced on November 8, 2021 before U.S. District Court Judge Marco A. Hernandez.
As part of her plea agreement, Eckland has agreed to pay restitution of up to $2.5 million and forfeit more than $1.5 million in criminally derived proceeds seized by law enforcement.
Acting U.S. Attorney Scott Erik Asphaug of the District of Oregon made the announcement.
This case was investigated by IRS-Criminal Investigation and the Hillsboro Police Department. It is being prosecuted by Claire M. Fay, Assistant U.S. Attorney for the District of Oregon. U.S. Attorney's Office – District of Oregon
SEVERE BLOOD SHORTAGE ALERT
Donors are strongly urged to give now to help ensure lifesaving blood products are available for patients. Hospital demand continues to outpace donations, and your help is vital.
The American Red Cross continues to experience a severe blood shortage that is negatively affecting blood product availability across the country. Donors of all blood types – especially type O – are urged to make an appointment to give now and help ensure hospital shelves are stocked with blood products over the Fourth of July holiday
and beyond.
Right now, the Red Cross is working around the clock to provide blood products to hospitals responding to an unusually high number of traumas and emergency room visits, as well as overdoses and resulting transplants. As a result of the blood shortage, some hospitals are being forced to slow the pace of elective surgeries until the blood supply stabilizes, delaying crucial patient care.
In addition, while summer is traditionally a time when blood donations decline, this year is particularly challenging as many Americans receive their vaccinations and resume summer activities after more than a year of limited interactions and travel, leading to lower donor turnout.
The need for blood doesn't take a holiday break − patients still depend on lifesaving transfusions. Donors are needed now to prevent further delays to patient care.
Schedule an appointment to give blood now by using the Red Cross Blood Donor App, visiting RedCrossBlood.org, calling 1-800-RED CROSS (1-800-733-2767) or enabling the Blood Donor Skill on any Alexa Echo device.