The latest news stories of interest in the Rogue Valley and around the state of Oregon from the digital home of Southern Oregon, Wynne Broadcasting's RogueValleyMagazine.com
Thursday, July 15, 2021
Rogue Valley Weather
Today– Sunny, with a high near 92. Calm wind becoming north northwest 5 to 7 mph in the afternoon.
Friday– Sunny, with a high near 90. Calm wind becoming north northwest around 6 mph in the afternoon
Saturday– Sunny, with a high near 94. Calm wind.
Sunday– Sunny and hot, with a high near 96.
Monday– Sunny, with a high near 95.
Oregon reports 251 new confirmed and presumptive COVID-19 cases, 3 new deaths
There are three new COVID-19 related deaths in Oregon, raising the state's death toll to 2,803. The Oregon Health Authority reported 251 new confirmed and presumptive cases of COVID-19 bringing the state total to 211,315.
The new confirmed and presumptive COVID-19 cases reported today are in the following counties: Benton (2), Clackamas (25), Columbia (2), Coos (4), Crook (5), Curry (1), Deschutes (12), Douglas (10), Harney (1), Hood River (1), Jackson (29), Josephine (16), Klamath (2), Lane (11), Lincoln (2), Linn (10), Marion (25), Morrow (1), Multnomah (27), Polk (8), Tillamook (4), Umatilla (27), Union (3), Washington (20), Yamhill (3).
Vaccinations in Oregon
Today, OHA reported that 6,086 new doses of COVID-19 vaccinations were added to the state immunization registry. Of this total, 3,219 doses were administered on July 13 and 2,867 were administered on previous days but were entered into the vaccine registry on July 13.
The seven-day running average is now 4,925 doses per day.
Oregon has now administered 2,587,462 first and second doses of Pfizer, 1,760,201 first and second doses of Moderna and 174,296 single doses of Johnson & Johnson COVID-19 vaccines.
As of today, 2,435,438 people have had at least one dose of a COVID-19 vaccine and 2,238,480 people have completed a COVID-19 vaccine series.
Cumulative daily totals can take several days to finalize because providers have 72 hours to report doses administered and technical challenges have caused many providers to lag in their reporting. OHA has been providing technical support to vaccination sites to improve the timeliness of their data entry into the state's ALERT Immunization Information System (IIS).
To date, 2,973,645 doses of Pfizer, 2,260,540 doses of Moderna and 299,100 doses of Johnson & Johnson COVID-19 vaccines have been delivered to sites across Oregon.
These data are preliminary and subject to change. Updated vaccination data are provided on Oregon's COVID-19 data dashboards and have been updated today.
COVID-19 hospitalizations
The number of hospitalized patients with COVID-19 across Oregon is 122, which is 11 more than yesterday. There are 34 COVID-19 patients in intensive care unit (ICU) beds, which is four more than yesterday.
The total number of patients in hospital beds may fluctuate between report times. The numbers do not reflect admissions per day, nor the length of hospital stay. Staffing limitations are not captured in this data and may further limit bed capacity. More information about hospital capacity can be found here.
Weekly COVID-19 cases and hospitalizations rise, deaths decline
The Oregon Health Authority's COVID-19 Weekly Report, released today, shows an increase in daily cases and hospitalizations and a decrease in COVID-19 related deaths.
OHA reported 1,318 new daily cases of COVID-19 during the week of Monday, July 5, through Sunday, July 11. That represents an 11% rise over the previous week.
New COVID-19 related hospitalizations rose to 104, up from 66 the previous week.
There were 15 reported COVID-19 related deaths, down from 19 reported the previous week.
There were 54,702 tests for COVID-19 for the week of July 4 through July 10. The percentage of positive tests was 3.4%, up from 2.9% the previous week.
People 70 years of age and older have accounted for 38% of COVID-19 related hospitalizations and 74% of COVID-19 related deaths.
Today's COVID-19 Weekly Outbreak Report shows 21 active COVID-19 outbreaks in senior living communities and congregate living settings, with three or more confirmed cases and one or more COVID-19 related deaths.
The delta variant has arrived in Eastern Oregon. And with vaccination rates across the
region lagging behind the state, the question for health experts is not if the latest and
most contagious strain of COVID-19 will spread through communities, but how large the
outbreak will be. Cases have declined across Oregon in recent weeks as the state
reached its goal of 70% of residents vaccinated. Meanwhile, some less-vaccinated
Eastern Oregon counties, including Baker and Umatilla counties, have reported sharp
case spikes. Umatilla County — where nearly 33% of residents are vaccinated — has
reported some of the highest daily case counts statewide in recent weeks. From July 6
to July 9, Umatilla County reported 67 cases. And since mid-June, the county has
reported at least 260 cases, according to county health data.
LOCAL HEADLINES:
Britt Festival Announces More Concerts
The Britt Music & Arts Festival on Wednesday announced the second set of concerts for its 2021 summer series, with some old favorites and a few brand new artists on the docket.
The new announcement brings the total number of concerts so far this season to 17. The announcement introduces a wide range of styles, from country music's Lee Brice to indie-pop band Portugal. The Man, and southern rockers 38 Special. Also announced are classic artists THE BEACH BOYS, Chris Isaak, and Chicago along with Britt fan favorite, Michael Franti & Spearhead.
Popular comedian Nikki Glaser will bring on the laughter and the season wraps up with the unique Americana sound of Shakey Graves.
FOR MORE INFO: https://www.brittfest.org/
Josephine Marijuana Enforcement Team Serve Search Warrant For an Illegal Marijuana Operation
On Tuesday, July 13, 2021, members of Josephine Marijuana Enforcement Team (JMET) in partnership with Oregon State Police, Rogue Area Drug Enforcement (Grants Pass DPS, OSP, Josephine County Parole and Probation), Illegal Marijuana Enforcement Team (IMET, consisting of Jackson County SO, Medford PD), Homeland Security Investigations and Josephine County Code Enforcement; served a search warrant relating to illegal marijuana grow operations in the 1300 block of Lakeshore Dr, 6000 block of Takilma Rd and the 300 block of Merlot Dr.
During the execution of the search warrant, 27,696 illegal marijuana plants were seized and destroyed. Additionally, 27 firearms, multiple water pumps and generators were seized as evidence. $255,611 in cash was also seized. (Side note: the cash, which is subject to forfeiture, can only be used for training and equipment, not personnel.)
Zacharea Jafarzadeh, 30, and Woodrow Benear, 32, were arrested and lodged in the Josephine County Jail for possession, manufacture, and unlawful delivery of marijuana. Additionally, 11 subjects were detained due to safety concerns. At the time of this press release, the investigation is ongoing, and no further details are being released. Josephine Co. Sheriff's Office
AROUND the STATE of OREGON
WILDFIRE UPDATES
Red Flag Warnings For Most of Oregon
Critical fire weather conditions are leading to Red Flag Warnings across most of Oregon. A combination of strong winds, low humidity and warm temperatures can contribute to extreme fire behavior.
A Red Flag Warning means that critical fire weather conditions comprised of strong winds, low relative humidity and warm temperatures are either occurring now or will shortly. If you see smoke or flames, please call 911 immediately. Do not use open flames, briquettes or fireworks of any kind.
The National Weather Service has issued a Reg Flag Warning around the Bootleg Fire in the Klamath Basin and the Fremont-Winema National Forest until 8:00pm tonight. Warnings remain in effect in some other parts of the state through 11:00pm on Thursday.
The geographic area experienced a breezy day with clear skies interrupted by waves of smoke from continued large fire activity. Low humidities and above average temperatures continued to be a problem east of the Cascades. Large fires activity was moderate. Initial attack activity was light.
The effects of an upper level trough will continue to be experienced across the geographic area, which will bring gusty winds through Cascade gaps and across the east side basins into the evening. Low relative humidities will persist through Thursday afternoon east of the Cascades. Temperatures are projected to ease into normal seasonal ranges over the weekend and along with that, humidities are expected to make some slight increases. No significant precipitation is expected with the system.
A southerly flow is still of concern for early next week that comes with an upper level ridge building over the Great Basin and the Rockies. The southerly flow may draw some monsoonal moisture into the eastern tier of the region creating a threat of scattered thunderstorms early next week.

With fire danger above average in most areas, hot, dry and breezy conditions will maintain elevated potential for new
significant fire development east of the Cascades and in southwestern Oregon. Potential could moderate some toward the end of the week if cooler weather arrives as anticipated.
Airport Officials Facing Jet Fuel Shortages
Airport officials facing jet fuel shortages are concerned they'll have to wave off planes and helicopters that drop fire retardants during what could be a ferocious wildfire season, potentially endangering surrounding communities.
Sporadic shortages at some tanker bases in Oregon and Utah have already been reported. The worry is that multiple bases go dry simultaneously during what is shaping up to be a very busy wildfire season in the U.S. West. Tanker bases in Arizona, where many large fires are burning, have also had jet fuel supply issues in the last month.
Bootleg Fire is the largest fire in the nation
Bootleg. OR-FWF-210321. Unified Command: IMT1, PNW Team 2 (Allen), IMT1, ODF Team 1 (Hessel), IMT2, NW Team 10 (Lawson) & OSFM Green Team (Hallman). 15 mi NW of Beatty, OR. Start 7/6. Full Suppression. Cause: Unknown. 212,377 acres (+10,454). 7% containment. Extreme fire behavior. Timber and brush. Evacuations in effect. Road, trail and area closures.
The Bootleg Fire, burning near Bly and Sprague River and now into Lake County, is the nation's largest wildfire. Around 2 or 3 p.m. the wind and fire picked up again. It started spreading fiercely to the north and east, as it has been wont to do since it started July 6 on Fuego Mountain. It grew by more than three miles, fueled by extreme drought conditions, single digit humidity, and high temperatures.
The Bootleg Fire has burned more than 212,000 acres in Klamath County. As of Wednesday evening, the fire is 5% contained.
Gert Zoutendijk with the Oregon State Fire Marshal's office said 21 homes and 54 other structures have burned, and 2,000 homes or structures are threatened.
"We're just waiting it out and waiting to hear what's going on," said Kim Bergey, who lives in an evacuation zone.
"Some people have already been told they have nothing left and then there's others like me waiting to see if we still have a property," she said.
Bergey said some people who have lost their homes are already struggling with their insurance companies because they haven't been able to get pictures to prove their home burned down.
Many homeowners, recreationalists and ranchers heeded warnings and fled the Bootleg Fire. But some defied evacuations orders, deciding to stay put and take their chances against the nation's largest wildfire. Now those individuals are stuck — unable to reenter the evacuation zone if they leave, which some say is crucial to replenish dwindling supplies like water and food for themselves and their animals.
Joy Treadway, owner of Blackwing Ranch on Ivory Pine Road, was one resident who stayed behind. Her ranch is under a level three evacuation order, which means residents must evacuate immediately and should not expect emergency assistance if they choose not to.
Brandon Fowler, Emergency Manager for the Klamath County Sheriff's Office, confirmed via email that individuals who made the decision to remain in a level 3 evacuation area will not be allowed back into the area if they leave now.
Residents and Forest visitors are asked to avoid the fire area and related roads while suppression activities continue. Anyone driving in the area should watch for increased traffic and vehicles associated with wildland firefighting. Violations of the closure order are punishable by a fine of not more than $5,000 for an individual or $10,000 for an organization, or imprisonment of not more than 6 months or both.
Jack Fire:
Jack Fire. OR-UPF-000265. IMT2, NW Team 9 (Goff) & OSFM Blue Team (Magers). 20 mi E of Glide, OR. Start 7/5. Full
Suppression. Cause: Unknown. 13,795 acres (+1,262). 15% containment. Active fire behavior. Timber and brush.
Structures threatened. Evacuations in effect. Road, trail and area closures.
The Jack Fire is currently estimated at 13,795 acres and is 15% contained. Northwest Incident Management Team 9 says the increase in acres is within the planned control lines.
North of Highway 138, firefighters continue to make good progress to strengthen, hold and secure containment lines in the northern and eastern portions of the fire. Mop-up continues along the perimeter of the fire. Crews continue burning vegetation along containment lines moving south towards Dry Creek and north to connect with lines established along the 4713 Road.
In the Dry Creek area, crews plan to complete work burning vegetation around the structures to prevent fire encroachment. South of Highway 138, crews have established anchor points on the western and eastern flanks.
State highway 138E from Steamboat Creek to mile post 55 is closed to vehicle traffic. Steamboat Inn is also closed. Oregon Department of Transportation has set an eastside 'soft closure' checkpoint at Lemolo Lake junction to allow for local access into nearby recreation areas, including Lemolo Lake.
Four injuries have been reported because of the fire. 243 structures are being threatened. The cause of the fire is still under investigation.
Sheriff Announces Reduction in Jack Fire Evacuation Levels
Sheriff Hanlin is announcing a reduction in the evacuation levels previously set as a result of the Jack Fire burning east of Glide.
"Fire crews have made significant progress and the threat level to the areas affected by the fire have diminished," said Sgt. Brad O'Dell. "Although the immediate risk to the areas has reduced, residents are encouraged to continue to monitor official sources of information to stay updated on the situation".
Effective Wednesday, July 14, 2021, at 5:30 pm, the following changes have been made to the evacuation levels issued last week.
The Level 3 "GO!" evacuation for all residences and businesses located between milepost 43 and 51 on Highway 138E, including the Dry Creek Community has been reduced to a LEVEL 2 "BE SET" notice.
Level 2 or "Be Set" means there is significant danger that exists to the area and those within the affected zone should either voluntarily relocate outside of the area or be ready to leave at a moment's notice. You may have time to gather necessary items, but doing so is at your own risk. This could be the only notice that residents may receive. Emergency services cannot guarantee that they will be able to make additional notifications should conditions rapidly deteriorate.
All residences and businesses located between milepost 38 and 43 on Highway 138E, including the Steamboat Inn and all residences located on Brindle Bug Road and Steelhead Caddis Road, have been downgraded from a Level 2 "Be Set" to a Level 1 "Be Ready".

All residences and businesses located between milepost 51 and 55 on Highway 138E have been downgraded to a Level 1 "Be Ready".
Level 1 "BE READY" means those in the area should be aware of the danger that exists in the area, monitor emergency services websites and local media outlets for information. This is the time for preparation and precautionary movement of persons with special needs, mobile property and under certain circumstances, pets and livestock. If conditions worsen, emergency service personnel may contact you via an emergency notification system.
All residences and businesses located between milepost 55 and 60 on Highway 138E, to include the Slide Creek Village, Toketee Village and Clearwater Village, are no longer under a formal evacuation notice.
A current evacuation map can be found at www.dcso.com/evacuations
The Sheriff's Office will continue to work with county commissioners, fire managers and agency partners to ensure public safety.
Highway 138E remains closed as ODOT geologists and tree fallers are working to clear the highway of hazards for a possible re-opening by this weekend. Visit www.tripcheck.com for current information. Douglas Co. Sheriff's Office
Crews work to reopen OR 138E to traffic
STEAMBOAT – Crews are working to reopen Oregon 138E affected by the Jack Fire, perhaps by this weekend.
The road has been closed since the afternoon of July 5 between Steamboat and Slide Creek (MP 38-55). The Jack Fire is now burning away from the North Umpqua Highway. It caused minimal damage to the highway as compared to previous fires in the scenic corridor.
"The fire burned in steep, rocky terrain but we didn't have nearly as many big trees fall across the highway as we've seen in previous fires," said ODOT Interim District Manager Jeremiah Griffin.
Several hazard trees and other debris caused by the fire are still on or near the highway, but crews are working quickly to hit the weekend reopening goal.
"Reopening a highway after a wildfire is a balance," said Griffin. "We work closely with our partners in any post fire assessment, and weigh public and worker safety on when to reopen."
Crews are also evaluating burnt signs and sections of guardrail. They are making plans for their replacement.
When the highway does reopen, Griffin urged drivers to be careful, watch out for crews and expect delays due to slower speeds in the burn area.
Motorists can also expect frequent delays throughout the summer between Idleyld and Steamboat (milepost 21-38) and near Diamond Lake (milepost 76-80) due to rehabilitation work on last year's Archie Creek and Thielsen wildfires.
Residents who have been evacuated and can show valid photo identification proving their address may be escorted through the highway closure by ODOT personnel. Failure to provide proof of valid proof of residency, will result in a denial of entry past the road closure. ODOT: SW Oregon
Grandview Fire:
Grandview. OR-955S-000558. IMT1, ODF Team 2 (Howard) & OSFM Red Team (Yocum). 10 mi NE of Sisters, OR.
Start 7/11. Full Suppression. Cause: Unknown. 5,971 acres (+239). 14% containment. Moderate fire behavior. Timber
and brush. Evacuations in effect. Road closures.
Sisters, OR – Despite continued hot and breezy afternoon conditions, fire behavior has been moderate on the Grandview Fire, which is still estimated to be approximately 5,723 acres burning on private lands protected by the Oregon Department of Forestry and the Crooked River National Grassland managed lands. Firefighters were able to make good progress holding and securing lines around the fire today.
Heavy air tankers dropping retardant were able to assist crews constructing fire line on the southeast portion of the fire while structure protection units led by the Oregon State Fire Marshal's office continued point protection efforts. This work will tie into existing dozer line on the northeast section of the fire where firefighters are holding the line and beginning to mop up the perimeter to achieve additional containment.
The southwest portion of the fire held within existing fire lines today and crews were able to begin securing fire lines and mopping up. The northwest portion of the fire saw some increased activity this afternoon, but crews and dozers have been actively engaged in constructing fire line and have been assisted by helicopters cooling hot spots.
The National Weather Service has issued a Red Flag Warning for westerly winds 10-20 mph (gusts to 25 mph) coupled with low relative humidity on Wednesday and Thursday. This will challenge efforts to keep the fire within established control lines.
For up-to-date information on the Grandview Fire, please visit: https://inciweb.nwcg.gov/incident/7651/
There are evacuation notices in place issued by the Jefferson County Sheriff's Office and Deschutes County Sheriff's Office. Those can be found here: https://arcg.is/5P4LS
Bruler Fire:
Bruler. OR-WIF-210239. IMT2, NW Team 13 (Gales). 10 mi S of Detroit, OR. Start 7/12. Full Suppression. Cause:
Unknown.155 acres (+65). 0% containment. Timber. Moderate fire behavior. Road, trail and area closures.
The Bruler Fire is burning south of Detroit in the middle of the Willamette National Forest. According to the U.S. Forest Service, as of Tuesday afternoon, the fire has burned 100 acres and has high potential to spread.
Smoke from the fire was visible from Highway 22, Santiam Pass and the Detroit area which was devastated by wildfires in Sept. 2020. Residents in Detroit are still recovering more than 10 months after the wildfires destroyed much of the town. No structures are threatened. The cause of the fire is under investigation.
Darlene Fire:
Darlene. OR-PRD-000572. IMT2, NW Team 6 (Sheldon). 1 mi E of La Pine, OR. Start 7/13. Full Suppression. Cause:
Unknown. 588 acres (-912). 1% containment. Active fire behavior. Timber and brush. Evacuations in effect. Road and
area closures. Road closures. Reduction in acreage due to better mapping.
New fire forces Level 3 "GO" evacuations outside La Pine. The Darlene Fire was first reported at about 1:30 p.m. Tuesday as a ten-acre fire about two miles southeast of La Pine. The blaze quickly grew to about 600 acres by 6:30 p.m.
Officials say crews are facing extreme fire behavior as the flames push to the southeast. They've called in large air tankers to support ground efforts.
The fire prompted Level 3 "GO" evacuation orders outside of La Pine, Central Oregon Fire said. The Deschutes County Sheriff's Office says La Pine High School is being set up as a temporary evacuation point, while the La Pine rodeo grounds will be open for those with animals.
Log Fire:
Log. OR-FWF-210329. IMT1, PNW 2 (Allen). 25 mi S of Silver Lake, OR. Start 7/12. Full Suppression. Cause:
Unknown. 2,477 acres (+2,277). 0% containment. Active fire behavior. Timber and brush. Road and area closures.
New fire approx. 6 mi NE of the #BootlegFire is now 2,800 acres. Weather and dry fuels are challenging firefighters working to strengthen lines and halt eastward progress. Full details at http://inciweb.nwcg.gov/incident/7609/
Game Hog Creek Fire:
Oregon Department of Forestry made good progress today on the wildfire in the Tillamook State Forest
Firefighters made good progress today on the Game Hog Creek Fire burning 22 miles northwest of Forest Grove on the Tillamook State Forest.
Although the fire remains uncontained because fire lines are still being built, the fire's spread was largely stopped at about 70 acres.
A helicopter kept the fire in check through the afternoon as temperatures rose. Steep portions where the fire is burning remain inaccessible to hand crews.
The night shift will continue to strengthen fire lines tonight. Smoke is expected in the area overnight but little fire growth. Tomorrow, firefighters will continue building containment lines and if all goes well start mopping up, cooling hot spots within the fire's interior.
Firefighters from six Oregon Department of Forestry offices worked on the fire along with crews from South Fork. Hampton Lumber and Stimson Lumber Company provided water tender support.
Highway 6 and 26 to the coast remain open and unaffected by the fire, which is entirely within the state forest. Drift Creek and Idiot Creek forest roads are closed as is the Fear and Loaming mountain bike trail due to fire activity in the area. Rogers Camp trailhead is being used as a staging area for firefighters and is closed to the public. Elk Creek campground is open.
The fire was originally sparked on July 3 and contained then to six acres in a steep, inaccessible area. Rising winds Tuesday night apparently caused the fire to jump the control lines. Cause of the fire is still under investigation. Oregon Dept. of Forestry
NWCC INFO: https://gacc.nifc.gov/nwcc/content/products/intelligence/MORNINGBRIEF.pdf?2015-06-23%2021:26:00
Tips to save time, money, and stress during wildfire evacuations
The Bootleg, Jack, and Grandview wildfires have sparked several evacuation orders. The Oregon Division of Financial Regulation has wildfire insurance resources available to help people in each evacuation level.
Completing these tasks can help save you and your family time, money, and stress before, during, and after a wildfire.
Level 3 evacuation: If you receive the level 3 order, leave your home as soon as possible.
When it is safe, let your insurance company know that you have been ordered to evacuate. Confirm your policy coverage, deductible, and specific coverage limits.
Save all receipts. Many insurance companies will help cover expenses such as lodging, food, and pet boarding.
Work on a home inventory list.

Look through photos and videos to help recall personal items. Pay close attention to what is in the background and look for smaller items, such as jewelry.
To the best of your ability, write down the age, original cost, and replacement cost of each item.
Level 1 and 2 evacuation:
Contact your insurance company to check your policy.

Ask about deductible and specific coverage limits
Ask about auto coverage. You need comprehensive coverage on your vehicle to cover damage caused by a wildfire.

Make a quick home inventory.

Take photos of each room in your home. Do not forget storage areas, such as the attic, shed, and garage.
Check your insurance company's website for an app or checklist that will help.

Build a financial backpack.

Gather important financial documents, such as passports, Social Security cards, insurance policies, titles, deeds, and financial accounts.
Make copies or scan them to your phone or computer.

Place all of the information with your go-bag of emergency supplies so this information is with you when you need to evacuate.
Outside of evacuation zone: The time to prepare is now.
Follow the disaster preparedness tips provided by the division at dfr.oregon.gov/preparenow.
More resources are available on the division's wildfire insurance resources page.
If you have questions about insurance coverage, speak to your insurance company or agent. If you still have questions or concerns, the Division of Financial Regulation consumer advocacy team can help.
• Call 888-877-4894 (toll-free)
• Email .insurancehelp@oregon.gov">dfr.insurancehelp@oregon.gov
• Visit dfr.oregon.gov
###
About DCBS: The Department of Consumer and Business Services is Oregon's largest business regulatory and consumer protection agency. For more information, visit dcbs.oregon.gov.
About Oregon DFR: The Division of Financial Regulation is part of the Department of Consumer and Business Services, Oregon's largest business regulatory and consumer protection agency. Visit dcbs.oregon.gov and dfr.oregon.gov. — Oregon Dept. of Consumer & Business Services
Senator Ron Wyden introducing Federal Cannabis Bill
Oregon's U.S. Senator Ron Wyden joined Majority Leader Chuck Schumer and Senator Cory Booker on Wednesday in introducing the discussion draft for a bill, the Cannabis Administration and Opportunity Act, that would federally declassify cannabis as a controlled substance.
The lawmakers said that ending federal criminalization of cannabis is becoming increasingly urgent as more and more states legalize both medical and recreational use.
Wyden, Schumer, and Booker underlined that the vast majority of Americans believe that cannabis should be legalized in one form or another, and most Americans live in states where it is at least somewhat available legally.
The proposal introduced on Wednesday would not only remove cannabis from the federal list of controlled substances, it advocates expunging federal non-violent crimes involving marijuana and allowing people currently in federal prison for those crimes to petition a court for re-sentencing.
It would also establish a fund to invest in "communities that were hurt by the War on Drugs" and work for restorative justice in communities of color.
100-Pound Rare Tropical Fish Found On Beach Near Seaside
A type of fish rarely found on the Oregon Coast washed up on Sunset Beach Wednesday morning, the Seaside Aquarium reported on social media.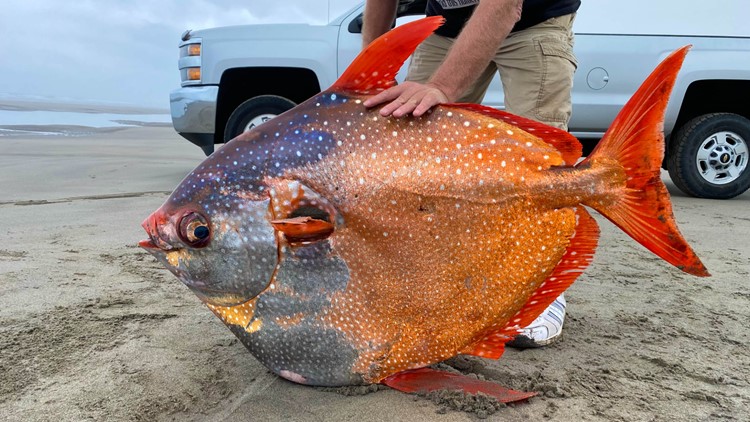 A 3.5-foot, 100-pound opah was reported to the aquarium at 8 a.m. Sunset Beach is located between Seaside and Warrenton on the northern coast.
"After seeing photographs of the unusual fish they quickly responded and recovered the fish," the aquarium wrote. "It created quite the stir at the Aquarium where folks were encouraged to come take a look at this beautiful and odd looking fish."
The aquarium said the fish will be dissected by a school group.
Although opah are rarely found so far north, it isn't unheard of.
The Oregonian/OregonLive reported that a Milwaukie, Ore. man caught a 97-pound, four-ounce opah 35 miles off the mouth of the Columbia River in 2009.
Opah, also known as moonfish, are warm-blooded fish that typically live in tropical and temperate waters in open ocean, according to the National Oceanic and Atmospheric Administration . They spawn in warm surface waters throughout the year in the tropics and more seasonally in cooler waters.
While the fish found on Sunset Beach was about average size, the Seaside Aquarium said they can grow over 6 feet and weigh over 600 pounds.