The latest news stories of interest in the Rogue Valley and around the state of Oregon from the digital home of Southern Oregon, Wynne Broadcasting's RogueValleyMagazine.com
Friday, August 13, 2021
Rogue Valley Weather
Wildfire Safety, Smoke and Evacuation Information and Links for Southern Oregon

Jackson and Josephine Counties Request State Help as COVID Hospitalizations Overwhelm
Representatives from Asante, Providence, and Jackson and Josephine County Public Health held a press conference on Thursday to outline the dire COVID-19 situation in southwest Oregon. Jackson County reported a dizzying 416 new cases on Thursday, another new record for daily cases after hitting 267 earlier this week.
The counties requested more hospital staff, ventilators and a field hospital as Southern Oregon deals with a surge in COVID-19 cases and an increasing number of people with coronavirus requiring hospitalization.
"We have surpassed anything we've seen before in terms of this disease," said Jackson County Health Officer Dr. Jim Shames.
There were 99 new cases reported in the county the week of July 4, according to Shames. Last week, the county reported a record high of 655 new cases, which is a 561% increase. Shames said the county reported 416 new cases on Aug. 12. That's compared to 247 new cases reported by the OHA the previous day.
The county put in a request with the Oregon Health Authority (OHA) and the Oregon Office of Emergency Management (OEM) and has not heard back yet. A field hospital is a temporary hospital or mobile medical unit that provides emergency care to patients before they are transferred to more permanent facilities.
Across Jackson and Josephine counties, 150 people are currently hospitalized with COVID-19. Of those patients, 41 were in an intensive care unit (ICU) and 13 were on a ventilator. There were only four ICU beds available across the region as of Thursday morning.
Doctors, nurses and other health care workers who are on the front lines are becoming overwhelmed as the case load surpasses even last year's peak of COVID-19 hospitalizations.
For Asante and Providence, the sustained rise in hospitalizations means that their hospitals are essentially operating at maximum capacity. In some cases, healthcare workers are working around beds and medical equipment set up in hallways, some of them pulling 20-hour shifts to helps serve the needs of patients.
While the state's metrics on hospital capacity for the region show some available beds, Kotler indicated that looks are deceiving. Asante Ashland's critical care beds have been full, and beds freed up to serve as contingency critical care have also been filled.
Oregon's 2,920th COVID-19 associated death is a 47-year-old woman from Josephine County who tested positive on Aug. 9 and died on Aug. 10 at Asante Three River Medical Center. Presence of underlying conditions is being confirmed.
Events In Rogue Valley Being Canceled Due To Covid Variant Breakout
Events in the Rogue Valley are now being canceled due to the Covid variant breakout. After a record-breaking 2021 Jackson County Fair, the Expo announced on Thursday that it will be postponing several upcoming events due to the local COVID-19 situation.
Events scheduled within the next 35 days, including the Central Point Wild Rogue Pro Rodeo and the Southern Oregon Brewfest, are being postponed indefinitely.
The Expo said that the change was due in part to being "ready to use our facilities to support and serve our community." While still very much in the early stages, a proposal for a field hospital in southwest Oregon has been floated with the Expo as a potential site. The Jackson County Fair this year saw more than 70,000 attendees, breaking records for the event.
Task Force Raid on Black-Market Marijuana Warehouse in Central Point
A Jackson County task force descended on a warehouse in Central Point believed to be housing marijuana for sale on the black market, making one arrest and seizing thousands of pounds of processed product.
Shortly after 3 p.m. on Tuesday, officers from the Illegal Marijuana Enforcement Team (IMET) went to search a warehouse in the 6,000-block of Agate Road in Central Point, assisted by Medford Area Drug and Gang Enforcement (MADGE) detectives.
During the raid, investigators found more than 6,000 pounds of processed marijuana packaged for shipment, in addition to about $5,000 in cash.
"Depending on where the shipment was headed, the street value of the drugs was approximately $15 million," JCSO said.
Officers arrested one suspect, 49-year-old Agustin Rodriguez of Lathrop, California. He was taken to the Jackson County Jail on felony charges for the prohibited import or export, unlawful possession, unlawful manufacture, and conspiracy for unlawful distribution of a marijuana item.
JCSO said that the operation did not have any permits to grow or process marijuana for recreational, commercial, or medical purposes. The investigation is still ongoing, with detectives reportedly working on leads for additional suspects.
"While regulatory agencies investigate permitted cannabis operations, IMET is focusing on the black-market marijuana trade in the Rogue Valley," JCSO said.
IMET is a multi-agency task force funded by a grant from the Oregon Criminal Justice Commission. The task force includes personnel from Jackson County Sheriff's Office, Medford Police Department, and the Jackson County District Attorney's Office.
Mask Mandates Start Today
Oregon's new mask mandate takes effect today. All residents will be required to wear a mask in public indoor settings regardless of COVID-19 vaccination status.
Governor Kate Brown issued the mandate earlier this week due to rising case numbers being caused by the highly contagious Delta variant of COVID-19.
Health officials say the Delta variant is causing COVID-19 cases to rise to their highest level so far during the pandemic, and masks are the fastest way to reduce the trend.
Medford Cooling Shelters
Due to the high temperatures forecasted, the City of Medford and community partners will open a cooling shelter.
The cooling shelter will be open Tuesday through Saturday (August 10th – August 14th) from 12 – 8 PM.
The cooling shelter will provide water, a cool resting area, restrooms, popsicles, snacks, and a cooling area and water for pets.
Individuals may come and go, with a facility capacity of 90 guests.
Friday, August 13th the shelter will be operated at Jackson County Library Medford at 205 South Central Avenue.
Saturday, August 14th the shelter will be operated at the Medford Senior Center, located at 510 E. Main Street.
Anyone interested in volunteering or have resources to contribute may email medfordemergencyshelter@gmail.com for more information.
Campfire Restrictions In Place Across Oregon
Campfires are banned in public campgrounds and day-use areas across Oregon and the Pacific Northwest, as wildfire danger persists amid sweltering heat waves and the persistent drought.
Bans include restrictions on all cooking fires, campfires and bonfires on the beach, leaving portable cooking stoves and gas-powered lanterns as the only open flames allowed in much of the state's public lands. In some places, bans extend to vehicle use, target shooting and other activities that could cause a spark.
Navigating those restrictions can be tricky, with so many different land management agencies in charge of the various parks and campgrounds in Oregon. Before you head out for a weekend getaway, be sure to look at which agency is in charge of where you're going, and check the current fire restrictions below.
For folks headed outdoors, Oregon's wildfire season requires extra planning and precautions, in general. Follow these tips for monitoring the fire conditions in Oregon as you plan your summer travels.
OREGON STATE PARKS
Campfires, cooking fires and other open flames are banned at all Oregon state parks east of Interstate 5, including parks in the Columbia River Gorge and southwest Oregon. The same restrictions apply to Champoeg and Willamette Mission state parks, as well as the Willamette River Greenway.
As of Friday, Aug. 13, campfires will also be banned on the Oregon coast from Lincoln County south to the California border. See details at stateparks.oregon.gov.
MOUNT HOOD NATIONAL FOREST
All open fires, including campfires, are banned across the national forest. Read the full forest order.
WILLAMETTE NATIONAL FOREST
All open fires, including campfires, are banned across the national forest. Read the full forest order.
DESCHUTES NATIONAL FOREST
All open fires, including campfires, are banned across the national forest. Read the full forest order.
OTHER NATIONAL FORESTS
Fire restrictions vary between national forests in Oregon. In the Siuslaw National Forest, for example, campfires are allowed in designated fire rings and at specific dispersed campsites. Meanwhile, all campfires are banned in the Umpqua National Forest.
Check in with the national forest you'll be visiting for specifics on the local fire restrictions.
BUREAU OF LAND MANAGEMENT
Campfire restrictions vary between each district. Campfires are banned in many regions, but are allowed in others. Some campgrounds are given specific exemptions from restrictions. Check in with the local district office for the latest information. See all district fire restrictions at blm.gov/orwafire.
TILLAMOOK STATE FOREST
Campfires and motor vehicle use have been banned on the eastern side of the Tillamook State Forest, as well as in some state forest lands in Yamhill and Columbia counties. See the latest fire restrictions at Oregon.gov/odf.
CRATER LAKE NATIONAL PARK
Campfires and cooking fires are banned at Crater Lake National Park. See the full order at nps.gov/crla.
LOCAL PARKS
County and city-run parks may have fire restrictions of their own. Be sure to check in with the park or local authorities before you head out.
Two New Large Fires Near Lakeview
Thunderstorms & lightning resulted in 2 large fires in South Central Oregon – Patton Meadow Fire & Willow Valley Fire. Patton Meadow Fire is west of Lakeview – reported at 3:30 p.m. & estimated to be more than 2,000 acres.
Evacuation Levels are in place – Level 3 is Juniper RV Park to Patton Meadow & all of Drews Gap; Level 2 is North of Hwy 140 from Juniper RV Part to Lower Cottonwood; Level 1 is East of Lower Cottonwood Road & Cottonwood Creek. Red Cross contacted to establish an evacuation center.
Willow Valley Fire is on the Oregon-California Stateline, approximately 16 miles southeast of Bonanza & 1 mile east of Willow Valley Reservoir – reported at 4 p.m. & estimated to be 300 acres. No evacuation levels.
Thunderstorms this evening have impacted wildland firefighting efforts. There is a Red Flag Warning in effect tomorrow (Friday) from 2 p.m. to 11 p.m.
As of Thursday afternoon, there are 29 large uncontained fires and complexes in the Pacific Northwest — 12 in Oregon and 17 in Washington. This translates to 840,254 acres of active uncontained fires.
Here are links to be able to see updated info on the larger fires in Oregon:
Middle Fork Complex/Knoll Fire InciWeb
Oregon reports 2,387 new confirmed and presumptive COVID-19 cases, 9 new deaths
There are nine new COVID-19 related deaths in Oregon, raising the state's death toll to 2,928, the Oregon Health Authority reported 2,387 new confirmed and presumptive cases of COVID-19 as of 12:01 a.m. today, which is a record number of cases and brings the state total to 236,698.
The new confirmed and presumptive COVID-19 cases reported today are in the following counties: Baker (6), Benton (21), Clackamas (198), Clatsop (35), Columbia (62), Coos (55), Crook (10), Curry (25), Deschutes (108), Douglas (137), Harney (3), Hood River (11), Jackson (416), Jefferson (20), Josephine (133), Klamath (15), Lake (1), Lane (210), Lincoln (31), Linn (32), Malheur (5), Marion (148), Morrow (14), Multnomah (210), Polk (42), Tillamook (27), Umatilla (121), Union (22), Wallowa (7), Wasco (25), Washington (189) and Yamhill (48).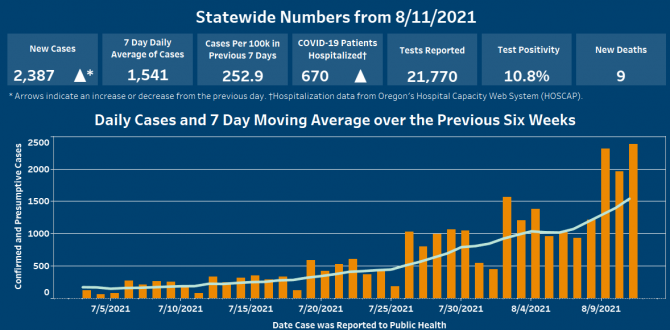 Chinook Winds Casino Resort Closes Because of Covid
Chinook Winds Casino Resort will close for at least two weeks because of COVID-19, the casino said Thursday.
Guests will have to leave the casino, hotel and golf course by 6 p.m. August 12. The Siletz Tribal Council, which oversees the casino's operations, said they hope to reopen by Aug. 26.
"Despite the progress we have made to vaccinate our team, their families, and the community, increases in cases in the county and state have led us to make the difficult decision," General Manager Michael S. Fisher said in a news release.
The casino hasn't said whether the closure is because of positive tests among staff. It's also unclear whether guests who are currently staying at the hotel will be given alternate accommodations at other hotels along the coast.
UPS Driver Rescues Couple From House Fire In Scottsburg
A United Parcel Service worker rescued a retired couple after their home caught fire in Scottsburg.
Pat and Shelly Ryan, who have lived in Scottsburg for nearly 15 years, had been using their home as a bed and breakfast in the summer. Last Thursday, their house went up in flames, destroying all the rooms, everything inside, their boat and their garage.
When the smoke was billowing, UPS driver Jed Massey happened to be making his usual route and he jumped into action making sure the couple got out.
The couple says they recall hearing several strong explosions until the whole house was engulfed in flames. But without a second to spare, they were able to get to safety.
A neighbor helped get the Ryans' dogs, Blackjack and Casino, to safety as well. The couple recalls the scary situation as one that "could've been a lot worse." The Ryans said although they're devastated that "45 years of accumulation" is destroyed, they're just happy they and their dogs are alive.