The latest news stories of interest in the Rogue Valley and around the state of Oregon from the digital home of Southern Oregon, Wynne Broadcasting's RogueValleyMagazine.com
Friday, September 17, 2021
Rogue Valley Weather
Today– Widespread haze before 9am. Patchy smoke after 9am. Sunny, with a high near 87. Calm wind becoming north around 5 mph in the afternoon.
Saturday– Rain, mainly after noon. Widespread haze between noon and 3pm. Patchy smoke between 9am and noon. High near 72. Light and variable wind. Chance of precipitation is 100%. New precipitation amounts between a quarter and half of an inch possible.
Sunday– Showers, mainly before noon. High near 66. Southwest wind 5 to 7 mph. Chance of precipitation is 80%. New precipitation amounts between a tenth and quarter of an inch possible.
Monday– Sunny, with a high near 75.
Tuesday– Sunny, with a high near 85.
Ashland Homicide UPDATE
UPDATE 9-16-2021 —- According to a press release from the Jackson County Sheriff's Office, 38-year-old Meghan Nicole Rodriguez of Portland was the victim of a stabbing that took place Wednesday morning early outside a home in the 300 block of Eagle Mill Road.
According to the Oregon State Police (OSP) forensic pathologist, the cause of death is Homicide. Next of Kin have been notified.

Murder charges have been filed against 30-year-old Auriel Zipher Scattergood of Ashland. According to court documents, he is also charged with injuring Rodriguez's dog during the confrontation and another male. The incident took place around 2:14 am.
Scattergood was arraigned in court today on the following charges:
Murder in the Second Degree
Assault in the Second Degree
Unlawful Use of a Weapon
Aggravated Animal Abuse in the First Degree
JCSO responded with officers from Ashland, Phoenix and Talent Police Departments and was also assisted on scene by detectives from Oregon State Police. Major Assault and Death Investigative Unit (MADIU) has been called out to investigate. Case #21-4880
Rubbish Fire in the Illinois Valley
At 16:12pm, IVFD, Oregon Department of Forestry, Rural Metro Fire Department, Grants Pass Fire & Rescue, Sheriff's Department and AMR responded to a Rubbish Fire located at 106 E. O'Brien Rd.
Neighbors called in the fire, and assisted in attempting to control the fire, until fire agencies arrived on scene. En-route, the fire was originally dispatched as a Vegetation Fire, then upgraded to a Structure Fire. A second-alarm was initiated to have other agencies respond to the scene.
Upon arrival, units found a large Rubbish Fire with extension to the nearby wildland area. The fire was estimated to be a half-acre. It was a coordinated effort between Oregon Department of Forestry and Illinois Valley Fire District's Command Staff, along with two helicopters, deployed for fire suppression efforts, among ground fire engines. Fire was suppressed. A fire line, placed around the incident, was completed and an excavator was utilized to break up the pile. Fire crews confirmed the fire was extinguished.
IVFD would like to thank the aforementioned agencies, for their quick response and assistance, in bringing this fire under control expeditiously. The fire is currently under investigation. Illinois Valley Fire District
Medford Dept. of Revenue Office to Close for Construction from September 22 through October 8
The Oregon Department of Revenue's Medford regional office at 3613 Aviation Way will be closed from Wednesday, September 22, 2021 through October 8, 2021 due to construction to enhance the safety and security of our customer service area.

A secure drop box will be available for taxpayers to deliver any necessary payments or documents, which will be removed daily from the drop box by office staff. The Medford office will mail receipts directly to customers.

The Medford office will return to normal business hours, 8 a.m. to 5 p.m., on Monday, October 11, 2021.

The Department of Revenue continues to expand features available through Revenue Online. Individuals can view letters sent to them by the department, initiate appeals, make payments, and submit questions. Visit Revenue Online to learn more.

The agency previously announced the temporary closure of the Bend regional office, which is also scheduled to reopen Monday, October 11, 2021.

To get tax forms, check the status of your refund, or make payments, visit www.oregon.gov/dor or email questions.dor@oregon.gov. You can also call 800-356-4222 toll-free from an Oregon prefix (English or Spanish) or 503-378-4988 in Salem and outside Oregon. For TTY (hearing or speech impaired), we accept all relay calls. Oregon Dept. of Revenue
Rain Is Finally Returning To Oregon – ODOT Wants Drivers To Remember This Causes Slick Road Conditions
Finally, the long-awaited first rainfall of the season is almost here. An end to the long, hot, and dry summer season is in sight! A powerful fall storm is taking aim at Western Oregon, just in time for the weekend.
There are some things ODOT wants to remind you about driving in the rain. It's a very busy time of the year for the Oregon Department of Transportation, Oregon State Police, and other agencies.
"What we typically see in these first rainfalls of the season is drivers going too fast for the conditions," said Gary Leaming, the ODOT spokesperson. "On many of our roads and highways including interstate five, we see people sliding off, running into the guardrail, running off onto the shoulder, or running into other vehicles.
The rain lifts oils and grime onto the road and makes it slippery. Drivers aren't used to the conditions, and that causes accidents.
"After summer or long stretches where they don't have any rain, we see the rains come in, and drivers' mindset is such that they don't slow down," Leaming said.
Leaming says places like Roberts Mountain south of Roseburg and the passes north of Grants Pass are real problem areas.
"It's not uncommon and I'm sure we'll see this over the weekend with these first rains, where people aren't paying attention and will get caught going down the mountain and will either spin off the road, spin into someone else, or go into the barrier."
Roads near recent wildfires can also be a hazard. The North Umpqua highway had the Jack Fire this year and Archie Creek last year.
"So with these first rains, depending on the amounts we get, we can see some push-outs or some small debris flow onto the highway," Leaming said.
Now is the time to make sure things like tires and windshield wipers are up to date on your vehicle. And if you do see an accident, slow down and give them plenty of space. Leaming recommends leaving early to give yourself extra time to make it to your destination slowly and safely.
Rain can create dangerous driving conditions including reduced visibility, reduced traction between tires and the road, and less predictable car handling. When it's raining, be cautious and give yourself more time to get where you are going. Also remember to:
Slow down, especially through high water. Driving through several inches of water at high speed can cause you to lose control of the car.
Watch for hydroplaning conditions. If you hydroplane, ease off the gas, gently apply the brakes and steer straight ahead.
Keep your distance. If it hasn't rained in a while, road surfaces will be slick.
Turn on your headlights to improve visibility.
Disengage your cruise control.
Maintain your Vehicle
Before heading out in wet weather, check your wipers for signs of damage. Replace wiper blades regularly.
Make sure your defroster is functioning properly, especially if you haven't used it in a while.
Check your brakes. After driving through a puddle, check that brakes are working properly by tapping them gently a few times.
Make sure tires are in good condition and are at the recommended inflation level. Tires should have a recommended 2/32 of an inch tread depth at any two adjacent grooves. Driving on over-inflated or under-inflated tires reduces traction and control on wet pavement.
​​​You can check out more information at ODOT's Website: https://www.oregon.gov/odot/Pages/index.aspx
Oregon reports 2,242 new confirmed and presumptive COVID-19 cases, 11 new deaths
There are 11 new COVID-19 related deaths in Oregon, raising the state's death toll to 3,547. The Oregon Health Authority reported 2,242 new confirmed and presumptive cases of COVID-19 bringing the state total to 307,768.
The new confirmed and presumptive COVID-19 cases reported today are in the following counties: Baker (22), Benton (34), Clackamas (84), Clatsop (47), Columbia (33), Coos (48), Crook (26), Curry (13), Deschutes (169), Douglas (81), Grant (1), Harney (14), Hood River (13), Jackson (149), Jefferson (10), Josephine (70), Klamath (68), Lake (6), Lane (184), Lincoln (20), Linn (167), Malheur (42), Marion (205), Morrow (8), Multnomah (249), Polk (42), Sherman (2), Tillamook (11), Umatilla (63), Union (31), Wallowa (4), Wasco (19), Washington (243) and Yamhill (64).
Oregon Health Authority holds media briefing with Dr. Dean Sidelinger, The State Epidemiologist
Here are Dr. Sidelinger's talking points, as well as a link to slides.
Learn more about COVID-19 vaccinations
To learn more about the COVID-19 vaccine situation in Oregon, visit our webpage (English or Spanish), which has a breakdown of distribution and other information.
The Conquer Covid in Klamath campaign announces its winner for week 3. Nolan Napier of Chiloquin won a Top of the Line Traeger Pellet Grill and 12 bags of premium pellets from Diamond Home Improvement.
Nolan was selected in a random drawing of all Klamath County residents that have entered at conquercovidinklamath.com.
Each week the prize changes and this week it is $4,800 worth of gasoline. That's basically $400 a month for the year.
The drawing for this weeks prize will take place on Monday morning.
There is a different prize each week along with the Grand Prize, which is the winners choice of a new Dodge RAM pickup or a new Dodge Durango SUV. There are numerous runner up prizes as well.
To enter Klamath County residents can go to conquercovidinklamath.com. The site also lists all prizes, rules and vaccination sites. http://conquercovidinklamath.com/
Heavy Weekend Rain and Lower Temperatures Will End the Summer Season
Rain couldn't come soon enough. This will really help in the fight against Western Oregon's current wildfires.
Strong winds, heavy rain, and even a thunderstorm or two are possible throughout the weekend. This type of rain will definitely prevent the drought monitor from worsening, but it won't fix our drought in just a weekend. We are still well behind this water year.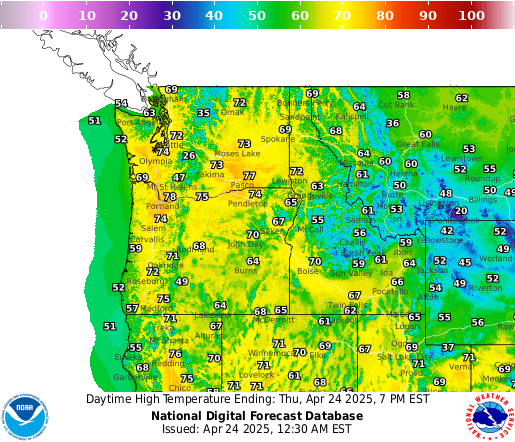 MORE WEATHER INFO HERE: https://graphical.weather.gov/sectors/pacnorthwest.php?element=Wx
InciWeb has INFO on the larger fires still burning in Oregon.

This public lands link is super helpful to check before you head outdoors. The Keep Oregon Green website carries ODF's public use restrictions. Click the link for up-to-date information: https://keeporegongreen.org/current-conditions/
More Than 9,000 Oregon Tenants Who Applied For Rent Assistance Still Waiting For Aid
What appears to be an unprecedented need coupled with a faulty state software system and staffing shortages at some local agencies has led to a massive backlog of rent assistance applications for the Oregon Emergency Rental Assistance Program. This backlog could cause hundreds of renters to lose protection from eviction.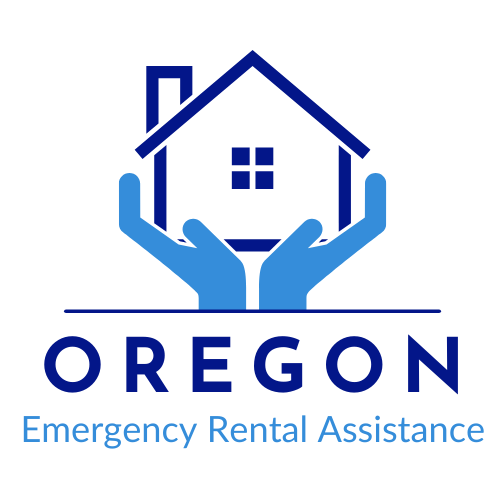 More than 9,000 tenants who applied for assistance over the past couple of months are still waiting for their applications to be approved.
While state lawmakers approved a stopgap measure to protect renters who have sought rent assistance, the extension for many Oregonians only lasts for 60 days after they've applied and notified their landlords. A local ordinance extended those protections to 90 days in Multnomah County.
The statewide moratorium on evictions expired at the end of June after lawmakers declined to extend it.
"We're very concerned about folks who did the right thing, applied for rent assistance as soon as it was available, submitted the documentation to their landlord, and now are going to bear the burden of these processing delays," said Alison McIntosh, policy director for the Oregon Housing Alliance, which advocates for renters. "They will be the people who experience the eviction and the negative consequences for themselves and their families, and it's entirely preventable."
Nearly 34,000 Oregon households have requested more than $202 million in rent and utility assistance through the state's rental assistance program since applications opened in May, according to the state. Only about 20% of applications have actually been funded or approved for funding so far with about $43 million going to 6,844 households.
Of the applications that have not yet been approved for funding, 9,309 have been in the system for two months or more, according to data provided by Oregon Housing and Community Services, the state agency overseeing the program.
It's unclear what percentage of those renters could be in danger of immediate eviction.
"It would not be accurate to state that those who have had an application in the cue for more than 60 days are at imminent risk of eviction given any eviction diversion programs, other support that tenants may be receiving, and the appetite of landlords to evict tenants," wrote Connor McDonnell, a spokesperson for Oregon Housing and Community Services, in an email.
Multnomah County, where renters are protected from eviction for 90 days after informing their landlords they've applied for aid, has the largest number of unprocessed applications that have been in the system for at least 60 days with 4,033.
The 90-day clock in Multnomah County, or 60-day clock elsewhere in the state, doesn't go into effect until renters inform their landlords they've applied for assistance. The state requires renters to inform their landlords they've applied for help before their first court hearing to receive the protection, although many renters have provided the documentation to their landlords earlier.
Oregon renters also have until the end of February 2022 to repay outstanding rent accumulated between April 2020 and June 2021, meaning that those who applied for help with back rent but were able to pay their bills beginning July 1 won't be in danger of eviction now. A portion of unprocessed applications could be close to being fully processed, too, and some landlords may be holding off on issuing eviction notices because they are aware their tenants have applied for help.
But McIntosh said she has heard anecdotally from panicked service providers about tenants who have struggled to pay their rent since July and are losing, or are on the verge of losing, their eviction protections because their applications have not been processed. Spiking COVID-19 cases and hospitalizations caused by the highly contagious delta variant has led to added uncertainty for many renters trying to recover from the pandemic.
A total of 1,864 Washington County renters, 929 Marion County renters and 736 Clackamas County renters who applied for help 60 or more days ago are still waiting for their applications to be approved for funding, according to the state.
Kemp Shuey, executive director for Community Action Organization, which is the agency processing rent assistance applications in Washington County, said those unprocessed applications include incomplete, withdrawn or ineligible applications.
With those applications filtered out, Shuey said the number of Washington County applications that have gone more than 60 days without being approved for funding drops by about half – and his agency is focused on prioritizing those applicants.
"This is very much a triage approach as we are focusing our energies on households most at risk to receive an eviction notice and working back from there," Shuey wrote in an email.
Becky Straus, a staff attorney for the Oregon Law Center, said the first day that landlords would have legally been allowed to file eviction notices for nonpayment of rent by tenants whose 60-day protections had run out would have been Monday because landlords must give those tenants a 10-day notice before filing.
That means it could be several weeks before any increase in eviction filings caused by the processing delays will become measurable.
"The state has a responsibility to ensure efficient administration of these potentially life-saving benefits that were designed to prevent eviction," Straus wrote in an email.
Last month, the state hired an outside vendor to process up to 8,500 applications in the tri-county area, where the majority of applications have been filed. Many local agencies tasked with processing rent assistance applications have also developed work-arounds in the last month to avoid fully processing applications through a state application system developed by vendor Allita 360, which they say has been riddled with issues.
And in its latest attempt to speed up processing and target renters most in need, Oregon Housing and Community Services announced Sept. 7 that it would reclaim nearly $87 million from communities that had been slow to deliver rent assistance through the Oregon Emergency Rental Assistance Program, moving that money into a central reserve that the state will reallocate to local agencies once they've distributed the money they have.
The state believes the move will allow it to direct funds to counties with the greatest number of applicants when those counties are prepared to use that money to immediately process those applications.
More than $19 million was pulled from Multnomah County, which has seen the most rent assistance applications in the state but has managed to process just 13% of the nearly 11,500 applications it has received so far. About 41% of applications in Multnomah County are still pending initial review.
Denis Theriault, a county spokesman, said the county has already made progress in speeding up processing and is planning to hire more staff. He said he expects Multnomah County will ultimately get back the $19 million in funding the state recouped, if not more, because of the immense need for assistance in the county.
Jimmy Jones is the executive director of the Mid-Willamette Valley Community Action Agency, which distributes rent assistance to tenants in Marion and Polk counties. He's also the legislative chair of the Community Action Partnership of Oregon, which represents community agencies across the state.
While the state did not pull any money from his agency, Jones said many communities across the state that had money taken away are concerned that the funds won't be equitably redistributed and that renters in their communities will lose out on aid.
"We're just generally frustrated that the state decided to do this without any warning and any collaboration," he said. "We're skeptical about whether it's going to work. I think we're skeptical about whether the monies will remain in communities that they've been dedicated to."
Oregon could also be in danger of losing some of that funding entirely.
The federal government allocated $204 million to the state for the Oregon Emergency Rental Assistance Program. But beginning Sept. 30, it has the right to reclaim funds from states that it determines are "unable or unwilling" to spend the money and reallocate that funding to states that have allocated at least 65% of their money.
Only about 20% of Oregonians who applied for assistance through the program have received or been approved for funding, with Oregon committing about 21% of the $204 million it received from the federal government so far.
McDonnell said Oregon will need the full $204 million to pay out assistance to all the renters who have applied for help through the program, and the state is confident that the federal government won't reclaim its money because Oregon has shown the need for funding.
Other states have struggled to pay out federal rent assistance as well. The National Low Income Housing Coalition estimates that 24 states have allocated a smaller percentage of their federal allocation than Oregon.
While the U.S. Department of Treasury said that high-performing states that have allocated more than 65% of their funds could receive additional funding, they have not determined what percentage of funds states must allocate by Sept. 30 to avoid having funding taken away, said Liz Bourgeois, a U.S. Treasury spokesperson.
In an email, Bourgeois wrote that the agency's "strong preference" is to allow states to use their full funding. But she also issued a warning: "Treasury is prepared to reallocate funds pursuant to the statute," she wrote, "from grantees that have not provided these resources to renters in need and their landlords."
Oregon Tribes Among 12 Selected for Participation in Program Enhancing Tribal Access to National Crime Information Databases
Confederated Tribes of the Warm Springs Reservation and Cow Creek Band of Umpqua Selected to Join Program
WASHINGTON—The Department of Justice has selected an additional 12 federally recognized tribes to participate in the expansion of the Tribal Access Program for National Crime Information (TAP), a program that provides tribal governments with means to access, enter, and exchange data with national crime information systems, including those maintained by the FBI Criminal Justice Information Services (CJIS) Division and the states.
"Timely access to federal criminal information can help protect domestic violence victims, place foster children in safe conditions, solve crimes, and apprehend fugitives on tribal land, among other important uses," said Deputy Attorney General Lisa O. Monaco. "Increasing tribal access to criminal databases is a priority of the Justice Department and this Administration, and essential to many tribal government efforts to strengthen public safety in their communities."
"Tribal law enforcement agencies have long sought access to federal criminal databases to obtain important information that can be used to prevent violent crime in tribal communities. We are pleased that the Confederated Tribes of the Warm Springs Reservation and Cow Creek Band of Umpqua have been selected for participation in the TAP program and look forward to more Oregon tribes being added in the future. The Justice Department and U.S. Attorney's Office for the District of Oregon are deeply committed to keeping Oregon tribal communities safe," said Acting U.S. Attorney Scott Erik Asphaug.
The program provides training as well as software and biometric/biographic kiosk workstations to process fingerprints, take mugshots, and submit information to FBI Criminal Justice Information Services (CJIS) systems. With these additional tribes, there are now 108 federally recognized Tribes participating in TAP.
TAP has been an important resource for the department's Missing and Murdered Indigenous Persons Initiative and the Presidential Task Force on Missing and Murdered American Indians and Alaska Natives known as Operation Lady Justice. The Department of Justice began TAP in 2015 in response to concerns raised by tribal leaders about the need to have direct access to federal systems.
Using TAP, tribes have shared information about missing persons; registered convicted sex offenders; entered domestic violence orders of protection for nationwide enforcement; run criminal histories; identified and arrested fugitives; entered bookings and convictions; and completed fingerprint-based record checks for non-criminal justice purposes such as screening employees or volunteers who work with children.
The following tribes have been newly selected for participation in TAP:
Confederated Tribes of the Warm Springs Reservation
Cow Creek Band of Umpqua
Fort Belknap Indian Community
Grand Traverse Band of Ottawa and Chippewa
Havasupai Tribe
Lower Brule Sioux Tribe
Menominee Tribe
Mille Lacs Band of Ojibwe
Muckleshoot Tribe
Passamaquoddy Tribe
Shingle Springs Band of Miwok
United Keetoowah Band of Cherokee
TAP is managed by the Justice Department's Office of the Chief Information Officer and the Office of Tribal Justice. It is funded by the Office of Sex Offender Sentencing, Monitoring, Apprehending, Registering, and Tracking (SMART), the Office of Community Oriented Policing Services (COPS), the Office for Victims of Crime (OVC), and the Office on Violence Against Women (OVW).
For more information on TAP, visit http://www.justice.gov/tribal/tribal-access-program-tap. —- U.S. Attorney's Office – District of Oregon
Early this week, Basin Interagency Narcotics Enforcement Team obtained a search warrant on an enormous illegal marijuana growing operation near Philpott Lane in Bonanza
The search warrant was served by the Oregon State Police SWAT team, BINET, OSP Southwest Region Drug Enforcement Team, the Klamath Falls Police Department and the Klamath County Sheriff's Office.
The operation was purported to be "hemp", but the illegal growing operation was not licensed or permitted and preliminary on-site testing during the search warrant services revealed the plants were high THC marijuana. Unlawful use of groundwater is also being investigated.
The illegal marijuana grow sites covered over 300 acres and consisted of 132 large greenhouses stuffed full of mature marijuana plants. The operation was run off of a newly completed and uninspected groundwater well which likely pumped thousands of gallons of water each day to water the illegal marijuana.
After evidence was collected, approximately 51,480 illegal marijuana plants were destroyed by Klamath County Solid Waste Management bulldozer on site along with the unpermitted greenhouses. A large amount of U.S. Currency was also seized as suspected drug proceeds. Criminal charges on multiple individuals were referred to the Klamath County District Attorney's Office for review.
Klamath County has an increasing problem with large scale illegal marijuana grow.
A Klamath Falls teen was critically injured last Sunday morning following a single-vehicle crash
The crash occurred east of Merrill on Highway 39 when a car with four occupants crossed the highway and went off the road.
The car rolled multiple times and finally stopped after it hit a barbed wire fence. According to Oregon State Police, the driver of the vehicle overcorrected after the passenger-side tires drove off the road and onto the soft shoulder, resulting in the car crossing the highway and rolling into the fence.
One passenger, 13-year-old Kaelyn Carter from Klamath Falls, was ejected from the vehicle, according to her uncle, Monty Holloway. Kaelyn was flown to Doernbecher Children's Hospital in Portland, where she remains in critical condition, the hospital said Thursday. There are various ways to help Kaelyn in her recovery.
They are doing everything they can to save Kaelyn's life. Kaelyn has a laceration to her liver, ruptured spleen, lost one of her kidneys, a broken pelvis, fractured vertebraes, intubated on a ventilator, and sedated and making slow improvements. Outside of these current known injuries they are concerned about her lungs not functioning properly, and possible brain trauma.
She has already had 4 surgeries and has a long road of recovery ahead of her. Her parents Tyler and Jackie Carter have been by KK's side praying for a miracle. KK's younger sister, family and close friends are doing everything they can to help ease the pain from this dreadful nightmare.
The family has set up a GoFundMe page as well as a Rogue Credit Union account where people can donate.
The family is asking those who wish to help with a financial donation in one of 3 ways:
A Rogue Credit Union account has been set up. Visit Rogue Credit Union and ask to contribute to account #6000932756
A GoFundMe account has been established. Click here to visit and donate: https://gofund.me/0e6dd756
New Oregon License Plate Designed by Eugene Artist Celebrates Culture and Diversity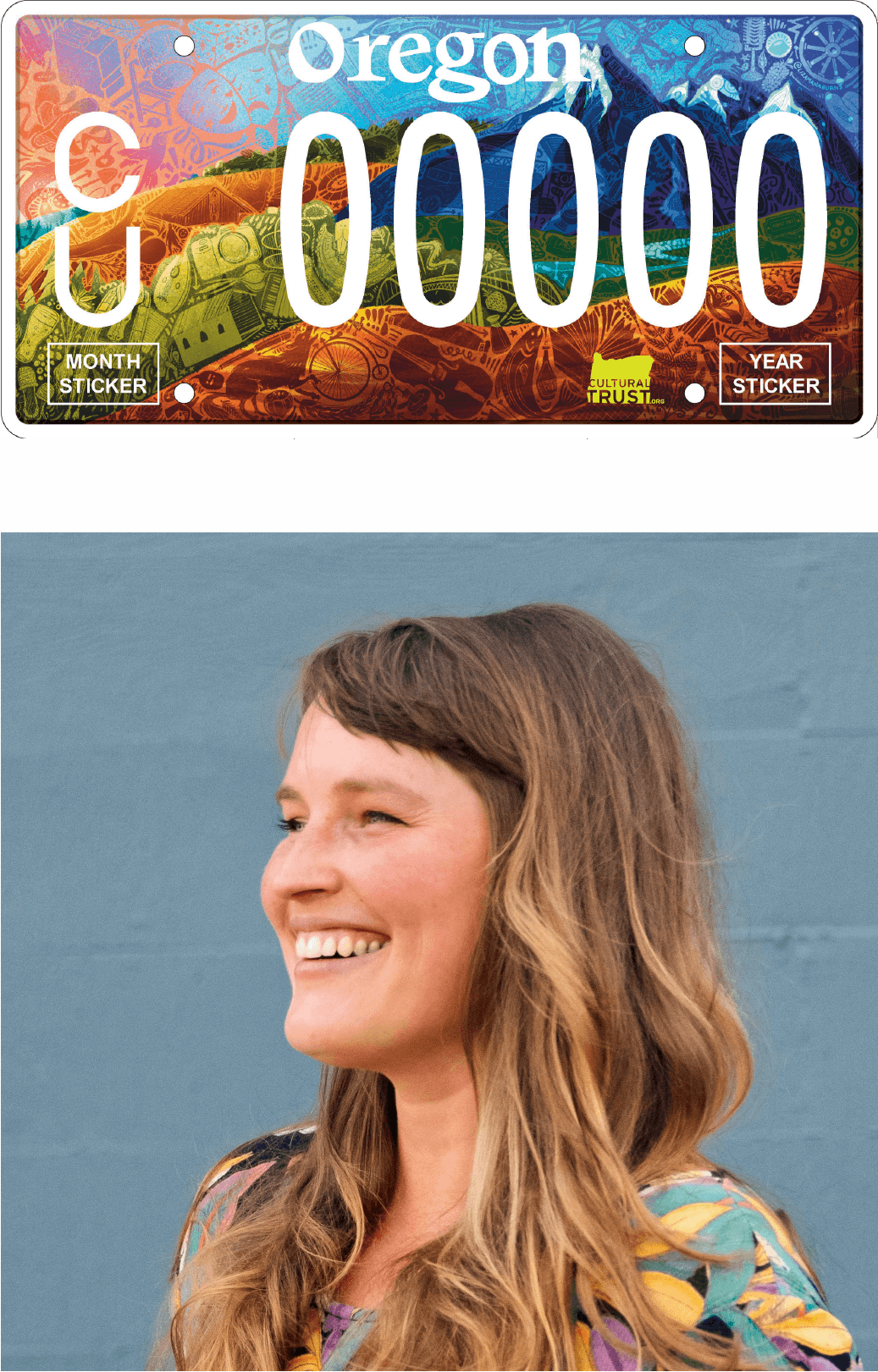 A new Oregon license plate design being released October 1st is intended to celebrate the state's diversity of culture, coincident with the 20th anniversary of the Oregon Cultural Trust.
Once October begins, the new plate will be available on the Oregon DMV website, at DMV field offices, and at Lithia Motors' 32 franchise dealerships throughout the state.
The "Celebrate Oregon!" artwork was created by Liza Burns of Eugene, and will also be installed as full-scale murals at the Eugene, Medford, Portland, and Redmond airports through a partnership with GreenCars.com.
A 38-foot outdoor banner will also be installed at the Northwest Film Center in the Portland Art Museum.
ABOUT THE NEW PLATE:
Learn about the inclusive design process, the participants and the artist selection. https://culturaltrust.org/celebrateoregon/about-the-new-plate/