The latest news stories of interest in the Rogue Valley and around the state of Oregon from the digital home of Southern Oregon, Wynne Broadcasting's RogueValleyMagazine.com
Wednesday, March 30, 2022
Rogue Valley Weather
Today– Mostly cloudy, with a high near 62. Calm wind becoming north northwest 5 to 8 mph in the afternoon.
Thursday– Patchy fog before noon. Otherwise, mostly cloudy, then gradually becoming sunny, with a high near 64. Calm wind becoming north northwest around 6 mph in the afternoon.
Friday– Areas of frost before 10am. Otherwise, mostly sunny, with a high near 67. Calm wind becoming northwest 5 to 7 mph in the afternoon.
Saturday– Mostly sunny, with a high near 68.
Sunday– A slight chance of rain after noon. Snow level 4000 feet rising to 4900 feet in the afternoon. Partly sunny, with a high near 63.
Jackson County Commissioners Declare Drought Emergency
Southern Oregon reservoirs usually range in average water capacity, anywhere between 49% and 99%.
Tuesday, Emigrant Lake, Howard Prairie, and Hyatt Lake reached extreme lows between 9% and 13%, reinforcing Jackson County Commissioners' decision to declare a drought emergency last week. 
Now, Jackson County commissioners are calling on Governor Brown to do the same. 
Until then, commissioners plan to track where water is going as the county water master puts more emphasis on investigating illegal water use claims.
Riverside Park Shooting Suspect Arrested
On 03-29-22, Detectives from the Grants Pass Police Department were conducting follow up investigation in the area of 200 Lewis Ave and observed the suspect from the shooting incident at Riverside Park that occurred in the early morning hours of 03-28-22.
While patrol officers and detectives were responding into the area, the suspect, Albert "AJ" Humphrey, began to drive out of the area.  Officers deployed spikes strips and attempted to stop Humphrey.
Humphrey drove over the spike strips, then fled at a high speed in an attempt to elude in the vehicle. Humphrey continued out Lewis Avenue and began driving the wrong way on 6th street, heading toward the Cavemen Bridge. Other officers were responding to the area as Humphrey continued north over the bridge, against the flow of traffic. Due to the threat to the public, officers did not pursue Humphrey the wrong way up 6th street.
As Humphrey was crossing the Caveman Bridge, another Grants Pass Officer in a marked patrol vehicle was driving south on 6th on the north side of the bridge. Due to Humphrey driving against the flow of traffic at a high speed, the officer attempted to drive into Humphrey's vehicle in order to prevent him from harming anyone else. Humphrey swerved and struck the curb of the bridge and continued driving against traffic. Humphrey then collided with a white Toyota RAV4 that was driving south on 6th and had pulled over as the officer was passing by.
Humphrey then fled from the crash on foot through the Riverside Inn parking lot toward 5th Street. Officers established a perimeter as Humphrey was being chased on foot. Humphrey was eventually located and taken into custody without further incident.
The driver of the other vehicle was treated and released at the scene. The victim vehicle was disabled and had to be towed.  Humphrey is being lodged at the Josephine County Jail on the above charges.  The case is still under investigation and further information will follow.  Anyone who witnessed this incident or was driving on 6th street when Humphrey was eluding is asked to contact the Grants Pass Police at 541-450-6260 to provide a statement to assist with the investigation. Additional charges may follow after the case is completed.  Grants Pass Police Department 
Office of State Fire Marshal to kick off wildfire preparedness webinar series
The Office of State Fire Marshal is kicking off a series of webinars this Thursday, March 31st, 2022, from 6:00 pm to 7:00 pm. These educational webinars are designed to provide Oregonians and local community partners with tools to prepare themselves and their properties for wildfire.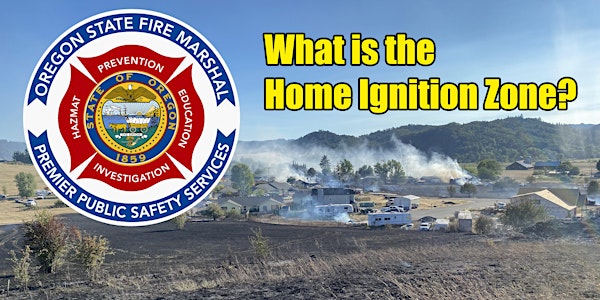 In the first webinar, on Thursday, March 31st, 2022, the OSFM's staff in the Community Risk Reduction Unit will focus on the home and the first 100 feet around it. The OSFM's Fire Risk Reduction Specialists will show what can be done to better protect against wildfire. In addition, the team will highlight simple, easy solutions that could make a difference in the event of a wildfire.  
More webinars will be scheduled over the coming months. The OSFM will be hosting discussions on various topics, including the importance of creating defensible space, wildfire prevention tips, and evacuation readiness.
To register:
Wildfire Risk Reduction Webinar – What is the Home Ignition Zone?
Thursday, March 31st, 2022  6:00PM – 7:00PM 
The webinar will be recorded for those unable to attend.
Oregon reports 351 new confirmed and presumptive COVID-19 cases, 42 new deaths
PORTLAND, Ore. — There are 42 new COVID-19-related deaths in Oregon, raising the state's death toll to 7,115, Oregon Health Authority (OHA) reported at 12:01 a.m. today.
OHA reported 351 new confirmed and presumptive cases of COVID-19 as of 12:01 a.m. today, bringing the state total to 703,465.
The new confirmed and presumptive COVID-19 cases reported today are in the following counties: Benton (11), Clackamas (52), Clatsop (2), Columbia (2), Coos (4), Crook (2), Curry (2), Deschutes (16), Douglas (11), Grant (5), Hood River (2), Jackson (13), Jefferson (3), Josephine (9), Klamath (3), Lake (1), Lane (35), Linn (5), Malheur (1), Marion (22), Multnomah (108), Polk (1), Umatilla (2), Union (3), Wasco (4), Washington (27) and Yamhill (5).
Governor Brown to Lift COVID-19 Emergency Declaration, Effective April 1
Oregon's COVID-19 emergency declaration ends this Friday, April 1, 2022. This decision does not affect the Oregon Health Plan (OHP) or its members and will not start the OHP redetermination process.
On Feb. 18, President Biden extended the federal emergency declaration beyond March 2022. The federal government has committed to giving states at least 60 days' notice before the federal declaration ends. The OHP redetermination process will begin once Oregon receives this notice. Once redetermination begins, OHP members will be informed about their eligibility.
In the meantime, if you are an OHP member, please make sure your contact information is up to date so Oregon Health Authority, Oregon Department of Health and Human Services (ODHS) and your Coordinated Care Organization can contact you to make sure you can keep your benefits.
To update your contact information:
Use your ONE account to report changes online.
Visit an ODHS Self Sufficiency Office. Find the local office.
Call 800-699-9075 to report changes over the phone.
Ask a community partner for help. Community partners are clinics, hospitals and other service organizations that help people apply for the Oregon Health Plan. To find a partner near you: Go to www.OregonHealthCare.gov and click "Find local help." You can search by ZIP code for partners near you.
More detailed information about updating contact information can be found on this webpage: https://www.oregon.gov/oha/HSD/OHP/Pages/Report-Changes.aspx?utm_medium=email&utm_source=govdelivery
Proposals Sought to Fund Innovative Projects Supporting Older Adults, People with Disabilities 
Salem, OR ̶ Proposals are now being accepted through OregonBuys for Innovation Fund projects.
The Request for Grant Proposal solicitation is for innovative projects supporting older adults and people with disabilities. Of the $3 million available for projects, at least $2 million will be designated for equity-related proposals serving Oregonians who have experienced barriers in accessing services and supports.
Successful projects will be funded following a competitive process that is being managed by the Oregon Office of Contracts and Procurement. For more information:
Visit the OregonBuys web page and the page for the project at this link: #S-10000-00002389.
Find OregonBuys resources by visiting this link: instructions and guides.
Attend a voluntary pre-proposal informational webinar at 1 p.m. Pacific on Tuesday, April 26, 2022. Details on how to join this informational webinar, which is not mandatory for applicants, are the following:
• Online: Join the meeting
• By phone: 1-971-277-2343; Conference ID: 765517429# or use one-touch-dialing at +19712772343, 765517429#; with Conference ID: 765 517 429#
For all applicant questions about this opportunity or the informational webinar, including questions about accessibility during the informational meeting, contact Tabrina McPherson at rina.r.mcpherson@dhsoha.state.or.us">tabrina.r.mcpherson@dhsoha.state.or.us or 1-971-208-4130.

For additional background information on the Innovation Fund, visit the Oregon Department of Human Services web page on funding opportunities with the Office of Aging and People with Disabilities. Oregon Department of Human Services
Candidates for Oregon Governor
The deadline to file to run in the 2022 Oregon Primary Election passed on March 10th. There are 20 Republicans and 15 Democrats who have officially filed and entered the race. This is far more candidates running for governor in a primary election than the state has seen going back as far as 1910.
GovernorBrown is term-limited and cannot run for re-election in 2022, leaving the position open for a replacement.
The Oregon Secretary of State's Office said in 2018, at least 5% of eligible voters in the state were registered members of the Independent Party of Oregon, so the gubernatorial candidates for that party appeared on the primary election ballot. However, that is not the case in 2022. Independent Party of Oregon candidates make up less than 5% of voters, meaning the party does not meet the threshold required to maintain major party status and Independent candidates will not appear on the primary election ballot in 2022.
Here are the Republican and Democratic candidates voters can expect to see when they vote in the primaries on May 17th.
Democrat:
Patrick Starnes
Tina Kotek
Michael Trimble
Wilson Bright
Tobias Read
Keisha Lanell Merchant
Peter W. Hall
Michael Cross
John Sweeney
David Beem
George Carrillo
Ifeanyichukwu Diru
David Stauffer
Julian Bell
Genevieve Wilson
Republican:
William (Bud) Pierce
Stan Pulliam
Jessica Gomez
Kerry McQuisten
Paul Romero
Marc Thielman
Bridget Barton
Amber Richardson
Nick Hess
Brandon Merritt
David A. Burch
Christine Drazan
John Presco
Bill Sizemore
Stefan Strek
Reed Christensen
Raymond Baldwin
Court Boice
Tim McCloud
Bob Tierman
Klamath County Receives Funding to Help Residents Fix Wells Due to Drought
Klamath County is receiving $4 million in funding via a state measure helping residents fixing domestic well problems because of the ongoing drought. The Klamath County Board of Commissioners will disperse grant awards.
The money is part of a $100 million drought relief package approved by the Oregon Legislature late last year. The program includes $12 million to help for drought-stricken wells and irrigation in the Klamath basin as well as $40 million in forgivable loans to farmers and irrigators.
The application period starts April 1 and runs through April 30. The county will pay up 75% of costs for
well improvements up to $40,000 per project. More information on is on the county's website — KlamathCounty.org. The county commission will have an advisory committee help review the applications.
Governor Brown Encourages People to Donate Blood to Red Cross
"As we celebrate the last week of Red Cross Month, I challenge my fellow Governors and anyone else who is able to donate to roll up their sleeves and give blood. It's easy, it's painless, and most importantly, it saves lives. Make an appointment today: RedCrossBlood.org "
https://www.facebook.com/oregongovernor/videos/703996607681109
Klamath County Sheriff's Office Asks for Public's Help in Search For Trucker Suspect
The first real clue to come in on all the missing person cases in the area. Help Klamath Falls Oregon Sheriff Office ID this trucker. He was the last to see this woman alive and could be the key to not only solving this woman's disappearance but a number of the hundred other women missing in PNW. IF you have any information, please call (541) 883-5130
https://www.facebook.com/pg/Have-You-Seen-Me-Southern-Oregons-Missing-People-161249961222839/posts/