The latest news stories of interest in the Rogue Valley and around the state of Oregon from the digital home of Southern Oregon, Wynne Broadcasting's RogueValleyMagazine.com
Monday, October 24, 2022
Rogue Valley Weather
Butte Creek Mill Reopens to Celebrate 150th Anniversary
The historic Butte Creek Mill reopened Saturday for the first time in years, after a fire burned nearly most of the building.
Its country store and basement were salvaged when the mill burned Christmas morning 2015. The community put in tons of effort to restore the history of the Butte Creek Mill.
"It takes a team, it takes community support," said Board Chair of the Butte Creek Foundation Jay O'Neil. "Thank God we've had that."
People lined up at 10 a.m. Saturday morning to experience a piece of history. They were greeted with waffles and pancakes made with their own mix, pictures and artifacts about the history behind the mill and a variety of mill products.
"Absolutely rewarding and heartwarming to see the community support," said O'Neil. "And see everybody have such a great time at the Butte Creek Mill once again."
If you missed Saturday's 150th anniversary opening, the Butte Creek Mill plans on opening again next Saturday, October 29, then it expects to be open weekly starting Thursdays into each weekend, with times to be determined. https://buttecreekmill.com
Fleeing Shoplifter in Grants Pass Causes Crash after Eluding Police
On October 22, 2022, the Grants Pass Police Department received a report of a shoplifter who had fled after stealing over $1,000 in merchandise. The suspect, later identified as Jerry Glover, was seen by store security leaving the area in a large U-Haul truck.
Officers located the U-Haul stopped in a parking lot near Mill Street. In an effort to prevent Glover from fleeing, officers attempted a driving maneuver designed for that purpose. However, Glover struck a Grants Pass Police Department patrol car and pushed it out of the way. Glover caused damage to the front of the police car while making concerted efforts to avoid arrest. Fortunately, the police officer inside the marked police car was not injured.
Glover sped west on NE D Street in his continued efforts to elude the officers. Due to the weather conditions and Glover's driving behavior, officers terminated the pursuit near 6th Street on NE D Street. Members of the Grants Pass Police Department are tasked with balancing the need to apprehend suspects with the safety of others on the roadway. As in this case, officers will always terminate when the risk to the public becomes greater than the need to make an arrest.
Officers observed Glover continue west on D Street at a high rate of speed, despite no longer being pursued by the officers. Glover improperly entered the intersection of NW D Street and NW 4th Street and struck another motorist. The U-Haul rolled over, trapping Glover underneath the cab; it was believed Glover had not been wearing a seatbelt causing him to be ejected from the truck.
The other motorist, in a small SUV, came to a stop in a yard a block away. He was extricated by Fire personnel and transported to Rogue Regional Medical Center with injuries. The male driver was the only occupant of the SUV that was struck by Glover.
Fire personnel, along with Grants Pass Police officers, were able to extricate Glover from under the U-Haul. He was also transported to Rogue Regional Medical Center by AMR with trauma injuries. Both Glover and the other motorist were treated at the Medford-area hospital and are expected to recover from their injuries.
This case is still under investigation and anyone with information on the crash or theft is asked to call the Grants Pass Police Department at 541-450-6260.
We would like to thank the Oregon State Police, American Medical Response (AMR), Grants Pass Fire/Rescue, Rural/Metro Fire, and the Grants Pass Streets Department for responding to the crash scene and providing assistance.
Serious Crash on I-5 Near Sunny Valley
Two people were taken to the hospital after a serious crash Sunday near Sunny Valley, one with serious injuries according to Rural Metro Fire.
A driver and passenger were extricated from their vehicle by firefighters with Rural Metro Fire after it rolled through about 30′ of guardrail on Interstate 5 southbound near milepost 71. They were transported to the hospital by AMR-Josephine County, one with serious injuries. Oregon State Police is investigating the cause.
Recent fall-like weather and widespread rain has made it possible to ease off on some public fire prevention regulations on lands protected by the Oregon Department of Forestry Southwest Oregon District.
The fire danger level decreased to "low" on ODF-protected lands in Josephine and Jackson counties, effective Sunday. The Industrial Fire Precaution Level remains at IFPL 1.
Under low fire danger, these regulations remain in effect:
*No debris burning, including pile and debris burned in burn barrels
*No fireworks on or within 1/8th of a mile of forestlands
*Exploding targets and tracer ammunition, or any bullet with a pyrotechnic charge in its base, are prohibited
*Smoking while traveling will only be allowed in enclosed vehicles on improved roads, in boats on the water and other specifically designated locations
For additional information, go to: www.swofire.com
Crater Lake National Park Closes East Rim Drive
The National Park Service says Crater Lake National Park's East Rim Drive is closed due to snow over the weekend.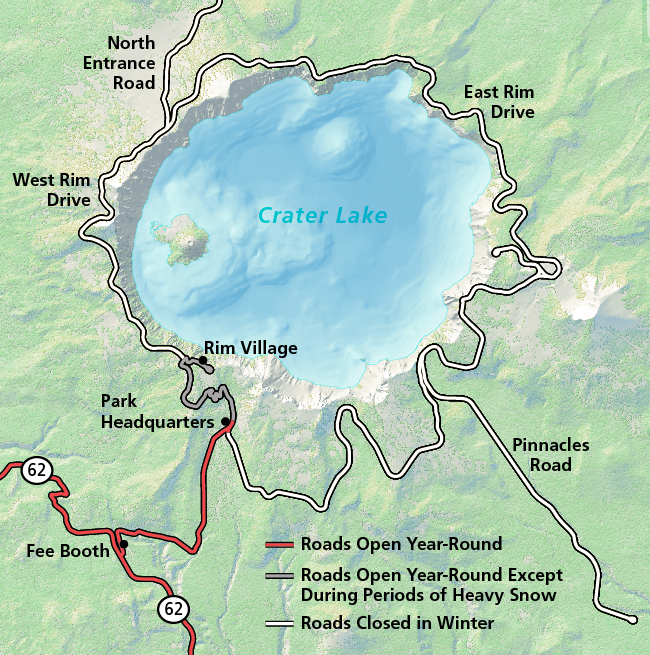 Crater Lake's West Rim Drive and northern entrance are open; they could close Saturday depending on snow amount, drifting and slippery conditions. They could close temporarily — or for the season — if conditions warrant this weekend.
CLNP says the Park's Rim Drive will close at the end of October as standard practice for the Park, even if it reopens sometime this week. MORE INFO: https://www.nps.gov/crla/planyourvisit/conditions.htm
UPDATE** Multi-vehicle crash I-5 with extended closure- Linn County
The Oregon State Police is releasing additional information related to the multi-vehicle crash on Interstate 5 on October 19, 2022.
Initial estimates of involved vehicles have not changed. Total numbers of involved vehicles may not ever be fully known. Upon dropping the cable barrier to allow first responders ingress/egress, many drivable vehicles within the crash zone drove over the barrier and left the scene.
4 subjects were transported to area hospitals, one in serious condition.
The name of the single fatality is being released: Phillip Frye (29) of Portland.
============================= On October 19, 2022, around 8:00 A.M., Oregon State Police Troopers responded to a multi-vehicle crash on southbound Interstate 5 between milepost 228 and 211.
Interstate 5 southbound is completely blocked with a detour in place. Interstate 5 northbound is open but moving slowly. The freeway is expected to be closed most of the day. Preliminary estimates of involved vehicles are 15 to 20 Commercial Motor Vehicles and 45 passenger vehicles with one confirmed fatality.
The Oregon Department of Transportation has temporarily dropped the cable barrier to detour vehicles caught in the gridlock on Interstate 5. School buses from Eugene have also arrived on the scene to assist in relocating 30-40 stranded motorists to Pioneer Villa at exit 216.
DEQ and HAZMAT are responding to approximately 6 of the CMVs that are leaking fluids onto the roadway.
Several public safety agencies are assisting. Members of the Oregon State Police Collision Reconstruction Unit are on the scene.
For current information about detours and when the roadway will be re-open, call 511 or www.tripcheck.com
Kroger-Albertsons Merger Raises Fears of Store Closures In Oregon Causing Greater Harm To Consumers Who Are Already Struggling To Afford Food
The proposal from Kroger Co. to buy Albertsons has residents wondering if their neighborhood store could end up shuttered in the aftermath. The $24.6 billion sale would put Albertsons, Safeway, Fred Meyer and QFC under one corporate umbrella, and leave the chains with dozens of Oregon stores could now be considered redundant.
Roughly 33 Kroger and Albertsons-owned stores across the state that sit within a mile of one another, including 20 in the Portland metro area. More than 100 are less than two miles apart.
Kroger and Albertsons are two of the state's biggest grocery chains, with 171 stores altogether. Kroger and Albertsons would likely have to divest hundreds of stores nationally to ease anticompetitive concerns from regulators including the Federal Trade Commission, according to retail analysts and consumer advocates.
In Oregon, Kroger and Albertsons are two of the biggest grocery chains, with a combined market share that's even bigger than Walmart.
Kroger didn't address potential store closings in its filing with the Securities Exchange Commission, but it's common to shutter stores during a large retail merger, according to retail analysts. Spinning off the redundant stores isn't a surefire solution, either.
Following the 2015 merger of Albertsons and Safeway, regulators required the chains to find a buyer for about 20 stores in Oregon in a bid to keep the market competitive.
Haggen, a small Washington state grocery chain, agreed to purchase and rebrand 146 West Coast Safeway and Albertsons locations following the merger with Safeway. But within months, the overextended Haggen filed for bankruptcy and sold several of those stores back to Albertsons for a much cheaper price. Others closed for good.
Executives at Kroger and Albertsons expect the deal to go through in early 2024 and, at that point, the two companies will start making choices on which stores will stay or go and under which banner they'll operate.
Kevin Coupe, retail analyst and author of the grocery blog Morning News Beat, thinks that the companies' proposal to divest up to 375 stores might not satisfy regulators.
"I think they're going to have to divest closer to a thousand stores," Coupe said. "This is a much tougher FTC than maybe they're used to dealing with, and we're at a time of rising consumer prices."
The proposed combined company would have an annual revenue of $209 billion and operate 4,996 stores nationwide, according to Kroger. It would come close to rivaling Walmart, falling only $10 billion in annual revenue short to the retail behemoth.
Meanwhile, the deal is facing pushback from consumer advocates, labor unions and politicians as the companies look to consolidate stores amid skyrocketing food prices.
Jagjit Nagra, executive director of the nonprofit Oregon Consumer Justice, said the proposed deal would be bad for consumers as less competition could spell grocery prices going unchecked. He said the potential merger could also result in more food deserts that's likely around areas with lower incomes.
"They're not going to close down their biggest brightest stars within their quiver," he said. "They're going to be probably going out to lower performers, performing stores, maybe stores that are adjacent to, say, rougher neighborhoods, or in areas that have more crime, or maybe areas that are just more rural."
Kelley Fuller, a resident of Depoe Bay on the central Oregon coast, said the closest Fred Meyer and Safeway in Newport are across the street from one another.
"If Kroger and Albertson are allowed to merge, we'd almost certainly lose that Safeway," Fuller said, "which would mean not only losing a grocery store, but also the pharmacy inside it."
She said Lincoln City already lost a pharmacy when Bi-Mart pulled out of the pharmacy business, and that competing pharmacies got noticeably more "crowded and chaotic" afterward.
And she said having two supermarkets was important as the pandemic wreaked havoc on the supply chain.
"When Fred Meyer was out of basics, Safeway sometimes still had them," she said. "It would have been worse for the local communities if we had not also had Safeway to shop at."
Nagra, with a state consumer advocacy group, said the Kroger-Albertsons merger leave areas that are already food deserts with even fewer choices.
"Not only would they take away from people's ability to choose, now they'd actually directly impact people's health," he said. "Because if you don't have access to good quality food, I think it's fair to assume that your health outcomes may not be as strong."
He said the deal could "cause greater harm and kind of squeeze consumers who are already struggling to afford food."
But Kroger leaders said in a statement it will reinvest $500 million to "reduce prices for customers" and $1 billion to raise employee wages and benefits.
Earlier this week, U.S. Sens. Amy Klobuchar of Minnesota and Mike Lee of Utah said in a statement that the Senate Judiciary Subcommittee on Competition Policy, Antitrust and Consumer Rights will "hold a hearing focused on this proposed merger and the consequences consumers may face if this deal moves forward."
The committee has "serious concerns" about the merger and wants a grocery market that "remains competitive so that American families can afford to put food on the table," Klobuchar and Lee said.
Class Action Lawsuit Against Pacific Power For Four Of Oregon's Labor Day 2020 Fires Is Now Scheduled For April
The high-stakes class action lawsuit that blames Pacific Power for igniting four of Oregon's Labor Day fires is set to go to trial now in April.
Plaintiffs include owners of 300 properties burned in the Echo Mountain fire in Otis, the 2,500 properties burned in the Beachie Creek and Santiam Canyon fires, along with 242 in the South Obenchain fires.
The outcome of the trial will impact anyone harmed by the fires, even if they haven't taken legal action.
A court-approved website that provides details on the lawsuit, including who is automatically involved and how to opt-out, is now live. The trial is scheduled to begin April 24.
Lawsuits began separately but were combined into one class action suit filed in Multnomah County Circuit Court in Portland. Plaintiffs' lawyers are led by three law firms — Keller Rohrback, Stoll Berne and Edelson.
The lawsuit alleges Pacific Power's failure to maintain its power lines and shut down power during a historic east wind event on Labor Day night in 2020 led to the ignition of the fires that brought damage to homes, towns and businesses from the Santiam Canyon to the Oregon Coast Range to southwest Oregon.
Pacific Power, which is owned by Berkshire Hathaway Inc., denies the claims. In previous court filings the utility called the fires an "unavoidable accident or Act of God."
The lawsuit is proceeding despite one critical piece of missing evidence: final investigation reports from the government agencies charged with determining the cause of the fires. The Statesman Journal reported last month that more than two years later, the Oregon Department of Forestry and U.S. Forest Service have not issued final investigation reports on any of the 10 Labor Day fires.
The case will move forward with a jury trial in April, centering on whether Oregon's second-largest utility was at fault. No money would be awarded as a result of the case, but if the plaintiffs are successful and Pacific Power found negligent, a separate legal proceeding to determine damages would likely be set up.
Since there are so many people impacted by the four fires, the suit's website outlines details of the case and who might be impacted by the trial's outcome.
Anyone impacted in the four wildfires — and live within the map of the impacted area — are part of the suit, even if they haven't taken legal action. That means they're bound to the result of the trial unless they decide to opt-out.
If you were impacted by the fire but do nothing, you will stay part of the suit and remain bound to the outcome of the trial, according to the website.
You will "enjoy the benefits of the lawsuit if plaintiffs prevail, but be bound to the outcome either way, and give up the right to litigate whether (Pacific Power) is liable for your fire-related damages in your own lawsuit," the website states.
If the suit is successful, plaintiffs will be able to "use any favorable findings a jury makes in a future proceeding to determine whether you are entitled to compensation," the website said.
If you were impacted by the fires and decide to opt-out, you must ask to be excluded no later than Dec. 6.
For those that choose to opt-out, they would "Get no benefit from (the lawsuit), but preserve your right to litigate whether (Pacific Power) is liable for your fire-related damages in your own lawsuit," the website said.
To opt-out or clarify your situation, call 1-844-633-0692, email info@PacifiCorpFireLitigation.com or mail to PacifiCorp Fire Litigation c/o JND Legal Administration P.O. Box 91348 Seattle, WA., 98111.
The new Scottsburg Bridge on Oregon Highway 38, now features lighted pylons at each end of the structure, to help light up the area for those passing through.
A release from the Oregon Department of Transportation said lined with steep hills and tall trees, the highway can be a dark and challenging drive for some travelers.
Last week, ODOT staff turned on the lights of the pylons on the bridge, which spans the Umpqua River about 15 miles east of Reedsport.
ODOT Southwest District Manager Chris Hunter said the lights aren't just for decoration. Hunter said, "It brings an awareness of the bridge in foggy weather and darkness". He said the old bridge had often been hit by vehicles at night and during foul weather.
Bob Grubbs, the ODOT engineer who led the design of the new bridge said the pylons pay homage to Conde B. McCullough, who created many of Oregon's most celebrated bridges along the coast in the 1920s and 1930s.
Grubbs said, "The design of the pylons was inspired by a couple of McCullough bridges, a combination of the Umpqua River Bridge (in Reedsport), in terms of height and relative shape, and the Springfield Bridge, in terms of the opening, light and texture".
The release said the original Scottsburg Bridge opened in 1929 and carried highway traffic until May of this year, when it was decommissioned and removed. Grubbs said the old Scottsburg Bridge shared the same design with the Springfield Bridge, which also opened in 1929.
Construction on the new structure began in early 2020 and is nearly complete. Some work, such as the reconstruction of Main Street under the bridge, has been postponed until weather improves next spring.
Oregon's Wolf Poaching Problem Continues
The Oregon Department of Fish and Wildlife is dealing with an increasing poaching problem in the state. The latest offense is the tragic killing ofOR-88, the breeding female gray wolf of the Lookout Mountain Pack. This is the fifth illegal killing of this species in Oregon this year. The Oregon Wildlife Coalition is offering an $11,500 reward for information that would lead to an arrest in the case of OR-88's killing.
A report from Oregon Public Broadcasting includes a photo of the slain wolf. OR-88 lays on her side in the photo with a gaping, bloody wound on her shoulder. This is a sad, upward trend in the state right now. More and more animals are being illegally killed as the months wear on.
"It's tragic enough when a wolf gets killed," said the senior wolf advocate at the Center for Biological Diversity Amaroq Weiss. "And it's even more tragic when a wolf has been illegally killed."
Oregon removed Endangered Species Act protections from gray wolves in 2015. Since then, at least 21 wolves have been illegally killed in the state. Former President Trump went even further during his tenure, pulling the gray wolf from the Endangered Species List entirely. Last year, 8 wolves were illegally killed, which is more than the state had seen in a decade. OPB reports that protections were restored for the species earlier this year, but that hasn't fully stopped the poachers.
"Wolves are really valuable to wild nature. They're really valuable as part of our cultural and natural heritage," said Weiss. "No matter what you think of wolves, poaching is wrong."
Stripping protections from gray wolves definitely led to more poaching. But, apparently, the wolf populations are staying strong for the moment.
Michelle Dennehy, Oregon Department of Fish and Wildlife spokesperson, told OPB that despite the upward trend in poaching, the population is relatively stable. In 2021, the department counted a minimum of 175 wolves.
"As terrible as poaching is, and we're definitely very concerned about it here at ODFW, we're not expecting to see a decline in the population at this point," said Dennehy. According to the department, if human-wolf interactions–poaching, hunting, and car collisions–stay below 20%, then the population will continue to grow and thrive.
ODFW is still working with the Oregon Department of Justice and Oregon State Police to work toward combatting poaching in the state. This includes the Oregon Department of Justice hiring a specific prosecutor to investigate and prosecute poachers. Assistant Attorney General Jay Hall is now in charge of prosecuting poachers in Oregon. Additionally, Oregon's Stop Poaching Campaign received funding in 2019 to work with local communities to put an end to poaching.
Voting in Oregon feels GOOD
It's time to get #VoteReady: Just grab your ballot and a blue or black pen!
You don't even need a stamp
It's not a test: you can vote on every candidate and measure, or leave some blank
How you vote is private. Make a plan to vote! http://OregonVotes.gov#TrustedInfo2022