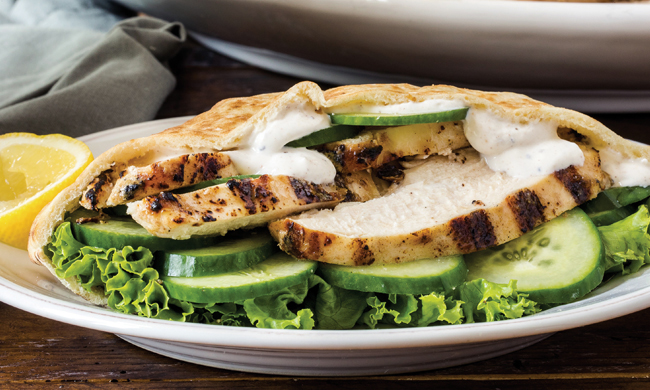 New seasonings make it easy
Exotic flavors common in the Middle Eastern region of the world like harissa, za'atar, and shawarma are having a moment, appearing on restaurant menus and in popular make-at-home recipes.
 
Now is the perfect time to give these flavors a try. Thanks to new global seasonings from McCormick Gourmet, the spice combinations are already blended for the ultimate taste and simplicity.
Made from high-quality herbs and spices, the seasonings are USDA-Organic certified and Non-GMO Project verified so you can feel good about the ingredients used in your cooking. The expertly blended spices help create distinctive global-inspired dishes that take your home dining experience to the next level so you can explore these flavors from around the world without leaving the comfort of home.
Za'atar: This traditional Middle Eastern blend of spices including thyme, oregano, and sesame seeds is perfect for sprinkling on flatbreads, roasted vegetables, nuts
or popcorn. It can also be mixed into hummus or oil
for dipping.
Harissa: A spicy flavor found in North African cuisine, this seasoning is made from a combination of chilies, warm spices, and mint. Add it to meat and veggies before roasting, stir it into cooked rice and grains, mix it into yogurt to make a dip or combine it with roasted bell peppers and oil to turn this spice into its namesake sauce.
Shawarma: Often associated with the slow roasting of meat, this Middle Eastern street food favorite is made with cinnamon, coriander, cardamom and more. Use this seasoning to flavor an easy marinade for chicken, pork or steak.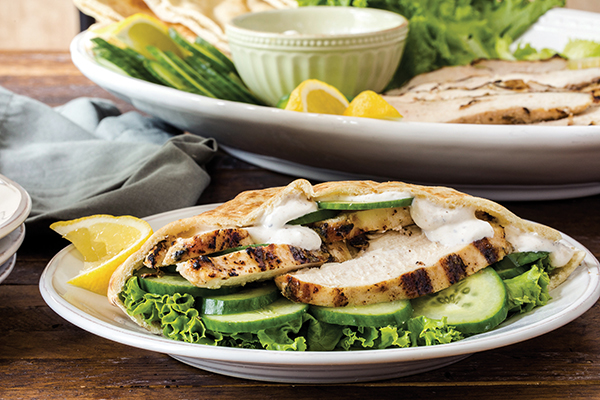 Look for these flavors as well as new Peruvian and Berbere seasonings in the spice section of retailers nationwide. Find more recipe ideas at McCormickGourmet.com.

Grilled Chicken Shawarma
Prep time: 10 minutes
Cook time: 16 minutes
Servings: 8
1 1/4 cup plain Greek yogurt, divided
5 teaspoons McCormick Gourmet Organic Shawarma Seasoning, divided
2 tablespoons olive oil
1 tablespoon fresh lemon juice
1 teaspoon McCormick Gourmet Sicilian Sea Salt
2 pounds boneless, skinless chicken breast
4 pita pockets, halved
1 medium seedless cucumber, thinly sliced
8 lettuce leaves
In a small bowl, mix 1 cup yogurt and 1 teaspoon shawarma seasoning. Cover and refrigerate until ready to serve.
In a small bowl, mix oil, lemon juice, remaining yogurt, remaining shawarma seasoning and sea salt. Reserve 2 tablespoons of mixture; set aside.
Place chicken in large resealable plastic bag or glass dish. Add marinade; turn to coat well. Refrigerate 1 hour or longer for extra flavor.
Heat grill or skillet to medium heat.
Remove chicken from marinade. Discard remaining marinade. Grill or saute 6-8 minutes per side, or until cooked through and internal temperature reaches 165 F, brushing with reserved marinade.
Slice chicken into thin strips. Serve in pitas with cucumber, lettuce and yogurt dressing.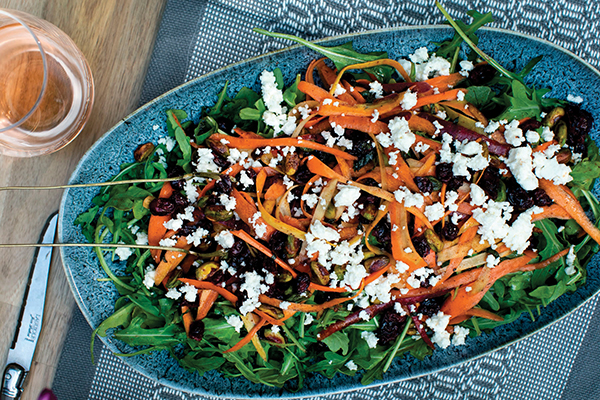 Shaved Carrot Salad with Pomegranate Harissa Dressing
Prep time: 20 minutes
Servings: 5
1/4 cup chopped fresh mint
3 tablespoons pomegranate juice
1 tablespoon honey
2 teaspoons McCormick Gourmet Organic Harissa Seasoning
1/2 teaspoon McCormick Gourmet Sicilian Sea Salt
1/4 teaspoon McCormick Gourmet Organic Black Pepper, coarse ground
3 tablespoons extra-virgin olive oil
1/2 pound multicolor carrots, washed and peeled
1/2 cup shelled roasted pistachios
1/2 cup dried cranberries
3 cups baby arugula
1/4 cup crumbled feta cheese
In a large bowl, mix mint, pomegranate juice, honey, harissa seasoning, sea salt, and pepper. Gradually add oil while mixing with wire whisk until well mixed. Set aside.
Trim carrot ends. Slice each carrot lengthwise into ribbons with vegetable peeler or mandoline. In a medium bowl, toss carrots with 1/4 cup prepared dressing. Stir in pistachios and cranberries.
Arrange arugula on serving platter. Drizzle with remaining dressing and top with carrot mixture. Sprinkle with feta before serving.
Za'atar Labneh
Prep time: 5 minutes
Servings: 8 (2 tablespoons each)
1 cup labneh (yogurt cheese)
2 teaspoons McCormick Gourmet Organic Za'atar Seasoning, divided
1 tablespoon olive oil
pita bread, for serving (optional)
pita chips, for serving (optional)
sliced fresh vegetables, for serving (optional)
In small bowl, mix labneh and 1 teaspoon seasoning until well blended.
Drizzle with olive oil and sprinkle with remaining seasoning.
Serve with fresh pita bread, pita chips or sliced fresh vegetables, as desired.
SOURCE:
McCormick, Family Features