Creating a crowd-pleasing holiday centerpiece starts with choosing a flavorful, tender cut of meat. This year, you can make a holiday roast to remember with an elegant cut from Omaha Steaks paired with this Red Pepper Cranberry Sauce to elicit rave reviews from guests. Find more recipes and tips to create a holiday dinner to remember at OmahaSteaks.com.
Watch the video to see how to make this recipe!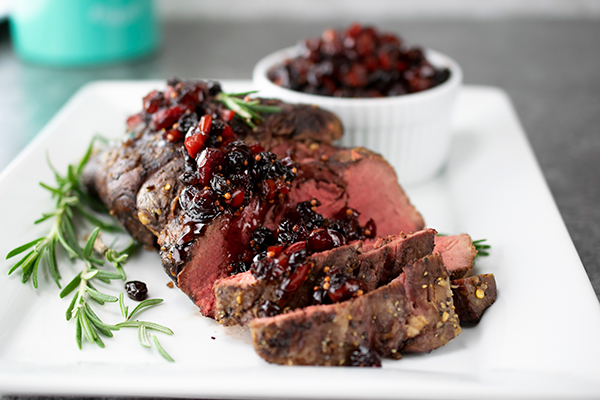 Holiday Roast with Red Pepper Cranberry Sauce
Prep time: 5 minutes
Cook time: 25 minutes
Total time: 30 minutes
Yield: 2 cups
Roast:
butcher's twine
1          Omaha Steaks Chateaubriand roast (2 pounds)
2          tablespoons, plus 2 teaspoons, canola oil, divided
Omaha Steaks Private Reserve Rub
Red Pepper Cranberry Sauce:
1 tablespoon olive oil
2 medium red bell peppers, finely diced
1 cup red wine
1/4 cup red wine vinegar
1/3 cup white sugar
2 teaspoons yellow mustard seeds
6 tablespoons dried cranberries
6 tablespoons dried currants
1/4 teaspoon salt
To make roast: Heat oven to 250° F.
Using butcher's twine, tie roast to maintain shape. Coat all sides with 2 tablespoons canola oil and season with rub.
In medium skillet, heat remaining oil. Sear all sides of roast 2 minutes each.
Place roast in roasting pan and bake 1 hour, 30 minutes.
To make Red Pepper Cranberry Sauce: Heat medium skillet on medium-high heat.
Add olive oil and diced red pepper; saute 3-5 minutes.
Add red wine, red wine vinegar, sugar, mustard seeds, cranberries, currants, and salt. Bring mixture to boil then turn temperature to low and simmer 20 minutes, or until liquid is mostly evaporated and thickened.
Top each serving of roast with Red Pepper Cranberry Sauce.
Note: Mostarda can be made up to 3 days in advance.
SOURCE:
Omaha Steaks, Family Features