The latest news stories and stories of interest in the Rogue Valley from the digital home of Southern Oregon, from Wynne Broadcasting and RogueValleyMagazine.com
Thursday, December 17, 2020
Rogue Valley Weather
Thursday- Rain likely, mainly before 10am. Snow level 3500 feet. Mostly cloudy, with a high near 43. Light west wind. Chance of precipitation is 60%. New precipitation amounts of less than a tenth of an inch possible.
Friday- Patchy fog before 7am. Otherwise, mostly cloudy, with a high near 46.
Saturday- A slight chance of rain after 10am. Mostly cloudy, with a high near 51.
Sunday– A chance of rain. Cloudy, with a high near 51.
Monday– A chance of rain, mainly after 4pm. Mostly cloudy, with a high near 53.
Weekly report shows decline in daily cases -OHA's COVID-19 Weekly Report, released today, shows a drop in weekly cases, deaths and people hospitalized for COVID-19.
OHA reported 9,222 new daily cases during the week of Monday, Dec. 7 through Sunday, Dec. 13, an 11% decrease from the previous week, reversing a trend of seven consecutive record high weekly case counts.
There were 491 people hospitalized for COVID-19, a slight decline from the previous week.
There were 116 reported COVID-19 reported deaths, down from 133 the previous week.
People age 20 to 49 have accounted for 55% of the cases, while people 70 and older have accounted for 76% of the deaths.
There were fewer tests for COVID-19 reported for the week of Dec. 6 through Dec. 12. The number of COVID-19 tests administered to Oregonians dropped to 149,243 from 170,964 the previous week. The percentage of positive tests was lower, at 7.4%.
The OHA Outbreak Report publishes data on COVID-19 cases and deaths in care facilities; senior living facilities and congregate care settings and on active and resolved COVID-19 outbreaks.
The new cases reported today are in the following counties: Baker (7), Benton (31), Clackamas (166), Clatsop (7), Columbia (5), Coos (11), Crook (4), Curry (3), Deschutes (50), Douglas (16), Gilliam (2), Harney (4), Hood River (16), Jackson (64), Jefferson (29), Josephine (29), Klamath (20), Lake (2), Lane (105), Lincoln (5), Linn (51), Malheur (16), Marion (183), Morrow (8), Multnomah (455), Polk (30), Sherman (2), Tillamook (12), Umatilla (34), Union (9), Wallowa (1), Wasco (4), Washington (148) and Yamhill (33).
State's first COVID-19 vaccines given to health care workers
More than 35,000 doses expected in Oregon before week's end; Director Allen clarifies remarks
PORTLAND, Ore.— COVID-19 immunizations with the new Pfizer-BioNTech vaccine began today in Oregon, kicking off a statewide effort that could see thousands of health care workers getting first doses by week's end.
The state is expected to receive 35,100 doses this week, according to the Oregon Health Authority Immunization Program, citing federal allocation estimates. The first shipments from that batch arrived Monday and Tuesday, when four health systems — Legacy Health, Oregon Health & Science University and Kaiser Permanente and Saint Alphonsus — received a total of 4,875 doses.
Hospital staff at OHSU, Saint Alphonsus Medical Center in Ontario, and at Legacy Health's Holladay Park and Meridian Park sites started getting vaccinated today; Kaiser expects to begin its vaccinations on Friday.
Of this week's federal vaccine allotment, 10,725 doses are being sent to pharmacies serving skilled nursing facilities as part of a federal partnership with CVS, Walgreens and Consonus Healthcare to offer on-site, no-cost COVID-19 vaccines to staff and residents of more than 680 long term care facilities in Oregon. Their vaccinations are set to begin sometime next week, and will begin with skilled nursing facilities, but eventually will be used to vaccinate in a variety of congregate care settings, including a handful of facilities caring for residents with intellectual and developmental disabilities.
In all, between 300,000 and 400,000 health care workers, and long-term care facility staff and residents in Oregon are slated for vaccination against COVID-19 during the first phase of the state's vaccination distribution effort.
The remaining 19,500 doses from this week's batch will be distributed to health facilities around the state over the next several days.
More Pfizer-BioNTech vaccine deliveries are scheduled the weeks of Dec. 20 and Dec. 27, when allocations of 25,350 and 48,750, respectively, are expected to arrive in Oregon.
The allocation of 25,350 doses of Pfizer-BioNTech now scheduled to arrive in Oregon the week of Dec. 20 is a reduction from the original amount of 40,950 Oregon was previously scheduled to have allocated during that week. Federal officials notified the state about the change today.
A COVID-19 vaccine made by Moderna Inc., which is expected to receive FDA emergency use authorization within days, also are scheduled for delivery in the state before the end of the month — 71,900 doses the week of Dec. 20 and 31,700 doses the week of Dec. 27. These allocation numbers are provided to states by the CDC for planning purposes, but are subject to change.
If estimated allocations for Oregon are received, state health officials expect health systems will have a sufficient amount of vaccine to provide first doses to more than 100,000 health care workers and long term care facility residents by the end of the month.
Speaking during a news conference with Gov. Kate Brown and representatives from the health facilities that received vaccine deliveries this week, OHA Director Patrick Allen said: "On Feb. 28, 2020 — 292 days ago — the world changed for all of us. That was the day the first COVID-19 case was diagnosed in Oregon," Allen said. "Today the world has changed again. Today we've seen the first COVID-19 vaccinations in Oregon. I want every Oregonian to know: COVID-19 vaccination is the safest, most effective and most reliable way to keep yourself, your family and your community healthy and safe from COVID-19."
Director Allen also clarified his comments at the news conference: "Earlier today, I was imprecise in describing the number of doses currently on the ground in Oregon. I'm also afraid my comments about the speed at which health care workers would receive second doses was confusing. I take responsibility for my inaccuracy. As we move forward, it's vital that the Oregon Health Authority is fully transparent, accurate, reliable and consistent in all aspects of our vaccination program, especially our data. I pledge that I will do better."
Jackson County Salvation Army Collects Final Donations, Prepares For Distribution
On Tuesday, the Jackson County Salvation Army collected final donations for their annual toy and food drive.
The organization has been signing up over 1,300 families for Christmas assistance. Volunteers will start distributing items to families on Friday.
Major Jason Koenig says 500 families are expected to show up on the first distribution day, which takes place at the Jackson County Expo. Families have been given a set day and time to come pick up their items. Koenig says they usually get about 20 families every 15 minutes, so the preparation they do ahead of time is crucial.
He says all the gifts will be handed unwrapped to families. The idea behind this is to give families a special moment by letting them wrap their own gifts and see what they're able to give their child. You can find more information here.
Property Owners Must Contact the State for Debris Removal to Begin
Oregon state officials say that they will need to get more information from property owners before they can begin the bulk of the clean-up of debris left behind by the devastating September fires, including the Almeda and South Obenchain fires in Jackson County.
Crews contracted by the federal EPA largely wrapped up efforts to remove hazardous waste from the burn areas in November. Though those crews removed roughly 300,000 pounds of waste from damaged Oregon properties, it only represents a small fraction of the debris left behind in the wake of those September fires.
Also in November, the Oregon Office of Emergency Management announced that the state would embark on that second phase of clean-up — removing the ruins of damaged homes, burned out automobiles, and hazard trees — sometime in December.
OEM said in a statement on Wednesday that those who wish to participate in debris clean-up will need to complete a questionnaire asking for property-specific information; including how many buildings were on the property, the number of burned vehicles, and the locations of underground tanks and foundations.
AROUND the STATE of OREGON
Dentists will be able administer COVID-19 vaccine in Oregon
Getting the coronavirus vaccine in Oregon could be as easy as going to the dentist. Oregon is one of only two states that allows dentists to administer vaccines. In 2019, Oregon lawmakers approved a bill allowing dentists to give vaccinations, from the Measles vaccine to the annual flu shot.
Dr. Barry Taylor, the Executive Director of the Oregon Dental Association, says by February or March 2021, dentists could be administering the COVID-19 vaccine. He says it's as simple as getting the flu vaccine.
"It'll be just like a regular dentist visit," "You'll go to a dentist, you'll get your medical history and take your vital signs and they'll make sure there are not contra indications for receiving the vaccine and they'll do the vaccine," Dr. Taylor added.
Dr. Taylor says this will help get more COVID-19 vaccines to more people. Dentists are in a unique position to reach underserved and rural communities. "We've seen the statistics," says Dr. Taylor. "A lot of people don't visit their primary care physician, and so it's just one more touchpoint where we can have with patients where we can give vaccines for those people that only see their dentist and don't see other healthcare providers," he says.
Dr. Taylor adds that dentists are excited for the opportunity to be part of the solution. In fact, an OHSU dental resident administered one of the first COVID-19 vaccines in the state of Oregon on December 16.
Oregon announced Tuesday a record high of 54 coronavirus deaths, bringing the state's death toll to 1,214 people. Oregon hospitals administered the first coronavirus vaccines in the state Wednesday to nurses, respiratory therapists, housekeeping workers and other health care employees in high-risk jobs, marking the beginning of a broad vaccination campaign in a state that's seen more than 1,200 COVID-19 deaths since the pandemic began. Those vaccinated during the coordinated event — streamed live over the internet — were from Legacy Health System and Oregon Health & Science University in Portland and Saint Alphonsus Medical Center on the Oregon-Idaho border.
Vaccine shipments to other hospitals, including Salem Hospital, will continue to arrive this week. The Oregon Health Authority has said it will receive 35,100 initial doses of the Pfizer vaccine that has been approved by federal and Western state authorities.
Another vaccine made by Moderna is expected to receive federal approval soon and Oregon officials estimate there will enough of the two vaccines to initially inoculate about 100,000 people statewide.
Small businesses in Oregon are getting additional tax relief if they're affected by the
pandemic. Governor Kate Brown says penalties are being waved on 2019 income tax
and interest is being waived on 2019 income tax for businesses with less than five-
million dollars in gross receipts. Three-year payment plans are available to businesses
that can't pay their taxes now.
Oregon Humane Society takes in over 250 guinea pigs from an overwhelmed owner in Lane County
The Oregon Humane Society has taken in over 250 guinea pigs from their overwhelmed Lane County owner, the nonprofit said Wednesday.
The guinea pigs were taken to the Humane Society in Portland, where they will receive care and any necessary medical treatment, according to the nonprofit. Staffers and volunteers will care for them until they're ready for adoption.
The timeline for their adoption will be announced in the coming days, the Humane Society said.
The Humane Society worked with Greenhill Humane Society and Lane County Animal Services to help the guinea pigs' owner. The nonprofit didn't detail why the owner became overwhelmed.
"Despite the challenges of the pandemic, the need to help pets and people continues," Sharon Harmon, Oregon Humane Society president and CEO, said in a statement. "This situation is a great example of animal welfare agencies working together to serve our community."
Entire Oregon Coast Under New COVID Restrictions; Hotels, Beaches Unaffected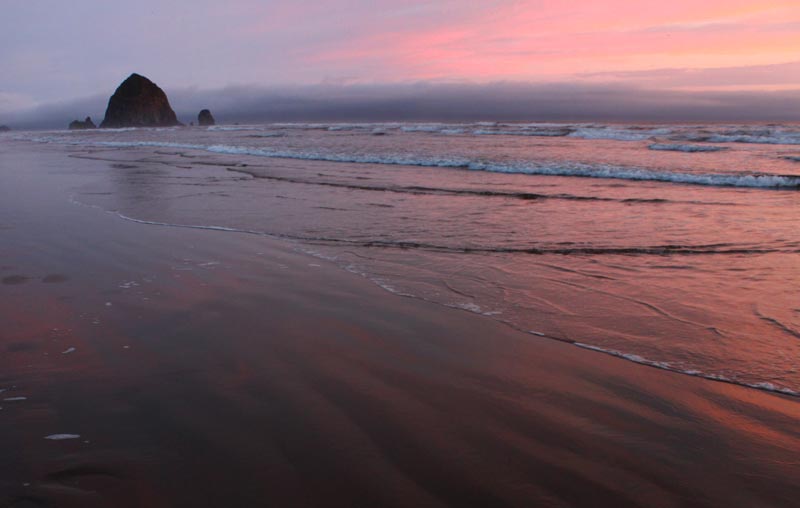 (Florence, Oregon) – All of the Oregon coast is now in the "extreme risk" category for COVID-19, after five new counties were elevated by the State of Oregon earlier this week. The new designation for Clatsop, Tillamook, Lincoln, Coos and Curry counties to the highest risk level for spreading the disease means many types of businesses in the tourism industry will have to drastically change or even close entirely.
Among the closures include all museums and aquariums, which left the two remaining aquariums that were open – Oregon Coast Aquarium in Newport and Seaside Aquarium – forced to close again. The changes go into effect December 18 with both facilities closing then.
The changes, however, do not affect hotels or access to beaches.
Two other coastal counties – Douglas and Lane – had already been in the extreme risk category. Those included the towns of Reedsport and Florence, among others.
According to state health guidelines, restaurants in high risk counties can only provide food to-go and outdoor seating. Unlike inland eateries such as in Portland, where outdoor seating has helped many businesses get through the tougher restrictions, coastal restaurants are subject to much harsher weather conditions. It's unclear which – if any – restaurants on the Oregon coast will be able to provide such seating as any tents would likely get blown away at some point.
There is no major change in Oregon coast hotels and rentals, which have already had some limitations since the summer.
Data on infection case numbers is gathered from around the state and then reviewed every two weeks. This time around, each of the newly-elevated counties had shown significant increases. Another review will take place later this month and reassess each county.
State health experts were bracing for a major outbreak after Thanksgiving, but they were surprised to find no such major surge hit the state. See the state's official COVID page for more.
Bandon School District's superintendent announces end-of-year resignation
Two topics shook Bandon School District's regular school board meeting on Monday. Not only will students continue distance learning until new COVID-19 metrics can be evaluated Jan. 4, but the school board unanimously approved Superintendent Doug Ardiana's resignation.
"I want to make it clear to anyone in the public that this has no reflection on anything that transpired recently," Ardiana said when he announced his resignation, his last day being the end of the school year in June. "This was done before any controversy hit our community."
Ardiana, who has been with the district for almost six years, said this move is part of his long-term plan and unassociated with the recent upheaval with the district.
"It's a sad day," he said. "…The main thing is that being in Bandon has been an outstanding opportunity to make a difference in the lives of children. I appreciate the experience with the school and community. Until my resignation date, I will make this transition as smooth as possible for the district and work diligently to get the best person we can to continue to lead this school."
He presented a proposal from the Oregon School Board Association to aid in the search for his replacement, which he recommended. To have OSBA's help would cost the district $7,250.
"I believe the board will need assistance with this," Ardiana said. "(OSBA) will help with community meetings and (candidate) screening." His letter of intent to resign at the end of the school year was passed unanimously.
Members of the board expressed their appreciation for Ardiana and thanked him for his efforts. "You will be a hard act to follow," one board member said.
Klamath Falls has become the first certified Blue Zones community in the Pacific Northwest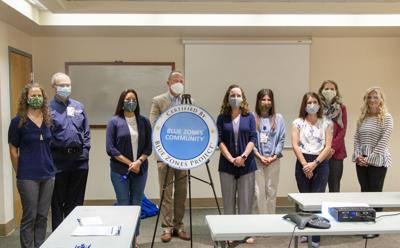 Klamath Falls has become the first certified Blue Zones community in the Pacific Northwest, culminating a multi-year effort to improve healthy lifestyles, according to a news release.
Healthy Klamath, Sky Lakes Medical Center, Sharecare, Inc. and Blue Zones, LLC achieved the certified Blue Zones Community status, which recognizes Klamath Falls' community well-being transformation through successful implementation of the Blue Zones Project by Sharecare, a first-of-its-kind population health program that brings evidence-based best practices in built environment, policy, and social networks to participating cities.
"We are proud of Klamath Falls for achieving this milestone and honored to be recognized as the first certified Blue Zones Community in the Pacific Northwest," said Klamath Falls Mayor Carol Westfall.
Brought to Oregon through an innovative sponsorship by Cambia Health Foundation in collaboration with Sharecare and Blue Zones, the local Blue Zones Project initiative encourages all Oregon communities to optimize their surroundings to make the healthy choice the easy choice. The project is a privately led, publicly endorsed initiative intended to inspire community members to improve their well-being.
Cambia Health Foundation, Sky Lakes Medical Center, Cascade Health Alliance, the City of Klamath Falls, and Klamath County provided financial backing to support the project in Klamath Falls.
In 2015, Klamath Falls was selected to be the first Blue Zones Project demonstration site in the Pacific Northwest.
Klamath Falls achieved Blue Zones Community status after reaching the following key milestones, which are required goals to achieve certification:
* 50% of the top 20 identified worksites became Blue Zones Project Approved.
* 25% of schools became approved.
* 25% of restaurants became approved.
* 25% of grocery stores became approved.
* 50% of the top 20 identified faith-based organizations became approved.
* 25% of citizens have committed to the Blue Zones Project and completed at least one well-being improvement action. More than 4,000 individuals have taken the Blue Zones Personal Pledge.
* The community has successfully completed the Blue Zones Community Policy bundle.
Since the project was introduced in Klamath Falls in 2015, the community has held steady in purpose, social, and overall well-being, while the rest of the state and U.S. declined. Smoking rates have declined from 17% down to 13% and 40% of residents report feeling pride in their community — up from 35% when the project launched.
Klamath Falls has outperformed rural Oregon well-being trends since 2015, seeing 11.8% fewer health risks than expected if the community had followed state trends. This risk avoidance equates to over $900,000 in avoided medical and productivity costs to the community from 2015 to 2018.
For more information, please visit www.bluezonesproject.com or www.healthyklamath.org/bluezones.