The latest news stories and stories of interest in the Rogue Valley from the digital home of Southern Oregon, from Wynne Broadcasting and RogueValleyMagazine.com
Monday, December 21, 2020 
Rogue Valley Weather
Today- Winter Solstice! Rain likely after 4pm. Patchy fog before 10am. Otherwise, cloudy, then gradually becoming mostly sunny, with a high near 53. Calm wind. Chance of precipitation is 60%. New precipitation amounts of less than a tenth of an inch possible.
Tuesday- A 10 percent chance of showers before 7am. Snow level 1900 feet. Mostly sunny, with a high near 43. Calm wind.
Wednesday- Sunny, with a high near 44. Light east southeast wind.
Thursday- Mostly sunny, with a high near 47.
Christmas Day– A chance of rain, mainly after 10am. Snow level 3300 feet rising to 4800 feet in the afternoon. Cloudy, with a high near 47.

Oregon reports 1,153 new confirmed and presumptive COVID-19 cases, 1 new death
The new confirmed and presumptive COVID-19 cases reported today are in the following counties: Baker (4) Benton (7), Clackamas (77), Clatsop (3), Columbia (9), Coos (5), Crook (5), Curry (7), Deschutes (43), Douglas (4), Hood River (17), Jackson (47), Jefferson (4), Josephine (16), Klamath (50), Lake (4), Lane (61), Lincoln (3), Linn (27), Malheur (6), Marion (203), Morrow (3), Multnomah (174), Polk (19), Sherman (1), Tillamook (1), Umatilla (44), Union (3), Wasco (17), Washington (261), Yamhill (28).
COVID-19 has claimed one more life in Oregon, raising the state's death toll to 1,341.
Oregon Health Authority reported 1,153 new confirmed and presumptive cases of
COVID-19 as of 12:01 a.m. Sunday bringing the state total to 102,930. The number of
hospitalized patients with COVID-19 across Oregon is 530, which is six fewer than
yesterday. There are 121 COVID-19 patients in intensive care unit (ICU) beds, which is
17 more than Saturday. The total number of patients in hospital beds may fluctuate
between report times. The numbers do not reflect admissions per day, nor the length of
hospital stay. Staffing limitations are not captured in this data and may further limit bed
capacity.
The Oregon Health Authority announced Thursday that its allocation of the Pfizer
vaccine has been cut by nearly 15,000 doses for the week of Dec. 20. More Pfizer-
BioNTech vaccine deliveries are scheduled the weeks of Dec. 20 and Dec. 27, when
allocations of 25,350 and 48,750, respectively, are expected to arrive in Oregon. That
allocation of 25,350 doses is a reduction from the original amount of 40,950 Oregon
was previously scheduled to have allocated during that week. Federal officials notified
the state about the change Thursday with seemingly no explanation. OHA officials said
between 300,000 and 400,000 health care workers and long-term care facility staff and
residents in Oregon are slated for vaccination against COVID-19 during the first phase
of the state's vaccination distribution effort. The remaining 19,500 doses from this
week's batch will be distributed to health care facilities around the state over the next
several days.
Winter Solstice and Phenomena in the Sky Tonight!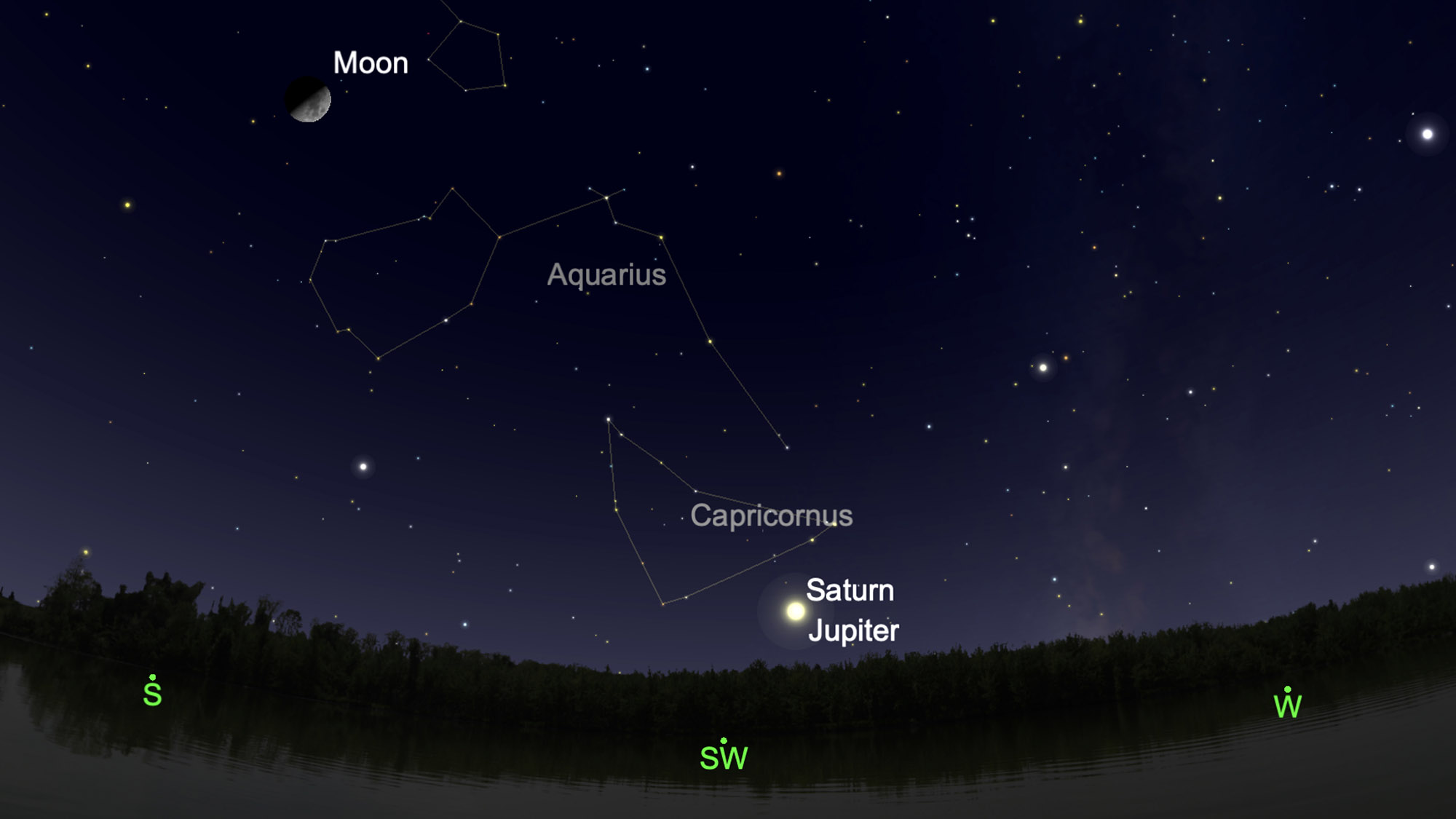 A phenomenon not seen for nearly 800 years will light up the sky tonight. Two of the largest planets in the solar system will come together in "a great conjunction" right in time for Christmas, NASA reported. It is also the same day as the winter solstice.
"What has become known popularly as the 'Christmas Star' is an especially vibrant planetary conjunction easily visible in the evening sky over the next two weeks as the bright planets Jupiter and Saturn come together, culminating on the night of Dec. 21," NASA said on its website.
On Monday, Jupiter and Saturn will inch closer and closer to each other to be in conjunction, according to Space.com. The two planets rarely come together like other bright planets do.
Jim Todd, director of space science education at OMSI, said those in the Portland area will want to head outside just after sunset at 4:30 p.m., when Jupiter and Saturn will be low in the sky. The planets will set below the horizon quickly, Todd said, so a good view of the southwestern horizon is necessary, and people will need to look skyward in time to catch it.
NASA says, for those who would like to see this phenomenon for themselves, here's what to do:
Find a spot with an unobstructed view of the sky, such as a field or park. Jupiter and Saturn are bright, so they can be seen even from most cities.
An hour after sunset, look to the southwestern sky. Jupiter will look like a bright star and be easily visible. Saturn will be slightly fainter and will appear slightly above and to the left of Jupiter until December 21, when Jupiter will overtake it and they will reverse positions in the sky.
The planets can be seen with the unaided eye, but if you have binoculars or a small telescope, you may be able to see Jupiter's four large moons orbiting the giant planet.
The conjunction of the two planets happens about every 20 years, but they're not always the same. Monday will be the closest Jupiter-Saturn pairing since July 1623, when the two planets appeared a little nearer. This conjunction was almost impossible to see, however, because of its closeness to the sun.
Considerably closer and in plain view was the March 1226 conjunction of the two planets — when Genghis Khan was conquering Asia. Monday's conjunction will be the closest pairing that is visible since way back then.
Saturn will be the smaller, fainter blob at much brighter Jupiter's upper right. Despite appearances, Jupiter and Saturn will actually be more than 450 million miles (730 million kilometers) apart. Earth, meanwhile, will be 550 million miles (890 million kilometers) from Jupiter.
"On the 21st, they will appear so close that a pinkie finger at arm's length will easily cover both planets in the sky," NASA said. "The planets will be easy to see with the unaided eye by looking toward the southwest just after sunset."
The best way to catch a glimpse of the rare phenomenon is to look about one hour after sunset, according to NASA. The planets are visible with the naked eye.
"Jupiter will look like a bright star and be easily visible," NASA said. "Saturn will be slightly fainter and will appear slightly above and to the left of Jupiter until Dec. 21, when Jupiter will overtake it and they will reverse positions in the sky."
The next time they will get this close together in our sky won't be for another 60 years, so this is going to be a once-in-a-lifetime event for many people. In fact, the last time they got this close together was in the year 1623, but it was really difficult, if not impossible, to see them then because they appeared much closer to the Sun and set soon after it. Go back another 400 years to 1226 and this would have been the last time that we would have had a good view of this type of conjunction.
What advice would you give to people who want to see the great conjunction?
If you have a pair of binoculars, you'll easily be able to spot both planets. In even a small telescope, you'd see both planets at the same time in the same field of view, which is really unheard of. That's what makes this conjunction so rare.
Southern Oregon long-term care facilities hit hard with active, Covid-19 outbreaks
"Once Covid gets into a facility like that it spreads very quickly," said Dr. Jim Shames, Jackson Co. health officer.
Covid-19 outbreaks are hammering southern Oregon long-term care facilities. The latest Oregon Health Authority's weekly report shows some startling statistics.
Jackson County's 'Avamere Three Fountains' and 'Table Rock Memory Care' each had 13 deaths and more than 100 total cases.
30 of Jackson County's 54 Covid-19 deaths are tied to the list of active outbreaks.
In Josephine County, the outbreak at 'Cascade Senior Living – The Village' started just last Thursday.
'Oak Lane Retirement' tells NBC5 News in the last 48-hours, it's had 5 patients die as a result of Covid-19.
"It's very hard for people to fully totally isolate because they're dependent on others for their care," said Dr. Shames. Dr. Shames says the active outbreaks are especially problematic and could lead to more fatalities. He says the virus is often brought in by healthcare workers who may not even know they have the virus.
"Sometimes there's a delay in testing, sometimes someone is incubating Covid and they don't have enough of it in their nose and throat to trigger a positive test," he said. Dr. Shames says long-term care facilities do have extensive safety precautions, such as frequent testing for staff and isolating people who are infected.
But he says in an outbreak like this staff also get ill, straining the facility's resources. He's thankful help is on the way with a Covid-19 vaccine being administered to both staff and residents in long-term care facilities over the next few weeks.
"These are very vulnerable individuals and if we can protect them with a vaccine, we're going to do all we can to do that," said Dr. Shames.
AROUND the STATE of OREGON

Contest promoting young worker safety in Oregon opens with new theme, tagline, media entries
(Salem) – Now is the time for high school students across Oregon to let their creativity flow for a good cause: increasing awareness about workplace safety for young workers.
They will have the opportunity to do so using expanded options and updated rules for the annual contest organized by the Oregon Young Employee Safety Coalition (O[yes]). The 2021 media contest invites participants to do the following:
Choose one of two themes:

Hit by or pushed against an object
Slips, trips, or falls on walking surfaces

Bring the chosen theme to life either by creating a video that is between 30 to 90 seconds in length or by developing a graphic design piece.
Incorporate a new tagline into the video or graphic design project: "Work. It can be more dangerous than you think."
The top three entries in each of the two media categories will take home cash prizes ranging from $300 to $500. In each category, the first-place winner's school, club, or organization will receive a matching award.
Some participants may dream up a bold, splashy graphic design to get their message across. Others may grab a smart phone or camera and craft a video that leans on humor or documentary-style seriousness to captivate their audience.
Either way, participants are encouraged to tap their imaginations and inspire young workers to think twice about their personal health and safety at work, and the reality that they could be hurt on the job.
And while they carry out their projects with pizzazz, contestants need to ensure the personal health and safety of their team. That includes avoiding endangering anyone during the creation of your project; ensuring entries do not depict unsafe behavior or show participants not following COVID-19 guidance; and following Oregon Health Authority guidance for COVID-19.
The deadline for submissions is 5 p.m. Friday, Feb. 19, 2021.
Participants are encouraged to submit entries online. Submissions may also be mailed on a USB thumb drive. Contest winners will be unveiled during a streaming event in spring 2021.
For more information about the entry form and rules, contest expectations, and resources – including graphic design examples and 2020 finalist videos – visit the O[yes] online contest page.
The contest sponsors are local Oregon chapters of the American Society of Safety Professionals, Construction Safety Summit, Central Oregon Safety & Health Association, Hoffman Construction Company, Oregon Institute of Occupational Health Sciences at OHSU, Oregon OSHA, SafeBuild Alliance, SAIF Corporation, and Oregon SHARP Alliance.
Oregon OSHA, a division of the Department of Consumer and Business Services, enforces the state's workplace safety and health rules and works to improve workplace safety and health for all Oregon workers. For more information more information, visit osha.oregon.gov.
The Oregon Young Employee Safety Coalition O(YES) is a nonprofit dedicated to preventing young worker injuries and fatalities. O(YES) members include safety and health professionals, educators, employers, labor and trade associations, and regulators. For more information, go to http://youngemployeesafety.org/.
Electric tractors, buses and e-bikes: Pacific Power grants are helping Oregon communities jump-start electric mobility
Over $1.3 million in grants awarded by Pacific Power will fund a range of electric mobility projects including statewide electric transportation education programs and purchasing electric school buses
PORTLAND, ORE. (December 18, 2020) – Nonprofits, local governments and school districts served by Pacific Power will receive over $1.3 million in grants for innovative clean transportation projects. Electric Mobility Grants will fund a range of community-driven electric transportation projects from purchasing e-bike instant rebates for 60 individuals in low-income households to building a mobile electric vehicle showroom that will bring interactive consumer engagement to underserved communities. Several grant recipients will use the funds to purchase nontraditional electric vehicles, including an electric tractor that will be loaned to local farmers, and utility vehicles that will be used for irrigation and farming work.
"We were blown away by the ingenuity and scope of the proposed projects," said Cory Scott, managing director of customer solutions. "Grant funds will support efforts to provide more sustainable agricultural equipment options that could lower farm operating costs. Some of the electric mobility projects will ensure traditionally underserved communities have clean transportation alternatives and, in one case, increase sustainable access to healthcare. Grant recipients displayed a high-level of creativity and innovation in how electricity can power vehicles, communities and the future."
Funding for these grants are made possible by the Oregon Clean Fuels Program, which is administered by the state Department of Environmental Quality and aims to reduce the carbon intensity of Oregon's transportation fuels. Pacific Power raises funds through the sale of Clean Fuels Program credits, which the company aggregates on behalf of customers who charge their electric vehicles at home.
Electric Mobility Grant Recipients:
Hacienda CDC – Charging infrastructure in support of affordable housing.
Corvallis-Benton County – e-bikes and helmet rebate program for low-income households.
The Environmental Center –

Partnering with Forth to develop a mobile electric transportation showroom.
Partnering with the Center for Transportation and Environment to deliver electric bus and e-bike outreach and training.

Crook County Fairgrounds – Electric tractor funding to support the Electrifying Oregon's Agricultural Economy initiative.
Central Oregon Intergovernmental Council – Electric bus feasibility and needs assessment for public transit system.
Oregon Environmental Council – Charging infrastructure and electric utility vehicles to demonstrate viability within Oregon's agricultural sector.
North by Northeast Community Health Center – Charging infrastructure and electric vehicle to support a medical clinic devoted to African American health equity.
City of Mosier – Electric vehicle and e-bike charging infrastructure.
Bend LaPine School – Charging infrastructure and electric bus to support school bus fleet.
Since 2018, Pacific Power has made it easier for drivers to choose electric by partnering with communities and businesses to install electric vehicle chargers across Oregon, Washington and California. In addition to the Electric Mobility Grant, Pacific Power offers a free technical assistance program for organizations looking to install electric vehicle charging. The program provides a feasibility analysis for electric vehicle technology charging options, costs, rates, and best practices for siting, installing and managing equipment.
In the face of the pandemic impacting the economic health and vitality of communities, these investments come at a time when cities and towns across the Pacific Northwest are looking to grow through electric mobility expansion. It's just one way Pacific Power is committed to helping them create the energy future they want and need.
For information on technical assistance and to learn more about the benefits of electric vehicles, please visit www.pacificpower.net/ev.
ABOUT PACIFIC POWER
Pacific Power provides safe and reliable electric service to more than 773,000 customers in 243 communities across Oregon, Washington and California. Pacific Power is part of PacifiCorp, one of the lowest-cost electricity producers in the United States, serving nearly two million customers in six western states as the largest regulated utility owner of wind power in the West. For more information, visit www.pacificpower.net.
Mudslide closes Historic Columbia River Highway until Monday
Heavy rainfall produced a mudslide on the Historic Columbia River Highway early Sunday morning, closing the route between Angel's Rest and Multnomah Falls until at least Monday.
The Oregon Department of Transportation warned of the potential for additional sides caused by debris from Mosquito Springs Creek. Travelers can continue to proceed through the Columbia River Gorge on Interstate 84, which runs parallel to the old highway.
Northwest Oregon is under a flood watch until Sunday evening, according to the National Weather Service. The Northwest Avalanche Center issued an avalanche warning for Mount Hood, warning that heavy rain on top of snow created "very dangerous" conditions.
Oregon wins over USC in Pac-12 championship game
Anthony Brown threw two touchdown passes in his unusual Oregon debut, Jamal Hill made an interception with 2:47 to play, and the Ducks won their second straight Pac-12 title with a 31-24 victory over No. 13 Southern California in the championship game Friday night.
Tyler Shough also threw two touchdown passes for the Ducks (4-2), who didn't win the North Division, yet still claimed the Pac-12′s New Year's Six bowl berth with their only victory in the past month.
Oregon had a 31-17 lead with less than 10 minutes to play, but Bru McCoy caught a TD pass on fourth down for the Trojans (5-1) before they got the ball back with 4:43 left. USC reached midfield in search of a fourth-quarter comeback win for the fourth time in its six-game season, but Kedon Slovis threw the first fourth-quarter interception of his career.
Hill made an acrobatic play to hang on to the poorly thrown ball, and Oregon's offense ran all but 23 seconds off the clock. USC reached the Oregon 49, but the Ducks' pass rush prevented Slovis from getting off a Hail Mary.
The Ducks stunned almost everybody in the mostly empty Coliseum by replacing Shough occasionally with Brown, a senior graduate transfer from Boston College who hadn't recorded any statistics for Oregon this season. Ducks offensive coordinator Joe Moorhead substituted Brown at various points in various drives throughout the game, and Brown made a series of big plays.
Brown's first throw for the Ducks was a TD pass to Jaylon Redd on Oregon's opening drive. He threw another scoring pass to Travis Dye in the third quarter, finishing 3 of 4 for 17 yards.
Hunter Kampmoyer and DJ Johnson also caught TD passes for the Ducks, who got into the title game after consecutive losses only because Washington had to drop out Monday due to coronavirus problems in the program.
Oregon seized the opportunity to continue its domination of the Trojans on the way to the school's sixth Pac-12 championship in 12 years, including two straight under coach Mario Cristobal. The North Division has won nine of the 10 editions of this title game, including a record four by Oregon.
Lane County  Providing New Shelters For The Unhoused
EUGENE, Ore.– Lane County is rolling out new emergency pallet shelters for the unhoused, with many delivered to locations in the Eugene-Springfield metro area on Wednesday, Dec. 16. 
There are two types of shelters, a 100 square foot shelter that can fit up to four people, and an 80 square foot shelter that can fit up to two people. Each shelter has the ability to run electricity so occupants can heat the shelter and plug-in devices that require power. Devon Ashbridge, Public Information Officer for Lane County, said these shelters are an important tool to keep the unhoused safe during the pandemic and the winter months. The cost of the shelters came in at $888,300, paid for through the federal CARES Act.
"This is a very important piece of being able to provide that emergency shelter for our community, especially as we're moving into the winter season when it gets a lot colder, a lot wetter, and a lot more dangerous for people to be on the streets," Ashbridge said.
She also said, what made them appealing to the county was their easy assembly and storage.
"It's very much like flat-pack furniture. A little more intense to assemble I think than your average Ikea bookshelf," Ashbridge said. "So, the costs are down for transport something like this and again if new need to store them, it's much easier to find space."
Shelters are already being placed in Florence, Cottage Grove, and St. Vincent de Paul in Eugene. Roxann O'Brien is the director of emergency and homeless services and she said St. Vincent received 25 shelters.
O'Brien said they will be used as transitionary housing for their clients who are on the next step to find permanent housing. She said the houses bring a sense of dignity to her clients.
"I think it really gives them a sense of, wow someone would really do this for us. The unsheltered folks we have been seeing watching them go up, they're just looking in the window. They're very excited and think they're very cool."