The latest news stories and stories of interest in the Rogue Valley from the digital home of Southern Oregon, from Wynne Broadcasting and RogueValleyMagazine.com
Thursday, December 24, 2020 Christmas Eve
Rogue Valley Weather
Today- Areas of freezing fog before 10am. Cloudy, then gradually becoming mostly sunny, with a high near 48. Light southeast wind.
Christmas Day – Rain, mainly after 4pm. High near 48. South southeast wind around 15 mph, with gusts as high as 23 mph. Chance of precipitation is 80%. New precipitation amounts between a tenth and quarter of an inch possible.
Saturday- Rain likely before 10am, then a chance of showers after 10am. Snow level 3600 feet. Mostly cloudy, with a high near 46. Calm wind becoming west southwest around 5 mph in the afternoon. Chance of precipitation is 70%. New precipitation amounts between a tenth and quarter of an inch possible.
Sunday- Mostly cloudy, with a high near 43.
Monday- Mostly sunny, with a high near 43.
Oregon reports 1,000 new confirmed and presumptive COVID-19 cases, 21 new deaths
COVID-19 has claimed 21 more lives in Oregon, raising the state's death toll to 1,403, the Oregon Health Authority reported at 12:01 a.m. today.
The new cases are in the following counties: Baker (5), Benton (16), Clackamas (64), Clatsop (18), Columbia (10), Coos (7), Crook (3), Deschutes (41), Douglas (10), Grant (1), Hood River (5), Jackson (48), Jefferson (8), Josephine (17), Klamath (30), Lane (73), Lincoln (5), Linn (48), Malheur (20), Marion (127), Morrow (1), Multnomah (209), Polk (28), Sherman (1), Tillamook (4), Umatilla (33), Union (2), Wasco (14), Washington (117), Wheeler (3) and Yamhill (32).
Vaccinations in Oregon
OHA is providing daily updates on administered doses of COVID-19 vaccines in Oregon on its vaccination data dashboard.
Yesterday, 2,449 doses of vaccine were administered, raising the state's total number of first vaccine doses to 10,407. All vaccinations occurred at Oregon hospitals and long-term care facilities.
The dashboard provides weekday updates on the number of people vaccinated, both by state and by county, along with key demographic information showing the race, ethnicity, sex and age of everyone who has been vaccinated.
Oregon Fares Better Than Nearly All States by Two Key COVID-19 Measures
We are the envy of places like North Dakota and Iowa, where elected officials refused to require masks in public well into November.
After the most deadly week of the pandemic—187 Oregonians were reported dead from COVID-19-related causes in the past seven days—it is small comfort to know Oregon is doing well by the low standards of U.S. coronavirus response.
With all the different metrics around the pandemic, it can be confusing to understand how we compare with other states.
Throughout most of the year, for instance, Oregon appeared to rank near the bottom of the country in terms of how many people it tested for the virus. That changed Nov. 20, when state officials announced a switch in methodology from person-based counting (each person is counted once, no matter how many times he or she gets tested) to counting the number of actual tests given.
That shift made Oregon look like less of an outlier. With the new methodology, according to the Johns Hopkins University Coronavirus Resource Center, we rank 35th out of 50 states.
But testing isn't the most useful metric of the pandemic's impact. The number of tests given determines two other closely watched metrics: test positivity rate and cases of COVID per capita. The accuracy of the latter is further undermined by unknown number of people who are positive but don't get tested.
Carlos Crespo, a professor and vice provost at the OHSU-PSU School of Public Health, says two measurements—current hospitalizations and deaths—are less subject to variation.
"The most stable indicator is mortality," Crespo says. "It's reliable and every state is counting the same way."
Hospitalizations are not quite as standardized, but they are a strong indicator of the level of serious illness in a state.
And by these two standards, as the charts below show, Oregon's results are among the best.
Oregon's response to COVID-19 has sometimes appeared inconsistent and timid, especially to the medical workers risking contagion. But stay-home orders went into place before the coronavirus spread widely this spring, unlike in New York City and other Northeast viral hubs. It's also true we are the envy of places like North Dakota and Iowa, where elected officials refused to require masks in public well into November.
Dr. Dean Sidelinger, the state epidemiologist, says Oregonians' willingness to follow orders has played a big role in our outcomes.
Says Sidelinger, "We have had relatively good adherence with guidelines, including wearing masks."
Oregon has a lower rate of death from COVID-19 than all but four states and far lower than the national average. Here's a comparison of Oregon with the two highest and lowest states since the pandemic began.
COVID-19 HOSPITALIZATIONS PER MILLION AS OF DEC. 21
Even with the large increase in the past month, Oregon has a lower rate of current hospitalization from COVID-19 than all but four states and far lower than the national average. Here's a comparison of Oregon with the two highest states and the two lowest.
Pacific Power announces new grants to support Southern Oregon and California organizations this winter
Grants were awarded to arts and humanities programs and essential services helping to strengthen the community during the COVID-19 pandemic
MEDFORD, Ore. (December 23, 2020) — As winter settles into communities throughout the Southern Oregon and Northern California region, ending a year that has brought challenges like no other, it's the arts and humanities programs that continue to provide needed connection and healing.
Local organizations that deliver music, theater and visual arts have had to pivot during 2020 in ways never imagined. Many have moved to virtual programming to connect with families and students at home while also working behind-the-scenes to preserve cherished in-person programs so that they can return in the future.
To support these programs' ongoing efforts, PacifiCorp Foundation, a nonprofit arm of Pacific Power, is donating more than $200,000 in new funding across the six states it serves to support the arts and humanities – along with continued needs by organizations on the frontlines of the COVID-19 response.
"Local programs like these are the heartbeat of our region, providing connection, education and tradition and helping to heal and strengthen our communities," said Christina Kruger, regional business manager for Medford. "Pacific Power is honored to continue our support of these vital organizations, and we encourage others who have the means to support them as well, so their programming can continue long into the future."
A total of 44 Foundation grants were given to non-profit organizations across Pacific Power's service area, ranging between $1,000 and $5,500. The grants reflect the diversity of the communities Pacific Power serves, and the diverse needs of these communities during this time.
For the Southern Oregon and Northern California area, grants were provided to the following organizations providing vital arts and education programs:
Liberty Arts to fund 300 "We Art Together" binders with art supplies and age-appropriate instructions to lead Siskiyou County students isolated at home due to the pandemic;
Oregon Conservatory of Performing Arts to support The Online Conservatory, their online branch started in response to COVID, which provides quality online theatrical education for children and adults in the community;
Rogue Valley Art Association for art classes for teen girls healing from the trauma of sex trafficking who live at a safe house and have little opportunity for outside activities;
Ross Ragland Theater to support their COVID-19 projects including the reopening of the theater in Klamath Falls with limited seating, safe, socially-distanced theater workshop programs for youth and other educational programs for children;
Youth Symphony of Southern Oregon to help sustain music programs for aspiring young musicians during this challenging time, including virtual education and training programs that will provide access to more students.
Grants were also given to these organizations providing additional community support during COVID:
Free the Need to increase weekly, emergency food distribution by 20 percent for one year to respond to the rising need for assistance among people in Siskiyou County, Calif., and Jackson County, Ore.;
Grants Pass Family YMCA to support critically needed childcare and other essential health, fitness, recreation and educational services that families throughout Josephine County depend on regardless of their ability to pay, especially during the pandemic.
In all, more than $2.3 million has been prioritized in 2020 for organizations across the six states PacifiCorp serves, dedicated to helping communities with the greatest needs. Prioritization will continue through 2021 for grants that support needs around the COVID-19 pandemic and communities rebuilding in the aftermath of the Labor Day storm. The next grant cycle is now open through March 15; organizations may apply online here.
Pacific Power also recognizes the ongoing support needed by customers, especially with the arrival of cooler weather. Customer care staff are available by phone to walk through account options and plans to alleviate financial burdens during this time. They can be reached at 1-888-221-7070 around the clock. For tools to help manage energy use this season, visit www.pacificpower.net.
About the Pacific Power Foundation
The Pacific Power Foundation is an arm of the PacifiCorp Foundation, one of the largest utility-endowed foundations in the United States. The foundation was created in 1988 by PacifiCorp, an electric utility serving 1.9 million customers in six Western states as Pacific Power (Oregon, Washington and California) and Rocky Mountain Power (Utah, Wyoming and Idaho). The foundation's mission, through charitable investments, is to support the growth and vitality of the communities served by Pacific Power. For more information, visit www.pacificpower.net/foundation.
Oregon trends with U.S. in accelerated drug overdoses
State saw nearly 40% increase in overdose deaths over 2019 and during first half of 2020 as CDC links U.S. increase to pandemic disruptions
PORTLAND, Ore. — Oregon is following a national trend that has seen increases in drug overdose deaths in 2020 – a rise that the Centers for Disease Control and Prevention is partially attributing to the COVID-19 pandemic.
Oregon's 580 deaths from drug overdoses are among the more than 81,000 drug overdose deaths that occurred in the United States in the 12 months ending in May 2020. According to a Dec. 17 report from the CDC, that was the highest number of overdose deaths ever recorded in a 12-month period. The federal agency surmised that the "disruption to daily life due to the COVID-19 pandemic has hit those with substance use disorder hard."
"Food insecurity and disruptions in access to safe housing and mental health services have compounded stress from job losses, school and social isolation, and other problems brought on by the pandemic," said Tom Jeanne, MD, MPH, deputy state health officer and deputy state epidemiologist, OHA Public Health Division. "The COVID crisis also interrupted ways people with substance use disorder can get help, such as mental health services, 12-step programs and ambulatory visits."
From January to June 2020, at least 339 people died of a drug overdose in Oregon. This figure is nearly 40% higher than the number of overdose deaths from the same period in 2019 and represents an increase of nearly 35% from the previous six-month period, July to December 2019.
As OHA has previously reported, there was a spike of drug overdose deaths during the second quarter of 2020. When compared to the second quarter of 2019, the number of overdose deaths increased by more than 63%. Overdose deaths increased in April, reached a peak in May and returned to near-monthly averages in June and July.
While most overdose deaths in Oregon in 2020 have involved opioids, illicit fentanyl, a synthetic opioid, and methamphetamines have been troubling contributors to the drug overdose rate, mirroring national trends.
Illegal fentanyl and methamphetamine abuse appear to have driven the spike in overdose deaths in the second quarter of 2020. Compared to the first quarter of 2020, overdose deaths in Oregon involving methamphetamine/amphetamine increased 37%; those involving fentanyl, 92%; heroin, 9%; and cocaine 57%. Previous research suggests that deaths involving cocaine are likely linked to co-use or contamination with fentanyl or other drugs.
Although exact numbers of overdose from recent months have yet to be updated due to pending toxicology test results, early data showed a concerning increase of suspected drug overdose deaths in November.
In line with CDC recommendations, OHA is taking steps to reduce drug overdose deaths:
More than 9,200 active methadone patients in Oregon are receiving methadone through Oregon's opioid treatment providers (OTPs). Most OTPs are concentrated along the Interstate 5 corridor serving Oregon's four largest metropolitan areas. As of September 2019, Oregon also had 1,360 practitioners federally certified to prescribe buprenorphine. Coastal and rural communities in Oregon are lacking in access to medication for opioid use disorder (MOUD).
The PRIME+ (Peer Recovery Initiated in Medical Establishments) program provides peer-based harm reduction support for persons who are currently using drugs and are present in medical settings. The program aims to reduce overdoses and infections related to harmful drug use. PRIME+ peer support specialists assist people who are using drugs by providing access to naloxone, safer use supplies, HIV and hepatitis C testing, primary care, substance use treatment and more. The PRIME + program is in the process of expanding to 23 sites in 20 counties in Oregon.
Oregon recently established a COVID-19 Harm Reduction Supply Clearinghouse to support agencies that serve people at risk of overdose. Supported agencies include community-based outreach, prevention and harm-reduction programs, withdrawal and substance use treatment programs, and rural and frontier first responders across Oregon. More than 68 organizations ordered $2.4 million in harm reduction supplies, including naloxone, to distribute to people at risk of overdose to prevent overdose deaths.
OHA, in collaboration with Oregon/Idaho HIDTA (High Intensity Drug Trafficking Area), is working with public safety and public health partners to implement ODMAP – a real-time suspected overdose surveillance data system to mobilize an immediate response to a sudden increase in overdose events in local communities. HIDTA recently found that a large number of narcotic pill seizures by participating law enforcement agencies through the third quarter of 2020, whichappear to be pharmaceutical narcotics like oxycodone, are likely counterfeits containing fentanyl.
Health officials are reminding people that opioid use disorder can be successfully treated. Those who need help to stop using opioids can talk to their health care providers or view OHA's list of resources. In addition, Oregon law allows lay people to carry and use naloxone, a medication that can be used to reverse an opioid overdose on other people. Learn more about naloxone. If a person is using substances alone, the Never Use Alone Hotline (800-484-3731) can be a nonjudgmental and lifesaving point of contact for emergency services.
Oregon-based nonprofit Lines for Life and OHA recently launched the Safe + Strong Helpline at 1-800-923-4357 (800-923-HELP). The line offers free, 24-7 emotional support and resource referral to anyone who needs it — not only those experiencing a mental health crisis. The Safe + Strong Helpline is a response to needs for emotional support around disasters like COVID-19 and wildfires and was funded by the CARES Act. Callers are routed to a counselor who can provide emotional support, mental health triage, drug and alcohol counseling, crisis counseling or just connection.
Medford Police are investigating a stabbing that happened Tuesday night
Medford Police are investigating a stabbing that happened Tuesday night. Medford police confirmed that the incident happened at around 7:30 p.m. Tuesday night on Main Street.
Police say the stabber called police claiming the victim tried to attack him.
The victim has a stab would that is not life threatening, but police say the victim is seriously injured.
Nobody has been charged.
4 pedestrians hit in Medford crash – 84 Year Old Driver Driver Cited
MEDFORD, Ore. – Police say an 84-year-old man hit four pedestrians near the Starbucks location off Barnett Road in Medford Tuesday afternoon.
Police said the driver became confused, hit the accelerator instead of the brake, hit another vehicle, crashed through a picnic bench, hit nearby pedestrians, and finally stopped when he hit the Peruvian Point food truck.
The Medford Police Department said three people were taken to the hospital with non-life-threatening injuries.
A fourth woman who was pinned between the SUV and food truck freed herself and left the scene, according to MPD.
Medford Police Lieutenant Mike Budreau said, "It could have been a lot worse because the van was under heavy acceleration the whole time, going over pedestrians that actually went underneath the car and out the back of the car. It certainly could have been a lot worse and we're grateful there were no fatalities."
Police said the driver was cited for careless driving and his license is being re-evaluated.
AROUND the STATE of OREGON
Bags of chia seeds wash ashore on central coast
Oregon Parks and Recreation Department (OPRD) is cleaning up several bags of chia seeds that washed ashore near Florence and Newport this week.
Unusual commercial-sized bags of "sludge" were reported just north of Nye Beach the morning of Dec. 22. Later that day, another beachgoer discovered the likely source just north of Florence: a battered chunk of a shipping container and two bags of seeds nearby.
Although the seeds are not toxic, they do expand when they come into contact with water.
"The bags were too heavy to move by hand. We had to cut them up to remove them, or use equipment to haul them out," said ranger Jason Hennessey.
At least four bags have sprouted ashore so far. OPRD is still tracking down information about the source. People can help the agency by reporting any additional bags — as well as any other beach debris — to each.debris@oregon.gov">beach.debris@oregon.gov. For safety reasons, it's best for individuals to avoid moving debris themselves.
This situation is a good reminder to all to pack out your own trash. Some beach access parking lots have cleanup bags, but it's good practice to carry some from home. For information on keeping Oregon's beaches clean, go to solveoregon.org or surfrider.org.
Coos Bay considers replicating housing solution for homeless seen in Medford
COOS BAY, Ore. — The City of Coos Bay is considering a way to help move the homeless into permanent housing replicating a camp in Medford.
The Devereux Center presented a plan for a community camp to the city council Tuesday night.
The director of the center tells us they'll put the idea in the hands of the City's homeless work group, which is being put together by the city council.
"The city council believes that the work we want to do is important and that the project needs to happen. We just have to re-evaluate location," says Devereux Center director Tara Johnson.
The Devereux Center is looking for a new location. Johnson had hoped to have the community camp up and running by April. But with the city council's request for a new location, the opening is likely to be in the fall of next year.
Gov. Kate Brown changes course, allows local districts to decide on opening schools
Gov. Kate Brown announced Wednesday that Oregon schools will be allowed to open their doors to students starting Jan. 1, as the state will no longer mandate closures based on the severity of the coronavirus pandemic in a school district's county.
Realistically, schools almost certainly won't open that fast. It will likely take weeks for district officials to decide if their schools should reopen and, if so, how to prepare. The governor's office cautioned school districts to be wise.
"Let me be clear: Like any government entity or responsible employer, schools or school districts need to keep in mind the obligations and risks that a major pandemic imposes on them," spokesman Charles Boyle said.
The governor said her hope is that "more" Oregon schools resume on-site teaching by Feb. 15, particularly elementary schools.
Though untethered from state metrics, school districts will have to continue to follow Oregon's safety guidelines, Boyle said.
Still, Brown's announcement signaled even more forcefully the state's focus on getting kids back into schools, following close on the heels of her Tuesday request that health officials prioritize teachers and education-related workers for the next round of vaccines.
Coast Guard, sheriffs locate child, grandparents looking for tree in Willamette National Forest, Oregon
The Coast Guard and the Lane County Sheriff's Office located a 4-year-old girl and her grandparents Wednesday after they were reported missing in the Willamette National Forest earlier in the week. The girl and her grandparents ventured into the forest Monday looking for a Christmas tree.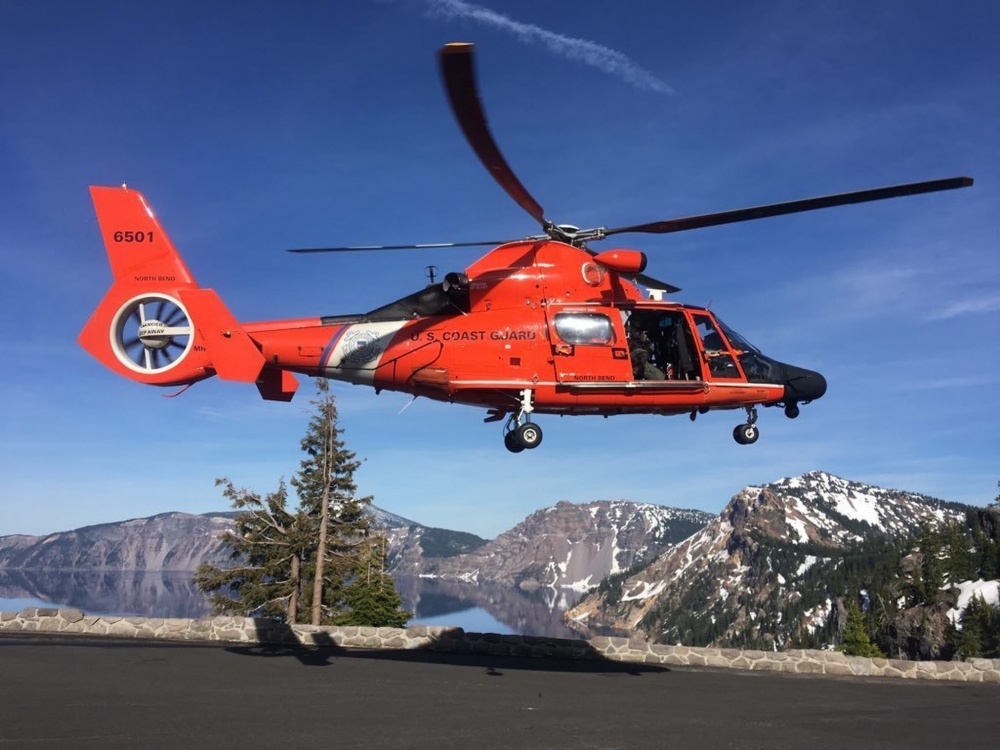 The three were reported missing after the girl's mother went to pick her up at the grandparents' home in Eugene and found no sign that the group had returned from the forest.
Investigators did not know what part of the forest they headed to, but cell phone signals indicate they were last in the area of Fall Creek.
A Coast Guard aircrew aboard an MH-65 Dolphin helicopter from Air Facility Newport began searching at first light on Wednesday morning.
After several hours of searching and a return to base for refueling, they located the family's vehicle stopped on a snow-covered road.
The vehicle appeared to have a blue tarp placed across part of it, which made the white-colored car easier to spot from the air.
The aircrew reported one person waving both arms at the helicopter, an international signal for 'HELP.'
The aircrew radioed their position to search and rescue teams on the ground, who arrived on scene and found the family unharmed.
"We are thrilled to see this case close with a happy ending," said Lt. Bert Toone, co-pilot from Coast Guard Sector North Bend. "This holiday miracle should remind everyone to always let someone know where you're going when you head out on an adventure and always go prepared for the worst-case scenario."
Crabbing on Oregon / Washington Coast Mix of Closed, Open Areas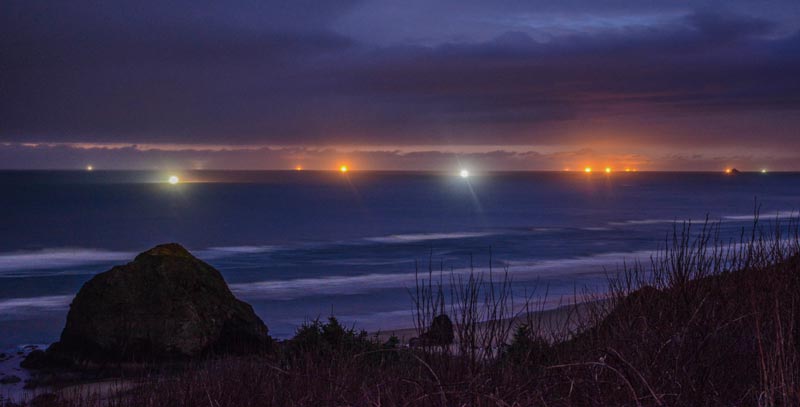 (Manzanita, Oregon) – It's a mixed bag of good news and bad news for Dungeness crabbing along the Oregon coast and Washington coast, as some sections are open and others are closed, with differences between recreational and commercial crabbing as well. All recreational crabbing is open along the Oregon coast, while the northern third has delayed the opening of commercial crabbing. On the Washington coast, the closures and open areas are more complex. (Photo above: crab boats off Cannon Beach, courtesy Tiffany Boothe, Seaside Aquarium).
The marine toxin domoic acid has closed down crabbing both commercially and recreationally in many coastal areas. It's been found in many crab samples in Washington, causing Oregon state officials to be extremely cautious with commercial crabbing in the northern areas adjacent to Washington. Domoic acid is a natural toxin produced by certain types of marine algae, and it can be harmful and even fatal if consumed in sufficient quantities. Cooking or freezing does not destroy domoic acid in shellfish.
Presence of the toxin has also shut down razor clamming along both coastlines.
Washington Coast Crabbing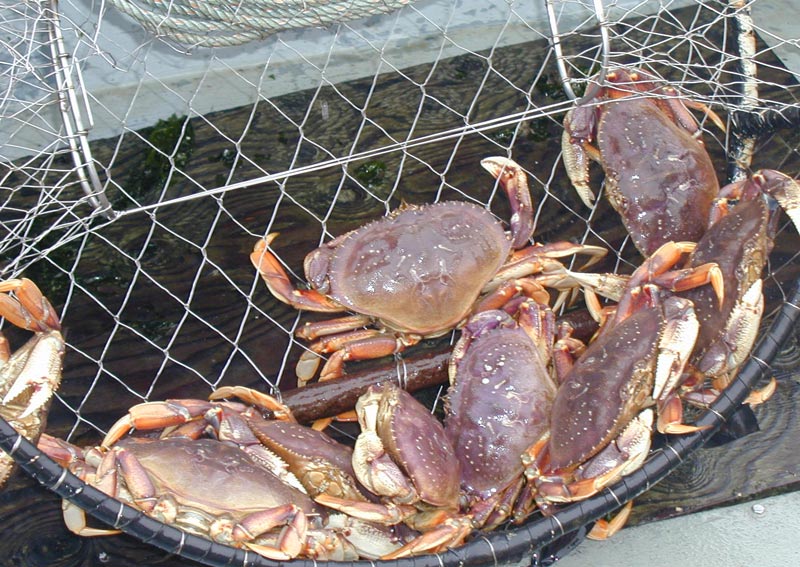 Washington Department of Fish and Wildlife (WDFW) said recreational Dungeness crab fishing has closed in Willapa Bay and remains closed in Grays Harbor, while crab fisheries on the Washington coast north of Point Chehalis have reopened.
Shellfish managers closed crab fishing on December 22 in Willapa Bay and the popular Tokeland Marina after testing showed domoic acid levels in crab for these waters exceeded standards for safe consumption established by the Washington State Department of Health (DOH). Previous closures on Grays Harbor and the Westport Boat Basin also remain in effect due to elevated marine toxin levels.
Crab testing by fishery managers show acceptable levels of domoic acid in areas north of Point Chehalis. Inside the Columbia River (from the outer jetty tips upriver) will also remain open given acceptable test results from DOH.
The commercial Dungeness crab fishery is also closed and will be delayed until at least January 14 in Washington coastal waters south of Point Chehalis, Grays Harbor, Willapa Bay, and the Columbia River.
Harvesters can find up-to-date information on seasons and shellfish safety information on the Washington Shellfish Safety Map webpage.
Oregon Coast Crabbing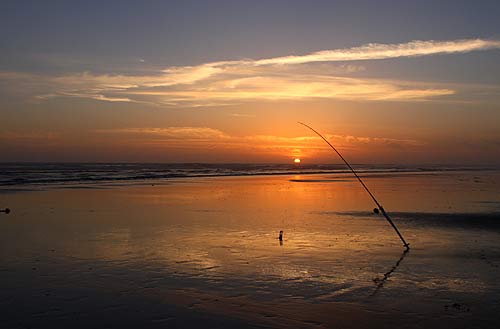 While recreational harvesting of Dungeness crab is open along the entire Oregon coast, the commercial Dungeness crab fishery has delayed its opening until at least mid-January from Cape Falcon northward to the Washington border.
The ocean waters south of Cape Falcon (Manzanita area) are open to commercial crabbing, including the major ports of Newport, Garibaldi, Coos Bay, etc.

Oregon Department of Fish and Wildlife (ODFW) said all crab tested from all Oregon's crab harvest areas have been well below alert levels and all Oregon crab product on the market is safe to eat. The Oregon Department of Agriculture (ODA) will continue to regularly test crab and shellfish to ensure levels in all areas remain below alert levels.
For more information about Oregon's shellfish marine biotoxin monitoring, call ODA's shellfish safety information hotline at (800) 448‐2474 or visit the ODA shellfish closures web page.
2 dead after paddle boarding accident near Eugene
Two people died Wednesday after their paddle boards became tangled in debris on the Willamette River in Lane County, according to media reports.
Just before 3:30 p.m., someone called 911 to report that it appeared there was something stuck in debris on the river east of Interstate 5 in Glenwood, the Eugene Register-Guard reported.
Responding deputies from the Lane County Sheriff's Office discovered two paddle boards in the river, the newspaper reported, and later pulled two bodies from the water. Neither of the victims were identified.
Worker falls to death at Beaverton construction site
A worker fell to their death at a construction site in Beaverton on Wednesday morning. Tualatin Valley Fire & Rescue officials said the fall happened at a site at SW 172nd Ter and Sw Goldcrest Ln. The worker fell from the roof of the building. Witnesses tried to revive them but they succumbed to their wounds. Their identity has not yet been released.