The latest news stories and stories of interest in the Rogue Valley from the digital home of Southern Oregon, from Wynne Broadcasting and RogueValleyMagazine.com
Thursday, January 7, 2021
Rogue Valley Weather
Today- Areas of fog before 10am. Otherwise, mostly cloudy, with a high near 47. Calm wind.
Friday- Rain, mainly before 10am. Snow level 3500 feet. High near 49. Light and variable wind. Chance of precipitation is 80%. New precipitation amounts of less than a tenth of an inch possible.
Saturday- Partly sunny, with a high near 47. Light east southeast wind.
Sunday- Mostly cloudy, with a high near 49.
Monday- A slight chance of rain after 10am. Mostly cloudy, with a high near 50.
The OHA said Wednesday's case count is lower than anticipated because of a server outage that led to an unscheduled database downtime on Tuesday. Wednesday's Tableau updates wouldn't include electronic laboratory reporting data from the previous day.
The cases reported were in the following counties:
Baker (11), Benton (8), Clackamas (79), Clatsop (15), Columbia (8), Coos (13), Crook (4), Curry (1), Deschutes (10), Douglas (10), Gilliam (2), Grant (1), Harney (2), Hood River (6), Jackson (44), Jefferson (12), Josephine (11), Klamath (31), Lake (5), Lane (49), Lincoln (3), Linn (19), Malheur (17), Marion (134), Morrow (2), Multnomah (114), Polk (14), Sherman (1), Tillamook (4), Umatilla (50), Union (4), Wallowa (2), Wasco (7), Washington (27), Yamhill (44)
OHA also provided an update on vaccines Wednesday, saying the total number of COVID-19 vaccine doses administered in the state is now 61,671. All vaccinations occurred at Oregon hospitals, long-term care facilities, emergency medical service agencies, urgent care facilities and local public health authorities.
More than 225,600 doses of the vaccine have been delivered to sites across Oregon.
Oregon Has A Plan To Ramp Up COVID-19 Vaccination; Travel Advisories & Self-Quarantine Still In Effect
Oregon Health Authority Director Patrick Allen and Dr. Dana Hargunani, OHA's chief medical officer, held a media briefing today to discuss the steps OHA is taking to scale up Oregon's vaccine program and achieve Governor Brown's goal of 12,000 COVID-19 vaccinations per day within the next two weeks.
Oregon's pace of COVID-19 vaccinations is on par with other states, with more than 1.2 percent of the population having been vaccinated as of yesterday.
Director Allen and Dr. Hargunani announced that this week OHA will take the following steps:
Speed Phase 1A prioritization by simplifying the staging and sequencing among groups.
Speed the number of doses delivered to nursing home staff and residents by activating Part B of federal pharmacy partnerships. OHA anticipates this change will speed vaccinations to approximately 80,000 staff and residents.
Speed the number of doses delivered to health care workers and other Phase 1A groups by giving them the option to get vaccinated at retail pharmacies.
Make more doses available to Phase 1A workers by leveraging every available public health capability at our disposal.
Speed the number of doses delivered to unaffiliated health care workers, nursing home staff and others by supporting innovative partnerships, such as a collaboration between OHSU and labor union SEIU to launch a pilot vaccination effort.
Oregon is currently in Phase 1A of the vaccination effort. So far, members of Group 1 of Phase 1A are receiving vaccine, which includes staff who work in hospitals, urgent care settings, skilled nursing and memory care facilities (and residents) and tribal health programs, as well as emergency medical service providers and other first responders.
The changes give providers more flexibility to vaccinate people in other groups in Phase 1A, rather than each group getting vaccinated sequentially.
Others who are eligible for Phase 1A vaccinations include people who work in:
Congregate care sites, such as nursing homes and residential behavioral health programs.
Outpatient providers who serve specific high-risk groups.
Home health providers.
All other outpatient providers.
Public health programs, and a range of other front-line roles.
According to Director Allen, speeding up the process within Phase 1A will mean that critical workers and vulnerable populations, followed by the general population, will be served sooner.
"That will save more lives and end the pandemic in Oregon sooner, too," Allen said. "But as we roll out the vaccines, all of us need to keep taking the steps that have saved thousands of lives in Oregon and staved off the worst extremes of the crisis that we've seen in other states: Keep wearing your masks, maintain physical distancing, minimize your indoor social get-togethers, stay home if you feel sick, and wash your hands well and often."
Sequencing for future phases will be determined by the new Vaccine Advisory Committee, which meets for the first time on Thursday. We will share updates from these meetings in the newsletter.
More information can be found on OHA's COVID-19 vaccine webpage: https://covidvaccine.oregon.gov/
There are 128 active COVID-19 workplace outbreaks in Oregon as of this week, according to the Oregon Health Authority (OHA).
There have been 70 deaths and 14,549 cases associated with workplace outbreaks in Oregon during the pandemic, according to OHA.
Health officials track outbreaks of five or more employees at workplaces where there are at least 30 workers. An outbreak remains active if there has been a case within the past 28 days. The case count for each workplace includes everyone who is linked to the outbreak, whether they are workers or a close contact.
Most recent onsets reported this week are:
Deer Ridge Correctional Institution – Most recent onset Jan. 4
Two Rivers Correctional Institute – Most recent onset Jan. 1
Salem Hospital – Most recent onset Jan. 1
WinCo Foods Distribution Center – Most recent onset Jan. 1
Ajinomoto Foods North America – Most recent onset Jan. 1
Oregon State Penitentiary – Most recent onset Dec. 31
Powder River Correctional Facility – Most recent onset Dec. 31
Legacy Mt Hood Medical Center – Most recent onset Dec. 31
Rainsweet Inc – Most recent onset Dec. 31
The largest active outbreak remains at the Snake River Correctional Institution in Ontario. The outbreak was first identified on June 24 and the case count has continued to rise since then. There have been 574 coronavirus cases linked to the outbreak, with the most recent case reported on Dec. 29.
The three largest active workplace outbreaks in Oregon are at prisons:
Snake River Correctional Institution, Ontario: 574 cases (most)
Eastern Oregon Correctional Institution, Pendleton: 530 cases (second-most)
Deer Ridge Correctional Institution, Madras: 265 cases (third-most)
Homicide Investigation Results in Arrest of two Suspects in California
On January 5, 2021 at 11:07 a.m., the Grants Pass Department of Public Safety (GPDPS) received a 911 call from the Red Lion Inn at 1880 NW 6th St in Grants Pass. An employee located an unconscious man on the floor of a hotel room and requested immediate assistance. Police Officers with the Grants Pass Department of Public Safety responded to the scene and initiated a death investigation. GPDPS Detectives were later notified and assumed control.
Through the course of the investigation, the victim was identified as 42-year-old Ryan Antone Dutra. Mr. Dutra is a resident of California and had rented the room at the hotel. He was found alone and sustained a gunshot wound. Detectives secured the scene and applied for a search warrant for the room. No other suspects or persons were located in the area or had knowledge of the incident. It was not believed there was any additional threat to the public.
Due to the fact there was no suspect information at the scene, Detectives worked tirelessly throughout the day and night to develop leads. Using numerous technologies, to include video surveillance, cell phone technology, and license plate reader data, they were able to identify the suspects as 41-year-old Derek Ian Smith and his wife, 34-year-old Tera Lindsey Smith, of California.
By the time the suspects were identified, it was believed the couple had already returned to California. Aided by detectives from the Rogue Area Drug Enforcement (RADE) Team, GPDPS Detectives coordinated efforts with several California agencies to obtain information pertinent to the case. Assisting agencies included the California Highway Patrol, Sacramento Police Department, San Luis Obispo Sheriff's Office and the Stanislaus County Sheriff's Office. The Josephine County District Attorney's Office was also consulted throughout the investigation.
On January 6 at 10:30am, Derek and Tera Smith were located on Interstate 5 in Newton, California. Both suspects were taken into custody without incident by the California Highway Patrol and the Stanislaus County Sheriff's Office, less than 24 hours after the initial report.
This incident is an example of a coordinated response by local police agencies and the use of numerous investigative techniques and partnerships between adjoining states to ensure the safety to the public and a complete investigation resulting in the arrest of those suspected of committing this egregious crime.
This remains an active investigation and further requests for specific information about the incident should be forwarded to the Josephine County District Attorney's Office. General investigative and/or procedural questions can be directed to Chief Warren Hensman at (541) 450-6260.
The Grants Pass Department of Public Safety would like to extend our condolences to the family of Mr. Dutra. We would also like to acknowledge the hard work of our detectives and those of the California law enforcement agencies who assisted in locating and arresting the suspect in this case.
VICTIM:
Ryan Antone Dutra, 42 years old California Resident
ARRESTEES:
Derek Ian Smith, 41 years old California Resident
Charges:
Murder I
Robbery I
Unlawful Use of a Weapon
Tera Lindsey Smith, 34 years old California Resident
Charges:
Murder II
Robbery I
Unlawful Use of a Weapon
Jackson County is Distributing PPE To Local Businesses
Pick-up will last until January 8, 2021 or until supplies last at: 1 Peninger Road, Central Point, Oregon 97502. If you have questions or need to coordinate a pick-up, please contact the Jackson County Expo at (541) 774-8270 or email JC_EOC_Logistics@jacksoncounty.org
The Jackson County Expo is distributing personal protective equipment for businesses in and outside Jackson County.
The distribution will be a drive-through pickup only through Gate 3 between 7:30 a.m. through 10:30 a.m. and there will be a sign in the parking lot to text for what business and how many bags are needed.
Each bag will include sanitizing wipes — both with and without alcohol — no-touch thermometers, gloves and surgical masks. The Expo is currently out of sanitizing spray. All businesses are welcome to pick up as many bags as they need.
"Jackson County has been provided another allotment of PPE thanks to Business Oregon, and we are distributing it free of charge to Oregon based businesses . . . We are excited to help our local businesses keep their doors open while helping to slow the spread of COVID-19," said Helen Funk with the Jackson County Expo.
AROUND the STATE of OREGON
State Police Declare Unlawful Assembly at Oregon's Capitol, 2 Arrested
Oregon State Police declared an unlawful assembly outside the State Capitol Building in Salem Wednesday afternoon when violence broke out between a group of pro-Trump protesters and counter-demonstrators who were gathered nearby. At least two people were arrested, according to OSP.
Protesters gathered outside of the Capitol at around noon in opposition of the certification of the presidential election results for a rally billed as "Operation Occupy the Capitol." More than an hour later, Salem Police said that a group of counter protesters had gathered nearby.Caption: State police declare unlawful assembly at Oregon's Capitol. (KATU)
Salem Police officials said Tuesday that they were coordinating with Oregon State Police on handling the planned demonstrations. Shortly before 2 p.m., there was a clash between the two groups.
Minutes later, law enforcement moved in and declared an unlawful assembly. State police also announced that one person had been arrested for harassment and disorderly conduct.
According to Salem Police, law enforcement did not use force to separate the groups.
We are grateful to the public who followed warnings to stay away from the affected areas as doing so allowed officers to effectively address the evolving situation.
Department officials said around 3:45 p.m. that the crowds around the Capitol had thinned out, and that traffic was flowing on nearby streets.
According to social media posts by organizers, the demonstrations were in support of President Donald Trump, who held a rally in Washington D.C. the same day. The Nation's Capitol locked down Wednesday afternoon with lawmakers inside as violent clashes broke out between supporters of the president and police.
OSP identified 39-year-old Cody Melby as one of the people arrested. Police accuse him of trying to get into the closed Capitol through several doors. He faces a charge of trespassing while in possession of a firearm.
David Willis, 43, of Lincoln City was also arrested. He faces charges of harassment and disorderly conduct. OSP said Willis may face additional charges.
The Marion County Courthouse and Courthouse Square were also both closed ahead of Wednesday's planned protests.
Oregon Marijuana Sales Soared In 2020, Topping $1B
Oregon recreational-cannabis sales soared in 2020, peaking during a challenging summer of racial justice protests and coronavirus lockdowns.
The result was a record year of business for the state's marijuana purveyors, based on data from the Oregon Liquor Control Commission, which oversees marijuana sales, The Oregonian/OregonLive reported. Total marijuana sales in Oregon jumped from $795 million in 2019 to more than $1 billion — $1,110,520,723 — for the year that just ended.
Oregonians began buying a lot more recreational cannabis in March when Gov. Kate Brown instituted a stay-at-home order and other restrictions in an attempt to slow the spread of the coronavirus pandemic. Sales numbers for marijuana spiked about 20% in March and kept climbing in the following months.
In May, Oregon marijuana sales topped $100 million in a single month for the first time. Sales then surpassed $100 million in each of the three months that followed as well, with a high of more than $106 million in July.
In 2014, Oregon voters approved Measure 91, which legalized the recreational use of marijuana. Regulated sales began the following year.
State tax revenue from marijuana sales in 2020 likely will exceed $150 million. Much of that will go toward substance-abuse screening and programs to address addiction.
Oregon One Of 24 States Paying $300 In Extended Unemployment Benefits In First Week
About 72,000 people in Oregon faced a gap in their unemployment payments when federal legislation stalled. About 59,000 of them had been paid as of Tuesday.
And tens of thousands of Oregonians have begun receiving the additional $300 a week.
"While most eligible … claimants received their benefits from last week without any interruption, we hope to issue payments for other this week and next," he said Wednesday.
When many businesses in Oregon were forced to close in March 2020 and hundreds of thousands of people in the state filed for unemployment benefits, the agency struggled for months to catch up.
This time, the agency was able to recover in a little over a week from the delayed resolution and signing of the Continued Assistance for Unemployed Workers Act into law Dec. 27.
"We've got a much more agile agency now," Gerstenfeld said. "It's a lot of the same work that had to be done when the pandemic first started and the CARES Act passed.
"We've evolved quickly to it and we're handling it much more deftly, and I think our ability to get so many people their benefit with no pause at all is a testament to the dedication, the expertise of our employees."
One of the largest components of the new benefits package was the additional $300 weekly unemployment benefit.
Though it was less than the $600 weekly boost from the CARES Act, which expired in July, the additional benefits required significant programming.
Gerstenfeld said about 122,000 people in Oregon received the $300 weekly boost for last week's unemployment benefits, which were paid out this week.
"As long as people get at least $1 in weekly benefits, they get the additional $300 benefits each week for the duration of this program," Gerstenfeld said.
Oregon is one of 24 states to pay the $300 addition, according to unemploymentpua.com.
The weekly additional unemployment benefit runs through March 14.
© Courtesy Oregon Employment Department David Gerstenfeld took the helm of the Oregon Employment
Gerstenfeld said the federal legislation allows Oregon to be more flexible with its extended benefits program.
The program the state participates in allows it to pay 13 or 20 weeks of additional unemployment benefits for those who have exhausted their unemployment benefits in times of high unemployment rates.
Normally, when the state's three-month average unemployment rate falls below 6.5%, which happened in December before a second spike in COVID-19 cases led to further businesses being forced to shut down, the state had to cut extended benefits to 13 weeks from 20.
Normally the state would have to wait another 13 weeks after it reduced extended benefits to allow the longer extended benefits, but Gerstenfeld said the legislation allows the state to suspend that rule.
The most recent unemployment rate in Oregon was 6.0% in November.
"Suspending this rule will ensure that Oregonians do not lose the essential benefits they are relying on due to a short-term improvement in our unemployment rate," Gerstenfeld said.
Stranded Group Rescued After Nearly Two Days Stuck In Oregon Cascades
A group from the Salem area are thankful for family and friends who came to their rescue after spending nearly two days stranded in the Oregon Cascades.
The trip into the Cascades for R.J. Hampton, his brother Kheigan Hampton and their girlfriend's Haley Davis and Kayleigh Ford was to see the snow, but it turned into much more than that. They were left stranded with no cell phone service and a vehicle that having mechanical problems.
The four say they had planned to go up to the Snow Peak area outside of Salem on Sunday to enjoy the snow. They know the area very well and are very familiar with off-roading in that part of the Cascades. When they got to Snow Peak, there was no snow. So the group headed up Hwy. 22 past Detroit to Straight Creek Road and into the forest.
As they were going along, RJ says they were getting close to a quarter of a tank of fuel left. He says they stopped to put more in from a five-gallon tank he had with them. He shut the engine off to use the key to unlock the fuel door to put gas in the vehicle. He said when they went to start the engine. It would not turn over.
The group had told family they had plans to go to Snow Peak, but not that they had diverted to a different part of Linn County. When they did not return home, the family became worried.
While the four were waiting and hoping for rescue, a massive search was underway to find them.
On Tuesday morning, a sight and sound the stranded group thought they might never see or hear. A pair of snowmobiles came racing up the road and found them. They say the two riders on the snowmobiles were old classmates from Cascade High School.
They're still a bit shaken by the ordeal but glad to be out of the Cascades. The four cannot thank those who were out trying to find them enough. They say they know so many people gave up so much to come help. It was an emotional time for all of them when they were met at the end of Straight Creek Road by a big group of people happy to see the four were alive.
Tigard Police Officers Involved In Deadly Shooting
Tigard police shot and killed a man near SW Hall Boulevard and SE Bonita Road. Washington County Major Crimes Team is investigating.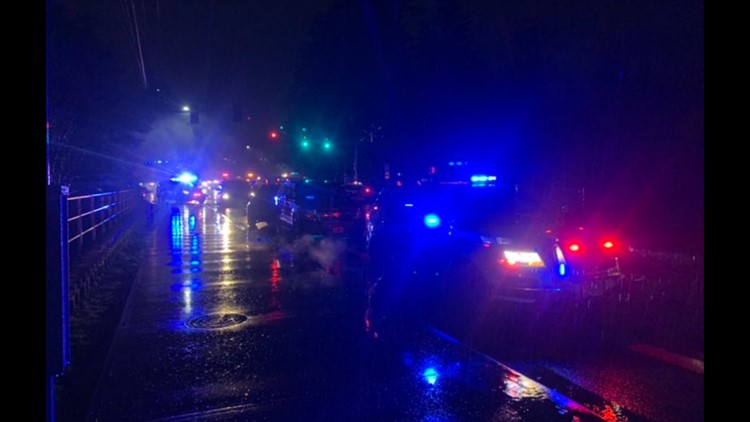 Tigard police confirmed via Twitter on Wednesday that officers were involved in a deadly shooting that left one man dead. No officers were injured.
According to the tweet thread, at around 7 p.m., the agency said that it could confirm there was police activity in the area of SW Hall Boulevard and SW Bonita Road but said there was no threat to the public.
Another update from Tigard police said that roads were closed, then a short time later was reopened but a heavy police presence remained including members from the District Attorney's Office.
At around 10:30 p.m. Tigard police confirmed officers were involved in a deadly shooting. No officers were hurt but one person was pronounced dead at the scene.
Gray Wolves Delisted, Remain Protected In Oregon
Gray wolves no longer receive protection under the federal Endangered Species Act, but they do from the state of Oregon.
The U.S. Fish and Wildlife Service formally removed the gray wolf species from the endangered species list effective Monday, Jan. 4, in the lower 48 United States. The change transfers wolf protections from the federal government to state governments. In Oregon, that job goes to the Oregon Department of Fish and Wildlife.
The known wolf population in the state has grown from 14 in 2009 to 158 at the end of 2019, with 141 of those found in ODFW's eastern management zone.
ODFW said in a press release the most significant change to the management of Oregon's wolves will be in the form of depredation. ODFW could allow the lethal removal of a wolf in situations where nonlethal measures have proven unsuccessful.
Nonlethal and preventative measures for resolving conflicts with wolves are a focus for ODFW.
"Wolves remain protected throughout the state. Hunting and trapping of wolves remains prohibited statewide," according to an ODFW press release.
Fish and Wildlife encouraged livestock producers to visit their website to review preventative measures to limit conflicts with wolves and to sign up for updates on wolf-livestock conflicts.
"We thank all landowners in areas with wolves for going the extra mile to implement nonlethal measures over the past few years," said ODFW Director Curt Melcher. "We know that regardless of whether or not you lose livestock to wolves, their presence requires changes to your business practices, and we thank you for taking these steps to reduce conflicts with wolves."
ODFW identifies "areas of known wolf activity," where packs have become established — such as the Clark Creek Pack in Union and Wallowa counties. The agency communicates with livestock producers in these areas about wolf conservation and nonlethal protection measures, such as fencing, protection dogs and alarms. They emphasize these measures in "areas of depredating wolves," which can encompass all or part of a pack's AKWA.
When wolves kill livestock in AKWAs, ranchers have a little more recourse under Oregon law than they did under the federal law. Now, they'd be allowed to kill those wolves, but only if they satisfy two requirements. First, they must have used at least one nonlethal measure to protect their livestock from wolves "prior to and on the day of the incident of depredation," according to the law. Second, they must have removed or neutralized "reasonably accessible unnatural attractants of potential wolf-livestock conflict," such as bones or carcasses, at least seven days prior to the depredation incident.
In areas of depredating wolves (ADWs), landowners have the additional requirement of implementing at least one nonlethal measure in the area-specific conflict deterrence plan that is specific to the location, type of livestock operation, time of the year and/or period of livestock production associated with the depredation. That measure may, in some cases, be the same as the nonlethal measure used to fulfill the AKWA requirement.
Financial assistance for livestock producers who've lost animals to wolf conflicts or who wish to implement nonlethal measures to prevent those losses is available through the Department of Agriculture. For more information, visit oregon.gov/oda.
Beaverton Woman makes history as the first ever DEAF contestant on The Bachelor
After Monday night's season 25 premiere of The Bachelor, fans are going wild over the inclusion of the show's first deaf contestant.
Abigail Heringer, a 25-year-old client financial manager from Beaverton, Oregon, is one of 32 women competing for the attention of Matt James, 29 — who is himself the show's first black Bachelor.
But while she may have plenty of competition, Abigail is already a fan favorite, having stood out as the first-ever deaf person to compete on the reality show since it premiered on ABC in 2002.
Abigail explained that she 'was born completely deaf.'
'So there's something a little bit different about me,' she told Matt when they met. 'And that is I'm deaf. So I'm going to be reading your lips a lot tonight, but thankfully you have really beautiful lips. So I'm not complaining!'
'I love that,' he responded. 'I'm gonna enunciate for you.'
The pair clearly hit it off, and were already kissing during a one-on-one chat the first night they met.
Moments later, he presented her with the First Impression rose.
She graduated from South Salem High School in Salem, Oregon in 2013 and studied finance at Linfield College before getting a job as financial analyst for a Beaverton, Oregon–based event and marketing company.