The latest news stories and stories of interest in the Rogue Valley from the digital home of Southern Oregon, from Wynne Broadcasting and RogueValleyMagazine.com
Friday, January 8, 2021
Rogue Valley Weather
Today- Showers, mainly before 10am. Snow level 3600 feet. High near 47. South wind around 5 mph becoming light and variable. Chance of precipitation is 80%.
Saturday- Partly sunny, with a high near 49. Light north northeast wind.
Sunday- Mostly cloudy, with a high near 51. East southeast wind around 5 mph becoming calm in the morning.
Monday- Mostly cloudy, with a high near 50.
Tuesday- A chance of rain. Cloudy, with a high near 51.
The State reported 10 COVID-19 related deaths and 867 new coronavirus cases on Thursday. According to the officials, Thursday's case count is lower than anticipated because of technical issues, but did not specify what the issue was.
The Oregon Health Authority did not immediately respond to questions about how far off the count was or how long it would take to fix.
According to the statistics, Oregon's seven-day average had been climbing for the last week from a low of 879 new cases per day Dec. 29 to 1,174 Tuesday.
The positivity rate has been climbing as well, with the weekly average rising from 6.5% to 7.8% as of Thursday.
Increasing cases and test positivity rates preceded the fall spike that sent cases to a record daily average of about 1,500 in early December — eventually resulting in record deaths that month.
Facts about the COVID-19 Vaccine
• Vaccination is the best way to keep yourself, your family, and your community healthy.
• COVID-19 vaccines are more than 94% effective and have undergone rigorous safety testing.
• Vaccination gives us hope that the pandemic will end. Still, in the meantime, we need to continue safety
measures to keep the virus from spreading: Wear a mask, physically distance from others, wash your hands,
avoid gatherings, and stay home when you're sick.
Clinical studies showed both the Pfizer and Moderna vaccines to be more than 94% effective when both doses are
received. Neither vaccine showed serious safety issues and protected people from getting COVID-19 and getting
seriously ill if they got the virus.
These vaccines were tested in large clinical trials and research studies with tens of thousands of people to ensure
they met the safety standards. Both vaccines were tested in many more people than a typical vaccine trail. Many
people were recruited to participate in these trials to see how the vaccine offers protection to people of different ages, races, ethnicities, and various medical conditions. The FDA and a safety board reviewed every study, every phase and every trial. COVID-19 safety and effectiveness.
Most people do not have serious problems after being vaccinated. Common side effects include your arm may
become sore, red, or warm to the touch. These symptoms usually go away on their own within a week. Some
people report getting a headache or fever when getting the vaccine. These side effects are a sign that your immune
system is doing exactly what it is supposed to do. It is working and building up protection to the disease.
For more information:
• The public can call 211-information with general questions
• OHA Emerging Respiratory Disease page: www.healthoregon.org/coronavirus
• CDC COVID-19 page: www.cdc.gov/coronavirus/2019-ncov/index.html
• OHA COVID-19 Vaccine: https://govstatus.egov.com/or-oha-covid-vaccine
• CDC COVID-19 Vaccine: https://www.cdc.gov/coronavirus/2019-ncov/vaccines/index.html
• Jackson County HHS Vaccine: https://jacksoncountyor.org/hhs/COVID-19/COVID-19-News/covid-19-vaccine
• CDC Travel within the U.S.: https://www.cdc.gov/coronavirus/2019-ncov/travelers/travel-in-the-us.html
• Jackson County Health and Human Services: http://jacksoncountyor.org/hhs/COVID-19
• Oregon COVID-19 Testing Location Finder: https://govstatus.egov.com/or-oha-covid-19-testing
• Review the Statewide Mask, Face Covering, Face Shield Guidance for detailed information
Governor Brown Plans Friday COVID Update –
Oregon Governor Kate Brown along with representatives from the Oregon Health Authority and Oregon Department of Education will give an update on the state's ongoing response to COVID-19 on Friday at 11am.
Medford Moving Toward 5G Network Expansion
The city of Medford is about to issue its third agreement over the past year and a half to install newer types of cell towers throughout the city. Medford City Council will consider granting a franchise to SQF LLC, a Delaware, Maryland, company, to install 5G network devices in the public right of way.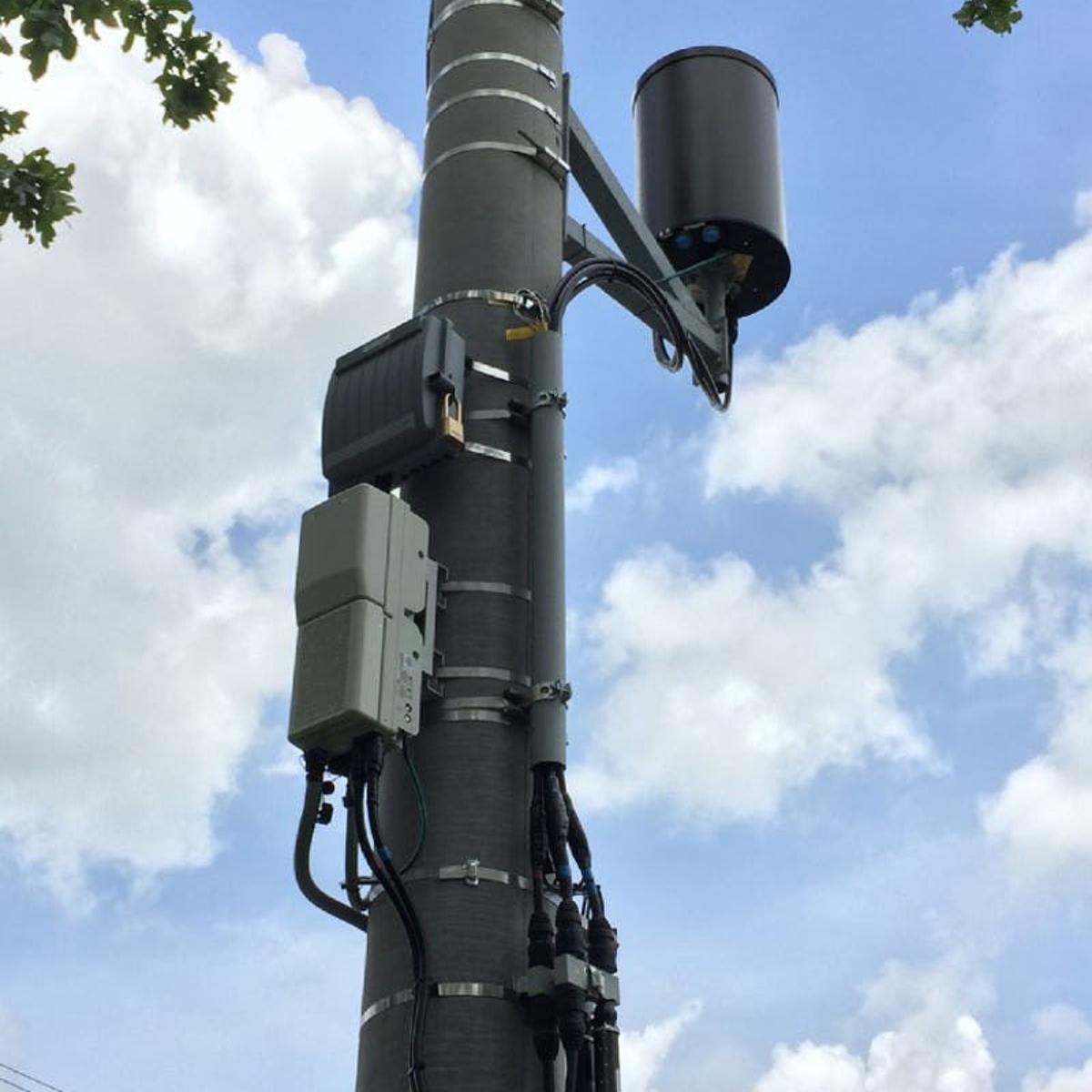 While 5G-enabled phones have begun hitting the market, there still is only limited 5G service in Jackson County, and it's a slower version than what should be coming in the near future.
5G stands for fifth generation, and it is the next step in providing faster Internet connections to mobile devices, though some critics have denounced it because of fears it can cause health problems, which most studies have shown are unfounded. In addition to its increased speed, 5G also can handle a lot more devices simultaneously on its network. However, not all 5G networks offer the promise of blazing fast speeds.
Cellphone companies have marketed different versions of 5G, though the ultra-fast versions are mostly available in major cities. T-Mobile has a low-band 5G network locally that has faster speeds than the the 4G network that most people use. Eric Mitton, deputy city attorney, said SQF is affiliated with U.S. Cellular.
Both Verizon and U.S. Cellular have separate franchise agreements to install additional 5G network devices in the city, he said. Mitton said 5G requires more small devices to create a cell network compared to the larger cell towers for 4G.
He said the agreements the city has with various companies allows these 5G towers to be installed only in the public right of way, not on private land. Sometimes cell companies also create agreements with property owners to install the devices on their properties.
Heidi Flato, a spokeswoman for Verizon, said her company doesn't currently offer 5G in the Medford area, and she didn't provide any information about when it would be available. U.S. Cellular didn't provide any information about when it would provide 5G.
Jim Teece, president and chief executive officer of Ashland Home Net, Project A and Rogue Broadband, said true 5G is really designed for high-density urban areas. Teece said the range of a 5G tower is about 1,000 feet, possibly up to 1,500, but the more familiar 4G towers work for about 10 miles. Most of the Interstate 5 corridor through this area offers fast 4G connections, he said.
Teece said 5G has a number of advantages and allows for up to 100 times more users, with a lower latency, or time for the signal to travel, measured in milliseconds. "In order for us to have the fifth generation, we have to have lots of these towers, and they have to be smaller," he said.
Teece said some people have raised concerns about the health hazards from 5G, but most reputable studies have so far found these concerns are unwarranted.In 2019, a New York Times article delved into concerns about the health effects from 5G and found that most of the information can be traced to a single scientist and a single chart, concluding that the information in the chart was wrong.
"We're not going to go backward unless someone finds out there truly is a health problem," Teece said. But confusion about 5G because of marketing ploys by companies have created other problems. Some Wi-Fi connections also claim to offer 5G, but Teece said it has nothing to do with the 5G for the cellular networks. Also, many cellphone companies claim to offer 5G, but it's a low-band version of the network, Teece said.
Teece said consumers are sucking up more and more bandwidth, and he acknowledged he's one of them, watching football on his phone while he's out and about. Video consumes a lot of bandwidth. While it might be some time before Medford gets a robust 5G network, Teece said it has the promise to offer far greater connection speeds.
The second phase of clean-up following the Almeda Fire is at last set to begin within the coming weeks, according to Jackson County officials.
Crews contracted by the federal EPA largely wrapped up efforts to remove hazardous waste from the burn areas in
November. Though those crews removed roughly 300,000 pounds of waste from damaged Oregon properties, it only represents a small fraction of the debris left behind in the wake of those September fires. The next step is to remove ash, structural debris, concrete foundations, and other debris.
This process will begin around mid-January, Jackson County said. Oregon Wildfire Recovery cleanup crews are continuing their preparations of staging equipment, completing environmental testing and coordinating with property owners to begin Step 2 of the Almeda Fire ash and debris removal,. Once this second step is completed, properties will be ready for rebuilding. Property owners will receive a letter from Oregon DEQ stating that the clean-up is finished.
AROUND the STATE of OREGON
Three People From Oregon Arrested After Riots At US Capitol
According to the Metropolitan Police Department of the District of Columbia, the following three people from Oregon were arrested:
Kristina Malimon – curfew violation, unlawful entry on federal ground
Yevgemya Malimon – curfew violation, unlawful entry on federal ground
Rodney Taylor – curfew violation
Kristina Malimon is vice chairwoman of the Young Republicans of Oregon. She posted on Instagram from Washington, D.C. on Wednesday before her arrest.
A police arrest log said the Malimons were arrested in the 100 block of First Street NW, which is on the U.S. Capitol grounds.
Taylor, a Bandon business owner, was arrested on 14th Street NW, away from the Capitol. He told KGW he was arrested near his hotel after the D.C. mayor's curfew.
According to court documents, a police officer saw the Malimons with a group of six women on the Capitol grounds at 7:15 p.m. Wednesday in violation of the curfew put in place by Washington DC's mayor.
The officer said they gave the women at least three warnings to leave and go inside but they did not obey. That's when police arrested all six women.
Both Kristina and Yevgemya Malimon were appointed attorneys and arraigned on Thursday afternoon, according to court records.
Coronavirus Vaccine Doses In Oregon Go Unused
More than three dozen coronavirus vaccine doses in Oregon didn't get to patients. Oregon Health & Sciences University lost 15 doses because two vials were mixed wrong, and one was broken. Legacy Health Systems says 27 doses weren't used when not enough health care workers were available to take the shots. However, Legacy Spokesperson Brian Terrett says 'expired' is a better term than lost or wasted.
"The one thing people need to recognize more than anything else is that this a very fragile vaccine" said Terrett. "Once it's thawed, the clock starts ticking, you have two hours before it expires. And once the seal on the vial is penetrated, you have about an hour." Terrett says Legacy was expecting to get five doses of vaccine out of every vial.
"It turns out we were getting six or seven, and didn't have people lined up to get the vaccine." The lost doses account for less than one tenth of one percent of the 67,000 doses given out in Oregon so far. Jonathan Modie of the Oregon Health Authority says that "vaccine loss and spoilage is a normal part of distributing vaccine."
OHA keeps track of vaccine losses and documents them on ALERT IIS, Oregon's Immunization Information System. "We believe the vaccine is being handled and administered in a proper and timely way" said Modie.
To that end, Legacy has adopted a couple of new tactics, arranging vaccinations in two bigger, more central facilities so more people will be available, and arranging shots with workers schedules. "We could have easily walked into an entire unit and given everybody the vaccine and said 'there you go we're great.' But the problem is, if everybody had a bad reaction, and we had no one to show up the next day for work, then we have a whole different issue on our hands" said Terrett. OHA is also making some changes with hospital partners to help with distribution and limit losses.
"Some systems will have a mobile van unit, that could be a resource to deploy in their community" said OHA's Dr. Dana Hargunani. "We've been in direct conversation with our hospital partners so that groups can move forward, like Salem Health for example, to do vaccination for others across phase 1-A, so that's a good example of continuing to get more guidance out."
The Surgeon General also announced this week that the 1-A, 1-B, and 1-C guidelines for distributing vaccine to priority patients is just that, a guideline, and not a requirement. That's something OHA is already putting into practice.
"Home care workers are uniquely difficult to vaccinate as a group. Because they do not have a central employer or work site. And they work in every corner of the state. And speak many, many different languages" said Melissa Unger with the nurses union. "We're really hopeful that this collaboration will give us a path to do that. To be able to work with home care workers and their consumers, and then we'll expand that to additional essential workers and vulnerable populations."
Oregon SNAP Benefits Increase Extend Through January
The Oregon Department of Human Services will continue to offer increased food benefits in January to help Oregonians struggling as a result of the COVID-19 pandemic.
This benefit increase applies to current Supplemental Nutrition Assistance Program (SNAP) recipients who are receiving less than the maximum allotment.
Additionally, in response to the ongoing COVID-19 crisis, there is also a temporary increase in SNAP benefits of approximately 15% for all recipients.
SNAP recipients do not have to take any action to receive additional benefits as they will be placed directly on their Oregon EBT cards.
Households receiving SNAP benefits will see the additional supplement to their benefits based on a maximum allotment scale.
For example, if there are four individuals in a household and that household is currently receiving $500 in benefits, the emergency allotment supplement will raise their benefits to the maximum allowed for households of four, which is $680 per month – or an increase of $180.
With the additional increase in benefits, the total food benefits for that household would be $782 for the month.
Total supplemental benefits will differ based on each household's regular monthly allotment.
| | | |
| --- | --- | --- |
| Household Size | Maximum Monthly Benefit Amount | Benefit amount with 15% increase |
| 1 | $204 | $234 |
| 2 | $374 | $430 |
| 3 | $535 | $615 |
| 4 | $680 | $782 |
| 5 | $807 | $929 |
| 6 | $969 | $1,114 |
| 7 | $1,071 | $1,232 |
| 8 | $1,224 | $1,408 |
| Each additional person | $153 | $176 |
Additional benefits will be issued on January 12 and January 29. The January 29 benefits are for anyone who began receiving SNAP January 12 or after. Households only receive one allotment.
For more information about emergency supplemental allotments or to review frequently asked questions, visit https://www.oregon.gov/dhs/ASSISTANCE/FOODBENEFITS/Pages/About-SNAP.aspx.
Oregonians who receive SNAP can contact their local Self-Sufficiency Programs, Aging and People with Disabilities or Area Agency on Aging office for more information. Find a local office at https://www.oregon.gov/DHS/Offices/Pages/index.aspx or call 2-1-1.
The Oregon King Tides project seeking pictures as the last round of the highest winter tides will hit Oregon shores next week.
The "king tides" will last Jan. 11 through 13, according to the Oregon Shores Conservation Coalition.
The Oregon King Tides project is seeking pictures from all along the coast, to help figure out how to plan for rising seas. In particular, it needs photographs of beaches as well as public and private infrastructure, familiar landmarks and waterways that line Oregon's shore.
Organizers say visitors should consult tide tables to find the timing of the tidal peak in the area they intend to visit; but on Monday, it will be around 10 a.m. on the central coast.
Participants can upload the images to the Oregon King Tides website or post them to social media with the hashtags #orkingtides and #kingtides.
So far this winter, about 60 photographers have submitted more than 200 photos from the first two rounds of king tides, according to project organizers.
On the web: https://www.oregonkingtides.net/
On Facebook: https://www.facebook.com/orkingtide/
Fatal Crash on Hwy 101 in Curry County –
On Thursday, January 7, 2021 at approximately 5:30 P.M., Oregon State Police Troopers and emergency personnel responded to a vehicle that struck a pedestrian on Hwy 101 near milepost 358.
Preliminary investigation revealed a Dodge car, operated by Kristen Batey (44) of Brookings, was northbound when it struck Makenzie Long (28) of Brookings who was in the the northbound lane of Hwy 101.
Long was transported to the hospital where she was pronounced deceased.
OSP was assisted by Harbor Fire Department, Cal-Ore Ambulance, Brookings Police Department, Curry County Sheriff's Office and ODOT.
Two Oregon Men Facing Federal Charges For Covid-19 Fraud
Two Oregon men are facing federal charges for fraudulently using loans for COVID-19 pandemic business relief, announced U.S. Attorney Billy J. Williams.
Andrew Aaron Lloyd of Lebanon, Oregon, and Russell A. Schort of Myrtle Creek, Oregon, have been charged with wire fraud, bank fraud, and money laundering.
Lloyd and Schort took advantage of economic relief programs run by the Small Business Administration (SBA), including the Paycheck Protection Program (PPP), as authorized by The CARES Act
A review of bank records revealed that Lloyd and Schort applied for and received at least three PPP loan payments using three separate entities, totaling more than $2.2 million.
Schort was arrested yesterday by the FBI. Lloyd was arrested today by FBI agents.