The latest news stories and stories of interest in the Rogue Valley from the digital home of Southern Oregon, from Wynne Broadcasting's RogueValleyMagazine.com
Friday, January 15, 2021
Rogue Valley Weather
Today- Mostly cloudy, with a high near 53. Calm wind.
Saturday- Patchy fog before 1pm. Otherwise, mostly sunny, with a high near 55. Calm wind.
Sunday- Partly sunny, with a high near 53. Calm wind.
MONDAY M.L.King Day – Patchy fog before 10am. Otherwise, mostly sunny, with a high near 50.
Tuesday- Mostly sunny, with a high near 51.
There are 29 new COVID-19 related deaths in Oregon, raising the state's death toll to 1,737, the Oregon Health Authority reported at 12:01 a.m. today.
Oregon Health Authority reported 1,152 new confirmed and presumptive cases of COVID-19 as of 12:01 a.m. today, bringing the state total to 130,246.
The new confirmed and presumptive COVID-19 cases reported today are in the following counties: Baker (7), Benton (23), Clackamas (70), Clatsop (11), Columbia (15), Coos (11), Crook (12), Curry (1), Deschutes (82), Douglas (16), Harney (6), Hood River (9), Jackson (75), Jefferson (12), Josephine (18), Klamath (17), Lake (3), Lane (94), Lincoln (2), Linn (23), Malheur (14), Marion (137), Morrow (9), Multnomah (185), Polk (13), Umatilla (60), Union (19), Wasco (14), Washington (162), Wheeler (2) and Yamhill (30).
Vaccinations in Oregon
Today, the Health Authority reported that 16,355 new doses of COVID-19 vaccinations were added to the state immunization registry. Of this total, 10,172 vaccine doses were administered on Jan. 13 and 6,183 were administered on previous days but were entered into the vaccine registry on Jan. 13.
Based on updated totals, the Oregon Health Authority announced that vaccination sites across the state met Gov. Kate Brown's goal of ensuring 12,000 vaccinations a day at the end of last week. Vaccine providers in Oregon administered 12,039 total doses of the Pfizer-BioNTech and Moderna vaccines on Jan. 8, 2021. The Governor required the benchmark to be met by the end of the two-week period that began Jan. 4.
Cumulative daily totals can take several days to finalize because providers have 72-hours to report doses administered and technical challenges have caused many providers to lag in their reporting. The Health Authority has been providing technical support to vaccination sites to improve the timeliness of their data entry into the state's ALERT Immunization Information System (IIS).
"While we hit the Governor's goal of hitting 12,000 vaccines administered in a day last week," said OHA Director Patrick Allen, "we want to sustain and expand our daily totals. The state can't achieve our goal to deliver vaccinations quickly, efficiently and equitably, all on our own. I'm grateful for the hard work that staff in hospitals, local health clinics and other sites have put into ramping up vaccinations for Oregonians. Vaccines are the safest and most effective way we can end this pandemic."
Oregon has now administered a cumulative total of 146,137 first and second doses of COVID-19 vaccines. All vaccinations were administered by Oregon hospitals, long-term care facilities, emergency medical service (EMS) agencies, urgent care facilities and Local Public Health Authorities (LPHAs).
To date, 321,425 doses of vaccine have been delivered to sites across Oregon.
These data are preliminary and subject to change. OHA's dashboards provide regularly updated vaccination data.
Medford Struggling With Affordable Housing Demand After Wildfire
The Almeda Fire destroyed 2,400 homes in September, mostly in the small cities of Talent and Phoenix. About 75 percent of them were manufactured homes, according to a report presented to the Medford City Council Thursday night.
That means a lot of low-income seniors and families are looking for affordable homes in and around Medford. But the city was already struggling with housing availability before the fire.
Councilors met Thursday for a study session to discuss potential solutions. Since it was a study session, the council didn't take any action. The city is working with a consultant to analyze its current and future housing needs.
Deputy City Manager Kelly Madding says Medford needs to focus on ways it could entice developers to build more affordable homes. "The housing that is being produced for middle-income people or lower, slightly lower than middle-income people, we're not doing much in that area," she told councilors.
One idea was to issue a bond measure to fund housing initiatives. Another was to create a tax exemption for apartment developers.
A report prepared by city staff says housing continues to be costly, housing stock is low, and the median household income is about $48,000. The median sales price for a home as of November 2020 was $315,00, which is up 6 percent from the previous year. Rents have increased by 3.2 percent over the first six months of 2019.
Before the 2008 Great Recession, Medford was producing a high of 800 dwelling units a year; since then, it has averaged around 400 units a year. Meanwhile, incomes have increased slowly despite significant gains in employment. About 43 percent of Medford homeowners are cost-burdened, meaning they spend 30 percent or more of their income on housing. The situation is worse for renters, wherein 55 percent of renters spend more than 30 percent of their income on housing.
'Inn At The Commons' Being Converted to Apartments
MEDFORD— The distinctive Inn at the Commons in Medford is being sold, with the new owners planning to convert the hotel into an apartment complex.
Local couple Doug and Becky Neuman own the Neuman Hotel Group, which consists of Ashland Springs Hotel, Larks Restaurant, Waterstone Spa, Lithia Springs Resort, and Ashland Hills Hotel & Suites. The Neumans announced on Thursday that they are selling their Medford property, Inn at the Commons.
The Neuman Group said in a statement that they were contacted by a residential real estate company in late 2020. Fortify Holdings proposed to purchase and re-purpose the Inn at the Commons from a hotel into an 123-room apartment complex.
Citing the dire need for housing in the greater Medford area and the sharp increase in hotels, the Neumans said that they feel this conversion is in the best interest of the community.
"This repurposing is a much-needed change that can potentially create vibrant downtown community," the Neuman Group said. "Over the last eight years, since 2013 when Inn at the Commons was purchased from the Red Lion Hotel, there have been numerous chain hotels open up at both freeway exits. There are over 600 new hotel rooms in the Medford area, and more to come in the near future. City center will benefit with rental units much more, than with overnight lodging offered by a hotel."
The Meeting and Convention space at Inn at the Commons "is being looked at," the Neuman Group said, and there are opportunities for it to continue. The company also indicated that Larks Restaurant will continue on as-is, in addition to their other hotels.
"All the current staff at Inn at the Commons will have employment opportunities at other NHG properties," Neuman Group said. "The property will close sometime in the spring of this year."
The Neumans said that they are excited about the future for downtown Medford, and the potential benefit that housing there can provide. "Fortify sees this as a unique opportunity to serve the Rogue Valley Community with high-quality rental homes," NHG's statement said.
Medford Man Sentenced 15 Years for Attempted Murder of Police Officers
A Medford man who tried to ambush and kill police officers in June pleaded guilty on Thursday afternoon, earning a sentence of 15 years in state prison, according to the Jackson County District Attorney's Office.
Shortly after 9 a.m. on June 5, five Medford Police officers were sent to an address in the 3000-block of Adams Circle after receiving a report that 49-year-old Vincent Padgett was threatening to kill his family members, in addition to any responding officers.
The officers were told that Padgett could be armed, but his family did not believe that he had access to firearms. Padgett had prior felony convictions — including one for Conspiracy to Commit Murder — and was supposed to be barred from possessing guns.
"When the officers arrived, they took a tactical approach in case Mr. Padgett was, nevertheless, armed," the DA's office said.
One of the MPD officers spotted Padgett lying down in the bushes of his backyard, wearing body armor and holding an assault rifle. The officer happened to be approaching Padgett from behind, but the latter man was in a "tactical position" over the other officers, the DA's office said.
The officer behind Padgett told him to drop the rifle. Padgett temporarily obliged, but then set off a trio of smoke grenades. While the plume of smoke obscured the officers' view, they reported hearing Padgett trying to cycle his rifle. Despite the tense encounter, the officers were able to de-escalate the situation over several minutes until Padgett surrendered.
The DA's office said that officers found a loaded AR-15 rifle, 500 rounds of ammunition, a bulletproof vest, and night vision equipment after taking Padgett into custody. "The investigation also learned that Mr. Padgett had been aware that the officers were approaching the residence. Another handgun with armor-piercing rounds was later found subsequent to the execution of a search warrant of Mr. Padgett's residence," the DA's office said.
On Thursday, Padgett pled guilty to five counts of Attempted Murder in the First Degree, plus two counts of Felon in Possession of a Firearm. He was sentenced to 15 years in state prison, to be followed by five years of post-prison supervision.
AROUND the STATE of OREGON
'There is No federal reserve' of Virus Vaccine Doses Told to Gov. Brown
Governor Kate Brown announced Friday morning that she received the news that states will not be receiving increased shipments of coronavirus vaccines from the national stockpile next week because there is no federal reserve doses. The governor said General Perna of Operation Warp Speed told her the news Thursday night.
Oregon Gov. Kate Brown says the state's efforts to increase COVID-19 vaccinations have been thrown in disarray because of "deception on a national scale" by the Trump administration.
Via Twitter on Friday morning the Democrat said she was told by General Gustave F. Perna, who leads the "Operation Warp Speed" federal vaccine effort, that states will not be receiving increased shipments of vaccines from the national stockpile next week "because there is no federal reserve of doses."
"I am demanding answers from the Trump Administration. I am shocked and appalled that they have set an expectation on which they could not deliver, with such grave consequences," Brown wrote.
Brown had scheduled a news conference for Friday afternoon.
On Thursday, officials from the Oregon Health Authority announced that vaccination sites had met the goal of administering a total of 12,000 coronavirus vaccine doses a day. The state has administered a cumulative total of 146,137 first and second doses of COVID-19 vaccines.
Earlier this week, Brown announced that Oregon will expand COVID-19 vaccination to include people age 65 and and older.
Vaccination of Oregon seniors, as well as child care providers and early learning and K-12 educators and staff, will start on Jan. 23, when additional vaccine shipments are expected to start arriving from the federal government.
Search Now Recovery Mission for Oregon Woman in Landslide
PORTLAND — Searchers used inflatable yellow rafts and drove metal poles into deep mud Thursday as they searched for a woman who was swept away by a landslide in Oregon during a powerful winter storm.
Authorities said in social media posts that they have found part of the SUV that 50-year-old Jennifer Camus Moore, of Warrendale, Oregon, was driving when she was swept away Wednesday but have not located her.
Later Thursday, authorities said searchers believe her car came to rest under 15 feet (4.6 meters) of mud and debris and that the search had become a recovery mission.
Moore, a registered nurse, was caught up in a landslide in the Columbia River Gorge that was triggered by heavy rain and high winds that pounded the Pacific Northwest on Tuesday and Wednesday. The cliffs around the search area near the small community of Dodson, Oregon, remain unstable.
On Wednesday, searchers used thermal imaging to try to locate Moore without success, but it was too dangerous to send teams into the mudflow. On Thursday, the Clackamas County Sheriff's Office tweeted video of searchers using yellow inflatable rafts to navigate the dangerous terrain.
The slide was triggered by a powerful Pacific Northwest storm that swept into the area late Tuesday and Wednesday. Heavy rainfall and high winds left more than a half-million people without power, felled trees across Oregon and Washington and swept a tractor-trailer off a bridge. Localized flooding and debris flows shut down roads throughout the region, including a portion of Interstate 84 in Oregon.
Cottage Grove Named One Of The Most Charming Towns In The Country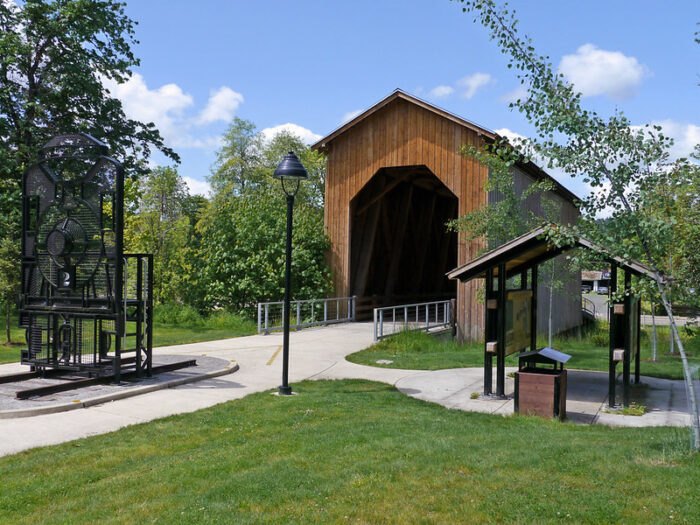 House Beautiful's article: 60 Charming American Towns You Haven't Heard of But Should Visit ASAP named Cottage Grove their Number 2 pick. https://www.housebeautiful.com/lifestyle/g3655/small-american-town-destinations/?slide=2
Central Oregon Coast Fire & Rescue Fire Chief Placed On Leave Pending Investigation
Gary Woodson, Central Oregon Coast Fire & Rescue fire chief, was placed on paid administrative leave pending an internal investigation.
Erich Knudson, the department's public information officer and facility engineer says Assistant Fire Chief Jamie Mason is currently acting as the department's interim fire chief, and that further information regarding why the district's board placed Woodson on leave would be available in the near future.
Knudson further explained that once that internal investigation concludes, the district's board will probably meet in an executive session — most likely to occur early next week prior to the district's scheduled Thursday, Jan. 21 board of directors meeting.
Knudson confirmed the meeting will be available to watch live online at the Information Station's YouTube page, located at https://bit.ly/2XFItS2. Meeting viewers may submit public comments or questions via email to Information Station at news@information-station.news. Questions will be relayed to the board members and answered at the end of the meeting.
Woodson's fire and rescue administrative career in Oregon has been marred with controversy. He abruptly resigned in the spring of 2014 as chief of the Pendleton Fire Department after serving in that capacity for fewer than four years. Woodson, who came to Pendleton from his native Missouri, worked for the Oregon Department of Corrections prior to being hired as chief at Central Oregon Coast Fire & Rescue.
The Central Oregon Coast Fire & Rescue District serves the city of Waldport and the Tidewater and Five Rivers communities. In November, district voters backed a renewal of Central Oregon Coast Fire and Rescue's property tax levy, which was set to expire at the end of the 2020-21 tax year. The fire district estimates it earns about 90 percent of its revenue from property tax collection, and that passage of the measure will earn the district more than $500,000 in 2021-22 and more than $564,000 in 2025-26.
For further information or questions, visit Central Oregon Coast Fire & Rescue's website at www.centralcoastfire.net or call the department at 541-563-3121.
Klamath Falls Murder/Suicide
On Wednesday, January 13, 2021, members of the Klamath Falls Police Department responded to 101 Lincoln Street on the report of a possible suicide. Officers were advised a family member had gone to 101 Lincoln Street to check on the occupants, and found the residents deceased.
Upon arrival, officers found two people deceased in the residence. The interior of the residence showed signs of a disturbance. Detectives were notified and assumed the investigation. Detectives requested the assistance of the Oregon State Police Crime Lab, they arrived early this morning to assist with the investigation. Oregon State Police also supplied a reconstructionist to diagram the crime scene.
Detectives learned the body of Sonia Stanley, 41-year-old female, was in the hallway of the residence with a gunshot wound, this wound was fatal. The body of Richard Bellm, 53-year-old male, was located in the bedroom with what appeared to be a self-inflicted gunshot wound, this wound was also fatal.
Over the course of the investigation, detectives learned Richard Bellm and Sonia Stanley had been married for approximately 18 years. Detectives also learned the couple had a history of domestic violence, and alcohol is believed to be involved.
State lawmakers in Oregon will delay by at least two days much of the substantive work of next week's beginning of the Legislature because of warnings from law enforcement about the possibility of violent protests.
Before a mob of pro-Trump supporters stormed the U.S. Capitol last week, Oregon lawmakers last month saw a
violent crowd enter the state Capitol, fight with police and damage the building. The people opposed to COVID
restrictions showed up in Salem, Oregon, on Dec. 21 during a one-day special legislative session.
The Legislature will convene Jan. 19. But the state House and Senate have cancelled floor sessions and committee hearings,
and there will be no in-person meetings. Courtney said delaying the substantive start of the regular legislation sessions was one of several recommendations made by Oregon State Police and approved by legislative leadership.
Concrete blocks were placed in front of the Capitol in late December, and the first-floor windows will soon be boarded up with plywood.
Trump Administration Slashes Spotted Owls' Habitat
The Trump administration said Wednesday that it would slash millions of acres of protected habitat designated for the imperiled northern spotted owl in Oregon, Washington state and Northern California, much of it in prime timber locations in Oregon's coastal ranges.
Environmentalists immediately decried the move and accused the U.S. Fish and Wildlife Service under President Donald Trump of taking a parting shot at protections designed to help restore the species in favor of the timber industry. The tiny owl is listed as threatened under the Endangered Species Act and was rejected for an upgrade to endangered status last year by the federal agency despite losing nearly 4% of its population annually.
"This revision guts protected habitat for the northern spotted owl by more than a third. It's Trump's latest parting gift to the timber industry and another blow to a species that needs all the protections it can get to fully recover," said Noah Greenwald, endangered species director for the Center for Biological Diversity.
Timber groups applauded the decision, which won't take effect for 60 days. More thinning and management of protected forests is necessary to prevent wildfires, which devastated 560 square miles (1,450 square kilometers) of spotted owl habitat last fall, said Travis Joseph, president of the American Forest Resources Council. Of that, about 300 square miles (777 square kilometers) is no longer considered viable for the birds.
Loss of the ability to log in areas protected for the spotted owl has devastated rural communities, he said. The 3.4 million acres (1.4 million hectares) removed from federal protections Wednesday includes all of Oregon's so-called O&C lands, which are big timber territory. The more than 2 million acres (809,000 hectares) are spread in a checkerboard pattern over 18 counties in western Oregon.
"This rule rights a wrong imposed on rural communities and businesses and gives us a chance to restore balance to federal forest management and species conservation in the Pacific Northwest," Joseph said.
The Fish and Wildlife Service agreed in a settlement with the timber industry to reevaluate the spotted owls' protected territory following a 2018 U.S. Supreme Court decision involving a different federally protected species.
The Trump administration has moved to roll back protections for waterways and wetlands, narrow protections for wildlife facing extinction, and open more public land to oil and gas drilling.