The latest news stories and stories of interest in the Rogue Valley from the digital home of Southern Oregon, from Wynne Broadcasting's RogueValleyMagazine.com
Monday, January 25, 2021
Rogue Valley Weather
Hazardous Weather Conditions – Winter Weather Advisory in effect from January 26, 10:00 AM PST until January 27, 04:00 AM PST
Today- A chance of snow showers before 10am, then a chance of rain and snow showers. Mostly cloudy, with a high near 40. Calm wind. Chance of precipitation is 40%. Total daytime snow accumulation of less than a half inch possible.
Tuesday- Snow likely between 10am and 1pm, then rain and snow. High near 39. Southeast wind 5 to 10 mph increasing to 12 to 17 mph in the afternoon. Winds could gust as high as 32 mph. Chance of precipitation is 80%. New snow accumulation of less than a half inch possible.
Wednesday– A chance of snow before 10am, then a chance of rain and snow between 10am and 1pm, then a chance of rain after 1pm. Snow level rising to 2300 feet in the afternoon. Mostly cloudy, with a high near 44. South southeast wind around 7 mph. Chance of precipitation is 50%. New snow accumulation of less than a half inch possible.
Thursday– A 40 percent chance of rain, mainly before 4pm. Snow level 3000 feet. Mostly cloudy, with a high near 43.
Friday– Mostly cloudy, with a high near 42.
Oregon Health Authority reported 582 new confirmed and presumptive cases of COVID-19 as of 12:01 a.m. today, bringing the state total to 138,168.
The new confirmed and presumptive COVID-19 cases reported today are in the following counties: Benton (3), Clackamas (49), Coos (26), Crook (9), Curry (1), Deschutes (31), Douglas (14), Harney (1), Hood River (9), Jackson (47), Jefferson (4), Josephine (20), Klamath (26), Lake (5), Lane (49), Lincoln (6), Linn (18), Malheur (3), Marion (72), Morrow (3), Multnomah (78), Polk (18), Tillamook (1), Umatilla (16), Union (5), Wasco (2), Washington (59) and Yamhill (7).
COVID-19 Dashboard for Jackson County, Oregon: https://jcgis.maps.arcgis.com/apps/opsdashboard/index.html#/324ac6f9a39e4121a2ee4f04156856ca
The Oregon Health Authority was notified today that a person in Washington County has tested positive with the variant COVID-19 virus strain originally detected in the United Kingdom.
The person has a known travel history outside of the United States during their exposure period.
This is the third known case in Oregon of the United Kingdom variant strain, also known as strain B.1.1.7 or SARS-CoV-2 VOC 202012/01. Close contacts to the person have been identified and notified.
Multiple variants of the virus that causes COVID-19 have been detected in the U.S. and globally. The CDC provides case data information in the United States.
This strain is considered to be more contagious. OHA recommends that all Oregonians take the following steps to slow the spread of COVID-19.
Maintain six feet of physical distance;
Wear a face covering when outside the house;
Practice good hand hygiene;
Avoid any gatherings with people you don't live with;
People who experience symptoms — even mild ones — are urged to consult with a medical provider quickly to get instructions on how to care for yourself and your household members and whether to get tested.
On Sunday, Jackson County Reached Over 15,000 Vaccinations, More Than Double The Amount That The County Had Last Week, As Health Officials Report 49 New Cases And Two New Deaths.
On Sunday, Jackson County reached over 15,000 vaccinations, more than double the amount that the county had last week, as health officials report 47 new cases and two new deaths.
Since Monday, Jackson County has recorded more than 8,500 vaccinations, with a large chunk of those people getting vaccinated at the large-scale drive-thru vaccination event at the Jackson County Expo. During the three span of the event, medical workers along with the help of the National Guard helped administer vaccines more than 7,200 people.
"It was very fast, very easy, very well organized," said Terri Estes a Phase 1-B recipient." "Everyone was very nice, directed us where to go and went real smoothly."
As vaccinations across Jackson County continue to increase, cases throughout the continue are decreasing. Today, Jackson County health officials reported 49 new cases of the virus along with two new deaths, which raised the county's weekly total to a little more than 250 cases. But why is this good news?
It marks the first since in the last three months, October 25, 2020, that the county has reported less than 300 cases in a single week. It also marks the second time in the last two weeks that Jackson County has reported less than 400 cases in a single week.
Since the beginning of the pandemic Jackson County has experienced 7,171 cases of Covid-19 along with 96 deaths.
Jackson County's 83 death was removed from the total after it was determined that the person's death was not related to COVID-19.
More than 300k Doses of Vaccine Administered in Oregon – The Oregon Health Authority reported 300,662 first and second doses of the COVID-19 vaccine have now been administered throughout the state. The new figure is still less than two-thirds of the total number of doses that have been delivered to sites across Oregon (492,450).
Oregon Covid-19 Spread Rate ranks No. 49 Among States
Oregon reported far fewer coronavirus cases in the week ending Sunday, adding 4,963 new cases. That's down 34% from the previous week's toll of 7,522 new cases of the virus that causes COVID-19. Oregon ranked No. 49 among the states where coronavirus was spreading the fastest on a per-person basis, a USA TODAY Network analysis of Johns Hopkins University data shows. In the latest week, the United States added 1,190,227 reported cases of coronavirus, a decrease of -22% from the week before. Across the country, 1 state had more cases in the latest week than they did in the week before.
Local Teacher Unions Discuss Vaccines
In the wake of the Oregon Department of Education's latest update to its Ready Schools, Safe Learners guidance released Tuesday, the Medford Education Association and Central Point Education Association have been busy determining the conditions under which its members would be willing to work.
The ODE guidance relaxed case-count and test positivity guidelines but included a long list of safety protocols districts are required to implement, including strict rules for physical distancing, face coverings and on-site testing.
The announcement Wednesday by Jackson County Health & Human Services that kindergarten through 12th-grade teachers and district staff are eligible for this week's vaccination event at The Expo counts as a major development.
Organizers estimated that 2,500 to 3,000 health care workers and educators received COVID-19 shots on the first day of the three-day event. Organizers have said the goal is to provide 6,000 shots.
For some teacher unions and districts, writing up an agreement that addresses pandemic working conditions stands as a crucial hurdle that must be cleared before schools reopen fully. Central Point is eying a Feb. 2 reopening, and Medford released the blueprint for its reopening Thursday that promises full in-person instruction four days a week for students in kindergarten through third grade and a hybrid format for everybody else.
Ashland Street Cinema Closes
Ashland Street Cinema has closed its doors for good. One of 19 theaters operated in four states by Coming Attractions Theatres, the Cinema was kicked out of its building for defaulting on the rent, said CAT owner John Schweiger of Ashland.
"Landlords at our other properties have worked with us, but these guys wouldn't," Schweiger said. All of CAT's theaters are closed for the pandemic except for the two in Alaska, one in Wasilla and another in Kenai. Al Lane, CAT president and chief operating officer, says he believes the Ashland Shopping Center's owners were shortsighted.
"Congress just passed a relief package," he said, "a second PPP round (Paycheck Protection Program) with support for shuttered venues." He says new stimulus money would have allowed CAT to pay rent at Ashland Street Cinema, serving as a bridge until reopening after COVID-19 is under control, at which time the shopping center would again have a healthy, paying tenant. "We were in on the first round of PPP," Lane said. "That allowed us to bring people back to help us get ready for our eventual reopening. It was really like unemployment compensation for our employees."
Schweiger said crews have been removing screens and equipment from the Ashland Street Cinema and will be finished this week. The multiplex had six screens and related equipment. Lane said some of the equipment is being transferred to other theaters in the chain, some might be sold, and the rest will be stored for future use.
The Jackson County Sheriff's Office on Friday released a few more details about a fiery plane crash near Eagle Point that hospitalized the two men aboard.
Dispatch received a 911 call about the crash shortly before noon, reporting that a small fixed-wing aircraft had gone down between Yankee Creek and Meridian roads east of White City.
The caller reported that the plane was on fire, but the flames were not spreading to the surrounding grass. Two men described as being in their "twenties" escaped from the crashed plane on their own, but both were injured. Both men were taken to the hospital via Mercy Flights with injuries of unknown extent, some of which were reported to be serious. Fire officials did not believe that the injuries were life-threatening.
JCSO identified the two occupants on Friday as 24-year-old pilot Chad Guerin Stichter, and 23-year-old passenger Benjamin Andrew Rose — both from Grants Pass. Early results from the investigation found that there was a mechanical issue with the plane during a flight from the small airport in Shady Cove to Ashland.
The plane itself was almost completely destroyed by the crash and resulting fire, though part of the tail section remained intact. Firefighters were able to contain and extinguish the fire. The investigation has been referred to the Federal Aviation Administration, which is typical for any plane crash.
AROUND the STATE of OREGON
Cat Reunited with Family After Being Lost Near Diamond Lake for Months
In July, the McMillans, from the Phoenix, Arizona-area, took a trip to Oregon. "We decided to take the kids on an adventure," Lizzy McMillan, the mom, said. Lexi, the family's fluffy gray and white cat, joined the family on their trip. "She's so shy, so she kind of got brought along for the ride," McMillan said.
Once they got to Oregon, Lexi the cat got away at one of their stops near Diamond Lake. "I saw her, I told him, he put her in the back and somehow, five of us, none of us saw her make her grand escape," McMillan said. The McMillans extended their trip one day to try looking for her, but, sadly, they had to head back home to Arizona without Lexi.
Four months later, an ODOT worker, Chris Southwick, found Lexi just a few miles from where the McMillans last saw her. "It was hiding on the engine of a piece of equipment, that had been used earlier in the day, to try and stay warm. I opened up the engine compartment and grabbed it," Southwick said. "There were fires, when I found her, we'd been getting a pretty good snowstorm. Probably two or three feet at that time. I'm surprised she actually lived."
After Lexi made herself at home in Southwick's house in Glide, he decided to take her to a shelter. "I just kept thinking of my kids and how sad they would be if they lost an animal like that," Southwick said.
He took her to Saving Grace Adoption Center in Roseburg, where they found her owners because she was microchipped. "This is why you chip your animal," said Janice Quist, a volunteer at Saving Grace.
Quist said she was happy to deliver Lexi back to her family in Arizona. She just happened to have a trip planned to Surprise, Arizona anyway – just an hour away from the McMillans' home."No big deal. I was determined to do it for the family," Quist said.
As all of these plans were being figured out, Lizzy and Andy McMillan kept this a secret from their kids. Needless to say, Maxine was happy to have Lexi back home. "I was like 'oh my god, is this really her!?' I got so excited that I started crying," Maxine said through tears. Lizzy said Lexi is adjusting back to her life in Arizona just fine.
Oregon's Samuel Mindra takes Bronze Medal at U.S. Figure Skating Championships
Oregon native and 17-year-old Samual Mindra has claimed the bronze medal at the U.S Figure Skating Championships in the Junior competition. According to FanZone U.S. Figure Skating , Mindra went from eight the third with a free skate that scored 121.12. That skate brought his total up to 181.49. That was also the first Mindra has ever scored above 180.
Mindra trained at the Bill Collier Ice Arena at Running Y because ice rinks all around the state are closed due to the coronavirus pandemic. Collier arena is open air. Mindra said it was pretty nice and Klamath Falls, there was some altitude and it helped me with my breathing.
He will continue to train wherever he can, and could return to the Klamath Basin again. Mindra also spoke of his drive to improve. "All the improvements that you make, it makes you want to keep going and make more improvements and get better as a skater. And so I guess that's, what's pushing me to get better."
Those improvements have helped Mindra represent Oregon by claiming a medal at one of the most prestigious competitions in figure skating.
60 Dogs and Cats from Texas Flown to Oregon are Ready for Adoption
The Oregon Humane Society and the American Society for the Prevention of Cruelty to Animals flew 60 cats and dogs Saturday from Texas to the Portland area, where organizers hope they'll find adoptive homes.
The pets are part of the Oregon Humane Society's Second Chance program, which transports animals from regions with low demand for adoptions to the Portland area and Southwest Washington, with the goal of adopting them out.
"We are fortunate to live in a community where adopters are ready to open their hearts and homes to pets in need," says Sharon Harmon, Oregon Humane Society president and CEO, in a news release. "This effort demonstrates how animal welfare organizations work together every day to save lives."
The public can start the adoption process for this batch of 60 starting Sunday between 6 p.m. to 7 p.m.
The Oregon Humane Society is closed to the public, except for by appointments. To view pets available for adoption or learn about how to make an appointment, visit www.oregonhumane.org/adopt.
2 Drivers Killed in Oregon Coast Crash
Two people were killed in a crash Saturday on U.S. 101 near Rockaway Beach, troopers said. Authorities responded about 1 p.m. to the crash, which closed the highway for several hours.
The Oregon State Police said two drivers — Robert Muzzy, 69, of Nehalem and Leeanna Sutton, 63, of Rockaway Beach — collided and suffered fatal injuries. They both died at the scene.
Muzzy, who was driving south in a Ford Clubwagon van, traveled into the northbound lane and collided with Sutton, who was driving a Nissan Rogue SUV, the state police said, citing an early investigation.
Woman's Body has Been Recovered Beneath 15 feet of Debris after Landslide
The body of a woman whose car was overrun by a landslide in Oregon this month has been found by authorities.
Officials with the Multnomah County Sheriff's office said they recovered Jennifer Moore's remains on Saturday beneath a large pile of debris, more than a week after the landslide.
"It's not the outcome everyone would have hoped for," said Sgt. Steve Dangler in a statement. He added, "but at least at this point, it brings closure to the family and allows them to begin the grieving process."
Moore had been driving in the city of Dodson when the landslide occurred on Jan. 13. The incident took place shortly after 1 a.m. that day, officials said.
Following the landslide, officials suspected Moore's SUV to be under "15 feet of mud, rock and logs," the sheriff's office said in its announcement Saturday.
Deputies with the Multnomah County Sheriff's office recovered Moore's body Saturday. "To reach the location, road crews used heavy machinery, such as front loaders and dump trucks, to remove the debris from the edges of the debris field," said the announcement from the sheriff's office.
"This work had to be performed carefully, as the mud was wet and unstable." Officials with the Corbett Fire District helped the Multnomah County deputies in their recovery of Moore's body. Dodson is about 41 miles east of Portland.
39th Prisoner in Oregon Dies from Covid Reported
An inmate who tested positive for the coronavirus has died at the Two Rivers Correctional Institution, the Oregon Department of Corrections reported on Sunday. The man was between the ages of 75 and 85 years old.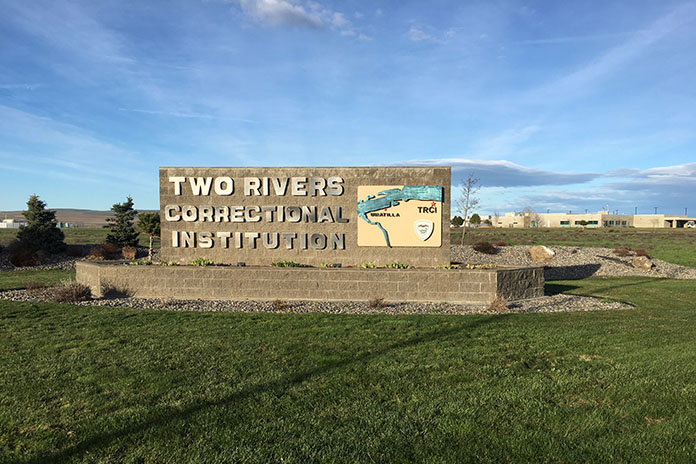 The new report brings the total number of inmate deaths to 39 since the start of the pandemic.
"As with all in-custody deaths, the Oregon State Police have been notified, and the Medical Examiner will determine cause of death," the DOC said in a release.Earlier this week, advocates for incarcerated people called on the state to vaccinate Oregon's prisoners, saying the government isn't doing enough to protect those in custody.
The DOC says the vaccine is currently being offered to staff and say they're following all safety guidelines to prevent the spread of the virus. A "small number" of inmates who clean the COVID-19 units have also been vaccinated.