The latest news stories and stories of interest in the Rogue Valley from the digital home of Southern Oregon, from Wynne Broadcasting's RogueValleyMagazine.com
Monday, February 8, 2021
Rogue Valley Weather
Today- Patchy freezing fog before 10am. Cloudy, with a high near 48. Calm wind becoming northwest around 5 mph in the afternoon.
Tuesday- Patchy freezing fog before 10am. Cloudy, then gradually becoming mostly sunny, with a high near 52. Calm wind.
Wednesday- A 20 percent chance of rain. Snow level 2900 feet rising to 4500 feet in the afternoon. Partly sunny, with a high near 52. Calm wind.
Thursday- Rain likely, mainly after 10am. Snow level 4000 feet rising to 4700 feet in the afternoon. Cloudy, with a high near 50. Chance of precipitation is 70%. New precipitation amounts between a tenth and quarter of an inch possible.
Friday– A chance of rain. Snow level 3400 feet. Mostly cloudy, with a high near 48.
Oregon reports 393 new confirmed and presumptive COVID-19 cases, 4 new deaths
PORTLAND, Ore. — There are 4 new COVID-19 related deaths in Oregon, raising the state's death toll to 2,023 the Oregon Health Authority reported at 12:01 a.m. today.
Oregon Health Authority reported 393 new confirmed and presumptive cases of COVID-19 as of 12:01 a.m. today bringing the state total to 147,122. The new confirmed and presumptive COVID-19 cases reported today are in the following counties: Baker (1), Benton (8), Clackamas (28), Columbia (3), Coos (11), Crook (5), Curry (9), Deschutes (30), Douglas (10), Harney (2), Hood River (1), Jackson (23), Jefferson (6), Josephine (6), Lake (2), Lane (28), Lincoln (4), Linn (8), Malheur (1), Marion (41), Morrow (3), Multnomah (63), Polk (16), Umatilla (13), Union (1), Wasco (3), Washington (51), Yamhill (16).
In Southern Oregon, cases also continue to trend downwards with multiple counties reporting fewer new cases than that of previous weeks and months. In Jackson County, 23 new cases were reported today, in Josephine County six new cases were reported and over in Klamath County the OHA did not report any new cases.
Vaccinations in Oregon
Today, OHA reported that 21,694 new doses of COVID-19 vaccinations were added to the state immunization registry. Of this total, 17,940 doses were administered on Feb. 6 and 3,754 doses were administered on previous days but were entered into the vaccine registry on Feb. 6.
Cumulative daily totals can take several days to finalize because providers have 72 hours to report doses administered and technical challenges have caused many providers to lag in their reporting. OHA has been providing technical support to vaccination sites to improve the timeliness of their data entry into the state's ALERT Immunization Information System (IIS).
Oregon has now administered a cumulative total of 554,145 first and second doses of COVID-19 vaccines. To date, 734,950 doses of vaccine have been delivered to sites across Oregon.
These data are preliminary and subject to change. OHA's dashboards provide regularly updated vaccination data, and Oregon's dashboard has been updated today.
Despite ongoing struggles with the relative scarcity of coronavirus vaccine doses, Governor Kate Brown and Oregon health officials expressed optimism on Friday that three-quarters of all eligible groups — including the large population of seniors — would be able to get their first doses by early April. Friday's estimate marked a leap from the
previous approximation of early May, in the face of accusations that Oregon has been "overpromising" its vaccine supply line. State officials cautioned that any projection hinges on the federal government's ability to deliver the promised shipments.
The first group of independent seniors, those 80 and older, ostensibly become eligible for vaccination under Oregon's plan on Monday, just two weeks after educators and childcare workers. At the same time, a federal court ruling earlier this week mandated that inmates of Oregon's prison system become eligible as part of the early Phase 1a group, requiring that prisoners begin receiving the vaccine as well.
Oregonians ages 80 and older will be allowed widespread access to vaccines against COVID-19 starting today, making older residents the newest group eligible for protection against the coronavirus.
As older Oregonians begin to make their way to vaccinations sites around the state, here are five important things to know about getting that much-awaited protection against COVID-19.
1. Only people 80 and older will be eligible, for now.
Monday will mark the first of four phases to vaccinate seniors in Oregon this winter. People ages 75 and older will be eligible in the next phase starting Feb. 15, followed by people 70 and older on Feb. 22, and people 65 and older on March 1.
State officials are asking for patience and ask that only people who are eligible seek appointments in the coming days. The state announced Friday that it would debut a new tool on its covidvaccine.oregon.gov website this week that allows users to sign up to get email alerts or text notifications about vaccine events in their area.
Read more: Oregon lacks targeted plan to ensure vulnerable seniors vaccinated amid expected 'chaos,' advocates say
2. Make an appointment online, or by phone, text or email.
Eligible seniors can make an appointment online by going to covidvaccine.oregon.gov. In the center of the page there's a link that says, "Vaccine Eligibility & FAQ Tool" with a button that says, "Let's Get Started." That option prompts a chat service that can help determine if you're eligible and redirect to an appointment page if so.
The first appointments for seniors should become available online at 9 a.m. Monday, according to Washington County Health and Human Services.
Appointments can also be made by phone, by calling 2-1-1. Seniors can also send an email to ORCOVID@211info.org, or text the message ORCOVID to the number 898211 to begin a conversation about scheduling an appointment.
Read more: How Oregon seniors can get the COVID-19 vaccine: Who's eligible, how to schedule an appointment, how long it will take
3. Don't expect to get an appointment right away.
Luck may play a role in how quickly you're able to get an appointment. Some may be able to book one right away, while many others will have to wait several weeks to make an appointment, let alone get vaccinated. Factors will include where you live, how many others around you are eligible at the same time, and how quickly you navigate the online system.
Public health officials have warned that this week could bring "chaos," as the state still suffers from inadequate vaccine supply to meet the increased demand.
4. Vaccination locations will vary by county, many will take place at mass clinic sites.
Oregon's most populous counties have set up mass clinics to dole out the vaccines. Two such clinics at the Oregon Convention Center and Portland International Airport will serve many in the Portland metropolitan area, while the Oregon State Fairgrounds will serve those in the Salem area.
Local pharmacies will eventually be able to offer vaccinations in some Oregon counties, including this coming week. Oregon Health Authority Director Patrick Allen said Friday that the state will receive 13,000 doses this week bound for 133 different pharmacies. Further details have not yet been announced.
5. The vaccines are safe and effective, though mild side effects are common.
Trials have shown that both the Pfizer-BioNTech and Moderna vaccines are extremely effective, preventing COVID-19 illness in more than 94% of non-infected people after receiving two doses.
The vaccines are also extremely safe for the vast majority of people who receive them. Side effects are normal after receiving the vaccine, including pain and swelling at the site of the site of the injection, with fever, chills, fatigue and headaches all possible as well. Studies have shown that most people will only have mild or moderate cases, and that severe side effects are rare.
To reduce pain in your arm, apply a clean, cool, wet washcloth at the site of the injection, or exercise your arm, the Centers for Disease Control and Prevention recommends. It's OK to take over-the-counter pain medications to relieve other symptoms, but DO NOT take it before the injection (unless advised by your doctor), as the medication could reduce the effectiveness of the vaccine, the AARP warned Friday.
White City Man Sentenced For Illegally Poaching Elk, Deer and Bear in Crater Lake National Park For Years
According to U.S. Attorney Billy J. Williams, Adrian Duane Wood, 44, was sentenced to five years' federal probation to include a six-month stay at a residential reentry center. The court also ordered that Wood be banned for life from Crater Lake National Park, be restricted from hunting for the duration of his probation, and pay $42,500 in restitution to the National Park Service. According to court documents, in July 2014 the National Park Service, U.S. Fish and Wildlife Service and Oregon State Police began a multi-year investigation into Wood's illegal hunting activities based on reports that he was poaching wildlife in Crater Lake National Park.
Oregon State Police Troopers responded to a call of a deceased person being found near milepost 12 on Interstate 5 in Jackson County.
OSP Major Crimes Detectives responded to conduct an investigation and were assisted by the Jackson County Sheriff's Office. The investigation determined there was no foul play and the male died of natural causes.
Investigators were able to determine the identity of the deceased as 73 year old James Earl Baldwin. Baldwin had been reported missing on December 1, 2020 to the Roseburg Police Department.
AROUND the STATE of OREGON
Disturbing Number of Missing Women in Oregon in Past 2 Years
Of course, not only women are missing, as there are so many children and men missing too. And really missing person's is a crisis that gets shoved aside as not enough resources and is a horrible thing to even think about.
However, there is a disturbing number of women and in particular, a pattern emerging: There are 47 women over the age of 30 on the missing person list just in the last 2 years. 33 since January 2020. 29 since June 2020 as seems to have escalated in last 6 months. 16 missing in last 3 months since November 2020. There is a pattern and this needs to be looked into. https://www.oregon.gov/osp/missing/pages/missingpersons.aspx
There are Facebook pages that have been created to help address this issue as many who go missing sometimes just get lost in the shuffle and we need to make sure they aren't forgotten.
Bring them home, Southern Oregon: https://www.facebook.com/groups/473676649926838/
Oregon's Missing Persons https://www.facebook.com/OregonsMissingPersonsBlog/
Have You Seen Me? The Willamette Valley's Missing People https://www.facebook.com/Have-You-Seen-Me-The-Willamette-Valleys-Missing-People-2041387636188933/
The website Oregon Missing Report highlights those who are missing and not forgotten and is a critical resource
This is an ongoing story and help from the public needed.
Oregon Has Third-Highest Rate Of Open Missing Person Cases In U.S.
A recent study found Oregon has the third-highest rate of open missing person cases in the U.S.
The study uses information from a powerful, taxpayer-funded federal database called NamUs, the National Missing and Unidentified Persons System,that's available for police and citizens.
But it turns out not all law enforcement agencies are required to use it, including ones in Oregon and Washington.
In 1987, a 21-year-old mom named Paula Davis went missing from Kansas City, Missouri. Soon after police in Ohio found her remains but could not identify her.
"So they had listed her as a Jane Doe," Davis's sister, Stephanie Clack, explains in a video produced by the National Institute of Justice.
She said for years her family suffered with no answers until 2009 when she checked a Justice Department website, NamUs.
"First I entered in the sex, the approximate age, what state she had went missing from and the year last known alive," Clack said. "The last case was Paula's and how I realized it was her was by the description of the tattoos that she had that I didn't think anybody else would have except for Paula."
NamUs, which helped find Davis, says there are currently 16,025 open missing person cases in the U.S. Of those, Todd Matthews, NamUs's communications director, told a KATU reporter 60 percent are men.
"It's harder to get news media to cover a missing male than it is a missing female," Matthews said. "They're not considered so much as a victim."
A study by the website VivintSource found Oregon ranks No. 3 on a list of states with the highest numbers of open missing person cases per 100,000 people.
Washington ranks No. 4.
Matthews said the top five states do not require law enforcement agencies to use NamUs. Only Tennessee, New York, Illinois, Michigan, Oklahoma, and New Mexico require agencies to use NamUs in missing person investigations.
"Anybody can enter a missing person in NaMus," Matthews explained, saying that some of the more private information people enter can only be viewed by law enforcement. "We have to validate it with an investigating agency, but there's nothing to prevent people from utilizing this database."
Lt. Steve Mitchell, an Oregon State Police spokesman, said troopers are required to enter missing person's cases into the FBI's National Crime Information Center (NCIC). But that database can only be used by law enforcement.
Mitchell said OSP troopers are encouraged to enter information into NaMus and many do, but they're not required to do so.
"Our OSP website lists 1,081 current missing persons (MP). OSP's numbers include everyone entered into NCIC, which fluctuates when runaways are found and removed," Mitchell explained via email. "If a person persists in being missing for over 30 days, law enforcement is then compelled to obtain a DNA sample from biological relatives or from a direct source such as a toothbrush. DNA analysis for all MPs in Oregon is performed by the University of North Texas, who require OSP to enter our MPs into the NamUs system before they accept DNA for processing."
NamUs is managed by the University of North Texas Health Science Center.
Missing Oregon Woman Who's Car found Near Grants Pass Updated as Father Still Searching
A distraught father continues to search for his daughter who was last seen in Grant Pass nearly 8 months ago after leaving her home in Dexter, Oregon to visit friends.

John Frey said he last heard from his 45-year-old daughter Fauna Frey on Sunday, June 28 when she called him from a hotel phone. He said she had taken the trip as a way to cope with her brother's death and noted that he was surprised to hear that she had picked up a hitchhiker near Wilderville.
"She talked to me about angels, and then about the hitchhiker, it wasn't really like her to pick up hitchhikers, so I knew she was disoriented, and very much in grief," he said. "She was very upset and distraught about (the death)."

Frey said that he and the police interviewed the hitchhiker but did not receive any information about her whereabouts. He said his daughter left just 10 days after her older brother, Dallas Frey died. He said the two were very close as each other's only sibling.
Frey said Fauna Frey is familiar with the Southern Oregon area because she lived there for many years prior to moving north. He also said she was accustomed to the outdoors and would hike on a regular basis.
He said since his daughter's disappearance, he and her friends have used every resource possible to find her.
He explained her credit card activity has been traced and she had made a reservation at Weasku Inn in Grants Pass. However, said Fauna Frey never showed up for that reservation. After she booked her stay, her credit card was never used again.
On September 23, her 2000 four-door Jeep Cherokee was found in a rural area on Reuben Mountain Road a few miles past Grave Creek Boat Landing.

Frey said the county's search and rescue team was deployed but found nothing in or around the car.
"It took about a month, we got Oregon State Police involved and they took DNA and fingerprints out of the jeep, but they have not processed those yet," Frey said.
He explained state police informed him the evidence collected inside the car is put at the end of a long list because there is no evidence a crime has been committed.
"We've followed so many false leads, she was supposedly seen in Eugene, we spend some time looking up here, but we couldn't find any tracing of her," Frey said. "Then our direction was taken back to Grants Pass again."
Frey explained since he began searching for his daughter, he has discovered several other women close to Fauna's age and description who have also been reported missing in the area. He believes it's a pattern.
Fauna Frey is described as a white woman, who has blue eyes, blonde hair, she is around 5'6" in height and has a tattoo on her lower back.
"There are more people that care than she will ever know, there is a whole bunch of people who love her, we just want to make sure she is safe, and she is okay," Frey said. "We miss her."
The family has set up an anonymous tip line 541-359-5638 and email address findfaunafrey@gmail.com for anyone who has any leads of Fauna's whereabouts.
Parents Keep Searching for Son who Disappeared Near Cottage Grove
Michael Bryson is still missing. The search for him continues for his family. Tina and Parrish Bryson have driven Row River Road countless times since August 5, 2020 – the day their son Michael disappeared from Hobo Campground about 25 miles southeast of Cottage Grove.
"We are going to keep his name out there. We are definitely never going to stop looking," Tina Bryson said as she stapled up another laminated missing person poster.
As recently as last weekend, search and rescue investigated yet another tip as his parents have never given up.
A Facebook Group has been set up too: LETS FIND MICHAEL BRYSON! https://www.facebook.com/groups/letsfindmichaelbrysonofficial
If you know anything about Michael or other missing persons, please contact Oregon State Police Phone: 503-934-0188
Toll Free: 1-800-282-7155
ospmissingpersons@osp.oregon.gov​
Oregon Arts Commission Supporting Grants
Awards totaling $910,568 have been distributed to 150 Oregon arts organizations through the Oregon Arts Commission's fiscal year 2021 Operating Support Program. There are 12 more recipients than in fiscal year 2020 due to a growing number of eligible organizations. Ranging from $2,828 to $ 22,888, the grant awards are available to nonprofit organizations with arts at the core of their mission and budgets over $150,000*. "We often hear that operating support is the most important type of award," said Arts Commission Chair Anne Taylor. "Especially now, as arts organizations continue to suffer great losses due to the pandemic, these awards can help relieve a bit of the economic pressure."
In 2019 organizations receiving Operating Support from the Arts Commission expended $213 million, employed 11,681 FTE and produced events and activities that were attended by close to 3.7 million people. *Organizations with budgets under $150,000 are eligible to apply to the Small Operating Program. This program funds an additional 97 arts organizations. For More Information: https://www.oregonartscommission.org/
Storms Take Out Massive Chunks of Oregon Coast Dunes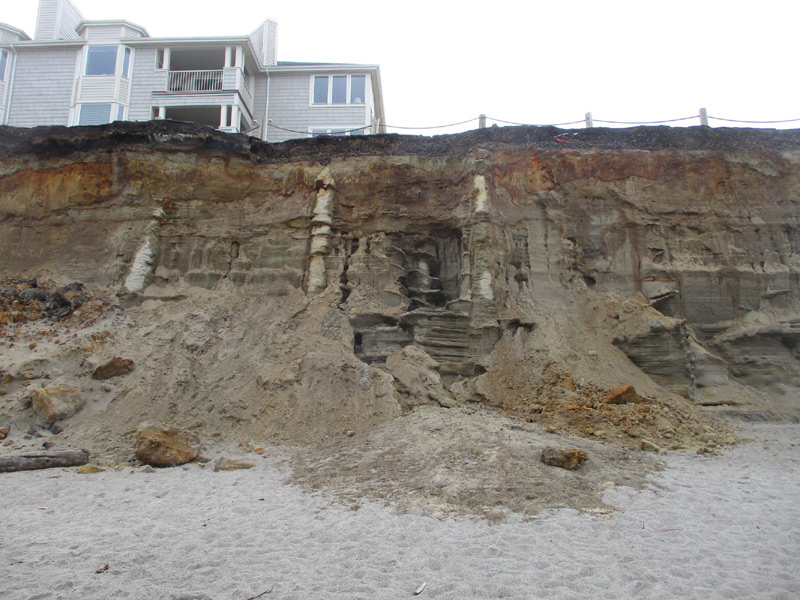 Sometimes eight or ten feet are gone from where the dune usually gently slopes down to the beach, resulting in many areas that are now dangerous. Many visitor centers have issued cautions or warnings, telling beachgoers to be careful about playing on high dunes above the beaches. It's easy for someone – especially kids – to go bounding over the dunes towards the beach, and then suddenly finding there's a sudden drop. It's often not possible to see the abrupt edges as you come over a dune.
In Manzanita, CoastWatch volunteer C Pendergrass said this is the highest the dunes have been lopped off in the seven years they've been keeping up on the beaches. They categorized these enormous cuts as "severe," and Manzanita is one of the more dramatically-altered places on the coast.
"They are currently unscalable in many areas," Pendergrass said. "In places, the water was able to get behind the foredune area and swept the foredune away leaving only a few tussocks of dune grass strewn about."
own on the south coast at Bandon, at Devil's Kitchen and Haystack Rock, the CoastWatch volunteer who goes by the handle "T Bowspencer" noted some heavy dune erosion there. You can see about four to five feet of a drop-off where those dunes largely sloped down to the beach from where the cutoff points are on top now. (Photo at bottom)
At Gleneden Beach, the CoastWatcher who goes by the name "Streets" had some of the more alarming changes of Oregon coast beaches. A large chunk of a bluff has fallen apart on the northern end, near the Salishan community. Then there's the spooky erosion of the bluff at the World Mark facility that seems to be showing plumbing of some kind.
"Large vertical pipes, metal rods, even what looks like a large auger, have been embedded in the soil for probably years, and are now being exposed," Streets said.