The latest news stories and stories of interest in the Rogue Valley from the digital home of Southern Oregon, from Wynne Broadcasting's RogueValleyMagazine.com
Tuesday, February 9, 2021
Rogue Valley Weather
Today- Patchy freezing fog before 10am. Partly sunny, with a high near 52. Calm wind.
Wednesday– Patchy fog before 1pm. Otherwise, partly sunny, with a high near 50. Calm wind.
Thursday- Rain likely, mainly after 10am. Cloudy, with a high near 51. South wind around 5 mph. Chance of precipitation is 60%. New precipitation amounts of less than a tenth of an inch possible.
Friday- A chance of rain before 1pm, then a chance of showers, mainly between 1pm and 4pm. Cloudy, with a high near 51. Chance of precipitation is 40%.
Saturday– Rain likely. Snow level 3400 feet. Cloudy, with a high near 48
Oregon reports 305 new confirmed and presumptive COVID-19 cases, 1 new death
There is one new COVID-19 related death in Oregon, raising the state's death toll to 2,024, the Oregon Health Authority reported at 12:01 a.m. today. Oregon Health Authority reported 305 new confirmed and presumptive cases of COVID-19, bringing the state total to 147,419.
Today's case count is the lowest since Oct. 19, when OHA reported 266 confirmed and presumptive cases of COVID-19 in Oregon.
The new confirmed and presumptive COVID-19 cases reported today are in the following counties: Baker (2), Benton (5), Clackamas (27), Columbia (3), Coos (15), Crook (1), Curry (1), Deschutes (5), Douglas (11), Jackson (8), Jefferson (1), Josephine (10), Lane (30), Lincoln (2), Linn (5), Marion (27), Multnomah (66), Polk (7), Tillamook (2), Umatilla (5), Union (1), Wallowa (1), Wasco (2), Washington (51) and Yamhill (17).
Health Officials Launch New Options to Help Seniors Find COVID-19 Vaccine Information. Urge Patience as People 80 and Older Become Eligible
The Oregon Health Authority piloted and launched a new "Get Vaccinated Oregon" tool today, as part of a multi-pronged effort to provide older adults information about COVID-19 vaccinations. Starting Monday February 8th, approximately 168,000 adults age 80 and older are now eligible to get a COVID-19 (though nearly 33,000 people age 80 or above have already been vaccinated). While vaccine supplies are expected to increase in coming weeks, supplies are currently scarce. State health officials asked for patience as more than 700,000 seniors age 65 and older become eligible for vaccines over the next four weeks.
With the new tool, older adults in Oregon have four primary ways to get linked to local vaccine information:
Get Vaccinated Oregon is an eligibility and notification tool developed by Google, in partnership with the state of Oregon. It can be found at Oregon's oregon.gov website, or at getvaccinated.oregon.gov . The tool allows users to answer basic questions to learn if they are eligible and get linked to information about vaccinations in their counties. Users can sign up for alerts to get notified about vaccination events or find out when they may become eligible.
Vaccine Information chat bot on the oregon.gov web site allows anyone to find out if they're eligible for a vaccine in Oregon or get answers to other questions about vaccines. The Vaccine Information chat bot also enables vaccine-eligible users who live in Clackamas, Columbia, Marion, Multnomah or Washington counties to schedule vaccine appointments through scheduling tools hosted by local health care providers. OHA developed and offered this scheduling feature in direct response to requests from health care providers in the region. The friendly Vaccine Information chat bot tool is an orange box that appears whenever a user accesses the covidvaccine.oregon.gov web site.
211: Older Oregonians can also text ORCOVID to 898211 to get text/SMS updates about vaccination clinics (this option is available in English and Spanish only). Seniors can also email COVID@211info.org">ORCOVID@211info.org. If you can't get your COVID-19 vaccine question answered on the website, by text, or by email, you can call 211 or 1-866-698-6155, which is open from 6 a.m. to 7 p.m. daily, including holidays. Please be aware that wait times may be long due to high call volumes. As Governor Brown announced on Friday, the Oregon National Guard will help 211 answer phone calls, starting by the end of the day on February 8.
Licensed senior facilities: Residents and staff at most licensed facilities for older adults and people with disabilities are receiving on-site vaccinations through pharmacies enrolled in federal vaccination programs. Residents (or family members) can ask their facility operator when their residence is scheduled for a vaccination clinic.
In addition, Oregon has opted into a federal retail pharmacy program that will offer seniors the option to get vaccinated at 133 retail locations across the state, but that program will not be available starting on Monday. State health officials are awaiting additional information from the federal government about when vaccine shipments will arrive at participating retail pharmacies.
Oregon Health Authority Director Patrick Allen said, "We're working hard to help our local vaccination partners keep seniors informed about vaccination events in their counties. In coming days, we know there will be more demand for vaccinations and for answers to questions than we may be able to provide. My promise to older Oregonians is this: if you want a vaccination, you will get one. But it may not be tomorrow, this week or even two weeks from now. But you will get one. And every Oregonian will get a vaccine sooner and more easily if we are patient, wait our turn and make sure others who go before us get their chance."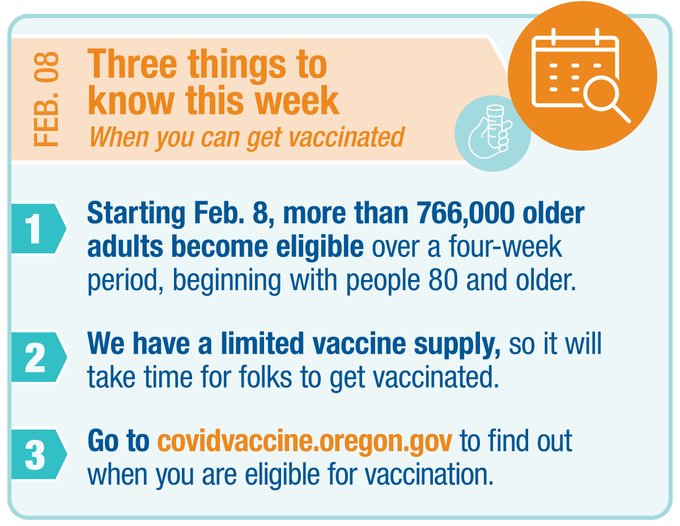 COVID-19 Nurse Hotline Launched To Help Oregon Child Care Providers
The Oregon Department of Education's Early Learning Division is partnering with Oregon Health & Science University to support Oregon child care providers with a COVID-19 nurse hotline.
The number, 1-833-647-8222, will be available seven days a week, from 8 a.m. to 8 p.m.
Child care providers can access the toll-free hotline for assistance with:
Symptoms or health issues that are concerning to them or staff
Questions about excluding children and staff
Steps to take if someone is positive for COVID-19
"Since the start of the pandemic, child care providers have been navigating with uncertainty about the virus," said Oregon Early Learning System Director Miriam Calderon. "Our collaboration with OHSU will allow providers to have a more personalized response in their efforts to adapt and ensure child care remains safe for children and families during this emergency."
"OHSU's trained healthcare professionals who staff our COVID-19 Connected Care Center hotline have been honored to help Oregonians navigate the pandemic's complexities since March 2020, and we welcome the opportunity to now also help Oregon's child care providers safely offer their much-needed services throughout the state. We understand how important child care is for so many families," said hotline medical director Anthony Cheng, M.D., who is also an assistant professor of family medicine in the OHSU School of Medicine.
The hotline is a resource reserved for child care providers and staff at no cost. Language assistance is also available.
Klamath Falls Man Pleads Guilty for Sending Threatening Cards Containing White Powder to Former Coworkers
MEDFORD, OR— A Klamath Falls, Oregon man pleaded guilty today for sending cards to former coworkers containing a white powdered pesticide threatened to be anthrax, announced U.S. Attorney Billy J. Williams.
Kelly Michael Burns, 71, pleaded guilty today to eight counts of mailing threatening communications.
According to court documents, on or about December 19, 2019, Burns mailed four Christmas cards, postmarked in Medford, to former coworkers containing a white powder pesticide later identified as carbaryl.
The cards were addressed to the victims' workplace and contained violent threats such as "Merry Anthrax (obscenity)! Eat (obscenity) and die more to come." Three people at Burns' former workplace were exposed to the carbaryl, forced to undergo an extensive physical decontamination process, and were administered a high-dose antibiotic. One of the victims exposed was ten weeks pregnant at the time of exposure. As a result of the contamination, law enforcement ordered company employees out of the building and the company was closed for further decontamination.
Later, on February 13, 2020, Burns again mailed cards containing carbaryl to the same four victim recipients. This second wave of cards also contained violent statements with added threats directed at the victims' families.
On February 26, 2020, an FBI laboratory completed a chemical analysis of the powder found in the December cards and confirmed that it was carbaryl, a known pesticide toxic to humans. A few days later, FBI handwriting analysts presumptively matched the handwriting on the envelopes and cards mailed in December to Burns' own handwriting obtained from a job application and recent tax documents.
In March 2020, FBI agents executed a search warrant at Burns' residence. They found handwritten notes in which Burns threatened to kill a former coworker, sabotage his former workplace, and conduct a drive-by shooting. Agents also recovered several books including, "The Poisoner's Handbook," "The Joy of Cold Revenge," "U.S. Army Guide to Boobytraps," and "Silent Death."
On March 5, 2020, Burns was charged by criminal complaint with mailing threatening communications and false information or hoaxes. Later, on January 15, 2021, he was charged by criminal information with eight counts of mailing threatening communications.
Burns faces a maximum sentence of ten years in prison, a $250,000 fine and three years' supervised release. He will be sentenced on May 6, 2020 before U.S. District Court Judge Michael J. McShane. As part of the plea agreement, Burns has agreed to pay restitution in full to his victims as identified by the government prior to sentencing and ordered by the court.
This case was investigated by the FBI. It is being prosecuted by John C. Brassell, Assistant U.S. Attorney for the District of Oregon. U.S. Attorney's Office – District of Oregon
Indigenous Gardens Network Receives Oregon Cultural Trust Grant
Southern Oregon University, tribal partners and others have received a $35,483 grant from the Oregon Cultural Trust to initiate the Indigenous Gardens Network – a hub for conversation and coordination around traditional food gathering areas throughout southwestern Oregon.
The Indigenous Gardens Network is intended to restore areas where "first foods" and other culturally significant items can be cultivated, harvested and made accessible to Indigenous people. First foods are plant and animal species that Native Americans traditionally relied upon for subsistence, medicine and ceremonial uses. The network that will be funded by the new Oregon Cultural Trust grant will pull together new and existing resources to address urgent issues such as food security, climate change and Indigenous food sovereignty.
"The Indigenous Gardens Network centers the knowledge and expertise of Native people and communities and approaches all projects with a robust sense of accountability to them," said Brook Colley, chair of the SOU Native American Studies Program and principal investigator on the OCT grant.
"(The network) will be Indigenous-led, driven by their needs and solutions, and based on mutual respect," Colley said.
The project is a regional partnership that brings together diverse partners including tribes, educators, conservation organizations and land managers or owners to address barriers to first food access and cultivation. The Confederated Tribes of Siletz Indians of Oregon, Confederated Tribes of Grand Ronde, Vesper Meadow Education Program and other regional partners are joining SOU on the project.
A history of genocide, forced treaties and removal from ancestral lands created a pervasive, detrimental legacy for Indigenous people, many of whom remain displaced from southwestern Oregon. Several tribes from the region were forcibly relocated to Siletz and Grand Ronde reservations during the mid-1800s, and descendants continue to live there as citizens of the Grand Ronde and Siletz tribes.
Many members of those tribes have not re-established the annual food-tending practices of their ancestors for reasons including a lack of access to public and private land, scarcity of financial and human resources, concerns over safety and prejudice, divergence between Indigenous and Western perceptions of land use, and degradation of Indigenous gardens caused by ranching and other industries.
The Oregon Cultural Trust grant will enable the partner organizations to initiate the Indigenous Gardens Network, while additional funding sources will be sought for follow-up efforts. The network will work to re-establish specific first foods, medicines, materials and landscapes in southwestern Oregon, and to engage both private and public partners in supporting tribal access to – and stewardship of – critical cultural resources.
The Indigenous Gardens Network supports tribes and other Native communities in building sustainable food systems that improve health and well-being, strengthen food security and increase their control over Indigenous agriculture and food networks.
The Indigenous Gardens Network is also supported through the SOU Foundation. Those wishing to contribute to this work may make a donation online or contact Brook Colley (colleyb@sou.edu) for more information about the Indigenous Gardens Network. Information on donating to the Oregon Cultural Trust is available on the organization's website. SOU PRESS RELEASE: https://news.sou.edu/category/press-releases/
Missing Person in Josephine County Found
REPORTING DEPUTY: M. Valdez – DETAILS: On Sunday February 7, 2021 at approximately 1412hrs, the Josephine County Sheriff's Office received a report of a 91-year-old female missing in the O'Brien area. Her son stated he was cutting firewood on their wooded rural property while his mother waited in the truck. After some time, he returned to the truck and realized she was gone. The caller believed she was lost and was unable to locate her after searching on his own.
Josephine County Sheriff's Office Deputies and the Illinois Valley Fire Department responded to conduct a hasty search. Josephine County Search & Rescue was also activated and responded with two K9 teams.
At 1521hrs, the son discovered his mother had been attempting to call him and left several voice messages on his cell phone. The search area is a very remote property with limited to no cell service. In her messages, the missing person stated she was lost and walking along a creek. Sheriff's Office Dispatch made several attempts to ping her cellphone. At 1740hrs, dispatch was able to get viable coordinates from her phone.
At 1815hrs, a SAR team spotted her in the area of the coordinates provided. She was found standing on a small island in a creek. She was cold and wet but in good spirits. It appeared she walked along the creek for almost a mile before stopping. It took two hours and the coordinated efforts of the Sheriff's Office, SAR, IVFD and AMR to get her out of the rugged terrain. She was evaluated by AMR and refused transport. She was released to her son. Josephine Co. Sheriff's Office
AROUND the STATE of OREGON
Oregon Taxing Stimulus Checks
Oregon is one of only a few states that lets you deduct the federal income taxes you pay from the income you pay state taxes on. Typically, that saves you money in state taxes. But here's where it gets confusing, the stimulus payments are technically advance payments of a federal income tax credit. You'll probably owe some extra money to the state or get a smaller refund than usual.
Millions of people around the country received multiple stimulus payments last year. The federal government said it wasn't going to be taxed. While you won't pay the federal income tax for your stimulus check, there is a good chance your Oregon tax liability increased thanks to a specific aspect of Oregon's tax code — the federal tax subtraction.
That means your federal tax liability goes down and so does the amount you can subtract from your taxable income when you file your Oregon taxes.
Here's how it will affect your bank account:
To figure out how much extra you'll owe, multiply the amount you got in stimulus money by Oregon's state tax rate 8.75 percent. The average single person who got $1,800 would owe an extra $157.50 to the state this year.
A family with two kids who got $3,400 in stimulus money would owe $298 in Oregon taxes.
Now, this won't apply to you if you make too little to pay federal taxes or too much to qualify for the state credit.
According to the state's Legislative Revenue Office (LRO), a simple way to think about the effect on your Oregon taxes is simply multiply the stimulus payment amount by your Oregon tax rate.
LRO staff estimated in May that 870,000 Oregon taxpayers may see their Oregon tax liability go up thanks to the stimulus payments. They said it could add $103 million to state coffers in the current biennium.
The same thing happened in 2009, the last time Americans received a stimulus check like this.
A spokesperson for the Oregon Department of Revenue said it would take legislative action to change how the state handles its federal tax subtraction as it relates to the stimulus payments.
Ongoing Search for Oregon Woman who Vanished Without a Trace
45-Year-Old Fauna Frey has been missing since Sunday, June 28, 2020 with no clue as to her current whereabouts. The family has set up an anonymous tip line at 541-359-5638 and email address, findfaunafrey@gmail.com for anyone who has any leads for her family and law enforcement.
She is described as a caucasian woman, 5'6″, 135-150 pounds, with blue eyes and blonde hair in her mid 40's. She has a tattoo on her back and was last seen wearing a neon green and purple pullover, capri pants, and a dark t-shirt. At the time of her disappearance, Frey was driving a dark blue 2000 Jeep Grand Cherokee. It has been confirmed that she picked up a hitchhiker the day she went missing, but that person has been found and interviewed by police.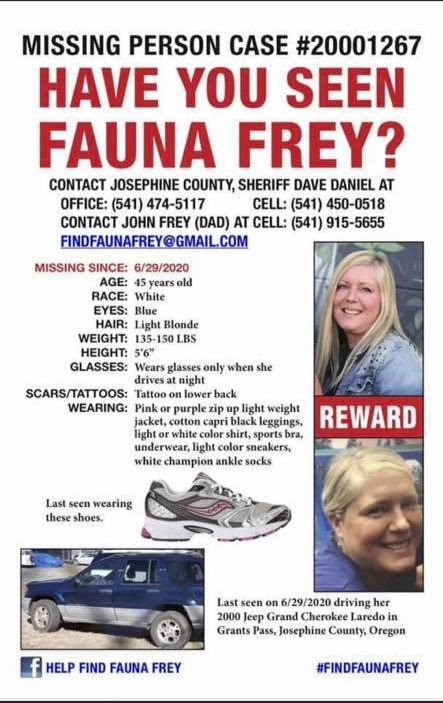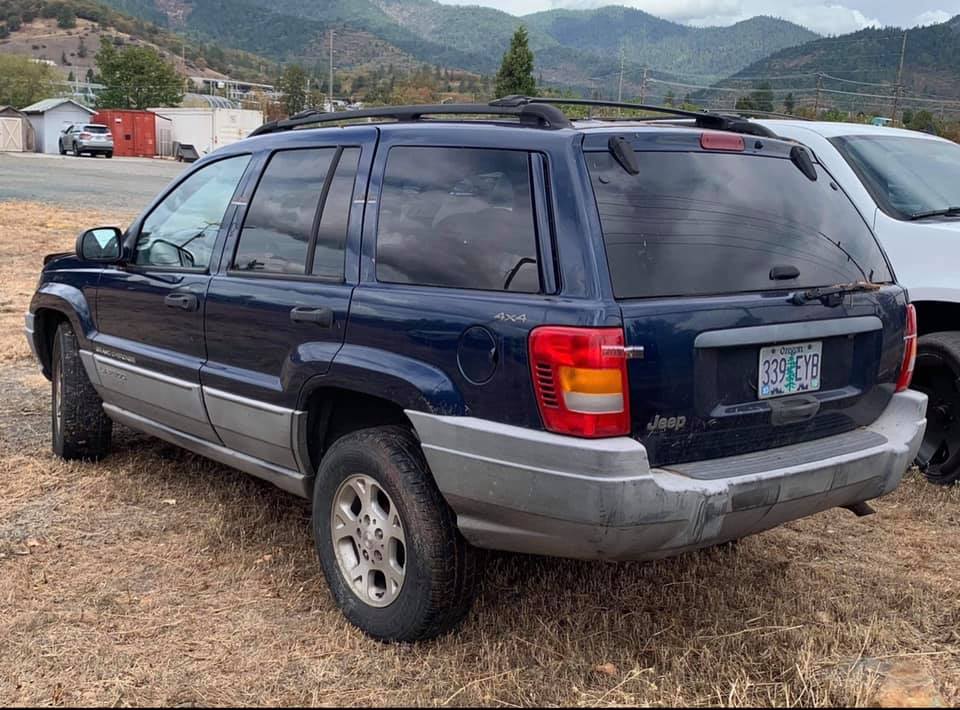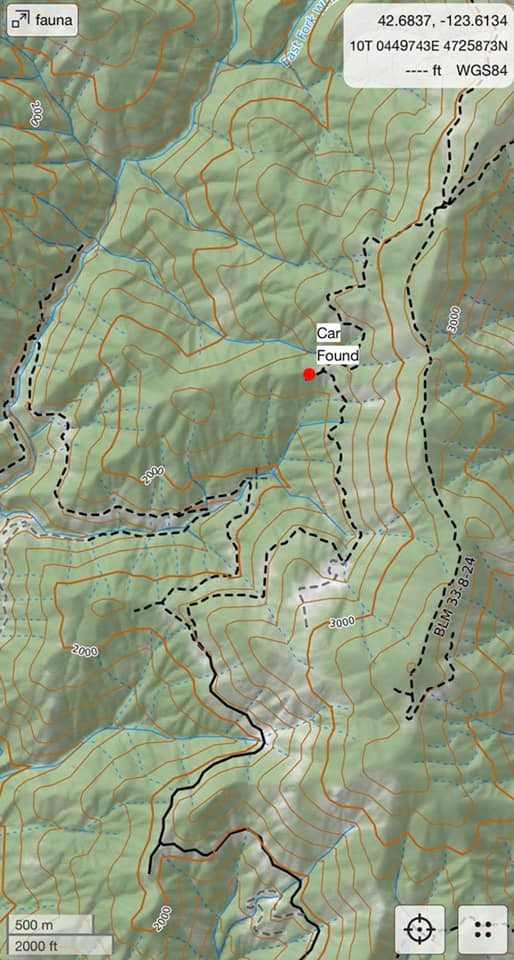 On September 23, 2020, Frey's missing Jeep was found on Reuben Mountain Road a few miles past Grave Creek Boat Landing in Josephine County. Although an extensive search was performed in the area, no new clues came to light, and cadaver dogs turned up no additional leads.
Based on the investigation, it is believed Frey's vehicle was parked at the location for at least a month if not longer. Frustratingly, DNA evidence and fingerprints taken from the Jeep are still waiting to be processed. State police informed Frey's father that the evidence collected inside the car is put at the end of a long list due to there being "no evidence a crime has been committed".
"I've searched half the state of Oregon," Fauna's distraught father, John Frey, told Dateline NBC in an interview. "We're at a standstill and don't know where to go from here. We just want her home safe."
Fauna Frey's brother passed away on June 19, 2020, leaving his grieving sister behind. John Frey told Dateline NBC that on June 27, Fauna drove her dark blue 2000 Jeep Grand Cherokee from their home in Dexter to Grants Pass, Oregon, to give some of her brother's belongings to a friend of his. Fauna left her laptop and cell phone behind.
The following is a timeline of events as taken from the Help Find Fauna Frey Facebook Group:
6/27/20
That evening Fauna drives her Jeep from Dexter, OR towards Grant Pass, OR. She spends the night in her car at an unknown location. She does not bring any clothes.
6/28/20
10:08am Fauna stops at Creswell 76 Station, $20 purchase
11:40am Fauna picks up chicken strips for **** dog. We believe she stopped at the Wolf Creek Store and bought them there.
11:45am Fauna stops at **** house in Wolf Creek. Spends 30 minutes with ****. **** provided Fauna an address via DEX to XXX Onion Mountain Rd.
??? Picks up hitchhiker NOT SURE WHAT TIME took her to Fish Hatchery Rd (takes 31 min to get to gas station in Cave Junction)
7:04pm Cave Junction Chevron $25 Purchase
7:45pm checked into Super 8 hotel
>8:00pm approx. called her dad John at home
8:30pm approx. goes to Fred Meyers purchased ($138.28):
socks
VO5 shampoo
Pantene conditioner
2 Burt's Bees
deli sandwich
1 bag of potato chips
some active wear clothing
2 cans of Fosters Beer
Fred Meyer video footage captures her walking to her car wearing a neon green and purple pull over. (It is confirmed Fauna arrived back to her room at the Super 8 after her shopping trip alone).
6/29/20
8:35am Video showed Fauna leaving hotel room and Super 8 in Grants Pass
11:44am $200 cash withdrawal from Umpqua Bank in Rogue River
12:36pm Big 5 purchased ($250.77):
​​3 pack of palm held flashlights
​​Lantern
​​Capris
​​Tennis shoes​
Sports bra
2:35pm Fauna made a reservation at Weasku Inn Reservations system
3:39pm Gooseberries purchase ($56.61):
​​10 tuna packs
3 cans of iced coffee
​​1 smoothie
No other banking activity
Fauna never arrived for her reservation at Weasku Inn and has not been heard from since. There has been no additional activity on her bank account or credit card. Please call the Josephine County Sheriffs Office at 541-474-5117 if you have any information regarding this case.
Oregon Commercial Crab Fishery to Open North of Cape Falcon 2/16
After a significant delay, the commercial Dungeness crab fishery will open in the most northern section of Oregon's coast as of Feb. 16.
This area has remained closed to commercial crabbing to coordinate an orderly start with the Washington coastal Dungeness crab fishery.
Results from recent domoic acid testing of crab viscera (guts) conducted by the state of Washington indicate that levels of the marine biotoxin domoic acid are still elevated in the viscera of crab. Until further notice, all crab harvested from Point Chehalis, Wash. to the Washington/Oregon border will be required to have the viscera (guts) removed by a licensed crab processor prior to sale to ensure that crab going into the market are safe to consume.
All crab tested from all Oregon's crab harvest areas have been well below alert levels and all Oregon crab product on the market is safe to eat. The Oregon Department of Agriculture (ODA) will continue to regularly test crab and shellfish to ensure levels in all areas remain below alert levels.
Prior to the opener, crab vessels in this area will be allowed to set gear from Feb. 13 onwards, using the "pre-soak" period of time to set gear in anticipation of the first pull of ocean crab pots on Feb. 16. The recreational crab fishery is already open in this area and along the entire Oregon coast.
For more information about Oregon's shellfish marine biotoxin monitoring, call ODA's shellfish safety information hotline at (800) 448‐2474 or visit the ODA shellfish closures web page.
Storms Take Out Massive Chunks of Oregon Coast Dunes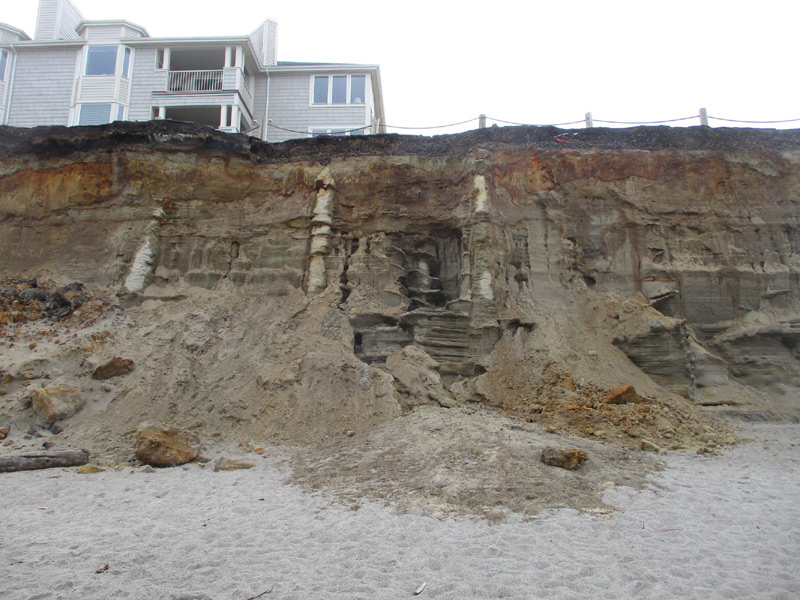 Sometimes eight or ten feet are gone from where the dune usually gently slopes down to the beach, resulting in many areas that are now dangerous. Many visitor centers have issued cautions or warnings, telling beachgoers to be careful about playing on high dunes above the beaches. It's easy for someone – especially kids – to go bounding over the dunes towards the beach, and then suddenly finding there's a sudden drop. It's often not possible to see the abrupt edges as you come over a dune.
In Manzanita, CoastWatch volunteer C Pendergrass said this is the highest the dunes have been lopped off in the seven years they've been keeping up on the beaches. They categorized these enormous cuts as "severe," and Manzanita is one of the more dramatically-altered places on the coast.
"They are currently unscalable in many areas," Pendergrass said. "In places, the water was able to get behind the foredune area and swept the foredune away leaving only a few tussocks of dune grass strewn about."
own on the south coast at Bandon, at Devil's Kitchen and Haystack Rock, the CoastWatch volunteer who goes by the handle "T Bowspencer" noted some heavy dune erosion there. You can see about four to five feet of a drop-off where those dunes largely sloped down to the beach from where the cutoff points are on top now. (Photo at bottom)
At Gleneden Beach, the CoastWatcher who goes by the name "Streets" had some of the more alarming changes of Oregon coast beaches. A large chunk of a bluff has fallen apart on the northern end, near the Salishan community. Then there's the spooky erosion of the bluff at the World Mark facility that seems to be showing plumbing of some kind.
"Large vertical pipes, metal rods, even what looks like a large auger, have been embedded in the soil for probably years, and are now being exposed," Streets said.
Six Fatal Crashes In Oregon Since the Weekend
Between early Saturday morning and Monday afternoon, there were six fatal crashes across Oregon. Four were in Portland including two pedestrians, making eight for the year.
A driver crashed into a tree on North Columbia Blvd. near Portsmouth around 1:00pm on Monday afternoon.
40-year-old Douglas Rosling II rolled his vehicle and crashed at a warehouse on Northwest Yeon near Suffolk Street just after 7:00 on Sunday morning.
A man and woman on foot were hit by cars on Saturday. Just before 1:00am, 34 year-old Joshua Stanley was struck as he likely tried to cross Southeast McLoughlin Blvd. south of the Ross Island Bridge.
60-year-old Karen McClure was hit at Southeast 136th and Stark around 7:00 on Saturday night. The driver took off and is still wanted.
There were two more fatalities outside the metro on Sunday night. Robert and Linda Leach of Albany, both in their 70's, died on Highway 22W in Polk County when they crossed into oncoming traffic just after 5:00pm.
About three hours later, 20-year-old Ruben Vasquez died when the vehicle he was riding in was hit on Highway 101 in Lincoln County. Three others were injured. 33-year-old Johnny Widerman was arrested on charges including manslaughter, assault, and DUII for controlled substances.
Oregon Bill 3115 Aims to Ban 'sit-lie' Laws
Oregon lawmakers are considering a bill that takes aim at "sit-lie" ordinances, when cities try to ban people from sitting or lying on the sidewalk.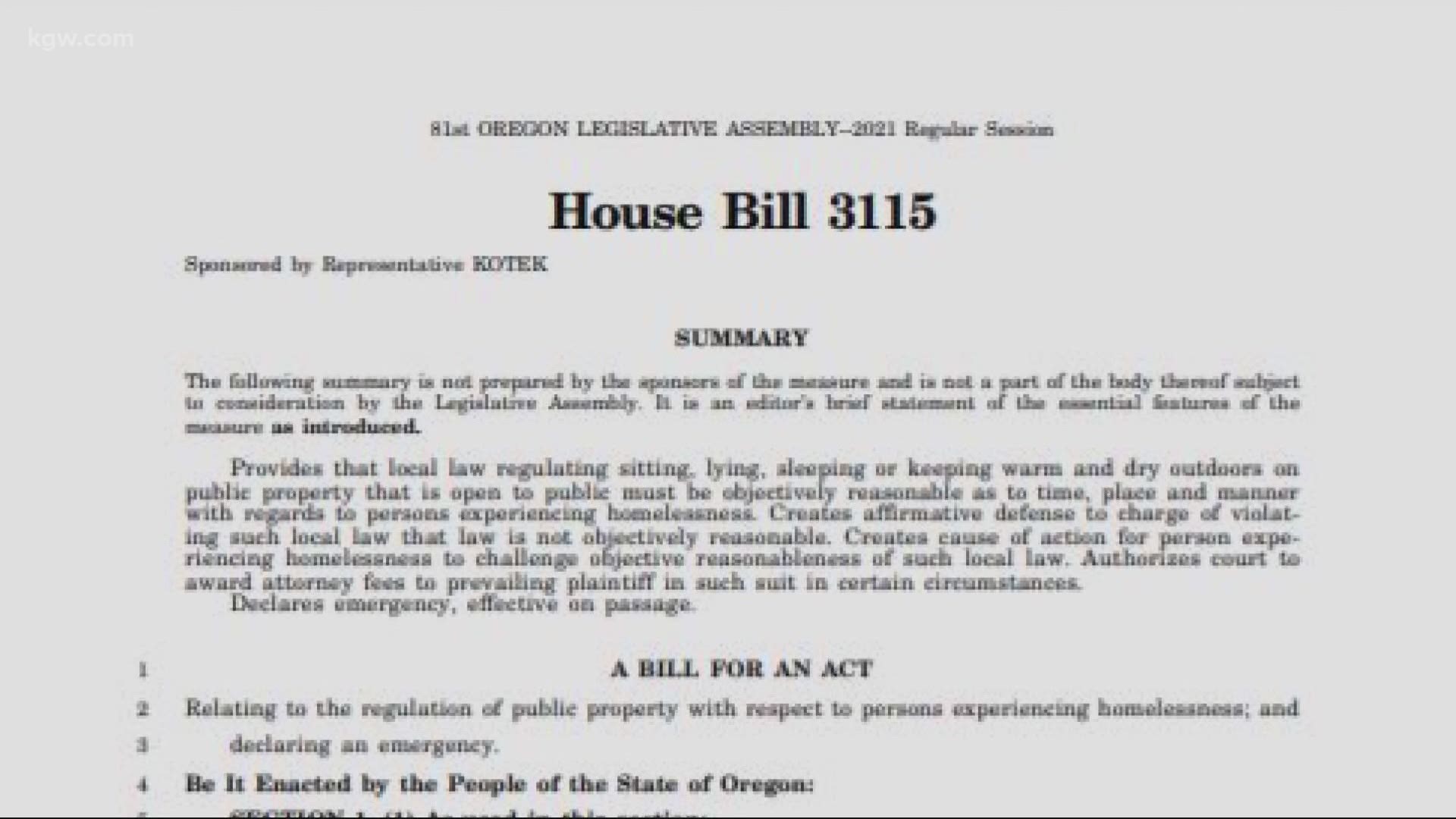 PORTLAND, Ore. — Cities looking to ban homeless people from sitting or lying on sidewalks may soon have a new hurdle to clear, courtesy of lawmakers in Salem, and the timing of this bill is noteworthy given news in a major court case. Weeks into a packed legislative session, Oregon lawmakers are considering a bill that takes aim at "sit-lie" ordinances. That's what it's called when cities try to ban people from sitting or lying on the sidewalk. These attempts are often lightning rods for controversy and court challenges.
Portland has tried it and failed. Grants Pass recently did the same, but the big precedent comes from Boise, Idaho. Twelve years ago a group of homeless people sued the city for ticketing them for sleeping outside, even though Boise had a shortage of shelter beds. A judge in the 9th Circuit Court of Appeals ruled that qualified as cruel and unusual punishment and violated the Constitution.
On Monday, Oregon House Speaker Tina Kotek (D-Oregon) said House Bill 3115 will largely force cities statewide to comply with that decision.
"If you can't justify moving folks along because there's not enough shelter, then you have to have a different standard for how you treat them, and from my perspective, that is more humanely," Speaker Kotek said.
House Bill 3115 still has to go through committee hearings and multiple votes before it can be law. That said, the timing is noteworthy. Until this week, that case out of Boise, known as Martin v. Boise, was ongoing. But Monday, the city announced it was dropping its latest appeal. Per a settlement, officials are now pouring $1.3 million into opening new shelters.
"Often it seems that these issues have been coming up in the past 10, 15 years or so as smaller communities are starting to see more people experiencing homelessness on their streets," said Joanne Zuhl, executive editor of Street Roots. The Portland newspaper has covered "sit-lie" ordinances in depth. She noted the Boise ruling and this Oregon bill could very well make these laws less prevalent.
But House Bill 3115 does leave room for interpretation. It demands cities be "objectively reasonable" when considering new laws aimed regulating camping or sleeping outside.
"One reason why these laws are so contentious is because of the disparity between what people define as reasonable," Zuhl said. "And that perspective is weighted by whether or not you are experiencing or have experienced homelessness."
NW Natural Customers in Oregon to Receive Gas Credit
NW Natural customers in Oregon can expect a credit on their February bill, as the company issues $9.1 million in bill credits for services provided at the company's underground natural gas storage facility at Mist, Oregon, as well as from efficient pipeline capacity management.
The average residential customer in Oregon will see a credit of about $9 and the average small commercial customer in Oregon will see a $39 credit.