The latest news stories and stories of interest in the Rogue Valley from the digital home of Southern Oregon, from Wynne Broadcasting's RogueValleyMagazine.com
Wednesday, February 10, 2021
Rogue Valley Weather
Today- Patchy fog before 10am. Otherwise, partly sunny, with a high near 52. Light and variable wind.
Thursday- Rain likely, mainly after 10am. Cloudy, with a high near 51. Calm wind becoming east southeast around 5 mph in the afternoon. Chance of precipitation is 60%. New precipitation amounts between a tenth and quarter of an inch possible.
Friday- A 30 percent chance of rain, mainly before 10am. Snow level 4000 feet rising to 4500 feet in the afternoon. Cloudy, with a high near 50. South wind around 7 mph becoming west in the morning.
Saturday– Rain, mainly before 4pm. Snow level 4400 feet. High near 48. Chance of precipitation is 90%. New precipitation amounts between a tenth and quarter of an inch possible.
Sunday– A chance of rain, mainly after 4pm. Snow level 2400 feet rising to 3100 feet in the afternoon. Mostly cloudy, with a high near 47.
Oregon reports 529 new confirmed and presumptive COVID-19 cases, 7 new deaths.
There are seven new COVID-19 related deaths in Oregon, raising the state's death toll to 2,031, the Oregon Health Authority reported. OHA reported 529 new confirmed and presumptive cases of COVID-19 bringing the state total to 147,932.
The new confirmed and presumptive COVID-19 cases reported today are in the following counties: Baker (4), Benton (20), Clackamas (65), Clatsop (2), Columbia (3), Coos (9), Crook (1), Curry (3), Deschutes (5), Douglas (16), Grant (1), Harney (18), Hood River (10), Jackson (19), Jefferson (5), Josephine (20), Klamath (9), Lake (13), Lane (39), Lincoln (1), Linn (9), Malheur (1), Marion (54), Morrow (3), Multnomah (78), Polk (19), Tillamook (1), Umatilla (29), Union (5), Wallowa (9), Wasco (7), Washington (40) and Yamhill (11).
Note: Due to a delay in laboratory reporting, OHA received a large quantity of approximately 3,000 negative electronic laboratory results (ELRs) on Feb. 8. The tests are from June 1, 2020 through Feb. 2, 2021. As a result, daily ELR totals are higher for Feb. 8 than usual; however, there was no change in percent positivity.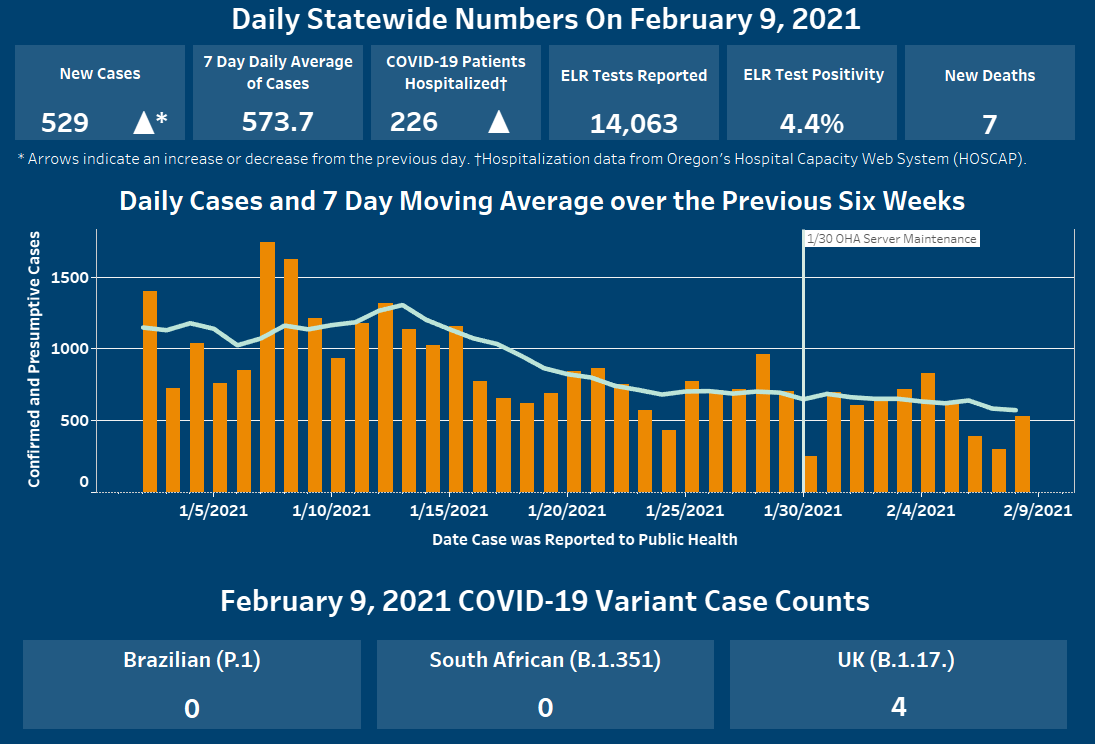 Vaccinations in Oregon
Today, OHA reported that 16,340 new doses of COVID-19 vaccinations were added to the state immunization registry. Of this total, 7,863 doses were administered on Feb. 8 and 8,477 were administered on previous days but were entered into the vaccine registry on Feb. 8.
Cumulative daily totals can take several days to finalize because providers have 72 hours to report doses administered and technical challenges have caused many providers to lag in their reporting. OHA has been providing technical support to vaccination sites to improve the timeliness of their data entry into the state's ALERT Immunization Information System (IIS).
Oregon has now administered a cumulative total of 588,740 first and second doses of COVID-19 vaccines. To date, 801,125 doses of vaccine have been delivered to sites across Oregon.
These data are preliminary and subject to change. OHA's dashboards provide regularly updated vaccination data, and Oregon's dashboard has been updated today. To learn more about the COVID-19 vaccine situation in Oregon, visit our webpage, which has a breakdown of distribution and other useful information.
Governor Kate Brown's office announced that 12 Oregon counties, including Klamath,
have improved in COVID-19 risk level. On February 12, the county will move from an
"extreme risk" to a "high risk" designation, allowing some businesses to increase
activities. The Oregon Health Authority has reported some of the lowest new daily
COVID-19 cases in the state in months, and Klamath County's 7-day average of new
cases plummeted from 41 at the beginning of December to 5 at the beginning of
February. The county's weekly case load per 100,000 and its test positivity rate, both
metrics used by the state to determine risk level, had also been steadily dropping for
weeks. For the last two weeks, the county reported below 200 cases per 100,000 and a
test positivity rate below 8%, the threshold between "Extreme" and "High" risk.
Some Oregon Pharmacies Begin Scheduling Vaccine Appointments This Week
Select Oregon pharmacies will begin receiving COVID-19 vaccines through a new federal distribution program this week, with the state's doses going to Costco, Health Mart, Safeway and Albertsons during the program's initial phase.
Already, though, there is uncertainty over just when the retail pharmacies will receive their vaccines, start scheduling appointments and begin vaccinating eligible Oregonians. The confusion mirrors the broader questions affecting the vaccine rollout.
White House officials announced last week that approximately 1 million vaccine doses would be shipped directly to 6,500 pharmacies across the country this week in the first phase of the Federal Retail Pharmacy Program, with the possibility that vaccinations could begin as soon as Thursday.
Oregon Health Authority Director Patrick Allen said that just over 130 pharmacies across the state would receive a combined 13,000 doses this week, with about 100 doses going to each participating pharmacy.
However, Trushar Patel, a pharmacist and owner of three Health Mart pharmacies in Tillamook, Gold Beach and Salem, said he was still awaiting clarification from the Centers for Disease Control and Prevention about whether the doses would show up Thursday or Friday.
He said the three pharmacies will wait until Monday to begin vaccinations to ensure they have the doses in hand. He said the appointments will be scheduled out over the course of next week.
Kristen Breland, a spokesman for Health Mart, said Tuesday that the company hoped to launch its online scheduler Wednesday. Patel encouraged individuals without internet access to seek help from friends and family so that pharmacies can avoid a flood of calls, but encouraged those who couldn't access the internet to call their Health Mart pharmacy directly.
Approximately nine Health Mart locations across the state are expected to receive vaccines this week, but Breland said the company needed confirmation from the federal government before it could announce the locations receiving doses.
During this early stage of the vaccine rollout, Oregon is limiting vaccines to health care workers, people living in nursing homes and other congregate care settings, teachers and — beginning this week — people ages 80 and over. Oregonians over 75 will become eligible to receive vaccines on Feb. 15.
Most people up to now have received their vaccines at clinics, senior living facilities or special vaccination sites like the Oregon Convention Center. The Biden administration hopes its retail pharmacy program will ultimately make vaccines accessible to more Americans.
The vast majority of the vaccine doses that Oregon is receiving through the program this week will go to Safeway and Albertsons pharmacies across the state. The two grocery chains share common ownership and operate in tandem.
Company spokesman Jill McGinnis said they anticipate approximately 11,500 doses to be shipped to 115 Albertsons and Safeway pharmacies in Oregon.
All but four of the company's Oregon pharmacies are expected to receive doses. The Albertsons locations in Hillsboro and Bend, the Safeway in St. Helens and the company's stand alone pharmacy in Myrtle Creek will not receive doses.
Eligible Oregonians will be able to sign up for appointments online through Albertsons and Safeway sometime later this week by visiting www.albertsons.com/COVID-19 and www.safeway.com/COVID-19. McGinnis did not yet know when appointment slots would open. She said that Oregonians who don't have access to the internet can call their pharmacies directly to try to schedule appointments.
"The online scheduler will open in conjunction with our receiving of the doses," McGinnis said. "It is not open currently. We ask that the public continue to check over the course of the week and appreciate their patience."
Vaccine doses will also be going to 13 Costco locations statewide, according to the company's website. Those stores are in Albany, Aloha, Bend, Central Point, Clackamas, Eugene, Hillsboro, Portland, Roseburg, Salem, Tigard, Warrenton and Wilsonville.
Individuals will be able to sign up for appointments by visiting https://www.costco.com/covid-vaccine.html. Appointments were not yet available Tuesday and a Costco spokesman would not answer questions about the company's participation in the vaccine program.
Only Oregonians currently eligible to receive vaccines under state guidelines will be able to sign up for appointments through the participating pharmacies.
Guidelines from the Centers for Disease Control and Prevention recommend that vaccines be provided to broader groups of people if doses are in danger of being wasted, but that is unlikely to happen given the limited supply arriving at Oregon pharmacies this week.
Elderly Oregonians faced major obstacles trying to sign up for COVID-19 vaccinations Monday when vaccines became available to those 80 years old and older. Some reported problems with online sign-up systems as metro-area appointments filled up in just two and a half hours.
Patel, the Health Mart pharmacist, said his Tillamook pharmacy is working directly with the county to ensure it can accommodate vulnerable individuals who are already on the county's waitlist for COVID-19 vaccines. However, appointments at his other pharmacies and a certain percentage of appointments at the Tillamook pharmacy will still be made available to eligible Oregonians online.
But he expects there will be high demand for the limited number of vaccines available. Patel said they are prepared to answer questions and help customers sign up for appointments, but said there could be hiccups along the way as they get the program running.
The pharmacies also haven't been told how many vaccines they should expect in subsequent weeks, Patel said. That has made it difficult for them to plan ahead. He said they will tentatively schedule customers who receive their first doses next week for second doses under the assumption that their vaccine allotment will go up over time, but may have to move second appointments around if they receive fewer doses than anticipated moving forward.
While Oregon pharmacies will receive only a limited number of doses this week, Jeff Zients, the White House's COVID-19 response coordinator, told reporters last week that the program could be scaled up over time, with doses eventually being shipped to roughly 40,000 pharmacies nationwide.
Patel said he is hopeful that pharmacies will ultimately play an important role in the nation's vaccine effort.
"Even though we're a small piece of the puzzle," Patel said, "we're glad we're able to do something for the community and can make a difference."
Southern Oregon Lawmaker Introduces Bill That Would Bar Governor Brown from Shutting Down Businesses During Pandemic
A state lawmaker representing part of southern Oregon has introduced a bill designed to limit Governor Kate Brown's power to shut down businesses during the coronavirus pandemic.
Representative David Brock Smith's district covers parts of Curry, Coos, Douglas, and Josephine counties. House Bill 3177, the "Covid Business Equity Act," would explicitly limit the Governor's power to impose restrictions on restaurants, bars, gyms, and other fitness establishments — unless those restrictions apply to all businesses broadly.
Rep. Brock Smith highlighted the job losses in the hospitality sector as the major impetus for the bill.
"These business owners, their hardworking employees and their families have faced extreme hardships with devastating delays in business relief, unemployment insurance payments, with little to no income and no relief in sight," Brock Smith said in a statement. "Many of these restaurants and hospitality industry businesses will close their doors forever, taking these jobs with them. Further, the majority of these impacted Oregonians are the most vulnerable working families across our state."
In Oregon counties at the higher end of the state's risk level guidance, restaurants and gyms face significant restrictions on indoor activities. For restaurants and bars, this means no indoor service in "Extreme Risk" counties.
HB 3177 carves out space for the Governor to continue requiring masking, physical distancing, physical barriers, and other restrictions that are "generally applicable to all types of businesses." However, it would prevent Governor Brown from establishing restrictions on these sectors that don't apply across all sectors.
Though restaurants and gyms have certainly seen the toughest restrictions of any businesses in the state, the guidance produced by Governor Brown's office and the Oregon Health Authority includes tailored rules for a number of sectors, both private and public. As a result, it's unclear how Brock Smith's bill — if passed — would interact with a complex system of restrictions that doesn't neatly break down into eating establishments, fitness centers, and everything else.
"Us legislators have been telling our constituents that while not in session, we have no authority to intervene on the Governor's Executive Orders related to the Covid-19 emergency, subsequent mandates and their closures. We have now begun the '21 Legislative Session and it is past time for the legislative branch to assert our responsibility; and I would argue the obligation, in guiding policy and lead in this work for the residents that put us here to do so," said Brock Smith.
The lawmaker urged people to email their legislators in support of the bill. HB 3177 is currently on the House Speaker's desk, awaiting referral.
First shipment of Moderna vaccines to be delivered to Oregon prisons Tuesday, vaccinations begin today
The Oregon Department of Corrections will begin immunizing inmates statewide starting Wednesday.
Jennifer Black, a department spokeswoman, said 5,000 Moderna vaccines had arrived Monday. She said starting Tuesday, they will be shipped to each of the state's 14 prisons. "We have communicated that vaccinations will decrease the number of cases inside Oregon's prisons and help us open visiting,"
The effort to vaccinate inmates will begin Wednesday, with "COVID-19 vulnerable" prisoners getting priority, Black said. The vaccination clinic will continue on Thursday if necessary, she said The department expects to receive another 5,000 doses next week.
The vaccines will be offered to inmates but won't be required, corrections officials said.
Black said the agency estimates about 75% of inmates will get vaccinated. Oregon's prisons currently house nearly 12,600 inmates. Some have already been vaccinated.
Gov. Kate Brown last week authorized the Oregon Health Authority to provide the state prison system with 10,000 doses of the Moderna vaccine for its inmate population after a federal judge ordered all inmates in Oregon's prisons be prioritized for the vaccinations.
U.S. Magistrate Judge Stacie F. Beckerman's ruling addressed the explosive rise of the virus in the prisons, where the infection rate is 28% compared to 3.3% of the rest of the population.
Beckerman's decision followed motions filed Jan. 21 by seven inmates requesting the federal government to intervene and immediately compel the state to vaccinate all inmates. The same inmates first filed a class action lawsuit in federal court last April seeking protection against the spread of the coronavirus.
Inmates across the state have described poor conditions as 3,413 cases of COVID-19 and 42 deaths have been confirmed in prisons to date.
Arson in Grants Pass
On February 8th, 2021 at approximately 2116 hours, the Grants Pass Department of Public Safety received numerous 911 calls from the 1200 block of NE Grable Drive. Callers reported vehicles being set on fire by a male suspect with a gas can. GPDPS Police and Fire/Rescue units were immediately dispatched to the area. The male suspect reportedly fled the area on foot shattering windows of other vehicles as he ran. Additional callers reported their car tires had been slashed while parked in the area of NE 12th Street and NE Meier Drive.
As Police units were arriving into the area, they observed citizens chasing the male suspect near the corner of NE D Street and NE Beacon Drive. The male suspect was placed in custody without further incident. The suspect was identified as 36-year-old, Grant Brannaman who has a listed Portland Oregon address. Grants Pass Fire/Rescue arrived and assisted with the fire clean-up as the fire had been extinguished prior to their arrival. One vehicle sustained heavy damage from being lit on fire. Brannaman was later lodged at the Josephine County Jail on the charges below.
1. Arson in the Second Degree
2. Criminal Mischief in the First-Degree x 2
3. Criminal Mischief in the Second-Degree x 3
4. Felon in Possession of a Restricted Weapon
5. Disorderly Conduct
It is possible there are other victims of this incident. If you are a victim, or have further information please call the Grants Pass Department of Public Safety at (541)-450-6260 and reference Case # 2021-6043. We would also like to the thank the alert citizens who assisted in apprehending the suspect. Grants Pass Dept. of Public Safety
AROUND the STATE of OREGON
More than 24,000 Oregonians applied for federal disaster assistance after the catastrophic 2020 wildfires – 57% of them were denied.
Maria Meunier has lived in Medford for almost a decade. She owned a manufactured home at the Medford Estates — what was once a gated, manicured mobile home park with cleanly paved streets, sturdy homes and bright green lawns — until Sept. 8th. That's when the Almeda Fire raged through Jackson County, destroying 2,500 homes within hours.
Five months after the fire, the crumpled remains of Meunier's house overlooks an expanse of ashes and twisted metal. She and her adult son, who has disabilities, are living at a friend's house as they search for housing amid a tight market and a severe shortage of affordable homes.
They applied for disaster assistance through the Federal Emergency Management Agency, but were denied.
"You are not eligible for housing assistance because you did not prove you lived in the damaged home at the time of the disaster," Meunier reads from the letter FEMA sent her. "I've been there since August 2012! Who's been paying the rent? Who's been paying mortgage and property taxes?"
Meunier is among the nearly 14,000 Oregonians who were denied federal disaster assistance after last year's wildfires, according to data provided by the agency. She's also one of the few people who have appealed FEMA's decisions. About 290 people in Oregon appealed FEMA's denials. Only 40 of those were approved. Meunier wasn't among them.
Meunier wants to go back home. She wants to live in the same park, in the same plot, in a similar house. The park is leasing plots on a first-come, first-serve basis, without prioritizing previous tenants. New tenants will need to buy a home among a selection of designs provided by the park, and prices are going to be tens of thousands of dollars more than what Meunier paid nine years ago. She owned her previous home outright. It was easier to afford the monthly mortgage payments along with space rent when her late husband was alive.
Meunier guesses she'll need another $30,000 to move back to the park. She's not sure what she'll do if she doesn't make up that shortfall. Still, she plans to appeal FEMA's denial a third time. "I'm going to fight," Meunier says. "Whatever it takes."
Oregon's high rates of denial are on par with previous natural disasters. FEMA denied about 60 percent of Puerto Rican disaster assistance applicants after Hurricane Maria. A study by Texas Hausers, a housing nonprofit, found that FEMA denied a quarter of disaster applicants after Hurricane Harvey.
Many of the people who have been denied assistance are low-income. Among Hurricane Harvey applicants, people whose annual incomes were below $15,000 had a 46% denial rate. People with annual incomes exceeding $70,000 had a 10% denial rate.
JPR has a pending data request with FEMA to obtain income and demographic information about Oregon applicants who were impacted by wildfires in 2020.
Following Oregon's wildfires, FEMA issued press releases encouraging people to appeal. They said the appeals process could be as simple as correcting a typo or providing a missing document.
Disaster victim advocates and legal aid attorneys say appealing FEMA's denials is anything but simple; and that by denying so many people the first time, the agency is using a complex bureaucratic process to weed out people who likely need the most help.
"People who've been affected by a disaster are dealing with trauma," says attorney Tracy Figueroa with Texas RioGrande Legal Aid. "They're trying to pull the documents together, and just hearing "no" from one entity or another can shut things down. They don't know how to navigate the bureaucracy. They're just done."
Figueroa and other legal aid attorneys say applicants almost always need an attorney to help them find and deliver documents, provide context for their living situations, and continually follow up with FEMA representatives.
People with limited resources are less likely to have access to a lawyer. Disaster-prone states like Texas, where Figueroa has worked through 18 federal disasters, have teams of legal aid attorneys that help low-income disaster victims. But in states like Oregon, which rarely sees a disaster as destructive as the Almeda Fire, there are few private or nonprofit attorneys who are experienced in FEMA disaster assistance.
FEMA's denial letters aren't always clear about how applicants can amend their applications. For example, several Oregon applicants told JPR that they were denied assistance because they have homeowner's insurance; a common misunderstanding, since FEMA often lists homeowners insurance as a reason for denial. Rather, FEMA can help people with homeowners insurance, but those applicants need to follow a few other steps first. They need to see what their insurance will cover and provide that documentation to FEMA, then they need to apply for a loan through the Small Business Administration, even if they don't intend to take out a loan. At that point, they could go back to FEMA with an appeal.
Some applicants have also encountered language barriers, including Meunier, who primarily speaks Spanish. When she called the FEMA help line and asked for Spanish services, she received an English-speaking representative who used a translator located at a separate call center. They said they couldn't transfer her to a Spanish-speaking FEMA representative; instead, they had to use a translator from the call center.
"They don't realize, in the translation, a lot of things get messed up," Meunier says. "You cannot literally translate spoken words."
DATA DENIALS – When someone applies for disaster assistance through FEMA, the agency feeds their information through a third-party service, according to FEMA's employee manuals.
If someone's information doesn't match up with that service's database, it spits out a denial. People often receive eligibility determinations within hours of submitting their applications.
FEMA's automated data verification can be problematic for people with unconventional living conditions. If someone was informally living out of a garage or a spare bedroom — or living in a mobile home with a title that never formally transferred to their name — they're more likely to get denied assistance. If they have a Spanish name that is sometimes Anglicized or misspelled — or they have two last names that are sometimes hyphenated, sometimes not — they're also more likely to be denied. It could get particularly tricky if a family includes undocumented parents with a child who is a U.S. Citizen.
If there are multiple households living on a property — like roommates sharing a home, or multiple families in different buildings with the same address — only one of them could apply for assistance. If the same address gets multiple applications for assistance, they're more likely to be denied.
These factors tend to leave out historically marginalized people with low incomes, says Sarah Saadian of the Low Income Housing Coalition.
"These programs are not designed to serve people with the greatest needs," Saadian says. "And so, it's unsurprising that we keep seeing these outcomes over and over again."
The most common reason people are denied assistance in their initial applications is because of a clerical error or a missing document, according to FEMA spokesperson Jassiel Olivero Melo. She wouldn't say if the agency was working on improving its disaster assistance applications to alleviate this common mistake.
"If the agency finds that there may be something in the application process that is causing applicants to fall short or needs some [interpretation], I am very sure the agency will improve it, if that's the particular case," Melo says.
CHALLENGES WITH MOBILE HOMES – Jackson County officials say two-thirds of the homes destroyed by the Almeda Fire were manufactured homes. Like Meunier, mobile homeowners face a number of challenges in applying for disaster assistance. They need to provide months-long proof that they paid space rent, a copy of their lease agreement, and a title to their home, which isn't always available because of the generally informal process of buying a mobile home.
"For people who are living in mobile homes, they may not have those title documents," Sarah topSaadian says. "Even if your state may require you to register it, it just doesn't happen like that. Sometimes the park owner might have it. Sometimes it's never delivered when the home is delivered."
Saadian and the Low Income Housing Coalition are encouraging FEMA and Congress to enact legislation that allows mobile homeowners to self-certify homeownership in lieu of title documents, a process that had been allowed after Hurricane Maria hit Puerto Rico. FEMA only allows self-attestation in U.S. territories, not in the states.
Mobile home parks have historically been located in areas that are susceptible to natural disasters, including wildfires and hurricanes.
"They're in areas where wildfires occur and where flooding can occur because they're tucked away," says attorney Ilene Jacobs with the California Rural Legal Assistance. "Some of them are quite substandard and are in areas adjacent to a highway."
The Almeda Fire burned through the Bear Creek Greenway, a riparian area and bike path running along the Interstate 5 freeway. Several manufactured home parks abutted the greenway and freeway before the fire raged through those properties.
Jacobs has spent years working closely with disaster assistance groups and legal-aid clients. She says every time there's a disaster, the same patterns arise: high rates of denial, low rates of appeals, and large numbers of low-income families falling through the cracks.
"These are lessons that we should have learned a long time ago and not learn every time there's a disaster," Jacobs says.
Federal Authorities Uphold Oregon Denial of Permit For Jordan Cove LNG Terminal
Federal authorities on Monday affirmed the state of Oregon's finding that a proposed major West Coast liquified natural gas pipeline and export terminal is not consistent with its coastal zone management plans.
Jordan Cove's Canadian backers, Calgary-based Pembina Pipeline Corp., had appealed the state's finding to the U.S. Commerce Department. The company hoped the Trump Administration would override the state's federally delegated authority to determine if projects are consistent with the Coastal Zone Management Act, The Oregonian/OregonLive reported.
The National Oceanic and Atmospheric Administration declined, saying the company had failed to show that the project is consistent with the law. Pembina didn't immediately respond to the newspaper's request for comment.
It's the latest hurdle the $10 billion terminal and pipeline project have encountered. On Jan. 19, federal regulators upheld the state's earlier decision against granting the project a clean water certification. The state has also denied a necessary dredging permit for the project. Without those approvals, the project, which has been in the works for over 15 years, cannot move forward.
Jordan Cove would be the first such LNG overseas export terminal in the lower 48 states. The proposed 230-mile (370-kilometer) feeder pipeline would begin in Malin, in southwest Oregon, and end at the city of Coos Bay on the rural Oregon coast.
Project opponents cheered Monday's decision.
"Pembina's last-ditch effort to override Oregon's authority to stop Jordan Cove LNG has failed," Allie Rosenbluth, campaigns director at Rogue Climate, said in an emailed statement.
Pembina could reapply to the state for both its clean water and coastal zone certifications, although it's not clear it would get different outcomes.
Deputies Search for Missing Oregon Woman Near Hagg Lake
Authorities are asking for the public's help in finding a 38-year-old woman who could possibly be in danger.
Tara Callahan was reported missing late Friday night. She's described as about 5-foot 5-inches tall, weighing 150 pounds, with brown hair and green eyes.
The Washington County Sheriff's Office said deputies were called out to her Aloha apartment complex at about 11:30 p.m. on reports she might be a danger to herself. The person who called said Callahan was heading to Henry Hagg Lake to possibly drown herself, the sheriff's office said.
The sheriff's office found her car at Boat Ramp C, but they were unable to find her. A search team worked through the weekend to find her, scouring the woods and shoreline around the lake.
A Clackamas County Sheriff's Office dive team also searched the waters nearby, but couldn't find her.
Authorities are asking anyone with helpful information to give them a call. This case remains under investigation and the search is continuing. If anyone has any information regarding the location of Ms. Callahan, please call non-emergency dispatch at 503-629-0111.
Oregon U.S. Attorney Billy Williams to Resign at Request of Biden Administration
Oregon U.S. Attorney Billy J. Williams, who was appointed by former President Donald Trump in November 2017, was among the U.S. attorneys nationwide directed Tuesday to step down as the Biden Administration seeks to replace them.
"On an all-U.S. Attorney call this morning, Acting Attorney General Wilkinson instructed most presidentially-appointed U.S. Attorneys, U.S. Attorney Williams included, to submit resignations effective February 28, 2021," said Kevin Sonoff, a spokesman for the Oregon U.S. Attorney's office.
"Our office is taking all necessary steps to ensure a smooth transition and will provide more information soon."
First Assistant U.S. Attorney Scott Asphaug is expected to take over the top prosecutor's job in an acting capacity before a new appointment is made.
U.S. Sen. Ron Wyden, in the past, has worked with U.S. Sen. Jeff Merkley to appoint a committee to interview and recommend candidates for the job.
Williams, 64, served as acting and interim U.S. attorney after replacing Amanda Marshall in April 2015 before he was appointed by Trump on Nov. 17, 2017, and confirmed by the Senate in March 2018. He joined the U.S. attorney's office in October 2000 after serving as a Multnomah County deputy district attorney.
Williams, 64, served as acting and interim U.S. attorney after replacing Amanda Marshall in April 2015 before he was appointed by Trump on Nov. 17, 2017, and confirmed by the Senate in March 2018. He joined the U.S. attorney's office in October 2000 after serving as a Multnomah County deputy district attorney.
In the last month, Williams has been seeking to hold onto his job, requesting letters from supporters to submit on his behalf as he expressed his desire to remain in the seat.
Yet all of the Trump-era appointees confirmed by the Senate were asked to submit their resignations, except two top prosecutors in Delaware and Connecticut who are overseeing Trump-related investigations. It is common for new presidents to replace U.S. attorneys and the request for Williams' departure was long anticipated.
In recent years, Williams has clashed with Portland city officials. His decision last year to maintain the federal deputization of 50 Portland police officers, despite the city's objection and request to drop the federal authority granted to local officers, has led to a lawsuit against the U.S. Department of Justice.
In July, he called it "nonsensical political theater" for Portland city officials to bar local police collaboration with federal officers during protests and urged local residents to demand that "violent extremists" who attempt to breach the fence put up around the federal courthouse leave.
In February 2019, Williams called it a "mistake that defies logic" after the City Council voted to withdraw Portland police from the FBI-led Joint Terrorism Task Force.
A Monday Night Earthquake was Felt in the Portland Area.
The United States Geological Survey reports a magnitude 4.0 quake occurred about 9:34 p.m. just southeast of Parkdale, Oregon. The epicenter was about 21 miles (33 kilometers) west southwest of The Dalles. The PacNW Seismic Network reported the quake was felt in both Portland and Vancouver, Washington. There were no reports of damage.
https://earthquake.usgs.gov/earthquakes/eventpage/uw61712646/executive