The latest news stories and stories of interest in the Rogue Valley from the digital home of Southern Oregon, from Wynne Broadcasting's RogueValleyMagazine.com
Tuesday, February 16, 2021
Rogue Valley Weather
Today- A 40 percent chance of showers, mainly before 4pm. Snow level 3000 feet. Mostly cloudy, with a high near 50. Calm wind becoming northwest 5 to 7 mph in the morning.
Wednesday- Patchy fog between 10am and 1pm. Patchy freezing fog before 10am. Otherwise, mostly cloudy, with a high near 50. Light and variable wind.
Thursday- Rain, mainly after 10am. Snow level 4400 feet rising to 6400 feet in the afternoon. High near 48. Light south southeast wind becoming southeast 6 to 11 mph in the morning. Chance of precipitation is 90%. New precipitation amounts between a tenth and quarter of an inch possible.
Friday– Rain likely, mainly after 10am. Snow level 3700 feet. Cloudy, with a high near 48. Chance of precipitation is 60%. New precipitation amounts of less than a tenth of an inch possible.
Saturday– A chance of rain, mainly before 10am. Snow level 2300 feet rising to 2900 feet. Mostly cloudy, with a high near 47.
Oregon reports 184 new confirmed and presumptive COVID-19 cases, 0 new deaths
There are zero COVID-19 related deaths in Oregon, and the state's death toll remains at 2,137, the Oregon Health Authority reported 184 new confirmed and presumptive cases of COVID-19 bringing the state total to 150,464.
Note: Case and electronic laboratory result counts are lower than anticipated today. This is likely related to the winter weather event and hazardous travel conditions. Oregon Health Authority
The new confirmed and presumptive COVID-19 cases reported today are in the following counties: Benton (7), Clackamas (7), Columbia (1), Crook (1), Curry (3), Deschutes (24), Douglas (13), Harney (4), Jackson (6), Jefferson (4), Josephine (4), Klamath (1), Lake (5), Lane (26), Linn (1), Malheur (1), Marion (6), Multnomah (23), Polk (3), Umatilla (3), Union (5), Washington (30), Yamhill (6).
Vaccinations in Oregon
Today, OHA reported that 6,693 new doses of COVID-19 vaccinations were added to the state immunization registry. Of this total, 3,650 doses were administered on Feb.14 and 3,043 were administered on previous days but were entered into the vaccine registry on Feb. 14.
Cumulative daily totals can take several days to finalize because providers have 72 hours to report doses administered and technical challenges have caused many providers to lag in their reporting. OHA has been providing technical support to vaccination sites to improve the timeliness of their data entry into the state's ALERT Immunization Information System (IIS).
Oregon has now administered a cumulative total of 683,887 first and second doses of COVID-19 vaccines. To date, 885,250 doses of vaccine have been delivered to sites across Oregon.
These data are preliminary and subject to change. OHA' s dashboards provide regularly updated vaccination data, and Oregon's dashboard has been updated today. Note: The reduced number of administrations is likely the result of inclement weather.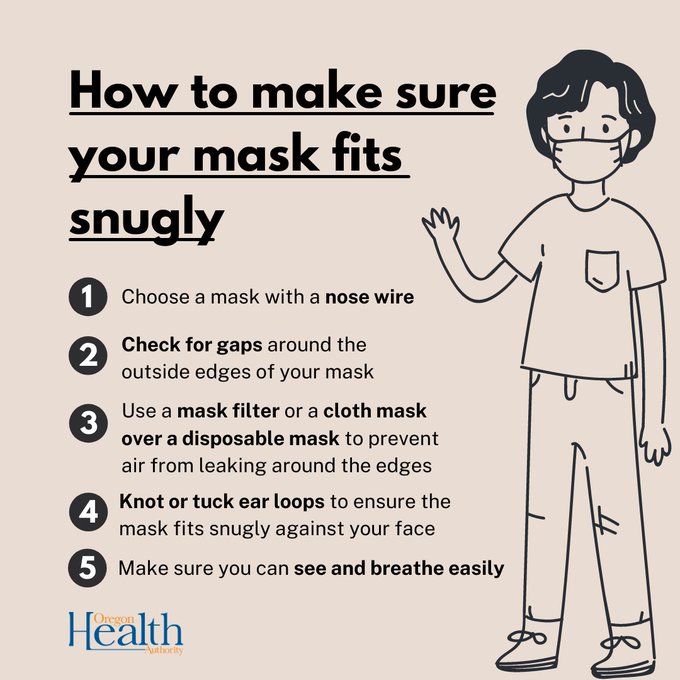 Oregon Office of Emergency Management Issues Warning: Beware of carbon monoxide when using alternate heat sources
Loss of power and freezing temperatures have some Oregonians using alternate heating sources, many of which come with the added risk of carbon monoxide poisoning.
Carbon monoxide is a colorless, odorless, toxic gas produced when anything is burned. Gas and oil furnaces, water heaters, fireplaces as well as wood burning and gas stoves are common sources in the home.
The only way to know if you are being exposed to carbon monoxide is by using a detector. Common symptoms of carbon monoxide poisoning are headache, dizziness, weakness, nausea, vomiting, chest pain and confusion. Exposure to carbon monoxide can cause loss of consciousness and death. If carbon monoxide poisoning is suspected, seek fresh air and consult a health care professional right away.

If used inappropriately, items that emit heat can produce dangerous levels of carbon monoxide. Follow these important steps to prevent carbon monoxide poisoning:
Use caution with kerosene or gas space heaters; use vented space heaters whenever possible and make sure they are clean and inspected.
Never use a gas range or oven to heat your home.
Check exterior exhaust vents to be sure they are clear of snow, ice and fallen debris.
Do not use charcoal grills or camp stoves indoors.
Never run a portable generator or any gas-powered engine in a basement, garage or other enclosed r area, even if doors and windows are open.
For more information on carbon monoxide safety, visit the Oregon Health Authority website.
Fact sheets on preventing carbon monoxide poisoning after an emergency are available in multiple languages. Visit OHA – Recognizing and preventing carbon monoxide poisoning.
Southern Oregon Activist Group Started A Pop-Up Warming Center in Medford
A Southern Oregon activist group has started a pop-up warming center called Judi's Midnight Diner. It's a small trailer and a heated three-walled tent with food, coffee and chairs.
Derek DeForest is a volunteer with the center. He says that because the city hasn't opened a warming center, the group felt the need to take direct action to help people who are suffering.
"Unfortunately, we've just seen that the city hasn't been able to respond to the needs of the people living out here on the streets," says DeForest. "But at a grassroots community level, there's a lot of people willing to help out and lend a hand. We've seen a need and said, 'okay, we can do that. We can figure it out.'"
Judi's Midnight Diner is usually set up in a parking lot somewhere around downtown Medford.
DeForest says that what he calls the criminalization of homelessness in Medford, along with displacement from wildfires, makes this project especially important.
"We've talked a lot in the last year about alternatives to the war on the poor," he says. "I think a lot of it is just communities coming together and saying, 'we have the skills, we have the resources,' or, 'we're willing to learn. We're willing to work this out together,' and we can create what we need."
Judi's Midnight Diner is usually set up four nights a week at around 9pm, but more often if the weather is especially cold.
AROUND the STATE of OREGON
Even though the worst of the storm over — more than 200,000 Oregonians remain without power as crews work around-the-clock to restore electricity. Portland General Electric said they have more than 2,500 people dedicated to the problem that nearly 5,000 downed power lines caused. —— Eastern Oregon Snowstorms Set Records. More than 70% of the Continental United States Has Snow!
Portland General Electric said they have more than 2,500 people dedicated to the problem that nearly 5,000 downed power lines caused.
As of 5 a.m. February 16, 2021:
PGE
Nearly 200,000 customers
Pacific Power
More than 18,000 customers
Clark County PUD
797 customers
Salem Electric
108 customers
"Utilities in our region have never experienced such widespread outages, including during the September 2020 wildfires," Gov. Kate Brown said Monday. "The state of emergency I declared on Saturday will ensure that all necessary state resources are available on the ground to help Oregonians impacted by this winter storm.
PGE outages map
Pacific Power outages map
Clark County PUD outages
Salem Electric outages
"I want to thank all the local and state workers, first responders, and utility crews who continue to work around the clock in incredibly difficult conditions to clear roads, restore power, and aid families in need. I am also incredibly grateful for work crews who have stepped in from other states to assist.Emergency resources for severe winter weather
Brown reminded people to not call 911 unless it is for a life-safety emergency. Instead, call 211 or you local non-emergency line for assistance or information.
Gov. Brown also advised Oregonians to remain at home unless necessary.
Pacific Power restored service to 18,000 customers in the Portland and Willamette Valley areas
Restoration work continues aided by additional crews coming from sister and neighboring utilities. The company cautions that some outages could extend into Wednesday and Thursday.
Nearly 360 Pacific Power employees and contractors continued to assess and repair damage caused by a series of storms that brought heavy ice and snow to the region.
Joining Pacific Power crews on Tuesday morning are 75 additional personnel from Rocky Mountain Power, MidAmerican Energy and Nevada Energy and other regional utilities.
At times during the past few days upwards of 80,000 customers from across the Willamette Valley up to Portland and along the North Coast experienced service disruption due to the destructive ice storms. As of 7 p.m. today, that total has dropped to 28,000 customers.
"Crews made good progress today given how widespread the damage is," said Allen Berreth, vice president of operations. "Removing large tree limbs and fixing broken crossarms and replacing poles is our focus as crews work safely and as swiftly as possible to get service back online for customers. We're grateful for the additional help coming in from other utilities and we will continue to apply every resource we have until all customers have power."
The company released a new interactive map where customers can view estimated times of restoration in the Willamette Valley by entering an address. The map is available at pacificpower.net/outages-safety/restoration-status.html.
Pacific Power encourages customers to report outages by calling 1-877-508-5088 or text OUT to 722797. Text STAT to 722797 to check the status of your outage.
To ease the inconvenience of power outages and assist crews in restoring power, Pacific Power suggests the following tips and safety precautions:
Stay away from all downed power lines and utility lines. Even if the lines are not sparking, they could be energized and extremely dangerous. Call 911 and report the outage to Pacific Power at 1-877-508-5088.
Don't drive over downed power lines.
Maintain safe distances from workers. Repair work is being done under our COVID-19 safety protocols. Waves and acknowledgement are welcome, but please allow crews to do their work at an appropriate distance both for operational and COVID-19 safety.
If there is damage to your service mast or weather head, where the powerline connects to your home or business, you will need to contact a licensed electrician for repairs before service can be restored. Our crews can only work on company-owned equipment.
Check on your neighbors, especially those who may need special assistance. Also, check with others who have electricity, to see if you can visit.
If you have power at this time, keep mobile devices charged so that may be used in an emergency. Before anything happens, download the Pacific Power app to your smart device so you can have information readily available.
Keep refrigerator and freezer doors closed. Most food requiring refrigeration can be kept safely in a closed refrigerator for several hours. An unopened refrigerator will keep food cold for about 4 hours. A full freezer will keep the temperature for about 48 hours.
Remember your pets! Pets who spend a lot of time outdoors need more food in the winter because keeping warm depletes energy.
If you are using alternate heat or cooking sources, remember to allow plenty of ventilation. Never burn charcoal for heating or cooking indoors.
If you are using a generator, make sure to follow all manufacturer's instructions. Make sure the generator is outside and not near any household air intakes. Do not connect the generator directly to your breaker box as this can create a dangerous situation for crews working on the powerlines. Instead, plug essential appliances directly into the generator.
Safeway in Troutdale and Old Navy Store in Gresham have Roofs Collapse During the Snow and Ice Storm
The roof of the Safeway store in Troutdale collapsed on Monday likely from the weight of ice and snow, the Multnomah County Sheriff's Office said.
No one was hurt, and sheriff's officials say everyone made it out of the store safely.
Reports came in at about 11:40 a.m. for a roof collapse at the store in the 2500 block of Southwest Cherry Park Road.
Another roof, this time at an Old Navy at Gresham Station, gave way at around 12:30 p.m. on Monday. The store in that event was evacuated, but luckily, no one was hurt.
A weekend storm blanketed western Oregon and southwest Washington in snow and ice, prompting Governor Kate Brown to issue a state of emergency.
Road Work Closes Part of Hwy 101 Between Florence and Yachats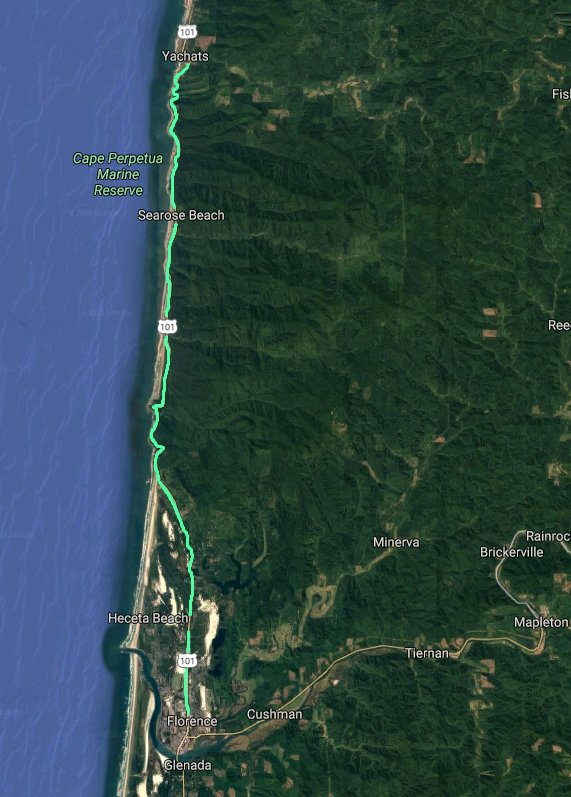 Oregon Department of Transportation (ODOT) announced this week that a section U.S. 101 between Florence and Yachats will be closed for up to a week as crews build a retaining wall. The closure takes place at milepost 170.5, a little over two miles south of Cape Perpetua (about a half mile south of Bob's Creek Wayside.)
ODOT said since the closure is between Sea Lion Caves and Cook's Cavern, there are a few areas with enough space where larger vehicles can turn around.
Local traffic will have access beyond the closures on either side of the project, but there will be no through traffic at any time. This closes off access between Florence and Yachats for central Oregon coast visitors. The only way between the two towns is via I-5 and the coast range highways, such as Highway 20 near Newport and Highway 126 into Florence. 
The closure will begin later this week, depending on the weather. Until the closure begins, traffic will continue in one lane, controlled by flaggers. Travelers should expect closures or extended delays in the area for the next few weeks. Check TripCheck.com or call 5-1-1 for the current road status.
While the road is completely closed, crews will be building a new retaining wall to hold the road in place. After the closure there will be access through the project area on a single lane with flaggers controlling traffic, but travelers should expected extended delays for an additional week. Once the repair project is complete, the road will again be closed for several days for the drill rig to be recovered from the rocks below. A 200 ton crane will be used and will block the entire road.
A project to repair the section of road held in place by a historic retaining wall began last Monday, February 6.
A crack in the road was reported in January. Monitoring found that it was becoming larger because the containment wall was failing and an immediate repair was required.
The road cracked and sank because the containment wall was failing, and an immediate repair was required. The northern portion of the wall collapsed on Friday as crews were working between the road and the wall to place 150 feet of micro-piling. Micro-piling involves placing two-inch metal poles into the bedrock and then filling the surrounding hole with concrete. This will shore up the road, keeping it from shifting. Repairs to the retaining wall itself will then be done, and guardrail replaced.
On Friday, the northern half of the wall collapsed and an employee of GeoStabilization International and the drill rig he was operating fell about 150 feet to the rocks below. The person is recovering from injuries sustained in the accident.
Road status information boards will be placed on U.S. 101 at Newport, Waldport and Florence, and on OR 126 Florence-Eugene Highway in Florence and Veneta. http://oregon.gov/ODOT
Ice storm pummels Oregon's Enchanted Forest
Already hurting from the pandemic and the fires last year, the Enchanted Forest faces big task to clean up after the damage from this historic snow and ice storm that hit the Pacific Northwest. It has caused extensive damage to the rides and buildings at the park just south of Salem.
"This weekend was brutal," Enchanted Forest posted on Facebook Monday. "We felt we were at least on the right track to open for Spring Break but the park was devastated by the ice storm." (Courtesy Enchanted Forest)
"We felt we were at least on the right track to open for Spring Break but the park was devastated by the ice storm. We have a great deal of assessment, cleanup and repair to embark upon now. We have already begun this massive undertaking but it may be awhile before we know where we are at. We are as determined as ever to do everything we can to keep going and we hope all of you are doing okay. We will update you all as soon as we know more about our opening and plans."
It marks yet another setback which was having a difficult year financially due to the coronavirus pandemic. Still, there has been an outpouring of support for Enchanted Forest, which has become an iconic part of the state's history.
To Help or for More Information visit the website: https://www.enchantedforest.com and the Go Fund Me page: https://www.gofundme.com/f/enchanted-forest-family-owned-theme-park-survival