The latest news stories and stories of interest in the Rogue Valley from the digital home of Southern Oregon, from Wynne Broadcasting's RogueValleyMagazine.com
Thursday, February 18, 2021
Rogue Valley Weather
Today- Rain, mainly after 10am. Snow level 4200 feet rising to 6900 feet in the afternoon. High near 47. Light south southeast wind increasing to 5 to 10 mph in the morning. Chance of precipitation is 90%. New precipitation amounts between a tenth and quarter of an inch possible.
Friday- A 50 percent chance of showers. Snow level 3900 feet. Mostly cloudy, with a high near 51. Calm wind.
Saturday- A 40 percent chance of showers, mainly before 10am. Snow level 2800 feet. Mostly cloudy, with a high near 47. West wind 3 to 5 mph.
Sunday– Mostly cloudy, with a high near 52.
Monday– Partly sunny, with a high near 59.
Oregon reports 473 new confirmed and presumptive COVID-19 cases, 5 new deaths
There are five new COVID-19 related deaths in Oregon, raising the state's death toll to 2,143. The Oregon Health Authority reported 473 new confirmed and presumptive cases of COVID-19 bringing the state total to 151,257.
The new confirmed and presumptive COVID-19 cases reported today are in the following counties: Baker (5), Benton (7), Clackamas (17), Clatsop (2), Columbia (3), Coos (10), Crook (2), Deschutes (50), Douglas (40), Grant (1), Harney (9), Hood River (6), Jackson (52), Jefferson (10), Josephine (13), Klamath (5), Lake (6), Lane (39), Lincoln (2), Linn (10), Malheur (15), Marion (25), Morrow (2), Multnomah (55), Polk (14), Tillamook (5), Umatilla (11), Union (8), Wallowa (2), Wasco (1), Washington (27) and Yamhill (19).
Vaccinations in Oregon
Today, OHA reported that 15,790 new doses of COVID-19 vaccinations were added to the state immunization registry. Of this total, 10,653 doses were administered on Feb. 16 and 5,137 were administered on previous days but were entered into the vaccine registry on Feb. 16.
Cumulative daily totals can take several days to finalize because providers have 72 hours to report doses administered and technical challenges have caused many providers to lag in their reporting. OHA has been providing technical support to vaccination sites to improve the timeliness of their data entry into the state's ALERT Immunization Information System (IIS).
Oregon has now administered a cumulative total of 707,244 first and second doses of COVID-19 vaccines. To date, 922,300 doses of vaccine have been delivered to sites across Oregon.
These data are preliminary and subject to change. OHA's dashboards provide regularly updated vaccination data, and Oregon's dashboard has been updated today.
Severe weather is delaying COVID-19 vaccine shipments across the country. These weather-related issues may cause changes to daily number trends reported by OHA in its updates on the cumulative number of doses administered, the daily number of administered doses and the number of doses delivered to Oregon. OHA remains in regular contact with the Centers for Disease Control and Prevention (CDC) to ensure Oregon doses are safe.
Many Oregonians have had questions about #COVID19 vaccines. Join OHA Thursday, February 18 at 11:30 a.m. on Facebook Live to hear from individuals who have been vaccinated and to ask them your questions. http://facebook.com/OregonHealthAuthority/posts/3701456156557781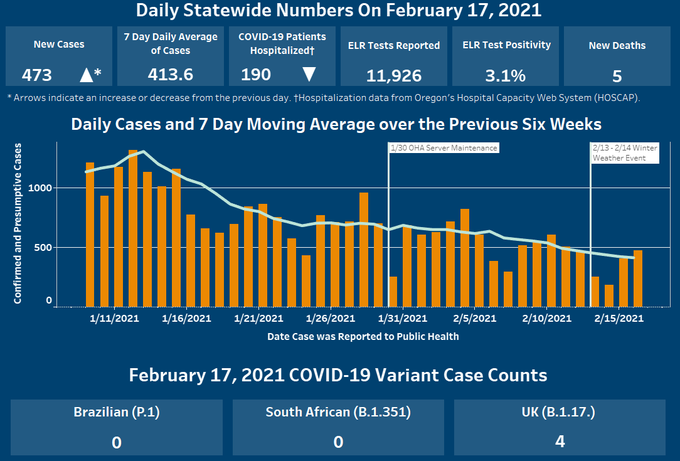 Weather Problems Across the US are Delaying Oregon's Vaccine Delivery
Oregon's shipment of 67,000 of doses of the Moderna COVID-19 vaccine will be delayed this week, officials learned on Wednesday. Frigid temperatures and storms in the southeastern United States have grounded flights and disrupted shipping across the country. As of Wednesday, Oregon's doses were still stuck in Memphis, Tennessee.
"The latest is that no Moderna shipments occurred today and at this point, it is really unclear about tomorrow. So that means it seems very unlikely that Moderna will arrive by Friday," Dave Baden, the Oregon Health Authority's chief financial officer, wrote in a letter sent to public health officials and hospitals.
This week's scheduled shipment of over 25,000 Pfizer-BioNTech vaccines arrived on schedule.
Officials are optimistic that the delayed vaccine doses will arrive next week and distribution will get back on schedule. That would mean some hospitals and counties would receive twice the amount of vaccine doses next week they were previously expecting.
It is not yet clear how this delay will impact already-scheduled appointments and vaccine distribution. Public health officials are already working to get back on schedule after local winter weather canceled over 10,000 vaccination appointments in the Portland area over Presidents Day weekend.
One bit of good news for those awaiting second doses: the Centers for Disease Control and Prevention says the second dose of the Pfizer and Moderna vaccines can be effectively administered as long as six weeks after the first dose. Although it's preferable to get as many people fully immunized as fast as possible, delaying the second dose by a week or more will not change the vaccine's effectiveness.
Clean-Up Efforts Along Bear Creek Greenway
Crews from Medford Police, Parks, and citizen volunteers focused on cleaning areas near Railroad Park and under the 10th and 12th street bridges last week.
In total, 70 cubic yards of garbage was removed from the Bear Creek Greenway including from the creek itself during the two day operation. Collected items included loose garbage, food wrappers, needles, cardboard, drug paraphernalia, and discarded plastic. All garbage removal was conducted during the day time and individuals were not asked or told to vacate the area.
During the cleanup, four individuals living along the Greenway were connected with the Urban Campground and moved their belongings to the camp.
The City also partnered with ODOT to clean a campsite on the southwest corner of the Exit 27 interchange and other identified areas within city limits.
The City's trash collection is up over 30 percent from last year's record total. Often times the areas being cleaned have bio-waste and drug paraphernalia that have to be handled and disposed of carefully, making the cleanups not only hazardous from a human perspective but also from a health perspective.
"Property ownership along the Greenway includes ODOT, Jackson County, City of Medford and private individuals and each have different rules of engagement with the residents of the camps and the resulting trash. We're working with our state and local partners on a unified strategy to address these challenges," said Deputy City Manager, Kelly Madding.
This week's clean-up effort along the Greenway and recent initiatives to provide a place for homeless individuals to go, such as the Urban Campground, are indicative of the City's dedication to assist our vulnerable population through a comprehensive effort of working with community partners to provide essential services such as housing, access to health care, food and more. Medford Police Dept
Suspect Arrested on 18 Charges Following Grants Pass Crime Spree
On February 2, 2021 at around 9:00 am, the Grants Pass Department of Public Safety (GPDPS) received a report of an unarmed robbery which occurred in the parking lot of Umpqua Bank, 117 NE F St. The suspect pushed the 73-year-old victim and stole money from his hand. Fortunately, the victim was not injured during this incident. Numerous officers responded to the scene but were unable to locate the suspect at that time.
Later that morning, GPDPS received numerous reports of thefts from motor vehicles and burglaries which occurred on Scoville Rd and NE Scenic Dr. Several officers responded to investigate the crimes that occurred at five properties in the area.
During the course of the investigation, it was determined the suspect unlawfully entered two residences, one outbuilding, and at least five vehicles, committing thefts at most locations. The suspect also stole a vehilce from one property, but abandoned it after getting it stuck.
After reviewing surveillance videos and other evidence recovered from the crime scenes, officers discovered the suspect in the robbery was also responsible for the thefts and burglaries. The suspect was identifed as 39-year-old Michael Gemar-Rickards of Washington.
On February 15, 2021, Gemar-Rickards was arrested by the Jackson County Sheriff's Office (JCSO) on unrelated charges. JCSO coordinated with the Grants Pass Department of Public Safety and when Gemar-Rickards was released from their custody on February 17, 2021, he was arrested by GPDPS and transported to the Josephine County Jail. Gemar-Rickards was lodged on the following charges:
Robbery in the Third Degree
Harassment
Burglary in the First Degree (2 counts)
Burglary in the Second Degree
Unlawful Entry into a Motor Vehicle (5 counts)
Unauthorized Use of a Motor Vehicle
Theft in the First Degree
Theft in the Second Degree (5 counts)
Theft in the Third Degree
Associated case numbers: 21-4898, 21-4916, 21-4920, 21-4929, 21-4930, 21-4964 Grants Pass Dept. of Public Safety
Oregon Shakespeare Festival Going Virtual and Live this Season

After a 2020 season curtailed by the coronavirus pandemic, the Oregon Shakespeare Festival has adapted. The 2021 line-up, announced on Wednesday, reflects the sort of contingencies that come from successive years of wildfire smoke impacts and the ongoing impact of COVID-19 closures.
This year, OSF has a range of options on offer — including the traditional live performances, new pieces tailored for digital viewing, and on-demand recordings of some classic shows. OSF's live season has been shifted to Fall and will extend into January, though the organization cautioned that these performances will be subject to public health guidelines and restrictions that may linger.
OSF Announces First Ever Combined Digital and Live Season for 2021
Season features an abundance of programming, including favorites from OSF archives streaming on demand, breakthrough original works on digital platform O!, and four onstage productions, along with outdoor community performances.
(February 17, 2021) The Oregon Shakespeare Festival (OSF) announced today the Festival's 2021 season, an ambitious array of programming all year in digital and live production. The combination of multi-format programming is a celebration of OSF's continued commitment to presenting world-class theatre on its stages and its recent foray into groundbreaking digital programming, introducing fans, supporters, and new audiences worldwide to the company's award-winning artistry. The 2021 season features classics and new works streaming from the OSF archives, imaginative and illuminating new works presented on OSF's digital platform, O!, and a Fall 2021 live season on OSF's campus in Ashland, Oregon, extending into January for the first time with OSF's first winter special. All live performances will be subject to health department guidelines and government restrictions on large gatherings.

"2020 marked a paradigm shift in which OSF was catapulted into different ways of creating and supporting artists and art-making. In launching our digital platform, O!, nearly a year ago, the initial goal was to provide an exploratory space to intersect theatre with other forms of media," said Nataki Garrett, OSF artistic director. "Now joined together with a compelling schedule of Fall and Winter onstage programming, O! has evolved into a marquee fourth stage, where new and innovative projects will play alongside some of OSF's most beloved and well-known productions."

"I could not be more excited and honored in partnering with Nataki to introduce this extraordinary combination of digital and onstage programming as the OSF 2021 season," said David Schmitz, OSF executive director. "This unique first-ever multiformat season reflects OSF's commitment to innovation, agility, and progress throughout the most extraordinary global circumstances we are all facing. And we are eager to get back to creating live performances when the health authority and governmental restrictions allow us to do so."

The 2021 digital on-demand streaming season includes a limited-run schedule of favorites from the OSF archives beginning with Julius Caesar by William Shakespeare, directed by Shana Cooper; Manahatta by Mary Kathryn Nagle, directed by Laurie Woolery; and Snow in Midsummer by Frances Ya-Chu Cowhig, based on the classical Chinese drama The Injustice to Dou Yi That Moved Heaven and Earth and directed by Justin Audibert. Tickets are now available for all three productions.  More streaming productions curated from OSF's digital archives will be announced in the coming months.

"Along with our archival streaming shows, O! will continue to present exciting new programming—digital theatre, film, and immersive projects—throughout the year, bringing OSF's celebrated artistry of OSF into homes around the world," added Garrett. https://www.osfashland.org
Theft at Medford Railroad Park
A volunteer who had been working out of an engine house at Medford Railroad Park says he locked up at 3 p.m. on Monday, February 15. Leaving inside the engine house bottles he collected to fund Medford Garden Railroaders.
He says the theft of his bottles and at least two engines, likely happened overnight and probably took the entire night to break in.
The Medford Police Department has started an investigation in hopes of discovering a possible suspect.
Lt. Mike Budreau says from what has been gathered in the investigation, the volunteer that was bagging the bottles was doing it in a public space where he could be observed and the thieves broke in knowing exactly what they were going after. Medford Police Department is contacting people in the area for possible clues.
AROUND the STATE of OREGON
Snowstorm Brings 'Most Dangerous Conditions' Seen By Utility and Thousands Still Without Power
Nearly 150,000 customers remained without power Wednesday in and around Portland, Oregon, nearly a week after a massive snow and ice storm swept into the Pacific Northwest, taking out hundreds of miles of power lines as ice-laden trees toppled.
The damage wrought by the storm to the power system was the worst in 40 years, and more than 2,000 power lines were down said Maria Pope, CEO of Portland General Electric. At the peak of the storm, more than 350,000 customers iwere without power, and 5,000 power lines and nearly two dozen substations were damaged.
At least four people have died from carbon monoxide poisoning while using charcoal or propane heaters inside to get warm and 12 more were treated and survived, the Clackamas County Sheriff's Office said.
Police in Clackamas County say four people died from carbon monoxide poisoning
during the weekend's winter storms. The Clackamas County Sheriff's Office confirmed
the deaths yesterday. Police aren't releasing details yet on where the deaths occurred.
The Oregon Poison Center says it received 19 calls for carbon monoxide exposure
over the holiday weekend. Authorities are reminding residents you should never use
kerosene or gas space heaters, a natural gas range or a camp stove to heat your home
and should never run a generator indoors.
"These are the most dangerous conditions we've ever seen in the history of PGE," said Dale Goodman, director of utility operations, who declined to predict when all customers would have power restored. "Hopefully in the next day or two we'll get ahead of this thing and start making more and more progress — as Mother Nature allows."
The storm came in three staggered waves starting Friday night, and customers were losing power faster than crews could restore it through the weekend, Pope said. More than 7,000 crew members from as far away as Montana and Nevada were helping restore a power grid that could be down for at least several more days.
There was still a risk of additional power outages from more water-logged trees crashing down as ice melts, the utility said, and some roads remained impassable. Many school districts in the hardest-hit areas canceled classes for a second day because of internet outages that made distance learning impossible.
Multiple vaccination locations were forced to close Friday and Saturday due to snowy and icy weather and about 10,000 appointments were rescheduled. On Monday, people 75 and older became eligible for vaccine appointments. However, many were without access to the internet and phones, making it nearly impossible to book one of the already scarce appointment slots.
Gov. Kate Brown has declared a state of emergency and issued a warning Wednesday to hotels that authorities would investigate any reports of price gouging as residents sought out warm places to stay.
Three people died over the weekend after using propane heating devices inside their RVs and a fourth died after lighting charcoal briquettes in a small, enclosed space to keep warm, authorities said. A family of six narrowly missed death after bringing their charcoal BBQ grill inside to use as a heat source and a group of six adults were sickened by fumes from a gas generator running in a shed attached to the home.
The sheriff's department responded to 18 other calls related to carbon monoxide poisoning over the four-day storm.
Residents who had been without heat or electricity for six days struggled to get by as crews worked to restore power.
Residents chopped up wood from fallen trees to burn in fireplaces, used melting ice to keep food cold and shared propane heaters, flashlights and battery packs. Those with gas stoves boiled water and made soup for neighbors with electric ranges.
In some areas, the power loss also meant no cellphone service, leaving residents unable to even report outages to the utility.
The New York Times Runs Story on the Store in Portland That Threw Out Food Is Confronted by Angry Activists
The dumpsters outside a grocery store in Portland, Ore., were filled with food that employees had tossed after a snow and ice storm over the weekend knocked out power at the store.
Soon, a small group began forming in the parking lot, angry that so much food was being thrown away in a city where more than 300,000 customers had lost power and where homelessness is a major concern.
What followed on Tuesday afternoon was a standoff between employees of the store, part of the Fred Meyer chain, who argued the food had spoiled and was unsafe, and a group of activists who wanted to dive into the dumpsters and salvage what they could for themselves and others who were snowed in and could not get to stores.
© @JuniperLSimonis Portland police officers outside a Fred Meyer grocery store after a group of people confronted employees who had thrown out refrigerated food.
"I was just saddened and appalled," said Juniper Simonis, 36, an environmental biologist who showed up at the store after learning on social media that the food was being thrown out. "I had personally never seen that level of waste during a time of that level of need."
The Portland police said they had received a call from the grocery store at about 4 p.m. reporting that a group of people were arguing with employees outside and refusing to leave.
According to Morgan Mckniff, an unemployed chef who uses they and them pronouns, the group was small at first — just three people.
In an interview on Wednesday, Mckniff — who had lost power over the weekend, was out of food and wanted to get something to grill outside — said there were nine employees standing outside the dumpsters. Mckniff began filming and asked the employees if they were guarding the dumpsters. An employee said to stop filming or the police would be called. By the time the police arrived, about 15 to 20 people had gathered in the parking lot, Mckniff said.
Kroger, the grocery giant that owns Fred Meyer stores, said in a statement on Wednesday that the food that had been discarded was "no longer safe for donation to local hunger relief agencies." "Our store team became concerned that area residents would consume the food and risk food-borne illness, and they engaged local law enforcement out of an abundance of caution," the statement said.
Kroger, which has touted its commitment to "Zero Hunger" and "Zero Waste," laments on its website that many Americans struggle with hunger while "40 percent of the food produced in the U.S. is thrown away." The company said in a statement that Fred Meyer stores donate 5.5 million pounds of surplus food a year.
At one point on Tuesday, there were about a dozen officers outside the grocery store, including three officers in training. Mckniff said the police had threatened to use physical force if the activists did not leave.
The Portland Police Bureau said in its statement that no one had been arrested or injured and that no force had been used. The police said they had stayed for about an hour and had left when it appeared that the crowd was moving away from the employees.
After the officers left, one woman approached the dumpsters and came back triumphantly holding a bottle of strawberry lemonade. Emboldened, the activists headed for the dumpsters.
The police said they had been called again to the store but did not return. "Police supervisors decided that unless there was an imminent threat to life or threat of serious injury, police would remain away," the police said.
For hours, the dumpster divers took out containers of cottage cheese, frozen waffles, butter, yogurt, almond milk, cured meats and sausages. Simonis, who uses they and them pronouns, said much of the recovered food would have been fine for days outside a fridge. "I still haven't processed mentally the waste that was there," they said.
Mckniff said that at one point, people had laid the food out on the sidewalk so passers-by could walk up and take it. One woman made four trips to the dumpsters to get enough for families in need.
Much of the food went to fill 11 community refrigerators that are set up around the city, Mckniff said. Grabbing the food from the dumpster felt liberating, Mckniff said.
"All we wanted was for them to walk away and leave us alone," they said. "If you're not going to help people, at least stand aside so that we can."
Divers Find Car and Recover Body Days After Crash On Bridge
A body has been recovered from the Columbia River near the Glenn Jackson Bridge, days after a driver slid off the span and into the water during a winter storm. Portland police confirmed Wednesday evening that Multnomah County, Oregon, divers had recovered a body from a car found in the river.
Witnesses reported seeing a maroon SUV that was going south on the bridge, which connects Oregon and Washington, hit a patch of ice, go over a snow embankment and plunge into the water about 5:45 p.m. Sunday. The crash happened as a major winter storm was hitting the region, creating hazardous road conditions throughout the Portland area.
While police did not confirm the identity of the person whose body was recovered, the family of Antonio Amaro Lopez, a Southeast Portland resident, believes he was the driver who went off the bridge.
Amaro Lopez's family began to worry about him Sunday after he did not come home as expected. He called his wife about 5 p.m. to tell her he was leaving his family's restaurant, Amaro's Table, in Hazel Dell. When he did not show up a few hours later, his family became concerned.
After seeing law enforcement report a car had gone off the bridge, Amaro Lopez's family members called police to express concern that he may have been involved in the crash.
According to Kelly Brown, an extended family member of Amaro Lopez, he normally takes Interstate 5 to State Route 14, then takes Interstate 205 over the Columbia River to get home.
A U.S. Coast Guard official told the family that crews went out to search within 15 minutes of the crash but had to suspend their search Monday because of bad weather and water conditions. Crews resumed their search Tuesday and Wednesday.
Amaro Lopez's family held a candlelight vigil for him Wednesday evening at the Columbia River. Authorities have not said what kind of car was found in the river.
Crash Claims the Life of Days Creek Man
A 78 year-old man died Tuesday morning in a traffic crash on Ferguson Lane in Days Creek.
Shortly before 11:30 am on Tuesday, February 16, 2021, deputies were dispatched to a single vehicle crash in the 500-block of Ferguson Lane. Information provided by the 9-1-1 caller reported that a pickup had left the roadway and was partially in the river.
When deputies arrived on scene, they located a 2000 Toyota Tacoma that had left the roadway for an unknown reason and rolled down the steep embankment. The vehicle was lying on its side partially in the waterway. When fire and EMS crews arrived, they removed the driver, identified as 78 year-old John Albert Boone of Days Creek, from the pickup and declared him deceased at the scene.
Boone was the only occupant in the vehicle and was found to not be wearing a safety belt. Next of kin has been notified. Douglas Co. Sheriff's Office
Florence Rhododendron Festival Proceeding This Year
Cautiously and optimistically, the central Oregon coast town of Florence is moving ahead with its plans for the 114th Rhododendron Festival with the theme "Rhody Wonderland." It's still a go on its traditional date: the third weekend of May – May 12 to 16 this year.
So far the plan is in place for the Davis Shows Family Carnival, while there are still plans for real-time events such as the rhododendron show, parades, car cruises, and vendor fair, but with some contingencies.
However, one highlight of this Oregon coast favorite will not be making it to the Rhododendron Festival: the naming of the Rhododendron Court and crowning of Queen Rhododendra and King of the Coast.
"We are unable to safely conduct our ceremonial duties with the court. It's a sad result of the pandemic," lamented Chamber president/CEO Bettina Hannigan. "These young people bring so much class and hard work to the event, and are such valuable ambassadors for Florence. It's such a shame to lose this joyful tradition this year."
Members of the court traditionally sell commemorative pins to raise awareness of the event and raise funds for scholarships. Their coronation at the Florence Event Center on Wednesday evening of Rhody Week is the official start of the festival.
Last year's Rhody Fest, though officially cancelled for the first time since WWII, did feature a virtual parade coordinated by the Chamber and the City of Florence with short videos submitted by the public and edited for use on social media. Local rhododendron expert, and Chamber ambassador Mike Bones, took it upon himself last year to roll a wheelbarrow packed with rhododendrons along the traditional parade route in lieu of the official Sunday grand floral parade.
"The Rhododendron Festival makes the single largest economic impact on Florence's tourist-driven economy and serves as the kick-off to the tourism season. Around 1900 people in Florence rely on tourism-based employment, and tourism pumps about $147 million into our community each year," Hannigan added.
Hannigan cautions that because so much changes so quickly with respect to the COVID-19 situation that the Florence Area Chamber of Commerce is doing all it can to thoughtfully and carefully restore the big event.
"We are doing all we can to safely advance the cause of commerce during the pandemic to make Florence the best place to live, work, shop, eat, play, and stay – now, and as the crisis passes," she explained. "Rhody Fest is crucial for that."
Hannigan added everyone must still adhere to Oregon's guidelines on COVID, and Florence can't pull out all the stops yet.
"A healthy, vibrant community is essential for everyone's success," she said. "As a chamber of commerce, and as a community at large, our top priority should be preventing further spread of COVID-19 and taking care of each other with compassion, humility, and encouragement. We cannot wait to welcome visitors back to fully enjoy all that Oregon's Coastal Playground has to offer as soon as restrictions are lifted and it is safe to do so."
The Florence Rhododendron Festival is Oregon's second-oldest floral festival, bested by a year only by the Portland Rose Festival. It sees thousands of visitors from around the state and across the country.
"Generations of families have enjoyed the annual Florence Rhododendron Festival by attending, enjoying the Davis Shows carnival, exhibiting their rhodies, showing off their classic cars and motorcycles, being in the parade, and shopping and dining in Old Town and all around town," adds Hannigan.
For more information on the 114th annual Florence Rhododendron Festival, including applications for exhibitor space, parade entries, or to volunteer on the Chamber's Rhody Fest committee, contact event coordinator Mitzi Hathaway at events@FlorenceChamber.com or 541-997-3128.
Lake Oswego Family's Rescue Cat Saves Them From Potentially Dangerous Gas Leak
The family's rescue cat, named Lilly, was playing with its owner, Sandi Martin, at their Lake Oswego home when a faulty fireplace valve in their living room started leaking. The feline went closer to the valve and began sniffing it.
Martin sensed something was amiss noticing Lilly's behavior and sniffed the valve herself. "I went over and sniffed and there was a natural gas smell," Martin said. "It was very faint so I didn't really trust my nose. Then I asked my husband to sniff it, and he sniffed it too."
Martin alerted the gas company. The staff there told her to shut down all electronic and battery-operated appliances, including cell phones, and open all doors.
An employee from the company arrived in 20 minutes and confirmed there was a gas leak. "He came in and tested it and, in fact, he said it was a dangerous gas leak," Martin told the outlet. "So, then he tested all the other sources of gas and went outside and cut off the pipe to the gas there and capped it off and shut down the fireplace. She might have saved our lives."
Martin said Lilly has extra toes, which is deemed lucky. She said the gas leak episode proved the feline indeed brought them good fortune. Martin had just recently from Cat Adoption Team in Sherwood.
https://files.constantcontact.com/f9ddb4e0801/bbf36531-1376-44ce-9cbe-8cd19dc9da80.pdf