The latest news stories and stories of interest in the Rogue Valley from the digital home of Southern Oregon, from Wynne Broadcasting's RogueValleyMagazine.com
Friday, February 19, 2021
Rogue Valley Weather
Today- Showers likely, mainly after 10am. Areas of fog before 10am. Snow level 4200 feet lowering to 3600 feet in the afternoon . Otherwise, cloudy, with a high near 49. Calm wind becoming northwest 5 to 7 mph in the afternoon. Chance of precipitation is 70%. New precipitation amounts of less than a tenth of an inch possible.
Saturday- A 30 percent chance of showers before 10am. Snow level 2700 feet rising to 3300 feet in the afternoon. Mostly cloudy, with a high near 48. Calm wind.
Sunday- Mostly cloudy, with a high near 52. Calm wind.
Monday- Partly sunny, with a high near 58.
Tuesday- Mostly sunny, with a high near 50.
Oregon reports 466 new confirmed and presumptive COVID-19 cases, 6 new deaths
There are six new COVID-19 related deaths in Oregon, raising the state's death toll to 2,149. The Oregon Health Authority reported 466 new confirmed and presumptive cases of COVID-19 bringing the state total to 151,713.
The new confirmed and presumptive COVID-19 cases reported today are in the following counties: Baker (6), Benton (17), Clackamas (31), Clatsop (2), Columbia (6), Coos (8), Crook (9), Curry (4), Deschutes (19), Douglas (25), Harney (1), Hood River (2), Jackson (27), Jefferson (12), Josephine (13), Klamath (6), Lake (3), Lane (41), Lincoln (1), Linn (5), Malheur (3), Marion (46), Morrow (2), Multnomah (66), Polk (13), Tillamook (3), Umatilla (21), Union (2), Wasco (4), Washington (54) and Yamhill (14).
Weekly COVID-19 data and outbreak reports
The Oregon Health Authority's COVID-19 Weekly Data report, released today, shows sharp decreases in daily cases and increases in hospitalizations and deaths from the previous week.
OHA reported 3,453 new daily cases of COVID-19 during the week of Monday, Feb. 8 through Sunday, Feb. 14 — a 15% decrease from last week.
New COVID-19 related hospitalizations increased from 230 to 272.
COVID-19 related deaths also increased—from 66 to 114.
There were 102,112 tests for COVID-19 for the week of Feb. 7 through Feb. 13, which represents a drop from the previous week. The percentage of positive tests was 3.4%, down from 4.2% the previous week. That's the lowest percentage of weekly positive tests since Oregon implemented its test-based method in mid-November.
People age 20 to 49 still account for more than half of COVID-19 cases, while people 70 and older have accounted for 76% of deaths associated with the virus.
Today's COVID-19 Weekly Outbreak report shows 96 active COVID-19 outbreaks in senior living communities and congregate living settings, with three or more confirmed cases and one or more COVID-19 related deaths.
Infant Among COVID-19 Deaths Reported in Oregon
An infant boy is among six COVID-19 deaths reported in Oregon on Thursday, state health officials said.
The boy tested positive on Jan. 17 in Umatilla County and died the same day, according to the Oregon Health Authority (OHA). He had underlying conditions.
"Every death from COVID-19 is a tragedy, even more so the death of a child," said Dr. Dean Sidelinger, Oregon's state epidemiologist.
Sidelinger added that the death of an infant due to COVID-19 is extremely rare.
"Children infected with COVID-19 are less likely to develop severe illnesses compared to adults," Sidelinger said. "Risks still remain to children of developing more severe illnesses from COVID-19, and we continue to encourage all parents to seek emergency medical care for their children if certain symptoms are present."
OHA said symptoms requiring urgent medical attention for children with COVID-19 related conditions include:
Trouble breathing
Pain or pressure in the chest that doesn't go away
New confusion
Being unable to wake up or stay awake when not tired
Bluish lips or face
"We have all worked together for nearly a year in Oregon to protect the lives of those we hold most dear," said Oregon Gov. Kate Brown in a statement released by OHA. "The loss of a life so young is an indescribable tragedy for a family. Dan and I send our thoughts and condolences to the mother and family of this child, whose grief must be unimaginable in this moment. The hearts of all Oregonians are with you today."
"I was struck by grief and sadness for the family," added Dr. Dmitry Dukhovny, a neonatologist at OHSU Doernbecher Children's Hospital.
Dr. Dukhovny is not directly connected to this case, but he says a newborn can contract the virus during pregnancy or around the time of delivery. That is called vertical transmission. "Or we talk about horizontal transmission where the infection can be acquired from a family member or, if the baby's in the hospital, from hospital staff," he said.
Vaccinations in Oregon
The Centers for Disease Control and Prevention (CDC) continues to report COVID-19 vaccine shipments across the country, including in Oregon, are delayed due to severe weather. Winter weather has hampered shipments of Moderna vaccine out of Memphis, TN.
Today, OHA reported that 22,663 new doses of COVID-19 vaccinations were added to the state immunization registry. Of this total, 14,414 doses were administered on Feb. 17 and 8,249 were administered on previous days but were entered into the vaccine registry on Feb. 17.
Cumulative daily totals can take several days to finalize because providers have 72 hours to report doses administered and technical challenges have caused many providers to lag in their reporting. OHA has been providing technical support to vaccination sites to improve the timeliness of their data entry into the state's ALERT Immunization Information System (IIS).
Oregon has now administered a cumulative total of 729,823 first and second doses of COVID-19 vaccines. To date, 922,300 doses of vaccine have been delivered to sites across Oregon.
These data are preliminary and subject to change. OHA's dashboards provide regularly updated vaccination data, and Oregon's dashboard has been updated today.
In addition to delaying vaccine shipments, severe weather in Oregon has also impacted the ability for vaccine sites to actually administer vaccines. These weather-related issues may cause changes to daily number trends reported by OHA in its updates on the cumulative number of doses administered, the daily number of administered doses and the number of doses delivered to Oregon. OHA remains in regular contact with the Centers for Disease Control and Prevention (CDC) for updates on delivery schedules and to ensure Oregon doses are safely delivered to Oregon vaccination sites.
If you are scheduled for a vaccination and have questions about potential delays or disruptions, check with your scheduled vaccine provider for the latest updates.
Asante Foundation Receives $5 million Donation for Cancer Care Center
The Asante Foundation received a $5 million gift, the largest in Asante's history, for cancer care. The money was donated by philanthropists Mary and Dick Heimann. The Heimann's say they're honored to give back to their community.
The money will support Asante's Regional Cancer Institute, recruitment for medical leaders and a pediatric cancer clinic for children facing cancer.
"For the community that we love, we wanted to do something that will leave a legacy," said Dick Heimann, co-founder and vice chairman-emeritus of Lithia Motors. "The services and conveniences will provide excellence in medical care within this facility and will have a tremendous impact on so many people."
"When we saw the regional cancer center plans and the possibilities for this community, it was really important for us to be able to make a gift and inspire others. It's going to be a very special place," said Mary Heimann.
Officials say the donation is an important milestone in the Asante Forward campaign. As a result, the campaign is over halfway toward its $50 million goal of over $25 million.
"Dick went on to say that they don't want to be the largest gift in a site date history for a long, and they hope others step forward to make even larger gifts to support the health of our region, that they really want to inspire and motivate people to be involved in this effort," said executive director Floyd Harmon.
The cancer center will be named in the Heimann's honor. The center is under construction and is expected to open in early 2022. https://asantefoundation.org/campaign/cancer-center/
Grants Pass 2nd Annual Drinking Water Week Poster Contest
For more than 40 years the City of Grants Pass and the American Water Works Association have celebrated Drinking Water Week as a unique opportunity for communities to come together and recognize the vital role water plays in our daily lives.
"Every year during Drinking Water Week, we celebrate, recognize, and protect our great water source, the Rogue River," said Public Works Director Jason Canady.
To help promote the celebration and conservation awareness, the city will sponsor its second annual Drinking Water Week Poster Contest for local students, grades K-12. Students are asked to create an original poster design using the theme: "There when you need it."
Student poster design entries will be accepted in four categories; grades K-2, 3-5, 6-8, and 9-12. Thirteen winning posters will be selected, and each winner will receive a $100 prize. The entry deadline for submissions is 5 p.m. Friday, April 30.
Contest winners will also be recognized at a city council meeting, and be featured in the city's community outreach efforts, including social media recognition campaigns, and Drinking Water Week promotional activities.
Full contest rules and submission information are available at: https://www.grantspassoregon.gov/1408/Drinking-Water-Week-2021
AROUND the STATE of OREGON
State Provides Insurance Tips for Winter Storm

If your home or car was damaged from the ice and snow storm, the Oregon Division of Financial Regulation recommends calling your insurance company or agent to ask about your policy coverage, exclusions, and deductibles before filing a claim.
Winter storms can cause several different types of damage. Extensive damage, such as trees falling on a home or car, may require immediate attention. However, minor damage, such as food spoilage, a few missing shingles, or a scratch on a car door, may not exceed your deductible.
Before filing a claim, it is important to know if the amount of your loss is worth the effect filing a claim can have on your premium rates. It may be better to handle repairs yourself, if the loss is less than or close to your deductible.
Review these tips to understand how your coverage may apply and talk to your insurance company or agent to understand your specific policy coverage, exclusions, and deductibles.
Homeowners insurance
A typical homeowners policy covers damage to the home caused by falling trees or limbs and weight of ice and snow.
For example, if your home sustained severe structural damage from a fallen tree or other storm debris, and it is deemed uninhabitable, you may qualify for additional living expenses, which helps cover the extra costs of lodging, meals, and even pet boarding while you are unable to live in the home.
If your home lost power and received only minor damage, it will probably still be considered safe to live in, so additional living expenses may not apply.
If your home received minor damage, such as the wind blowing a few shingles off your house, your homeowners insurance will probably replace the damaged shingles, but not the entire roof.
Winter storms can also create sudden damage caused by an ice dam on the roof or pipes bursting due to freezing. This type of damage is typically covered, and can be extensive if a pipe burst floods a home or minor, such as a leak from an ice dam causing a stain on a ceiling.
Coverage may be available for food spoilage due to the power outage. However, be sure to consider if the actual benefit from filing this type of claim is worth the potential effect it can have on your premium. Remember, if the loss is close to or less than your deductible you may not want to file a claim. If you need to file a claim for another type of damage to your home, food spoilage can typically be added to the claim you need to file for repairs.
Auto
There are three coverage options on an auto insurance policy that typically apply to winter storms.
Comprehensive covers damage caused by falling trees or limbs. This includes while your car is parked inside a garage.
Collision covers damage to your car that occurs while driving. This includes hitting storm debris or sliding on ice.
Liability covers damage you accidentally caused to another person's property or to a person who is injured in an accident.
Once again, if the cost to repair your car is less than or close to your deductible, you may not want to file a claim.
Remember, the first step is to determine your policy coverage, exclusions, and deductibles. Call your insurance company or agent if you have questions about your policy, and take time to consider if the loss is extensive enough to file a claim.
If you still have questions or concerns, the division's consumer advocates are here to help. Oregonians can contact the division's advocates three ways:
Visit the division's storm insurance resource page for more information.
About DCBS: The Department of Consumer and Business Services is Oregon's largest business regulatory and consumer protection agency. For more information, visit www.dcbs.oregon.gov.
About Oregon DFR: The Division of Financial Regulation is part of the Department of Consumer and Business Services, Oregon's largest business regulatory and consumer protection agency. Visit www.dcbs.oregon.gov and http://dfr.oregon.gov/Pages/index.aspx. Oregon Dept. of Consumer & Business Services
More than 60,000 Still Without Power Across Oregon a Week after Winter Storm
A week after ice and snow crippled utilities across northwest Oregon, more than 60,000 homes and businesses remained without power Friday morning. Most of those outages, around 55,000, were in Clackamas and Marion counties. Maria Pope, president of Portland General Electric, the state's largest provider of electricity, said 90% of customers who lost power should have service restored by Friday evening.
The utility said it has roughly 3,000 employees working around the clock to restore power.
Communities at what Pope called "the epicenter" of the storm—including Canby, Silverton, Woodburn, Stayton, West Linn, Milwaukie, Sellwood, Gladstone and the surrounding areas—could be waiting longer. For those customers, estimated to be about 15,000 homes and businesses, no definitive timetable has been set for when service could return.
On Thursday, Pope also apologized to some customers who had received automated messages that their service had been restored, only to return home and find the power still out.
"Our hearts go out to those who have returned home and still don't have power on," she said.
As the outages stretch into their seventh day, reports surfaced on social media of some frustrated residents trying to reconnect or move power lines themselves.
PGE spokesperson Andrea Platt said the utility advises people to stay away from downed lines and assume they're energized even if they appear dormant.
"They can be very dangerous, if not deadly," she said, referencing downed lines. "Don't touch them with an object, your clothes or your body. Don't drive over them."
Platt also urged people who are picking up debris and moving downed trees to leave any limbs that are entangled with power lines, as those can also pose a risk.
She said anyone with a downed line should call PGE at 503-464-7777.
Governor Expects Most Oregon Elementary Students Will Return to Classes By End of April
Brown also said the number of students learning in-person throughout the state has doubled since Dec. 23, when she announced that schools and districts could decide locally whether to bring students back to the classrooms.
"Eight weeks ago, I directed the Oregon Department of Education and the Oregon Health Authority to put more schools on track to return students to in-person instruction, with a focus on our youngest learners," Brown said in a statement released Thursday morning. "Since then, thanks to the incredible work of our superintendents, school board members, educators, parents, and community members, Oregon has more than doubled the number of students learning in-person, to 116,749."
Late last month, Portland Public Schools (PPS) announced that by Feb. 22, the district hoped to have limited in-person instruction at 45 school sites. By April 1, PPS plans to offer a hybrid learning model for most of its students, at all of its schools, Superintendent Guadalupe Guerrero said.
The Beaverton School District also announced last month that students would begin returning to school on Feb. 22, starting with limited in-person instruction for students most impacted by the pandemic. Pre-K through second graders will likely return for in-person hybrid instruction the week of April 5, with third through fifth graders returning in the following weeks.
Brown said Thursday that more school districts have announced limited returns to classrooms starting next month, including the Salem-Keizer School District. "It has been almost a year since most Oregon students have set foot in a classroom, and they are suffering," Brown said. "The social, emotional, mental, physical, and academic impacts of distance learning on our students have been well-documented."
She said Oregon has since received $500 million in federal relief that will be used to implement new safety standards, provide personal protective equipment, and conduct rapid COVID-19 tests on-site.
"The science is clear: with proper health and safety protocols in place, there is very little risk of COVID-19 transmission in schools," Brown said, citing the CDC road map for reopening school. "As districts implement the more than 160 health and safety protocols outlined in Oregon's Ready Schools, Safe Learners guidance, we can reopen our school buildings in a way that protects students, staff, and our communities."
Since she made the announcement in December, COVID-19 cases, hospitalizations and deaths have decreased in the state. Brown said then that the metrics for reopening would be advisory and not mandatory; now she says Oregon's schools are meeting those metrics anyway.
"Our students only grow up once," Brown added. "We cannot let the school year end with the class of 2021 never having set foot in Oregon high schools. I know that some have had their doubts. But we can do this, by continuing to work together. It is within our power to provide every Oregon student the opportunity for in-person instruction this school year."
Oregon Employment Department to Fight Fraudulent Claims
The acting director says the Oregon Employment Department is devoting more attention to preventing and fighting fraud, by hiring more people and training others, as the agency pays out a record amount of unemployment benefits.
David Gerstenfeld says people are being added to the unit that works with police and prosecutors to detect and combat fraud, and current staff members are undergoing additional training to recognize potentially fraudulent claims.
"Unfortunately, this has been a bigger frontier than usual during this pandemic and we have been spending a lot of time focusing on that," he told reporters on a weekly conference call Wednesday. "We expect it will be an ongoing focus."
Gerstenfeld has disclosed no figures. He has said he does not want to give any hints that might encourage numerous organized efforts at fraud. But he has said previously that Oregon has nowhere near the degree of losses reported in California, $11.4 billion as of January, and Washington, $600 million, according to a state audit in December.
The agency already has an internet address to report fraud. It's unemployment.oregon.gov/unemployment-insurance-fraud-id-theft. There's also a hotline at 877-668-3204.
Gerstenfeld was the director of the unemployment benefits division from 2011 to 2019, when he took a different job within the agency. Gov. Kate Brown named him the acting director of the department on May 31, 2020, after she fired his predecessor over big backlogs resulting from a record number of unemployment claims.
From March 15, 2020, through Wednesday, the agency has paid out $7.6 billion in state and federal benefits — more than it paid during the previous decade — and has gone through 650,000 claims for regular benefits from the state unemployment trust fund. (About 70% have qualified for payment.) The total for the comparable period in 2019-20 was 131,000 claims, about 20% of the recent total.
During the Great Recession a decade ago, the number of claims rose over a 12-month period, as opposed to a two-month period last year, and they were largely federally funded extensions of regular state benefits, up to a maximum of 99 weeks that ended in 2013. For most people applying for those benefits, their applications could be checked against employer payroll records.
In contrast, Congress in the initial CARES Act last spring made self-employed and gig workers eligible for benefits for the first time in the unemployment system's 85-year history, in addition to supplement payments of $600 weekly to all unemployed workers. Oregon and other states had to obtain information about income and identity from these first-time recipients.
Gerstenfeld said Oregon has paid out $612 million in benefits to 99,000 self-employed and gig workers in the federal program, which is known as Pandemic Unemployment Assistance. Thousands of others have qualified for some regular state benefits, so 68% of applicants have qualified.
Congress added identity requirements for those self-employed and gig workers in the latest 11-week extension of unemployment benefits under the Continued Assistance Act, which became law on Dec. 27.
The U.S. House is now considering another extension of unemployment benefits, which for many will end March 13. The House proposal is for an extension to the end of August; President Joe Biden has proposed the end of September to coincide with the end of the federal budget year.
"The legislation we have seen moving forward does not in it have additional identity verification requirements," Gerstenfeld said. "There were some additional requirements" as a result of the most recent law, he added, "but Oregon was already meeting what was required by that legislation."
The Senate also will have to consider the legislation, which mirrors Biden's $1.9 trillion pandemic aid plan.
Oregon Sen. Ron Wyden, the Democrat who now leads the tax-writing Finance Committee, has proposed adding $1 billion to help states improve their delivery of unemployment benefits and connect better with the U.S. Department of Labor, which oversees the system. A spokesman says Wyden also wants the Sept. 30 date Biden has proposed.
"We are ready to begin work programming any benefit extensions and new programs that are passed and signed by the president," Gerstenfeld said.
2 Dead in Fatal Crash on Hwy 22 in Tillamook County
On Thursday, February 18, 2021 at approximately 10:55 A.M., Oregon State Police Troopers and emergency personnel responded to a two-vehicle crash on Hwy 22 near milepost 1 – east of Hebo.
Preliminary investigation revealed a Ford Ranger, operated by Jonathan Moreland (28) of Tillamook, was eastbound when it crossed into the westbound lane and collided with a Dodge Ram 3500, towing a trailer, operated by Joshua Brown (25) of Newberg.
Moreland and a passenger in the Ford Ranger, Jimmie Toll (46) of Bay City, sustained fatal injuries and were pronounced deceased.
Two other passengers in the Ford Ranger, Dominic Reeves (18) of Tillamook and Alexis Bacon (20) of Amity, were transported to the hospital with injuries. Brown was not injured.
Hwy 22 was closed for approximately four hours following the crash.
OSP was assisted by the Tillamook County Sheriff's Office, Nestucca Rural Fire Department, Oregon Department of Transportation, and the Tillamook County District Attorney's Office.      Oregon State Police
Federal Lease Allows Oregon State's Offshore Wave Energy Testing Facility to Continue
An Oregon State University-led project to build the nation's first pre-permitted wave energy testing facility cleared a critical hurdle this week as the federal Bureau of Ocean Energy Management awarded the university a lease to operate in federal waters about seven miles off the Oregon Coast.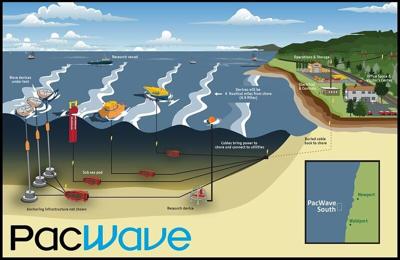 The lease for PacWave South is the first marine renewable energy research lease the Bureau of Ocean Energy Management has issued in federal waters off the West Coast. The estimated $80 million facility will be located offshore southwest of Newport, Oregon.
The project still must receive licensing approval from the Federal Energy Regulatory Commission before it can move forward. Obtaining the lease is an essential component of the licensing requirements.
"We appreciate the support of the leadership in the Department of Interior, the Bureau of Ocean Energy Management and the Department of Energy who see the value in this important work to develop alternative energy sources and have helped to move this project forward," said Oregon State University President F. King Alexander. "We are particularly thankful for the consistent support from members of the Oregon federal delegation who have championed PacWave South from the outset, including Sens. Ron Wyden and Jeff Merkley and Reps. Suzanne Bonamici and Kurt Schrader."
Wave energy has the potential to provide clean, reliable electricity to meet the world's rising energy demands, experts say. Globally, the marine energy market is projected to reach nearly $700 billion by 2050, and the World Energy Council estimates that 10% of the worldwide electricity demand could be met by harvesting ocean energy.
PacWave South will be the first pre-permitted, full-scale, utility grid-connected wave energy test site in the United States. It is designed to allow wave energy developers the opportunity to test different technologies for harnessing the energy of ocean waves.
Oregon State officials have completed the FERC application process and are hopeful the license will be issued soon. Current timelines suggest construction could begin this summer, and the facility should be operational by 2023.
"The PacWave team initiated this collaborative process with several federal and state agencies nearly a decade ago," said Burke Hales, the chief scientist for the project and a professor in Oregon State's College of Earth, Ocean, and Atmospheric Sciences. "We're excited for the opportunity to finalize this stage of the project and move a major step closer to construction."
The PacWave ocean test site will be located about seven miles offshore on a sandy-bottomed stretch of the Pacific Ocean away from popular commercial and recreational fishing reefs. The ocean site will have four different testing "berths," which combined can accommodate up to 20 total wave energy devices at any one time. Five power and data cables buried below the seafloor will connect the ocean test site to a shoreside facility southeast of Seal Rock.
PacWave South is supported by grants from the U.S. Department of Energy, the state of Oregon and other public and private entities. Oregon State's College of Earth, Ocean, and Atmospheric Sciences is managing the construction and operation of the facility.
As Soon as it Was Announced Would Run, Rhododendron Festival is Now Cancelled Again This Year
For a time this year it seemed as if one famed and beloved Oregon coast festival would be able to continue in 2021, at least mostly intact. However, after much discussion and reexamination of the current COVID situation, the town of Florence has reversed course on the 114th Rhododendron Festival, set to reappear in its usual May spot after getting canceled in 2020.
Last year was the first time since World War II the event was shuttered, and even after making arrangements for what would be the 114th installment, the board of directors of the Florence Area Chamber of Commerce opted out for safety's sake.
The event was scheduled for its traditional date, the third weekend of May, May 12 to 16, 2021.
"People missed the point that we were moving forward with cautious optimism when we announced that our first step was the cancelation of Rhody Court since that's the earliest aspect of the festival and demanded an early decision," said Chamber president/CEO Bettina Hannigan. "As quickly and unpredictively as the State issues its edicts for where and what is safe for people to do, and then just as quickly rescinds them, it leaves us trying to hit a moving target while making plans for a huge event in as little time as possible."
"Vaccines, we're now told, will roll out much slower than first announced. The rapidity in growth and spread of variants has become too unstable, that complicates matters further," she added.
Hannigan said the board and other stakeholders agreed there would be no sure way to enforce social distancing and efficient, proper sanitizing. Even the outdoors carnival portion of the event would be far too difficult to do safely.
"The same must be said for distancing at a vendor fair or during a parade. OHA guidelines prohibit large gatherings and we must comply with these restrictions. We are so saddened by another loss for this generational family tradition and its economic impact on Florence for a second year."
The Rhododendron Festival makes the single largest economic impact on Florence's tourist-driven economy and serves as the kick-off to the tourism season. Around 1900 people in Florence rely on tourism-based employment, and tourism pumps about $147 million into our community each year.
"Safety really is our top priority and so we're forced to hold off on promoting the level of tourism our community needs to survive. We are really chomping at the bit to get back up to speed, but it's just not safe enough to do so yet," Hannigan explained. "Even though we've noticed them, this is not in response to those small pockets of mean-spirited outrage on social media. It's just the right thing to do in the face of the rapid changes and edicts forced on society."
However, some ancillary events may be a different story. Rhody Run, the classic car show 'n' shine and cruise, the Rhododendron Society's flower show, and music events, are not organized by the chamber and that the organizers of each will have to make their own decision for how they want to proceed.
Last year's Rhody Fest, though officially cancelled, did feature a virtual parade coordinated by the City of Florence with short videos submitted by the public and edited for use on social media. Local rhododendron expert, and Chamber ambassador Mike Bones, took it upon himself last year to roll a wheelbarrow packed with rhododendrons along the traditional parade route in lieu of the official Sunday grand floral parade.