The latest news stories and stories of interest in the Rogue Valley from the digital home of Southern Oregon, from Wynne Broadcasting's RogueValleyMagazine.com
Wednesday, March 31, 2021
Rogue Valley Weather
Today- Sunny, with a high near 81. Calm wind becoming east southeast 5 to 9 mph in the afternoon.
Thursday- Sunny, with a high near 77. Light and variable wind becoming west southwest 5 to 10 mph in the afternoon.
Friday- Mostly sunny, with a high near 73. Light and variable wind.
Saturday- Partly sunny, with a high near 69.
Sunday- A chance of rain, mainly after 11am. Partly sunny, with a high near 63.
Oregon reports 415 new confirmed and presumptive COVID-19 cases, 6 new deaths
There are six new COVID-19 related deaths in Oregon, raising the state's death toll to 2,381. The Oregon Health Authority reported 415 new confirmed and presumptive cases of COVID-19 bringing the state total to 164,570.
The new confirmed and presumptive COVID-19 cases reported today are in the following counties: Baker (10), Benton (11), Clackamas (44), Clatsop (1), Columbia (8), Coos (5), Crook (6), Curry (7), Deschutes (11), Douglas (18), Grant (3), Harney (1), Jackson (31), Jefferson (1), Josephine (8), Klamath (12), Lake (3), Lane (15), Lincoln (1), Linn (8), Malheur (5), Marion (17), Morrow (1), Multnomah (78), Polk (12), Tillamook (5), Umatilla (9), Union (1), Wallowa (2), Washington (75) and Yamhill (6).
Vaccinations
Today, OHA reported that 31,616 new doses of COVID-19 vaccinations were added to the state immunization registry. Of this total, 14,312 doses were administered on March 29 and 17,304 were administered on previous days but were entered into the vaccine registry on March 29.
Oregon has now administered a total of 893,462 first and second doses of Pfizer, 833,973 first and second doses of Moderna and 39,698 single doses of Johnson & Johnson COVID-19 vaccines.
Cumulative daily totals can take several days to finalize because providers have 72 hours to report doses administered and technical challenges have caused many providers to lag in their reporting. OHA has been providing technical support to vaccination sites to improve the timeliness of their data entry into the state's ALERT Immunization Information System (IIS).
To date, 1,130,805 doses of Pfizer, 1,081,900 doses of Moderna and 86,900 doses of Johnson & Johnson COVID-19 vaccines have been delivered to sites across Oregon.
These data are preliminary and subject to change. OHA's dashboards provide regularly updated vaccination data, and Oregon's dashboard has been updated today.
COVID-19 Cases Rising Again in Oregon
COVID cases in Oregon are rising again, going up 9% in the last two weeks. On Monday, more than 300 new confirmed or presumptive cases were recorded in Oregon, leaving health officials worried about a possible surge in cases in the state.
The spike in cases is being seen across many states in the U.S. CDC Director Dr. Rochelle Walensky warned against relaxing COVID protocols during a briefing from the White House COVID-19 Response Team on Monday, saying: "I'm going to pause here, I'm going to lose the script and I'm going to reflect on the recurring feeling I have of impending doom. We have so much to look forward to. So much promise and potential of where we are and so much reason for hope. But right now I'm scared."
Most Oregonians have not had a first COVID-19 shot yet and vaccine eligibility continues to expand. There is worry that people are starting to feel like COVID is less of a threat and disregarding restrictions.
Thousands of Oregonians traveled out of state for spring break, and with Easter coming up this weekend, health officials are concerned about gatherings.
"I anticipate that we will have an uptick in COVID-19 infections and hospitalizations over the next 2-3 weeks," Dr. Matthias Merkel, Senior Associate Chief Medical Officer at OHSU, says. "I think it will be up to all of us how bad this will get again."
Doctors have said that new, more contagious variants of COVID, make the risk even greater. If there's a continued rise in cases in the state, businesses could also be shut down again.
Wastewater Testing Reveals Covid Variant In 2 Oregon Cities
Researchers in Oregon have detected the B.1.1.7 variant of the virus that causes COVID-19 in Grants Pass and McMinnville. The variant, which was first detected in the UK, is about 50% more contagious and likely causes more severe illness than the coronavirus that initially triggered the pandemic.
When people have COVID-19, they "shed" coronavirus when they go to the bathroom. This waste ends up in sewer systems where it can be collected and used to determine if there's coronavirus in the community. The samples can also be analyzed to determine which variants are present.
For several months now, researchers at Oregon State University have been sequencing coronavirus collected in wastewater samples from cities around the state.
"Our most recent wastewater surveillance identified B.1.1.7 in Grants Pass and McMinnville and faint, possible signals in Albany and Forest Grove, so certainly it's out there," said Brett Tyler, head of the OSU Center for Genome Research and Biocomputing, in a briefing with reporters Tuesday.
Despite the detections in the wastewater stream in these communities, determining actual prevalence of the variant is tricky.
"You don't get a perfectly uniform sample of the community. It depends on who happened to flush the toilet at the particular time when the autosampler was sipping for sewage," Tyler said.
But the Oregon State team has been pairing its wastewater findings with the results of door-to-door community testing in many locations. Using the relationship between the two, researchers are able to make some estimates.
For example, Tyler says in Grants Pass, 94% of the virus they tested from the samples was the B.1.1.7 variant. He estimates that between 1 and 5 people in every 1000 residents there are infected with the variant.
As of Tuesday, the CDC only reports that 16 cases of the B.1.1.7 variant have been confirmed in Oregon, but these latest findings suggest the actual case numbers are much higher.
While more infectious, research is showing that the B.1.1.7 variant should still be controlled by the current crop of COVID-19 vaccines.
"We're in a race between these variants and the vaccination program, and everything we can do to give that vaccination program help in getting ahead, we should be doing," Tyler said.
LOCAL HEADLINES:
Police Identify Two Young Men Found Dead In Burned Car Near Lake Selmac
On March 24 th law enforcement responded to a call regarding a vehicle on fire in Selma about 6 miles up McMullen Creek Road on forest management property. Detectives responded to the scene and located two deceased persons in the burned vehicle.
The incident is being treated as homicide and is actively being investigated. Yesterday investigators were able to identify the two persons in the vehicle as Daniel T. Hill (24) from Josephine County and Paul M. Folk (26) from Josephine County.
Folk was previously reported as a missing person to the Grants Pass Department of Public Safety.
OSP is leading the homicide investigation with assistance from the Grants Pass Department of Public Safety, the Josephine County District Attorney's Office, and the Sheriff's Office.
A separate investigation is still ongoing for an officer-involved shooting that happened on March 25 at a staging area for the homicide scene.
Water Rights Issues at Historic Butte Creek Mill in Eagle Point
Water has powered the Butte Creek Mill in Eagle Point since 1872, but that power source is in danger of drying up. Reports state the mill could lose water rights from the creek and might be forced to convert the power sources to electricity, which would undermine the fact that it is the only commercial water-powered grist mill west of the Mississippi.
The water rights for the creek are owned by former Eagle Point Mayor Bob Russell, but he's negotiating to sell his rights to a nonprofit conservation group.
Russell has agreed to sell off just under half of his water rights to the mill for $257,390, but that's a tall order because the mill has not been completely reconstructed after a 2015 fire and is already short on cash.
While water is a big concern at the moment, the Butte Creek Mill still needs to get the reconstruction completed. Originally the cost to complete the reconstruction was estimated at about $2.5 million, but the cost is over $3 million now. Donations can be sent to Butte Creek Mill Foundation, PO Box 957, Eagle Point OR 97524.
Authorities Investigating Fire That Involved Several Structures and Autos in Cave Junction
Authorities are investigating a mysterious fire that involved multiple structures and vehicles last night in Cave Junction. On Tuesday at 8:33 p.m., the Illinois Valley Fire District, Rural Metro Fire Department, Grants Pass Fire & Rescue, American Medical Response, Oregon State Police and Josephine County Sheriff's Office were all dispatched to the fire in the 200-block of Caves Highway.
IVFD officials said several patients were treated for injuries at the scene and one firefighter was transported by AMR Ambulance to Three Rivers Medical Center for smoke inhalation. Following a lengthy battle, the fire was put out and mop-up took place. The cause of the fire was under investigation. Traffic was completely halted on Caves Highway during the firefight.
AROUND the STATE of OREGON
Oregon Approves Grants to Cover Missed Rent for More Than 2,600 Businesses
Oregon plans to pay the outstanding rent of more than 2,600 businesses and then offer another round of aid to businesses in need next month.
Business Oregon, the state's economic development agency, will distribute nearly $50 million on April 12 to cover the missed rent of a combined 2,609 commercial tenants across the state, according to spokesperson Nathan Buehler. That's pending the receipt and approval of final documentation from those tenants and landlords.
The grants will be paid directly to landlords to bring their tenants current on rent by covering outstanding rent those tenants accumulated from March 1, 2020 to Feb. 28, 2021. The state offered grants of up to $100,000 per tenant, but the average grant request was $19,159.
Eighty-four landlords who applied for grants, 54 of whom are in the Portland area, indicated that they had individual tenants who owed more than $100,000 in missed rent, according to Buehler.
The grants are part of the state's $100 million commercial rent relief program, which lawmakers approved in January. Business Oregon, which is administering the fund, will reopen applications for another $42 million round in mid-April.
Nearly 88% of the applicants that applied for funding through the program earlier this month were approved, pending final confirmation of their documentation.
Applicants in most parts of the state were approved for funding as long as they met the necessary requirements, but Business Oregon only funded 80% of applicants from the Portland area. That's because the state is working to distribute grants equitably across the state.
Business Oregon held a lottery to determine which eligible applicants to approve. Those that weren't approved initially will automatically be considered along with new applicants during the second round of funding in April.
While the vast majority of applicants were approved, it is still unclear how many business owners across the state are behind on rent due to the pandemic.
Melanie Marconi, the owner of Vida, a coworking space in Northeast Portland, told lawmakers earlier this month that her landlord had not applied for the funds, even though she had fallen significantly behind on rent. Other business owners have raised similar concerns.
While both landlords and tenants must participate in Oregon's application process, landlords must submit the initial application. Landlords who accept the funding must also sign an agreement forgiving any outstanding penalties or interest and promising not to evict their tenants.
Despite the commercial rent relief program, business groups and owners also remain concerned about a looming eviction crisis.
Oregon lawmakers allowed the state's moratorium on commercial evictions to expire last September, but gave business owners until the end of March to repay their outstanding rent. That may have prevented an onslaught of commercial evictions over the last six months.
Lawmakers are currently considering a proposal to give business owners until the end of September to repay rent bills they accumulated during the worst days of the coronavirus recession last year.
However, lawmakers are unlikely to vote on that bill before the current grace period expires at the end of March, potentially opening up business owners to evictions if their landlords have not applied or been approved for funding through the commercial rent relief program.
Portland Man Sentenced to Federal Prison for Bank Fraud Scheme Involving Minors
A Portland, Oregon man was sentenced to federal prison today for a bank fraud scheme whereby he would recruit others, including minors, to deposit fraudulent checks into their personal bank accounts and withdraw cash, announced Acting U.S. Attorney Scott Erik Asphaug.
Marcus Raiford, 22, was sentenced to 12 months and one day in federal prison and five years' supervised release. He was also ordered to pay $75,681 in restitution.
According to court documents, beginning in August 2017 and continuing until at least September 2018, Raiford and others recruited individuals, primarily minors, young adults, and students at various local high schools, to deposit counterfeit checks at banks and credit unions throughout the Portland Metropolitan Area. Raiford and his accomplices used social media platforms, including Snapchat and Instagram, to recruit the minors and young adults, promising significant cash payments in exchange for their participation in the scheme.
Individuals recruited by Raiford and his accomplices were instructed to open accounts at various banks or use existing accounts to deposit counterfeit checks made payable to the recruits. The recruits were told they worked for a company that held inactive investments and accounts in need of liquidation, thereby concealing the scheme. In some instances, the recruits were told they needed to deposit the counterfeit checks to help the company avoid tax liability.
Raiford and others requested the recruits' identification, ATM card, and pin number so counterfeit checks could be made payable to them and deposited into their accounts. Raiford and his accomplices then withdrew the money from ATMs or made point of sale purchases with the ATM cards at various commercial businesses. Over the course of the conspiracy, Raiford and his accomplices deposited more than $150,000 in counterfeit checks.
On December 19, 2018, a federal grand jury in Portland returned a 14-count indictment charging Raiford and his accomplices with conspiring to commit bank fraud, bank fraud, and money laundering. On August 26, 2020, Raiford pleaded guilty to the conspiracy charge.
This case was investigated by the Portland Police Bureau with assistance from Homeland Security Investigations and the Vancouver Police Department. It was prosecuted by Rachel K. Sowray, Special Assistant U.S. Attorney for the District of Oregon. — U.S. Attorney's Office – District of Oregon
Oregon OSHA Fines Bend Coffee Shop
Oregon OSHA has fined Kevista Coffee in Bend $27,470 for violating three standards designed to protect employees from the coronavirus disease.
In one of the violations, the company willfully continued to potentially expose workers to the virus, despite a public health order limiting the capacity of indoor dining to zero in an "extreme risk" county.
The citation resulted from an inspection launched in response to multiple complaints about Kevista.
The inspection documented the fact that the company, operating in Deschutes County, willfully began allowing indoor dining beginning on Dec. 3, 2020, and thereafter. During that time, Deschutes County was designated an "extreme risk" for transmission of the disease.
During the inspection, the owners of Kevista – Krista and Kevin Lauinger – said they chose to re-open the coffee shop even though they were aware that it went against workplace health requirements. Using his discretionary authority under state law, Oregon OSHA Administrator Michael Wood imposed a $26,700 penalty for the willful violation. That is three times the minimum penalty for such a violation. The decision reflects the need to ensure a more appropriate deterrent effect where employers insist on disregarding health and safety standards.
Retail Alcohol Sales Have Fallen
For the first time in a year, since Covid-19 began spreading across the United States forcing Americans to stay home, retail alcohol sales have fallen. That's according to newly released data from Nielsen, which reported that total sales declined 1.9% for the week ending March 13.
This time a year ago, consumers stockpiled alcohol as shelter-in-place orders were implemented across several US states and bars and restaurants were closed or reduced service.
As a result, retail alcohol sales shot up as much as 55% in March 2020 with spirits, wine and beer among the top sellers. Wine sales fell 8% for the week ending March 13, with spirits flat and beer sales slightly higher thanks to the continued popularity of spiked seltzers.
If Nielsen excluded seltzer sales from its beer measurement, that category would have fallen more than 2% for the week. Perhaps more notably, total alcohol sales for the week would have fallen 3% if not for hard seltzers.
Mass Stranding of Velella Creatures On the Coast Due to Ocean Warming
New research reveals the stranding of purple jellyfish-like creatures called Velella is likely tied to warmer oceans.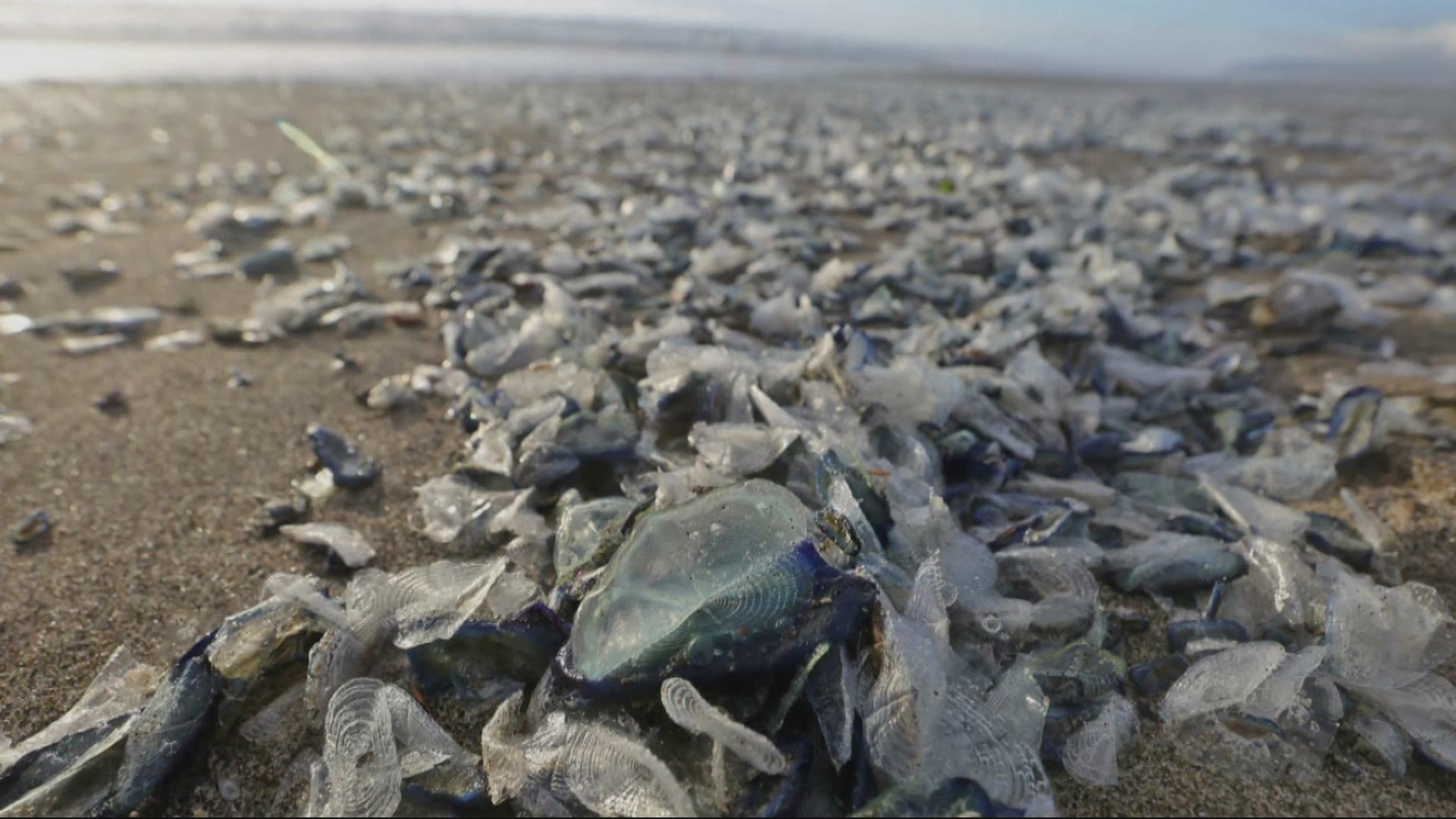 For visitors to the Oregon Coast, it's often a mystery: a purple goo on the beach that seems to stretch on forever. It appears during the spring. But not every spring.
That goo is actually millions of tiny jellyfish-looking sea creatures called Velella velella, also known as by-the-wind sailors.
"They kind of look like little spinning tops littering the beaches," explained University of Washington marine biology professor Julia Parrish, who has been studying the creatures for years.
Ocean and wind conditions have to come together just right to blow these creatures onto shore, but Parrish wondered why in recent years we've seen so many of them wash ashore from Washington all the way down into California.
"That's a lot of real estate," Parrish said. "And that is a gazillion jellyfish."
Parrish discovered the big stranding happened the same years the marine heat wave occurred, also known as the warm blob. It was an area of unusually warm water that also stretched from Washington down to California.
"For the ocean, it was downright hot," said Parrish.
It's the same blob scientists now believe caused the mass die off of seabirds. The birds died due to starvation. The fish the birds needed to eat were not there.
Interestingly enough, Velella's favorite food is fish eggs and baby fish.
"So, if there are more Velella, they're scarfing down the early stages of fish that are important to the ecosystem," said Parrish.
There are still a lot of unknowns when it comes to impacts of warmer oceans. But, it appears some creatures, like Velella, are emerging the winners.
"Everywhere in the northern hemisphere this jellyfish occurs and when it's warmer we see more of them," explained Parrish. "So, we expect if the ocean warms, we're going to see more of these guys everywhere."
Which means other sea creatures will come out the losers. And that's something that is not a mystery.
"Velella is the signal, it's the sentinel telling us there's been a shift," said Parrish. "So, maybe we should spend a little more time out there figuring out what's going on."