The latest news stories and stories of interest in the Rogue Valley from the digital home of Southern Oregon, from Wynne Broadcasting's RogueValleyMagazine.com
Friday, March 5, 2021
Rogue Valley Weather
Today– Wind Advisory. Rain, mainly after 10am. High near 59. Southeast wind 16 to 21 mph, with gusts as high as 31 mph. Chance of precipitation is 80%. New precipitation amounts between a tenth and quarter of an inch possible.
Saturday– A chance of rain and snow before 10am. Snow level 1500 feet rising to 2900 feet in the afternoon. Mostly cloudy, with a high near 51. Calm wind becoming west southwest around 5 mph in the afternoon. Chance of precipitation is 30%. Little or no snow accumulation expected.
Sunday– A 30 percent chance of showers, mainly before 10am. Snow level 2600 feet. Partly sunny, with a high near 52. Light and variable wind.
Monday– A 30 percent chance of rain after 10am. Snow level rising to 2800 feet in the afternoon. Mostly cloudy, with a high near 51.
Tuesday– A slight chance of rain and snow before 10am, then a chance of rain. Snow level 1500 feet rising to 2900 feet in the afternoon. Mostly cloudy, with a high near 50.
Oregon reports 392 new confirmed and presumptive COVID-19 cases, 32 new deaths
There are 32 new COVID-19 related deaths in Oregon, raising the state's death toll to 2,284. The Oregon Health Authority reported 392 new confirmed and presumptive cases of COVID-19 bringing the state total to 156,673.
The new confirmed and presumptive COVID-19 cases reported today are in the following counties: Baker (3), Benton (8), Clackamas (24), Clatsop (1), Columbia (3), Coos (21), Crook (4), Curry (2), Deschutes (26), Douglas (23), Grant (2), Hood River (1), Jackson (37), Jefferson (10), Josephine (23), Klamath (7), Lake (4), Lane (18), Lincoln (1), Linn (8), Malheur (1), Marion (38), Morrow (1), Multnomah (52), Polk (6), Tillamook (1), Umatilla (18), Union (8), Wallowa (1), Washington (34) and Yamhill (6).
Oregon's 34,000 Johnson & Johnson Vaccine Doses
Oregon received more than 34,000 doses of the newly approved Johnson & Johnson COVID-19 vaccine this week. Now, Director Pat Allen is explaining the plans the state has for this first shipment.
On Wednesday, Director Allen said in a weekly update with the House Committee on Health Care that almost 9% of Oregon's population is already fully vaccinated. These new Johnson & Johnson doses arriving in Oregon will be distributed to a number of locations across the state, including mass vaccination centers, pharmacies and specific populations eligible for vaccination.
Director Allen says more than half of the new doses from Johnson & Johnson, will go towards a new state pharmacy program, in partnership with Bi-Mart and Walmart. Bi-Mart is expected to start vaccinating with the Johnson & Johnson vaccine as soon as Thursday. Walmart is expected to start vaccinating people as soon as this coming weekend.
On Wednesday, Director Allen said the new partnership between Johnson & Johnson and Merck would likely allow them to expedite the timeline for eligible categories to get vaccinated. He did, however, say that he would like the state to get through the population over the age of 65 before making decisions on other eligibility groups.
The state doesn't expect to receive more Johnson & Johnson doses until the last week of May.
Gov. Brown Pauses Rollbacks to COVID-19 Extreme Risk Level
The temporary freeze also will allow businesses to avoid abrupt closures and major changes in how they do business.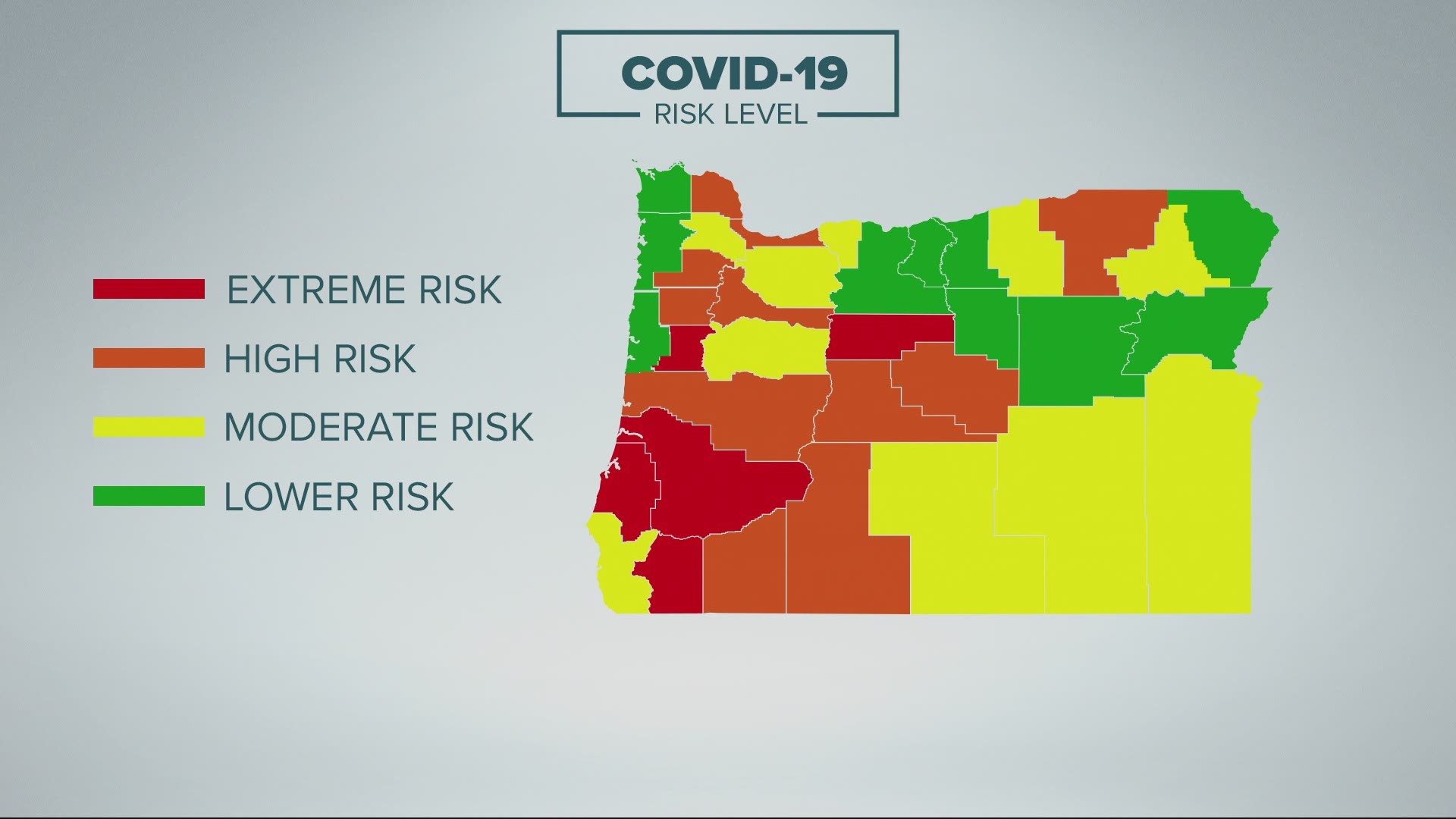 Oregon Gov. Kate Brown said Thursday that starting next week counties that have moved out of the COVID-19 extreme risk level will not be moved back into it without giving them two weeks to improve their case numbers.
The temporary freeze also will allow businesses to avoid abrupt closures and major changes in how they do business. If case numbers don't improve in those two weeks, however, the county will move backward.
"Recognizing the challenges businesses encounter when facing a switch back and forth between Extreme Risk and other risk levels, this two-week extension will alleviate some of these challenges and give counties a bit more time to bring case rates down," she said in an emailed statement. "As always, businesses and community members should continue to make smart choices and follow statewide and county-specific health and safety guidance."
The change will continue until further notice. Just five of Oregon's 36 counties remain the in extreme risk level. Here's the full list of county risk levels. Counties will remain at these risk levels through March 11.
Extreme Risk (5 counties)
Benton
Coos
Douglas
Jefferson
Josephine
High Risk (11 counties)
Columbia
Crook
Deschutes
Jackson
Klamath
Lane
Marion
Multnomah
Polk
Umatilla
Yamhill
Moderate Risk (10 counties)
Clackamas
Curry
Harney
Hood River
Lake
Linn
Malheur
Morrow
Union
Washington
Lower Risk (10 counties)
Baker
Clatsop
Gilliam
Grant
Lincoln
Sherman
Tillamook
Wallowa
Wasco
Wheeler
More INFO: https://govstatus.egov.com/OR-OHA-COVID-19
ROGUE VALLEY HEADLINES:
Rogue Valley Growers & Crafters Market Opens
The Rogue Valley Growers & Crafters Market is located on Tuesdays in Ashland at the National Guard Armory, 420 E Main St, Ashland and runs every Tuesday from March 2 to November 23, 8:30 a.m. – 1:30 p.m. On Thursdays in Medford, the outdoor market can be found at Hawthorne Park, 501 E. Main, Medford and runs each Thursday from March 4 to November 18, 8:30 a.m. – 1:30 p.m. Starting in May, in the heart of downtown Ashland, the Saturday Market runs May 1 to October 30, 8:30 – 1:00 in the 100 block of Oak St.
"Farmers' market enthusiasts can expect to see their favorite vendors return and can enjoy this year 22 new merchants, who have been tightly juried to capture the quality of our markets along with strict COVD-19 safety training," according to Board President Jon Steiger from By George Farms.
The Rogue Valley Growers & Crafters Market creates a local opportunity for people to shop for their essentials in an open outdoor air environment, buy fresh, local produce, fresh-cut flowers, artisan foods and handcrafted gifts, with COVID-19 safety measures for shoppers, vendors, and staff.
"At our farmers' markets, you can see firsthand the farmers and makers that have sown, raised, cared for and harvested or made your food. So many of our customers greet old friends and make new ones. Eating local is such a positive way to staying healthy, nourishing the people you love and supporting our community," shared Executive Director Daria Land. "We are so grateful to have made it through our first COVID-19 season in 2020 and feel a large part of this achievement was due to the support of our Rogue Valley community. We look forward to serving you in 2021."
Rogue Valley Growers & Crafters Market is committed all year, along with our 150+ vendors, to serve healthy options, organic produce, gift ideas, unique crafts, artisan foods and more every week. Each of our markets showcases a large array of wonderful vendors and providers. Our motto is to buy and support local while cultivating community! For more information, please visit us online at www.rvgrowersmarket.com or contact us at daria@rvgrowersmarket.com or by phone at 541.261.5045.
Ashland Independent Film Festival Announces its 20th Anniversary Festival
The Ashland Independent Film Festival is excited to announce the winners of the special Rogue Award, Pride Award, and James Blue Award who will be honored during this year's hybrid "Double Feature" festival running online for two weeks from April 15-29 and outdoors in Ashland and Medford from June 24-28, 2021. The full virtual and live cinema program will be announced on March 24 in a Preview Night presentation on www.ashlandfilm.org.
The Ashland Independent Film Festival is excited to announce the winners of the special Rogue Award, Pride Award, and James Blue Award who will be honored during this year's hybrid "Double Feature" festival running online for two weeks from April 15-29 and outdoors in Ashland and Medford from June 24-28, 2021. The full virtual and live cinema program will be announced on March 24 in a Preview Night presentation on www.ashlandfilm.org.
Rogue Award Winner:
Actor David Oyelowo (Selma, The Butler) will receive the Rogue Award, presented annually to an accomplished mid-career artist. Oyelowo will present his directorial debut, The Water Man, a mystical adventure filmed around Portland, Oregon, on the festival's opening day. The story is set against the backdrop of Oregon wildfires, which connects the film to the festival's central theme this year of "Rising From the Ashes." Oyelowo will also join critic Warren Etheredge for a conversation on his film and theater career.
"Helping David Oyelowo, Harpo Films and ShivHans Pictures bring their beautiful film, The Water Man, to life with our state's crews and locations has meant a great deal to us and to the entire film community in this state. We look forward to seeing the film at yet another great Oregon cultural asset – The Ashland Independent Film Festival," commented Tim Williams, director of Oregon Film, the governor's film office.
Pride Award Winner:
Producer Christine Vachon is the sixth recipient of AIFF's Pride Award, given to an important figure in LGBTQ+ filmmaking. The festival will celebrate the 30th anniversary of the first feature film she produced and Todd Haynes directed, Poison, and the 20th anniversary of her film production of Hedwig and the Angry Inch. Poison will screen in the virtual festival in April and Hedwig will be presented outdoors in June. Haynes will join Vachon to reminisce about the making of Poison in an April discussion moderated by 2019 Pride Awardee B. Ruby Rich. Rich coined the term "New Queer Cinema" in 1992, in response to the arrival of Poison and other queer independent features.
James Blue Award Winner:
Mexican filmmaker Bruno Santamaria is the third recipient of the festival's James Blue Award, named after the Oregon-born director and given to an emerging filmmaker whose work, like Blue's, addresses complex issues of social justice and social/political change. Things We Dare Not Do, gorgeously filmed by Santamaria, follows Ñoño, a 16-year-old teenager living in the small Mexican village of El Roblito, as he tries to gather the courage to communicate his greatest wish to his family: dressing as a woman.
The festival will present approximately 100 new independent feature and short films, accompanied by Q&A's and supplemented with virtual parties and mixers bringing filmmakers and audiences together. There will be a special focus on the theme of "Rising From the Ashes," in recognition of Southern Oregon's emergence following a summer of wildfires, and another focus on Cuban arts and film.
AIFF 2021 information at-a-glance:
Full Schedule Available: 7pm March 24, 2021
Virtual: April 15-29, 2021 at ashlandfilm.org
Live and outdoors: June 24-28, 2021 in Ashland and Medford
Ticket price: Ranges from free to $10/$8 members, seniors, students, and financial hardship
Contact: info@ashlandfilm.org; 541-488-3823 Website: ashlandfilm.org
About Ashland Independent Film Festival: Cited by MovieMaker Magazine several times as one of the "Top 25 Coolest Festivals in the World" and one of the "Top 50 Festivals Worth the Entry Fee," the Ashland Independent Film Festival is usually held annually in April in Southern Oregon. AIFF screens 100-plus independent documentary, narrative, animation, and short films in its festival and other year-round programs in Ashland, which is nestled in the beautiful Rogue River Valley. In response to the COVID-19 Pandemic, AIFF moved online for its 19th annual festival, extended its five-day event to 24 days, and was recognized by Smithsonian Magazine and MovieMaker Magazine as having one of the best virtual film festivals.
AROUND the STATE of OREGON
Oregonians will turn their clocks forward Sun., March 14, at 2 a.m. Almost two years ago, Oregon legislators passed a bill that would keep Oregon on Daylight Saving Time (DST) all year round.
Is this the last time Oregonians will "spring forward" as Daylight Saving Time begins? The short answer is no.
California and Washington have also passed bills and ballot measures to do the same thing. In Washington, Governor Jay Inslee signed that bill in May 2019. In California, voters approved a measure to make DST permanent in fall 2019. So, the region just needs to get a congressional stamp of approval.
Sunrise is 6:27 a.m. on March 13 and sunset is 6:16 p.m.
A day later the sun rises at 7:35 a.m. – and sets at 7:17 p.m.
The change comes as we set our clocks forward an hour for daylight saving time at 2 a.m. on Sunday, March 14.
Since 1918, most of the United States has made the twice annual switch from standard time to daylight saving time.
State lawmakers did pass a bill in June 2019 to keep Oregon on daylight saving time all year. The governor signed it into law a week later. But you'll still need to set your clock ahead an hour this March. And you'll probably need to fall back an hour again to standard time on November 7, 2021.
Even though Senate Bill 320 – which would keep most of Oregon on daylight saving time year-round – took effect January 1, 2020, the key provision – locking the clock on daily saving time – has yet to be triggered.
The bill would keep Oregon on daylight saving time and skip "falling back" in November. The portion of Oregon on Mountain Time – cities like Ontario and Jordan Valley – would be exempt.
But Oregon lawmakers said the change would take effect the first November after both Washington and California adopt year-round daylight saving time. Washington lawmakers passed legislation to do so, and California voters cast ballots directing lawmakers there to do the same. But the bill stalled in the state senate; and California lawmakers again didn't pass a bill in 2020. All three states also face one final hurdle: Congress needs to sign off on the deal.
Oregon lawmakers built a 2029 deadline into the law, so there's still time to change daylight saving time. If and when that day comes, most of Oregon would no longer "fall back" in November. Because it is in the Mountain Time Zone, Malheur County in Eastern Oregon would be the only place in the state that would not follow this plan.
Oregon Reaches Settlements with Four Hotels for Price Gouging During Historic Wildfires
Oregon has reached settlements totaling more than $100,000 with four hotels that overcharged people during last year's historic wildfires, state Attorney General Ellen Rosenblum said Thursday. More than 100 Oregon families will be reimbursed, according to Rosenblum.
Gov. Kate Brown, at Rosenblum's request, declared an abnormal disruption of the market statewide on Sept. 9 in response to hearing complaints about steep prices as thousands of people sought lodging after being displaced by the dozens of fires burning in the state. As a result, Oregon's price gouging statute was activated and businesses could not sell essential goods or services at "unconscionably excessive prices," which the state Department of Justice (DOJ) said is typically 15% or more above the price the business charged right before the declaration.
"More than 40,000 Oregonians had to evacuate their homes during the fires that spread so rapidly through our state," Rosenblum said in a statement. "Without much warning, many families had to seek shelter in hotels and motels. Unfortunately, some hotels upped their prices significantly, and took advantage of this horrible situation."
The DOJ released the following information about four hotels that violated Gov. Brown's declaration in response to the wildfires.
Capital Inn & Suites (Salem)
Capital Inn was charging between $60 and $80 per night for one room prior to the governor's declaration. The DOJ's investigation found the hotel was charging $135 a night for some rooms after Gov. Brown's declaration. Under the settlement agreement, the hotel must reimburse anyone who paid more than $92 per night, including taxes and fees, the DOJ said. People who were overcharged should contact the Oregon DOJ's consumer complaint hotline at 877-877-9392.
Capital Inn will pay Oregon $38,000.
Le Chateau Inn (Florence)
The hotel raised the rates for at least 18 rooms by more than 15% after the governor's declaration, according to the DOJ investigation. Twenty-two Oregonians will receive restitution and Le Chateau Inn will pay the state $21,600.
Rodeway Inn Willamette River (Corvallis)
The DOJ investigation found the hotel raised the price of 15 rooms by more than 15%. The hotel is required to issue 23 refunds and pay Oregon $15,000.
Days Inn by Wyndham (Roseburg)
There were 31 instances in which the hotel increased room rates by more than 15%, the investigation found. The Days Inn will issue refunds to 31 Oregonians and pay the state $31,000.
The DOJ is investigating other allegations of price gouging related to the wildfires are ongoing. Anyone who believes they were a victim can contact the Oregon Department of Justice online or call 877-877-9392.
Seek Assistance Filing Taxes to Claim Important Tax Credit
Millions of dollars go unclaimed each year during tax season. This year, more than ever, filing taxes can put money back into pockets of those who need it most.
Among the IRS-certified volunteers providing assistance, Umpqua Bank employee volunteers contribute more than 200 hours annually to assist nonprofit organizations with free tax preparation for low-income residents to help them claim important federal tax credits, such as the Earned Income Tax Credit (EITC) and Child Tax Credit. Similar state tax credits may also be claimed.
The Earned Income Tax Credit, which may give families up to $6,660 back when they file taxes, is a federal and state tax credit for people making up to $56,844 per year. Too many miss out because they simply do not know about it. Check eligibility requirements for the Earned Income Tax Credit (EITC) and other credits, which can still be claimed going back to 2017.
"Only three out of four eligible Oregonians claim the tax credits for which they are eligible, according to CASH Oregon," said Brenden Butler, Umpqua Bank vice president and community development officer. "Umpqua Bank employees are committed this year, as we are every year, to help return as many tax credits as possible back into the community."
"MFS CASH Oregon is dedicated to helping Oregonians access the Earned Income Tax Credit, and we're grateful to all our volunteers, including Umpqua Bank associates, for their ongoing commitments," Riley Eldredge, MFS CASH Oregon Program Manager.
Oregon and Washington locations to seek free tax assistance include MFS CASH Oregon, NeighborWorks Umpqua's Volunteer Income Tax Assistance (VITA), United Way of King County, United Way My Free Taxes, and AARP Foundation's Tax-Aide. During the current tax season, advance appointments are required and most assistance will be conducted remotely.
Pre-pandemic, Umpqua Bank began ramping up its virtual volunteering infrastructure as part of its human-digital strategy, expanding upon the Bank's long-standing employee volunteer program. Since 2004, Umpqua Bank associates have served more than 550,000 volunteer hours.
The bank's Connect Volunteer Network allocates each employee 40 hours of paid volunteer time off annually, and the bank also has an employee giving match program. For more information on the EITC, visit https://www.eitc.irs.gov/. For tools to help file your return for free online or seek assistance, visit www.cashoregon.org. —- Umpqua Bank employee volunteers are among those providing free tax preparation assistance.
Proposed Bill Could Give Oregon Counties Bigger Share of Pot Tax Revenue
Oregon lawmakers are looking at potentially taking a bigger bite out of the billion-dollar marijuana industry in the state. A proposed law would potentially bump up the share taken by cities and counties–that's just one of a handful of pot tax bills up for debate in Salem.
For the last five years, pot sales have filled state tax coffers. Oregon's annual tax revenue from pot sales is somewhere north of $100 million, with the biggest chunk of that (40%) going to schools. Only 10% goes to cities and counties, and they'd like a larger piece of the pie.
The House Committee on Revenue met Thursday to discuss bills to that effect. HB 2014 would change how pot tax revenues are allocated to local governments. HB 2015 seeks to increase the percentage a city or county could tax sales by anywhere from 3 – 10%.
A spokesperson for the Oregon Retailers of Cannabis Association (ORCA), the group representing marijuana retailers, testified Thursday that additional taxes will drive consumers to cheaper, illegal products, costing the state revenue anyway.
"And Oregon, as many of you know, remains a leader in illicit cannabis production and export. One only needs to do a Craigslist search for '420' or 'OMMP' to see the ready availability of surplus products on secondary markets presently," said Casey Houlihan of ORCA.
"Based on our projections, we estimate that $1.3 million will be reduced to roughly $200,000 per year, going forward," said Ethan Nelson, the Intergovernmental Relations Manager for the City of Eugene.
What he's referring to is the financial impact of the implementation of Measure 1-10, which decriminalized marijuana in Oregon, but also redirects funding away from cities and counties by an estimated 70%.
Another bill discussed on Thursday would tax wholesale items that move across county lines.
Lincoln City Felon Sentenced to 17 Years in Federal Prison for Drug and Gun Offenses
A Lincoln City, Oregon man with multiple felony convictions was sentenced to federal prison today for his role in a conspiracy to distribute large quantities of methamphetamine in and around Lincoln City and illegally possessing a firearm, announced Acting U.S. Attorney Scott Erik Asphaug.
Felix Daniel Garcia-Mendoza, 28, was sentenced to 204 months in federal prison and five years' supervised release.
"The U.S. Attorney's Office is committed to doing everything we can to reduce drug trafficking and violent crime across Oregon. A key pillar of our strategy is to reduce illegal gun ownership and use by drug traffickers," said Acting U.S. Attorney Asphaug. "I applaud our law enforcement partners for their persistence in bringing Mr. Garcia-Mendoza to justice and making our coastal communities safer in the process."
"The brazenness of Garcia-Mendoza's actions clearly warrant this significant sentence," said ATF Seattle Field Division Assistant Special Agent in Charge Jonathan E. Blais. "He showed a complete disregard for the law and jeopardized the community as a whole. The removal of Garcia-Mendoza and his co-conspirators from the streets will help make Lincoln City and Lincoln County safer."
According to court documents, beginning in March 2018, agents with the Bureau of Alcohol, Tobacco, Firearms, and Explosives (ATF) began infiltrating the Lincoln City methamphetamine market. Soon after, one of Garcia-Mendoza's co-conspirators brokered the sale of a quarter pound of methamphetamine from Garcia-Mendoza to an undercover agent. At their initial meeting, agents purchased 113 grams of methamphetamine from Garcia-Mendoza.
Garcia-Mendoza met repeatedly with undercover agents and sold them increasingly larger quantities of methamphetamine. On one occasion, in June 2018, Garcia-Mendoza sold the agents more than one and half pounds of methamphetamine. Garcia-Mendoza also sold the undercover agents a handgun later determined to have be stolen from a Lincoln City gun shop. He wore a Glock pistol prominently in his waistband during various transactions and displayed it by raising his shirt and pulling it out during deals.
On December 12, 2018, a federal grand jury in Eugene returned an 11-count indictment charging Garcia-Mendoza with conspiracy to possess with intent to distribute methamphetamine, possession with intent to distribute methamphetamine, felon in possession of a firearm, possession of a stolen firearm, and possession of a firearm in furtherance of a drug trafficking crime. He was arrested on January 5, 2019 and pleaded guilty to all but three of the charges on January 20, 2020.
Three other co-defendants—Billy Jack Reese, Jr., 42, of Lincoln City, Oregon; James Levi Boyer, 51, of Springfield, Oregon; and Patricia Rose Hedrick, 25, of Newport, Oregon—were charged and have pleaded guilty to conspiring with Garcia-Mendoza to distribute methamphetamine. All were sentenced to time served in federal prison and are serving five-year terms of supervised release.
This case was investigated by ATF, the Lincoln City Police Department, and the Tillamook County Sheriff's Office. It was prosecuted by Nathan J. Lichvarcik and William M. McLaren, Assistant U.S. Attorneys for the District of Oregon.
This case was brought as part of Project Safe Neighborhoods (PSN). PSN is the centerpiece of the Department of Justice's violent crime reduction efforts. PSN is an evidence-based program proven to be effective at reducing violent crime. Through PSN, a broad spectrum of stakeholders work together to identify the most pressing violent crime problems in the community and develop comprehensive solutions to address them. As part of this strategy, PSN focuses enforcement efforts on the most violent offenders and partners with locally-based prevention and reentry programs for lasting reductions in crime. U.S. Attorney's Office – District of Oregon
State Troopers Called Out as Beach Erosion Threatens 4 Homes in Depoe Bay
Erosion is threatening some beachfront properties in Lincoln County, prompting a response from Oregon State Police troopers on Thursday.
According to officials, Depoe Bay Fire is talking with the owners of four properties that could be impacted by the erosion. "Never underestimate the power of nature," state police officials said in a Tweet.
The Lincoln County Emergency Management coordinator has also been reached to determine next steps for the properties.
How Much a Typical Home Costs in Oregon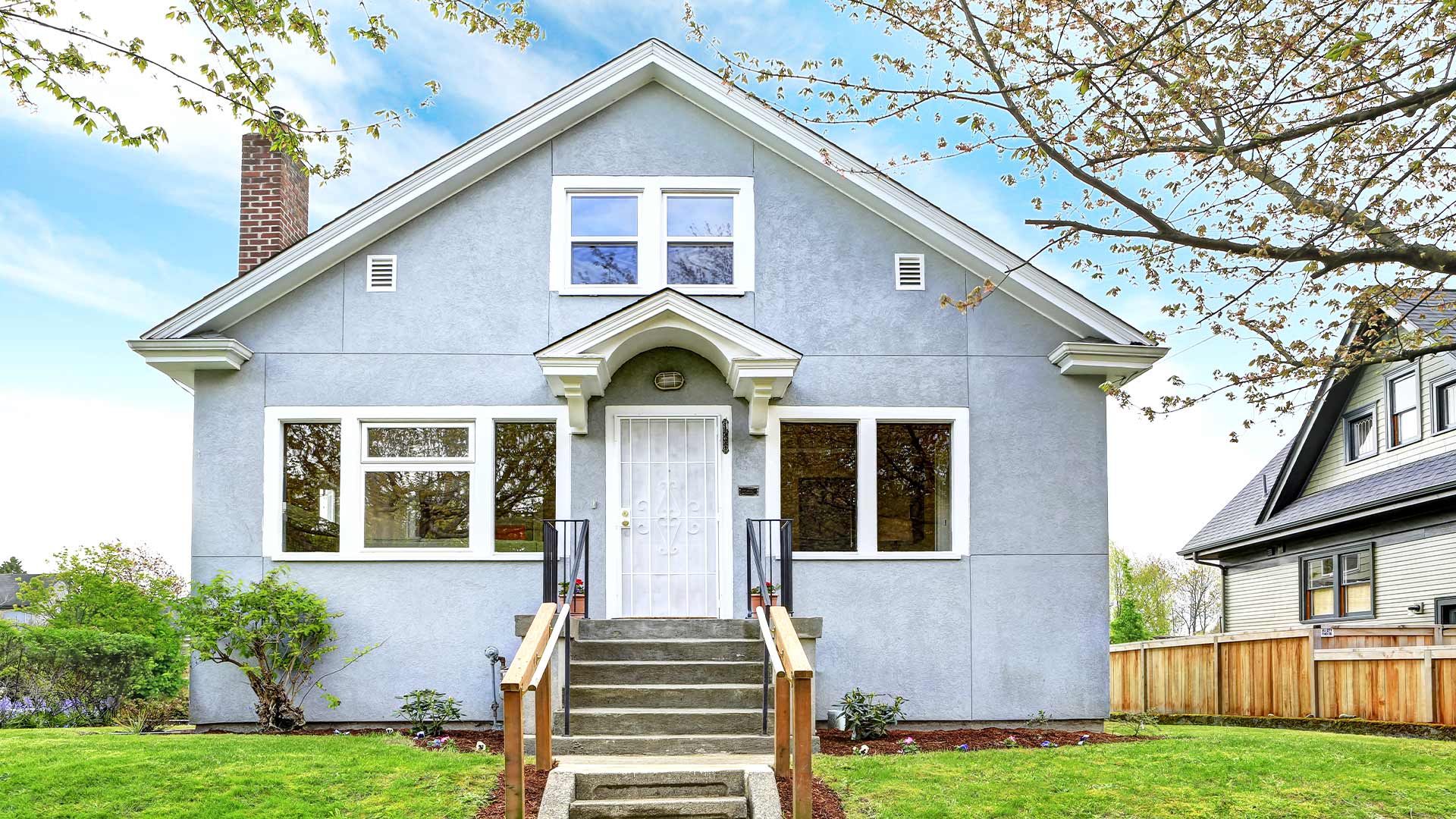 For many, homeownership is the cornerstone of the American Dream. As of January 2021, a typical single-family home in the United States costs $269,039. Of course, home values are not uniform across the country, and in some states, the typical home costs far more than the national average — while in others, homes cost far less.
According to estimates from Zillow, a Seattle-based real estate data company, the value of a typical single-family home in Oregon is $402,573, about 50% higher than the national average.
Housing prices are determined by supply and demand forces as well as what local residents are willing to pay — and that is influenced largely by what they can afford. As a result, areas with higher than average home values often also have higher-income residents. Oregon is no exception. The typical household in the state earns $67,058 annually, $1,300 more than the national median household income of $65,712.
Though home values are higher than average in Oregon, the overall cost of living is not. The average cost of goods and services across the state is 1.1% more than they do nationwide, on average.
Across Oregon, home values are climbing at an average pace. The value of a single-family home across the state increased by 9.98% over the one year period from January 2020 to January 2021, just 0.87 percentage points faster than the average national one-year home value appreciation of 9.12%.
| State: | Value of a typical single-family home: | 1-yr. increase in home value: | Median household income: |
| --- | --- | --- | --- |
| Hawaii | $683,470 | 4.7% | $83,102 |
| California | $624,977 | 10.5% | $80,440 |
| Massachusetts | $474,673 | 10.4% | $85,843 |
| Washington | $470,304 | 12.7% | $78,687 |
| Colorado | $442,766 | 8.6% | $77,127 |
| Oregon | $402,573 | 10.0% | $67,058 |
| Utah | $401,053 | 13.3% | $75,780 |
| New Jersey | $376,866 | 10.6% | $85,751 |
| New York | $350,545 | 7.7% | $72,108 |
| Idaho | $348,483 | 18.9% | $60,999 |
| Maryland | $341,148 | 8.5% | $86,738 |
| Rhode Island | $340,811 | 11.9% | $71,169 |
| Nevada | $332,501 | 8.6% | $63,276 |
| New Hampshire | $330,976 | 12.4% | $77,933 |
| Montana | $324,813 | 9.8% | $57,153 |
| Arizona | $315,554 | 16.5% | $62,055 |
| Virginia | $307,964 | 7.8% | $76,456 |
| Alaska | $292,066 | 0.6% | $75,463 |
| Connecticut | $288,822 | 11.5% | $78,833 |
| Delaware | $284,787 | 9.6% | $70,176 |
| Minnesota | $283,127 | 8.0% | $74,593 |
| Vermont | $277,364 | 6.1% | $63,001 |
| Maine | $276,023 | 12.3% | $58,924 |
| Florida | $270,560 | 8.6% | $59,227 |
| Wyoming | $262,517 | 3.6% | $65,003 |
| North Dakota | $239,464 | 2.7% | $64,577 |
| New Mexico | $229,947 | 11.0% | $51,945 |
| North Carolina | $225,740 | 9.3% | $57,341 |
| South Dakota | $225,662 | 5.7% | $59,533 |
| Texas | $224,466 | 7.5% | $64,034 |
| Georgia | $223,945 | 9.2% | $61,980 |
| Illinois | $219,806 | 6.2% | $69,187 |
| Pennsylvania | $215,939 | 9.6% | $63,463 |
| Wisconsin | $213,537 | 9.6% | $64,168 |
| Tennessee | $207,727 | 10.3% | $56,071 |
| South Carolina | $206,647 | 7.9% | $56,227 |
| Nebraska | $192,584 | 7.4% | $63,229 |
| Michigan | $192,093 | 9.9% | $59,584 |
| Missouri | $180,253 | 9.1% | $57,409 |
| Louisiana | $178,987 | 4.5% | $51,073 |
| Indiana | $172,769 | 9.3% | $57,603 |
| Ohio | $168,226 | 10.4% | $58,642 |
| Kansas | $167,540 | 8.1% | $62,087 |
| Kentucky | $160,589 | 7.5% | $52,295 |
| Iowa | $158,930 | 3.6% | $61,691 |
| Alabama | $158,809 | 8.9% | $51,734 |
| Arkansas | $142,070 | 6.7% | $48,952 |
| Oklahoma | $141,933 | 7.2% | $54,449 |
| Mississippi | $134,125 | 4.8% | $45,792 |
| West Virginia | $113,626 | 4.7% | $48,850 |