The latest news stories and stories of interest in the Rogue Valley from the digital home of Southern Oregon, from Wynne Broadcasting's RogueValleyMagazine.com
Monday, March 29, 2021
Rogue Valley Weather
Today- Partly sunny, then gradually becoming sunny, with a high near 56. Calm wind becoming north northwest 5 to 9 mph in the afternoon.
Tuesday- Widespread frost before 8am. Otherwise, sunny, with a high near 68. Light and variable wind.
Wednesday- Sunny, with a high near 76. South southeast wind 3 to 5 mph.
Thursday- Sunny, with a high near 72.
Friday- Partly sunny, with a high near 68.
Oregon reports 253 new confirmed and presumptive COVID-19 cases, 0 new deaths
There are no new COVID-19 related deaths in Oregon, the state's death toll remains at 2,375. The Oregon Health Authority reported 253 new confirmed and presumptive cases of COVID-19 bringing the state total to 163,952.
The new confirmed and presumptive COVID-19 cases reported today are in the following counties: Baker (2), Benton (4), Clackamas (31), Columbia (7), Coos (7), Deschutes (10), Douglas (12), Grant (1), Jackson (17), Jefferson (3), Josephine (12), Klamath (14), Lane (19), Lincoln (1), Linn (5), Malheur (1), Marion (17), Multnomah (38), Polk (2), Tillamook (2), Union (3), Wasco (1), Washington (34), Yamhill (10).
Vaccinations in Oregon
Today, OHA reported that 28,722 new doses of COVID-19 vaccinations were added to the state immunization registry. Of this total, 16,680 doses were administered on March 27 and 12,042 were administered on previous days but were entered into the vaccine registry on March 27.
Oregon has now administered a total of 858,095 first and second doses of Pfizer, 820,414 first and second doses of Moderna and 38,937 single doses of Johnson & Johnson COVID-19 vaccines.
Cumulative daily totals can take several days to finalize because providers have 72 hours to report doses administered and technical challenges have caused many providers to lag in their reporting. OHA has been providing technical support to vaccination sites to improve the timeliness of their data entry into the state's ALERT Immunization Information System (IIS).
To date, 1,043,055 doses of Pfizer, 1,003,700 doses of Moderna and 61,200 doses of Johnson & Johnson COVID-19 vaccines have been delivered to sites across Oregon.
These data are preliminary and subject to change. OHA's dashboards provide regularly updated vaccination data, and Oregon's dashboard has been updated today.
Gov. Kate Brown said Friday she will accelerate the state's vaccine eligibility timeline by two weeks for Oregonians over age 16 with underlying medical conditions, frontline workers and those living in multi-generational homes.
Those groups will now be eligible to sign up for the COVID-19 vaccine on April 5. Those over age 45 with underlying
conditions become eligible for the vaccine today and are already eligible in 22 counties that have already inoculated most of their older population.
All Oregonians over the age of 16 will become eligible for vaccination no later than May 1, Brown said. Brown said the number of counties ahead of schedule on vaccinating their population and increased vaccine supply from the federal government made it possible to speed up the timeline.
Under current projections, Oregon will receive enough vaccine to inoculate all eligible residents by the end of May and will be able to deliver them all by early to mid-June, said Oregon Health Authority director Patrick Allen.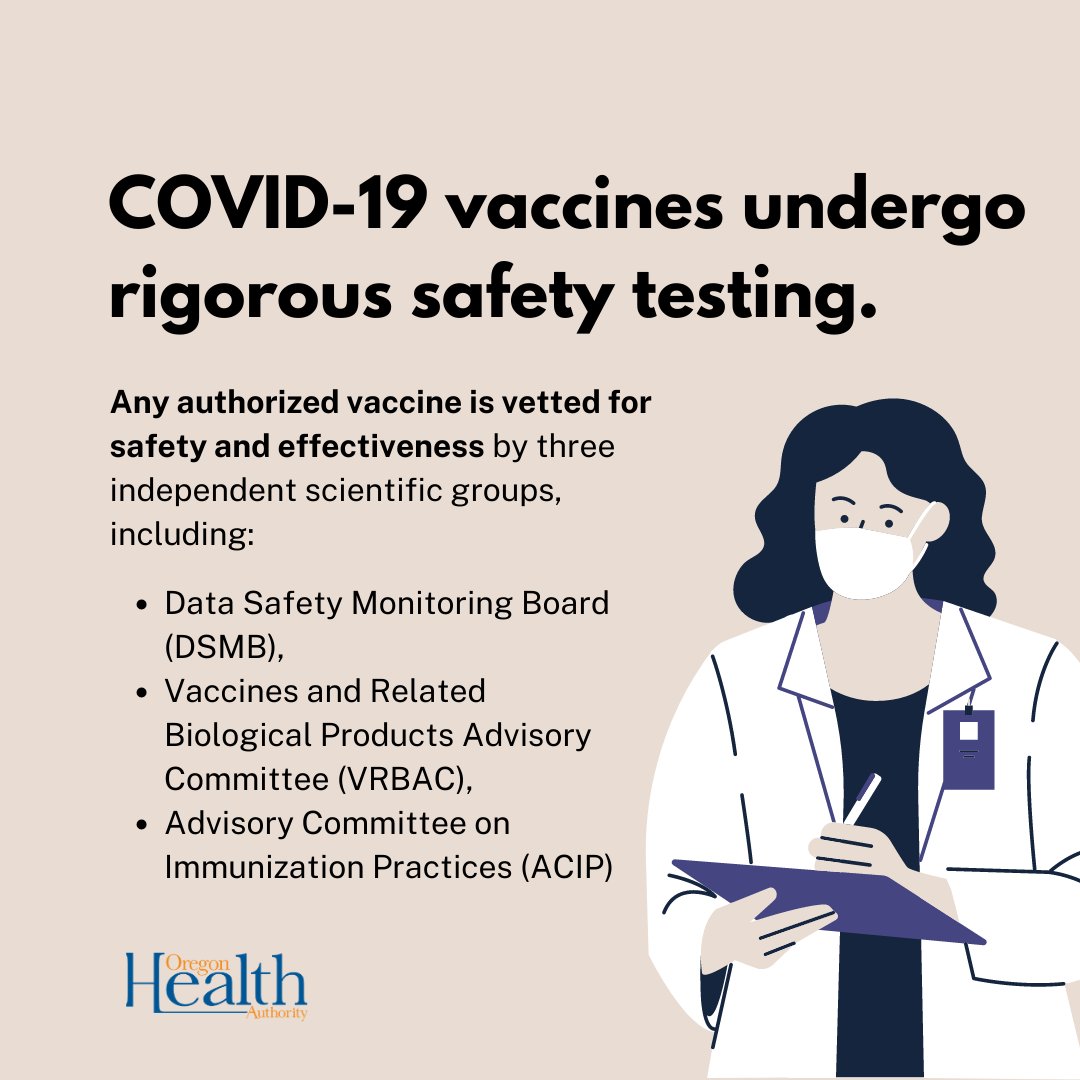 LOCAL HEADLINES:
Another Death Investigation Along Medford's Greenway
On March 26th, 2021, at about 10:15 a.m., Medford police officers responded to a report of a possible dead body on the greenway, north of Railroad Park. Officers found the remains of the deceased subject, about 75 yards off the bike path, between the path and Bear Creek.
This is the second time in roughly one month that the Medford Police Department is investigating an apparent homicide on the Bear Creek Greenway near Railroad Park.
Based on the circumstances of the scene, the case is being treated as a homicide. Medford police detectives are being assisted by the Oregon State Police Crime Lab and the Jackson County Medical Examiner's office.
Medford Police detectives are being assisted at the scene by the Oregon State Police Crime Lab and the Jackson County Medical Examiner's Office.
Police said that the deceased is an adult. The person's identity, age, sex, and race have yet to be determined.
"This is still in the very early stages of the investigation, and we appreciate your patience," MPD concluded.
* At the end of February, Medford Police launched an investigation after a homeless man's body was discovered about 150 yards north of Railroad Park, dead from a gunshot wound. Police later arrested a 17-year-old suspect, who was accused of shooting the man during an argument.
At this point, the identity of the deceased is unknown, as well as sex, race and age. The decedent is an adult. More information will be released after an autopsy is performed. This is still in the very early stages of the investigation, and we appreciate your patience. Medford Police Dept.
Fatal Crash Hwy 199 – Josephine County
On Friday, March 26, 2021 at approximately 7:27 A.M., Oregon State Police Troopers and emergency personnel responded to a vehicle crash on Hwy 199 near milepost 30.
Preliminary investigation revealed a Toyota 4Runner, operated by Clyde McDonald (26) of Cave Junction, was northbound when crossed into the southbound lane and stuck a Ford Explorer operated by Shawn Fodor (29). The 4Runner then struck a (southbound) Ford F250 operated by Paul Taylor (35) of Cave Junction.
Taylor sustained fatal injuries and was pronounced deceased. McDonald was transported via AMR and then air ambulance to Rogue Regional Medical Center with injuries. Fodor was uninjured in the crash.
The highway was partially closed for 5 hours.
Witnesses to the crash are asked to contact the Oregon State Police at 1-800-442-2068 or OSP and reference case number SP21-076174.
OSP was assisted by AMR, Illinois Valley Fire Department, ODOT, and the Josephine County Sheriff's Office. – Oregon State Police
AROUND the STATE of OREGON
The Department of Revenue announced it will adjust the tax returns for Oregon taxpayers who have already filed their 2020 returns and are due relief from income taxes paid on recently exempted unemployment benefits earned in 2020.
Oregon taxpayers, who received unemployment in 2020 and have not yet filed their tax returns, can do so now following the instructions the IRS recently provided. It's rare that the department asks taxpayers to wait before filing their tax returns. In this case, it was necessary to give the IRS time to provide guidance and to allow e-file software
providers time to update their software once Congress changed the law.
The American Rescue Plan, signed into law March 11, exempts up to $10,200 of unemployment benefits received in 2020 per individual from taxes for households with less than $150,000 in modified adjusted gross income.
The change affects thousands of Oregon taxpayers who had already filed their state income tax returns, paying taxes on 2020 unemployment benefits, before Congress made the change to the tax code. The announcement means those taxpayers do not need to take action to amend their returns. The department will correct it for them, and, in most cases, affected taxpayers will receive refunds or have a lower tax bill.
Missing child alert — Alyssa Elizabeth Garner Cobe is missing and believed to be at risk
Alyssa Elizabeth Garner Cobe, a 7-year-old, went missing with her mother Julie Garner from Newport, Ore. on March 26, 2021. The Oregon Department of Human Services (ODHS) believes that Alyssa may be at risk and is searching for her to assess her safety.
ODHS asks the public to help in the effort to find Alyssa. Anyone who suspects they have information about the location of Alyssa, or her mother Julie Garner should call the Newport Police Department at 541-265-3100 or the Oregon Child Abuse Hotline at 1-855-503-SAFE (7233).
Julie Garner is believed to be traveling to Vallejo, Calif. in a silver 2008 Honda Civic with the Oregon license plate number 942FEF.
Name: Alyssa Elizabeth Garner Cobe
Pronouns: She/her
Date of birth: Jan. 11, 2014
Height: 3 feet 10 inches
Weight: 63 pounds
Eye color: Hazel
Hair color: Strawberry blonde

Report child abuse to the Oregon Child Abuse Hotline by calling 1-855-503-SAFE (7233). This toll-free number allows you to report abuse of any child or adult to the Oregon Department of Human Services, 24 hours a day, seven days a week and 365 days a year. — Oregon Department of Human Services
Protesters Clash at Oregon Capitol
Another heated political confrontation between opposing bands happened at the Oregon State Capitol on Sunday, March 28.
Salem Police Department officers wielding batons and Oregon State Troopers clad in camo declared an unlawful assembly after several hundred left-wing protesters gathered in the shadow of the Capitol rotunda and then began skirmishing with perhaps a dozen conservatives that had traveled by car from a gathering spot in Sandy.
Police eventually shut down traffic on Court Street Northeast where it passes the Capitol building after the protesters dressed in black smashed the windows of several passing trucks draped with large flags espousing right-wing causes. The car caravaners who exited their vehicles often felt the taste of pepper spray.
After police pushed protesters onto the Capitol lawn the group marched into town, where another man in an American flag-themed car had his brake lights and window smashed after he pulled over; suddenly the man pulled out a pistol and pointed it at the assembled crowd — then threw himself on the ground as police moved in and detained him.
At least two left-wing protesters were detained as well, and the Tribune witnessed smoke bombs, paintball guns, flagpoles, thrown projectiles and other weapons being used as the clash escalated. Exact information on arrests and charges was not immediately released.
A heavy rain began to fall and the crowd gradually dispersed. Throughout the day, Salem police using an amplified sound truck implored the groups to "please return to your cars and go home." Officers fired impact munitions at least once.
While fears of a massive caravan of Proud Boys largely failed to materialize, several in the left-wing group said they were there to fight against racism, white supremacy and oppression.
"I'm Black, so I've experienced plenty of racism downtown since I've lived here. I think it's important to show people that it's not right to treat people awfully because of their skin tone. I don't deserve it — no one deserves it," said one protester, asking that her name not be published.
A man wearing a devil mask and a carrying a medieval metal shield said one of his parents had died in the Holocaust and another "on the beaches" during WWII.
"I'm Jewish, so I'm from a long line of fighting fascism," he said. "It just comes down to taking a stand."
Three Oregon Youth Overpower Staff and Escape from McLaren Youth Correctional Facility
Three teenagers escaped the McLaren Youth Correctional Facility in Woodburn early Sunday after authorities said they attacked a staff member and stole their keys before escaping through a fence.
The Oregon Youth Authority, which runs the state's facilities for juvenile offenders, said the three young men are considered a risk to themselves or others and urged anyone who sees them to call 911.
They are:
Preston Andrizzi, 19, convicted of second-degree assault in Marion County
Anthony Fitz-Henry, 18, adjudicated for second-degree burglary in Marion County
Christian Goin, 17, adjudicated for fourth-degree assault in Linn County
All three are from the Salem and Albany areas.
MacLaren, the state's largest juvenile correctional campus, was placed on lockdown after the escape, and visitation was canceled for the day.
Sarah Evans, a spokesperson for the Oregon Youth Authority, said it was the first escape at the facility since at least 2000, when a perimeter fence was installed.
Evans said the three assaulted a staff member and took their keys, then escaped through a hole in the fence. The hole has since been repaired, she said. The staff member was treated and released at a local hospital.
The about 200 youth at the facility are held in locked dormitory-style living units, some in single rooms and others in groups, and each living area is supervised around the clock by on-site staff and security cameras.
The youth authority urged anyone with information about the three to call the Oregon State Police at 503-375-3555 and reference case # SP 21-07842.
Mule Leads Hikers to Injured Owner Then Disappears
On Sunday, a mule led a pair of hikers through a Clackamas County state park to the spot where its injured owner had fallen on earlier in the afternoon. Then it disappeared into the forest.
The Clackamas County Sheriff's Office said a 60-year-old man, whom they have not publicly identified, was riding his mule on trails at Milo McIver State Park, when they believe he fell off and hurt himself.
The mule began walking alone on the trail until it found two people hiking, said Sgt. Marcus Mendoza, then led them back to the injured man.
One of the hikers who found the mule, Doug Calvert, said he and his wife were on foot on a popular equestrian trail around noon when they saw what they thought was a horse walking toward them.
As they got closer, they realized the animal was a mule, and it was alone and watching them.
"It kept stopping and looking back to make sure we were following it," Calvert said in an interview with The Oregonian/OregonLive on Sunday night. "So we started going faster, and it picked up speed. Eventually we got within view of the gentleman who had fallen."
Calvert said as soon as the mule led them to its fallen owner, it walked back into some bushes and kept its distance.
Calvert said he focused on tending to the injured man and stayed away from the mule to avoid spooking it. He called the park ranger's office and, failing to reach anyone, called 911.
In the meantime, the mule went back on the trail. It hasn't been found since.
Calvert said he's not sure why the man fell off the mule. He said the trails are in reasonable condition, but were only recently reopened after closures from the February ice storm. Sunday afternoon was also fairly windy, he said, and there is still debris on the trails.
He said medics arrived shortly after he called and began loading the man onto a gurney. Calvert said the man initially seemed to be in mild shock, but he seemed to be more cognizant as medics carried him away.
Mendoza said he did not have an update on the man's condition.
As for the mule, Calvert said he heard some local equestrian groups had been out looking for it later on Sunday afternoon.
Back to RogueValleyMagazine.com Homepage