The latest news stories of interest in the Rogue Valley and around the state of Oregon from the digital home of Southern Oregon, Wynne Broadcasting's RogueValleyMagazine.com.
Wednesday, June 2, 2021
Rogue Valley Weather
Heat Advisory in effect until June 2, 12:00 AM PDT
Today– Sunny and hot, with a high near 101. Calm wind becoming northwest 5 to 9 mph in the afternoon.
Thursday– Sunny, with a high near 95. Calm wind becoming northwest 5 to 7 mph in the afternoon.
Friday– Sunny, with a high near 92. Northwest wind 3 to 5 mph.
Saturday– Sunny, with a high near 85.
Sunday– Sunny, with a high near 79.
Oregon Reports Lowest Case Count In Over 3 Months — Reports 177 new confirmed and presumptive COVID-19 cases, 3 new deaths
There are three new COVID-19 related deaths in Oregon, raising the state's death toll to 2,674. The Oregon Health Authority reported 177 new confirmed and presumptive cases of COVID-19 bringing the state total to 201,649.
The new confirmed and presumptive COVID-19 cases reported today are in the following counties: Benton (1), Clackamas (11), Columbia (3), Crook (3), Deschutes (9), Douglas (7), Jefferson (1), Josephine (2), Klamath (5), Lane (20), Linn (4), Marion (25), Multnomah (35), Wallowa (1), Wasco (1), Washington (48) and Yamhill (1).
Vaccinations in Oregon
Today, OHA reported that 4,361 new doses of COVID-19 vaccinations were added to the state immunization registry. Of this total, 3,622 doses were administered on May 31 and 739 were administered on previous days but were entered into the vaccine registry on May 31.
The seven-day running average is now 22,982 doses per day.
Oregon has now administered a total of 2,213,453 first and second doses of Pfizer, 1,602,928 first and second doses of Moderna and 143,524 single doses of Johnson & Johnson COVID-19 vaccines.
As of today, 1,853,468 people have completed a COVID-19 vaccine series. There are 2,242,712 people who have had at least one dose.
To date, 2,734,875 doses of Pfizer, 2,153,400 doses of Moderna and 294,400 doses of Johnson & Johnson COVID-19 vaccines have been delivered to sites across Oregon.
These data are preliminary and subject to change. OHA's dashboards provide regularly updated vaccination data, and Oregon's dashboard has been updated today.
COVID-19 hospitalizations
The number of hospitalized patients with COVID-19 across Oregon is 238, which is 11 fewer than yesterday. There are 67 COVID-19 patients in intensive care unit (ICU) beds, which is six more than yesterday.
The total number of COVID-19 positive patient bed-days in the most recent seven days is 1,783, which is an 8.0% decrease from the previous seven days. The peak daily number of beds occupied by COVID-19 positive patients in the most recent seven days is 273.
The total number of patients in hospital beds may fluctuate between report times. The numbers do not reflect admissions per day, nor the length of hospital stay. Staffing limitations are not captured in this data and may further limit bed capacity. More information about hospital capacity can be found here.
A new coronavirus variant has been detected in Oregon.
The Oregon Health Authority says six cases of the India variant have been reported. The variant constitutes a small number of cases in the U.S. so far, but it makes up 75-percent of the cases in the United Kingdom. Health officials say the India variant may be more transmissible. Studies show the vaccines do work against the India variant.
LOCAL HEADLINES:
Illegal Marijuana Search Warrant Operations in Josephine County
Since January 1st, 2021, the Josephine County Sheriff's Office has conducted 13 alleged illegal marijuana cultivation search warrant operations within Josephine County.
These operations took place near the following locations:
Redwood Hwy/Midway Ave
500 block of Azalea Dr
4000 block of Galice Rd
3000 block of Rockydale Rd
1000 block of E Fork Rd
1000 block of Boundary Ln
4000 block of Redwood Hwy
2000 block of Lake Shore Dr
6000 block of Rockydale Rd
2000 block of Cheney Creek Rd
8000 block of Monument Dr
100 block of Queen of Bronze Rd
27000 block of Redwood Hwy

Many of these operations have been conducted in partnership with other law enforcement agencies. Those agencies include the Josephine Marijuana Enforcement Team (JMET), Rogue Area Drug Enforcement Team (OSP, GPDPS, Parole and Probation), Oregon State Police, Illegal Marijuana Enforcement Team (IMET, Jackson County SO, Medford PD), Drug Enforcement Agency (DEA), Josephine County Code Enforcement, Oregon State Health Administration, the Josephine County Watermaster and Department of Environmental Quality, Oregon Department of Agriculture, and the Oregon Liquor Control Commission.

To date this year the Josephine County Sheriff's Office has seized:
Total Plants: 96,673
Firearms: 46
Cash: $616,068
Equipment: Multiple water pumps, generators, and heavy machinery

Cash seized following forfeiture (due to Oregon law) can only be used for training and equipment. It cannot be used to fund operations or personnel.

Due to the ongoing nature of the investigations, names of suspects, exact locations, dates, and times of the operations are not being released. As our citizens have seen this year, cultivation sites in the marijuana industry are more robust and have grown. Your Sheriff's Office is committed to combating the illegal grows within Josephine County. You can expect routine informational press releases in the future. Josephine Co. Sheriff's Office
Shots Fired at Tussing Park in Grants Pass
On 5/31/21 at about 7:53pm, the Grants Pass Department of Public Safety (GPDPS) Dispatch center began fielding 911 calls of an armed male subject at Tussing Park, 800 West Park St, who was threatening to shoot people. As GPDPS patrol units were responding to the location, the male subject was said to be pointing a handgun at citizens and was now actively shooting. This was within 12 seconds of the original call. The subject was reported to be intoxicated, and a nearby resident.
The first responding officers encountered the male subject, still carrying the handgun, as he exited the parking lot of Tussing Park. He complied with officers' commands and was detained within 5 minutes of the initial 911 call.
Officers then detained an intoxicated female armed with a large knife, who was determined to be the male subject's wife.
The two were identified as 56 year-old David Denver Dapper and 58 year-old Fawn Elysa Dapper.
As soon as the couple were secured, officers conducted a thorough search of the park to ascertain if there was anyone injured. The area was filled with citizens, to include children and a pregnant woman. Once it was determined no one was hurt, officers interviewed several witnesses. From the investigation, it was determined the Dappers were angry with noise from the park and Fawn Dapper walked there to confront citizens. Fawn used a large knife to put numerous citizens in fear, to include the pregnant woman, and even made stabbing motions. David Dapper then arrived at the park and pointed his handgun at several citizens before firing it into the air. It is fortunate that no one was injured during this incident.
Fawn and David were transported to the Josephine County Jail and lodged on the following charges.
David Dapper:
Unlawful use of a Weapon – 4 counts
Menacing – 4 counts
Unlawful Pointing of a Firearm at Another – 4 counts
Unlawful Discharge of a Firearm – 1 count
Fawn Dapper:
Attempted Assault 2 – 4 counts
Unlawful use of a Weapon – 4 counts
Menacing – 4 counts
The Grants Pass Department of Public Safety would ask anyone who witnessed this incident to please call (541) 450-6260 and reference case #21-23986. We would like to thank our citizens for their continued support. — Grants Pass Dept. of Public Safety
Rising Temps Prompt Preparation
Tips from Pacific Power to stay cool, use less energy and save money
MEDFORD OR – With the season's first significant heat wave crashing into southern Oregon this week, Pacific Power wants to remind customers how to beat the heat and use less energy.
Get some fresh air. Open your windows during the early morning and evening and use fans to circulate the fresh air.
Keep clear of the sun. Close blinds and drapes during the warmest parts of the day. Keeping the sunlight out of your home will keep it cooler.
Be AC savvy. Set your air conditioner to 78 degrees when you're home, and 85 when you're away. Running your AC at temperatures lower than 78 degrees can increase your electricity bill by up to 8 percent. Also, keep inside air vents clear from furniture and other objects. Make sure the outside unit is free of obstructions.
Reduce indoor heat. Push the use of heat-producing appliances such as ovens, dishwashers and clothes dryers to cooler parts of the day. Grilling outside, washing dishes by hand and air-drying clothes are great alternatives.
Be safe. With sweltering temperatures, you need to protect yourself. Drink plenty of water and stay out of the sun as much as possible. Also check on any neighbors who may have limited contact with others and may need a fan or other assistance.
If you are concerned about your power bill, we have resources to help. You can apply for funds to pay past-due bills through our Assistance Plus program or we can set up a flexible payment plan. Call us any time at 1-888-221-7070.
ABOUT PACIFIC POWER
Pacific Power provides safe and reliable electric service to more than 783,000 customers in 243 communities across Oregon, Washington and California. Pacific Power is part of PacifiCorp, one of the lowest-cost electricity producers in the United States, serving nearly two million customers in six western states as the largest regulated utility owner of wind power in the West. For more information, visit www.pacificpower.net.
AROUND the STATE of OREGON
Keep Oregon Green Billboard Poster Contest
Keep Oregon Green is celebrating its 80-year history by unveiling its first billboard poster art contest. The Association is asking Oregonians of all ages to create and submit entries and share their vision for keeping Oregon free of wildfire.
"We are excited to celebrate our important milestone by offering this fun opportunity to all Oregon residents. As over 70% of Oregon's wildfires are human-caused, the power of prevention is 100% our shared responsibility," said Kristin Babbs, president of the Keep Oregon Green Association. "The purpose of the poster contest is to involve the public in helping reduce the number of carless wildfires we see each year and remind everyone how critical it is to prevent them."
The contest opens on June 1, and the entry deadline is 5 p.m., August 9, 2021 (Smokey Bear's birthday).
All submitted artwork will be reviewed in Fall of 2021, and Oregon will become an open-air art gallery in 2022, showcasing the first-place winning artwork on billboards at major intersections, highways and interstates across the state.
There will be three separate divisions based on age. Within each division will be first, second, and third-place winners. Cash prizes and certificates will be awarded to the first three people who place in each age division (grades 1-5; 6-12; and 18+ years). All participants will receive a Certificate of Participation.
Keep Oregon Green's annual wildfire prevention campaigns encourage residents and visitors to practice basic wildfire safety while enjoying the outdoors. TV and radio commercials, social media posts and billboards provide daily reminders to be careful with activities that can spark a wildfire during the most critical time of year. This year's campaign features stunning photos of Oregon's iconic landscapes and the use of the #OregonOurOregon hashtag.
For more wildfire prevention inspiration, contest rules, prizes and information on how and where to send your artwork, go to https://keeporegongreen.org/kog-billboard-contest-submissions/
About the Keep Oregon Green Association:
For 80 years the Keep Oregon Green Association has been educating the public on the how to prevent wildfires. Beginning its efforts in April of 1941, after a public outcry over the human-caused Tillamook Burns, roughly 250 Oregon leaders came together to form Keep Oregon Green (KOG). KOG's mission is to promote healthy landscapes and safe communities by educating the public of everyone's shared responsibility to prevent human-caused wildfires. — Oregon Dept. of Forestry
Oregon Sees High Temperatures And Fires As Fire Season Starts
Oregon is bracing for another active wildfire season. We've already had high temperatures, dry winds and the threat of thunderstorms in parts of the state this week.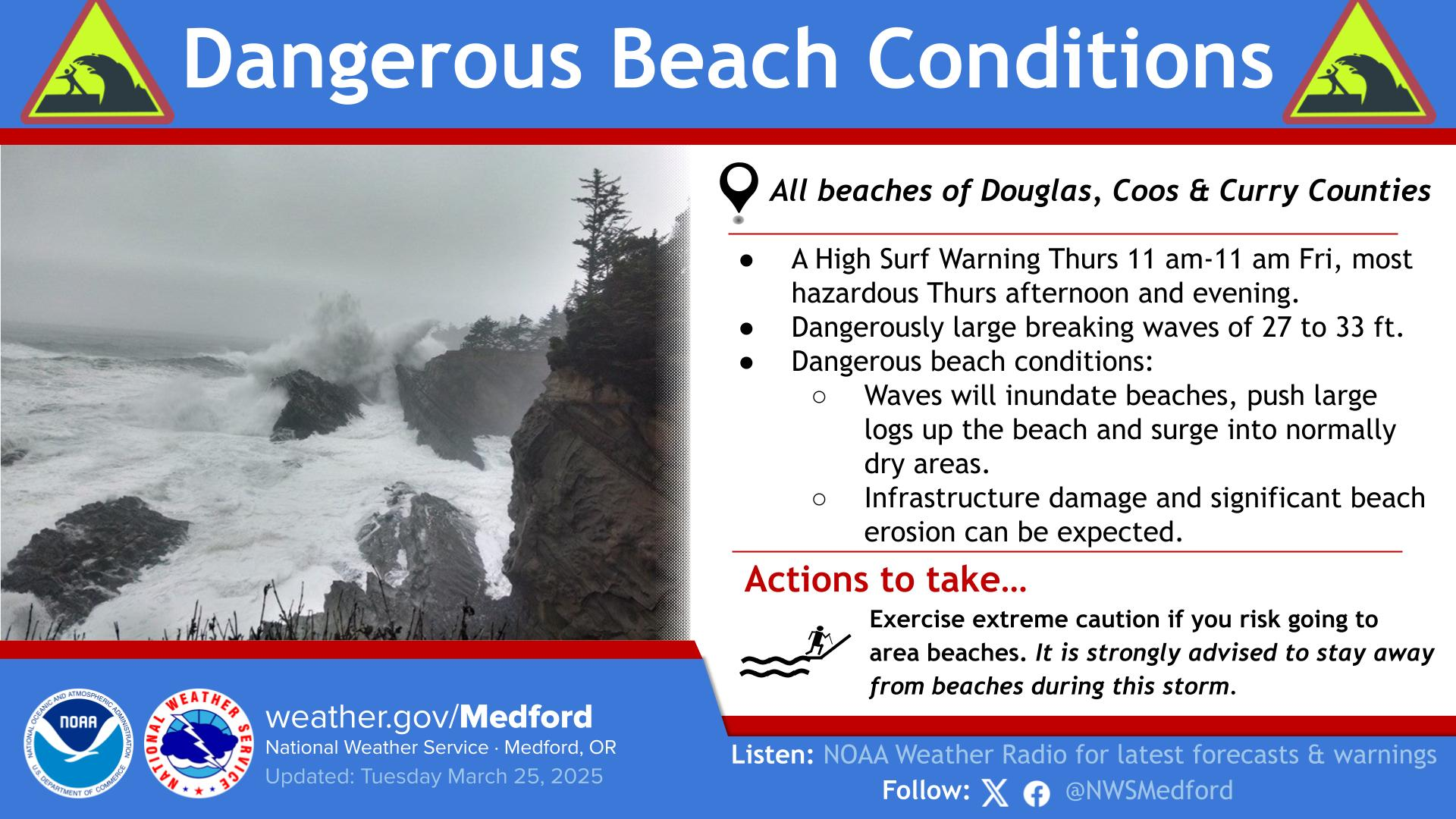 In the Portland area, the National Weather Service was more focused on high temperatures than flames, as thermometers topped 95 degrees Tuesday, marking it the hottest day so far for the area this year. Forecasts called for continued heat high temperatures in Northwest Oregon and Southwest Washington into Wednesday before cooler weather prevails later in the week. Oregon is bracing for another active wildfire season. https://www.weather.gov/mfr//
In southern Oregon some people are facing evacuation orders, after the Sycan River Fire in Klamath County's Fremont-Winema National Forest grew to nearly 700 acres Monday night. People in the area were still on evacuation stand-by Tuesday afternoon, and the National Weather Service in Medford has issued a fire weather watch in effect from Wednesday afternoon into the evening, ahead of expected winds and thunderstorms in south central portions of the state.
Firefighters are making great progress on the Sycan River and Yellow Jacket fires in Klamath County near Beatty. The Sycan River Fire is 679 acres and 10 percent contained. The acreage was determined through improved mapping and the fire has not grown since Monday morning. Approximately 85 percent of the fire is lined.
Firefighters have made good progress securing the fire's edge through dozer line and burnout operations. Fire crews continue securing lines and building small amounts of handline where needed. There are approximately 225 fire personnel on the fire.
The SCOFMP Type 3 Team continues to manage the fire. Resources on the Sycan River Fire yesterday were shared with the Yellow Jacket Fire response. The Yellow Jacket Fire is 34 acres and 20 percent contained. The fire was reported yesterday around 2:15 p.m. The fire is fully lined and mop-up activities started. Last night fire crews started
removing hazard trees burning in the fire's interior. There are numerous state, federal and contract resources working on the fire.
Captain Jacks Stronghold and several other fire-damaged trails in the Lava Beds National Monument reopened for visitors June 1
In July 2020, the Caldwell Fire swept through monument, burning 70% of the park, including Captain Jack's Stronghold. For safety and to allow for cultural resource emergency stabilization assessments, the area was closed to visitors since July 2020.
Captain Jacks Stronghold was used from November 1872 through April 1873 by Modoc families as they held out against the U.S. Army.
There is a self-guiding trail guide available at the visitor center that will guide you through the site and tells the story of the siege.
Similarly, with vegetation recovering, park staff have reopened the following trails: Bunchgrass, Missing Link and Big Painted Cave/Symbol Bridge trail and caves.
Oregon Bans Guns From Capitol and Mandates Safe Gun Storage In Homes
Legislators have brought guns into the Oregon State Capitol for personal protection. Protesters have carried semi-automatic rifles onto the grounds and into the building.
Later this year, doing so will be outlawed under a bill signed Tuesday by Gov. Kate Brown that was earlier passed by the Legislature, with Democrats in favor and minority Republicans opposed. The new law also mandates the safe storage of guns.
"Today, I am signing SB 554 with the hope that we can take another step forward to help spare more Oregon families from the grief of losing a loved one to gun violence," Brown said on Twitter.
The bill was named for Cindy Yuille and Steve Forsyth, who were slain in a shooting at a Portland-area shopping mall in 2012 by a man who stole a friend's AR-15 rifle. A third person was seriously wounded.
Among those who testified in favor of the measure was Paul Kemp, Forsyth's brother-in-law.
Backers of the new law, which takes effect three months after the Legislature adjourns this summer, said it will prevent accidental shootings by children, suicides and mass shootings. It requires that firearms be secured with a trigger or cable lock, in a locked container or gun room.
The bill also bans guns from the Oregon Capitol, changing a law that allowed concealed handgun licensees to bring firearms into the building.
In a related development, an interfaith movement plans to present signatures Wednesday to the staff of Oregon Secretary of State Shemia Fagan, a step in an attempt to get two initiative petitions onto the ballot.
IP 18 would ban the sale of assault-style weapons in Oregon. IP 17 would ban the sale of large-capacity magazines and require a permit to purchase any gun and a completed background check before a firearm is purchased.
The movement has gathered the signatures of 2,000 voters for each initiative petition and will hand deliver them to Fagan's staff, said Pastor Mark Knutson of the Augustana Lutheran Church in Portland.
"We hope to get the go-ahead by early fall, which will give us almost 10 months to get 140,000 signatures to … place them both on the November 2022 general election ballot," Knutson said.
The debate over guns is being resurrected as the number of mass shootings climbs again in America, with increased efforts to ban assault rifles and large-capacity magazines.
In Colorado, a gun storage bill was signed into law on April by Gov. Jared Polis, who said: "It's a sensible measure to help avoid immeasurable heartbreak."
Colorado's law creates the offense of unlawful storage of a firearm if a person stores a gun knowing that a juvenile could access it without permission or if a resident of the premises is ineligible to possess a firearm.
Similar bills this session have failed in Illinois, Kentucky, Montana, New Mexico and Virginia, said Allison Anderman, senior counsel at the Giffords gun safety advocacy group.
States that have passed laws requiring some level of firearms safe storage in past years include California, Connecticut and New York, Anderman said. Massachusetts is the only state that requires that all unattended firearms be stored with locking devices in place, according to Giffords.
D River Beach Health Advisory lifted June 1
Oregon Health Authority (OHA) today lifted a public health advisory for contact with ocean water at D River Beach, located in Lincoln County. The agency issued the advisory May 27 after water samples showed higher-than-normal levels of fecal bacteria in ocean waters.
Results from follow-up tests taken by the Oregon Department of Environmental Quality (DEQ) showed lower bacteria levels. Contact with the ocean water no longer poses a higher-than-normal risk.
Officials recommend staying out of large pools on the beach that are frequented by birds, and runoff from those pools, because the water may contain increased bacteria from fecal matter.
Since 2003, state officials have used a U.S. Environmental Protection Agency grant to monitor popular Oregon beaches and make timely reports to the public about elevated levels of fecal bacteria. Oregon state agencies participating in this program include OHA, DEQ and the Oregon Parks and Recreation Department.
For more information, visit the Oregon Beach Monitoring Program website at http://www.healthoregon.org/beach or call 971-673-0440, or call the OHA toll-free information line at 877-290-6767. — Oregon Health Authority
Man Dies Swimming In Surf Off Oregon's Rockaway Beach
Authorities say a 37-year-old man died after swimming in the surf off of Rockaway Beach in northwest Oregon on Memorial Day.
The man was rescued by the Coast Guard after his mother, who was on scene at the Tillamook County beach, said she had lost sight of her son in the water.
The Coast Guard sent a crew aboard a 47-foot motor life boat and an air crew aboard a helicopter to look for the man.
The chopper crew located the man and deployed a rescue swimmer who brought him to shore, where he was given CPR but he did not survive.
13 People Stranded After 2 Boats Get Stuck In Mud On Oregon Coast
Thirteen people were stranded after two boats got stuck on mud in Tillamook Bay around 10 p.m. on Saturday, according to the Tillamook County Sheriff's Office.
Deputies reached the boats and got the four "younger and coldest victims" onboard. They were taken to medical personnel at Memaloose Boat Ramp. Four other people were rescued by a second boat and five others swam back to shore before first responders arrived.
Three people were treated for hypothermia at Adventist Health Tillamook Hospital.
The sheriff's office said boaters regularly get stranded on mud and sand bars in Tillamook County's bay and estuaries. The sheriff's office gave some tips for boaters.
"Know where you are going, what the tides are, and what the weather conditions are forecasted to be," said Deputy Kelly Awe.
"Always have enough personal floatation devices for everyone onboard, carry a suitable anchor, a fully charged cell phone, extra warm clothing and food and water onboard in case you have to sit and wait for the tide to come in."
Deputy Awe also said stranded boaters should never attempt to swim back to shore because it takes only minutes for hypothermia to set in. Instead, they should call 911 and wait for rescuers to respond.
Bill Allowing To-Go Cocktails Permanently Passes Oregon House
Oregon lawmakers passed Senate Bill 317 that would allow to-go cocktails to continue even after the coronavirus pandemic.
Governor Kate Brown made to-go cocktails possible through an executive order, allowing restaurants to add them to their menus immediately as a way to help the industry that had been struggling due to the pandemic.
Senate Bill 317 allows businesses with full on-premise sales licenses to sell mixed drinks in sealed containers to be taken to-go, or have them delivered, forever–not just during the pandemic.
The bill passed the House floor Tuesday with a vote of 51-7. The Senate approved it at the end of March. It now goes to the governor.
Restaurant owners say to-go cocktails will provide a level of stability. "To-go cocktails aren't going to save our businesses as a whole, but we need every single tool that's available to us to be able to make our margins look a little bit better, because we are operating on the smallest of margins," said Ricky Gomez, who owns Palomar. "This is something that will help with that and help consumers to stay outside."
With to-go cocktails becoming a permanent staple at restaurants, owners say they plan to come up with better packaging and more options for customers.
One concern about making to-go cocktails was that there could be more drinking and driving instances. When this was temporary the police had said then they didn't expect to see an increase since beer and wine is already allowed as a to-go item.