The latest news stories of interest in the Rogue Valley and around the state of Oregon from the digital home of Southern Oregon, Wynne Broadcasting's RogueValleyMagazine.com
Tuesday, July 13, 2021
Rogue Valley Weather
Today– Widespread haze before 2pm. Patchy smoke after 2pm. Sunny and hot, with a high near 100. Calm wind becoming northwest around 5 mph in the afternoon.
Wednesday– Widespread haze after 5pm. Patchy smoke. Sunny, with a high near 95. Calm wind becoming north northwest 5 to 7 mph in the afternoon.
Thursday– Sunny, with a high near 90. Calm wind becoming north northwest around 6 mph in the afternoon.
Friday– Sunny, with a high near 89.
Saturday– Sunny, with a high near 93.
Oregon reports 506 new confirmed and presumptive COVID-19 cases over the past 3 days, 5 new deaths – There are five new COVID-19 related deaths in Oregon, raising the state's death toll to 2,797.
Oregon Health Authority reported 506 new confirmed and presumptive cases of COVID-19 bringing the state total to 210,729. The 506 cases are a cumulative total, which includes cases reported over the weekend. Oregon reported 254 new confirmed and presumptive COVID-19 cases on Friday July 9; 172 new confirmed and presumptive COVID-19 cases on Saturday, July 10: and 80 new confirmed and presumptive COVID-19 cases on Sunday, July 11
The new confirmed and presumptive COVID-19 cases being reported today are in the following counties: Benton (12), Clackamas (54), Clatsop (2), Columbia (7), Coos (7), Crook (5), Curry (3), Deschutes (21), Douglas (23), Hood River (1), Jackson (36), Jefferson (6), Josephine (30), Klamath (7), Lake (3), Lane (26), Lincoln (1), Linn (32), Malheur (1), Marion (51), Morrow (3), Multnomah (73), Polk (5), Tillamook (11), Umatilla (38), Union (2), Wasco (2), Washington (28), Yamhill (16).
Vaccinations in Oregon
Today, OHA reported that 3,007 new doses of COVID-19 vaccinations were added to the state immunization registry. Of this total, 1,831 doses were administered on July 11 and 1,176 were administered on previous days but were entered into the vaccine registry on July 11.
The seven-day running average is now 4,917 doses per day.
Oregon has now administered 2,579,892 first and second doses of Pfizer, 1,757,522 first and second doses of Moderna and 173,684 single doses of Johnson & Johnson COVID-19 vaccines.
As of today, 2,430,767 people have had at least one dose of a COVID-19 vaccine and 2,229,939 people have completed a COVID-19 vaccine series.
Cumulative daily totals can take several days to finalize because providers have 72 hours to report doses administered and technical challenges have caused many providers to lag in their reporting. OHA has been providing technical support to vaccination sites to improve the timeliness of their data entry into the state's ALERT Immunization Information System (IIS).
To date, 2,970,945 doses of Pfizer, 2,259,440 doses of Moderna and 299,100 doses of Johnson & Johnson COVID-19 vaccines have been delivered to sites across Oregon.
These data are preliminary and subject to change. Updated vaccination data are provided on Oregon's COVID-19 data dashboards and have been updated today.
COVID-19 hospitalizations
The number of hospitalized patients with COVID-19 across Oregon is 109, which is two fewer than yesterday. There are 29 COVID-19 patients in intensive care unit (ICU) beds, which is three fewer than yesterday.
The total number of patients in hospital beds may fluctuate between report times. The numbers do not reflect admissions per day, nor the length of hospital stay. Staffing limitations are not captured in this data and may further limit bed capacity. More information about hospital capacity can be found here.
LOCAL HEADLINES:
Air Quality Advisories Issued Due To Wildfire Smoke
The Oregon Department of Environmental Quality (DEQ) issued an air quality advisory for Jackson County today due to wildfire smoke from the Bootleg Fire in Klamath County and the Jack Fire in Douglas County. DEQ expects the air quality advisory will be in place through Friday.
A press release from Jackson County Public Health noted that wildfire smoke is a complex mixture of air pollutants that are harmful to human health. Exposure to air pollutants in wildfire smoke can irritate the lungs, cause inflammation, alter immune function, and increase susceptibility to respiratory infections. Smoke levels can quickly rise and fall depending on weather factors that include wind direction and how much smoke is produced from the wildfire. Therefore, people need to be observant of the air quality during wildfire season.
Populations known to be vulnerable to wildfire smoke exposures include:
Children less than 18 years;
Adults age 65 years or older;
Pregnant women;
People with chronic health conditions such as heart or lung disease, including asthma and
diabetes;
Outdoor workers;
People of low socioeconomic status, including those who are homeless and with limited access
to medical care.
People who have had COVID-19 and are recovering from the virus.
During a wildfire smoke event, Jackson County Public Health Officials advise people to take the following precautions:
Be aware of smoke concentrations in your area and avoid the places with the highest concentrations.
Avoid strenuous outdoor activity in smoky conditions.
Stay indoors with doors and windows closed. This reduces exposure to particulate matter in the air.
Use air conditioning to keep your home cool if it becomes too warm.
Other sources of particles within the home should be reduced or eliminated: smoking, using gas, woodburning stoves or furnaces, aerosol sprays, frying or broiling meat, burning candles or incense, vacuuming.
High-efficiency particulate air (HEPA) filters and Electro-static precipitator (ESP) filters can help provide protection. The HEPA filters trap or remove harmful particles in the air.
When riding in a car, keep the windows and vents closed; turn the air conditioning on to recirculate.
Drink lots of water – staying hydrated can keep your airways moist, which will help reduce symptoms of respiratory irritation such as scratchy throat, running nose, and coughing.
People exposed to smoky conditions and who suffer from asthma or other respiratory problems should follow their breathing management plans or contact their healthcare providers.
If you must be outdoors when air quality is poor, wearing a special mask called a "particulate respirator" can also help protect your lungs from wildfire smoke. You will want to choose a mask called a "particulate respirator" that has the word NIOSH" and either "N95" or "P100" printed on it. Masks that are not NIOSH-certified may not offer protection from small particulate matter, even if properly worn.
Many people will find it difficult to use particulate respirators. It is important to make sure the respirator fits properly and that air does not leak around the sides. It is impossible to get a good seal on individuals with facial hair. If it does not fit properly, the respirator will not provide full protection and may offer the wearer a false sense of protection. Ashland Smoke Wise has information on how to wear an N95 or P100 particulate respirator properly. These masks are not designed to fit young children. In an occupational setting, particulate respirators require fit testing, ensuring a proper fit.
Particulate respirators can make breathing more difficult and lead to increased breathing rate and heart rate. They can also contribute to heat stress. Because of this, particulate respirators used by those with heart and respiratory diseases should only be done under a doctor's supervision. Even healthy adults may find that the increased effort required for breathing makes it uncomfortable to wear a respirator for more than short periods.
Check DEQ's Air Quality Index (AQI) to see real-time air monitoring data from monitors placed around Oregon. DEQ also has a mobile app for the AQI, search for OregonAir in your app store.
𝙁𝙄𝙍𝙀 𝘿𝘼𝙉𝙂𝙀𝙍 𝙇𝙀𝙑𝙀𝙇 𝙄𝙉𝘾𝙍𝙀𝘼𝙎𝙀: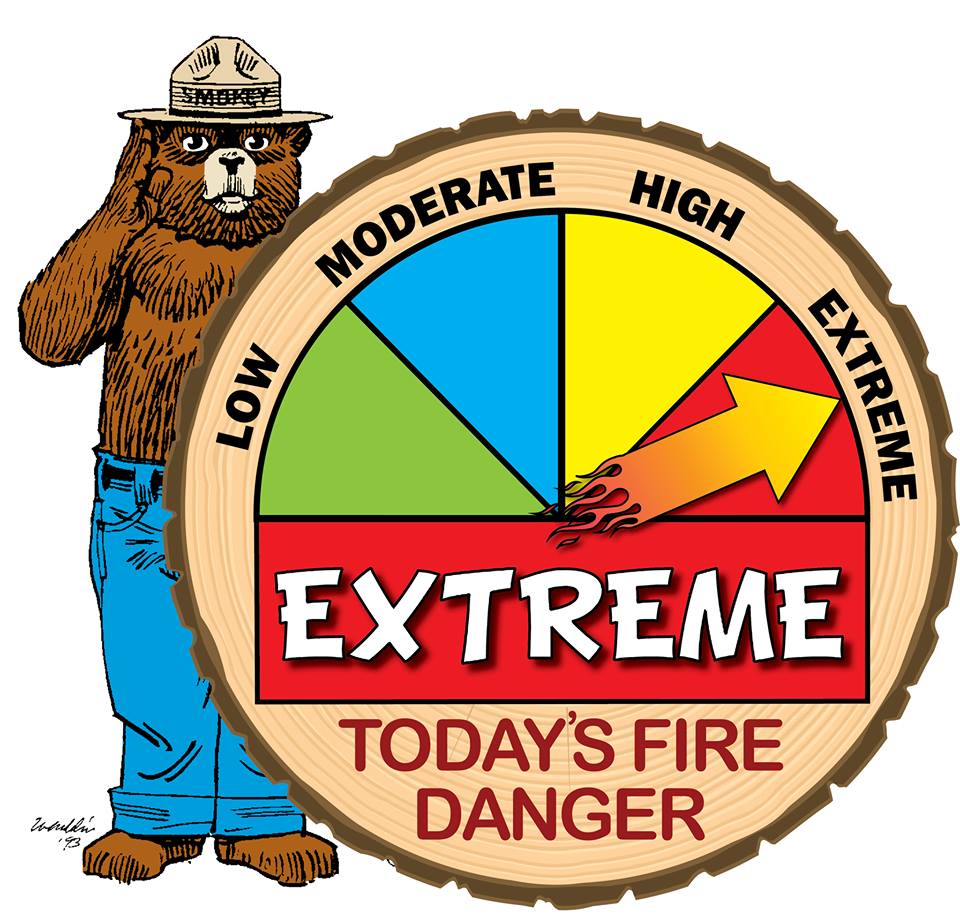 The fire danger level on lands protected by the Oregon Department of Forestry in Jackson and Josephine counties rises to "extreme" (red) at 12:01 a.m. on Wednesday, July 14, 2021.
This affects 1.8 million acres of state, private, county and Bureau of Land Management lands within ODF's Southwest Oregon District. The Industrial Fire Precaution Level (IFPL) will remain at Level 2 (two).
The primary difference between current fire prevention restrictions and those beginning on Wednesday affects the public use of power-driven equipment, such as chain saws and mowers. The use of power-driven equipment, grinding, cutting of metal, and other spark-emitting equipment, such as wood splitters and generators, will be prohibited. www.swofire.com
AROUND the STATE of OREGON
WILDFIRE UPDATES
Firefighters are working to protect homes and contain wildfires in Oregon, including the Jack Fire east of Glide in Douglas County; the massive Bootleg Fire northeast of Klamath Falls; and the Grandview Fire north of Sisters in Jefferson County.
Northwest Fire Weather Summary
The Pacific Northwest will stay hot and dry into the middle of this week with poor to moderate overnight relative humidity recoveries on the east side of the region. Breezy winds are expected each afternoon through Cascade gaps and to the east. A broad upper level trough will approach Wednesday, bringing breezy to windy conditions through Cascade gaps and across the east side basins Wednesday and Thursday. The system will also reduce temperatures toward seasonal normals into the weekend. No precipitation is expected with the system.

Northwest Fire Potential Summary
With fire danger above average in most areas, hot, dry and breezy conditions will maintain elevated potential for new
significant fire development east of the Cascades and in southwestern Oregon. Potential could moderate some toward the end of the week if cooler weather arrives as anticipated.
Bootleg Fire grows to 201K acres — The Federal Emergency Management Agency (FEMA) authorized the use of federal funds to help with firefighting costs for the Bootleg Fire burning in Klamath County, Oregon.
Bootleg. OR-FWF-210321. IMT1, ODF Team 1 (Hessel), NW Team 10 (Lawson) & OSFM Green Team (Lighty). 15 mi NW of Beatty, OR. Start 7/6. Cause: Unknown. 150,812 acres (+74,097). 0% containment. Extreme fire behavior. Timber and brush. Evacuations in effect. Road closures.
11 miles northeast of Sprague River in Klamath County. 150,812 acres, 0 percent contained. Started 7/6 . Cause – under investigation. The fire is burning in steep, rugged terrain in mixed conifer and lodgepole pine. Extreme plume dominated fire behavior with running, torching and spotting. The fire continued to burn at an intense rate through the night time hours. It has not laid down at night with a marked decrease in activity since it began. 1,926 residences are now threatened. Evacuations and road closures in effect. The fire is on Fremont Winema National Forest in the Chiloquin Ranger District. The fire is under a unified command of Northwest Team 10, a type 2 incident management team, and the Green Incident Management Team from the Oregon State Fire Marshals Office. Not one, but TWO type 1 incident management teams are getting mobilized to come to the fire. Northwest Team 2 led by Rob Allen is coming in, and also an ODF Type 1 IMT led by Joe Hessel. The Conflagration Act has been invoked by Oregon Governor Kate Brown for this fire.
Due to rapid fire movement, evacuation areas and levels are being updated as conditions change. The fastest way to find the latest information on evacuations is to subscribe to the Klamath County Sherriff's office Emergency Alerts at: http://Alerts.KlamathCounty.org

PUBLIC AND FIREFIGHTER SAFETY: There is a high potential for extreme fire behavior and movement on all sides of the fire. The Klamath County Sheriff's Office has begun to issue citations and will make arrests if necessary to keep people out of the level 3 evacuation areas. People have been advised to evacuate over the last several days, some have not and continue to travel within the restricted area. This violates the closure restrictions and interferes with firefighting and lifesaving efforts. Residents in Level 3 Evacuation Area….PLEASE EVACUATE IMMEDIATELY.

Watch for increased fire equipment traffic on area roads and highways. Do not fly drones in the vicinity of the fire; drone activity will cause grounding of all airborne firefighting resources.

SMOKE: Smoke is expected to continue to impact the local area. If you are sensitive to smoke, check air quality levels at https://fires.airfire.org/outlooks/southcentraloregon.
Jack Fire
Jack Fire. OR-UPF-000265. IMT2, NW Team 9 (Goff) & OSFM Blue Team (Magers). 20 mi E of Glide, OR. Start 7/5. Cause: Unknown. 12,533 acres (+1,596). 15% containment. Active fire behavior. Timber and brush.
Structures threatened. Evacuations in effect. Road, trail and area closures.
20 east of Glide in Douglas County. 10,937 acres, 8 percent contained. Started 7/5. Cause is being investigated. But, at this time it looks to be accidental due to malfunctioning brakes on a boat trailer. The fire is burning in timber, closed timber litter and brush on very challenging terrain. Active fire behavior with group torching running and spotting. Evacuations, area and road closures in effect. Northwest Interagency Incident Management Team #9, (type 2 IMT), and the Oregon State Fire Marshall Blue team are in unified command of the fire. Oregon Governor Kate Brown has declared the Jack Fire to be a Conflagration.
In the northwest section of the fire near Steamboat, crews have completed handline and conducted mop up 20 feet inside of the perimeter along the 4713 Road. Mop-up involves seeking out and cooling of heat sources. Today these crews will maintain, secure, and mop-up the line moving to the east utilizing dozers, handline, and hose lays. On the western edge of the fire, resources continue to brush out vegetation while holding and securing the line along the river and HWY 138. On the eastern flank, crews continue burning vegetation along containment lines moving south towards Dry Creek. In the southeast, near Dry Creek, resources have burned vegetation along containment lines to connect the 4760 Road to the areas that have been cleared of vegetation near Dry Creek and Illahee Road. The most active area of the fire is south of the river and HWY 138. Firefighters have established locations that are suitable for containment lines while providing for firefighter safety. Crews working on all sections of the fire face steep terrain and poison oak related difficulties.

Structures: Structure crews and Douglas Forest Protective Association continue to support fire operations in the Dry Creek area creating defensible space on private property and assessing structures for fuel removal. Task forces are also moving east along HWY 138, scouting additional homes and buildings for fire prevention groundwork. To date, firefighters have successfully protected community with zero structure loss.
Inversions continue to persist on the fire limiting effective use of aircraft. As conditions allow for safe flight ops, helicopters and air tankers are being used. PLEASE do not fly drones! When drones fly, fire fighting aircraft do not. Whwen you fly a drone at a fire, you are basically an arsonist. You are no hero. DON'T DO IT!!
Evacuations: All Forest Service campgrounds (Apple Creek, Horseshoe Bend and Eagle Rock) are on Level 3 evacuation GO order. The Dry Creek community as well as all residences on the Illahee Road are also in Level 3 evacuation GO order. Level 2 SET evacuations were issued from mile marker 38 to 43. This includes Steamboat Inn and residences located on Brindle Bug Road, Steelhead Caddis Road, and residences and businesses located between mile post 51 and 55 on Highway 138E. Please visit the Douglas County Sheriff's Officeinteractive evacuation map: www.dcso.com/evacuations
Closures: Highway 138 is closed to all travel from mile post 40 to mile post 55 until further notice. Use other routes to travel into the Cascades and to Crater Lake National Park.Steamboat Inn is also closed. The Oregon Department of Transportation has set an eastside 'soft closure' checkpoint at Lemolo Lake junction to allow for local access into nearby recreation areas, including Lemolo Lake. The Umpqua National Forest has issued an area closure around the Jack Fire. The full closure order and map can be viewed at
https://go.usa.gov/xGJSE.
Grandview Fire
Grandview. OR-955S-000558. IMT1, ODF Team 2 (Cline) & OSFM Red Team (Yocum). 10 mi NE of Sisters, OR. Start
7/11. Full Suppression. Cause: Unknown. 4,500 acres. 5% containment. Extreme fire behavior. Timber and brush.
Evacuations in effect. Road and area closures.
For the fourth time in less than a month, Governor Kate Brown has invoked the Emergency Conflagration Act to bring extra resources to a wildfire, this time one burning in Central Oregon.
The Grandview Fire grew to 4,000 acres Monday morning, according to fire officials. Officials say the fire was first reported in Jefferson County on Sunday afternoon and it quickly spread.
"With several large fires burning throughout Oregon, I want to reiterate how important it is for all Oregonians to be prepared and to remain vigilant about fire prevention, especially with activities that could spark fires," Governor Brown said in a statement on Monday.
The new declaration allowed for the state fire marshal to mobilize crews to the area to assist with battling the fire. Earlier this month, the Emergency Conflagration Act was invoked for the Jack Fire, burning in Douglas County and prior to that, it was invoked for the Sunset Valley Fire and the Wrentham Market Fire, both in Wasco County.
10 miles northeast of Sister s in Deschutes County. The fire is actually burning in Southwestern Jefferson County. Sisters is the closest large sized town County. 2,000 acres, zero percent contained. Started 7/11 . Cause – under investigation. The fire is burning in grass, brush, and junipers with a mix of some timber stringers. Extreme fire behavior with wind driven runs, and spotting. Structures and infrastructure threatened. The fire is on Oregon Department of Forestry protected lands and the Crooked River National
Grassland.
The fire rapidly spread through grass and juniper yesterday. Numerous resources were mobilized to the fire, including wildland engines, dozers, resources from structural agencies, and contract crews. Single engine air tankers (SEATs) and large air tankers dropped retardant on the fire until dark Sunday.

Evacuations are in place for residents in Jefferson and Deschutes counties. Information for the evacuations can be found at https://www.facebook.com/JeffersonCountyORSheriff/ for Jefferson County and https://www.deschutes.org/sheriff/page/emergency-information for Deschutes County..
Bruler Fire
Bruler. OR-WIF-210239. 10 mi S of Detroit, OR. Start 7/12. Cause: Unknown. 65 acres. Timber. IMT2 NW Team 13
(Gales) has been mobilized with inbrief today, 7/13 at 1600. Limited information at this time.
A new wildfire, called the Bruler Fire, is burning south of Detroit in the middle of the Willamette National Forest. According to the U.S. Forest Service, as of Monday night the fire has burned 25 acres and has high potential to spread.
Smoke from the fire was visible from Highway 22, Santiam Pass and the Detroit area which was devastated by wildfires in Sept. 2020. Residents in Detroit are still recovering more than 10 months after the wildfires destroyed much of the town. No structures are threatened. The cause of the fire is under investigation.
FOR MORE FIRE INFO: https://gacc.nifc.gov/nwcc/content/products/intelligence/MORNINGBRIEF.pdf?2015-06-18%2015:01:49
Oregon's Capitol Reopens to Public
After being closed to the public for 16-months as a COVID-19 safety measure, Oregon's Capitol building reopened on Monday.
The buildings closure has been a point of tension between Democratic and Republican lawmakers, as Republicans argued throughout the pandemic that everyone should have access to the Capitol.
"Last March, we consulted with infectious disease doctors and public health officials about what changes were needed to reduce the risk of COVID-19 transmission in the Capitol," House Speaker Tina Kotek and Senate President Peter Courtney said in a joint statement on Monday that announced the Capitol's reopening now that more than 70% of Oregon's adults have been partially or fully vaccinated. "In the end, we made the very difficult decision to limit Capitol entry to legislators, essential staff, and members of the press."
Republican legislators opposed closure of the Capitol stating that it is "the people's building" and should be open to the public.
In protest of the closure, some Senate Republicans routinely voted no on matters unrelated to COVID-19. In the House, Republicans refused to suspend rules that require bills be read in their entirety on final passage, slowing the pace of the session.
Tensions boiled over in the community as well. During a special legislative session in December, a group of people — some toting guns — gathered outside Oregon's Capitol to protest the building's closure to the public and other ongoing statewide coronavirus restrictions.
At one point, Republican lawmaker Rep. Mike Nearman left the Capitol, letting in protesters who had planned to occupy the Statehouse. In June, the Oregon House voted to remove Nearman, marking the first time a member has been expelled by the chamber in its 160-year history.
While the Capitol is open, and guided tours will resume July 19th, there are still parts of the building the remain inaccessible due to the Capitol Accessibility, Maintenance and Safety project taking place throughout the summer and into the fall. The Senate and House wings of the building will be closed through Dec. 31.
Last month, lawmakers concluded a historic 2021 legislative session. They are not set to return until at least late August when they'll begin discussions around redrawing the state's legislative and congressional district maps.
Jumping Worms Invading Oregon
Jumping worms, a not-so-nice pest that arrived in the United States in the 1920s as fishing bait and as hitchhikers on imported plants and soils, have vaulted into gardens and nurseries up and down the Willamette Valley corridor.
Unlike beneficial earthworms and nightcrawlers that burrow deep tunnels in the soil, aerating and releasing nutrients as they go, jumping worms stay in the debris on top and eat two to three times the amount of leaf litter as the other worms, according to Sam Chan, Oregon State University Sea Grant Extension watershed health and aquatic invasive species specialist.
Jumping worms, which are native to many parts of Asia, are easily identified by their violent thrashing, slithering and actual jumping in the air.
They are smooth, glossy gray or brown and 1.5 to 8 inches long. A clear indication is the clitellum (band), which is milky white to gray-colored, smooth and completely encircles the body of the worm. In contrast, the clitellum of common earthworms is raised rather than smooth and does not wrap entirely around the worm.
Because they have very large mouths akin to mechanical excavators, jumping worms are able to grasp and consume large amounts. With their voracious appetite, they outcompete the native microbial organisms and invertebrates that other organisms feed on. Their propensity to eat all the litter creates bare soil where invasive plants and animals move in, altering native ecosystems. They also remove the mulch that helps cool the soil and conserve moisture,
Further, the castings – or fecal material – of most worms contain extremely important microbes that help fight soil-borne plant diseases and repel insects. Worm castings also improve soil structure by diversifying the size of soil particles, which enhances moisture penetration and increases water retention. With jumping worms, the outcome is the opposite. Since their gut biome is slightly different, there aren't the same beneficial results.