The latest news stories of interest in the Rogue Valley and around the state of Oregon from the digital home of Southern Oregon, Wynne Broadcasting's RogueValleyMagazine.com
Wednesday, July 14, 2021
Rogue Valley Weather
Today– Widespread haze after 2pm. Patchy smoke before 2pm. Sunny, with a high near 95. Calm wind becoming north northwest 5 to 7 mph in the afternoon.
Thursday– Sunny, with a high near 92. Calm wind becoming north northwest 5 to 7 mph in the afternoon.
Friday– Widespread haze before 11am. Sunny, with a high near 89. Calm wind becoming northwest around 5 mph in the afternoon.
Saturday– Sunny, with a high near 94.
Sunday– Sunny, with a high near 95.
Oregon reports 340 new confirmed and presumptive COVID-19 cases, 3 new deaths
There are three new COVID-19 related deaths in Oregon, raising the state's death toll to 2,800, the Oregon Health Authority reported 340 new confirmed and presumptive cases of COVID-19 bringing the state total to 211,065.
The new confirmed and presumptive COVID-19 cases reported today are in the following counties: Baker (5), Benton (5), Clackamas (25), Clatsop (9), Columbia (6), Coos (4), Crook (7), Deschutes (6), Douglas (10), Harney (2), Jackson (48), Jefferson (4), Josephine (15), Klamath (15), Lake (4), Lane (24), Lincoln (6), Linn (9), Malheur (6), Marion (28), Multnomah (17), Polk (9), Tillamook (2), Umatilla (30), Wasco (1), Washington (36) and Yamhill (7)
Vaccinations in Oregon
Today, OHA reported that 5,005 new doses of COVID-19 vaccinations were added to the state immunization registry. Of this total, 2,779 doses were administered on July 12 and 2,226 were administered on previous days but were entered into the vaccine registry on July 12.
The seven-day running average is now 4,791 doses per day.
Oregon has now administered 2,583,281 first and second doses of Pfizer, 1,758,704 first and second doses of Moderna and 174,003 single doses of Johnson & Johnson COVID-19 vaccines.
As of today, 2,432,897 people have had at least one dose of a COVID-19 vaccine and 2,234,820 people have completed a COVID-19 vaccine series.
Cumulative daily totals can take several days to finalize because providers have 72 hours to report doses administered and technical challenges have caused many providers to lag in their reporting. OHA has been providing technical support to vaccination sites to improve the timeliness of their data entry into the state's ALERT Immunization Information System (IIS).
To date, 2,973,195 doses of Pfizer, 2,259,580 doses of Moderna and 299,100 doses of Johnson & Johnson COVID-19 vaccines have been delivered to sites across Oregon.
These data are preliminary and subject to change. Updated vaccination data are provided on Oregon's COVID-19 data dashboards and have been updated today.
COVID-19 hospitalizations
The number of hospitalized patients with COVID-19 across Oregon is 111, which is two more than yesterday. There are 30 COVID-19 patients in intensive care unit (ICU) beds, which is one more than yesterday.
The total number of patients in hospital beds may fluctuate between report times. The numbers do not reflect admissions per day, nor the length of hospital stay. Staffing limitations are not captured in this data and may further limit bed capacity. More information about hospital capacity can be found here.
Small risk of Guillain-Barré Syndrome (GBS) associated with Johnson & Johnson vaccine
Yesterday, the Centers for Disease Control and Prevention (CDC) reported that reports to the U.S. Vaccine Adverse Events Reporting System (VAERS) indicate a small risk of Guillain-Barré Syndrome (GBS) following receipt of the Johnson & Johnson (J&J) COVID-19 vaccine. About 100 preliminary reports of GBS have been filed with VAERS after the administration of 12.8 million doses of the J&J vaccine. The cases were largely reported about two weeks after vaccination and mostly in males. This pattern has not been seen with the Pfizer and Moderna mRNA vaccines after the administration of more than 321 million doses in the United States.
The Food and Drug Administration (FDA) has revised its fact sheets for the J&J vaccine, stating that "Reports of adverse events following use of the Janssen COVID-19 vaccine under emergency use authorization suggest an increased risk of Guillain-Barré syndrome (GBS) during the 42 days following vaccination."
GBS is a rare condition that damages nerve cells. The cause of the condition is unclear. According to CDC, the condition often follows a viral or bacterial infection. It has also been associated with influenza vaccination, although studies suggest one is more likely to get GBS from the flu itself than from a flu vaccine. Most people recover from GBS, but some have had permanent nerve damage.
CDC will review data related to the risk of GBS, as well as the overall benefits of the Johnson & Johnson vaccine at an upcoming Advisory Committee on Immunization Practices (ACIP) meeting.
Oregon health care worker COVID-19 vaccination rates are higher than rates among the broader public, but disparities persist
By the end of June, 94% of Oregon dentists, nearly nine in 10 medical doctors and nearly eight in 10 nurse practitioners had been vaccinated, according to new data released by OHA. Overall, more than seven in 10 health care workers in Oregon were vaccinated, outpacing the adult vaccination rate at the time. However, state data show that health care workers among American Indian/Alaskan Natives, Latino/a/x, Black and Native Hawaiian/Pacific Islander communities were under-vaccinated compared to their white counterparts. State health officials pointed out that health care professions reflect the communities from which they are drawn, and disparate rates of vaccinations based on race/ethnicity could be due to many factors, including age and structural barriers that hinder professional advancement and licensure.
Health care worker vaccination rates varied based on licensee type, age, race, ethnicity and geographic location. The data are part of a new dashboard that reports COVID-19 vaccination rates among more than 20 categories of state-licensed health care workers in Oregon. OHA will continue to monitor and update vaccination rates among these workers monthly.
OHA Director Patrick Allen said: "A fully vaccinated health care workforce is vital to patient safety and to protect the public against the pandemic. We'll continue to support health systems and state licensing boards to increase health worker vaccination rates."
State-licensed and registered health care occupations include:
Nursing: nurse practitioner, nurse anesthetist, registered nurse, licensed practical nurse, certified nursing assistant
Emergency Medical Services: paramedic, Emergency Medical Technician (EMT), EMT-Intermediate, Advanced EMT, Emergency Medical Responder (EMR)
Medicine: medical doctor, osteopathic doctor, physician assistant, acupuncturist
Dentistry: dentist, dental hygienist
Pharmacy: pharmacist, pharmacist technician
Occupational therapy: occupational therapist, occupational therapy assistant
Naturopathy: naturopathic physician
Respiratory therapy: respiratory therapist
Certified traditional health workers
Chiropractic: chiropractic physicians, chiropractic assistant
Massage therapy: licensed massage therapist
Oregon updates non-viable vaccine disclosure1,2,3
OHA's non-viable vaccine table has been moved to the Tableau dashboard. You can find that link to the weekly tab here. OHA reports updates on vaccines not being used each Tuesday in our daily media release.
| | | | |
| --- | --- | --- | --- |
| Vaccine type | Doses recalled | Non-viable, spoiled or expired | Grand total |
| Janssen COVID-19 vaccine | | 8,105 | 8,105 |
| Moderna COVID-19 vaccine | | 45,796 | 45,796 |
| Pfizer COVID-19 vaccine | | 14,204 | 14,204 |
| Grand Total | 0 | 68,105 | 68,105 |
1Updated: 07/13/21
LOCAL HEADLINES:
Jackson County Fair Opens Today
Rides are all set up and ready to welcome people back to the Jackson County Fair for the first time in two years.
EXPERIENCE THE FAIR – Entertainment all day! Amusement rides, fun games, and your favorite carnival food!
The Jackson County Expo director Helen Funk says they are bringing back old favorites like the "Super Slide" and hoping to create some new favorites as well.
The "Freak Out" is one of the fair newest rides, it was purchased just before the pandemic began and is now ready for the 2021 season. Another new attraction at the fair this year is "Rigs on the Rogue."
"Right here in the valley, we have some of the most different types of vehicles, both big and small, and you can visit them at the, on the floor of the Event Center," Funk said.
Other new events include a farm life petting zoom from Cave Junction and a pirate who is bringing his trained parrot for an educational and entertaining interaction with guests.
People can purchase tickets online in advance or at the gate during the fair. For 25 dollars you can have a week-long season pass. All admission tickets include free access to the live concerts that will be happening throughout the week. The fair begins July 14th and runs through July 18th.
FOR MORE INFO: https://attheexpo.com/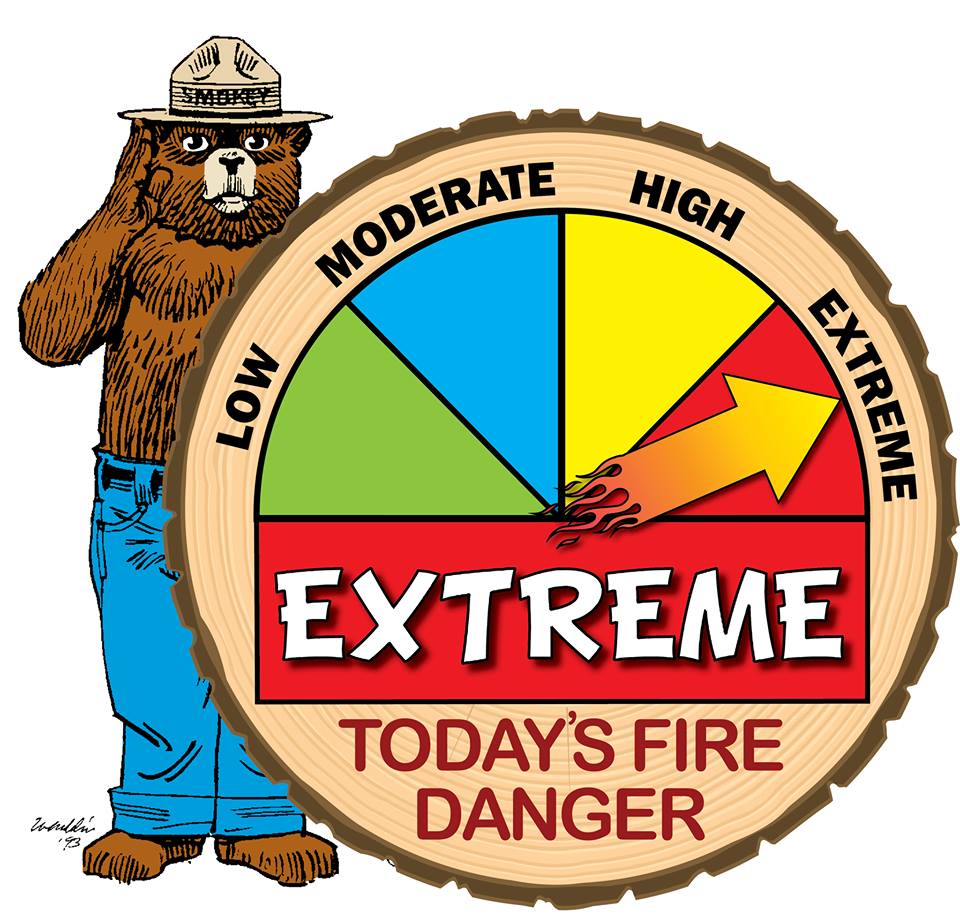 Air Quality Advisories Due To Wildfire Smoke
The Oregon Department of Environmental Quality (DEQ) issued an air quality advisory for Jackson County today due to wildfire smoke from the Bootleg Fire in Klamath County and the Jack Fire in Douglas County. DEQ expects the air quality advisory will be in place through Friday.
A press release from Jackson County Public Health noted that wildfire smoke is a complex mixture of air pollutants that are harmful to human health. Exposure to air pollutants in wildfire smoke can irritate the lungs, cause inflammation, alter immune function, and increase susceptibility to respiratory infections. Smoke levels can quickly rise and fall depending on weather factors that include wind direction and how much smoke is produced from the wildfire. Therefore, people need to be observant of the air quality during wildfire season.
Populations known to be vulnerable to wildfire smoke exposures include:
Children less than 18 years;
Adults age 65 years or older;
Pregnant women;
People with chronic health conditions such as heart or lung disease, including asthma and
diabetes;
Outdoor workers;
People of low socioeconomic status, including those who are homeless and with limited access
to medical care.
People who have had COVID-19 and are recovering from the virus.
During a wildfire smoke event, Jackson County Public Health Officials advise people to take the following precautions:
Be aware of smoke concentrations in your area and avoid the places with the highest concentrations.
Avoid strenuous outdoor activity in smoky conditions.
Stay indoors with doors and windows closed. This reduces exposure to particulate matter in the air.
Use air conditioning to keep your home cool if it becomes too warm.
Other sources of particles within the home should be reduced or eliminated: smoking, using gas, woodburning stoves or furnaces, aerosol sprays, frying or broiling meat, burning candles or incense, vacuuming.
High-efficiency particulate air (HEPA) filters and Electro-static precipitator (ESP) filters can help provide protection. The HEPA filters trap or remove harmful particles in the air.
When riding in a car, keep the windows and vents closed; turn the air conditioning on to recirculate.
Drink lots of water – staying hydrated can keep your airways moist, which will help reduce symptoms of respiratory irritation such as scratchy throat, running nose, and coughing.
People exposed to smoky conditions and who suffer from asthma or other respiratory problems should follow their breathing management plans or contact their healthcare providers.
If you must be outdoors when air quality is poor, wearing a special mask called a "particulate respirator" can also help protect your lungs from wildfire smoke. You will want to choose a mask called a "particulate respirator" that has the word NIOSH" and either "N95" or "P100" printed on it. Masks that are not NIOSH-certified may not offer protection from small particulate matter, even if properly worn.
Many people will find it difficult to use particulate respirators. It is important to make sure the respirator fits properly and that air does not leak around the sides. It is impossible to get a good seal on individuals with facial hair. If it does not fit properly, the respirator will not provide full protection and may offer the wearer a false sense of protection. Ashland Smoke Wise has information on how to wear an N95 or P100 particulate respirator properly. These masks are not designed to fit young children. In an occupational setting, particulate respirators require fit testing, ensuring a proper fit.
Particulate respirators can make breathing more difficult and lead to increased breathing rate and heart rate. They can also contribute to heat stress. Because of this, particulate respirators used by those with heart and respiratory diseases should only be done under a doctor's supervision. Even healthy adults may find that the increased effort required for breathing makes it uncomfortable to wear a respirator for more than short periods.
Check DEQ's Air Quality Index (AQI) to see real-time air monitoring data from monitors placed around Oregon. DEQ also has a mobile app for the AQI, search for OregonAir in your app store.
Rogue Valley Sees Increase In Crimes During Summer Months
Jackson County Sheriff's Sergeant Ben Weaver said there's a wide range of calls they get but there's a few they see more often in the summer compared to other months in the year.
The majority of service calls in the Rogue Valley aren't for violent crimes but officers are urging the community to be aware of what crimes are most commonly reported and where those crimes occur so they can stay vigilant.
"We're responding to disorderly conduct calls and domestic assaults, as well as any confrontations on the outlines of the county," said Weaver.
He said oftentimes those can be found at the lake, boat ramps, or any place you might find people recreating. However, confrontational and domestic calls aren't the only calls that see a shift to those locations. Weaver said they often respond to property crimes at these locations as well.
"These crimes are taking place in situations of opportunities and just the circumstances where people are leaving things of value in their cars out in the open," said Weaver.
He said his deputies try and patrol these areas proactively during the summer to show a presence and make note of how vehicles looked at certain times of the day, but the responsibility falls on the vehicle owner to prevent a situation of opportunity.
Theft and burglary don't just occur in vehicles, oftentimes it happens at homes while residents are out of town or businesses after hours.
Southern Oregon University's Criminology Department Chair Brian Fedorek said that the activities and interactions people participate in during the summer vary from other times of the year.
"One of the biggest reasons why Summer tends to have some crime increase is because our social interactions change dramatically in the summer compared to deep winter months," said Fedorek. "The sun is out a lot longer, so we're outside a lot longer."
He said people tend to vacation more often, younger people are out of school, and added that even the heat can trigger irritability. "I would also make the argument that right now because we are slowly transitioning out of the previous covid quarantines, that we are more frequently out and about," said Fedorek.
According to data provided by the Jackson County Sheriff's Office, burglary calls in the Summer significantly decreased in 2020 from previous years. Weaver said this could possibly be from people just being at home more. With restrictions lifted and more people recreating, he anticipates the department will respond to more assault and driving under the influence calls.
In an effort to prevent those motor vehicle and property crimes from rising this summer, Weaver suggested a few points for the community to remember as they head outside again.
"First and foremost, lock your doors," said Weaver. "Don't leave things of value in plain sight."
Things the department typically sees stolen from boat ramp and hiking trail parking lots are purses, backpacks, tools and even chainsaws.
AROUND the STATE of OREGON
WILDFIRE UPDATES
The Pacific Northwest will stay warm and dry into Wednesday evening with poor to moderate overnight relative humidity recoveries on the east side of the region. A broad upper-level trough will approach on Wednesday, bringing gusty winds through Cascade gaps and across the east side basins Wednesday and Thursday. Low humidity levels will also persist through Thursday afternoon east of the Cascades. The system will reduce temperatures toward seasonal normals into the weekend. No significant precipitation is expected with the system

With fire danger above average in most areas, hot, dry and breezy conditions will maintain the elevated potential for new significant fire development east of the Cascades and in southwestern Oregon. Potential could moderate some toward the end of the week if cooler weather arrives as anticipated.
Overnight west of the Cascades temperatures and humidities improved while the east side of the geographic area continued to experience above-average temperatures accompanied with low relative humidities. Skies were clear away from large fires and winds were light to moderate. Large fires experienced moderate growth. Initial attack activity was light with significant spread on some new incidents.
Bootleg Fire in Oregon is the largest fire in the nation
Bootleg. OR-FWF-210321. Unified Command: IMT1, PNW Team 2 (Allen), IMT1, ODF Team 1 (Hessel), IMT2, NW
Team 10 (Lawson) & OSFM Green Team (Hallman). 15 mi NW of Beatty, OR. Start 7/6. Full Suppression. Cause:
Unknown. 201,923 acres (+51,111). 5% containment. Extreme fire behavior. Timber and brush. Evacuations in effect.
Road closures.
The Bootleg Fire, burning near Bly and Sprague River and now into Lake County, is the nation's largest wildfire. Around 2 or 3 p.m. the wind and fire picked up again. It started spreading fiercely to the north and east, as it has been wont to do since it started July 6 on Fuego Mountain. It grew by more than three miles, fueled by extreme drought conditions, single digit humidity, and high temperatures.
The Bootleg Fire burned another 50,000 acres yesterday. Infrared mapping shows the fire size at 201,923 acres.
The fire grew by more than three miles, fueled by extreme drought conditions, single digit humidity, and high temperatures. The weather forecast shows little signs of relief.
The National Weather Service issued a red flag warning through 8:00 p.m. on Wednesday. A heat advisory has also been issued until 8:00 p.m. on Tuesday. Fire managers noted the potential for rapid spread in the coming days.
A new fire started in the Moccasin Hills area yesterday and led to the evacuation of several residents. Local
firefighters, both structural and wildland crews, and air support teamed up and quickly suppressed the five-acre fire. On the southern edge of the fire, crews were successful in keeping the main fire out of populated areas. The fire burned mostly toward the southeast yesterday. Crews built six miles of dozer line toward Obenchain Reservoir.
Firefighters continued to connect and improve dozer lines, install hose lays to extinguish hot spots near structures and along the control, and assess and remove fire damaged trees. The fire is impacting a high-voltage transmission line. Fire officials and representatives with the power companies are working together on plans to safely re-
energize the lines as soon as possible.
Fire crews on the North Zone of the fire identified and began to suppress three new fires totaling 150 acres in the Summer Lake area. These crews also built dozer line and set up hose lays to keep the fire west of Forest Road 28. On the fire's western flank, crews made good progress in improving dozer line and extinguishing hot spots. Last night, crews continued preparations for burn-out operations down the western slope of Fuego Mountain. Along the northern flank, crews are scouting new locations for safe, effective primary and secondary containment lines.
Yesterday, structural fire crews identified and extinguished spot fires around structures. Firefighters on the northeast side of the fire helped safeguard 11 people when winds pushed the fire toward them. Residents and firefighters retreated into a meadow, a safety zone. Once the fire passed, firefighters returned to the area and continued firefighting around the structures. These firefighters also assisted residents in two vehicles when they became trapped by the fire and were unable to escape because of downed trees. The firefighters removed the trees from the roadway, allowing the group to safely escape. Other crews extinguished small fires around structures along the fire's south end.
The emergency closure of the Bootleg Fire area on the Fremont-Winema National Forest was expanded for the second time in a week due to increased fire activity and movement. Additionally, the Lake County Sheriff's Office of Emergency Management has now identified areas for evacuation readiness in western Lake County due to the
fire moving towards Lakeview, and is notifying residents and recreating public in the Level 3 area South of the Sycan River, south of Forest Roads 3239 and 28, and the Gearhart Wilderness west of Forest Road 3372 in Lake County.
Level 2 areas include the Sycan Marsh area, Chocktoot Creek Drainage area, west of Forest Road 28 and
east of Forest Road 3372, north of Forest Road 34, and through the area that includes
Corral Creek Campground and Mitchell Monument.
Level 1 areas include from the northeast at the Lake County line, through the Yamsay Mountain Recreation Area,
extending east to the south of Thompson Reservoir to Winter Rim Recreation Area, then south near the Forest Boundary, then following Chewaucan Road south to Forest Road 34. The expanded forest closure order is on National Forest System lands south of Silver Lake Road between U.S. Highway 97 and Oregon State Highway 31; west of Oregon State Highway 31 and U.S. Highway 395; north of the Oregon-California Stateline; northeast of Willow Valley Road, Langell Valley Road, Bly Mountain Cutoff Road, Oregon State Highway 140 and Sprague River Road to U.S. Highway 97; and east of U.S. Highway 97 between Chiloquin and Silver Lake Road.
Residents and Forest visitors are asked to avoid the fire area and related roads while suppression activities continue. Anyone driving in the area should watch for increased traffic and vehicles associated with wildland firefighting. Violations of the closure order are punishable by a fine of not more than $5,000 for an individual or $10,000 for an organization, or imprisonment of not more than 6 months or both.
Jack Fire:
Jack Fire. OR-UPF-000265. IMT2, NW Team 9 (Goff) & OSFM Blue Team (Magers). 20 mi E of Glide, OR. Start 7/5. FullSuppression. Cause: Unknown. 13,795 acres (+1,262). 15% containment. Active fire behavior. Timber and brush.
Structures threatened. Evacuations in effect. Road, trail and area closures.
The Jack Fire is currently estimated at 13,795 acres and is 15% contained. Northwest Incident Management Team 9 says the increase in acres is within the planned control lines.
North of Highway 138, firefighters continue to make good progress to strengthen, hold and secure containment lines in the northern and eastern portions of the fire. Mop-up continues along the perimeter of the fire. Crews continue burning vegetation along containment lines moving south towards Dry Creek and north to connect with lines established along the 4713 Road.
In the Dry Creek area, crews plan to complete work burning vegetation around the structures to prevent fire encroachment. South of Highway 138, crews have established anchor points on the western and eastern flanks.
State highway 138E from Steamboat Creek to mile post 55 is closed to vehicle traffic. Steamboat Inn is also closed. Oregon Department of Transportation has set an eastside 'soft closure' checkpoint at Lemolo Lake junction to allow for local access into nearby recreation areas, including Lemolo Lake.
Four injuries have been reported because of the fire. 243 structures are being threatened. The cause of the fire is still under investigation.
Grandview Fire:
Grandview. OR-955S-000558. IMT1, ODF Team 2 (Cline) & OSFM Red Team (Yocum). 10 mi NE of Sisters, OR. Start
7/11. Full Suppression. Cause: Unknown. 5,732 acres (+1,232). 10% containment. Extreme fire behavior. Timber and
brush. Evacuations in effect. Road and area closures.
Sisters, OR – Despite continued hot and breezy afternoon conditions, fire behavior has been moderate on the Grandview Fire, which is still estimated to be approximately 5,723 acres burning on private lands protected by the Oregon Department of Forestry and the Crooked River National Grassland managed lands. Firefighters were able to make good progress holding and securing lines around the fire today.
Heavy air tankers dropping retardant were able to assist crews constructing fire line on the southeast portion of the fire while structure protection units led by the Oregon State Fire Marshal's office continued point protection efforts. This work will tie into existing dozer line on the northeast section of the fire where firefighters are holding the line and beginning to mop up the perimeter to achieve additional containment.
The southwest portion of the fire held within existing fire lines today and crews were able to begin securing fire lines and mopping up. The northwest portion of the fire saw some increased activity this afternoon, but crews and dozers have been actively engaged in constructing fire line and have been assisted by helicopters cooling hot spots.
The National Weather Service has issued a Red Flag Warning for westerly winds 10-20 mph (gusts to 25 mph) coupled with low relative humidity on Wednesday and Thursday. This will challenge efforts to keep the fire within established control lines.
For up-to-date information on the Grandview Fire, please visit: https://inciweb.nwcg.gov/incident/7651/
There are evacuation notices in place issued by the Jefferson County Sheriff's Office and Deschutes County Sheriff's Office. Those can be found here: https://arcg.is/5P4LS
Bruler Fire:
Bruler. OR-WIF-210239. IMT2, NW Team 13 (Gales). 10 mi S of Detroit, OR. Start 7/12. Full Suppression. Cause:
Unknown. 90 acres (+25). Timber. Moderate fire behavior.
The Bruler Fire is burning south of Detroit in the middle of the Willamette National Forest. According to the U.S. Forest Service, as of Tuesday afternoon, the fire has burned 100 acres and has high potential to spread.
Smoke from the fire was visible from Highway 22, Santiam Pass and the Detroit area which was devastated by wildfires in Sept. 2020. Residents in Detroit are still recovering more than 10 months after the wildfires destroyed much of the town. No structures are threatened. The cause of the fire is under investigation.
Darlene Fire:
Darlene. OR-PRD-000572. IMT3. 1 mi E of La Pine, OR. Start 7/13. Full Suppression. Cause: Unknown. 1,500 acres.
0% containment. Extreme fire behavior. Timber and brush. Evacuations in effect. Road and area closures. IMT2, NW
Team 6 (Sheldon) has been mobilized.
New fire forces Level 3 "GO" evacuations outside La Pine. The Darlene Fire was first reported at about 1:30 p.m. Tuesday as a ten-acre fire about two miles southeast of La Pine. The blaze quickly grew to about 600 acres by 6:30 p.m.
Officials say crews are facing extreme fire behavior as the flames push to the southeast. They've called in large air tankers to support ground efforts.
The fire prompted Level 3 "GO" evacuation orders outside of La Pine, Central Oregon Fire said. The Deschutes County Sheriff's Office says La Pine High School is being set up as a temporary evacuation point, while the La Pine rodeo grounds will be open for those with animals.
NWCC INFO: https://gacc.nifc.gov/nwcc/content/products/intelligence/MORNINGBRIEF.pdf?2015-06-23%2021:26:00
Tips to save time, money, and stress during wildfire evacuations
The Bootleg, Jack, and Grandview wildfires have sparked several evacuation orders. The Oregon Division of Financial Regulation has wildfire insurance resources available to help people in each evacuation level.
Completing these tasks can help save you and your family time, money, and stress before, during, and after a wildfire.
Level 3 evacuation: If you receive the level 3 order, leave your home as soon as possible.
When it is safe, let your insurance company know that you have been ordered to evacuate. Confirm your policy coverage, deductible, and specific coverage limits.
Save all receipts. Many insurance companies will help cover expenses such as lodging, food, and pet boarding.
Work on a home inventory list.

Look through photos and videos to help recall personal items. Pay close attention to what is in the background and look for smaller items, such as jewelry.
To the best of your ability, write down the age, original cost, and replacement cost of each item.
Level 1 and 2 evacuation:
Contact your insurance company to check your policy.

Ask about deductible and specific coverage limits
Ask about auto coverage. You need comprehensive coverage on your vehicle to cover damage caused by a wildfire.

Make a quick home inventory.

Take photos of each room in your home. Do not forget storage areas, such as the attic, shed, and garage.
Check your insurance company's website for an app or checklist that will help.

Build a financial backpack.

Gather important financial documents, such as passports, Social Security cards, insurance policies, titles, deeds, and financial accounts.
Make copies or scan them to your phone or computer.

Place all of the information with your go-bag of emergency supplies so this information is with you when you need to evacuate.
Outside of evacuation zone: The time to prepare is now.
Follow the disaster preparedness tips provided by the division at dfr.oregon.gov/preparenow.
More resources are available on the division's wildfire insurance resources page.
If you have questions about insurance coverage, speak to your insurance company or agent. If you still have questions or concerns, the Division of Financial Regulation consumer advocacy team can help.
• Call 888-877-4894 (toll-free)
• Email .insurancehelp@oregon.gov">dfr.insurancehelp@oregon.gov
• Visit dfr.oregon.gov
###
About DCBS: The Department of Consumer and Business Services is Oregon's largest business regulatory and consumer protection agency. For more information, visit dcbs.oregon.gov.
About Oregon DFR: The Division of Financial Regulation is part of the Department of Consumer and Business Services, Oregon's largest business regulatory and consumer protection agency. Visit dcbs.oregon.gov and dfr.oregon.gov. — Oregon Dept. of Consumer & Business Services
Oregon's Unemployment Rate Drops to 5.6% in June
Oregon's unemployment rate dropped from 5.8% in May, as revised, to 5.6% in June. Oregon's unemployment rate has gradually declined each month this year, after ending last year at 6.3%. Meanwhile, the U.S. unemployment rate ticked up from 5.8% in May to 5.9% in June.
Despite the recent declines in Oregon's unemployment rate, a large group of the unemployed have had difficulty regaining employment. The number of Oregonians unemployed for 52 weeks or more remains elevated at about 40,000 in June, compared with an average of about 8,000 during the three years prior to the recession.
In Oregon, nonfarm payroll employment grew by 7,500 in June, following monthly gains averaging 10,100 in the prior five months. Monthly gains in June were largest in health care and social assistance (+2,400 jobs); other services (+1,700); transportation, warehousing, and utilities (+1,000); leisure and hospitality (+1,000); and wholesale trade (+800). Only one major industry shed more than 300 jobs in June: construction (-900).
Leisure and hospitality accounts for the bulk of Oregon's jobs not recovered since early 2020. It employed 169,500 in June, and added only 1,500 jobs in the most recent three months. The industry is still 46,800 jobs (-22%) below its peak month of February 2020, so it accounts for 45% of overall nonfarm payroll jobs yet to recover from Oregon's pre-recession peak.
Local government employed 208,900 in June, which was 21,400 jobs below its pre-pandemic employment level of 230,300 in February 2020. With jobs still down by 9%, this industry has experienced the second largest percent reduction in that time, behind only leisure and hospitality.
Manufacturing employed 182,100 in June and remains substantially below its pre-recession total of 195,800 in February 2020. The industry was slowly declining in the second half of 2019, then plunged 15,700 jobs at the outset of the COVID recession. The manufacturing industries dropping the largest percentage over the past 24 months include primary metals manufacturing (-3,300 jobs, or 36%), transportation equipment manufacturing (-2,100, or 16%) and fabricated metals manufacturing (-1,500, or 9%).
While most major industries still employ fewer workers than in February 2020, two industries increased their employment levels throughout the past couple of years. Transportation, warehousing, and utilities added 4,400 jobs, or 6%, since prior to the recession. Similarly, state government gained 1,500 jobs, or 4%, in that time. Professional and technical services has also grown and now employs 3,100 jobs, or 3%, more than its pre-recession peak.
The Oregon Employment Department plans to release the June county and metropolitan area unemployment rates on Tuesday, July 20, and the next statewide unemployment rate and employment survey data for July on Tuesday, Aug. 17.
To file a claim for unemployment benefits or get more information about unemployment programs, visit unemployment.oregon.gov.
Equal Opportunity program — auxiliary aids and services available upon request to individuals with disabilities. Contact: (503) 947-1794. For people who are deaf or hard of hearing, call 711 Telecommunications Relay Services. Oregon Employment Department
Oregon Arts Commission partners with The Ford Family Foundation to create a statewide Artist Registry
Ensuring artists' access to funding opportunities and building a case for more artist resources are the goals of a new statewide Artist Registry created by the Oregon Arts Commission in partnership with The Ford Family Foundation.
Professional artists from across Oregon are encouraged to sign up for the registry by completing a brief survey about themselves and their artistic practice. The hope is to reach and connect with as many Oregon artists as possible, including those who haven't previously accessed funding programs.
"We know there are many more working artists throughout the state than we currently have in our database," said Eleanor Sandys, the Arts Commission's Interim Visual Arts Coordinator. "Our hope is to update and expand our artist network so that we can better support the diverse artists in Oregon's many communities."
"We're pleased to continue a longstanding partnership with the Arts Commission to reach and support the growth of the artists of Oregon," said Anne Kubisch, president of The Ford Family Foundation.
Once established, the Artist Registry will allow the Arts Commission and The Ford Family Foundation, as well as other funding partners, to distribute information about upcoming funding opportunities. It also will create more comprehensive data about Oregon artists for planning and advocacy purposes.
While the Artist Registry will remain open, artists are strongly encouraged to sign up by Sept. 30 to establish a base registry.
Oregon Arts Commission
The Oregon Arts Commission provides leadership, funding and arts programs through its grants, special initiatives and services. Nine commissioners, appointed by the Governor, determine arts needs and establish policies for public support of the arts. The Arts Commission became part of Business Oregon (formerly Oregon Economic and Community Development Department) in 1993, in recognition of the expanding role the arts play in the broader social, economic and educational arenas of Oregon communities. In 2003, the Oregon legislature moved the operations of the Oregon Cultural Trust to the Arts Commission, streamlining operations and making use of the Commission's expertise in grantmaking, arts and cultural information and community cultural development.

The Arts Commission is supported with general funds appropriated by the Oregon legislature and with federal funds from the National Endowment for the Arts as well as funds from the Oregon Cultural Trust. More information about the Oregon Arts Commission is available online at: www.oregonartscommission.org.
The Ford Family Foundation's Visual Arts Program
The Visual Arts Program honors the late Hallie Ford, co-founder of The Ford Family Foundation, who left a legacy based on an interest in and a lifelong support of the visual arts. The Program helps Oregon's most promising, established visual artists actively pursue their work. It also seeks to enrich Oregon's visual arts ecology by growing centers of excellence. The program, at times in collaboration with state and national partners, supports creative-work time and space, provides resources to artists at a crossroads in their practice, engages arts writers and curators in critical conversations, and makes investments in Oregon visual arts institutions. More information can be found at www.tfff.org
Transportation Secretary Pete Buttigieg Visits Oregon For An Infrastructure Tour Today
Congressman Peter DeFazio is bringing U.S. Transportation Secretary Pete Buttigieg to Oregon for an infrastructure tour on Wednesday.
DeFazio is the Chair of the House Transportation and Infrastructure Committee.
A release said the two will travel to Corvallis and the Eugene/Springfield area to highlight the benefits that infrastructure investments provide to the economy, job creation, transportation safety and the fight against climate change.
The release said the DeFazio-authored INVEST in America Act will create "…good-paying jobs to rebuild and reimagine America's surface transportation and water infrastructure".
In a statement, DeFazio said the INVEST act would make historic investments in transit and electric buses as well as reduce local air pollution.
Buttigieg and DeFazio will first stop in Corvallis for a road safety event at the South Gate Plaza Crosswalk and then will tour the Lane Transit District's new electric buses in Eugene.
Back to the RogueValleyMagazine.com Homepage