The latest news stories of interest in the Rogue Valley and around the state of Oregon from the digital home of Southern Oregon, Wynne Broadcasting's RogueValleyMagazine.com
Thursday, August 5, 2021
Rogue Valley Weather
Today– A 20 percent chance of showers and thunderstorms before 11am. Widespread smoke, mainly before 8am. Mostly sunny, with a high near 84. Light and variable wind becoming northwest 5 to 10 mph in the afternoon.
Friday– Patchy smoke. Sunny, with a high near 90. Calm wind becoming north northwest around 5 mph in the afternoon.
Saturday– Areas of smoke. Sunny, with a high near 94. Calm wind becoming northwest around 5 mph in the afternoon.
Sunday– Mostly sunny, with a high near 88.
Monday– Sunny, with a high near 95.
LOCAL HEADLINES:
Oregon Covid Report Shows People In Jackson and Josephine Counties More Than 30 Times More Likely To Die
There has been one constant pattern in the data in every surge the state of Oregon has suffered during this pandemic. First, the cases go up, followed a week later by the number of patients in the hospital, followed a week later by a rise in deaths from the virus. The delta variant is proving to be no different and is deadly for the unvaccinated.
Since the start of July when cases finally bottomed out from the spring surge and the delta variant began taking hold, cases in Oregon have nearly quadrupled. For the most part, that rise has been seen across nearly all counties. Multnomah County went from 139 cases in a week to 580. Over that same time, Linn County went from 74 to 207. The difference is in the number of cases per capita, and how areas with more of the unvaccinated are suffering at a far worse rate. COVID cases in Oregon increased 92% last week.
Counties with high vaccination rates have vastly dropped their surge hospitalizations while the counties that lack in shots are hitting all-time record highs.
Washington County has the highest vaccination rate at 76%. Despite going up over four-fold in the number of new cases, its weekly total of new cases for the 7-day period ending August 4 was 472. That measures out to 7.6 new cases per 10,000 people.
On the other end of the spectrum, Umatilla County has the worst vaccination rate for counties with at least 50,000 people: 44%. Over the last 7 days, 411 new cases were reported in the county, equaling out to 50.4 new cases per 10,000 people.
One of the biggest hotspots right now is in Southern Oregon, and it's proving to also be the deadliest.
Jackson County is home to over 223,000 people and yet only posts a vaccination rate of 55%. Over the past 7 days, 684 new cases of the virus have been confirmed. That's 37.3 new cases per 10,000 people. That's a number which has been sharply on the rise — in the previous 7 days the county had 343 new cases, and 226 the week before that.
Following the pattern that comes with each surge, hospitalizations are now on a dangerous rise.
Between Jackson and neighboring Josephine County (which only has a 49% vaccination rate), there are 92 patients hospitalized with COVID. That's the highest for those two counties at any time during the entire pandemic. Their previous high was only 69 on January 2, 2021. This is for a region where 53 of the 57 available ICU beds are already taken.
To compare, in northwest Oregon, between Multnomah, Clackamas, Washington, Tillamook, Clatsop, and Columbia counties, there are 151 COVID patients hospitalized. While still a lot, it's still 12% less than during the peak of the spring surge in May, and 53% less than the all-time peak during the winter surge right after Thanksgiving.
Since the Delta variant began taking hold a the start of July, the 2-week period for related deaths to follow is now in full swing. So for a good baseline, let's look at the death counts since July 13.
Through August 4, a total of 54 deaths have been reported by Oregon Health Authority. Washington and Multnomah counties each reported only one.
This means that one in every 724,820 residents have died from the delta surge in Washington and Multnomah counties where vaccination is high.
But in Jackson County, where vaccination is low, the death count is 10 and in Josephine County, it's 3. That means — combined between the two counties, one in every 23,831 have died since July 13 from COVID-19.
It means people in Jackson and Josephine counties are over 30 times more likely to die during the delta surge than people in Multnomah and Washington counties. And with ICU beds in the two low vaccination counties running out, that number is likely to only get worse.
The simple answer is to get everyone vaccinated as quickly as possible, but simple is easier said than done.
For Jackson County to reach the state goal of an 80% vaccination rate by the end of August, it will need 1632 people vaccinated each day. That's the highest for any county in the state. The average number of people getting a vaccination shot over the past 7 days in the county is only 157. That's more than 10 times less than the daily number that Jackson County needs.
Oregon is proving to be no different than other states across the country with the rise in cases from the delta variant. And while no county is proving immune from the case count, it's the vaccinated ones that are able to keep the death count down.
The numbers show the obvious truth in life or death clarity: vaccines save lives.
Public Invited to Comment on Federal Grant Awards in Jacksonville and Independence
The cities of Jacksonville and Independence have received grants through the federal Historic Preservation Fund, administered by Oregon State Historic Preservation Office to fund the following local preservation project.
Jacksonville, Jackson County
City of Jacksonville Fire Department, 180 N 3rd Street
$12,000 grant funds
This site includes the City of Jacksonville Fire Department, a structure that was constructed in approximately 1953. This site is within the City of Jacksonville's National Historic Landmark District. The City is working on a seismic retrofit of the existing fire hall. The scope of work for this grant funding is to conduct an archaeological review of the area below the station. The City will contract with a professional archaeological monitor from the Southern Oregon Laboratory of Anthropology (SOULA) for consultation, monitoring, testing, limited feature recovery, site documentation, and report preparation to meet or exceed current SHPO guidelines. The City will demolish the existing slab foundation, at which point the archeologist will review the site, and monitor excavation, and provide a report on findings.
Independence, Polk County
386 Monmouth Street
$4,283 grant funds
The grant will fund the repair of three windows.
This notice serves to make the public aware of the projects and solicit comments pursuant to Section 106 of the National Historic Preservation Act and the National Environmental Policy Act. The comment period is open for 30 days from the date of this announcement. To provide comments or learn more information about this project visit the federal grant public comment section of our website or contact Kuri Gill at i.Gill@oregon.gov">Kuri.Gill@oregon.gov or 503-986-0685.
The National Historic Preservation Act of 1966 authorizes a program of federal matching grants, known as the Historic Preservation Fund, to assist the various states in carrying out historic preservation activities. The Program is sponsored by the U.S. Department of the Interior, National Park Service, and in Oregon, is administered through the Oregon State Historic Preservation Office. For information about the grants contact Kuri Gill at 503-986-0685 or by e-mail: i.Gill@oregon.gov">Kuri.Gill@oregon.gov. — Oregon Parks and Recreation Dept
Keep Oregon Green Billboard Art Contest Deadline is August 9th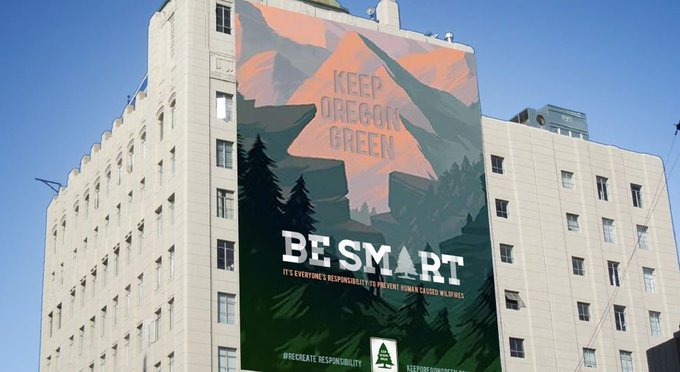 Time is running out! The deadline is 5pm, August 9th! Keep Oregon Green is asking Oregonians of all ages to create & submit art entries & share their vision for keeping Oregon free of wildfire. Billboard art contest details: https://keeporegongreen.org/kog-billboard-contest/ – #keeporegongreen #oregonouroregon
AROUND the STATE of OREGON
State Takes Unprecedented Steps to Hire Additional Staffing Capacity to Process Emergency Rental Assistance Applications
Concerned with the speed at which rental assistance is getting in the hands of Oregonians, Oregon Housing and Community Services (OHCS) is taking multiple steps to make rental assistance resources available to Oregonians across the state, including the hiring of an outside vendor to assist partners with their backlog of applications.
"Across much of the state applications are moving," said Andrea Bell, Director of Housing Stabilization. "Most of the additional capacity from our third-party vendor will help those agencies serving the tri-county area, where we are most concerned with the speed at which assistance is getting in the hands of tenants. As the state housing agency, we will continue taking bold action to stabilize renters."
Historically in Oregon, rental assistance application processing takes place at the local level. OHCS has expanded to bring on an additional 63 staff and contractors to process applications and help tenants finalize their incomplete applications. The agency is currently working with a vendor to more than double that number. This unprecedented move will ensure applications are processed as quickly as possible and will provide much needed support to local administrators and the Oregonians they serve.
"Investing in an equitable recovery is something we have an unwavering commitment to," said Margaret Salazar, Executive Director of OHCS. "Workers and families across the state are just beginning to recoup from the trauma and economic hardship caused by the COVID-19 pandemic, we must do all we can, and use all tools available to protect them from becoming unhoused during this vulnerable time."
Tenants applying to the Oregon Emergency Rental Assistance Program (OERAP) can receive help with bills to ensure they stay stably housed while qualifying for additional eviction protections.
The Centers for Disease Control and Prevention's (CDC) issued a new moratorium on evictions yesterday but the limited version does not provide universal coverage. In Oregon, renters have additional protections for nonpayment of rent if they apply for rental assistance. To ensure tenants struggling to pay rent and utilities are served as quickly as possible, OHCS is shifting outside of the normal agency role temporarily to provide additional support especially to the Metro area which has seen the greatest number of applicants.
The Oregon Emergency Rental Assistance Program is open and accepting applications and can cover current, future and back rent, along with utilities. This is the first time the agency has run a statewide portal where Oregonians can access a singular application regardless of region. The centralized portal increases language access, transparency and allows the state to target additional resources to Community Action Agencies with backlogs. The application is available to all individuals living in Oregon, regardless of immigration status. Tenants who fear they may fall behind should find out if they qualify and apply today at oregonrentalassistance.org. Spanish speakers in need of assistance should contact the Oregon Human Development Corporation, 1 855-215-6158.
OHCS cannot provide legal advice. If a tenant receives a notice of eviction for nonpayment, they should call 2-1-1 immediately to get directly connected to information and resources. Additional nonpayment of rent eviction information about legal protections are available at the Oregon Law Center website. Renters who have gotten court papers about an eviction can call the Eviction Defense Project line (888-585-9638) or email EvictionDefense@oregonlawcenter.org
OERAP is working with a variety of culturally specific organizations, community-based groups and landlord partners to spread the word about rental assistance. Resources are available to help prevent evictions and ensure basic housing security for Oregonians struggling to stay housed during the global pandemic. To help get the word out about these important resources please visit the community partner page of the oregonrentalassistance.org website to download the latest flyers and social media tiles.
WILDFIRE UPDATES
Fire weather factors will reach a peak today and Friday as the weather pattern shifts over the region. West to southwest winds will become more of a factor in central Oregon today as a cooling trend begins, but instability and thunderstorms remain a threat for central and eastern Oregon. Some of these storms could become strong.
Over the past week there have been 3,000 lightning strikes igniting new Oregon wildfires.
On Friday the thunderstorm threat diminishes but increasing west winds will expand to include central and eastern Washington. The cooling trend will last through Sunday with some light rain possible at times over western Washington and northwest Oregon. The weather pattern is changing significantly over the next few days so monitor NWS forecasts closely for fire weather details and red flag warnings for your local area.
Dry and unstable weather will contribute to fire weather problems again today with lightning triggering some new starts over sections of central and eastern Oregon. Thunderstorms could become severe over eastern Oregon as this pattern shift occurs. Westerly winds will increase today along the east slopes of the Cascades in Oregon and expand to central and eastern Washington on Friday and Saturday. This wind shift represents a significant change from conditions experienced for the last week or so. Holdover fires exposed to increasing winds are likely to grow rapidly.
Southwesterly winds yesterday brought smoke to the area from fires burning in northern California. The smoke was helpful in that it created overcast skies that allowed less solar radiation to the active fire and kept temperatures cooler. Overcast skies, from clouds or smoke, also dampen updraft winds that fuel active fires. Think of a chimney on a wood stove. If the flue is completely open, the heat from the fireplace is drawn upward and the updraft feeds oxygen to the fire. If the flue is somewhat closed, the updraft is lessened, and more heat stays in the woodstove and the fire burns more slowly.
With fires burning across the West, more people are impacted by smoke. For most people, smoke is a nuisance. But some people are more sensitive to smoke and it can be dangerous for them. At some levels, smoke can be dangerous to everyone. The best way to mitigate the impacts is to limit your time outside, and when you are outside, avoid strenuous activity so less smoke is drawn into your lungs.
Smoke from wildfires burning in Northern California and in Oregon is degrading air quality across Southern Oregon, the department said in a release. On Wednesday morning an air quality monitor at Klamath Falls' Peterson Elementary School measured an air quality index reading of 157 which is considered unhealthy.
Health officials advise citizens to refill inhalers and air out buildings when smoke levels return to more healthy levels. Most face masks don't protect from the harmful particles in smoke, the department said. Only N95 or P100 respirators that are fitted to the user and approved by the National Institute for Occupational Safety & Health.
Up-to-date local air quality readings and maps can be found here: https://oraqi.deq.state.or.us/home/map
Oregon OHSA is adopting two new temporary rules regarding wildfire smoke and heat.
The wildfire smoke rule requires an employer to take action to protect workers who are outside when the Air Quality Index goes above 101. The heat rule applies to employer-provided housing. If the indoor temperature is above 78 degrees, then the employer needs to provide areas where employees can cool off.
This public lands link is super helpful to check before you head outdoors. The Keep Oregon Green website carries ODF's public use restrictions. Click the link for up-to-date information: https://keeporegongreen.org/current-conditions/
BOOTLEG FIRE:
For the third consecutive day, a Red Flag Warning and Fire Weather Watch are in effect for this afternoon and evening. Thunderstorms associated with the edge of a cold front are forecast for today and are likely to bring gusty and erratic winds. Yesterday, smoke and ash from the Antelope Fire in northern California filled the sky, helping to somewhat moderate fire behavior.  Despite the conditions over the past two days, the Bootleg Fire line is holding with no spot fires.
Fire activity has increased inside the fire perimeter, however. There remain patches of unburned fuels where the fire can spread and single- and group-tree torching has been observed. Snags and other hazard trees are common and crews and heavy equipment are still actively working the fire area.
As a reminder, the Fremont-Winema National Forest remains closed north of Oregon State Route 140. Public entry to the burn area is unsafe. U.S. Forest Service Renewable Resources Staff Officer Sean Ferrell commented: "We know you care for our firefighters and want to help in any way you can. The best thing you can do is be patient and honor the closure to give firefighters space so they can work safely."
The Alaska Incident Management Team will transition command back to the Pacific Northwest Team 2 on Friday.
Community Meeting: Join us for a virtual community meeting tonight on Facebook live at 6:30 pm and streaming at the Paisley Community Center. Join us at www.facebook.com/BootlegFireInfo  
Evacuations:  Lake County expanded the Level 1 (Get Ready) evacuation boundary to include the area north of Summer Lake. The expanded area extends from Mile Post 73 on Highway 31 north to Picture Rock Pass and east of the highway to include the Ana Subdivision. A Level 2 (Be Set) evacuation remains in place from milepost 73 on Highway 31 south to Monument Rock. A Level 3 (GO NOW!) evacuation remains in place for all areas within and adjacent to the Bootleg Fire perimeter, including Yamsay Mountain, Thompson Reservoir, and the Sycan Marsh to the top of Winter Rim. The best way to view the evacuation designation boundaries and details is on the interactive map available at tinyurl.com/bootlegevac
Closures:   An emergency closure order is in effect for the Bootleg Fire on the Fremont-Winema National Forest to protect public and firefighter safety. All travel or entry into the area is prohibited.  The full closure order and map are available on the website under Alerts and Closures at https://www.fs.usda.gov/alerts/fremont-winema/alerts-notices   
Red Cross Evacuation Shelters: For information or assistance: 1-800-Red-Cross (www.redcrossblog.org/disaster)  
Smoke:  Wildland fire smoke can adversely impact your health. Be aware of the smoke near you and learn about ways to mitigate smoke impacts. See the air quality near you at https://fire.airnow.gov and learn how to keep smoke out of your home at https://www.epa.gov/smoke-ready-toolbox-wildfires  
Insurance Assistance: For additional information on submitting insurance claims after losing your home or property to a wildfire, please visit https://dfr.oregon.gov/insure/home/storm/Pages/wildfires.aspx or call the state's team of consumer advocates at 888-877-4894 (toll-free).  
MIDDLE FORK COMPLEX:
Twelve individual fires make up the Middle Fork Complex, with seven fires at 100% containment. The most active fire in the complex is the Gales Creek Fire at 1,822-acres with 0% containment located south of the Forest Road 18 near the 1835 road.
Indirect suppression efforts will continue with heavy equipment building contingency lines to the west and south on the 1824 road. Crews will re-open containment lines from previous fires and install hose lays to keep fire away from private land and structures to the northwest.
The Kwis Fire is the second largest fire in the complex and is 25% contained. The 333-acre Fire is the closest fire to Oakridge, located south of Forest Road 24 near Salmon Creek. Yesterday, the west flank of Kwis fire was tied into Salmon Creek. The focus today will be along the eastern flank.
On the 184-acre Ninemile Fire, engines and crews will continue to build containment lines and prep for indirect containment line on the 1832 Road. Crews will continue mop up and patrol at the five-acre Packard fire, securing the fire edge.
The following fires are 90-100% contained beginning from north to south: Symbol Rock, Journey, Devils Canyon, Warble, Larison Cove, Way and Windfall. Crews will continue to monitor, patrol and secure line as needed. Hose lays along containment lines will be installed.
SKYLINE RIDGE COMPLEX:
Smoke from fires burning in northern California dampened fire activity on the Skyline Ridge Complex today. The complex is comprised of 24 fires burning on public and private lands east of Canyonville. The smoky conditions allowed firefighters to make progress corralling the blazes. The fires showed occasional activity, making short runs but overall growth was limited. An infrared flight last night mapped the complex at 981 acres. Containment is estimated at 0%.
On the Poole Creek Fire, crews with heavy equipment began opening roads in preparation for a sustained suppression effort. In the Upper Cow Creek area, firefighters completed a containment line around the Ike Butte Fire and laid hoses to support mop-up operations. Crews had a successful day on the Galesville Fire, securing the fire line and installing hose lays. Firefighters were also engaged on O'Shea Creek, Packard Creek, Hill Creek and Sweat Creek Fires.
The fire area remains under a Red Flag Warning due to low humidity and unstable conditions. The forecast calls for increasing humidity, which will also moderate fire behavior in finer fuels. Larger fuels, such as downed trees, will continue to burn, especially on ridge tops. Smoke accumulations in the lower drainages could pose driving hazards for firefighters and the public.
Crews on night shift plan to take advantage of smoky conditions and higher humidity to engage several small fires directly. The focus will be on the O'Shea Creek, Beale Creek and Turkey Creek Fires with the aim to hold and improve the fire's perimeter control lines.
JACK FIRE/ROUGH PATCH COMPLEX:
Newer fires on the North Umpqua Ranger District are requiring more of firefighters' attention this week than the month-old Jack Fire, officials said Tuesday.The Chilcoot II Fire, which was identified Monday after storms moved through the area Sunday evening, has been staffed around the clock since to protect a vital communications tower. Heavy equipment has cut line on both flanks while crews build and reinforce handlines on.
"We want to fight fire aggressively, but we also want to be patient and deliberate," said Incident Commander Brian Gales, of Northwest Team 13, which is overseeing the Jack Fire, Rough Patch Complex and initial attack for new starts in the area. "It's important to think strategically, picking the priority fires and focusing on them." Today, fire managers are reassessing contingency lines along the southern boundary of the Jack Fire and looking for ways to box in new starts outside the existing fire boundaries. "We're aggressively trying to get a handle on these new starts, but a few are continuing to hamper our efforts," Operations Section Chief John Spencer said. The Rough Patch Complex grew to 720 acres Tuesday, largely due to growth on the Chaos Fire, which was projected to double in size. Containment remains 1 percent. Prep work along 650 Road toward Lemon Dip and the 3821 Road will continue and heavy equipment will be cutting alternate line from east to west.
"Of the original 21 fires in the Rough Patch Complex, they're all checked and in control except three – Chaos, Rough and Incident 361," Spencer said.
On the west side of the Jack Fire, firefighters finished prepping the 230 Road and line from Doehead Mountain to Calf Creek. To the northeast, work is progressing on the 4770 Road, while the 4750 Road has shifted to mop up status and firefighters have begun scouting the Twin Lakes area for opportunities to link to lines in the southeast corner. Burnout operations may take place if conditions allow. "The Jack Fire should stay in place," said Dean Warner, fire behavior analyst for Northwest 13 Incident Management Team. "It's in sparse fuels and what's in there is relatively green, so it's just not carrying fire."
Old burn scars and managed timber stands within the Jack Fire perimeter are slowing its progression, while dead and down fuels in the Rough Patch Complex are heavier, more continuous, and ignite readily due to drought. Temperatures in the 80s and 90s will continue today with humidity in the teens and 20s, but a weather shift Thursday is expected to bring cooler, more seasonal temperatures into the area, with humidity levels in the 30s and 40s.
"The Jack Fire should stay in place," said Dean Warner, fire behavior analyst for Northwest 13 Incident Management Team. "It's in sparse fuels and what's in there is relatively green, so it's just not carrying fire." Old burn scars and managed timber stands within the Jack Fire perimeter are slowing its progression, while dead and down fuels in the Rough Patch Complex are heavier, more continuous, and ignite readily due to drought. Temperatures in the 80s and 90s will continue today with humidity in the teens and 20s, but a weather shift Thursday is expected to bring cooler, more seasonal temperatures into the area, with humidity levels in the 30s and 40s.
ELBOW CREEK FIRE:
Due to the reduced complexity of the Elbow Creek Fire, Oregon Department of Forestry's Type 1 Incident Management Team 3 will hand the fire over to a smaller Type 3 organization tomorrow morning. The team would like to again thank the communities in the area for their kind hospitality and support during our stay.
The forward spread of the fire has been stopped for several days and stands at 22,960 acres and 95% contained.
The Type 3 organization will be working for the Umatilla and Wallowa-Whitman National Forests, the Vale District of the BLM and the Northeast Oregon District of the Oregon Department of Forestry.
The main responsibility of the new team will be to complete any remaining mop-up, patrol the perimeter, backhaul fire cache supply such as hose, pumps and portable water tanks, and continue suppression repair work.
The fire camp located at the Stampede Grounds in Elgin will be shut down. All personnel working the south end of the fire will be working out of the main fire camp located about three miles up Promise Road from Highway 82. A spike camp for crews working on the north end of the fire will be located on the 62 road at Fry Meadow Seed Orchard.
Resources working under the team will include eight 20-person crews, nine engines, four water tenders, four dozers and 2 excavators.
Information sources will remain in place for the Elbow Creek Fire, including Facebook and Inciweb. News updates about the fire will be provided as needed. Additional information can be obtained by calling (541) 805-2784 Monday through Friday 8:00 a.m. to 5:00 p.m.
DEVIL'S KNOB COMPLEX:
The Devil's Knob Complex is a grouping of 43 lightning caused fires with the majority burning on the Tiller Ranger District, Umpqua National Forest. The fires were started from thunderstorms on July 29th and August 1st. Northwest Incident Management Team 8 has assumed management of these fires at 6 pm this evening. The incident command post is located at the Milo Academy near Tiller, Oregon.
Fire Information: (541) 900-6133 (8:00 a.m. to 9:00 p.m.) E-mail: 2021.DevilsKnob@firenet.gov Information Websites: Facebook page "2021 Devil's Knob Complex" Inciweb – https://inciweb.nwcg.gov/incident/7771/ Oregon Smoke Information – http://oregonsmoke.blogspot.com/ Douglas County Sheriff's Office – https://www.facebook.com/DouglasCoSO/
General Updates: Fire managers spent the majority of the day connecting with firefighters on the ground and gathering information on each fire to develop a plan of suppression actions. Firefighters continued to make progress on many of the starts. Several fires have continued to grow while other have been lined and mopped-up. Three fires on the upper end of the Forest Service Road 2950 and Bald Ridge area are declared contained.
Several fires remain unstaffed due to lack of resources and access. The Wildcat Fire is burning near structures in the Cow Creek drainage and is moving up Red Mountain. This fire is the priority with firefighters working diligently to secure the area and protect these homes. Firefighting resources from Oregon Department of Forestry, Douglas Forest Protection Association, and RogueRiver-Siskiyou National Forest have been providing assistance to local and contracted resources.
JANUS COMPLEX:
Three of the fires, Janus, Kola and Ridge Fires are in the southeast corner of the Bull of the Woods Wilderness in the Janus Butte area. The largest, Janus Fire, is estimated to be 300 acres and the remaining fires estimated to be less than an acre each. The remaining two fires are outside of the wilderness boundary and in the vicinity of Round Lake.
Fourteen firefighters are currently working to construct direct line on the Round Lake Fire. They are camping out near the fire tonight and will continue working both fires by Round Lake on Wednesday. Two helicopters provided bucket work this afternoon to drop water on the two fires by Round Lake. Some bucket work was also done on the Kola Fire to keep it in check.

All five fires have full suppression objectives with clear intent to commit resources only where they have high probability of success and can operate safely and effectively. The line construction for the fires in the Bull of the Woods are being scouted and planned.

These fires are burning 10 miles north of Detroit and 5 miles northwest of Breitenbush Hot Springs. There may be smoke visible in the Detroit area and in the Santiam Canyon
BLACK BUTTE FIRE:
Fire: Black Butte Fire Containment: 0%
Acres: approximately 4000 Start Date: August 3, 2021Cause: Lightning Location: 8 miles NE of Antelope Lookout

Fire size approximately 3000 acres: The High Desert Incident Command Team Type 3 will take over management of the fire at 1800. The team is transitioning with current fire crews to establish the best plan for fighting the fire that has been burning in very steep terrain. Air Resources will continue assisting and will work with the incoming team in the days to come. Crews are engaging, with safety as the number one concern.
Crews will continue to work to stop the spread of the fire north towards Flag Prairie and private lands, and south and southeast towards the forest boundary.
Fire management would like the public to be aware of potential smoke impacts from Black Butte Fire and others in the region. For more information regarding smoke please visit: Oregon Smoke Blog Spot, and Fire Air Now.
WILDCAT FIRE:
The Douglas County Sheriff's Office has upgraded evacuation notices due to the Wildcat Fire.
The fire is moving toward some residential areas near Upper Cow Creek Road, which is why some are asked to evacuate now. Below are the current evacuation notices:
Residents can opt-in to receive emergency alerts based on their address by registering HERE —- An interactive evacuation map can be found HERE
COVID UPDATE:
Oregon reports 1,213 new confirmed and presumptive COVID-19 cases, 5 new deaths
There are five new COVID-19 related deaths in Oregon, raising the state's death toll to 2,877, the Oregon Health Authority reported 1,213 new confirmed and presumptive cases of COVID-19 bringing the state total to 224,547.
The new confirmed and presumptive COVID-19 cases reported today are in the following counties: Baker (15), Benton (19), Clackamas (107), Clatsop (4), Columbia (13), Coos (34), Crook (12), Curry (10), Deschutes (33), Douglas (78), Gilliam (1), Harney (2), Hood River (3), Jackson (149), Jefferson (3), Josephine (54), Klamath (5), Lane (111), Lincoln (19), Linn (28), Malheur (10), Marion (84), Morrow (7), Multnomah (140), Polk (30), Tillamook (15), Umatilla (86), Union (15), Wallowa (3), Wasco (11), Washington (89), Yamhill (23).
Weekly COVID-19 cases, hospitalizations and deaths rise
The Oregon Health Authority's COVID-19 Weekly Report, released today, shows an increase in daily cases, hospitalizations and COVID-19 related deaths.
OHA reported 5,946 new daily cases of COVID-19 during the week of Monday, July 26, through Sunday, Aug. 1. That represents a 92% rise over the previous week.
New COVID-19 related hospitalizations rose to 256, up from 146 the previous week, a 75% increase.
There were 25 reported COVID-19 related deaths, up from 12 reported the previous week.
There were 82,701 tests for COVID-19 for the week of July 25 through July 31. Test positivity was 8.2%, up from 5.0% the previous week.
Case rates have generally been higher in counties with lower COVID-19 vaccination rates.
During the week of July 26 – Aug. 1, the statewide case rate was 129.3 cases per 100,000 population. Thirteen of Oregon's 36 counties had case rates in excess of 200 per 100,000. All 13 of these counties had population vaccination rates less than the statewide average of 56.4%.
Today's COVID-19 Weekly Outbreak Report shows 33 active COVID-19 outbreaks in senior living communities and congregate living settings, with three or more confirmed cases and one or more COVID-19 related deaths.
As COVID-19 cases continue to climb in Oregon, some counties — most where less than half of the area's adult population is vaccinated — are experiencing their highest hospitalization numbers during the pandemic. Statewide coronavirus-related hospitalizations increased to 379 people on Tuesday, 39 more than the previous day.
Some hospital officials, including those at Oregon Health & Science University, said they are postponing some surgeries that are not urgent. In addition, Oregon health officials reported 1,575 newly confirmed and presumptive COVID-19 cases on Tuesday, the most since early January.
Governor Kate Brown announced Wednesday that she's directed the Oregon Health Authority to enact a new rule requiring healthcare workers to get tested regularly if they do not provide proof of vaccination. The proposed rule would require that staff in healthcare settings undergo weekly coronavirus testing, which can be waived with proof of vaccination.
Brown's office said that the rule will be issued later this week, but the requirement will not go into effect until September 30 — giving employers time to adjust to the policy and giving "currently unvaccinated healthcare
workers time to become fully vaccinated." Brown's office said that the new rule applies broadly to staff in healthcare settings, whether their contact with patients or infectious materials is direct or indirect.
California has implemented vaccination and testing requirements for state workers, and Brown's office said that they are looking at similar measures. The announcement received immediate support from both the Oregon Association of Hospitals and Health Systems and the Oregon Nurses Association.
Portland FBI Receiving Many Scam Reports From Ride-Sharing Drivers In Oregon
A new scam is targeting Uber and Lyft drivers in Oregon, according to a spokeswoman with the Portland Federal Bureau of Investigation.
The ride-hailing industry has skyrocketed over the past year. The pandemic made becoming a driver for a ride-hailing company one way to bring in a few extra bucks during hard financial times.
Beth Anne Steele said the FBI has been receiving many scam reports from ride-hailing drivers in the state. The drivers work for big companies like Uber or Lyft, which are also known as ridesharing companies.
"It happens all the time. In terms of the rideshare scam, it is a little bit of a new twist on an old scam," Steele said. "Scammers will go where the money is and where the potential victims are. So in this case, rideshare scams, rideshare drivers — a growing population of people, particularly through COVID as they are trying to make extra money."
The FBI states one driver received a call from someone he believed was with the ride-hailing company, telling him he was a great driver. He was then offered a $250 "bonus." The scammer then began asking him questions about his account and banking information so they could make the transfer. He realized he was being scammed, but it was too late.
Steele said the industry as a whole had grown exponentially, so it is just a matter of time before scam artists dial from another number.
The scammer will tell the driver to call a specific number, and that is the red flag that drivers often miss. You can only call the number the scammer provides by using your personal cell phone number instead of going through the rideshare company's app. If a driver does call the provided number, the scammer grabs all your information using your personal number and asking further questions. Think twice before they answer any type of personal questions.
Steel said if this happens to you, immediately call your bank and file a report with the FBI's internet crime complaint center at IC3.gov.
Plans to Expand Interstate 5 through Portland's Rose Quarter
Oregon Gov. Kate Brown supports moving forward with a plan that would expand Interstate 5 through Portland's Rose Quarter while spending more than $1 billion to build a "cap" over the freeway to rebuild a community wrecked by its initial construction.
Speaking before a meeting of stakeholder and advisory groups convened by the Oregon Department of Transportation, Brown also confirmed Tuesday she hoped to relocate a middle school perched on the highway's fringes. Such a move could grant additional space for the expansion process, and address concerns about poor air quality impacting students.
The plan Brown landed on, known as "hybrid 3" is an attempt to address the many competing priorities different groups have brought to the controversial highway expansion project. Business leaders and state transportation officials have said for years that an existing bottleneck on the highway creates harmful delays and poses a risk for crashes that repeatedly snarl traffic.
Members of Portland's Black community have forcefully argued any project needs to include a strong highway cap that will allow for development in a historically African American neighborhood destroyed by the construction of I-5. And climate and transportation activists say the entire premise of increasing highway throughput is wrongheaded at a time when the impacts of climate change are being felt more acutely than ever.