The latest news stories of interest in the Rogue Valley and around the state of Oregon from the digital home of Southern Oregon, Wynne Broadcasting's RogueValleyMagazine.com
Friday, September 3, 2021
Rogue Valley Weather
Today– Widespread smoke, mainly after 5pm. Sunny, with a high near 91. Calm wind becoming northwest around 6 mph in the afternoon.
Saturday– Patchy smoke. Mostly sunny, with a high near 93. Calm wind becoming north northwest around 5 mph in the afternoon.
Sunday– Areas of smoke. Mostly sunny and hot, with a high near 96. Light and variable wind becoming northwest 6 to 11 mph in the afternoon. Winds could gust as high as 18 mph.
Monday: Labor Day-Areas of smoke. Mostly sunny and hot, with a high near 97.
Tuesday– Areas of smoke. Mostly sunny, with a high near 95.
Task Force Raids 2 Illegal Marijuana Grows in Jackson County
Finds $643k, 20k plants, 15k lbs. Processed Illegal Marijuana
Illegal Marijuana Enforcement Team (IMET) detectives served multiple search warrants on two black-market marijuana grow sites in as many days. Combined, the raids uncovered 15-thousand lbs. of processed illegal marijuana, more than 20-thousand plants yet to be cultivated, five firearms, and nearly $650,000 in cash. Overall, three warrants were served, and one suspect has been arrested. During the raids on both properties, 111 workers were taken into custody, interviewed, and released.
IMET is a multi-agency task force funded by a grant from the Oregon Criminal Justice Commission. The task force includes personnel from Jackson County Sheriff's Office (JCSO), Medford Police Department, and the Jackson County District Attorney's Office. Oregon Occupational Safety and Health Administration (OSHA), Jackson County Code Enforcement, and the Jackson County Fire District #3 (JCFD3) Fire Marshal assisted and will be enforcing more penalties and fines on both properties.
The first raid was Tuesday at 7:11 a.m., where investigations led IMET to a property in the 10000 block of Old Stage Rd. in Gold Hill. At this location, detectives found bags of cash totaling $643,524, five firearms, and forged identification. In a nearby storage room, investigations uncovered 10-thousand lbs. of processed marijuana which was previously weighed, separated, and individually packaged for distribution. A total of 58 workers were taken into custody and one man was arrested. The suspect, Hernan Sanchez Villalobos, 33, a Mexican citizen and the Gold Hill property owner, was arrested for felony charges of prohibited import or export, unlawful possession, unlawful manufacture, and conspiracy for unlawful distribution of a marijuana item, as well as second-degree criminal possession of a forged instrument (fake ID), and laundering a monetary instrument. The property had no permits to grow or process marijuana for recreational, commercial, or medical purposes.
The very next day on Wednesday at 7:49 a.m., IMET served a search warrant at an additional black-market marijuana grow site on the 1000 block of Meridian Rd. in Eagle Point. At this site, detectives discovered 20,199 plants in 102 greenhouses, and five-thousand lbs. of processed illegal marijuana. On the property, 53 workers were taken into custody, interviewed, and released. The property had an Oregon Department of Agriculture (ODA) license to grow hemp, but was not permitted to grow or process marijuana for recreational or medical purposes.
While regulatory agencies investigate permitted cannabis operations, IMET is focusing on the black-market marijuana trade in the Rogue Valley. Oregon State Police (OSP), Medford Area Drug and Gang Enforcement (MADGE) detectives, and JCSO deputies assisted with both operations.
Investigations are open and ongoing with detectives working additional leads. No further information is currently available for release. — JCSO Case #21-4568 & #21-4617 Jackson Co. Sheriff's Office
Asante Three Rivers Overwhelmed with COVID Patients
Officials at Asante Three Rivers Hospital in Grants Pass say they are overflowing with coronavirus cases to the point that between 10 to 20 people a day are coming into the emergency department in need of care, but have no available beds. Some people have to wait hours to be seen.
Patients who are admitted but cannot receive care are known as 'boarders,' and they sometimes wait for hours or even days. The Asante hospital system alone has up to 179 COVID patients split between its three locations, with 50 of those in the ICU. The hospital system is converting as much extra space as possible into in-patient areas, including in the cardiovascular recovery and ultrasound wards.
"I've been a health care leader for 25 years, and I've never seen anything like this. Nothing close. Nothing matches this, this is of very serious concern, and a challenging time we're dealing with. We're in an absolute full-blown health care crisis," said Asante CEO Win Howard during a press conference on Wednesday.
"We are literally trying to find any space that we can safely care for patients where we can get the appropriate oxygen and power and things that are needed," said Laura Magstadt, Asante VP of Nursing.
Over the past week, 28 COVID patients have died at Asante centers in Southern Oregon. On Monday and Tuesday alone, Josephine County announced the deaths of twelve coronavirus patients as cases continue to skyrocket in the Rogue Valley.
"We're talking about numbers 10 times what we saw this summer. I believe for Asante specifically, it's three times what we saw during the winter surge. That's the kind of patient volume that we're seeing now," Howard said.
The Three Rivers I.C.U. has been converted from 12 beds to 22 by doubling up what are normally single rooms. The hospital system says 110 nurses contracted from out of state are coming to their Rogue Valley facilities to deal with staffing shortages.
"As a system, we planned over the last 18 months for this day, if we were to get to this point," Howard said. "I prayed it wouldn't happen but it has happened. We are in an absolute crisis!"
The continued surge is forcing the hospitals to cancel nearly all other procedures. In some cases, that means postponing potentially life-saving treatments. Asante says it will likely be months before other procedures can return as normal.
Body of Missing Texas Man Has Been Identified
The Jackson County Sheriff's Office said on Thursday that the months-long search for a missing Texas man is now at an end. Remains found in the Sky Lakes Wilderness over the weekend are now confirmed to be him.
The search for Kirk Jones has been a mystery since the very beginning when the Texas man's motorcycle was discovered near Prospect in June. His family in San Antonio had seen him just days before his disappearance and said that he hadn't shared any plans for traveling to Oregon and that he did not know anyone in the area.
Search and rescue (SAR) teams scoured the areas around Prospect where Jones' bike was discovered with no sign.
The body of the missing Texas man was found by bow hunters Saturday, deep in the Sky Lakes Wilderness Area. A positive scientific identification today confirmed the body was that of Kirk Jones, 35 missing from San Antonio since June 3rd.
Due to the remote location and rough terrain, Jackson County Sheriff's Office (JCSO) Search and Rescue (SAR) short-hauled in a JCSO deputy Medical Examiner detective via helicopter to recover Jones' remains. Along with Jones' body, a motorcycle helmet, jacket, and backpack were also recovered. The location was on a ridgeline approximately 1.5 miles east/northeast of where Jones' motorcycle was found June 13.
According to the Oregon State Police (OSP) forensic pathologist, the cause and manner of death is undetermined, however, foul play is not suspected. Case 21-3055 Jackson Co. Sheriff's Office
Labor Day Forecast Hot and Dry — Please be Careful and Safe!
Preventing wildfires is a responsibility we all share!
With hot, dry conditions in the forecast & increased crowds for Labor Day weekend, please know where campfires are allowed & never leave them unattended. We've had an unprecedented fire season already. Don't be that spark that could lead to a tragedy! Check Conditions
Do you know the difference between a Red Flag Warning and a Fire Weather Watch? How about what you should/shouldn't be doing when these watches and warnings are issued? We're here to help! It's going to take all of us to prevent wildfires and be wildfire aware. Learn More
Oregon reports 2,449 new confirmed and presumptive COVID-19 cases, 27 new deaths
There are 27 new COVID-19 related deaths in Oregon, raising the state's death toll to 3,248. The Oregon Health Authority reported 2,449 new confirmed and presumptive cases of COVID-19 bringing the state total to 281,513.
The new confirmed and presumptive COVID-19 cases reported today are in the following counties: Baker (19), Benton (18), Clackamas (180), Clatsop (27), Columbia (43), Coos (43), Crook (26), Curry (11), Deschutes (149), Douglas (146), Grant (9), Harney (13), Hood River (8), Jackson (202), Jefferson (22), Josephine (119), Klamath (38), Lane (175), Lincoln (51), Linn (131), Malheur (16), Marion (247), Morrow (14), Multnomah (248), Polk (28), Sherman (3), Tillamook (29), Umatilla (84), Union (22), Wallowa (3), Wasco (22), Washington (238) and Yamhill (65).
Weekly Breakthrough Case Report
OHA's most recent update on COVID-19 breakthrough cases, released today, found that 84.1% of the 16,265 reported COVID-19 cases between Aug. 22 and Aug. 28 occurred in people who were unvaccinated. There were 2,592 breakthrough cases, accounting for 15.9% of the week's cases.
The median age of the breakthrough cases during this period was 49. Fifty-one breakthrough cases involved residents of care facilities, senior living communities or other congregate care settings. There were 58 breakthrough cases in people aged 12 to 17.
To date, there have been 13,166 COVID-19 vaccine breakthrough cases in Oregon. The median age of all cases was 48. Breakthrough cases have been reported in all 36 counties.
Cases of COVID-19 are far more common in unvaccinated people. The report shows that the rate of COVID-19 in unvaccinated people is currently approximately five times higher than in vaccinated people.
To date, 4.9% of all vaccine breakthrough cases have been hospitalized and 0.9% have died. The median age of the people who died was 81.
The number of vaccine breakthrough cases identified in Oregon remains very small when compared to the more than 2.4 million Oregonians who have completed their COVID-19 vaccination series. The latest breakthrough report can be found here.
COVID-19 hospitalizations
The number of hospitalized patients with COVID-19 across Oregon is 1,131, which is 47 fewer than yesterday. There are 308 COVID-19 patients in intensive care unit (ICU) beds, which is 50 fewer than yesterday.
There are 62 available adult ICU beds out of 682 total (9% availability) and 376 available adult non-ICU beds out of 4,315 (9% availability).
The total number of patients in hospital beds may fluctuate between report times. The numbers do not reflect admissions per day, nor the length of hospital stay. Staffing limitations are not captured in this data and may further limit bed capacity.
Note: Please do not visit an emergency department for COVID-19 testing, unless you require emergency care for your symptoms.
Emergency departments in Oregon are under significant strain responding to the current surge in COVID-19. You can find a test here.
If you have a medical condition that doesn't require emergency care, contact your provider. An urgent care center may also help you get the care you need and will save emergency departments from added strain. More information about hospital capacity can be found here.
Three Times as Many Oregonians Are Now on Ventilators With COVID as Last Year's Virus Surge
Oregon saw 119 deaths associated with COVID in the past week which is the highest weekly total since January. And the toll will get worse.
After two months of rising COVID-19 cases across Oregon, the state is now reaping the inexorable result: severe illnesses and deaths.
As of Thursday morning, 187 Oregonians are on ventilators with COVID-19. That's three times the daily high in December, during a winter surge that marked the previous nadir of the pandemic in Oregon. On Dec. 15, 2020, 67 people were on ventilators.
In an unusually candid meeting with the Salem Chamber of Commerce, Salem Health CEO Cheryl Nester Wolfe said the 16 patients on ventilators in her hospital were unlikely to survive. "Those 16 are not going to make it," Wolfe said. "That's the reality of what we're dealing with."
The statewide numbers support her prognosis: Oregon saw 119 deaths associated with COVID in the past week which is the highest weekly total since January. In the past week, 1,000 new patients were hospitalized, setting a new record. New data also shows that Oregonians are now dying of COVID at a younger age. In its weekly report, the Oregon Health Authority notes: "During this eight-week surge, 35% of COVID-19-associated deaths have been among persons 80 years of age and older, compared to 50% prior to that."
If these numbers feel surreal and at odds with daily experience, that's because Oregon is essentially experiencing two pandemics during the Delta variant surge: one that has largely subsided among the vaccinated, and another that rages on among those who reject or cannot receive the shot.
The latest OHA report shows 84.1% of new COVID cases are among unvaccinated people. Just under 16% of new cases were among the vaccinated. "To date, 4.9% of all vaccine breakthrough cases have been hospitalized and 0.9% have died," the OHA report says. "The median age of the people who died was 81." For that reason, the Delta variant is largely sparing Portland.
In Multnomah County, where 77% of residents 12 years and older are vaccinated, figures from The New York Times show an average of 26 people per 100,000 are contracting the virus each week. In Douglas County—at the southwest corner of the state—the 12-and-up vaccination rate is 50%, and 135 people per 100,000 are contracting the virus.
Airmen from the 173rd Fighter Wing in Klamath Falls Activated to Help Hospitals
Fifty Airmen from the 173rd Fighter Wing were activated Sept. 1, to assist with the logistical support of hospitals in the Springfield—Eugene area, with more on standby if additional hospitals request assistance through the Oregon Office of Emergency Management.
Oregon Governor Brown announced the activation of up to 1,500 Oregon National Guard members to help Oregon hospitals with support functions due to a reported increase in COVID-19 cases and staff shortages, Aug. 13. The Airmen will work in non-clinical roles such as material handling, equipment support, COVID testing support, laundry and custodial services and other necessary activities to assist hospital operations.
Airmen were tasked from career fields across the entire base including maintenance, medical, logistics, communications, as well as public affairs. The wing is not only supporting this activation request, but they are also continuing with their other Federal and State missions at this time. Oregon Guardsmen who have medical careers, as well as first responders, will not be a part of this activation. This is also true for those qualified for fighting wildfires.
Fire conditions continue to be extreme and it does not take much of a spark to become a large fire.
Summer-like temperatures are still in the forecast through the weekend and the extended forecast does not include precipitation. Summer holiday weekends, including Labor Day, see an increase in abandoned campfires on area wildlands.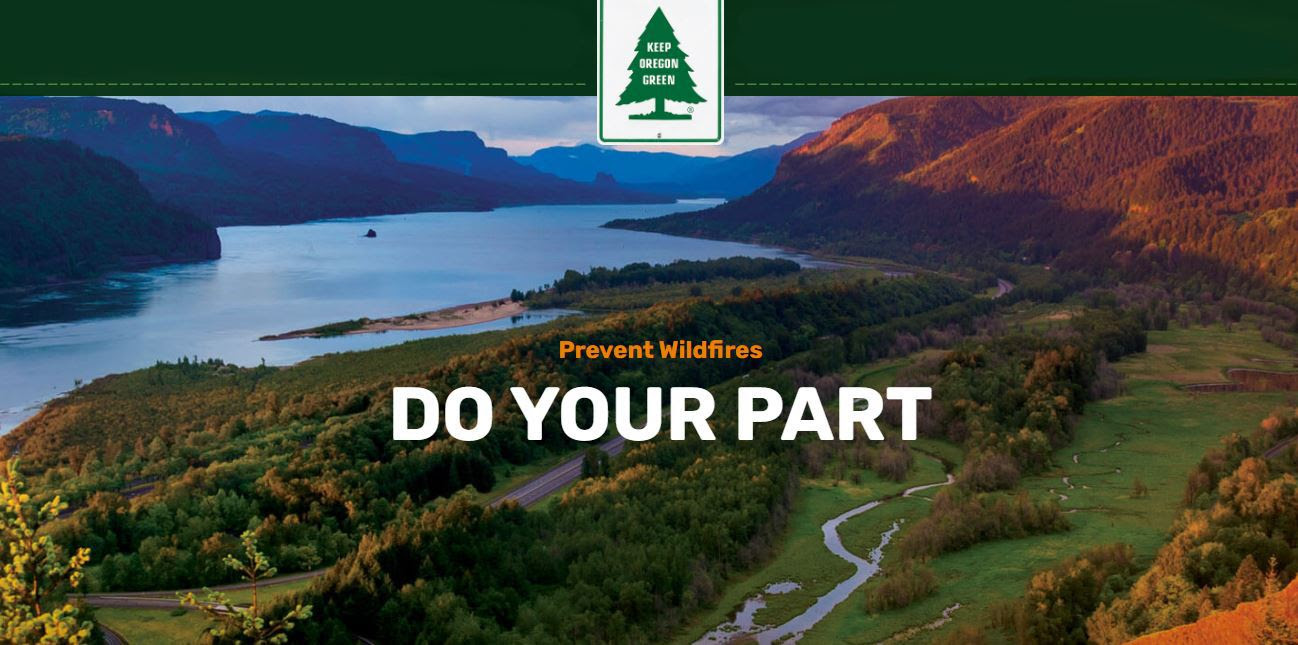 Currently campfires are prohibited as part of Public Use Restrictions on most public lands in South Central Oregon. The latest restrictions and regulations, including for ODF and the federal agencies are available at https://scofmp.org/restrictions.shtml
The public is responsible for ensuring that they have reviewed and are aware of the restrictions in place for the landscape they plan to recreate or work on. For all agencies, violation of these prohibitions could result in citations, fines, and even imprisonment, depending on the agency and order. Suspected wildfires should be reported immediately by calling 911.
Here are links to be able to see updated info on the larger fires still burning in Oregon:
This public lands link is super helpful to check before you head outdoors. The Keep Oregon Green website carries ODF's public use restrictions. Click the link for up-to-date information: https://keeporegongreen.org/current-conditions/
Pandemic Program Will Allow Oregon Public Schools To Offer Free Lunch And Breakfast For All Students
Every Oregon district, like those nationwide, can provide free school breakfasts and lunches to any student who wants one, regardless of family income, this school year.
Under a special pandemic-related provision of the federal school nutrition program, the districts can receive federal reimbursement for meals served.
Oregon will boost payments to most children to $1,500 to help buy groceries
Many districts are not requiring the usual eligibility application either. "Students are eligible for one breakfast and one lunch per school day at no cost," Portland Public Schools says on its website. "Therefore, a meal application does not need to be submitted this school year."
Families may need to submit paperwork if they seek reductions in other fees, however. Eugene School District is also among those that will not require applications or registration for meals.
Beaverton School District also says no registration is required for students enrolled in the district. "Students can simply pick up meals in their school cafeteria during meal service," the district said. It said up to half of grade school students may not have previously picked up a school meal so it supplied a video on what to expect, as well as menus for September's breakfasts and lunches.
Hillsboro public schools are also offering free meals to all enrolled students. "Complete meals for the 2021/22 school year are served at no cost to all students at all schools regardless of eligibility status," it said, noting additional milk would be available for 75 cents if purchased outside a meal. It also provided the notice in Spanish: Todos los estudiantes reciben comidas completas sin costo durante el año escolar 2021/22, independientemente del estado de elegibilidad.
Salem-Keizer is also participating, displaying a large notice on its website and promising "new, exciting meal choices." Check your public school's website for information about local programs. The state Department of Education does not yet have a full accounting of which districts are participating.
The free meal program for the 2021-22 school year was announced in April by the U.S. Department of Agriculture as part of its response to the coronavirus pandemic. "Schools nationwide will be allowed to serve meals through USDA's National School Lunch Program Seamless Summer Option (SSO), which is typically only available during the summer months," the announcement said. "This option maintains the nutrition standards of the standard school meal programs – including a strong emphasis on providing fruits and vegetables, fluid milk, whole grains, and sensible calorie levels, while allowing schools to serve free meals to all children. In addition, schools that choose this option will receive higher-than-normal meal reimbursements for every meal they serve."
Fatal Crash Between Van and Semi-Truck On Hwy 97 Near Sunriver
A Seaside man was killed and a Linn County woman was seriously injured in the collision of a van and semi-truck early Thursday morning on U.S. Highway 97 near Sunriver, Oregon State Police reported.
Troopers and other emergency personnel responded shortly after 1 a.m. to the reported crash on the highway at the intersection with Vandevert Road, OSP Captain Tim Fox said.
A preliminary investigation found that Sherri Wood, 46, of Lyons was driving a Dodge Caravan on Vandevert Road and failed to stop when entering the highway, Fox said.
The van struck the driver's side of a northbound commercial truck driven by a 54-year-old Bakersfield, California man. The truck caught fire and burned beyond recognition, the captain said.
A passenger in the van, Robert Owens, 56, of Seaside, died at the crash scene, OSP said. Wood was flown by air ambulance to St. Charles Bend with life-threatening injuries. The truck driver escaped the burning rig and was uninjured.
The crash and investigation closed the highway for more than 10 hours. A detour through Sunriver was in place through the morning commute period, until the highway reopened shortly before noon.
OSP was assisted at the crash scene by ODOT, the Deschutes County Sheriff's Office and the Bend, La Pine and Sunriver fire agencies.
The crash occurred in the area of an ODOT project to improve safety by adding more acceleration lanes.
Another crash was reported around 4:30 a.m. about seven miles to the north, east of Highway 97 near milepost 153. A car ran into a tree and caught fire on or near Forest Service Road 4720, Deschutes County sheriff's Lt. Bryan Husband said.
The male driver, alone in the car, sustained a non-life-threatening injury and was taken by ambulance to St. Charles Bend. Husband said initial reports indicated the driver was already out of the car, alert and conscious, when a witness and law enforcement arrived on scene. The fire was contained to the car and tree and was quickly doused by firefighters.
Oregon State Fair's Final Weekend
New to the fair this year, besides the mask mandate, is a chance to get a free ticket to come back this year or next year, just for having a mask on. 1,600 tickets a day will be randomly handed out.
"As a thank you for people who are wearing their masks. And also wearing them correctly, if they're wearing them over their nose the way they're supposed to be worn. We're excited about that because we really are committed to the education part of this," said Cooper.
Salem Health also has a vaccination clinic on the fairgrounds, and they're averaging about 50 shots a day. That will also get you a free ticket for another admission to the fair.
Newberg School District Deciding on Controversial Ban
The Newberg School District is tabling a decision on whether to reverse its ban on Black Lives Matter and LGBTQ Pride flags in school buildings. The board voted to table the issue during a special meeting last night. Board Chair Brian Shannon said he wanted to time any potential reversal of the ban with new policy language.
The ACLU of Oregon issued a statement Monday demanding an immediate retraction of the ban. The ACLU says the flags constitute protected speech and that schools are legally obligated to ensure that Black and LGBTQ students and employees are welcomed.
The Newberg School Board voted 4 to 3 to enact the ban earlier this month, prompting criticism from the ACLU, the teacher's union and the state legislature's Black, Indigenous, People of Color Caucus
Dogs Stolen in Klamath Falls Home Invasion
Seven french bulldog puppies were stolen in a Klamath Falls home invasion Monday morning, the dogs' owner said.
Daniel Mendoza, a Klamath Falls-based breeder who runs Victory Lap Kennels, said the "very expensive" dogs were taken from his Birch Street address.
He's asking the community for information related to the dog's whereabouts and offering a $10,000 reward.
Whoever took the dogs broke in a back window and took the puppies, leaving the adult dogs behind, Mendoza said, adding that he has video of the break-in. A police report was filed Tuesday night.
The Klamath Falls Police Department took the report at about 11 p.m. Tuesday, Captain Ryan Brosterhous said in an email. Brosterhous said the report isn't yet complete so he couldn't provide further details. An arrest would complete the report.