The latest news stories of interest in the Rogue Valley and around the state of Oregon from the digital home of Southern Oregon, Wynne Broadcasting's RogueValleyMagazine.com
Wednesday, September 15, 2021
Rogue Valley Weather
Today– Widespread haze. Sunny, with a high near 84. Calm wind becoming north northwest around 6 mph in the afternoon.
Thursday– Widespread haze. Sunny, with a high near 83. Calm wind.
Friday– Widespread haze. Mostly sunny, with a high near 85. Calm wind becoming west northwest around 6 mph in the afternoon.
Saturday– Rain. High near 75. Chance of precipitation is 90%. New precipitation amounts between a quarter and half of an inch possible.
Sunday– Rain before 11am, then a chance of showers and thunderstorms after 11am. Mostly cloudy, with a high near 67.
Suspect in Custody as JCSO Investigate Homicide Outside Ashland
Jackson County Sheriff's Office (JCSO) is investigating a homicide that occurred early Wednesday morning on Eagle Mill Rd. outside of Ashland. The suspect is in custody. ECSO dispatch time of call was 2:14 a.m.
JCSO was assisted on scene by Oregon State Police, Ashland Police Department, Phoenix Police Department, and Talent Police Department. Major Assault and Death Investigative Unit (MADIU) has been called out to investigate. There is no further information available at this time. Jackson Co. Sheriff's Office
Grants Pass Carjacking Suspect Apprehended After Crashing Near Dunsmuir
On Tuesday 09/14/21 at approximately 9:58 AM, Grants Pass Police Officers responded to the Safeway parking lot on SE 7th Street regarding a woman being robbed of her vehicle and being dragged across the parking lot.
Officers arrived within minutes to find the victim and her passenger had both received minor injuries when pulled from the vehicle by the suspect. The suspect had fled the scene in the victim's vehicle, which is described as a 2008 Hyundai SantaFe.
The stolen vehicle information was immediately sent to surrounding police agencies. The investigation revealed the suspect had been inside Safeway just before the robbery where his image was captured by surveillance cameras.
At approximately 12:24 PM the Grants Pass Police Department was advised the California Highway Patrol was in pursuit of the vehicle southbound on I-5 in the Mt. Shasta area.
At approximately 12:28 PM CHP advised the vehicle had crashed at high speeds on I-5 south of Dunsmuir. The suspect was taken into custody but was reportedly in serious/critical condition following the crash and being ejected from the vehicle. The identity of the suspect, who is described as a Hispanic male 33 years old, is being withheld at this time due to his injuries. He will be lodged for Robbery 2, Assault 4 (x2), and Unauthorized Use of a Motor Vehicle.
The Grants Pass Police Department would like to thank all who assisted with the investigation and apprehension. We especially want to thank our community partner Safeway and our professional partner the California Highway Patrol. Anyone having further information related to this robbery investigation is encouraged to call the Grants Pass Police non-emergency line at 541-450-6260 and reference case #21-39993. Grants Pass Dept. of Public Safety
Our Path to Recovery: A Report for District 5
Listen to RECORDING Here — Our Path to Recovery – A Report for District 5, 09-14-21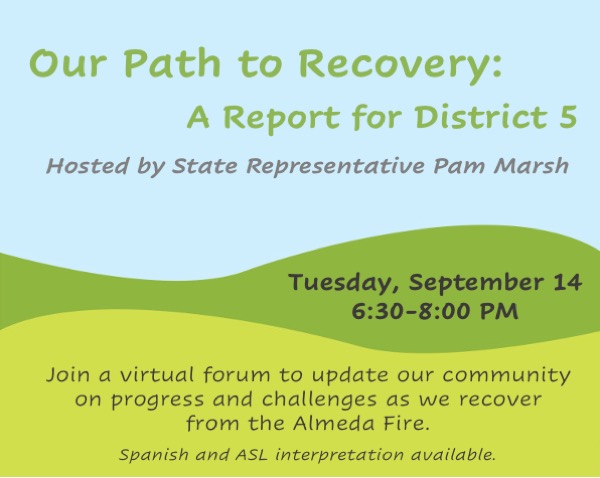 Event Resources:
2021 Legislative Investments for Wildfire Protection and Recovery
Jackson County Wildfire Information Map
*Note this map is a work in progress; please note disclaimers.
Jackson County Emergency Notifications – County-Wide Evacuation Alert Keyword
To sign up for this additional notification, text JACKSONEVACS to 888777
Oregon Housing and Community Services slide presentation 091421
Organization & Agency links:
Over 100 Talent Middle School Students Quarantined Due To Covid-19
Phoenix-Talent School District administrators confirmed on Tuesday that over one hundred students at Talent Middle School are having to quarantine at home after a handful of positive COVID-19 cases among members of the school football team.
Administrators found out Monday morning that three members of the Talent Middle school football team had tested positive for COVID-19 over the weekend.
While Oregon's school protocols are more lenient for quarantine when students are wearing masks, students playing sports are allowed to do so without masks or consistent social distancing, meaning that quarantines are more extensive when they do catch COVID-19.
As a result, all members of the school football team were considered exposed and presumed positive, said Phoenix-Talent communications specialist Joe Zavala. Football practices have also been canceled until the quarantine is over.
"Furthermore, we are required by our community health partners to contact trace the 48-hour time period prior to the positive test, which meant the contact tracers had to go back to Thursday and Friday and contact trace every football player's schedule, class by class," Zavala continued.
By the end of the process, 103 students were quarantined. Around 50-55 of those students were exposed in the school, and another 40 were football players. Zavala said that the total could drop somewhat for students who can provide proof of vaccination or have previously tested positive for COVID-19, as those who had the virus within the last 90 days are not required to quarantine.
No teachers or other staff had to quarantine, as they were all either fully vaccinated or were not found to be exposed.
Talent Middle School has 486 students in total, meaning that the quarantine currently impacts more than a fifth of the student body. Almost two dozen additional students were exposed but did not have to quarantine because they were vaccinated, and four others because they had tested positive for the virus within 90 days.
Phoenix-Talent administrators offered two quarantine options to families: a 14-day "gold standard" quarantine recommended by public health officials, and a 10-day option. As the date of exposure is believed to be September 9, students would return to the classroom on either September 23 or 20 under those two options, assuming they are symptom-free.
Superintendent Brent Barry said that administrators know outbreaks like this are a possibility, so they have plans in place in order to hit the ground running when they occur.
Oregon reports 2,040 new confirmed and presumptive COVID-19 cases, 44 new deaths
There are 44 new COVID-19 related deaths in Oregon, raising the state's death toll to 3,490. The Oregon Health Authority reported 2,040 new confirmed and presumptive cases of COVID-19 bringing the state total to 303,532.
The new confirmed and presumptive COVID-19 cases reported today are in the following counties: Baker (18), Benton (29), Clackamas (160), Clatsop (35), Columbia (21), Coos (72), Crook (45), Curry (17), Deschutes (119), Douglas (102), Gilliam (2), Grant (17), Harney (15), Hood River (13), Jackson (117), Jefferson (15), Josephine (44), Klamath (86), Lake (36), Lane (136), Lincoln (11), Linn (69), Malheur (99), Marion (205), Morrow (14), Multnomah (155), Polk (44), Sherman (1), Tillamook (9), Umatilla (80), Union (5), Wallowa (5), Wasco (20), Washington (160) and Yamhill (64).
Yet another fire near Klamath Falls was discovered yesterday. Bear Flat Fire currently burning in Klamath River Canyon on Lakeview District BLM between Frain Ranch & Klamath River Campgrounds & moving towards ODF protected lands.
Currently estimated at 50 acres, fire was discovered on the northwest side of the Klamath River, moving up canyon in steep, inaccessible terrain with heavy timber and growing rapidly. Cause is under investigation. Multiple air and ground resources were on the fire this evening, with more on order. Campgrounds are closed. Area residents and visitors are asked to avoid Topsy Grade Road due to increased wildland firefighting traffic.
Fire danger is still Extreme in Klamath and Lake counties and throughout the state! Please be careful with anything that can spark a wildfire!

The return of rain to southern Oregon last week gave firefighters the break they needed to turn the tables on the Cougar Peak Fire burning northwest of Lakeview, with fire officials reporting "excellent progress" on efforts to secure perimeter lines and mop up hot spots. The fire was estimated at 86,412 acres with 6 percent containment as of Tuesday morning, reflecting very little growth over the previous 24 hours.
Air Quality
While Portland has largely been spared from the extremely smoky days that characterized last year's intense fire season, parts of southern Oregon have been suffering under a pall of wildfire smoke with severely diminished air quality throughout much of the summer.
The smoke — layered on top of a housing crisis wrought by last year's wildfires, a resurgent strain of COVID-19 and a crippling drought — has left many in the region teetering on the brink. Among the most vulnerable to the overlapping crises: people experiencing homelessness and those who work in the agriculture industry.
Klamath Falls, not far from where the Bootleg fire scorched more than 400,000 acres this summer, saw 40. For comparison, Klamath Falls had a total of 20 "unhealthy" air days from 1987 to 2014.
Weather Impact on Fires
** Western and northern Washington saw cloudy skies and light precipitation while the rest of the geographic area remained clear. Relative humidities were low in the teens from the southern Oregon border through the Blue Mountains and into the Columbia Basin.
On the west slopes of the Cascades in Oregon humidities were also low in the 20s which helped fire activity increase later in the day. Overnight humidity recoveries were moderate, poor in southeast Oregon. Gusty winds in the Kittitas Valley, Columbia Gorge, southwest and eastern Oregon. Temperatures were 70-80 degrees, 60's along the coastline and through western Washington. Large fire activity was moderate and growth was light.
** Residual showers over the northern Cascades are ending this morning. The system that brought the showers is now generating some breezy winds through the Kittitas Valley and eastern gorge. Breezes will persist and spread into central and eastern Oregon through this afternoon.
Temperatures will be a little cooler today, but relative humidities will drop into the teens again for southwest, central, and eastern Oregon for the next few afternoons. Tomorrow starts quiet before a stronger weather system approaches late in the day. Light rain could start in western Washington late Thursday, with widespread wetting rain Friday into Monday.
Westerly winds will pick up ahead of the front and should stay breezy through the day Friday, particularly in central and eastern Oregon. Unstable air behind the front could bring some wet thunderstorms Saturday and Sunday. Warmer, drier conditions return for the first half of next week.

InciWeb has INFO on the larger fires still burning in Oregon.
This public lands link is super helpful to check before you head outdoors. The Keep Oregon Green website carries ODF's public use restrictions. Click the link for up-to-date information: https://keeporegongreen.org/current-conditions/
Oregon's Unemployment Rate Drops to 4.9% in August as Oregon Adds 7,900 Jobs
Oregon's unemployment rate dropped to 4.9% in August from 5.2% in July.
This was the first time Oregon's unemployment rate dropped below 5% since March 2020, when the rate was 3.6%.
Oregon's unemployment rate was below 5% in only two other periods since 1976 when comparable records began: during 14 consecutive months in the mid-1990s when the rate dropped to as low as 4.5%; and during the 51 consecutive months during 2016 through March 2020 when the rate dropped to a record low of 3.3% in late 2019.
The U.S. unemployment rate dropped to 5.2% in August from 5.4% in July.
In Oregon, nonfarm payroll employment grew by 7,900 in August, following monthly gains averaging 10,300 in the prior seven months. Gains in August were largest in government (+3,500 jobs); wholesale trade (+1,400); leisure and hospitality (+1,200); and professional and business services (+1,000). Only one major industry cut jobs: retail trade (-1,900 jobs).
Since the low point of April 2020, at the economic depths of the COVID-induced recession, Oregon has recovered 204,700 jobs, or 72% of the jobs lost during the recession.
Leisure and hospitality added 1,200 jobs in August, following a gain of 6,100, as revised, in July. Despite these gains, it still accounts for the bulk of Oregon's jobs not recovered since early 2020, with 44,300 jobs left to recover to reach the prior peak month of February 2020. The industry has regained 60% of jobs lost early in the pandemic.
Employment in health care and social assistance has been relatively flat all year. This major industry recovered substantial jobs in mid- through late-2020, but is still down 10,400 jobs, or 4%, since its pre-recession peak of February 2020. Over the past year, nursing and residential care facilities has been especially weak, having lost 1,300 jobs since August 2020. Meanwhile, two component industries have expanded in the past 12 months: ambulatory health care services (+3,100 jobs) and social assistance (+1,100 jobs).
Next Press Releases – The Oregon Employment Department plans to release the August county and metropolitan area unemployment rates on Tuesday, Sep. 21, and the next statewide unemployment rate and employment survey data for September on Tuesday, Oct. 19.
The PDF version of the news release can be found at QualityInfo.org/press-release. To obtain the data in other formats such as in Excel, visit QualityInfo.org, then within the top banner, select Economic Data, then choose LAUS or CES. To request the press release as a Word document, contact the person shown at the top of this press release.
To file a claim for unemployment benefits or get more information about unemployment programs, visit unemployment.oregon.gov.
Equal Opportunity program — auxiliary aids and services available upon request to individuals with disabilities. Contact: (503) 947-1794. For people who are deaf or hard of hearing, call 711 Telecommunications Relay Services. Oregon Employment Department
Portland Man Pleads Guilty for Bank Fraud Scheme
A Portland man pleaded guilty today for perpetrating a bank fraud scheme whereby he used a residential property he did not own as collateral for obtaining a bank loan worth more than $316,000.
Alireza Zamanizadeh, aka Ali Zamani, 63, waived indictment and pleaded guilty to bank fraud.
According to court documents, on or about February 17, 2017, Zamanizadeh filed a quitclaim deed in Deschutes County, transferring a residential property in Bend, Oregon to his business for one dollar without the property owner's consent. A quitclaim deed is a document used to quickly transfer the ownership of real property from one party to another.
Zamanizadeh then used the property as collateral for obtaining a loan worth $316,092. Zamanizadeh forged the property owner's signature on a statement verifying the property transfer as required by the mortgage lender and title company processing the loan. Based on Zamanizadeh's false representations, the mortgage company approved the loan and transferred the funds to Zamanizadeh's bank account.
On June 14, 2021, Zamanizadeh was charged by criminal information with bank fraud and aggravated identity theft. Bank fraud is punishable by up to 30 years in prison, a $1 million fine, and three years' supervised release.
Zamanizadeh will be sentenced on January 4, 2022 before U.S. District Court Judge Anna J. Brown. As part of the plea agreement, Zamanizadeh has agreed to pay $400,000 in restitution to his victim and has transferred a second residential property in Clark County, Washington back to the victim. Acting U.S. Attorney Scott Erik Asphaug of the District of Oregon made the announcement.
This case was investigated by IRS-Criminal Investigation with assistance from FBI and is being prosecuted by Katherine A. Rykken, Assistant U.S. Attorney for the District of Oregon. U.S. Attorney's Office – District of Oregon
Special Legislative Session To Redraw Oregon's Political Districts
On Friday, Oregon Governor Kate Brown called for a special legislative session to redraw Oregon's political districts. That session will start Monday, September 20, and the deadline to vote on a final district map is September 27.
Redistricting is a requirement under the Oregon constitution, triggered by the US census every new decade. Districts are then redrawn to reflect how the state's population has changed — though the details of how that is achieved can vary.
This year, the Oregon legislature agreed to form redistricting committees that were made up of equal parts Democrats and Republicans, but the ultimate decision on which plans to adopt may remain the topic of much debate up to and including the special session.
Members of the public are invited to participate during one of the virtual hearings to provide feedback on the draft maps created by the committees.
Klamath Falls Police Department Investigating Police Impersonator
According to the Klamath Falls Police Department, a man impersonating a police officer pulled over a female driver early Sunday morning and said he would follow her home. The victim became suspicious, so she instead called a relative who in turn called 9-1-1.
According to police, the "stop" took place about 2:45 a.m. Sept. 12 near the area of Greensprings Drive and Highway 66. The man was driving a black Dodge Charger without a front license plate that had an emergency, colored lighting emanating from the front visor area. He told the woman she had a headlight out in her vehicle.
The suspect is believed to be 6′-6'2″ tall, about 150 lbs., with short brown hair, a reddish beard, green eyes and a chipped front tooth. He was wearing a black, short-sleeved shirt with no marking and an external ballistic vest with an unreadable cloth badge and name tag. He said he worked for the Klamath Falls Police Department.
No arrests have been made in this case as of Tuesday morning. If you have any information about the suspect, call KFPD at 541- 883-5336 or dial 9-1-1.
D River Beach Health Advisory Issued Sept. 14
Oregon Health Authority (OHA) is issuing a public health advisory today for unsafe levels of fecal bacteria in ocean waters at D River Beach in Lincoln County. People should avoid direct contact with the water in this area until the advisory is lifted.
OHA issues advisory due to high bacteria levels — Unsafe levels of fecal bacteria can cause diarrhea, stomach cramps, skin rashes, upper respiratory infections, and other illnesses. Children, elderly and those with a compromised immune system should use extra caution as they are more vulnerable to illness from waterborne bacteria.
Visitors should avoid wading in nearby creeks, pools of water on the beach, or in discolored water, and stay clear of water runoff flowing into the ocean. Levels of fecal bacteria tend to be higher in these types of water sources.
Unsafe levels of fecal bacteria in ocean waters can come from both shore and inland sources including:
Stormwater runoff.
Sewer overflows.
Failing septic systems.
Animal waste from livestock, pets and wildlife.
Even if there is no advisory in effect, avoid swimming in the ocean within 48 hours after a rainstorm.
Ocean waters will be re-tested after an advisory is issued. Once bacteria levels are at a safe level, OHA will notify the public that the advisory is lifted.
While this advisory is in effect at D River Beach, state officials continue to encourage other recreational activities (flying kites, picnicking, playing on the beach, walking, etc.) on this beach because they pose no health risk even during an advisory.
For the most recent information on advisories, visit the Oregon Beach Monitoring Program website at http://www.healthoregon.org/beach or call 971-673-0482, or 877-290-6767 (toll-free).
Toxic Algae in Klamath Waterways
From the lake to the ocean, the waters of the Klamath are once again teeming with toxic blue-green algae at the end of a hot, dry summer.
Microcystin has negative health effects on humans when affected water is ingested, either through drinking or through inhaling spray from boats. Side effects include nausea, diarrhea and slurred speech.
Dogs can be more seriously impacted and some pets have died after exposure to Microcystis blooms in other water bodies. The public is urged to stay away from waterways with posted advisories, according to health officials in Oregon and California.
Copco Reservoir became 2021's first bloom victim on July 21, after water samples collected there by PacifiCorp exhibited levels of microcystin at 30 parts per billion. Two weeks later, that concentration had jumped to 170 ppb. In California, the toxin is considered a public health danger at levels above 20 ppb.
The California Water Quality Monitoring Council issued a toxic algae "caution" advisory for both Copco and Iron Gate Reservoirs in mid-July, and expanded it to a "warning" after identifying visible bloom scum in the waters of both reservoirs. Next came Upper Klamath Lake, which has reliably experienced a monoculture of cyanobacteria blooms since the mid-20th Century.
Statewide Survey Findings: Climate Change
CLIMATE CHANGE SURVEY
KEY FINDINGS
Oregonians answer some thought-provoking questions about their values and beliefs related to climate change.
METHODOLOGY
From August 9-17, 2021, the Oregon Values and Beliefs Center conducted a statewide survey of Oregonians' perceptions of climate change. The questions were intended to gather preliminary data to inform more in-depth research in the months ahead.
The online survey consisted of 1,154 Oregon residents ages 18+ and took approximately 15 minutes to complete. This survey's margin of error, for the full sample, ranges from ±1.7% to ±2.9% depending on how the response category percentages split for any given question. Due to rounding, numbers may not add up to 100%.
Respondents were contacted by using professionally maintained online panels. In gathering responses, a variety of quality control measures were employed, including questionnaire pre-testing, validation, and real-time monitoring of responses. To ensure a representative sample, demographic quotas were set, and data weighted by area of the state, gender, age, and education.
This survey uses aggregated data to analyze the opinions of BIPOC residents in comparison to the opinions of residents who identify as white and not another race. BIPOC residents are not a monolith; the grouping represents a wide diversity of races and ethnicities. The findings included in this memo should not be construed such that all people of color are believed to share the same opinions. Disaggregated race data will be provided when sample sizes permit reliability.
The question numbers in this document correspond with the survey questionnaire (Q35-41, 44-45, 47-74, 85).
KEY FINDINGS
Can We Solve Major Issues Before It's Too Late?
Two-thirds of Oregonians think there is a small or no chance that humans can solve climate change soon enough (66%) (Q35-41).

Oregonians also express pessimism about forest fires; two-thirds say that humans have no or only a small chance of addressing this issue before it's too late (67%).
People are more pessimistic about forest fires and the climate crisis than about solving communicable diseases like Covid (33%), voting rights and secure elections (40%), racial discrimination (58%), or population growth (62%).
Oregonians are most pessimistic about our ability to solve the worsening homelessness crisis (72%) (Q37).

Homeowners and renters are equally likely to say humans have a small or no chance of solving this crisis before it's too late (71%, 73%).
Which Impacts Do Oregonians Attribute to Climate Change?
Oregonians ascribe longer, hotter summers and droughts to climate change—at least in part (81%, 80%) (Q52).

College graduates are 10 percentage points more likely than high school graduates to say that climate change is to blame for hotter, longer summers (87% to 77%).


About six in ten or more Oregonians say weather events, like hurricanes and flooding, and environmental events, like forest fires, crop failures, and timber die off, are attributable to climate change (62-76%) (47-55).

Just over half say climate change plays a role in the rising cost of food (54%), and a plurality says it influences human migration (40%).


On a similar note, Oregonians are much more likely to blame hotter, drier weather than forest practices for increased wildfires (54% to 23%) (Q44).

Respondents working in agriculture or forestry were nearly split in their opinions. While 40% of these workers said climate change was the bigger culprit; 35% said forestry practices that allow excess fuel to build up were more to blame.
Oregonians and Physical or Emotional Impacts of Climate Change
More than one-third of Oregonians say the impacts of climate change have resulted in significant or dramatic physical or emotional impacts (38%). Another 40% have experienced slight impacts (Q85).

People under 45 are more likely to report significant or dramatic impacts of climate change on their personal well-being (42%). Specifically, about one in six Oregonians under the age of 45 say that climate change has resulted in dramatic impacts (16-17%).
Women are more likely than men to report impacts (43% to 32%).
Taking Action
Six in ten Oregonians say governments and residents need to work together to mitigate the impacts of climate change (60%) (Q56).

One in four residents under the age of 30 say mostly government regulations are needed to address climate change (25%), more so than other age groups (5-18%).


Oregonians mostly favor government regulations that promote tree planting and prioritize renewable energy (81%, 80%). A strong majority also support increased restrictions on industrial emissions and tougher fuel efficiency standards (73%, 69%) (Q66-73).

Nearly half of Oregonians say they aren't sure about geo-engineering strategies, like reflective artificial clouds (47%). Strategies like this will need more media attention before people have strong opinions.
People also struggle to balance the benefits and risks of nuclear energy in place of fossil fuels. About one-third of Oregonians support this strategy (38%), about one-third oppose it (30%), and about one-third don't know (32%).


When it comes to individual actions, three-quarters of Oregonians say we should significantly reduce fossil fuel use, driving, water use, consumption of goods, and air travel by 25% or more as a matter of personal responsibility (75-83%) (Q57-65).

For red meat, 64% say that people should reduce their consumption by at least one-quarter. Although representing a strong majority, this was the least popular individual action suggested.
Most Oregonians in all age groups agree reducing home size would be a good action for the climate (66-78%). Oregonians under 45 are more likely to say people should reduce their home sizes by half or more (48-50%).
Protecting the Environment or Economic Growth?
More than seven in ten Oregonians now say protection of the environment should be given priority over economic growth (77%) (Q45).

This figure has climbed precipitously since the 2013 Oregon Values and Beliefs Study, when 57% said environment should be a higher priority and 8% weren't sure. In the meantime, wildfires like Beachie Creek and Bootleg have ravaged Oregon towns, and Portlanders experienced their first-ever 116-degree day.


Although most Oregonians say we should take individual actions to reduce our fossil fuel use, far fewer support a tax on fossil fuels of more than 25 cents per gallon. A scant majority (51%) say that they would be willing to pay between 25 and 50 cents more per gallon at the pump (Q74).
DEMOGRAPHIC TRENDS
"Identifying what unites us and understanding what divides us."
Reported below are statistically significant subgroup differences between BIPOC and white Oregonians, and urban and rural Oregonians. Many of these differences are not major and are presented to inform public education and communications initiatives.
There are few differences in opinion about humans' ability to solve increasing rates of homelessness. However, urban dwellers are slightly more optimistic than people living in suburban or rural areas (64-75%) (Q40).
In rural areas, one in five residents say that hotter, longer summers are either not occurring or are not a product of climate change (21%). For urban areas, this figure stands at 12% (Q52).

Although ideological differences play a role, a majority of Oregonians who identify as socially liberal (95%), moderate (75%), and conservative (57%) believe that climate change is responsible—at least in part—for hot, long summers in Oregon.


People of color are more likely to report significant or dramatic emotional or physical impacts because of climate change, as compared to white residents (47% to 37%).

Differences by area are of similar intensity. While 47% of urbanites say they have felt significant or dramatic impacts, for ruralites that figure is 31%.


For many individual actions to reduce climate change, like flying and driving less, there are significant differences between urban and rural residents (Q57-65).

For example, nearly half of rural residents say people don't really need to reduce their consumption of red meat (46%), compared to 30% of urban dwellers.
However, when it comes to the consumption of personal goods, between 20% and 25% of residents in all parts of the state say it isn't really needed.

White people are more likely than BIPOC residents to say we don't need to significantly reduce our consumption of goods (24% to 17%).


Rural residents and urban dwellers agree: the environment is now more important, even if slows economic growth (73-82%).

Yet a strong urban-rural divide still exists when it comes to taxing fossil fuels. While 26% of urban residents say they oppose increasing the price of fuel at all to combat climate change, that figure rises to 46% in rural areas (Q74).
Findings also available on OVBC website: Climate Change – Oregon Values and Beliefs Center (oregonvbc.org)
Attached Media Files: OVBC August 2021 Crosstabs , OVBC August 2021 Annotated Questionnaire