Consider these suggestions from the entertaining experts at Real California Milk:
Plan Ahead
Heading into your seasonal soiree with a plan in place can help avoid snafus. Make a shopping list of ingredients and decorations. Then put together a schedule a few days prior to the event to cover last-minute preparations.
Elevate Holiday Classics
Elevating classic appetizers is a simple way to savor the season. A trend on the rise, the Grazing Table starts with the table as the canvas, adds elements of the traditional cheese board then takes it to the next level with an arrangement of appetizers or brunch dishes and seasonal decor. Another way to lift your holiday spread is using high-quality, authentic ingredients like Real California Milk cheeses, made with milk from California dairy farm families, which are key ingredients in this Sweet Citrus and Spice Cheese Board.
Prepare Dishes and Decorations in Advance
Preparing for guests can be one of the most time-consuming aspects of hosting. Decorating at least a day ahead and setting the table the night before, for example, can help minimize stress. Welcome guests with holiday cheer and trendy decor like a virtual yule log made of melting cheese, complete with holiday music.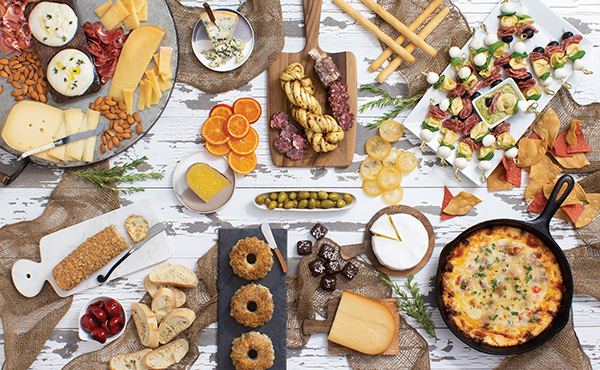 For more holiday inspiration and recipes like antipasto skewers and yogurt-pesto dip, queso fundido and cheese logs and bundts, visit realcaliforniamilk.com/recipes.

Grazing Table
Toma cheese, sliced
natural almonds
prosciutto
salami
Real California aged cheddar, sliced
Real California burrata cheese
olive oil
herbs
blue cheese
Real California braided marinated string cheese
dry salami, sliced
premade antipasto skewers
yogurt pesto dipping sauce
Real California aged Gouda
brie cheese
Real California cheese log
Real California cheese bundts
dry jack cheese
sweet red piquante peppers
green California olives
premade Real California queso fundido
breadsticks
tortilla chips
dark chocolate sea salt caramels
dried citrus, such as oranges and lemons
artisan bread, sliced
On large board, plate or tray, arrange sliced toma cheese, almonds, prosciutto, salami, and aged cheddar. In the center, place burrata cheese and top with olive oil and herbs.
On separate small plate, place blue cheese; crumble.
On medium board, arrange braided string cheese and dry salami slices.
On a serving platter, arrange antipasto skewers around the bowl of yogurt pesto dipping sauce.
On separate small cheese board, place Gouda, brie cheese and a cheese log.
On slate, arrange cheese bundts. On a separate plate, place dry jack cheese.
In separate bowls, place piquant peppers and green olives.
Arrange boards, plates, bowls, and skillet of queso fundido on the table, as desired.
Fill blank spaces on the table with breadsticks, tortilla chips, dark chocolate sea salt caramels, dried oranges, dried lemons, and bread slices. Add floral arrangements and holiday decor for finishing touches. Complete table with cheese knives and spreaders.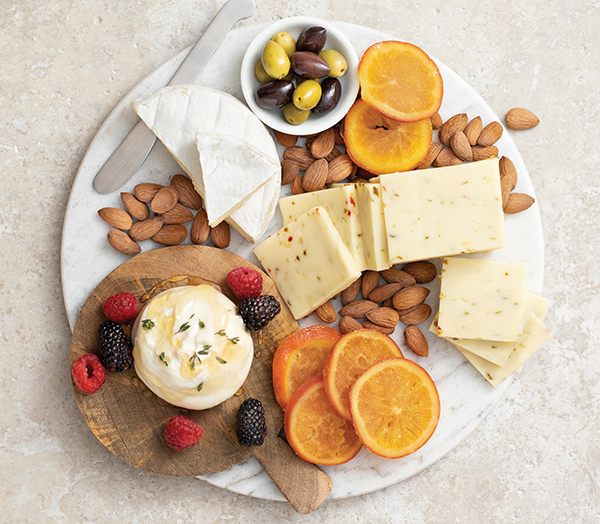 Sweet Citrus and Spice Cheese Board
Real California brie cheese
black olives
green olives
dried oranges, sliced
Real California pepper jack cheese sliced
almonds
raspberries
blackberries
Real California burrata cheese
honey, for garnish
fresh herbs, for garnish
To assemble cheese board: On large board, plate or tray, arrange brie cheese, olives, dried orange slices, sliced pepper jack cheese, and almonds.
On smaller board, arrange raspberries and blackberries around burrata cheese placed in the center of the board. Garnish cheese with honey and fresh herbs. Place smaller board into empty space on larger board.
SOURCE:
Real California Milk