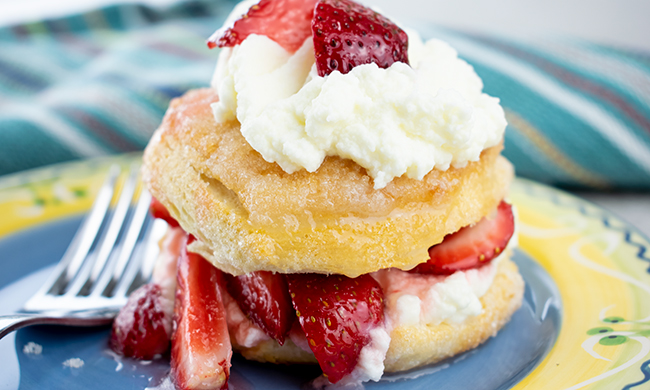 Enjoy your summer with fresh fruit like strawberries in this Easy Strawberry Shortcake recipe.
Find more dessert recipes at Culinary.net.
Watch the video to see how to make this recipe!
Easy Strawberry Shortcake
Recipe courtesy of Pillsbury
1 can (5-8) Pillsbury flaky buttermilk biscuits
2 tablespoons butter, melted
1/4 cup sugar
Strawberry mixture:
3 cups fresh strawberries, sliced
1/3 cup sugar
Whipped cream:
1/2 cup whipping cream
2 tablespoons sugar
1/4 teaspoon vanilla
Heat oven to 375° F.
Separate biscuits. Dip tops and sides of biscuits in melted butter. Dip biscuits, covering tops and sides, in sugar. Place sugar side up on the ungreased baking sheet. Bake 13-17 minutes, or until golden brown.
To make strawberry mixture: In a medium bowl, mix strawberries and sugar. Set aside.
To make the whipped cream: In a small bowl, beat whipping cream and sugar until soft peaks form. Add vanilla and beat into mixture.
On a plate, split biscuits and put a dollop of the whipped cream mixture on the bottom half of biscuit. Add strawberry mixture. Replace the biscuit top and dollop with whipping cream.
SOURCE:
Culinary.net, Family Features