The latest news stories and stories of interest in the Rogue Valley from the digital home of Southern Oregon, from Wynne Broadcasting's RogueValleyMagazine.com
Wednesday, January 13, 2021
Rogue Valley Weather
Today- A slight chance of rain before 10am, then a slight chance of showers after 1pm. Cloudy, then gradually becoming mostly sunny, with a high near 56. Calm wind. Chance of precipitation is 20%.
Thursday- Patchy fog before 1pm. Otherwise, mostly sunny, with a high near 54. Calm wind.
Friday- Mostly cloudy, with a high near 53. Calm wind.
Saturday- Mostly cloudy, with a high near 54.
Sunday- Partly sunny, with a high near 54.
Oregon reports 1,203 new confirmed and presumptive COVID-19 cases, 54 new deaths
PORTLAND, Ore. — There are 54 new COVID-19 related deaths in Oregon, raising the state's death toll to 1,667, the Oregon Health Authority reported at 12:01 a.m. today. The high number of deaths serves as a reminder that the pandemic continues to pose a threat to our friends, neighbors, co-workers and communities.
The rising case count that surged in November and December is one factor attributed to today's record-tying high death count. The counting of deaths from death certificates may take time to process because they are determined by physicians and then sent to Centers for Disease Control and Prevention for further review before the cause of death is ultimately determined. Once this information is confirmed, the information is reported back with a final cause of death to states. This lagging indicator is now being captured today.
The new confirmed and presumptive COVID-19 cases reported today are in the following counties: Baker (8), Benton (16), Clackamas (98), Clatsop (11), Columbia (1), Coos (9), Crook (19), Curry (8), Deschutes (56), Douglas (21), Gilliam (1), Harney (3), Hood River (11), Jackson (61), Jefferson (19), Josephine (39), Klamath (46), Lake (3), Lane (89), Lincoln (6), Linn (24), Malheur (32), Marion (97), Morrow (4), Multnomah (265), Polk (10), Tillamook (2), Umatilla (53), Union (5), Wasco, (10), Washington (155) and Yamhill (21).
Vaccinations in Oregon
Today, 10,465 new doses of COVID-19 vaccinations were added to the state immunization registry. Of this total, 6,668 vaccine doses were administered on Jan. 11 and 3,797 were administered on previous days but were entered into the vaccine registry on Jan. 11.
Oregon has now administered a cumulative total of 115,060 first and second doses of COVID-19 vaccines. All vaccinations were administered by Oregon hospitals, long-term care facilities, emergency medical service (EMS) agencies, urgent care facilities and Local Public Health Authorities (LPHAs).
These data are preliminary and subject to change. OHA's dashboards provide regularly updated vaccination data.
Governor Kate Brown Announces Updates to County Risk Levels
Governor Kate Brown today announced updates to county risk levels under the state's new public health framework to reduce transmission and protect Oregonians from COVID-19. The framework uses four different risk levels for counties based on COVID-19 spread—Extreme Risk, High Risk, Moderate Risk, and Lower Risk—and assigns health and safety measures for each level.
Effective January 15 through January 28, there will be 26 counties in the Extreme Risk level, two at High Risk, two at Moderate Risk, and six at Lower Risk. A complete list of counties and their associated risk levels is available here.
"With four counties moving back to Extreme Risk, this week we are reminded that health and safety measures continue to be of utmost importance, even when we slow the spread of COVID-19," said Governor Brown. "I want to remind all Oregonians to continue to do their part by abiding by the health and safety guidelines in place. Until vaccines are widely available with high participation rates, the surest way to open our communities is to continue practicing the measures we know are effective in reducing the spread of COVID-19 — wear your mask, keep physical distance from others, avoid gatherings, wash your hands often, and stay home when you are sick."
The Oregon Health Authority will examine and publish county data weekly. County risk levels will be reassigned every two weeks. The first week's data will provide a "warning week" to prepare counties for potential risk level changes. The next assignment of risk levels will be announced January 26 and take effect January 29.
Updates to Warning Week data and county risk levels will be posted to coronavirus.oregon.gov.
Sheriff's Office Investigates Murder/Attempted Suicide In Medford
The Jackson County Sheriff's Office responded on Monday to an apparent attempt at murder-suicide by an elderly man in southwest Medford.
The agency said that deputies responded on Monday to a house in the 2800-block of Judy Way for two gunshot victims. The deputies arrived to find a woman dead from a shotgun wound. She was later identified as 87-year-old Joanne Marcella Wheeler.
The woman's husband, 88-year-old James Edward Wheeler, was found in a separate part of the house with a serious gunshot wound from the same shotgun. He was taken to a local hospital and is expected to survive.
"Investigators believe the male shot his wife and then shot himself," JCSO said. "The female had been in very poor health for some time."
James Wheeler was arraigned on Monday for Murder in the Second Degree in Jackson County Circuit Court, though he remains hospitalized.
Aidan Ellison's Family Planning Lawsuits Over Shooting Death In Ashland
In November a Black teenager in Ashland was reportedly shot and killed by a white man during an argument about loud music. Aidan Ellison's family is now suing.
Police say 47-year-old Robert Keegan shot and killed 19-year-old Aidan Ellison at 4 a.m. in the parking lot of the Stratford Inn, where they were both guests.
Ellison's mother, Andrea Wofford, announced at a press conference on Tuesday that her family plans to file two lawsuits — one against Keegan for her son's death, and another against the Stratford Inn for alleged recklessness that led to the shooting.
"Other than that, what can I do?" Wofford says. "Can't bring him back. I just don't want it to happen to someone else's son, or daughter, and swept under a rug."
Keegan remains at the Jackson County Jail under several charges, including first- and second-degree murder, first-degree manslaughter, and unlawfully possessing a firearm. His pre-trial conference is set for mid-February.
On Nov. 23, Keegan notified hotel staff that Ellison was playing loud music in the parking lot, according to police reports. They say he then argued with Ellison, returned to his room, got a gun, and shot him in front of a hotel staff member.
Keegan has a history of abuse, according to court documents from 2012 and 2013, in which a judge assigned him to battery intervention after violating a restraining order.
Attorney Justin Rosas says the lawsuits against Keegan and the hotel will help Ellison's family gain access to more information about Ellison's death through the legal process of discovery.
"We will find that information out using the civil process, in some ways because we have to," Rosas says.
His office also aims to create an independent civil remedies investigation unit to "hold the civil system accountable and explore additional remedies," reads a press release.
"Our community must create solutions both inside and outside of existing institutions in order to create an antiracist Southern Oregon," it reads. "This team is committed to training a certified racial equity investigator who can be dispatched quickly when cases of racial bias and discrimination occur."
AROUND the STATE of OREGON
Stimulus payments are coming: Don't throw out the Earned Income Payment debit card
The U.S. Treasury has begun issuing its second round of stimulus payments. People who don't receive a direct deposit by early January should look for either a check from IRS or Economic Impact Payment (EIP) debit card in the mail. People will not necessarily be paid the same way they received their first stimulus payment.
How to identify the card: The envelope will have a return address of Money Network Cardholder Services, PO Box 247022, Omaha, NE 68124. This is not a scam. This is this card:
Most individuals will receive $600 and $1,200 for married couples filing a joint return and $600 for each qualifying child. New: Couples filing jointly with just one member of the couple with a work-eligible Social Security Number will now be eligible for payments for the taxpayers and their qualifying children.
People do not need to take any action right now to receive their stimulus payment. Eligible individuals who do not receive their payment or who did not receive their first stimulus payment can claim it (under the Recovery Rebate Credit) when they file their 2020 tax return this year. People who do not normally file tax returns should also file a 2020 tax return if they do not receive their stimulus payment.
More information about the distribution of stimulus payments is in the IRS press release and in new FAQs.
There is also information about how to use the card from the National Consumer Law Center: NCLC's fact sheet.
For free or reduced cost tax filing help: https://cashoregon.org/ or call 211.
Storms Cut Power for Hundreds of Thousands In Oregon and Washington
A storm system has pounded parts of the Pacific Northwest with strong winds and rain, leaving hundreds of thousands of utility customers without power in Washington and Oregon on Wednesday and saturating the ground — which could cause more trees to fall.
The storms Tuesday through Wednesday morning were part of an atmospheric river event — involving rivers of moisture high in the atmosphere — that has drenched the region for days and caused parts of western Washington their wettest start to a year, according to the National Weather Service.
Flood warnings or advisories were in effect Wednesday morning for ares of western Washington and western Oregon, parts of which received more than 8 inches of rain over the last three days alone.
Strong winds — including gusts above 60 mph in places — knocked down trees and power lines. More than 650,000 utility customers were without power Wednesday morning in Washington and Oregon, according to utility tracker PowerOutage.us.
Because one customer can be an entire household, the number of people without power service was likely much higher than 650,000.
"There's a lot of tree and powerline debris on roadways, not to mention standing water, " the National Weather Service's Seattle office said Wednesday morning. "Power outages are causing dark intersections. If you don't have to travel this morning, might be safest to stay home!"
High winds pushing east
By Wednesday morning, strong winds were pushing through central Washington and Oregon, and more areas were expected to experience them soon.
More than 11 million people were under high-wind warnings or advisories Wednesday morning, from Washington to the Dakotas and as far south as Nebraska.
High-wind watches are scheduled for millions more people through the Plains for Thursday, the weather service said.
Forecasters Warn of Life-Threatening Surf Conditions on Oregon Coast
COOS BAY – A High Surf Warning is in effect through Wednesday morning for the South Coast as the highest tides of the winter hit the Oregon Coast.
"Dangerously large breaking waves of 27 to 33 feet are expected," the National Weather Service in Medford said. "Beaches and coastlines will become hazardous due to very large and life-threatening surf conditions. Stay off of beaches, rocks, jetties,piers, and other waterside infrastructure."
The culprit: An atmospheric river event delivering rain to the coast just as the so-called King Tides reach their peak. | Current Forecast
"This is watching King Tides at Shore Acres in Coos Bay," Donna Penny said. "Mind you, these folks are standing on a cliff 60 feet above the water."
Unusually high tides peaking late Tuesday morning into early Tuesday afternoon will greatly increase the possibility of flooding in low lying areas along the coast as seas peak. Take precautions now to protect property and stay off of beaches, rocks, jetties, and other structures during this high surf event, especially around the time of high tides," forecasters said. "Extremely large breaking waves will create very hazardous conditions along beaches and area shorelines. Waves will inundate beaches and surge into normally dry areas. Infrastructure damage and significant beach erosion can be expected."
"Unusually high tides peaking late Tuesday morning into early Tuesday afternoon will greatly increase the possibility of flooding in low lying areas along the coast as seas peak. Take precautions now to protect property and stay off of beaches, rocks, jetties, and other structures during this high surf event, especially around the time of high tides," forecasters said. "Extremely large breaking waves will create very hazardous conditions along beaches and area shorelines. Waves will inundate beaches and surge into normally dry areas. Infrastructure damage and significant beach erosion can be expected."
Flash Flood & Weather Warnings Still In Effect As Landslides Affect Roads In Oregon
The Pacific Northwest is experiencing heavy rains, flooding and landslides, along with heavy snow and possible avalanches as an atmospheric river collides with Washington and Oregon. By 11 a.m. yesterday, Seattle and Olympia had set new rainfall records for the day with 1.34 inches in Seattle and 1.70 inches in Olympia, according to the
National Weather Service in Seattle. The National Weather Service in Portland issued a flood watch through 10 a.m. today. As the event continues people may see some vulnerable land break down and the integrity of some slopes weaken,  Interstate 84 in Eastern Oregon closed eastbound near Pendleton and westbound in Baker City
because of truck crashes on Tuesday, according to the state Department of Transportation. Officials said the freeway would likely remain closed for most of the afternoon and that icy conditions could be expected throughout the area.
Closer to home, Central and Eastern Lake County; Northern and Eastern Klamath County and Western Lake County remain under a high wind watch. The NWS Medford office says Southwest winds 25 to 35 mph with gusts up to 70 mph are expected. Most likely, this will occur in the Higher terrain of eastern Klamath and western Lake Counties, but also including Highway 31 between Paisley and Summer Lake. Damaging winds will blow down trees and power lines. Widespread power outages are expected. Travel will be difficult, especially for high profile vehicles. People should avoid being outside in forested areas and around dead trees and branches. Use caution if you must drive.
Secure outdoor objects.
The National Weather Service in Portland, OR issued a Flash Flood Warning after "Heavy rain overnight has led to landslides that are threatening homes near MP35 along Interstate 84 near Dodson, Oregon. Multnomah County Emergency Management urges residents to leave the area immediately. This is a life-threatening situation." Evacuees were told to go to a local hotel for emergency shelter. The eastbound lanes of I-84 in the Troutdale area were closed and the situation was deemed "too dangerous to send in rescue crews."
The Multnomah County Sheriff's Office says a landslide early Wednesday morning has closed the eastbound lanes of I-84 in the Troutdale area at NE Frontage Road at the I-84 interchange.  It is not clear how wide the debris flow is, but deputies estimate it could be several feet deep in some places. First responders continue to search for anyone who may have been caught in the debris.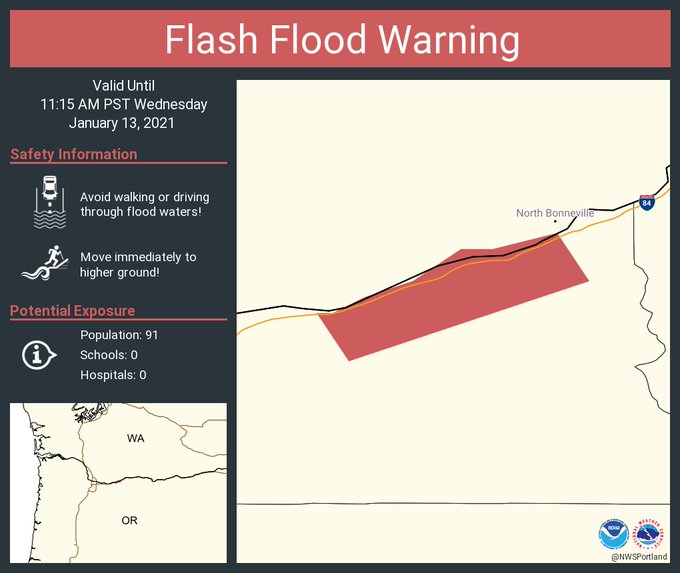 West Burnside is also closed between Skyline Boulevard and Tichner Road due to a slide. A lot of trees and debris are in the road at a footbridge near the Pittock Mansion turnoff.
A slide has also restricted U.S. 30 to one lane in both directions at Saltzman Road.
Travelers should be on the lookout for maintenance workers in the area trying to get the other lanes open again. Drivers should also watch for water on the road.
In Washington, a landslide has closed SR-14 east of Carson.  SR 14 is closed to vehicles over 10,000 GVW (gross vehicle weight) between Evergreen Boulevard east of Washougal and the Hood River Bridge near White Salmon.
The Northwest Weather Service says several rivers remain above flood stage Wednesday morning.
The stormy weather is also forcing schools to delay or cancel online learning for Wednesday. And other spots around Oregon experiencing troubles from the heavy rains experienced Tuesday.
House Speaker Tina Kotek is calling for Rep. Mike Nearman to resign after surveillance footage showed him letting demonstrators into the Oregon State Capitol during a protest that turned violent back in December.
She's also sending him a $2,000 bill to cover the costs to fix the damage that resulted after he let the demonstrators inside. On Dec. 21, Oregon lawmakers were holding the third special session of 2020, which sought to address COVID-19 and wildfire relief. A protest, organized by the far-right group Patriot Prayer, was there in opposition to statewide COVID-19 mandates. Security footage showed Nearman leaving the building around 8:30 a.m. and letting
protesters inside.
Oregon Parks Forever, a statewide nonprofit, today announced the establishment of a Wildfire Tree Replanting Fund. 
The goal of the fund is to plant at least One Million trees.  Each dollar donated will plant a tree! Since the 1990's, Oregon has seen significant increases in the number of acres burned statewide. 2020 saw the second largest number of acres burned since 1990. During the summer of 2020, more than one million acres of trees on Oregon lands were burned. This was more than twice the average annual amount of damage that Oregon experienced between 2010 and 2019.

This comes at a time when the budgets of public land managers are already stressed due to ongoing funding challenges and the COVID pandemic. They want to help the public lands get replanted soon, so that in the future our children and grandchildren can enjoy the same green and lush forests and landscape we have been able to enjoy.
FOR MORE INFORMATION: https://www.orparksforever.org/